Abkhazia: what you need to know before the trip
Abkhazia has lakes surrounded by mountains like in Switzerland, restaurants with delicious Caucasian cuisine and cheap accommodation.
It doesn't take a long flight to get there, and you can enter with a regular Russian passport. Many tourists call Abkhazians kind and hospitable. Others do not agree with them, but one fact cannot be disputed: millions of Russian tourists vacation there every year.
Abkhazia is a partially recognized republic
Russia considers Abkhazia a separate state, while Georgia considers it part of its territory. After a trip to Abkhazia, there may be problems at the Georgian border – we advise you to study the legislation.
What you will learn.
Introductions.
How long to go : by train – 30 hours, by plane – 2.5 hours to Sochi, from there to the border another 15 minutes by car.
When is the season: May – September.
Average temperature in summer: +27 °C.
Currency: officially it's apsar, but everyone pays in rubles.
Language : Abkhazian, most locals speak Russian.
How to get to Abkhazia
Train. You can get to the city of Sukhum, from Moscow by direct train number 306M. The train goes a day and a half. The ticket costs from 3000 R in the first-class seats, in the compartment – from 4000 R. The earlier you buy a ticket the cheaper it is.
Many tourists go only to Adler, and there change to a minibus. There are a lot of such trains, you can choose any convenient time. A ticket in a compartment to Adler on average costs 3000 R. Travelling by double-decker train # 104B between Moscow and Adler will cost 5000-7000 R.
If you take the train, we advise you to buy and print tickets in Russia. Last year our author Ekaterina did it in Abkhazia. It turned out that electronic tickets can not be shown to the conductor on the screen of your smartphone or printed on a printer – you can only do it in a special terminal or cashier of Russian Railways. In Abkhazia there was neither. To get home, Catherine had to overpay and be nervous.
From the train station in Adler to the Abkhazian border – checkpoint Psou – run buses number 50, 125p, 58 and 117. Ticket costs from 22 R, schedule can be clarified on the site "Sochi-Transport.
By plane. There is no direct flight to Abkhazia. If you want to get by plane you will have to fly to Sochi, and there you will be transferred to a train or minibus. In mid-season and winter the flight costs from 3000 R. You can buy tickets from "Pobeda" on sale for 900 P one way.
There are shuttles at the airport. They go to the border when there are enough passengers. The fare is 60-150 R per person. There are cab drivers waiting for tourists near the airport. For a ride to the border they charge from 600 to 2,000 P . It's expensive: you can catch a cab for 300 R .
After crossing the border tourists get into another minibus and go to the desired city. The minibuses are parked right at the checkpoint. On average, for the road from the border to New Athos, they ask for 150 R.
By car. From Moscow to Sukhum drive 22-30 hours. The shortest way is by freeway E115 / M4 "Don". If you choose this way, consider that in Abkhazia there are a lot of accidents, and the driving style of local motorists is aggressive. We will tell you about it further.
Tours. In winter and spring it is advantageous to go to Abkhazia on a last minute tour. Tour operators sell a week-long holiday for 7000-14 000 R per person. About what to do in Abkhazia in the off-season, we wrote in a separate article.
Resorts of Abkhazia
Tsandrypsh is a small village 5 km from the Russian border. It is quieter there than other resorts, but it is far away from the main attractions. If you plan to go on excursions, it is better to stop in another place.
Gagra is one of the most popular resorts. In high season on beaches of local boarding houses happens as much holidaymakers, as in Sochi or Adler. On wild beaches there are pebbles and a minimum of people. From entertainments in a city there is a large market, a long quay and aquapark.
The sea in Pitsunda is clean. The central beach has sun loungers, cafes and attractions. On its territory there are sanatoriums and boarding houses. Those who live in them go to the beach for free. For others the entrance costs 40 R.
Also in Pitsunda there are more tourists and entertainment than in other cities. For example there is a trout farm, where you can go on an excursion. Entrance costs 150 P for an adult and 50 P for a child, you can buy fish for 450 P per kilogram. A trip to Abkhazian National Dolphinarium will cost 700 R, sea or horse riding – 600 R.
There are a lot of unusual sculptures in Abkhazia, which were established during the Soviet Union. This is a monument to divers in Pitsunda.
Gudauta will suit those who value a quiet holiday – only a hotel and the sea. All beaches are pebble.
New Athos is a small and quiet town. Many tourists go there for excursions to New Athos cave and monastery. Also look abandoned railway station Psyrtskha and park with waterfall.
Sukhum, unlike other cities, looks more developed and clean. Buses and trolleybuses go through it, there are many cafes, stores and even there is State Russian Drama Theater named after Fazil Iskander.
Sightseeing and entertainment in Abkhazia
Lake Ritsa is the most popular attraction in Abkhazia. This lake resembles the Swiss lake: the water in it is turquoise in color, and around the high green mountains. The road to Ritsa is also picturesque: on the way tourists stop at waterfalls, mountain rivers and tiny mountain lakes.
Ritsa is situated in a natural reserve which you can enter for 300 R . Also you can rent a catamaran on the lake for 400 or 600 R – the price depends on the mood of renters.
There are stalactites, stalagmites and underground lakes in New Athos Cave. Except for a few lamps and railings, nothing has changed in the cave since Soviet times. To the beginning of the route tourists are taken by a tiny electric train.
Entrance costs 500 R and you have to pay extra 50 R for taking pictures. If you go in low season, check the opening hours on the website: the cave may be closed.
Anakopia fortress is located in New Athos on Iverskaya mountain. Adults love the beautiful view of the sea, and children love to explore the ruins of an ancient fortress. In order to get there you have to walk 3 kilometers up the mountain. The entrance costs 200 R per person.
Pitsundsky temple is both a museum and a concert hall. In it you can see the archeological findings of different epochs. The temple will appeal to those who like classical music: there is a large organ, which periodically gives concerts. The entrance ticket costs 700-800 R .
Excursions to the mountains. In the center of Abkhazian towns there are locals who offer excursions to the mountains in jeeps. Even the phone number of the tour guide can tell the owners of apartments or hotel staff. Excursion costs 2000-2500 R per person. If desired, you can bargain and reduce the price by 100-300 P. The trip takes the whole day.
In addition the trip offers horseback riding in the mountains. It costs 1500-2000 R per person, the exact price depends on the route. During this walk you can climb above the clouds. Excursions are conducted to two valleys: three and seven lakes. They are located at an altitude of 2700 meters above sea level.
Hot springs. In winter and off-season in Abkhazia you can swim in hot springs with water temperature of +40 °C. There are such springs in the village Primorskoe near New Athos and in the village Kyndyg.
It is convenient to bathe in Primorskoe with children: the pool is not large and not deep, and the water temperature is comfortable. Entrance costs 150 R for adults and 100 R for children over 7 years.
In the village of Kyndyg there are swimming pools and hydrogen sulfide showers. The water from them pours from a great height, so the shower looks like a waterfall. There is a bench under each shower. Usually there are a lot of people in Kandyga, because they take tourists there by whole buses. Entrance ticket for independent tourists will cost 150 R .
Both springs are hydrogen sulfide, so you can be in the water for a maximum of 10-15 minutes. If you have health problems, it is better to consult a doctor before visiting.
The Georgian-Abkhazian war was 26 years ago, but many buildings in Abkhazia are still destroyed or in deplorable condition
Money in Abkhazia
In Abkhazia the Russian ruble is in circulation. Cards are only accepted in large establishments. For example, last summer they were accepted in "Gagripsh" restaurant in Gagra. To avoid looking for ATMs, it is better to have cash with you. Large bills might not be accepted at markets or small cafes.
Lodging in Abkhazia
Lodging in Abkhazia is sought on "Avito" and not very popular sites: azur.ru and hochu-na-yuga.ru. Also Abkhazians post in a group on Vkontakte. You can also find accommodation when you arrive: there are many ads for apartments for rent in the streets.
In popular cities lodging in the private sector costs from 600 P per person. For this money you can find a room with a shared shower and a toilet in the street. The closer to the sea and more amenities, the more expensive.
Hotels usually have a dining room, an entertainment program and a private beach. In general, they are comfortable, but the Turkish "all inclusive" do not wait. Accommodation in hotels costs from 2000 R . Sometimes the electricity is cut off during the day.
Food in Abkhazia.
National dishes. Abkhazian cuisine is a lot of meat and vegetables. Lunch per person with pork and drinks will cost 200-400 P . Nourishing griddle with pork and vegetables costs 300 R, khachapuri – 180 R. In Sukhumi restaurant "Narta" shish kebab costs 85 R per 100 grams, Greek salad – 125 R, for the service will take 10% of the check. In the canteen "Lodochka" in Gagra kharcho costs 70 R, meatloaf – 60 R, mashed potatoes – 40 R.
In general, the prices in Abkhazian cafes are not always an indicator of quality. In a modest diner can be tastier than in an expensive restaurant with beautiful surroundings. It is better to find out from locals, because many cafes and canteens are simply not on the map or in Tripadvisor.
Stores. Large supermarkets like "Magnet" or "Pyaterochka" is only in Sukhum. In the rest of the cities there are small stores.
Food prices are the same as in Russia or more expensive. Watermelons cost 25 R per kg, pork – 350 R per kg, loaf – 25-30 R. If you are traveling with a child, baby food is better to buy in Sochi or Sukhum: the necessary product may not be in the local supermarkets.
There are plenty of homemade products on the markets. Round smoked cheese costs 300 R per kg, 100g of cheese from cow milk will cost 110 R, from goat milk – 130 R. In general, products in markets are cheaper than in stores. Also Abkhazians bargain willingly. For example, the price of a kilogram of hazelnut can be reduced from 120 to 90 R.
Alcohol. A bottle of wine "Buket Abkhazii", "Psou" or "Apsny" costs 150-180 R, and in Moscow it is sold for 350-400 R. "Kindzmarauli" costs 400 R. Home-made wine costs 100-130 R for a liter and a half. But it is usually sour, and guides do not recommend to drink it at all – for safety reasons.
Transport in Abkhazia
You can move around the country by car, shuttle buses or cabs. City transport is developed only in Sukhum. Bus fare is 10 R, trolleybus – 5 R.
To get from one city to another, you have to catch a minibus on the highway. It's faster than waiting at the terminus. There the drivers can stand for an hour until there are enough people in the cabin. The route maps only show the terminals; at other places, the driver stops at the passengers' request. Usually marshrutkas run from 8 a.m. to 10 p.m.
The fare depends on the distance. The ticket from Gudauta to Sukhum costs 150 R, from Gudauta to Gagra costs 100 R.
Local people drive very fast. Drivers compete with each other in the speed and masterfully avoid cows, which fearlessly lie directly on the road. Because of this, accidents often occur. In July 2019, nine Russians were hospitalized after an accident.
Most Abkhazian cab drivers do not have child seats – you will have to bring your own or arrange in advance with local private drivers who have it.
At the entrance to Sukhum begins winding road, where some become very sick. Children and people with a weak vestibular apparatus are better to take tablets against motion sickness.
Cabs are best ordered by phone. It's three times cheaper than hailing a car on the street. You can ask for taxi numbers from locals or find them at bus stops. There are no cab apps in Abkhazia.
Internet and communication in Abkhazia
There are two mobile operators in Abkhazia: Akvafon and A-Mobile. They have about the same tariffs: on average tourists pay for communication 550 R . 4G is available in all cities. In the mountains and near Lake Ritza Internet access is worse, but you don't need it there: it's too beautiful around.
What to take from Abkhazia
From Abkhazia they bring nuts, spices, adjika and sweets like baklava. It is forbidden to take out of the country eucalyptus, boxwood and mellifera products, such as propolis. Tourists may also encounter problems if you take "quarantine" products, such as cottage cheese or honey.
You can take home up to 3 liters of alcohol. Before traveling, it is advisable to check the rules on the website of Russian customs.
⚠️ Safety rules in Abkhazia
Here is what you need to know about safety in Abkhazia:
Do not buy bottled wine – it may be of poor quality.
Beware of crooks in tourist spots. For example, some Abkhazians put a falcon on the shoulders of tourists, photograph them, and then require money for it.
Wear a seat belt in cars, and hold on tight in public transport.
Do not leave belongings unattended – in the car or on the beach. They can be stolen.
We are looking for people who travel independently. If you have organized a vacation in Russia, near abroad, popular resorts or more exotic places – share your experience with us.
How to plan a vacation in Abkhazia
Extraordinarily beautiful republic with deep caves, alpine meadows and lakes, high mountains and proud people has been attracting holidaymakers since Soviet times. We share our personal experience of traveling to the Land of Soul! Learn how to plan a holiday in Abkhazia in 2022.
And Travelata – inexpensive tours to Abkhazia – hotels and guest houses (there is cashback)
Content:
Holidays in Abkhazia now.
On August 1, 2020, the border between Russia and Abkhazia opened. Now tourists can freely enter and leave the republic: no certificates are required, and passing the border, according to recent reviews of tourists, takes a few minutes.
Watch the video review of tourists who recently went on holiday to Abkhazia:
When it's best to go
Beach season in Abkhazia begins with the advent of the calendar summer – in early June you can already swim. The sea warms up to +20 ° C. Tourists begin to arrive in May as well, but at this time the water is cool, and the wind on the beach is palpable. My family and I vacationed in Abkhazia in the first days of summer. It was comfortable to walk around, but only children enjoyed bathing in the water – they almost do not feel the cold.
July and August are hotter months, the water temperature in the sea reaches +23 . The air temperature at the same time is about +28 ° C. Despite the availability of resorts in Abkhazia, holidaymakers here even in the middle of summer is less than on the Russian beaches. So, Abkhazia is suitable for holidays with children and a quiet family vacation.
In September in Abkhazia there is a velvet season, the water and air temperatures are about the same and are kept at around +23. +24 ° C.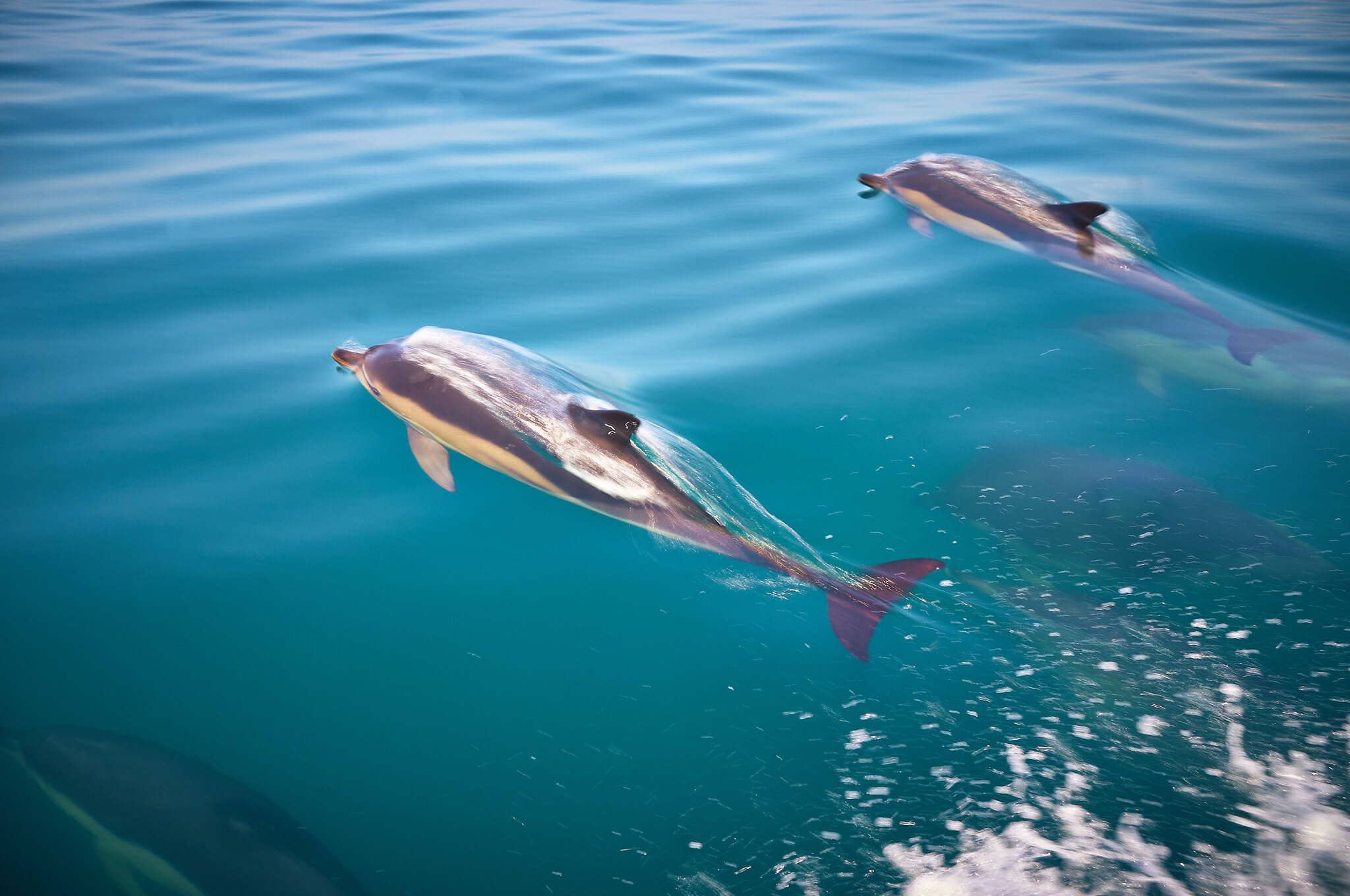 Dolphins are at the coast of Gagra. Photo: Dmitriy Kirilin / flickr.com / CC BY-NC-ND 2.0.
Which resort to choose
Gagra, Pitsunda, Sukhum – these names are familiar to almost everyone. If not you, then certainly your parents have vacationed in these lands at least once. What resort to choose for a holiday in Abkhazia in the summer of 2022? Here we will briefly tell you about the main places of rest, and more information you will find in a full review of resorts in Abkhazia.
Gagra .
In Gagra tourists go for active recreation: on the beaches of this city you can do water sports, visit a water park and tennis courts. And also Gagra is a balneological resort, there is a large hydropathic clinic. The beaches of Gagra are pebbly. Learn more about rest in Gagra. Look apartments and hotels in Gagra.
Pitsunda .
This village is located near Gagra and is famous for its clean air, because it is here that large relict pine trees grow. Vacation in Pitsunda will benefit people with respiratory diseases. In addition, in Pitsunda is a sandy beach – there are no other such places in Abkhazia. Water in these places is very clean (they say, the most transparent on the entire coast), and there are almost no winds, since the village is located in a bay. Read a comparison of Gagra and Pitsunda. See apartments and hotels in Pitsunda.
Gudauta
Gudauta's beach is considered one of the best in Abkhazia, and it also has the mildest climate. Near Gudauta there are some of the main attractions of Abkhazia – Lake Ritsa, Blue Lake, and located in the area mountain meadows are even called the Alpine and take excursion groups there. At the same time, there are not many tourists in Gudauta, and prices are lower. See apartments and hotels in Gudauta.
Sukhum
Sukhum is the capital of Abkhazia and one of the oldest cities in the world. This is the largest city in the country, famous for its numerous health resorts, beach area, stretching for nearly 20 km, and unique mineral springs. Convenient beaches alternate with wild, and the main pearl of Sukhumi is a botanical garden with an almost 200-year history. See apartments and hotels in Sukhumi.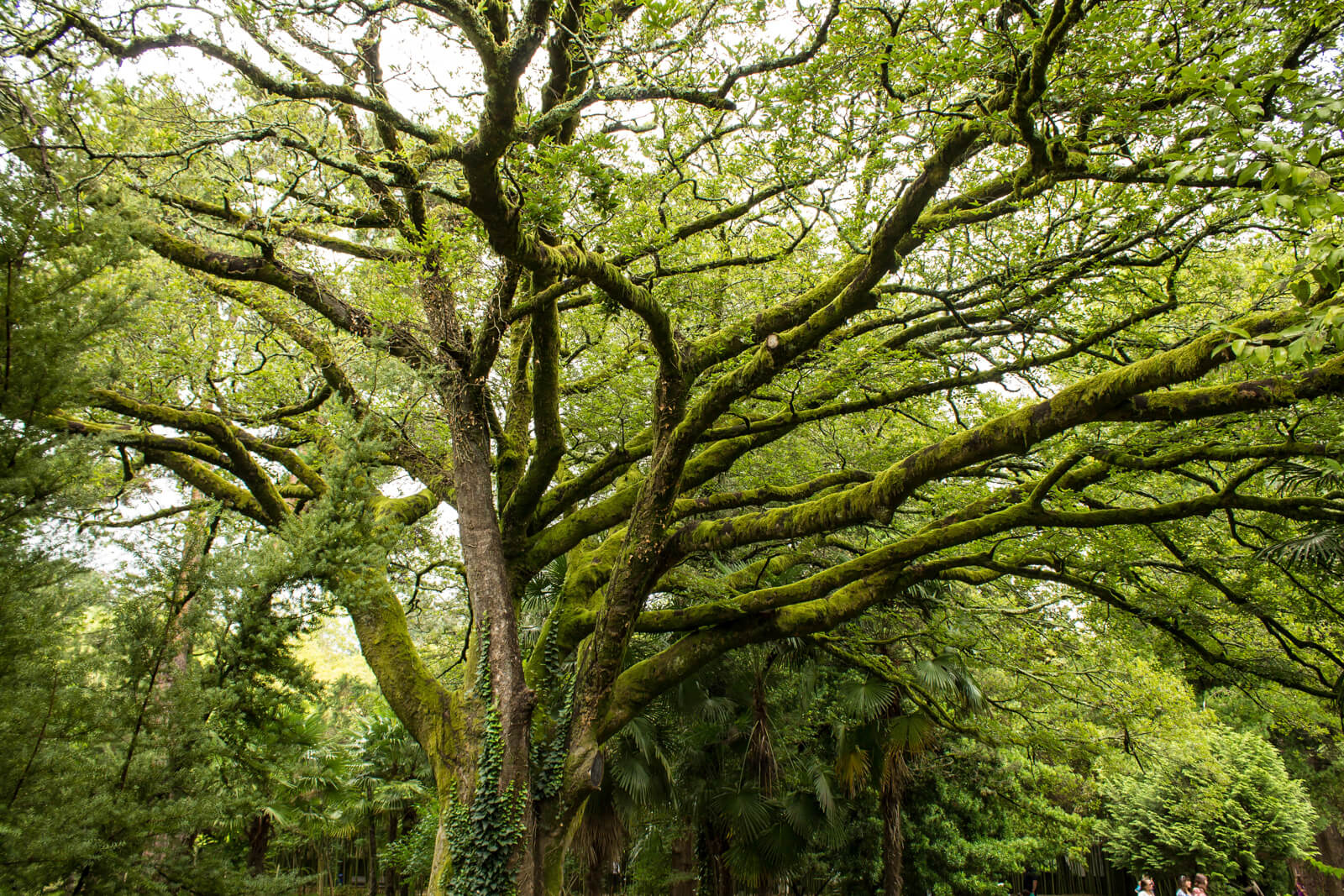 Botanical Garden in Sukhum. Photo: Gluuuum / wikimedia.org / CC BY 3.0.
New Athos
New Athos is also good to rest in terms of health: the optimal combination of humidity and air temperature makes the climate truly healing for tourists. And New Athos is also a place rich in history and interesting architecture. Regardless of whether you consider yourself a religious person, these places will impress you with their atmosphere and numerous monuments. The beaches are fine pebbles. Find out about vacations in Novy Afon. Check out apartments and hotels in Novy Afon.
Tsandripsh
Tsandripsh is located in the valley of the river Khashupse, on the beaches of this resort pebbles are mostly coarse, and during the day is also hot. Here is the oldest in the Caucasus triple-nave basilica, founded at the turn of the VI-VII centuries, and Hashesupskaya castle, towering over the river on a rock. The most famous beach in Tsandripsh is the White Cliffs. This is a very picturesque corner of Abkhazia with clear water and huge white rocks. Do not forget to take comfortable shoes to the beach to walk on the rocks. Learn more about rest in Tsandripsh. See hotels in Tsandripsh.
Gechripsh (Leselidze).
This small village is located near the border with Russia, and if you want you can walk to Adler on foot. Prices here are low, and there are not many tourists. Unfortunately, there is no entertainment either. However, there are many small stores with local products, cozy guest houses and tall trees.
Resorts of Abkhazia on the map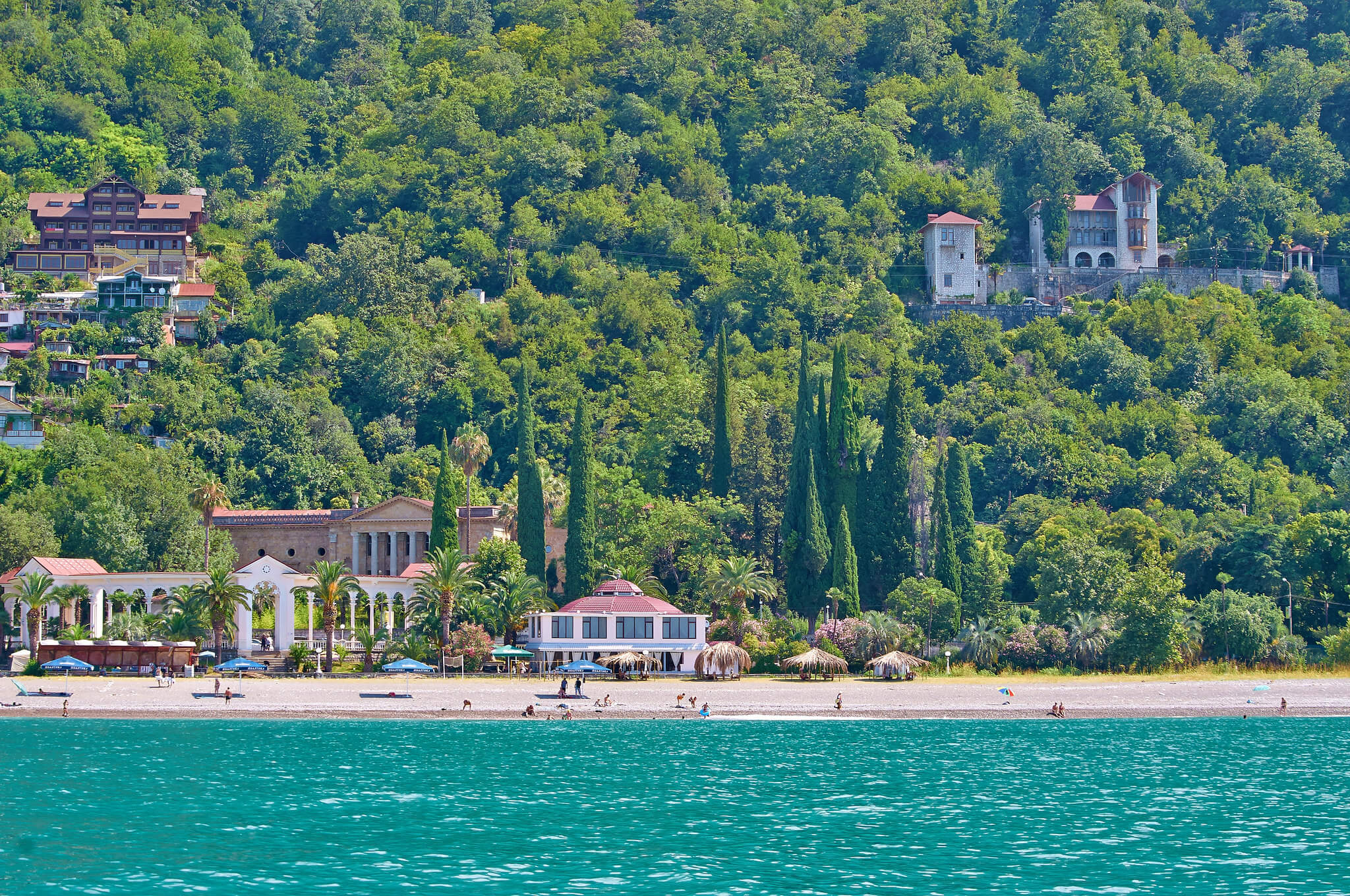 Gagra. Photo: Dmitriy Kirilin / flickr.com.
How to choose a place to stay
Reviews of tourists about rest in Abkhazia are ambiguous – some go to the same resort for several years in a row, and some will never agree to travel to Abkhazia again. In no small measure, the final impression depends on the hotel, so you should choose an accommodation in Abkhazia very carefully.
We advise to look for hotels on Hotellook or Yandex.Travel, and apartments for daily rent – on Soup. These three services are reliable and convenient, we always use them to book accommodation in Russia and abroad. Do not trust the ads on Avito and similar sites. Book accommodation in Abkhazia only on the reliable services with real photos and reviews, so as not to get a pig in a poke. Take a look at our hotel search tips. Learn also how hoteliers in the south cheat tourists.
Prices for accommodation in Abkhazia (for two people per day) in August-September 2022:
A room in a guest house – from 500 ₽
Room in an apartment – from 700 ₽
Apartment – from 2,000 ₽
Villa – from 8000 ₽
Nice 3* hotel (Sun Palace Gagra, for example) from 2,800 ₽
Amra Park-hotel & Spa 5* in Gagra – from 6,000 ₽
How to choose the right hotel for your holiday in Abkhazia? Let's start with the fact that there are not many hotels in Abkhazia at all. Guest houses, apartments and apartments are much more. But whichever type of accommodation you choose, you need to consider the following.
Study the maps! If you choose a hotel with the help of booking sites, be sure to see where it is located. Especially if it is your first trip to Abkhazia. It may turn out that the hotel is located in an unknown small town far from the central cities. Sometimes the search engine offers an option 10-15 km from the specified resort. And so it was with us. While resting in Abkhazia we chose a guest house at a low price. It turned out to be very cozy, but it was two minutes from the Russian border, and we had no chance to fully immerse ourselves in the atmosphere of the country.
If the settlement suited you, pay attention to the distance to the sea. Ideally, the distance to the sea is no more than 500 meters. Otherwise the road will take a long time, especially if you come with children. The roads are not good everywhere, and even more sidewalks. We carried with us a stroller, and periodically it was not easy with it.
Tourists advise to choose hotels no higher than 5 floors, as higher may not reach the hot water, and on a hot summer day, it becomes one of the main requirements.
Sometimes the light in the villages is turned off during the day – this happens in the Russian resorts, and in Abkhazia. Just this point should be clarified in advance – in the hotel description, in reviews or correspondence with the administrator.
You can choose any meal you like. Interesting options with breakfasts, and completely without food, but, for example, with its own kitchen. In Abkhazia there is a lot of fresh food so you will definitely not go hungry! If you choose a guest house, rather than a hotel, then dinner or lunch can be easily ordered at the hotel. The Abkhazians are very hospitable and will be happy to feed you.
Holidays in Abkhazia with children
Why do many people choose Abkhazia for a holiday with children? I say "many" for a reason – our plane seemed to be half full of kids of preschool age. I think that vacationers are attracted by proximity to Russia. If you want to feel abroad but cannot go far away Abkhazia is a good option. The republic has Russian passports (so there is no need to make a passport for a child or register him/her), and Russian is recognized as the second official language. The currency here is also Russian, but that the cards are not accepted everywhere.
To vacation with children in Abkhazia in 2022, experienced travelers recommend Gagra and Pitsunda. In Pitsunda the best climate for recreation with a child: a fresh breeze, relict pitsunde pine trees and very clean sea. According to reviews of tourists, this is one of the cleanest areas on the Black Sea coast. For health-improving rest it is worth to go here. Gagra is an ancient city with beautiful architecture. Attractions are concentrated in Old Gagra and entertainment for children can be found in New Gagra. There is a water park – almost the only one in Abkhazia. In addition, there are many markets with fresh fruits in Gagra.
In fact for a vacation with the whole family will suit almost any resort in Abkhazia. We lived in Gechripsh (Leselidzde) and took a shuttle bus to bathe at White Cliffs in Tsandripsh. The kids loved it, but be sure to take care of comfortable shoes for the whole family. The pebbles on the beach are huge, and it hurts to walk barefoot on them.
What is important to remember on vacation with a child :
Russian medical policy in Abkhazia is not valid. Free of charge you will be given only emergency first aid. But if you live near the border, you can go to Adler and visit the hospital there. But it is most reliable to buy insurance for abroad on Cherehap. A week's policy costs only 230 ₽ per person – a small price to pay for peace of mind and safety.
The end of summer is the best time for a holiday with children in Abkhazia. The heat in the second half of August is gone, and the sea is still warm. But also there are more tourists at this time.
If you go on holiday to Abkhazia with children in the summer or in September, you must take care about the accommodation in advance! Especially if you want to live in a comfortable hotel or guest house with all the comforts and a good location. If you agree to almost any condition (it happens!), it's easy to find a room or apartment on the spot. Look for guest houses and hotels on Hotellook or Yandex.Travel. And if you want a homelike atmosphere, look for accommodation in the private sector of the city.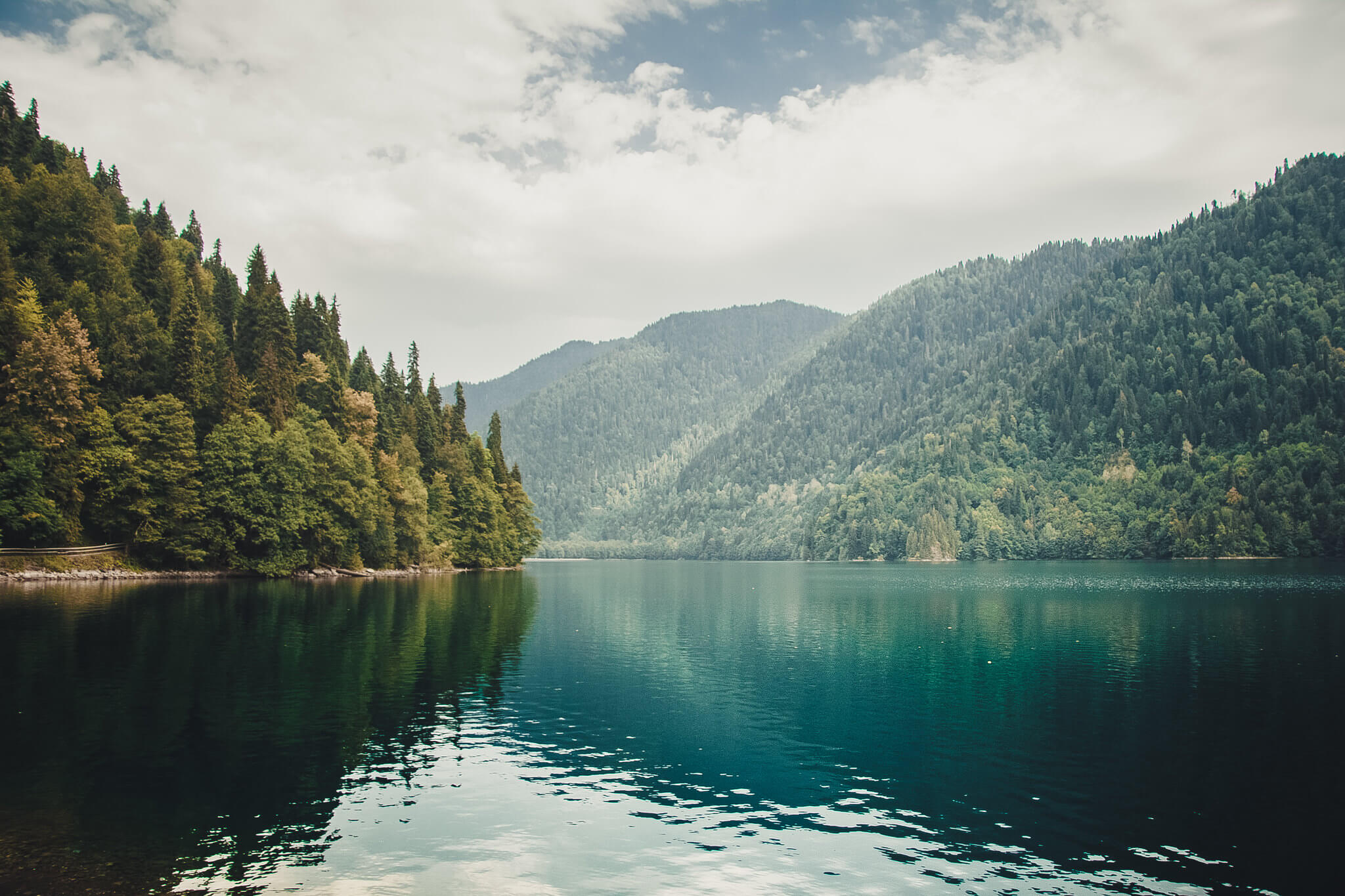 Lake Ritsa. Photo: arturgalaxy / flickr.com / CC BY-NC-ND 2.0 license.
What to do on vacation
Despite the average development of infrastructure, Abkhazia has many options for an interesting and memorable vacation. Every year the level of resorts is getting higher, and you will always find where to go and what to see.
Nature Vacation
Natural attractions of Abkhazia are known far beyond its borders. The most famous was and remains the Lake Ritsa. It is located at an altitude of 950 meters above sea level, surrounded by high mountain peaks covered with green forests, and the water in the lake changes color depending on the season. Nearby is Blue Lake and the waterfalls – Men's Tears and Maiden's Tears. In the same area once stood the summer houses of Brezhnev and Stalin, and now you can see the remains of these buildings and even walk around them. All this can be visited in one day, it is not difficult to find a tour too – they are sold at every step.
We also advise to visit the national relic park in Ritza and the Pitsundo-Musser Reserve – there you will see the famous Abkhazian pine trees and meet rare species of animals.
In addition, Sukhumi has a unique attraction – a nursery of monkeys. If you are walking through the center of the city, be sure to visit here. This is not only a popular place among tourists, but also part of the Research Institute of Experimental Pathology and Therapy of the Academy of Sciences of Abkhazia.
Active recreation in Abkhazia
The country of the soul offers tourists the classic types of active recreation – jeeping, rafting and even diving. If this does not seem extreme enough for you, you can try diving in the mountains (speleodiving), rock climbing or paragliding. On the beaches, too, entertainment is enough: boat trips, riding on the rides on the beach.
Rest for the soul
Abkhazia is a country with a lot of sacred places. The most famous place is the New Athos Monastery and its surroundings. Near the monastery there is a cell and the temple of Simon Kananit (to them you have to climb the mountains), New Athos Cave and a beautiful park, in which swans swim. It would be convenient to go here with a tour. That's exactly what we did and in one day we visited all the attractions of New Athos. Including on the way back we stopped at the home wine store and the observation platform in Gagra. We paid ₽5,000 for the entire day (four adults and two children). Children, however, I do not advise to take to New Athos – it was incomprehensible and tedious for them.
Read more about New Athos.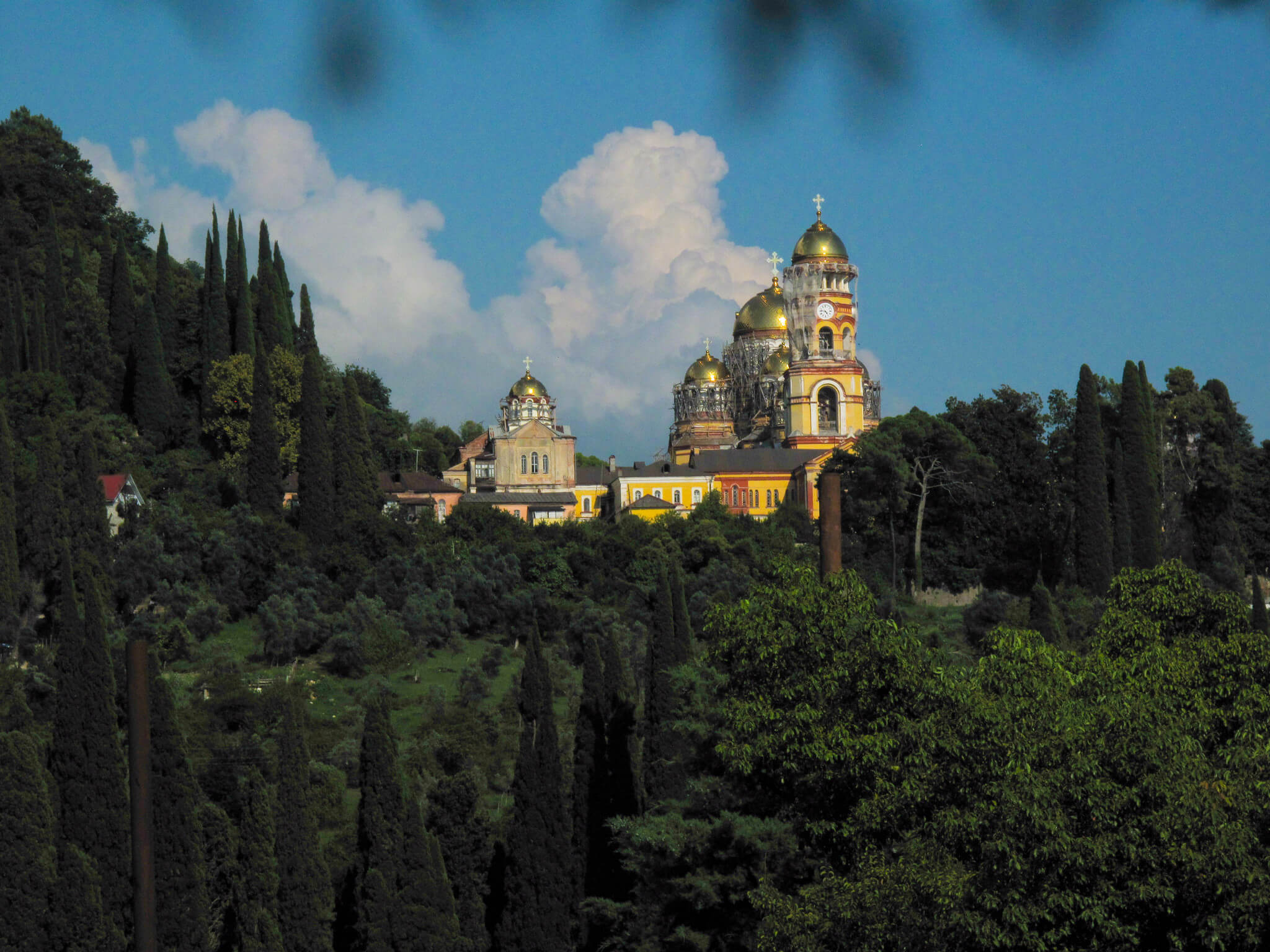 New Athos. Photo: fieldreports / flickr.com / CC BY-NC-ND 2.0.
Excursions
In the resorts of Abkhazia offers many excursions, the only problem is how to choose a good one, one that you will not regret. With this really difficult, because among the locals there are many who want to earn easy money, not too good quality of their work. But there is a simple way to avoid meeting with such travel agents!
We advise you to buy tours not on the streets or in hotels, but on the service Tripster. There is a huge selection of interesting programs, including author's, and choose a good tour will help real reviews of tourists. Make no mistake! We often use this site when we travel. And there are often good discounts of 10-25%.
If you are vacationing as a family or company, or just want maximum comfort and attention to your wishes, book individual tours. A full-day car trip to the main sights will cost ₽3,000-14,000 depending on the program and the complexity of the route. If you divide that amount by 3-7 people, it's quite inexpensive. But how convenient and enjoyable, because except for you and your loved ones on the tour will not be anyone.
These tours have the highest rating and excellent reviews of tourists:
Tripster also has a great selection of group tours: bus and walking tours. They cost ₽400-700 per person.
Reviews and tips
About rest in Abkhazia in the summer of 2020 (and not only) a lot of contradictory reviews: someone writes that this is a poor country with lazy and rude residents, seeking to extract money from tourists at the first opportunity, and someone considers Abkhazia the Country of soul and returns there again and again.
Nature and its attractions, clean sea and beaches are beyond all praise – everyone says only positive things about it. And vacationers like reasonable prices for food and lodging. Tourists also praise the national cuisine.
Judging by recent reviews on holidays in Abkhazia, tourists most often complain about :
The arbitrariness of the police, who work "in conjunction" with cab and minibus drivers and extort bribes for imaginary violations of traffic rules;
tolls for access to places of interest;
failure to comply with hygiene rules when preparing food in some establishments;
rotavirus infection;
lack of cleaning in the rooms of guest houses – you should ask for it;
rudeness of locals, desire to extort money for any service, trickery and inordinate price increases;
theft, especially from cars and on beaches;
The electricity and water outages;
sewage flowing into the sea.
As always, reviews do not pretend to be objective – some are delighted with the holiday in Abkhazia, while others swear never to go there again.
Remember that at the border can take away the cheese and honey, if they are not in original packaging. You cannot take out eucalyptus, boxwood and propolis. Animal products (cottage cheese, eggs, etc.) are also prohibited.
Vacationers advise not to violate traffic rules if you came on your own or rented a car, because Russian license plates to traffic police – like a red rag to the bull. In addition, tourists are advised to take medicines on the road in case of poisoning or rotavirus infection (especially those who travel with children), eat only in decent places and drink bottled water.
Passing the Border
It is very easy to cross the Russian-Abkhazian border: you do not need a visa to Abkhazia, only the Russian regular passport. For children under 14 years old take birth certificate with a stamp or certificate of citizenship.
Compulsory insurance is issued already at the resort, it is usually included in the cost of living. It costs 250 roubles for up to 30 days, if you plan to stay longer 750 roubles (up to 183 days). If you plan to stay for more than 3 days, you'll have to pay the resort tax in amount of 30 rubles.
If you cross the Russian border with Abkhazia by car, you must have the documents for your car – a driver's license and the technical passport. If the car is not yours, you need a general power of attorney with the permission to travel abroad. If you are planning to stay in the country for more than a month, you need to have your car registered at the SAI. You will also need to pay a fee of 150-300 rubles, depending on the type of car.
Soviet Gagra
Watch this short documentary from 1977. This is a great opportunity not only to learn what the famous Abkhazian resorts looked like in Soviet times, but also to look at the Soviet elite vacationers themselves. All in all, this is an informative and atmospheric video.