Resorts in Turkey: a comparison and description of where to vacation in 2022?
Turkey is loved by Russian tourists not only for the azure sea and the best sandy resorts, but also for the diversity of the landscape. For example, in just one region of Antalya there are completely different resorts: Kemer, Belek, Alanya.
They differ dramatically from each other in nature, attractions, variety of beaches and tourist attractions. So where it is better to rest and which resort in Turkey is warmer, we will understand further.
I'll tell you about all the popular cities in Turkey, washed by all 4 seas: the Mediterranean, Aegean, Marmara and Black Sea.
The Black Sea I will consider in relation to Istanbul, because I will not hide, the Black Sea coast, such as Tekirdag, Yalova, is in demand, mainly among the local population, and Turkey itself is aimed at the north in terms of industrial shipping.
Resorts on the Mediterranean Sea: Kemer, Antalya, Side, Belek, Alanya.
Resorts on the Aegean Sea: Marmaris, Fethiye, Bodrum, Kusadasi, Dalaman, Izmir.
Resorts on the Marmara Sea and the Black Sea: Istanbul.
You just have to choose the best resort of those presented and find the right season for you when it is better to go to sea.
To help you do this useful information about prices for tours per week, the weather over the seasons, the average temperature of air and water, where to go and what to see at the resorts, as well as information about the best sandy beaches in Turkey .
| | | | | |
| --- | --- | --- | --- | --- |
| Turkish resorts | Type of holiday | Type of beach | t°C summer/winter | Price summer/winter |
| Kemer | Extreme Mountain Beach | Pebble | +16°C / +32°C | 23 505 / 12 840 |
| Antalya | Beach Events Shop Tour | Sandy Pebble | +16°C / +30°C | 26 301 / 16 796 |
| Side | Beach Romance Excursions | Sandy Pebble | +14°C / +31°C | 25 364 / 13 494 |
| Belek | Beach Extreme Shopping Tour | Sandy | +16°C / +32°C | 29 246 / 15 819 |
| Alanya | Beach Shop Tour Treatment Excursions | Sandy | +15°C / +30°C | 27 529 / 12 599 |
| Marmaris | Beach Extreme | Sandy | +13°C / +32°C | 24 934 / 20 621 |
| Fethiye | Beach Extreme | Sandy | +12°C / +31°C | 29 275 / 26 528 |
| Bodrum | Beach Excursions Events | Sandy Pebble | +14°C / +29°C | 32 540 / 27 069 |
| Kusadasi | Beach Excursions Cruise | Sandy | +12°C / +32°C | 29 091 / 25 667 |
| Dalaman | Beach | Sandy | +13°C / +32°C | 23 761 / 11 939 |
| Izmir | Beach Excursions Shopping Tours Events | Sandy | +12°C / +31°C | 44 560 / 35 009 |
| Istanbul | Beach Excursions Events Shop Tour Extreme | Sandy Pebble | +10°C / +27°C | 25 510 / 20 135 |
Where to go in Turkey
First of all, determine the purpose of the trip, whether you'll go alone or with your family, together for a romantic vacation or with friends to hang out, and I will tell you which resorts of Turkey are best suited for this.
Holidays with family
Cities – resorts of Turkey, such as Antalya, Kemer, Belek, Alanya, Side can boast the warmest sea and the best sandy or pebbly beaches along the Mediterranean coast, and sunny weather from April to October.
In addition, resorts offer many services necessary for the most comfortable family vacation, such as babysitting and animators, playgrounds and clubs, shallow pools with slides.
Get Hot Tours on Telegram
Find the dates when tours are cheapest on Travelate and Level Travel
Holidays for Young People
Fans of rocking parties and nightclubs in the open air will love such resorts as: Kemer, Antalya, Bodrum, Marmaris.
Having rented a car, you can go to Bodrum, spend a leisurely evening with a glass of wine in one of the cozy bars of the city, and at night to go to the largest disco "Halikarnas". Or you can go to Kemer for the best water attractions, exciting diving or parachute flight.
Holidays for couples
For a secluded vacation for two, we recommend choosing Side . This resort city is the perfect place for your honeymoon or wedding trip.
Here you will find the most interesting and beautiful places for romantic walks, such as along the Mediterranean Sea or among the ruins of an ancient city surrounded by nature of unearthly beauty, rocks and caves.
Resorts in Turkey on the Mediterranean Sea
The most popular Turkish resort towns, or the Turkish Riviera, stretches one after the other along the entire Mediterranean coast. Southern resorts are famous for its clean sand and pebble beaches. And about the most visited of them: Kemer, Antalya, Side, Belek, Alanya, I will tell you in detail.
Rest in Kemer.
Kemer is associated primarily with a relaxing beach holiday with children. Each tourist is waiting here for the picturesque nature, clean air and clear sea.
is located in a unique area, it has both sea and mountains, and pine and eucalyptus forests.
The resort is suitable for youth recreation, and couples with children. It is possible to have a rest not only in the town of Kemer, known for its boisterous nightlife, as well as in resort villages: Tekirova, Beldibi, Kirish, Geynyuk, Chamyuva, for a quieter and more measured rest.
The first tourists arrive in April and stay here until the end of October. Beach season opens in May when the sea is warm enough, and the velvet season lasts from September to October, when the heat goes down and the sea is still warm.
Wide beaches with clear transparent sea bottom, which can be seen even at a distance of 3-4 meters.
A wide choice of active entertainment: diving, safari tour, snorkeling, surfing.
In Kemer pebble beaches, although many hotels fill their beaches with sand. Entering the water on a sharp pebble uncomfortable, especially in Beldibi and Geynyuk, so many tourists swim in special rubber slippers.
A lot of Russian-speaking, so those tourists who want a break from their compatriots, will have to choose another resort.
In high season the humidity rises, so the feeling of evaporation and stuffiness is typical for July and August.
Beaches of Kemer
Beaches of Kemer, mostly pebble, and sandy beaches unit, one of them is located near the entrance to the park "Moonlight". The beaches of Kemer and its resorts are well maintained and clean, for this they were even awarded the "Blue Flag".
If you don't want to be bored day and night, you should choose Kemer, and then go to Tekirova and Kiris with its sandy-pebbly beaches, where you can find the best 4* and 5* hotels. But Tekirova is the furthest from the airport.
The greenest resort, of course, is Geynyuk, there is a beautiful, picturesque canyon, which you can walk to, but the beaches and the seabed of the resort are quite stony.
If finances are tight, I recommend the resort of Beldibi with banana, orange and lemon groves or Chamyuva with pine forests and majestic mountains. It is the opportunity to rest on a budget attracts our compatriots to these cozy, family resorts.
Prices for tours in Kemer
Prices for tours in Kemer depend on different conditions, including the season. If you want to explore the nature of the resort, go in the fall or spring, that is, in the low season, and if you want to relax on the beach, then in the beach season: June, July, August.
Also keep in mind that Kemer has no airport of its own. Therefore, if you are traveling on your own, think about your transfer from the airport of Anatolia to Kemer, and the road itself takes only an hour.
| | | |
| --- | --- | --- |
| Tours in Kemer | High Season | Low Season |
| For 7 days | From 23 505 rub/person | From 12 840 rub/person |
Weather in Kemer
The peak season is in July and August when the air temperature reaches its limits. And the sea warms up from May and stays warm until the end of October.
At the same time, the humidity rises. So in the high season can be quite stuffy, and the feeling of "sauna" will not leave you until September.
| | | | |
| --- | --- | --- | --- |
| Weather in Kemer | Air temperature during the day, °C | Air temperature at night, °C | Water temperature, °C |
| January | +15 | +9 | +18 |
| February | +17 | +10 | +17 |
| March | +18 | +12 | +17 |
| April | +21 | +15 | +18 |
| May | +24 | +19 | +21 |
| June | +30 | +23 | +25 |
| July | +33 | +27 | +28 |
| Augusta | +33 | +27 | +29 |
| September | +30 | +23 | +28 |
| October | +26 | +19 | +25 |
| November | +22 | +15 | +22 |
| December | +17 | +10 | +19 |
What to see in Kemer?
If you come to Kemer in the peak season, the best time will be an active holiday: diving, surfing, safari tour. This hot time is also conducive to a varied nightlife, there are many bars, clubs with dancing all night long.
While in Kemer also be sure to visit the sights of the resort. You can easily get to them by bus, cab or in a group, they are no further than 10-15 km from the center.
The ancient town of Phaselis with its beaches and picturesque cliffs.
Kemer's most extreme water park "Dolusu" with lots of extreme slides, cafes, and there is a beach and a dolphinarium.
The ancient city of Olympos, which is part of the National Park.
Park "Moonlight" with the beach of the same name is located near the city port on the outskirts of Kemer.
For longer excursions the best time will be September, October or April or May, when moderate temperatures allow for long walks in the open air. Worth a visit:
Tahtali Mountain and Ropeway . The mountain is 4,350 meters long, and the top station of the cable car is located on the top of Tahtali at 2,365 meters.
Beldibi cave complex in the middle of a pine forest.
Yanartash Mountain, shrouded in smoke and fire both day and night. Some tourists even take torches to the mountain and light them on top.
Rest in Antalya
Antalya is probably the most popular Turkish resort. Every year, millions of tourists come here to the Mediterranean coast for the best beach holiday since late April and early May.
Where to fly in Turkey: a detailed guide to the resorts
Once a week we'll send you the best articles and tips for travel hunters!
Everyone has been to Turkey at least once. Someone falls in love with this country and goes here every summer to sunbathe, others remain indifferent. Just Turkey is different. For example, in the same province of Antalya there are Kemer, Belek and Alanya – but the beaches, nature, level of service and attractions in these cities are quite different. We are confident that Turkey can make everyone fall in love with itself – you just need to choose the right resort and find your own corner of paradise in this country.
Resorts in Turkey on the Mediterranean Sea
In Antalya to drink, walk and have fun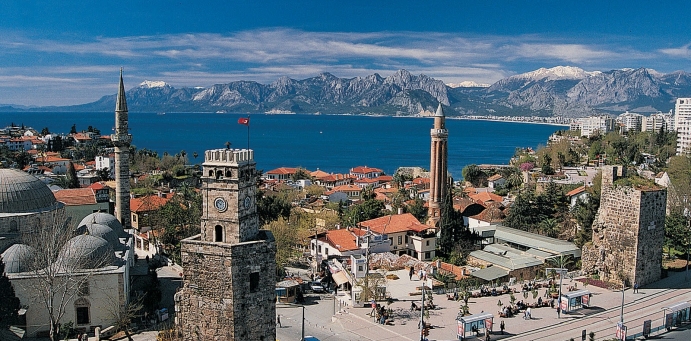 The main resort of Turkey, which turns into a dacha for Russians in the summer. Walking along the promenade in the evening, you may think that you have found yourself back in your native Samara and even meet a couple of acquaintances. This is quite a large metropolis with a developed infrastructure for tourists. It has everything for a crazy break – noisy nightclubs, beach bars with foam parties, karaoke and convenience stores. Hundreds of excursions, souvenir shops, Turkish delicacies. Water parks complete the image of a fun tourist city. Antalya is a great resort for young and active tourists. It is good for sightseeing, but not for a relaxing family vacation.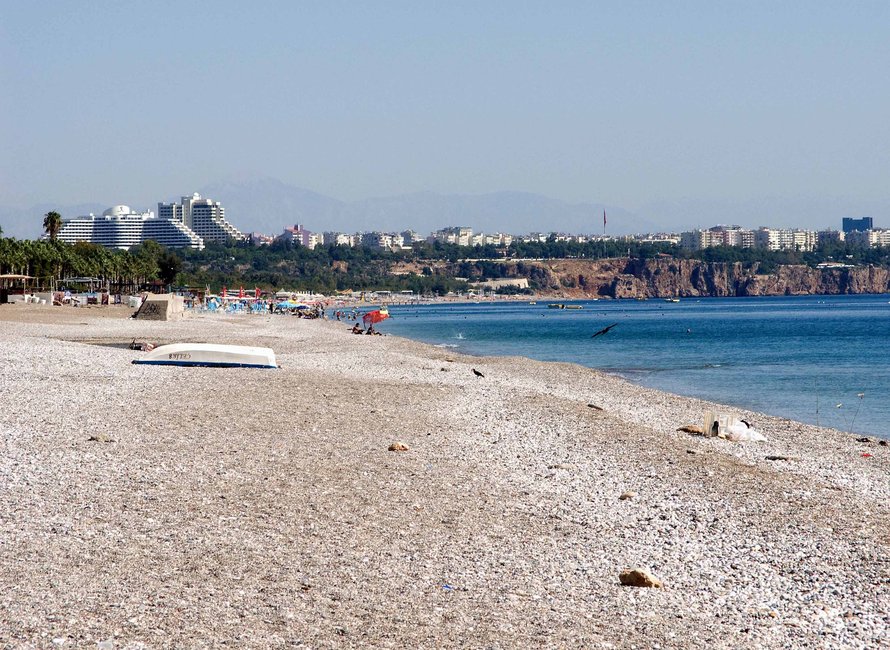 Beaches: Sandy, well-equipped, but not clean during high season due to the large influx of tourists.
What to do in Antalya: to party until morning at discos, do scuba diving, haggle in the souvenir markets of the tourist streets Gulluk and Isiklar, try all kinds of Turkish kebabs in the restaurants, see the ancient buildings in the Old Town, see the night show of fountains.
What is missing: secluded sea bays, clean beaches.
Take the kids to Kemer.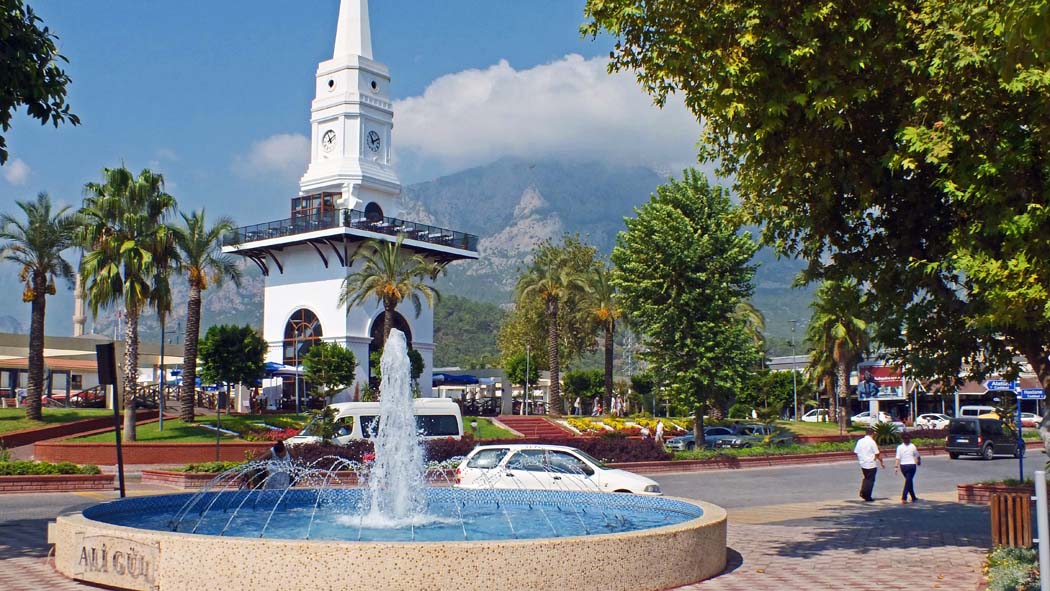 The resort is only an hour's drive from Antalya, but very different from it. Noisy bars and discos are only in the town of Kemer, and in the neighborhood – Beldibi, Tekirova, Kirishe, Geynyuk there is a quiet resort atmosphere. Coniferous forests grow around, which bring a pleasant coolness and fresh air. The temperature is always a couple of degrees lower than in Antalya. Hotels in towns aimed at family holidays, there is animation, water slides, and playgrounds, so it is good to relax with children. Beautiful promenades with souvenir stalls, clothes, Turkish sweets do not let the adults get bored.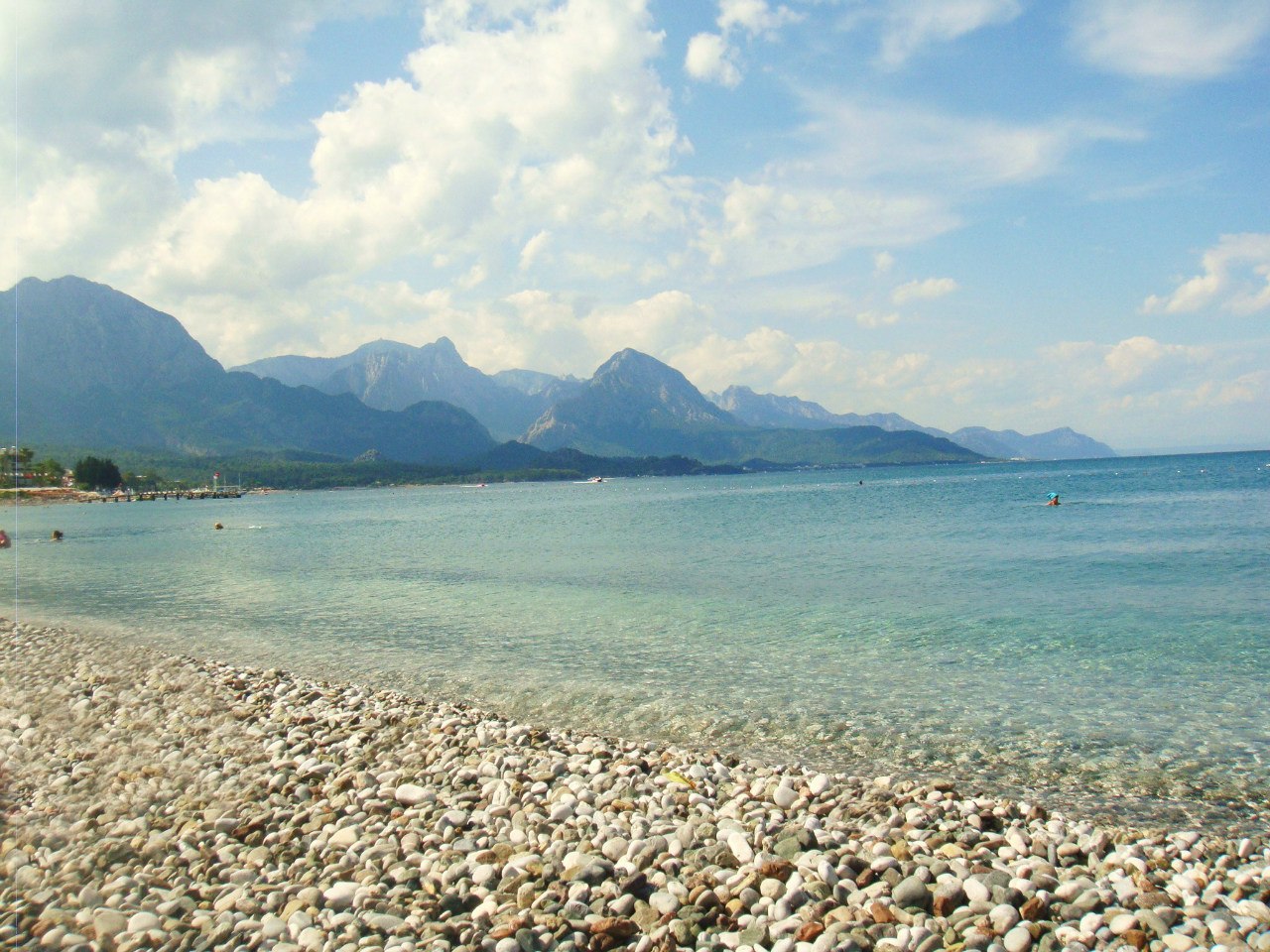 Beaches: Pebble, but some hotels specially bring sand. Entrance to the water is gentle, but stony – better bring rubber slippers if you're afraid to hurt yourself on the rocks.
What to do in Kemer: sunbathe, swim, go on excursions to Antalya, Pamukkale, rafting or fishing, take pictures against the beautiful mountains and the sea, snorkeling and view all the colorful fish at the coast, go to the shopping center "Migros" for things and souvenirs.
What is missing: the peace and quiet, in Kemer itself there are almost no sightseeing attractions.
In Belek – only with a gold credit card.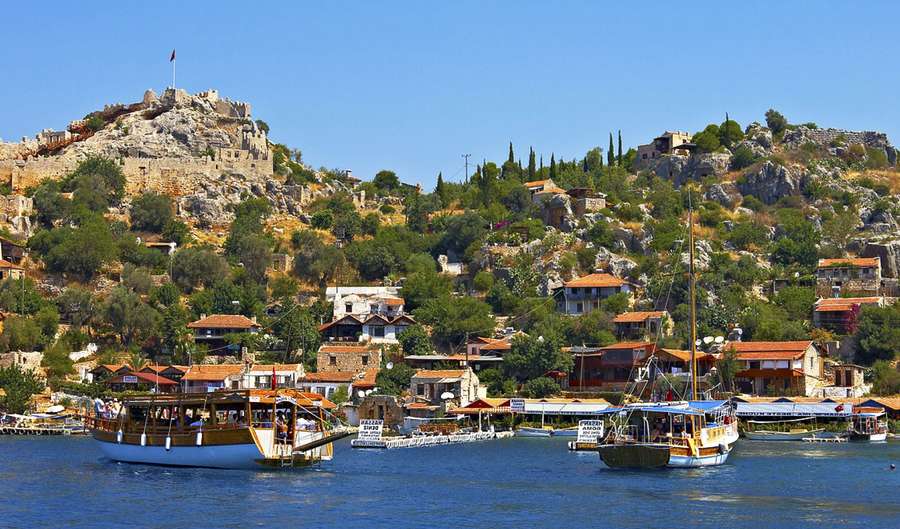 The most luxurious resort of Turkey Belek is about 25% more expensive than other cities. The entertainment here is appropriate: golf courses premium, designer shopping with inflated price tags, elite fish and meat restaurants, spa centers. For children there is a water park "Troy", which attracts people from all over Turkey. There are pine and eucalyptus forests around Belek, where turtles live. Huge "caretta" lay their eggs on the coast, so you can easily see these cute creatures right next to your lounger.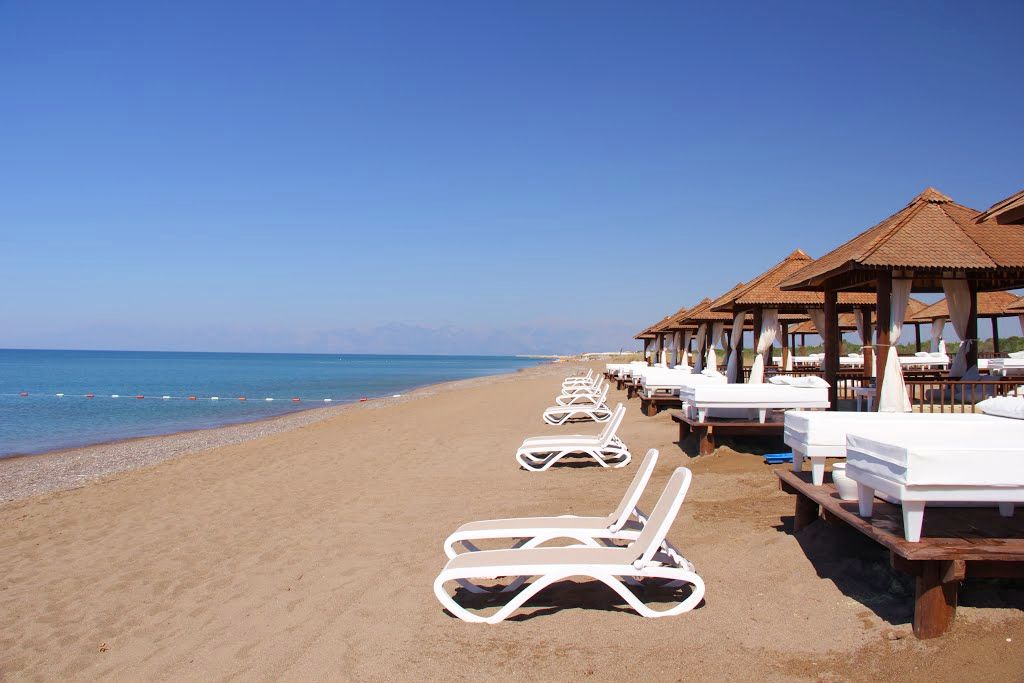 Belek beaches: the coast is completely divided between 5* hotels – there are only private beaches with golden sand, "strangers" with bracelets of other hotels on the territory are not allowed. The guests of 4-star hotels have to sunbathe on one of the two public beaches.
What to do in Belek: swim in the sea, sunbathe and enjoy VIP holidays, try freshly caught trout in a fish restaurant, go to the SPA on the program "Anti-stress", play golf, visit the ruins of an ancient city 30 km from Belek, go to the water park, even if you do not have children.
What is missing: cheap Turkish souvenirs, 3 * hotels by the sea, inexpensive cafes and entertainment.
To Side for excursions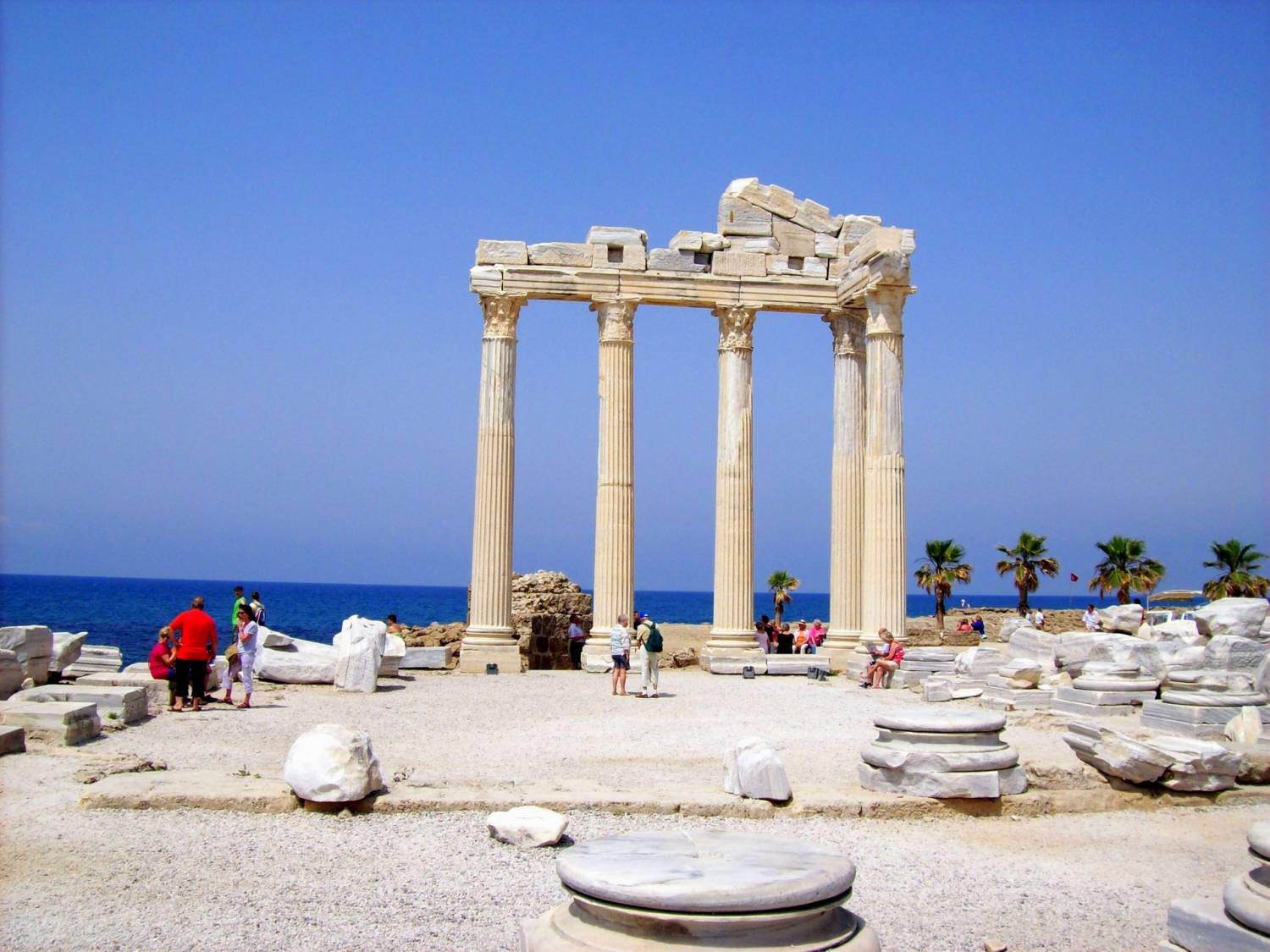 You don't know what to choose – mythical Greece or beach Turkey? Then come to Side! This lively resort with wonderful beaches and tourism infrastructure is located 75 km to the north of Antalya. History lovers and fans of excursions love it. The ancient town was founded by Greek colonists in the 7th century BC. There are ancient monuments everywhere – amphitheaters, temples, a market square, and fragments of walls. There are so many sights, that you can't see them all in a week – take 10 days.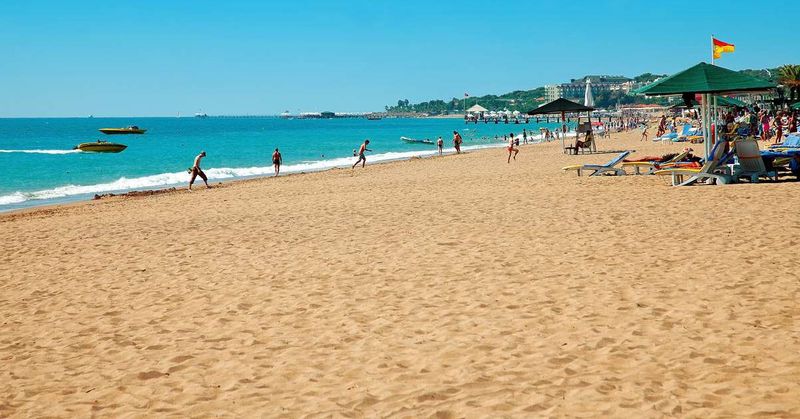 Beaches Side: East and West, both sandy, marked with the Blue Flag. The western with a gentle entrance to the water is suitable for children. The eastern one is calm, secluded, and in some places precipitous. Further away from the tourist zone is the turtle beach.
What to do in Side: See all the attractions of the city-museum, swim in the sea, admire the turtles on a wild beach, go to the waterfall Manavgat, try dishes from freshly caught trout.
What is missing: entertainment for children outside the hotels, cheap shopping, good discos and nightclubs.
In Alanya – for the budget family vacation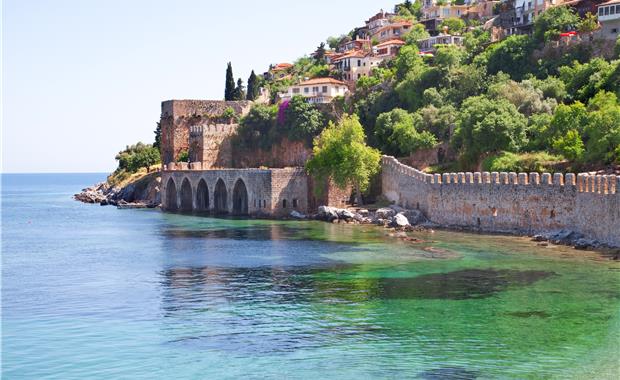 If almost the entire family budget spent on repairs in the apartment, but you want to rest, choose Alanya. Sandy beaches, shallow sea with a gentle approach, reasonable prices – the main advantages of the resort. Here is a good vacation with children due to the mild climate, warm sea and safe beaches, marked by the Blue Flag for purity. The coast is full of greenery, orange orchards and banana groves. There is much to see in Alanya: ancient towers and fortresses, majestic caves with underground lakes.
Alanya is located far from all the airports, so it will take 1.5-2 hours to get there. Take into account the time on the road, if you go on vacation with small children.
Beaches in Alanya: one of the best in Turkey – sandy, clean, equipped with sun beds and changing rooms, access paths.
What to do in Alanya: to buy things and souvenirs in the Eastern Market, see the tower Kizil-Kule and the Byzantine fortress Iç-Kale, go on a trip to the caves, taste the Turkish cuisine in local cafes, rent a bike and explore the beautiful surroundings.
What's missing: the mountains, the sights outside the city.
To Göcek for a secluded romance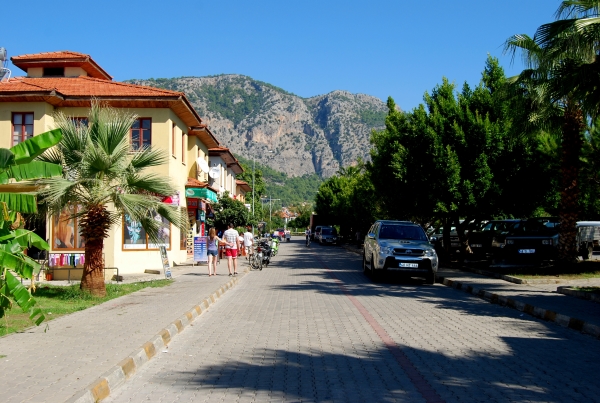 If you are not a fan of noisy oriental markets and intrusive vendors, this resort will win you over at first sight. No one here grabs you by the sleeve and shouts "come on in, daragoy, I'll give you a discount. The town lives its own quiet life, while not fixated on the tourists. There is not yet a huge cluster of hotels with three pseudo streets around. The small resort can be covered in 15 minutes by bicycle. It has enough stores, cafes, souvenir shops. A great place for a honeymoon or relaxation alone. Ten days in Göcek – and nerves are calmed, and the mood is adjusted, and the energy recharged for six months ahead.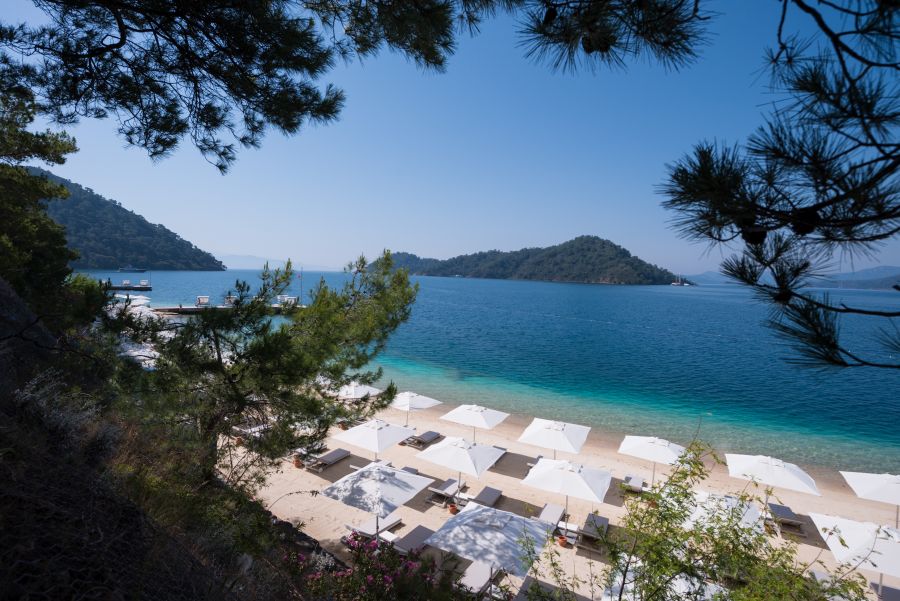 Beaches in Göcek: The only beach in the city is available to guests of some hotels. To get to the rest it takes about 30 minutes by public transport.
What to do in Göcek: to admire the surroundings, to lie on a sandy beach, meditate, take pictures of sunsets, walk along the sea on shady flowered alleys and look at the boats in a large marina, do sailing.
What is missing: the bustling markets, discos and karaoke outside the hotels, the standard tourist entertainment on the waterfront, water parks and children's attractions.
Resorts in Turkey on the Aegean Sea
To Bodrum on a yacht, surfing and scuba diving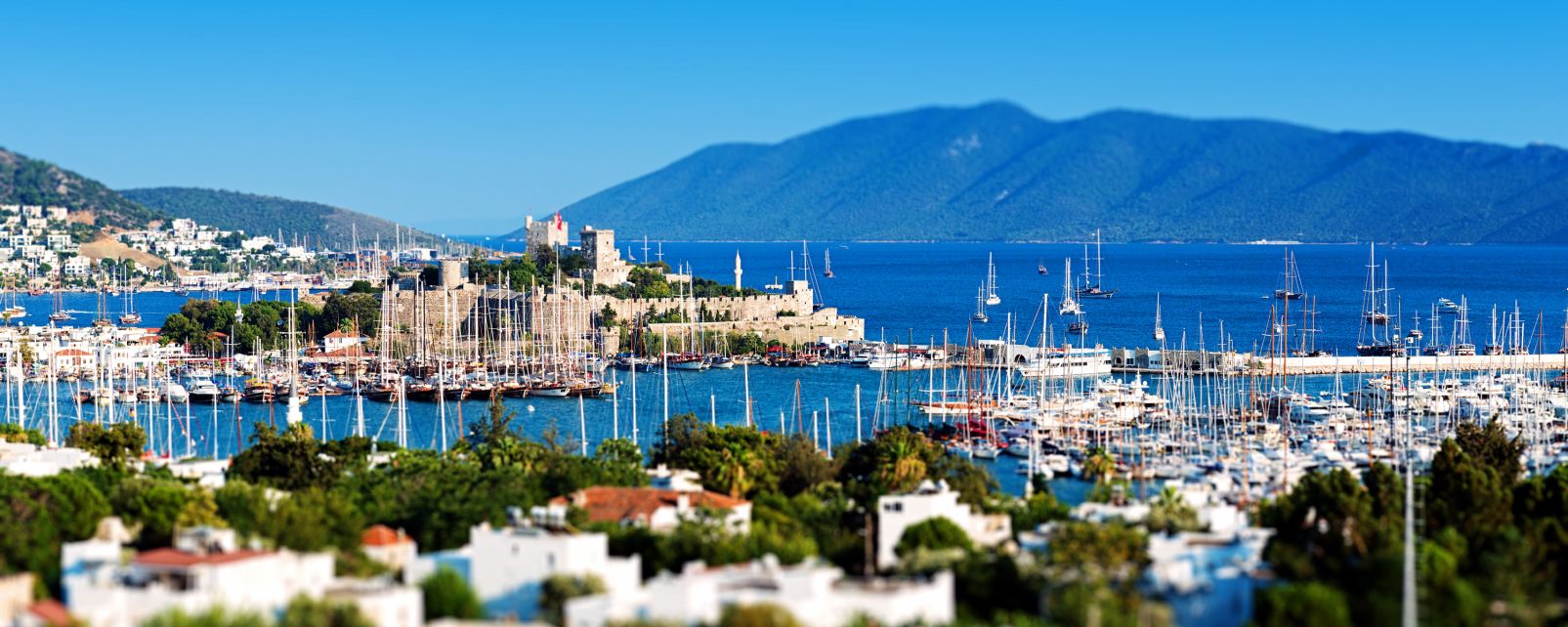 For a beautiful breeze blowing from the Aegean coast, come yachtsmen and surfers around the world. Bodrum has excellent conditions for water sports. Snorkeling, scuba diving, and sailing are great. In the evening the resort changes its appearance – there are hundreds of nightclubs, beach discos and bars with foam parties. Noisy partying doesn't stop until morning. If you plan a quiet family vacation, the fun youth Bodrum – obviously not for you.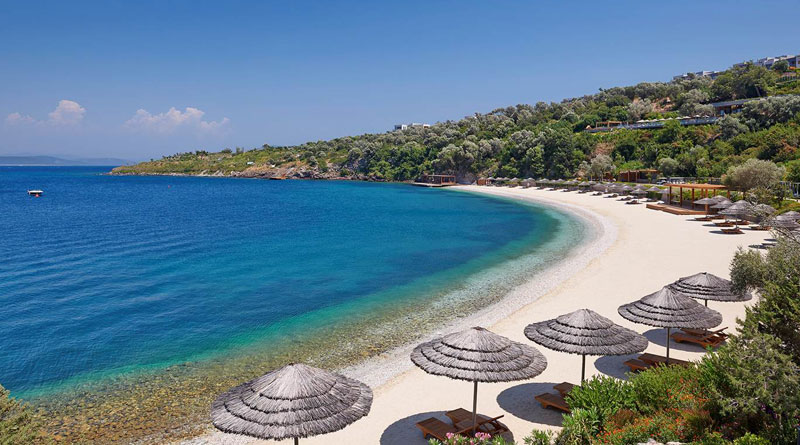 The beaches of Bodrum: pebbly or sandy, without sudden changes in depth, equipped with sun beds and umbrellas, with a developed infrastructure on the coast. Bodrum has a lot of quiet backwaters and secluded bays.
What to do in Bodrum: Sail and dive on Orak Island, see a sunken military plane on the Black Island, sunbathe on the beach, do shopping, dance at the disco Halikarnas, stylized as an ancient amphitheater.
What is missing: silence and conditions for a relaxing vacation.
Go to Marmaris to dance and enjoy nature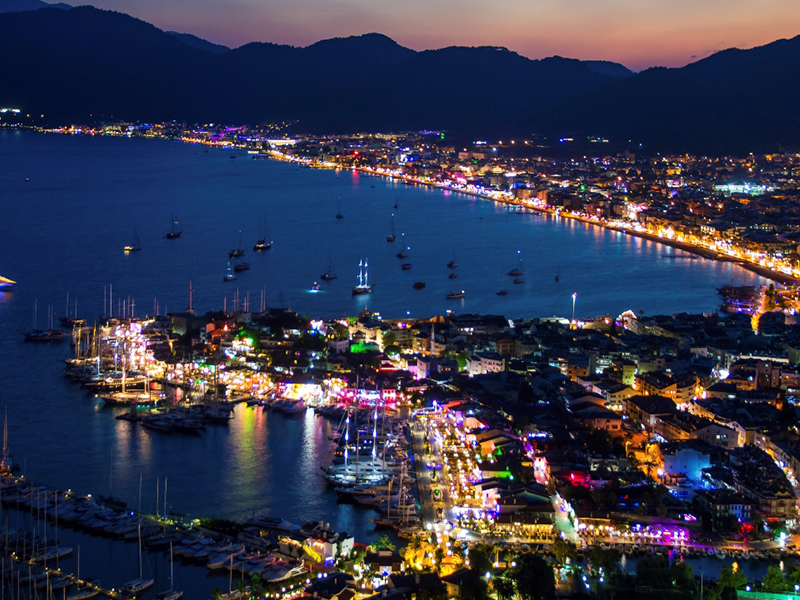 Marmaris is not like other resorts. Here is an incredibly comfortable climate. Even in July and August there is no exhausting heat – it is immersed in lush greenery, which brings life-giving coolness. In the evenings, Marmaris turns into a huge party, as the resort enjoys the status of the most fun city in Turkey. Many Europeans come here to dance. The infrastructure is aimed precisely at them – so do not be surprised that the staff understands Russian very poorly.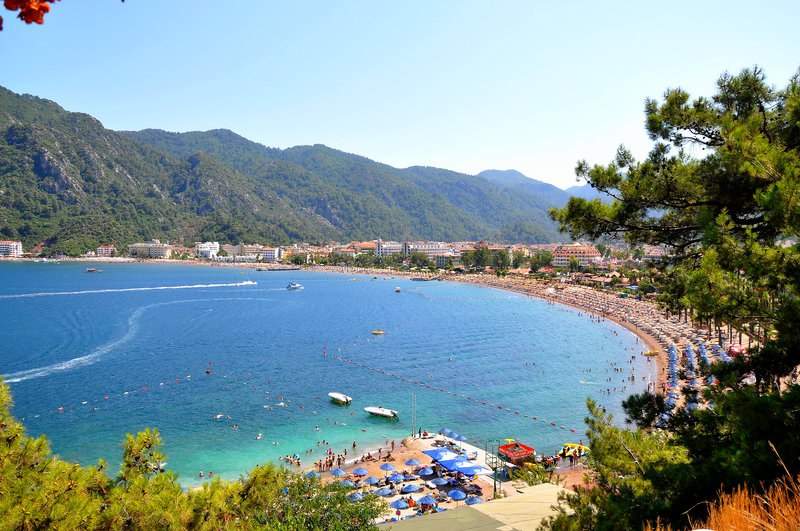 The beaches of Marmaris: sandy, with a gentle entrance to the water, equipped with sun loungers and umbrellas.
What to do in Marmaris: to walk through shady alleys, buy Turkish sweets and unique local honey, bargain in the Central Market of Marmaris, see the ancient forts and ruins around the city, go on a tour to Ephesus, stay up all night and dance in one of the local nightclubs.
What is missing: infrastructure for children outside the hotels, Russian-speaking staff.
To Fethiye – for the azure sea and endless beaches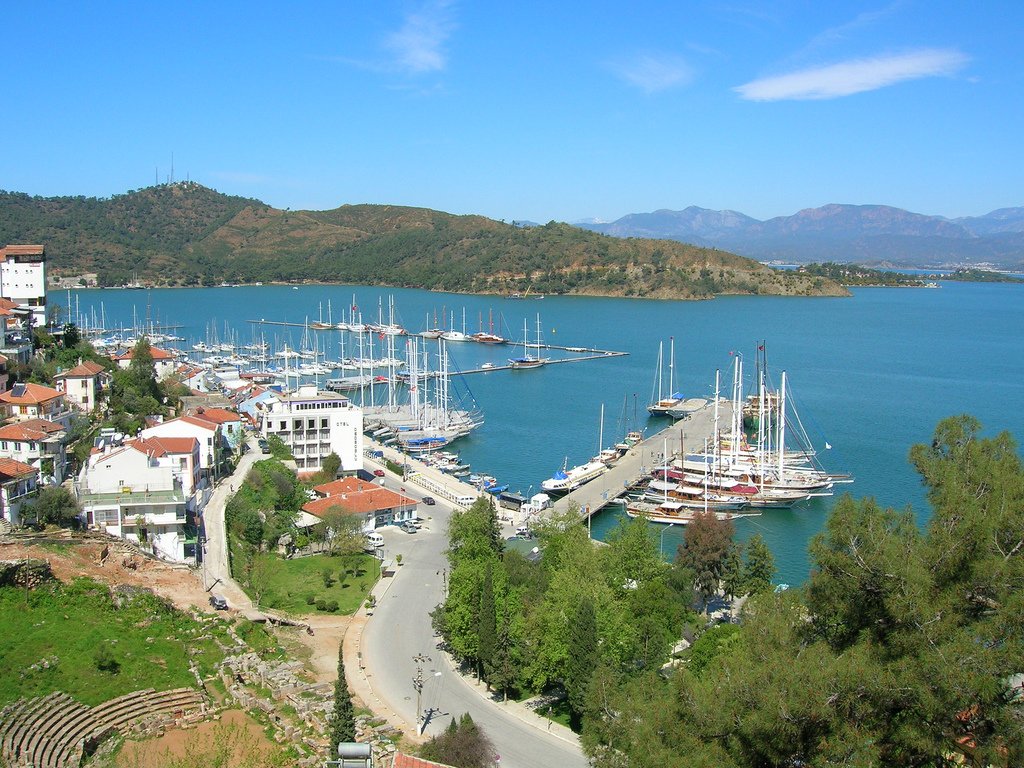 Turkey's westernmost resort Fethiye is the best option for serene beach idleness. Clean, sandy beaches stretch along the coast with yachts parked in the bright blue water. People come here to breathe in the clean air, to get an even bronze tan, and to take a break from the hectic cities.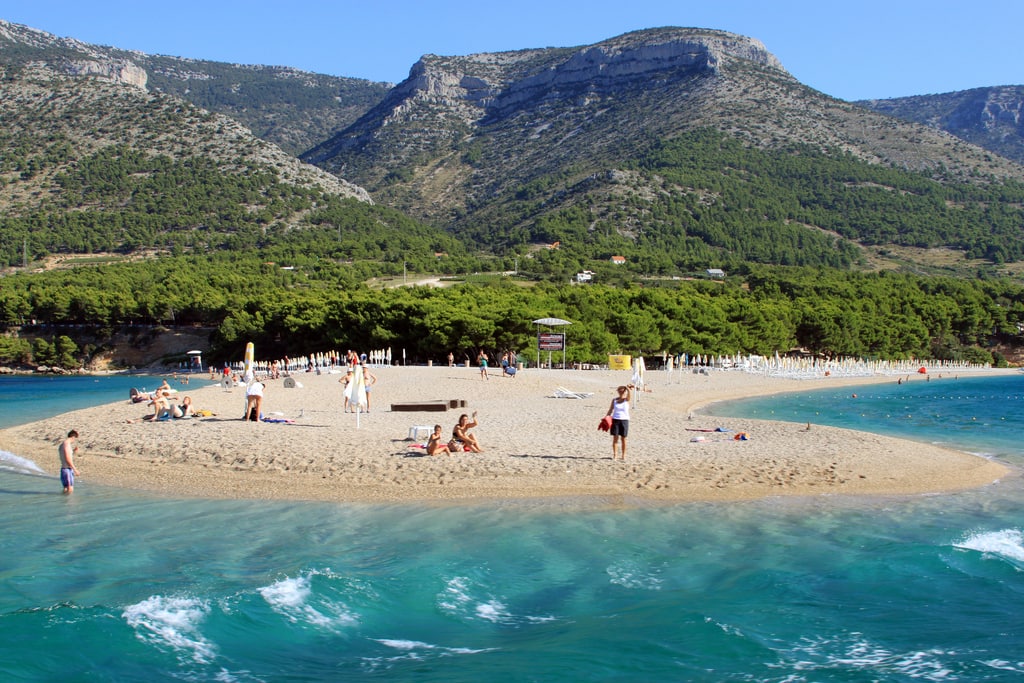 Beaches in Fethiye: pebbly and sandy, the best beach is Blue Lagoon in Oludeniz.
What to do in Fethiye: admire the breathtaking beauty of Oludeniz Bay, try your hand at parasailing, get a golden tan on Blue Lagoon Beach, scuba dive in Cleopatra Bay, visit Butterfly Valley and take pictures in this incredibly romantic place.
What's missing: rowdy parties and nightclubs.
To Cesme – for a luxury European vacation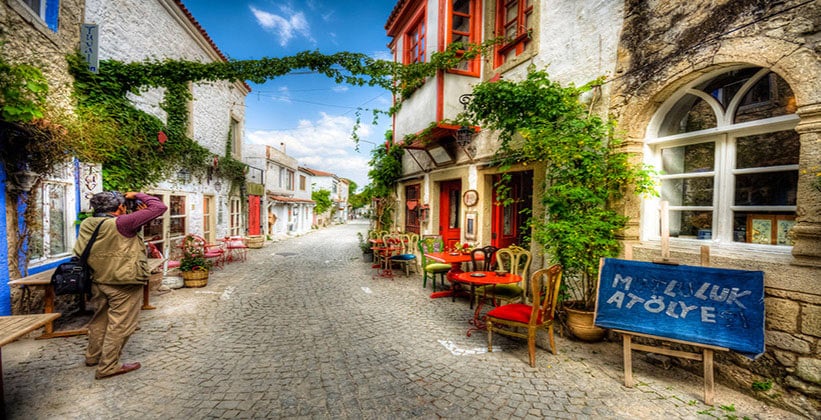 The town of Cesme, near Izmir, has not yet been flooded with Russian tourists. But Europeans have already appreciated the extraordinary nature of the Turkish province. Infrastructure is rather poor here – there are no usual souvenir markets at every step, few partying places, water parks and nightclubs. But there are good beaches, excellent conditions for water sports, natural and tourist attractions. The price list at the resort is higher than in other cities and comparable with good European resorts.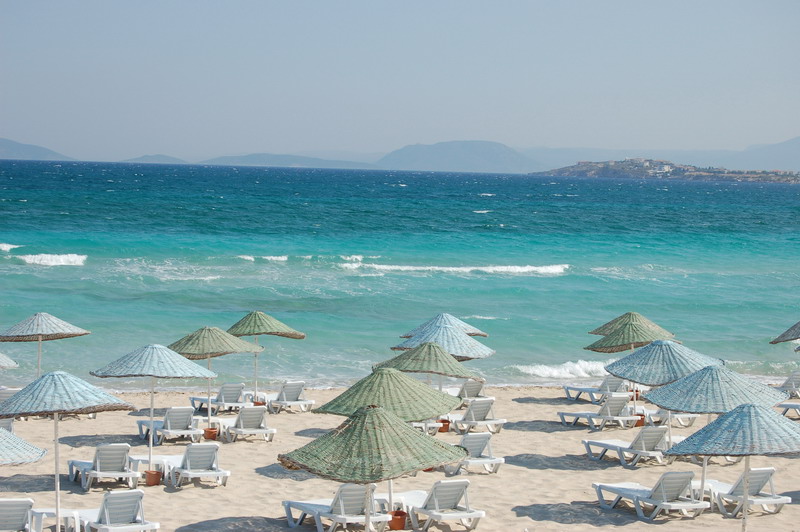 Cesme beaches: with incredibly white sand, the entrance to the water is precipitous. The sea here is much colder than in other regions, often with strong waves and wind.
What to do in Cesme: look at the fortress of Cesme, do scuba diving, go on excursions to Ephesus and Bergamy, take a steam bath with thermal springs in the town of Ilice.
What is missing: the standard Turkish markets, good shopping, Russian-speaking staff, inexpensive hotels "all inclusive".
In Kusadasi – on a gastronomic tour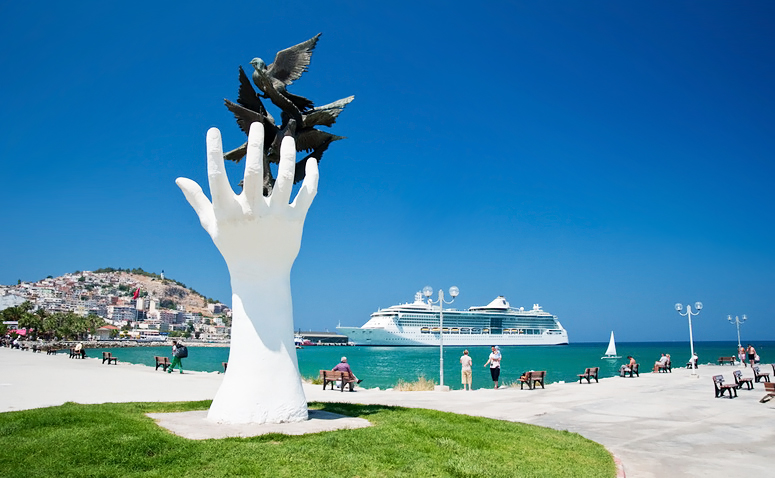 This picturesque resort with long beaches and secluded bays is rarely reached by Russian tourists. And why not – it is quite a democratic city of European level. On the coast, overgrown with lush greenery, often come big cruise ships, so the resort looks Hollywood-style beautiful. Here are good beaches, excellent conditions for diving, snorkeling, a wealth of excursions. Very close by are the ancient city of Ephesus and the picturesque thermal springs of Balchov. "Trick" resort – hundreds of restaurants, including fish, meat, traditional Turkish as well as Indian and Chinese. If you are going to Kusadasi, do not take "all inclusive" in the hotel – otherwise, you will not try the incredibly delicious lahmajun, karniyaryk and mutandjanu!
The beaches in Kusadasi: sandy, clean, with umbrellas and sun loungers, the water is shallow and suitable for children. One of the best is the women's beach with a good infrastructure and a lot of entertainment.
What to do in Kusadasi: try the traditional Turkish cuisine and choose your favorite, go on an excursion to Ephesus and look at the Temple of Artemis, walk through the ruins of ancient Miletus, visit the cave of Zeus, go on rides in the best water park in Turkey.
What is missing: Russian-speaking staff.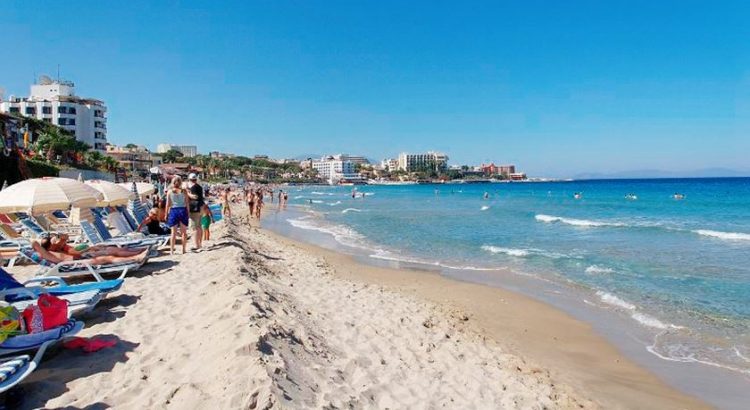 We hope that with our advice you will choose for yourself an ideal tour and fall in love with Turkey, as we love it!