Isle of Coron Philippines from A to Z
Coron is the third largest island in the Kalamian group north of Palawan. Isle of Coron is complex, mountainous terrain, so the nearest airport is on the neighboring island of Busuanga.
The distinctive feature of Koron Island is that there are 11 clear lakes, three of which are connected to the sea through underground caves. It's also a place of pilgrimage for divers – there are many Japanese warships sunk (wreck) during World War II.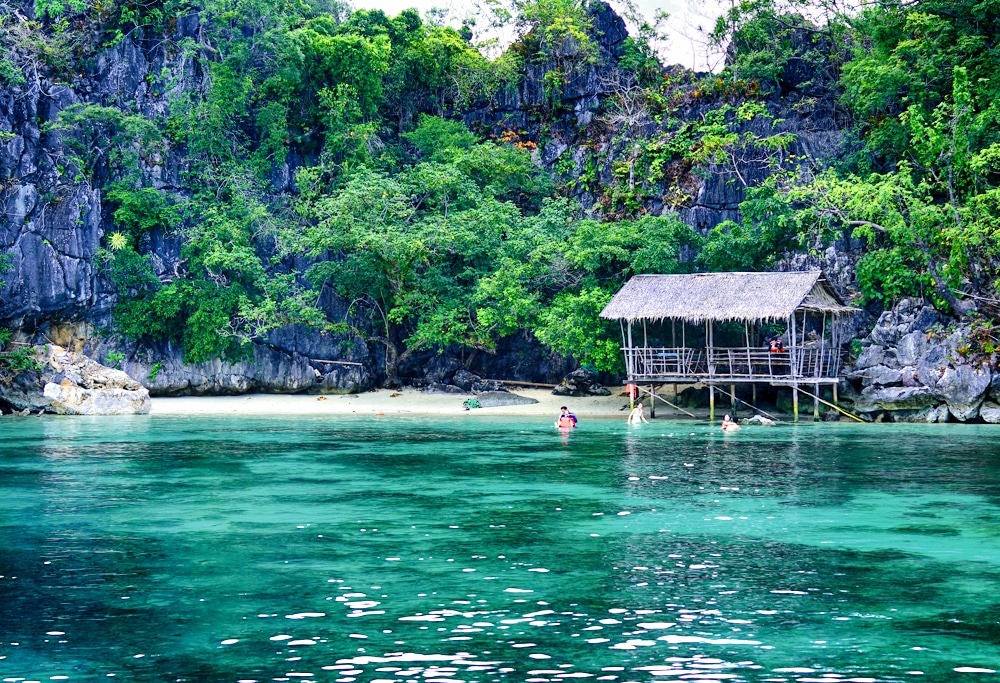 How to get to Koron Island
Tourists who come to Coron for the beauty of turquoise coves and white sand beaches and divers who come to Coron to dive shipwrecks stop at the nearby island of Busuanga in the town of Coron.
Daily flights from Manila to Busuanga are operated by several airlines, as well as small private planes. Flights to Busuanga can be found and then purchased using the cheap flight search
The transfer from the airport to Coron costs 150 pesos (3 euros) per person. Travel time from the airport to Coron City is 30-40 minutes.
Where to stay in Coron, hotels
Choose what you can afford or places with good reviews (which will satisfy you) on the site boqing.com – there is a lot of accommodation in Coron for all tastes and wallets.
I stayed at the Haisa Apartment and can recommend the place. My review about this hotel on Vinsky's Forum with photos.
Renting a boat for a trip to Coron Island
It is possible to buy a group tour on a given program in Corona. Price lists for such tours will be handed to you at the airport. But I am a proponent of a private trip to Coron Island, although it is more expensive than a group trip.
Renting a boat for myself, I can steer the route of the trip, changing the order of visiting places. I can stay longer where I like, and skip something not interesting. That is I adjust a trip to my desires. That is why I think it is possible to pay extra for it, because freedom is more expensive than money.
The boat for a private trip around the islands can be rented at the pier. It takes 10 minutes to walk to the pier from the apartments: go down the road past the church, go through the market and turn right.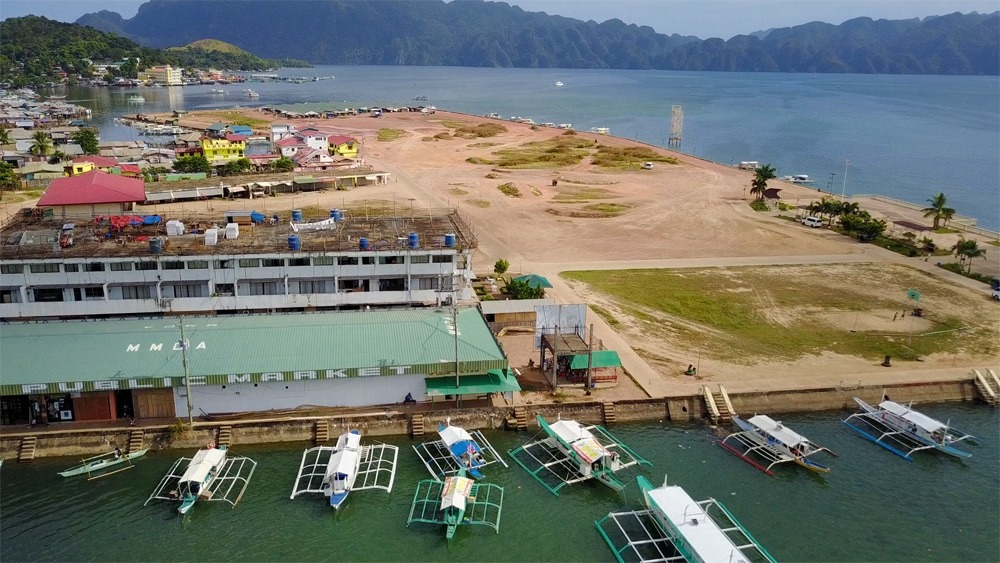 To rent a boat for a day to go to Coronne costs 2000 pesos in the port and 2500 if you book at Haisa Apartment.
I booked at the hotel as I added drinks, ice, and food for lunch to the order. I just didn't feel like buying it all myself. But those who want to save 500 pesos (10 euros) and pack on their own.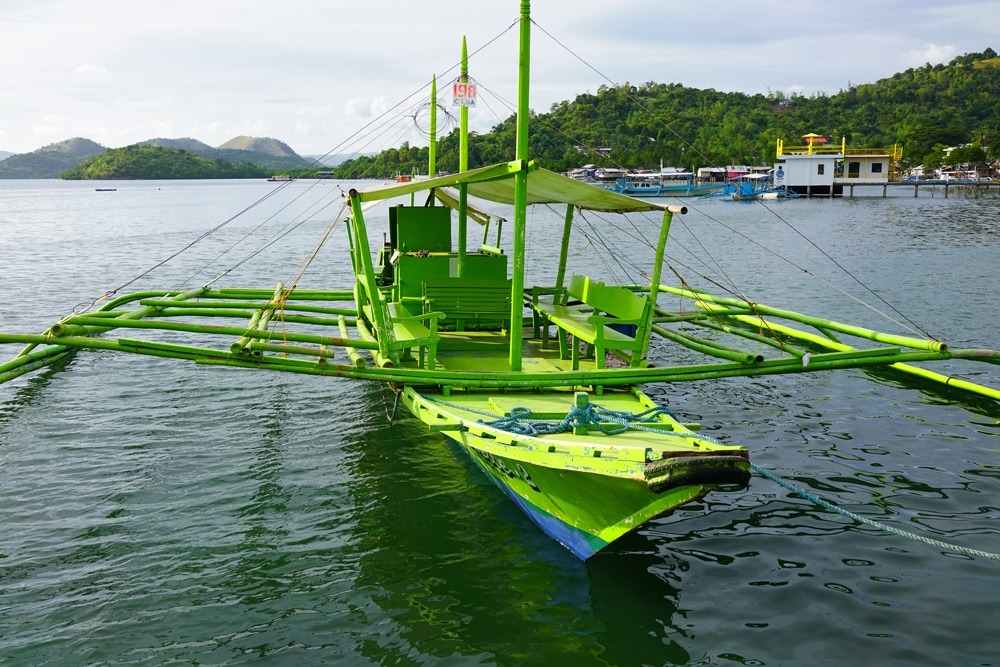 What to visit on Coron Island
To visit any place on Coron Island – you need a boat. How to rent a boat in the town of Coron at the pier – I wrote above.
Fees to visit any place in Coron
Here I will make an informational digression. Coron Island and the waters around the island are owned by the Tagbanwa tribe and they have set a fee for any sneeze on Coron Island.
To visit the beach or lagoon or lake you have to pay phi. And phi is the same for both tourists and residents of Busuanga Island. For example, phi for a visit to Kayangan Lake is 300 pesos per person.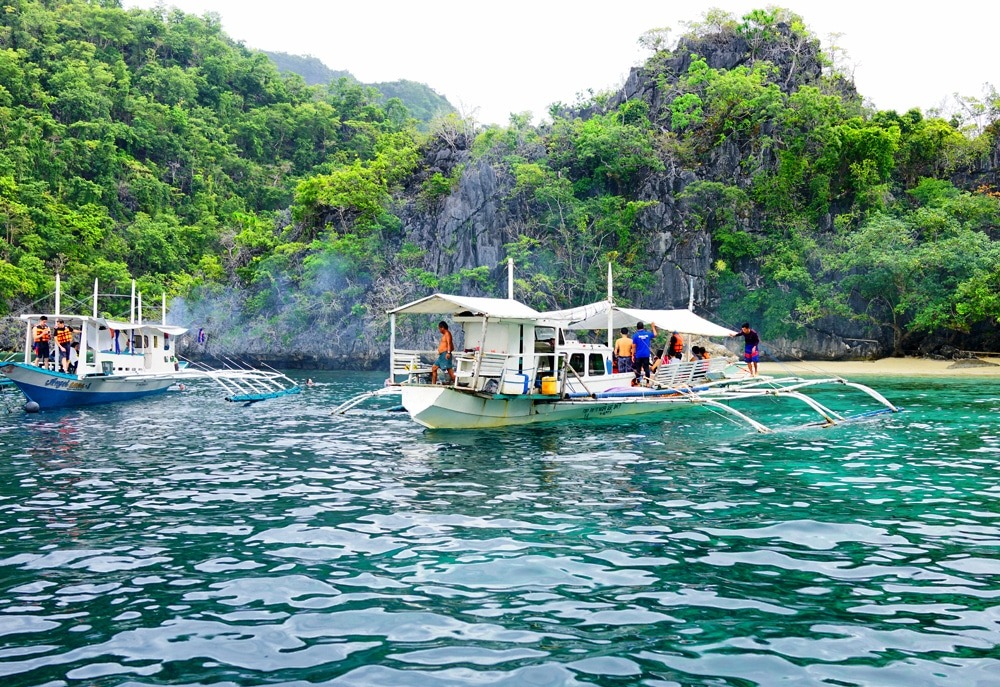 If you decide to have lunch on one of the beaches of Coron Island, you will be approached and asked to pay phi – usually 100-150 pesos. The phi table is available from the boatmen.
Prices change from season to season and alas – increase.
Prices to visit places on the Corona
Local Filipinos hate the natives of Corona, but you can not do anything with them: their right to steal honest citizens – is enshrined in law. By the way – those who go on a group tour fi not pay. They are already included in the price of the tour.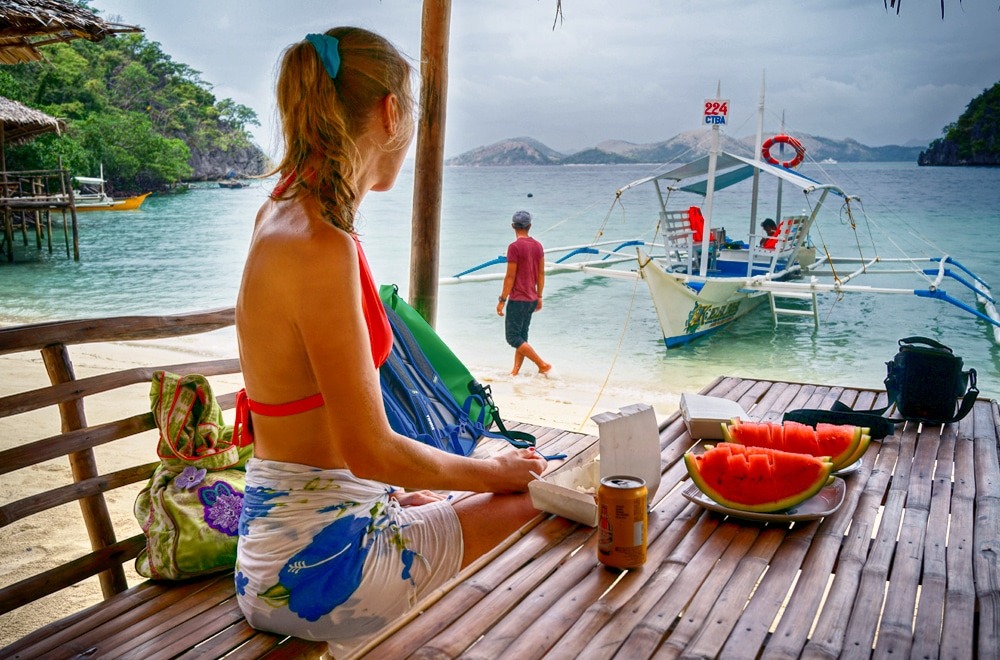 Kayangan lake
This is the closest point on Koron island from the town of Koron (Busuanga). And one of the most interesting points.
All package tours start from this lake, so you need to be there early in the morning at 7am, or at lunch (12 to 1pm) while the package people are eating, or at 4pm. At other times, you will be in the crowd of tourists brought by the tour.
Kayangan Lake is a very beautiful freshwater lake. The water is crystal clear and warm. The visibility in the water up to 20 meters.
If you swim away from the shore, where the depth is more than 20 meters and beneath you a bottomless blue, you get a strange feeling of peace and tranquility. Apparently, this is how a human embryo feels when swimming in the waters in its mother's belly.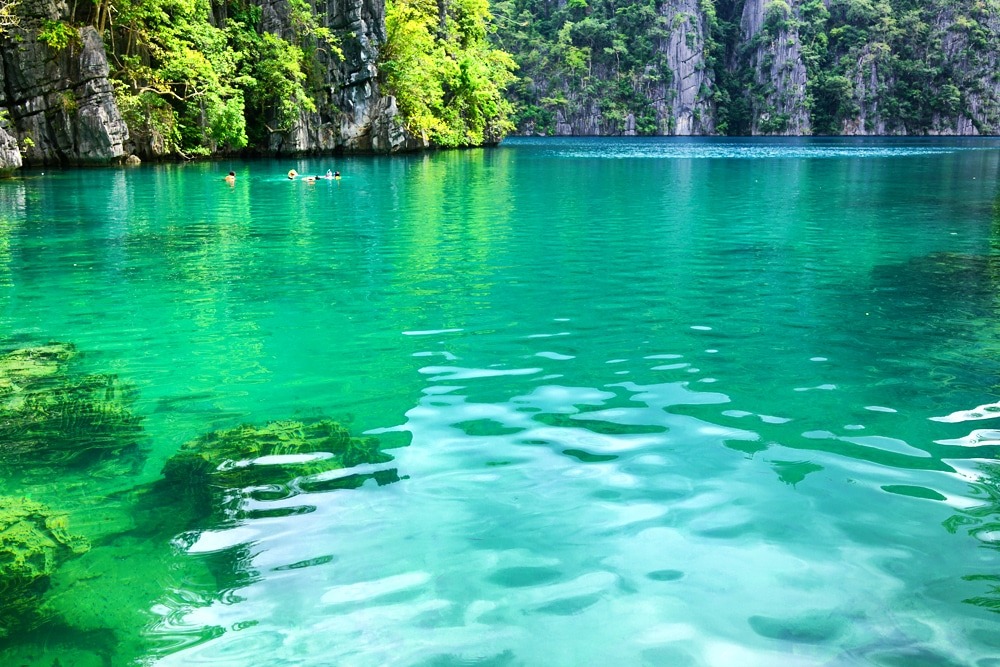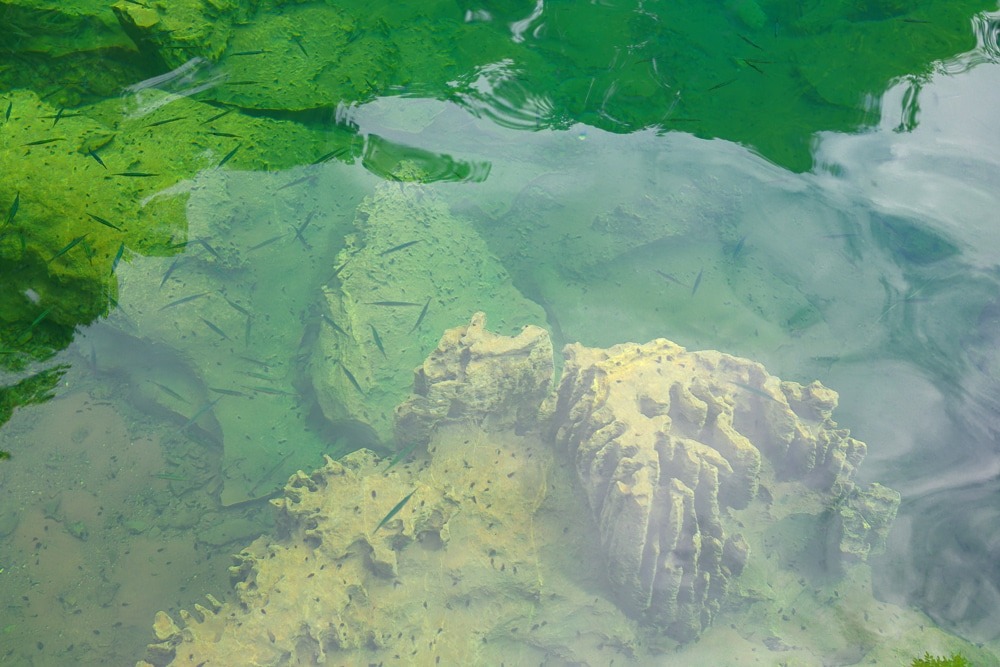 Barracuda lake
The lake got its name because of its narrow shape – the lake is deep and narrow – it is sandwiched between rocks and the shape resembles the body of a predatory fish.
Barracuda are not found here, although the water in the lake is brackish, the lake communicates with the sea through underground caves. This is one of the favorite places for divers: Read more about Barracuda Lake in Coronne Island
This is the second and last of eleven lakes on Coron Island that are open to tourists. The other lakes have not been approached and require special permission from the tribe and the Philippine government authorities to visit them.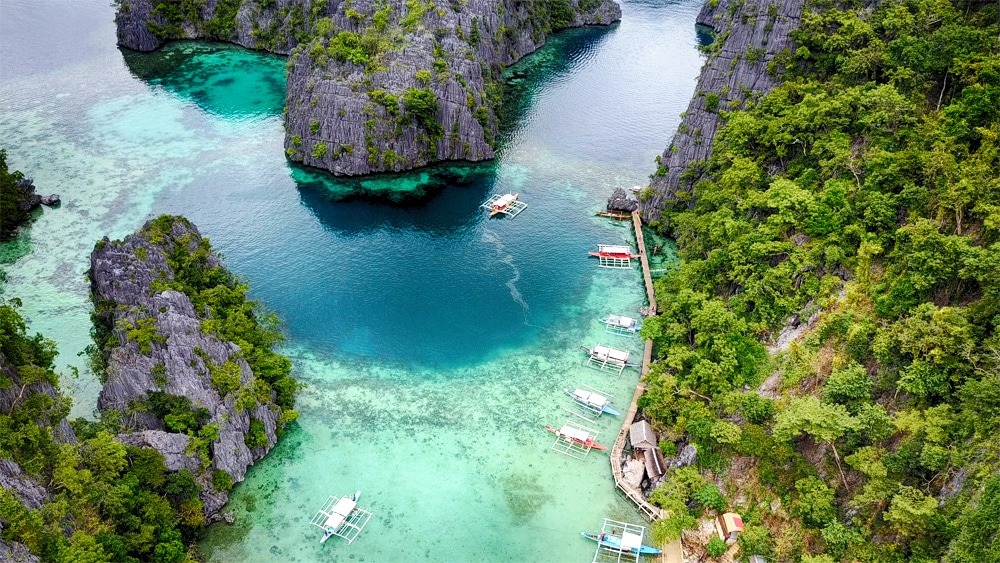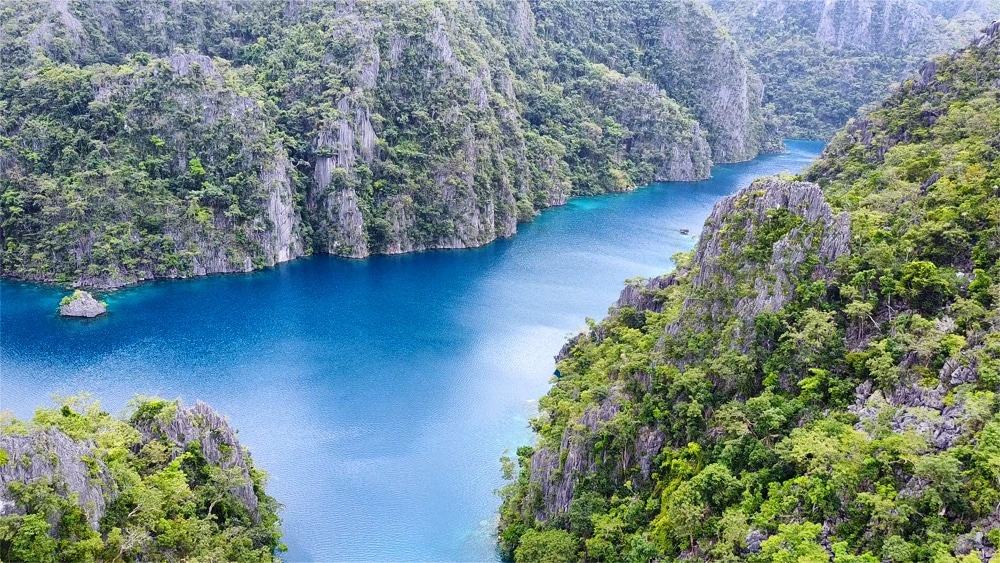 Twin Lagoon
These are two lagoons connected by a tunnel in the rock. At low tide through the tunnel you can swim without diving. At other times you can dive and swim 5 meters or climb the ladder on one side and come down the other.
In these lagoons sea water mixes with thermal water from the depths and by snorkeling you can see the thermocline: layers of water with different temperature, density and refractive index. It looks like a play of colors and sharpness of vision. Very nice place to swim.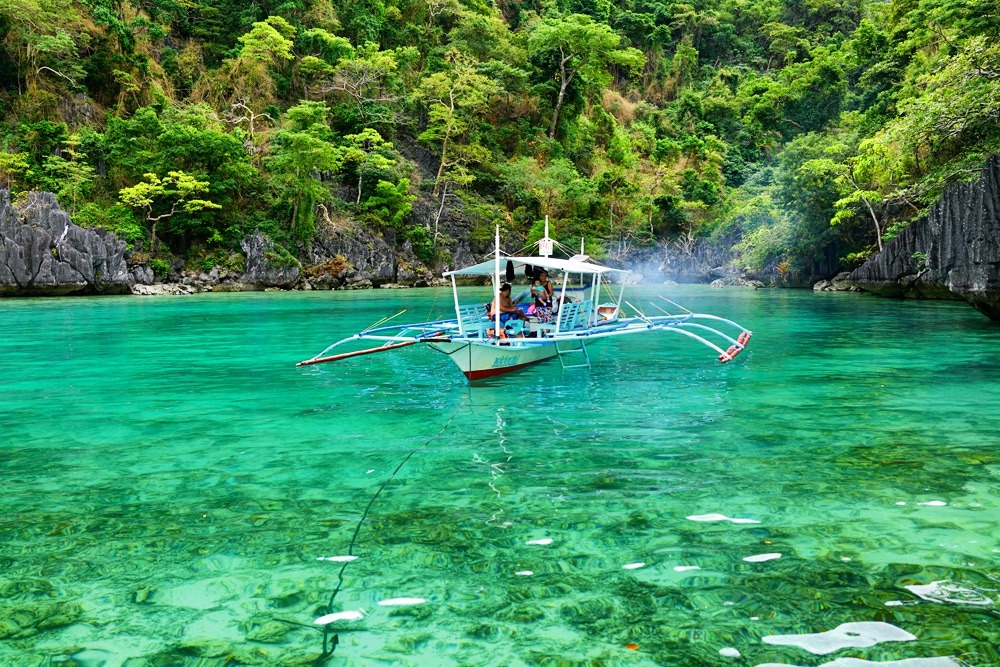 You have to swim to the edge of the lagoons. Advice: stay close to the rocks – a lot of beautiful corals and the impression of space, as from the narrow ledge near the rocks the bottom drops down into a blue abyss.
Green and Blue Lagoon
The next in line is on the coast of Coron Island. A good place for photos and for swimming.
There are no fi collectors here. Nice to swim, beautiful photos. Just don't swim into the caves near the shore – it's full of sea urchins.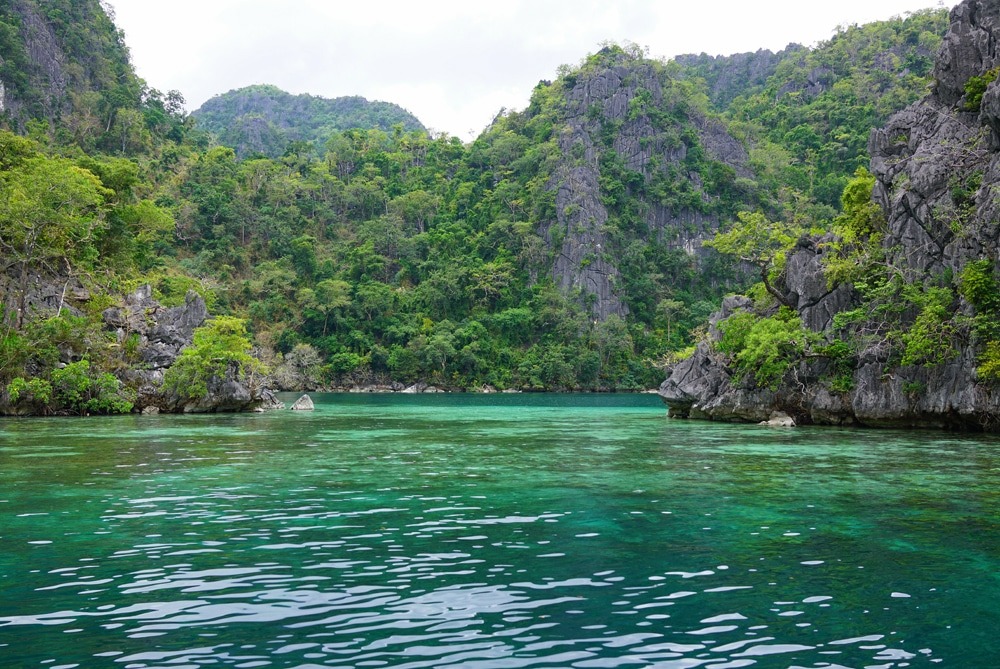 The visited coast of Coron Island ends at Atwayan Beach and nearby is a place where close to the shore lies a Japanese warship sunk by the Americans at the bottom of the sea. Or rather all that is left of it. The place is called Skeleton.
My recommendation is to start your day trip on a rented boat from here. And then move on in the direction of the town of Koron. This way you will go "against the wool" of group tours and have the advantage of being one-on-one with the local beauties.
More information about Koron Island and more photos in my report on Vinsky's Forum: Busuanga Koron, what to see, where to stay and other useful information.
What you need to know before you travel to Coron Town Philippines
Crown remains a charming fishing town , in recent years the tourism industry has really taken off. With plenty of nearby beach and sea activities to choose from, it's easy to see why scuba divers line up to sample this fascinating activity.
What you need to know before you travel to Coron Town Philippines
Several Japanese shipwrecks make world-class shipwreck dives , and because of the exquisite surrounding islands, island tours are also worth the trip.
What you need to know before you travel to Coron Town Philippines
In Coron Town, you can shop in the public market, visit souvenir stores, and explore the town square. The location of this quaint town, which is the starting point for all nearby activities, makes it an ideal place to spend a few days.
What you need to know before you travel to Coron Town Philippines
If a tourist identifies a desire to learn more about the city itself, its history, culture and traditions of the locals, there are suggestions for full-day or half-day excursions. The beautiful hot springs of Maquinit with its salt water and the panorama of the sunset from the observation deck of Mount Tapias, combined with all the possibilities for diving and snorkeling, are what make a visit to Coron Town an unforgettable and rewarding journey.
What you need to know before you travel to Coron Town Philippines
The neighboring island of Coron Town, the amazing Busuanga, both have nature reserves with green flora. The majestic black cliffs and pure emerald water will leave an unforgettable impression.
When to visit Crown Town
The ideal time to visit Crown Town is during the dry summer season from October to mid-June. Nearby dive sites offer good visibility from May through November, when the waters are plankton-free. The rainy season runs from mid-June through September, and visibility of the waters is noticeably worse because of this.
Nutrition
Dining at Crown Town's restaurants requires patience and understanding on the part of customers. The casual lifestyle of this quaint town means that service is relaxed and slow .
Because most of the food and ingredients are imported, a full menu is not always available, and the food is not as cheap as in other cities in the Philippines. The city has no popular American fast food chains, and offers a decent mix of both local and European dishes.
Nutrition
For those who want to save money on food, delicious fresh produce is available at the lively Koron Market, which is open daily. Be sure to try the local fruits such as cashew fruits, apples, coconut, jackfruit and juicy mango.
How to explore the city
There are no cabs in town, so getting around is made possible by regular tricycles which are rented out at every turn. Walking around town and renting a motorcycle or scooter are also easy ways to explore Corona Town on your own. The means of transportation can be rented from 2 hours to several days. Rental prices are affordable and locals take travelers' passports as insurance for a secure deposit.
How to explore the city