What to do in France, what to do?
52 Places to visitin France


2 toursin France
81 things to do in France
all cuisine beautiful views walks cultural free authentic romantic romantic selfies unusual holidays exciting adult active shows nature souvenirs extreme
Picnic on the Champ de Mars in Paris
Even an ordinary picnic will be special if you arrange it at the foot of the Eiffel Tower!

FREE 31 Champ de Mars
No. 2 in Paris Visit Gustave Eiffel's apartment in Paris Ajax
Not many people know that there is an apartment of Gustave Eiffel on the top level of the Eiffel Tower.
No. 1 in Chamonix-Mont-Blanc To climb to the observation deck "Step into the Void" in Chamonix-Mont-Blanc
A ride for those who love not only to admire the views, but also to tickle their nerves.

FREE 20 The "Step into the Void" sightseeing platform
#5 in Paris Climb the Eiffel Tower in Paris Margaret Cain
Climb to the top of the main symbol of Paris and see how beautiful this city is from a bird's eye view.

€17 20 Eiffel Tower
No. 3 in Paris Have a coffee at the Two Mills in Paris
Order a cappuccino at the Two Mills Café Brasserie, where the protagonist of the famous film Amelie worked.
No. 4 in Paris Dine at the Eiffel Tower in Paris maxwell
There are three French restaurants on different levels of the Eiffel Tower overlooking Paris.
No. 7 in Paris Watch a cancan at the Moulin Rouge in Paris Daria Slepakova
Don't miss the extravaganza, recognized as the best program of the famous cabaret ever.

€87 19 Moulin Rouge
No. 6 in Paris Let the pancakes loose on the Canal Saint-Martin in Paris
Launch a pebble and let it bounce in "pancakes" along the Saint Martin canal.

FREE 18 Canal Saint Martin
No. 8 in Paris Visit the legendary Café de Flore bakery in Paris
Enjoy the most delicious croissants in Paris at the famous Café de Flore.

€2.70 16 Café de Flore
No. 1 in Nice A stroll along the Promenade des Anglais in Nice
One of the largest promenades in Nice on the Côte d'Azur.

FREE 16 Promenade des Anglais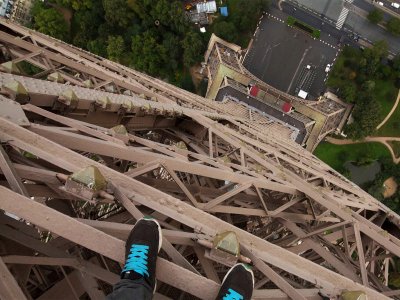 No. 9 in Paris Climb to the top of the Eiffel Tower in Paris I Hunter
Read about how to climb to the top of the Eiffel Tower and why you shouldn't.

FREE 15 Eiffel Tower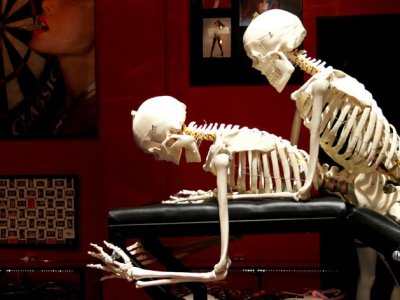 No. 10 in Paris Visit the Museum of Erotica in Paris Daria Slepakova
The spicy museum is located on Boulevard de Clichy in the red light district of Paris.

€10 15 Museum of Erotica
No. 13 in Paris Buy a painting on the Place du Tertre in Paris
For many years, paintings and portraits have been painted and sold here for travelers who want to buy an interesting souvenir from Paris.

€20 14 Montmartre
No. 11 in Paris See the Mona Lisa in Paris
Leonardo da Vinci's greatest creation, a masterpiece known throughout the world. Legends are written about the Mona Lisa, and a crater on Venus bears her name.

€15 14 Louvre
No. 20 in Paris Walk around Montmartre in Paris
Take a stroll through the narrow streets, see where street artists create and climb the main hill for a chic view of Paris.

FREE 13 Montmartre
No. 12 in Paris Take a walk along the Saint Martin canal in Paris
Take a stroll along the canal both daytime and evening or take a ride on a river streetcar.

FREE 13 Canal Saint Martin
No. 17 in Paris Taste Pasta in Paris Joan Naples
Not pasta with meatballs or béchamel sauce, but an incredibly delicious almond dessert known the world over.
No. 18 in Paris See the Venus of Milossa in Paris JDI
Alexander of Antioch's famous work of art, Aphrodite is an ancient Greek statue that can be admired for hours.

€15 13 Louvre
No. 19 in Paris Taste escargot in Paris
Escargot is a fried, boiled or stuffed snail. A tasty and, most importantly, healthy dish of traditional French cuisine.

€40 13 Restaurant Costes
No. 2 in Nice Try the glazed chestnuts in Nice
A traditional Christmas dessert. Rumored to be the favorite dessert of kings and emperors of France.

€15 13 Henry Auer's Pastry Shop
No. 14 in Paris Take selfies at the photo machine in Paris
Make funny faces with your friends at one of the photo booths set up all over Paris. Get a nice souvenir.
#15 in Paris Take a ride on a vintage scooter in Paris oddviser
Decorate your trip with a romantic ride on a vintage scooter. Relax and appreciate all the beauties of the city.
#16 in Paris To try oysters in Paris Ajax
It's a real crime to visit Paris and not try the local oysters dipped in aromatic lemon juice.
Share your ideas with other travelers about what to do and what to do in France, and together we'll make our travels more interesting!
2 picks in France
Discover Paris through the eyes of the leading character in the film "Amelie".
Discover a different Paris – one that you can feel rather than see!
10 things to do in France.
Yes, it may be formulaic, and yes, everyone does it (well, okay, almost everyone). Still, a morning without a cup of strong coffee with fragrant foam and a delicate croissant fresh from the bakery is not a real French morning. Complement the picture with crusty baguette, butter, cream, various jams and honey. Bon appetit!
2) Try the local cuisine
French cuisine, whether it is the masterpieces of top chefs or dishes served in cozy restaurants, everywhere amazingly delicious and exquisite. On its own. So, going to France, you should think about arranging yourself a gastronomic tour and taste the dishes of different regions: fish and seafood in Brittany, Garonne and Dordogne provinces, game and freshwater fish – in Loire, goat cheese, ham, fig jam and sweet chestnut dishes – in Corsica, and the world famous cheeses – in Normandy.
Don't forget the snails with fondue (Burgundy), ratatouille and lamb with herbs (Provence), stew of "ospaux" made from several types of meat with potatoes (Picardy) and "quiche lorrain" pie made of eggs with cheese, cream and bacon (Lorraine). If you like spicy and savory cuisine, you should visit the Languedoc and Gascony.
3. Listen to jazz
In addition to food for the body, France has much to offer for the soul: museums, concerts, exhibitions and attractions will satisfy the most demanding travelers. And what really shouldn't be missed is the jazz festival at Saint-Germain-des-Prés (Paris). This musical event is held annually in early May and the musicians often perform under the open sky.
Another reason for joy of all music lovers is the Music Festival, held in Paris on June 21. On this day streets, squares and squares are transformed into improvised music venues and stages. On this day streets and squares are transformed into improvised music stages and stages.
4. See the lavender fields of Provence in bloom
Provence is deservedly considered one of the most beautiful regions in France, not least because of the famous lavender fields.
Come here from mid-June to August, when lavender is in bloom, and enjoy the spectacular views of the vast expanses of lilac and the unique scent of the blooming fields. Take home a jar of lavender honey or a bunch of dried lavender sprigs as a memento.
5. Head to the ocean – to Normandy and Brittany
These two regions are famous not only for their rich history and tasty cuisine (both also worth exploring), but also for the stunning views: ocean expanses, white chalk cliffs and sandy bays. Where exactly is it worth visiting? At Mont-Saint-Michel Abbey to watch the road to it being swallowed up by the tide now and then, and also in Rouen, Étretat and Saint-Malo.
6. Go back in time among the castles of the Loire
On the banks of the Loire, the longest river in France, are ancient castles and fortresses of different eras and architectural styles, from the Middle Ages to the Renaissance. So it is worth allocating at least a couple of days (although it's not enough) to see the best of the best: the castle of Villandry, Chambord, Chenonceau, Amboise and Angers.
7. Taste local wines
France is not only fine cuisine and world famous cheeses. France is also about wine. Traditionally the regions of Bordeaux, Champagne, Beaujolais, Armagnac, the Loire Valley and the Rhone Valley are considered "wine" regions. Every third Thursday of November for example, on this day at midnight the Beaujolais Nouveau is on sale and the local pubs have no shortage of customers. But be warned, this young wine is very strong, so you have to be careful.
8. Go to the Wind Festival in Corsica
In Corsica, in the town of Calvi, there is the most unusual and fun festival that ordinary tourists usually don't know about. We are talking about the Festival of the Wind, which takes place annually from October 28 to November 1.
During the festival, representatives of all sorts of creative professions gather in Calvi – artists, poets, musicians and actors – to praise the beauty and romance of this phenomenon in their works. Art exhibitions, concerts, film screenings and dramatized performances, as well as kite flying, hang-gliding and ballooning. Don't miss it!
9. Conquer the Alps and Pyrenees
If the hustle and bustle of the city disturbs you and attracts you to the unknown, a climb in the mountains is a great alternative to a traditional sightseeing tour. You can rent equipment and go to the tops on foot like a seasoned mountaineer, or you can take a bus, a train, or a cable car, it's your choice. But you should not miss this opportunity.
10. Visit the French countryside
French cities are undoubtedly worth the attention: the abundance of historical monuments and beautiful architecture, rich cultural life – all this attracts crowds of tourists. But if you want to see the real France, we advise you to go to the countryside. This is where you can fully experience the taste for life, which all the French are famous for. Here time flows more slowly, as if inviting you to enjoy every moment.