What to bring from Prague (Czech Republic) – prices of gifts and souvenirs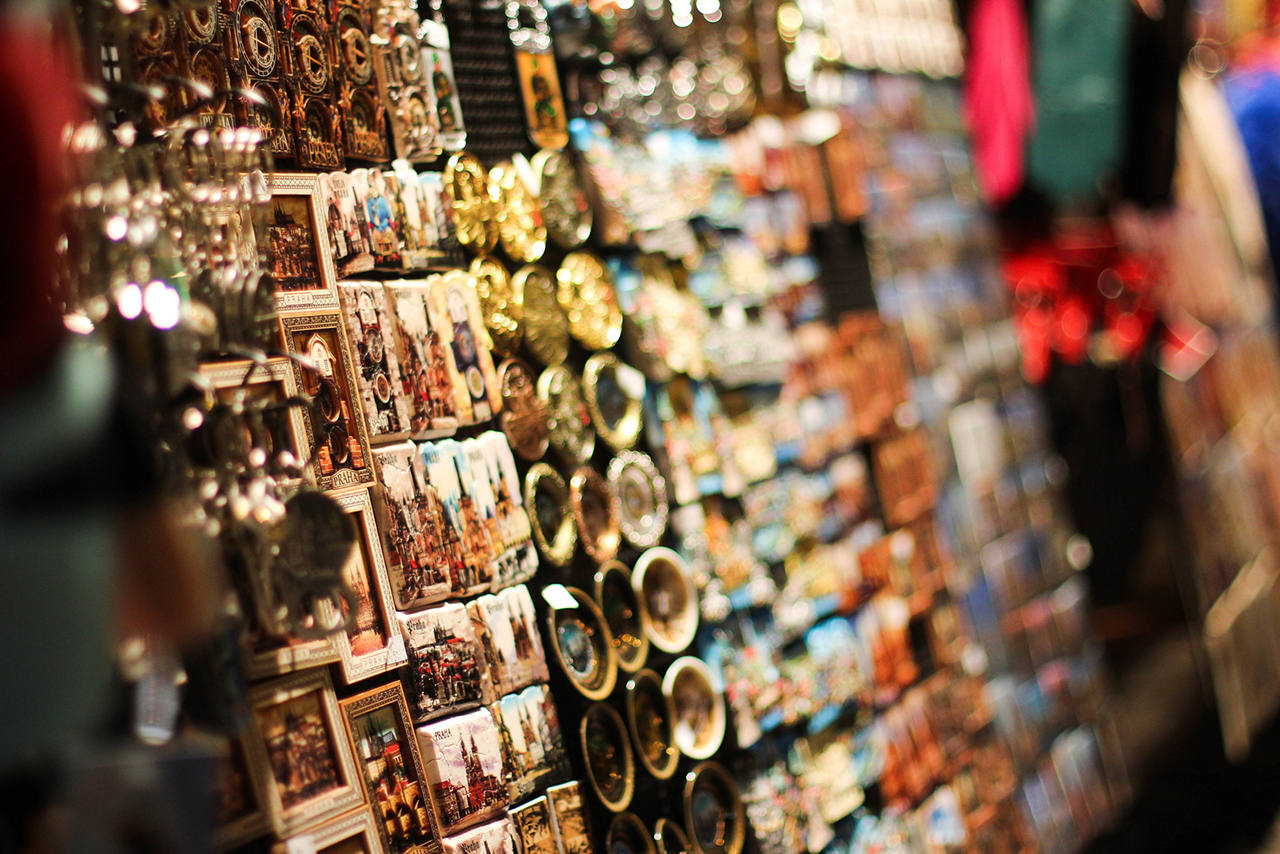 Want to leave a pleasant memory of a trip to the Czech Republic? We tell you what to bring from Prague. Prices for souvenirs and gifts. Tips and reviews of tourists, what is better to choose and where to buy bargains.
Search for interesting excursions in Prague on Sputnik8 and Tripster sites. Individual and group, without crowds of tourists and in Russian.
Exchange rate: 1 CZK ≈ 3 RUB.
Content:
Bohemian Glass and Czech Crystal
The Czech brand of crystal and glass products. If you haven't decided what to bring from Prague, look no further than Bohemia Crystal stores. You'll discover a wonderful world of elegance and perfection. You can admire both artistic crystal objects and refined utilitarian goods like ashtrays, wine glasses, shot glasses, vases, plates, napkin holders and trays.
Price . Glass and crystal souvenirs are expensive. A small item costs from 100 CZK, a set of crystal tableware for 6 people from 1000 CZK.
Tip . You can buy beautiful Czech crystal in stores with the Moser sign .
Crystal in Bohemia Crystal store (Photo: smannyrock / flickr.com) Bohemia Crystal store in Malá Strana district, Prague (Photo: wikimedia.org / Tiia Monto)
Czech Beer
What to bring back from the Czech Republic as a gift for an alcohol lover? The most popular product in Prague is beer. Czechs have been brewing beer since the Middle Ages and have excelled at it. They have carried their passion for beer through the ages.
Live beer is sold in restaurants and pubs. A 0.5 liter mug costs CZK 25-50. Such beer is very high quality and tasty, but not suitable for transportation. Tourists buy factory beers. Czechs don't like to add impurities to the drink, so it's rare to see beer flavored with cherries, bananas and other berries and fruits on sale.
What kind of beer to bring back from the Czech Republic? Connoisseurs praise "Staropramen" Gambrinus and Radegast. Popular light beer "Pilsner Urquell" and dark beer "Velkopopovický Kozel". The latter is made especially for ladies and leaves a nice coffee-chocolate aftertaste.
Price . Beer in 0.33 l cans costs 10-35 CZK. A 0.5 l glass bottle is 15-30 CZK. Light beer is a little cheaper than dark beer.
Tip . It is more convenient to take canned beer on the road. It weighs less and won't break on the way.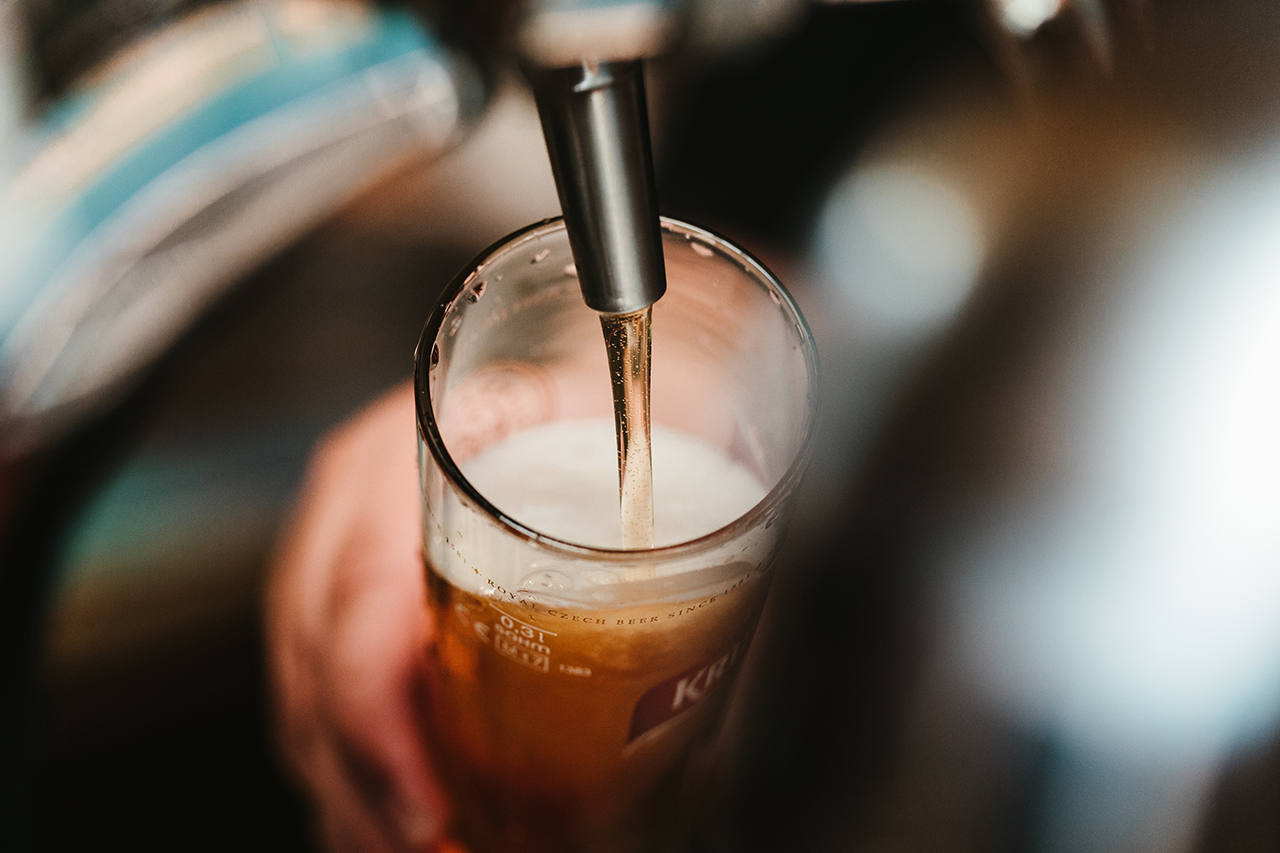 Try the Czech varieties of Krušovice: Desítka, Krušovická 12°, Mušketýr and Malvaz, which are not available in Russia. (Photo: unsplash.com / @benceboros)
Beer cosmetics
Prague has a great selection of beer cosmetics. It is popular with both Czechs and tourists. The most popular brands are Manufaktura, Botanicus and Aquila. There are skin care products for face, body and hair, which are specially produced in the form of souvenir beer bottles.
What to bring from the Czech Republic as a gift for a woman? Take shampoo, face mask, gel, hair balm, salt or bubble bath that are made with beer. The original beauty products can be tried in special beer SPA. Here you will literally bathe in beer, and then moisturize your skin with beer ointments.
Price . Packaging, tube or jar cost from 35 to 200 CZK. Higher-priced beer cosmetics are made according to special recipes and are produced in small batches.
Tip . Good products are sold at Veer Shop chain stores. If you find yourself in Karlovy Vary, look in the store FAON .
Becherovka Liqueur
The original gift that you can bring from the Czech Republic to a lover of unusual alcohol is a tasty liqueur "Becherovka". The liquor has a strength of 38%. It is infused with medicinal herbs and is considered an excellent remedy for improving digestion. "Becherovka is made in Karlovy Vary and sold throughout the country. It is drunk in its pure form or added to tea or coffee.
There is a Becherovka museum in the homeland of the liquor. Tourists are told that the drink was invented in 1807 by pharmacist Josef Becher. For the new liquor pharmacist used the tincture of his English friend, doctor Christian Frobrig. Through various experiments Becher succeeded in giving the liquor a pleasant herbal taste.
At first, the drink was sold as stomach drops, or bitters. It was called Carlsbad English Bitter in honor of the inventor of the drops, Froebrigg. In the early 19th century, Becher's son Jan turned the drink into a popular liquor. Today the "Becherovka" is sold in 35 countries around the world.
Price . A bottle costs 135-140 CZK.
Tip . There are four types of Becherovka on sale. In addition to the original liqueur, they sell a lemon liqueur with a strength of 20%, the Cordial variety with lime blossom and white wine with a strength of 35% and a bitter liqueur KV 14 with a strength of 40%.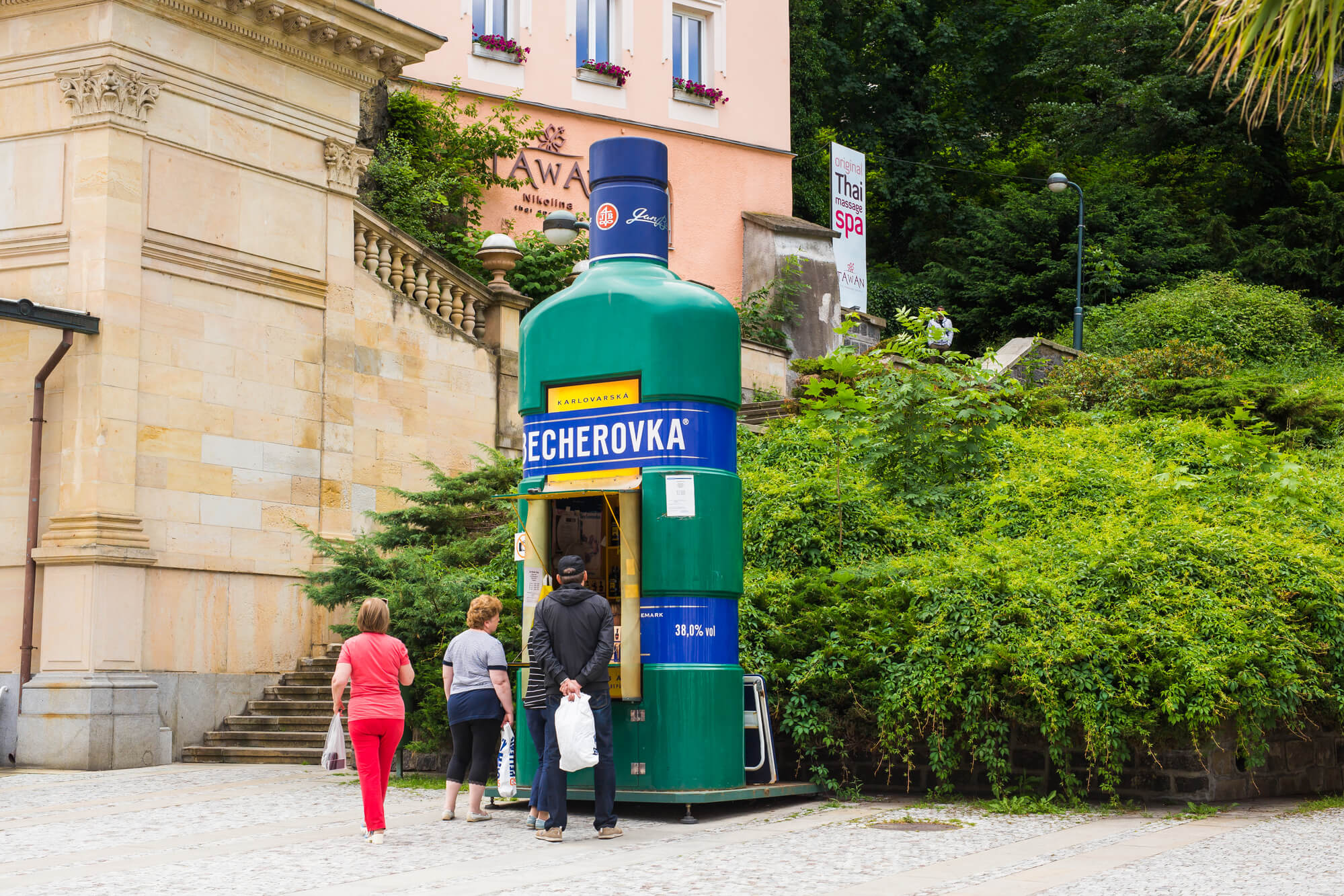 A booth selling Becherovka in Karlovy Vary. Photo: frantic00 / Depositphotos.com.
Other Czech spirits
Even if you're completely indifferent to alcohol, spirits from the Czech Republic might appeal to your friends. What to bring home from Prague?
Consider the tasty liqueur Fernet Stock . It is infused with chamomile, saffron and cardamom, has a less bitter taste than Becherovka, and is very easy to drink.
A great solution is to buy Plumovica . Czech fruit brandy is made from ripe plums. It has an amazing taste and aroma.
Not a bad gift to bring back from Prague are absinthes made in the Czech Republic. Green liquor is infused with wormwood, red – with pomegranate fruit and black – with wormwood and black acacia. All have a strength of 70 percent and higher. Good Czech absinthes are La Grenouille, St. Antoine, L'Ancienne, Cami Toulouse Lautrec.
Connoisseurs of good wines will be pleased if you're smart enough to bring a bottle of Moravian wine from Prague. Not sure what to choose? Stop by any of Prague's wineries and try one!
Price . A bottle of ordinary Moravian wine costs from 35 CZK. Ordinary plum wine is 150-400 CZK, gift-wrapped plum wine aged 5-6 years is 700-1000 CZK.
Tip . Buy absinthe at Absinthe House in Prague. , Green Devil's Absinthe Bar & Shop and Absinthe time . These are bar stores that offer a large selection of original absinthes and any of them can be tasted.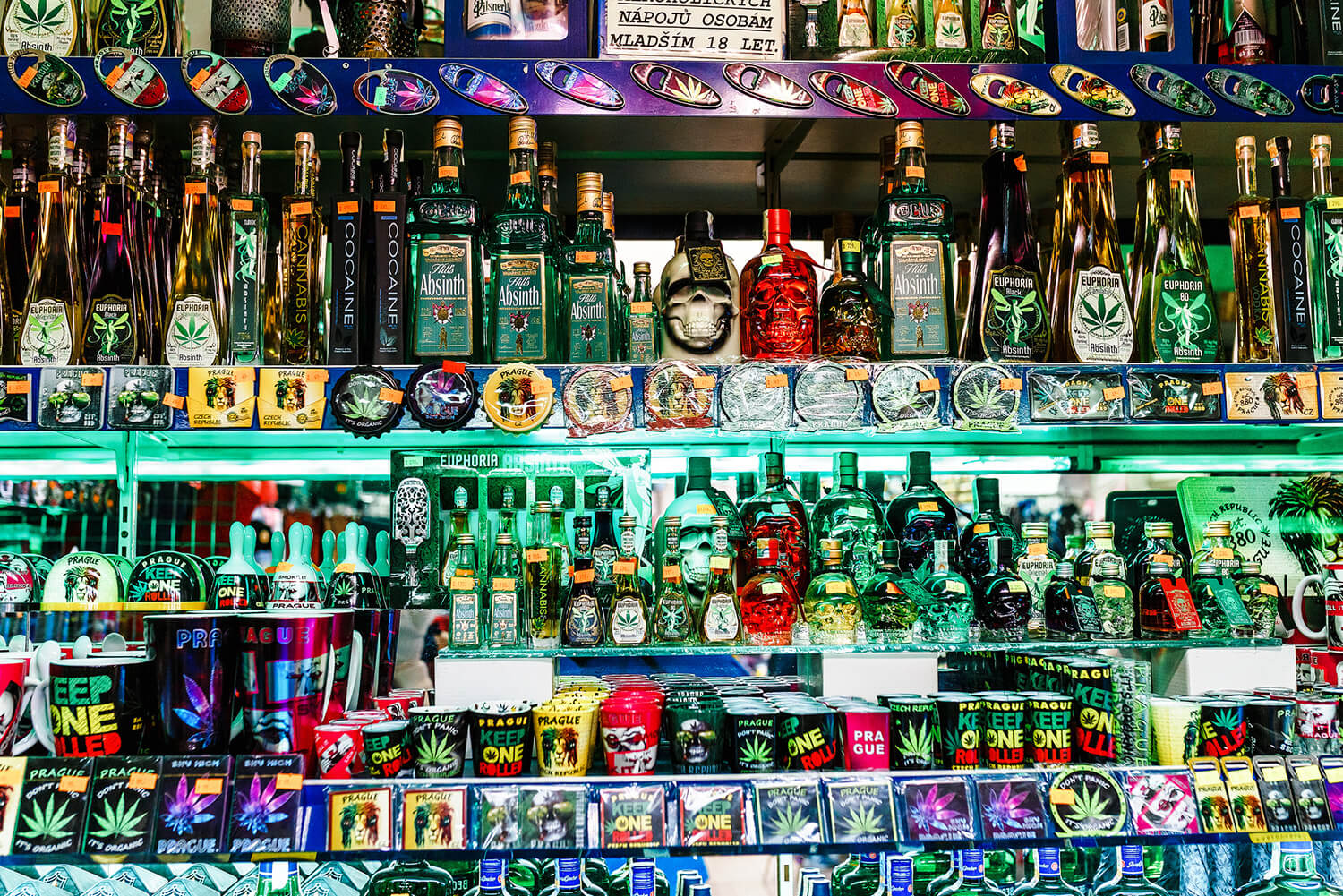 Shelves of absinthe in the gift store. Photo: frantic00 / Depositphotos.com.
Hermelin Cheese.
Czechs love cheeses. They are used to snack on wine and beer. Cheeses are baked and used in traditional Czech dishes. If you haven't decided what to bring back from Prague, check out hermelin. This white cheese with a mold is very similar to Camembert.
Hermelin is sold in packages that show the royal mantle with a portrait of a smiling king. The fact is that the word "hermelin" translates as "ermine". In the past, the cheese was considered royal, and only rich Czechs could afford it. Today, the tasty delicacy is sold in all grocery stores in the country.
Price . A package of cheese weighing 80-150 grams costs CZK 20-25.
Tip . If you want to bring different cheeses from Prague, buy Vltavin, Gerarnont, Plesnivec and Niva. There is a large selection of cheeses in the supermarkets Tesco and Albert.
What to see in Prague: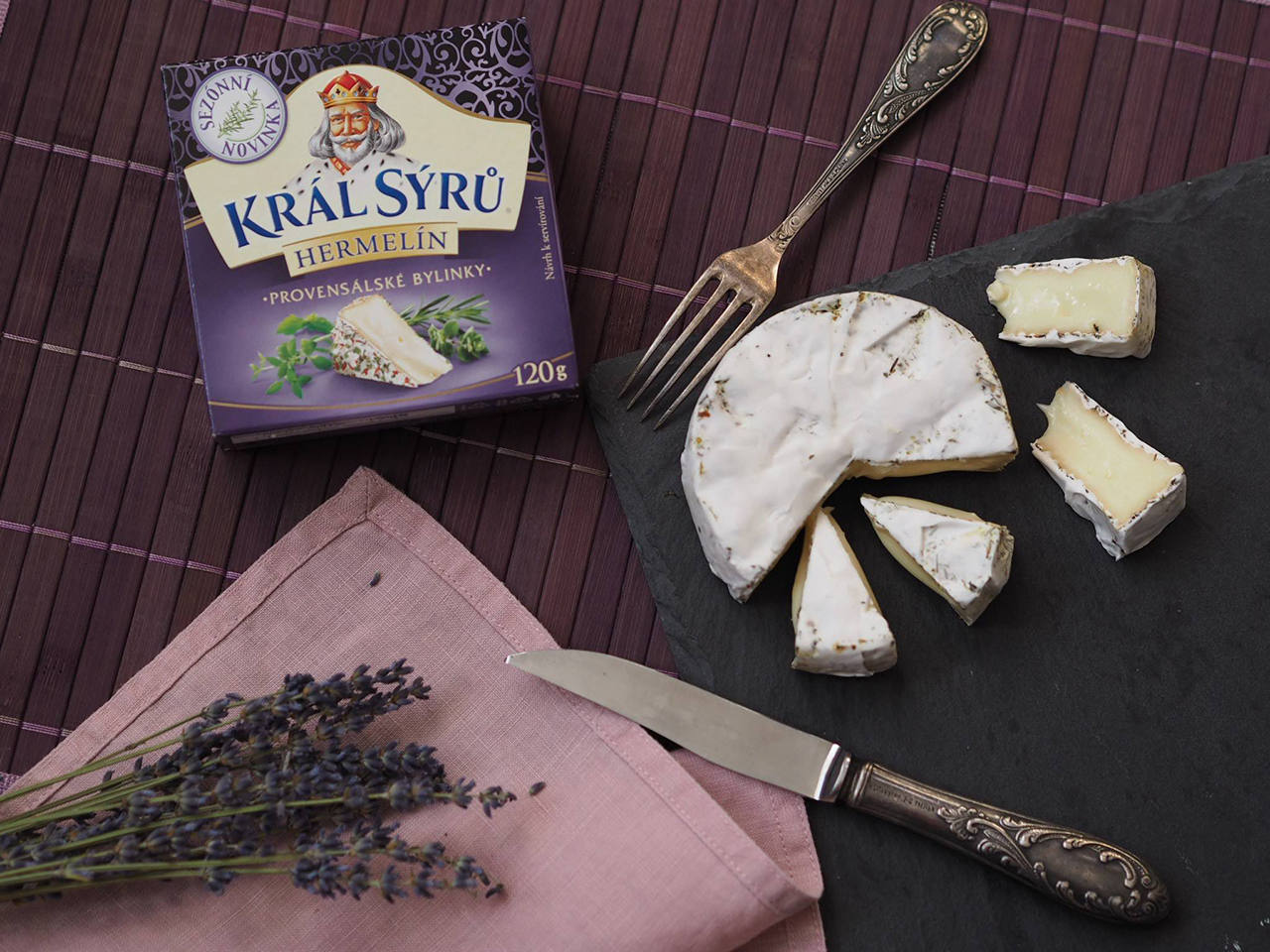 Hermelin with Provencal herbs (Photo: facebook.com/Kralsyru)
Czech waffles
What to bring back from the Czech Republic as a gift for sweet lovers? As a nice souvenir for a sweet tooth, tourists bring tasty and light wafers. In Czech they are called zaplatki. Popular "Karlovy Vary wafers" began to be made back in the 18th century. Today the thin round waffles have different fillings. They are filled with white and milk chocolate, lemon, nuts, almonds, nougat and coconut.
Price . Depending on the size and filling, waffles cost 20 to 40 CZK.
Tip . At chain supermarkets, the prices of wafers are slightly lower.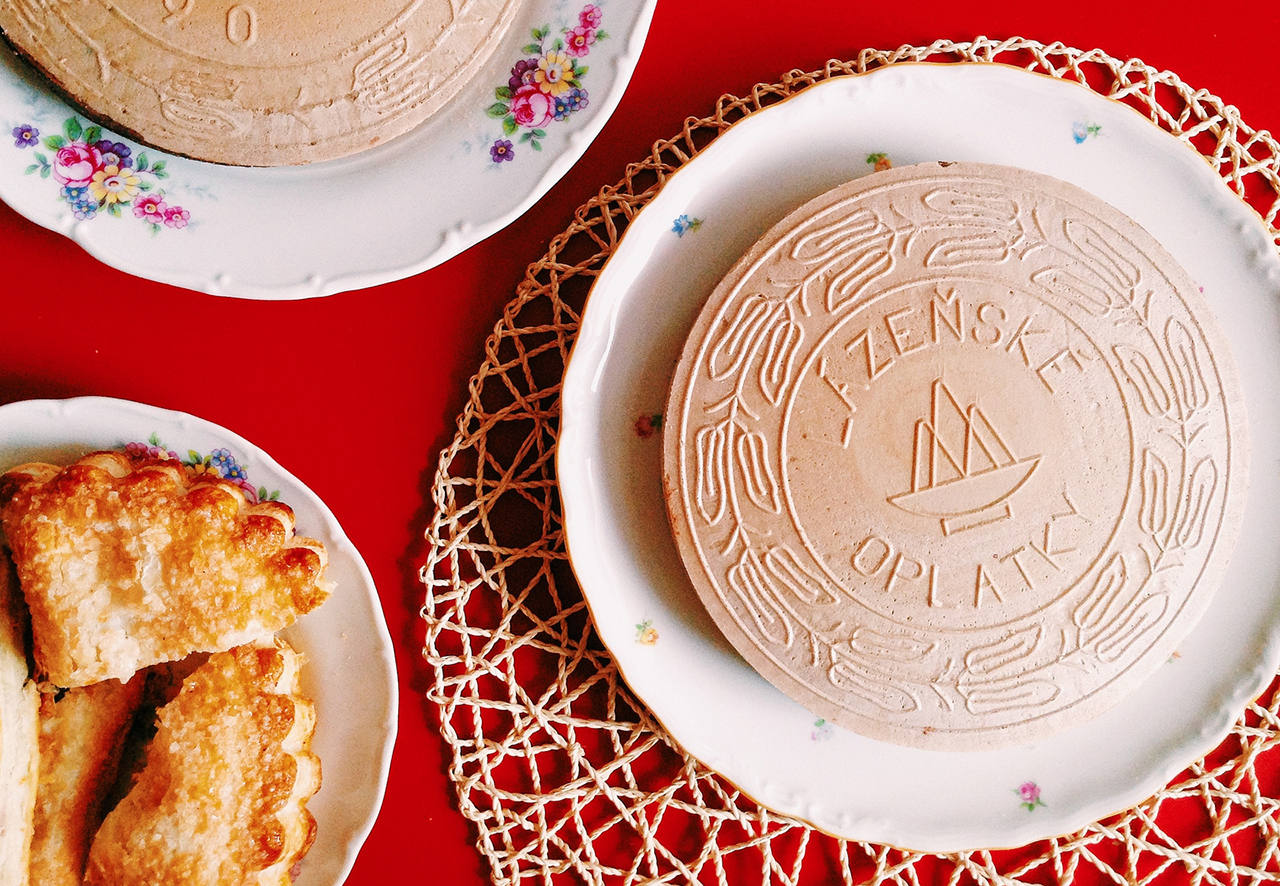 Karlovy Vary prodlatki (Photo: i eat ѕtars / flickr.com)
What else can you take from Prague?
Czech pomegranate jewelry – from 250 to 3,000 CZK.
Czech wood and plaster puppets – 250-600 CZK.
Koh-i-Noor pencils – 20-40 CZK for a plain pencil, and 200-300 CZK for a set of 10 pencils.
Wooden toys from Detoa – from 300-700 CZK.
Statuettes, toys and cartoon characters, the Czech mole Mole – from 20 CZK.
Tablecloths and napkins from 100 CZK.
Czech ceramics from 50 CZK.
Prague porcelain houses – 50-60 CZK.
Mattoni and Kyselka mineral water – 15 CZK.
Prague souvenirs and gifts
What can't be taken out of the Czech Republic
It is forbidden to take out of the Czech Republic historical and cultural values. If you want to bring from Prague crystal and Czech glass, get a certificate from the seller. Such prudence will save you from possible problems with customs.
It is forbidden to take out of the Czech Republic ammunition and any kind of weapon. Alcohol may be taken in any quantity, but in Russia you are allowed to take only 3 liters of strong alcohol duty-free.
What to bring as a souvenir of Prague: information for tourists
The Czech Republic is famous not only for its sights, majestic cathedrals, green parks and ancient castles – here you can buy good clothes and wonderful gifts for yourself and your family.
Czech Republic is rich in ancient history where you will find knights in castles, princesses and princes, royalty and secrets of palace life. When coming to this fabulous country need to take a piece of history to remember your wonderful trip.
In addition to large shopping and entertainment centers, Prague has a huge number of souvenir stores, where you can buy a lot of interesting things for yourself and your friends.
What to bring as a souvenir of Prague: information for tourists
The Czech Republic is famous for its delicious beer, so the true connoisseurs of this foamy drink buy traditional beer mugs – this is a memorable gift about the country. It is impossible to leave the motherland of Becherovka without a souvenir set of this drink, which consists of a traditional herbal tincture and a lighter lemon one.
Not to forget the local Plumovica, Fernetta and Absinthe. Local beer in tins will be easy to carry across the border . Be sure to buy the decorated gingerbread and waffles made in Karlovy Vary – the kids will be grateful.
Amazing Czech china and crystal will be a great gift for yourself – eating out of such dishes will be a real pleasure. Czech Republic is famous for its jewelry – the real fashionistas will get a lot of exquisite accessories.
What to bring as a souvenir of Prague: information for tourists
A large assortment of products of local wood craftsmen, wicker handicrafts, a variety of puppets will be great memorable souvenirs for friends.
If you want to make a real, luxurious gift for a woman, go to the jewelry store, where you can choose from a huge selection of gorgeous earrings, pendant or ring with real Czech garnets.
The setting can be gold or silver – to suit every taste and purse. When buying a piece of garnet, it is worth asking the seller for a quality certificate so as to buy the original Czech garnet. The color of a garnet can vary from dark red to burgundy, and its richness will win the heart of any woman.
What to bring as a souvenir of Prague: information for tourists
It is worth remembering a very important point when buying jewelry: local garnets, which are mined in the Czech Republic are small in size – their diameter does not exceed 3 millimeters, and if you are offered a larger stones – they are from Asia.
Bohemian crystal, which is famous throughout the world, would be an excellent gift for a loved one. The range of products is quite wide: glasses, chandeliers, vases – such a gift will be truly luxurious.
Do not forget about the bijouterie, which is produced in Jablonice nad Nisou – the center of glass blowing is situated here: the young girls will be very happy to get such a surprise. Beloved women should certainly be pleased with high-quality Czech cosmetics, because its fame has spread far beyond its borders.
If you want to surprise your men, then the range of gifts will please you with a wide choice: "Becherovka" tincture, a set of canned beer, mugs, cosmetics from Karlovy Vary in mineral water. Unique smoking pipes, writing sets made by hand – such an exquisite gift can be bought for the older male generation.
What to bring as a souvenir of Prague: information for tourists
Conquer your grandmother, buy her a luxurious gift – a hat factory "Tonak", a customer of which is the Queen of England herself.
Children will be insanely happy when they get a soft toy – a cartoon mole, which is very popular in the Czech Republic. You can bring a T-shirt with his image – children will be happy to wear this funny character. Porcelain dolls dressed in national costumes will be a memorable reminder of the Czech Republic – buy this gift for yourself!