Lviv Restaurants: The best places to see for tourists
I've already written somewhere that lately I'm not particularly fond of all these cities in the "Narrow Streets – Tiled Roofs" style. After 10-20 visited countries they all seem to be the same, and memories of them blur in the head into a smooth mess. Prague, Krakow, Munich, Bratislava, Tallinn – they are all plus or minus the same. A church in the city center, a castle nearby, beer and sausages, and street musicians on the main square. It looks great the first time, but then it gets boring.
The only exception to this rule for me personally is Lviv. And not only because it is the only visa-free city among all those listed. No… It's more in something else – in a special charisma of this city, in its ability to be creative, unique, and different from other cities in the world. Well, look here… Las Vegas is known for its casinos. Billund is known for its Lego Land. Lviv in this regard has also found its appeal, and has become home to an unreal number of unusual restaurants and cafes. Each of them is a separate attraction and a separate complete tourist attraction. If you come to Lviv, you simply have no right not to walk through its restaurants.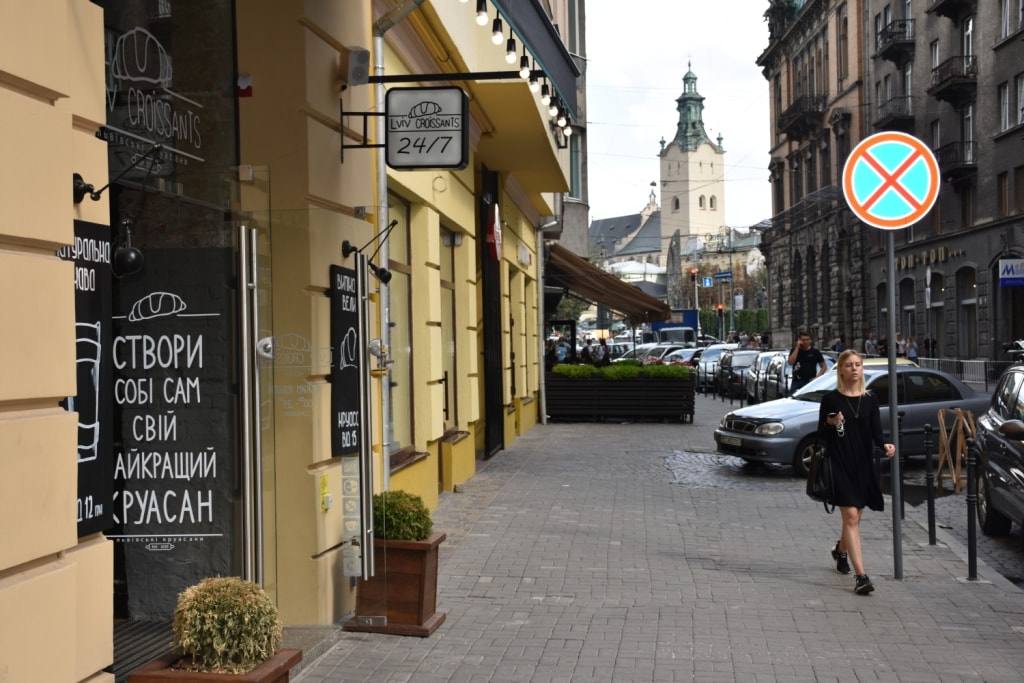 So… Today within this article I will tell you about the most unusual and unique establishments of the capital of Ukrainian Galicia. Untitled restaurant, cafe for masochists, fiery serving of coffee and the most "fabulous" restaurant in Lviv – read about all this and more in this review.
House of Legends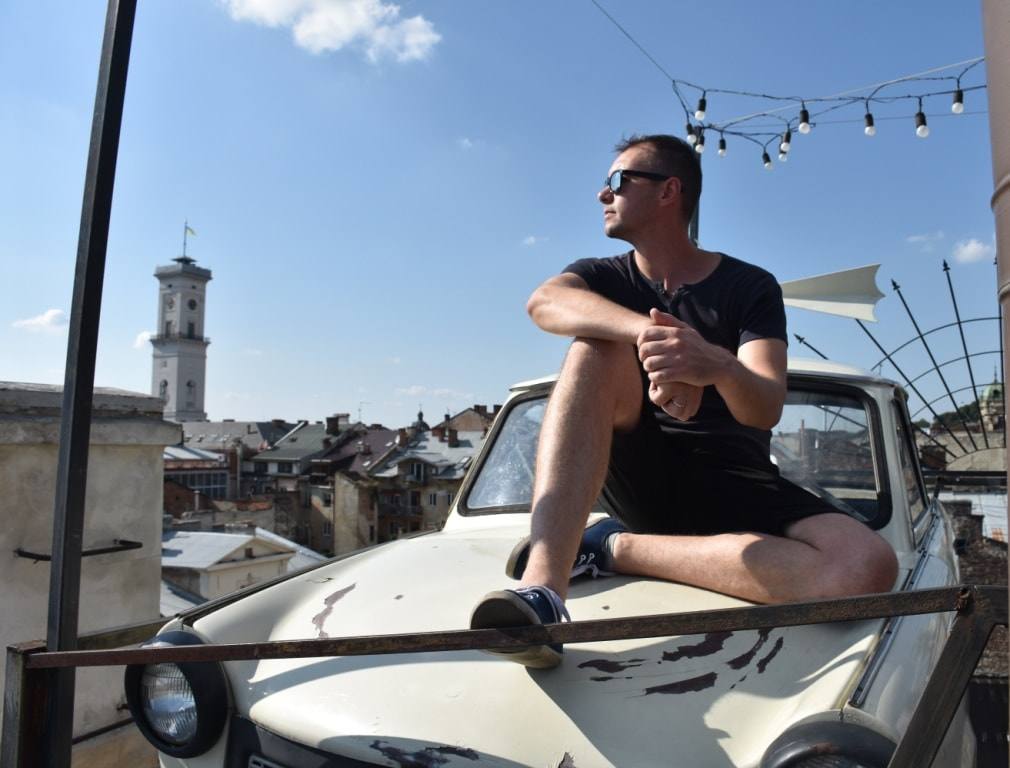 AddressAddress: Staroevreiska Street, 48.
Let's start with it: in terms of "unusualness" and color it is one of the best places in Lviv. Here at the entrance you will be met by a man in an ancient camisole.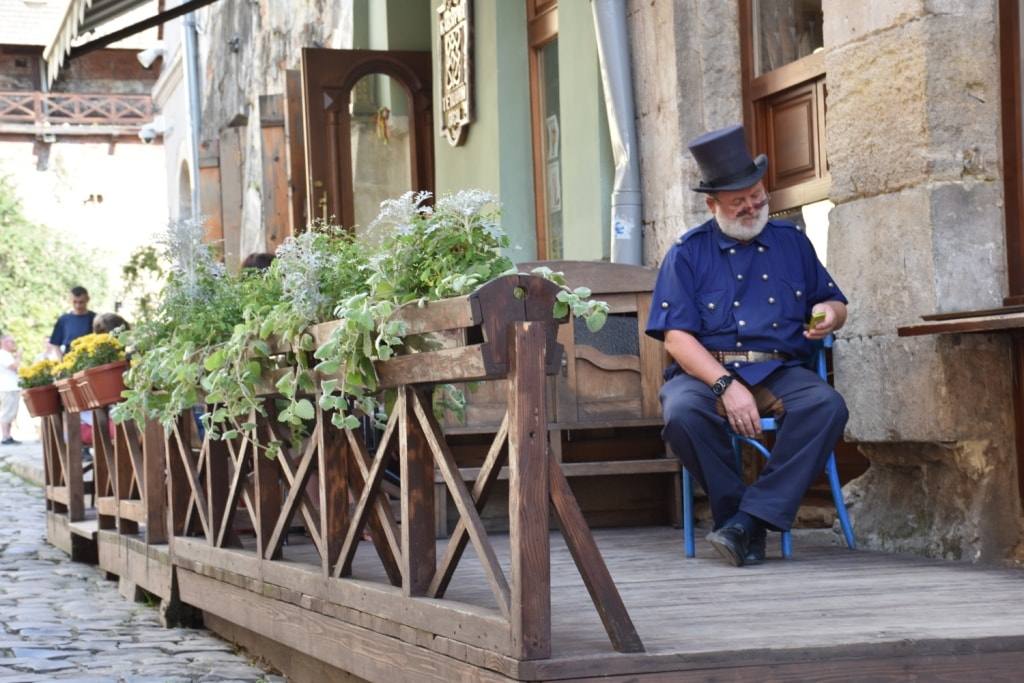 He is supposed to play a role of a chimney sweep, but in fact he stands there just to tell dirty stories, take pictures with tourists and then beg them for money. He used to ask you to throw a few coins into his bowler. After the fall of the hryvnia rate against world currencies, he no longer agrees to coins. Except for European ones.
But never mind… What else can you say? When you come to this place, pay attention to the dragon on the facade of the cafe.
Four times a day it spews flames. The streetcar next to it starts moving from side to side. The chimney sweep, a beggar, makes a speech… And the tourists around him immediately take out their phones and cameras to take pictures of this mini-performance.
The time of its beginning is marked on a table right next to the entrance to the restaurant (12-00, 15-00, 18-00 and 21-00).
BUT! Note that the show begins at "Lviv time"! And it is 24 minutes ahead of Kiev time! That is, in fact, "the legend comes to life" not at 12-00, but at 12-24. Many people fall for this trick.
Well, until the legend comes to life, you can walk around the "House of Legends". For example, you can go up on the roof where the old Trabant is standing. Look at the sculpture of the chimney sweep (also adapted for collecting coins).
Or you can wander through the halls, each of which reflects one of the legends of Lviv.
I know it sounds strange, but if you find yourself in this place, make sure you go to the bathroom. It's got a special thing, too. When the door latches shut over the toilet or on the door, a special screen comes on and after a couple of minutes, there's this little guy who starts peeking at you.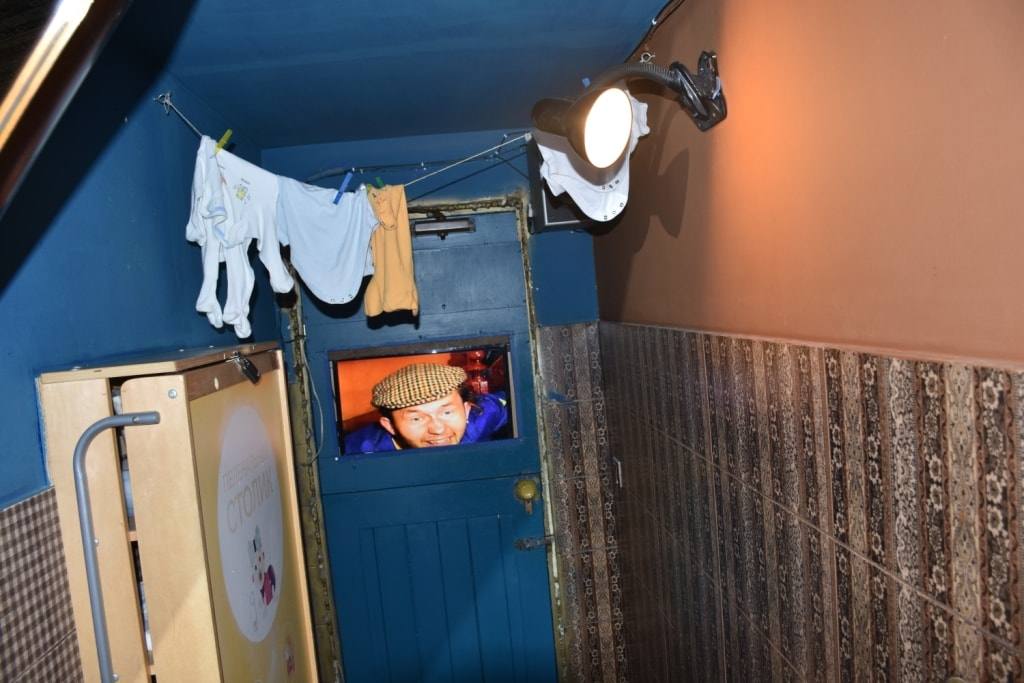 He's laughing, making fun of you, but does it in some kind of Ukrainian lingo (so if he was trying to insult me – I still didn't understand anything). There's probably something like that in the women's restrooms, too. But I didn't check. Embarrassed.
"Kawhi's Digs."
AddressMarket Square, 10.
In general, there is a lot of coffee in Lviv. Recently this drink has become one of the symbols of the city, and "Lvivs'ka Kava" has become a kind of local brand. But! Coffee itself does not grow in Ukraine. And to play with it somehow the local creatives have decided to extract it underground. Thus appeared the Lviv mine of coffee, and with it this unusual coffee house.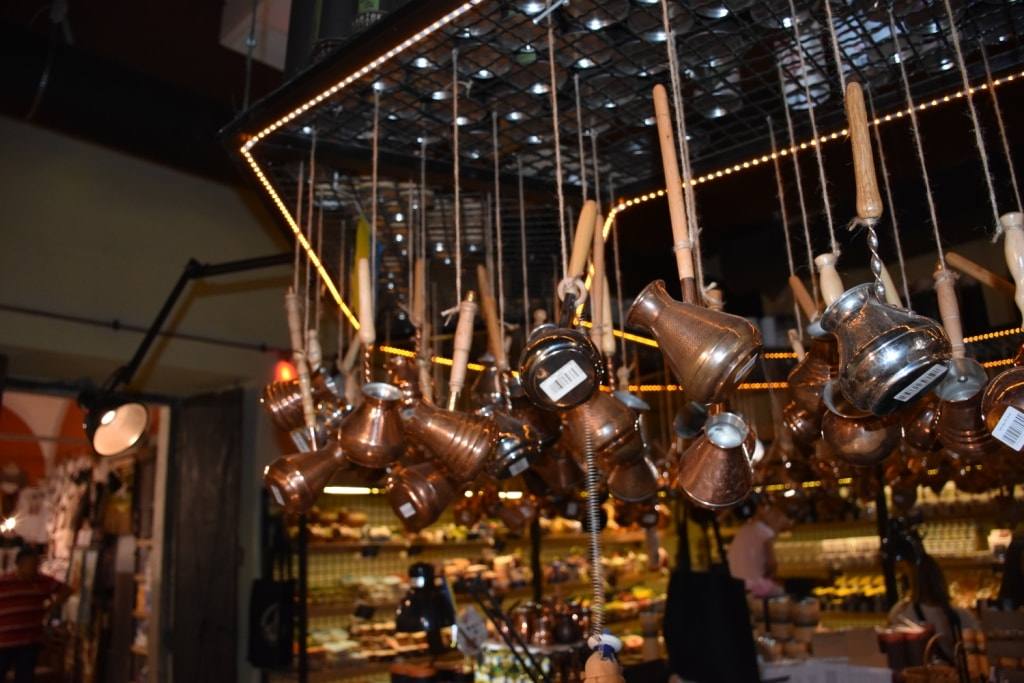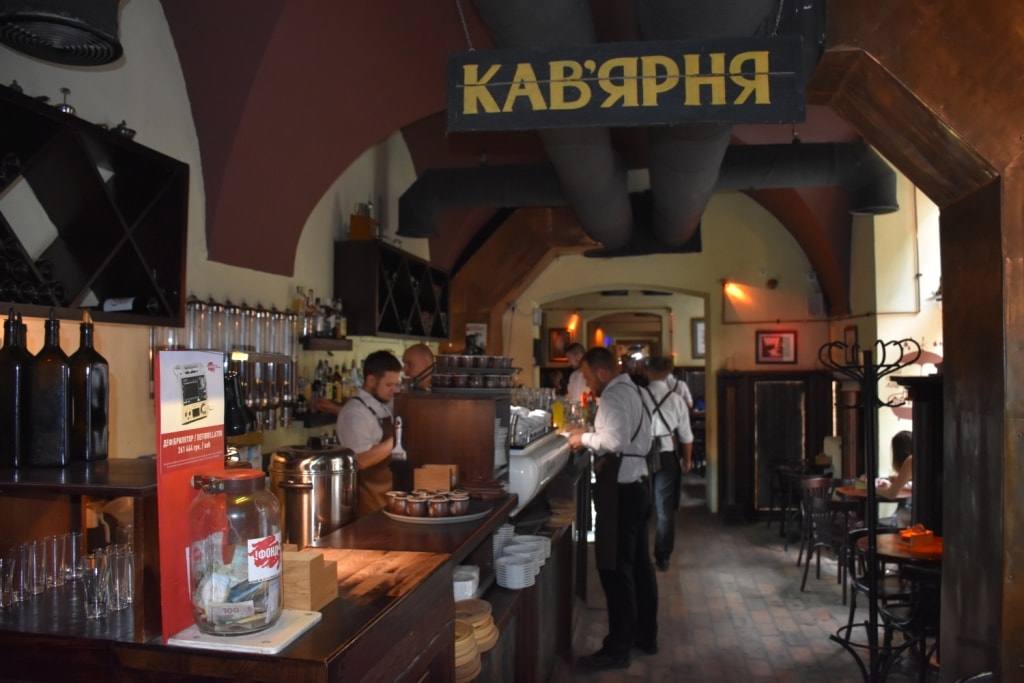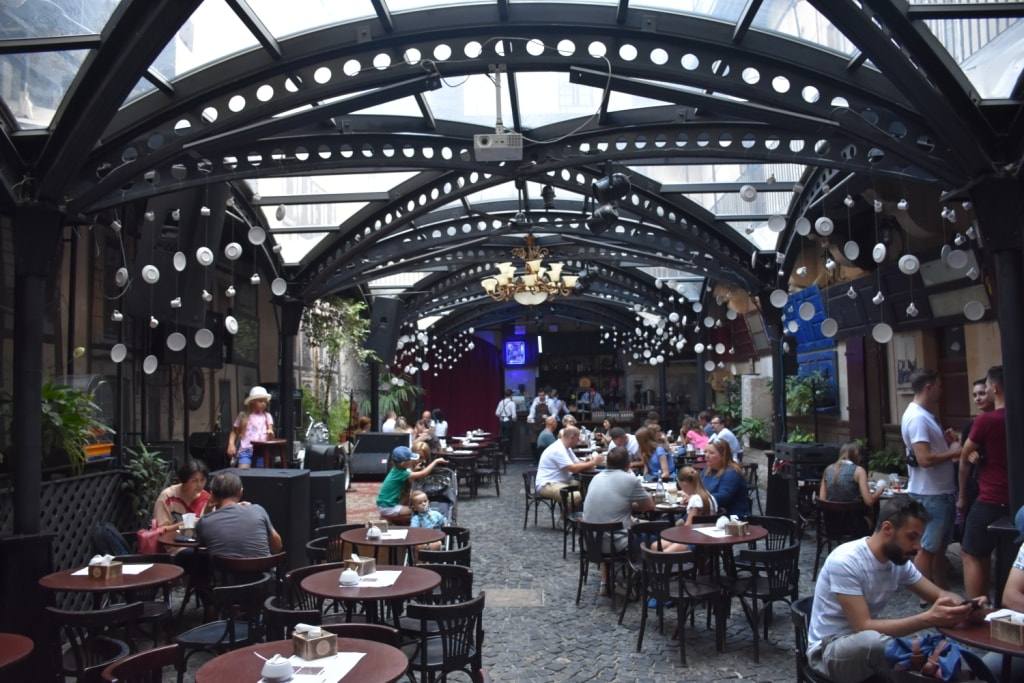 "Kawi's Mine" begins with a coffee shop, and then slowly flows into a cafe with several halls. But the most interesting part, the actual coffee pit, is in a special room beneath the restaurant. There are stone stairs leading there.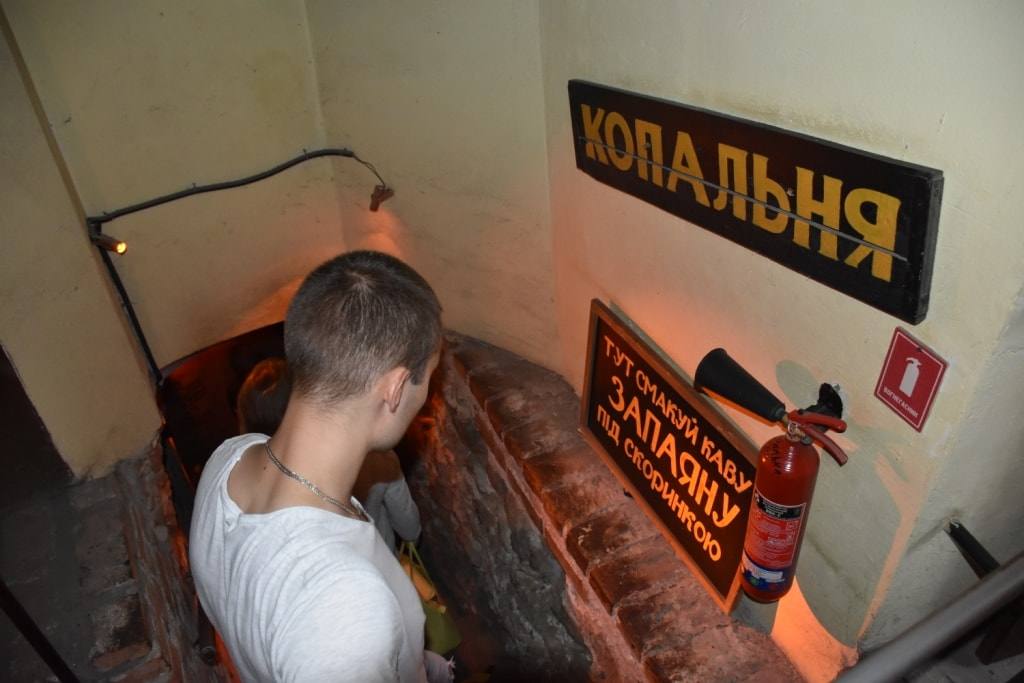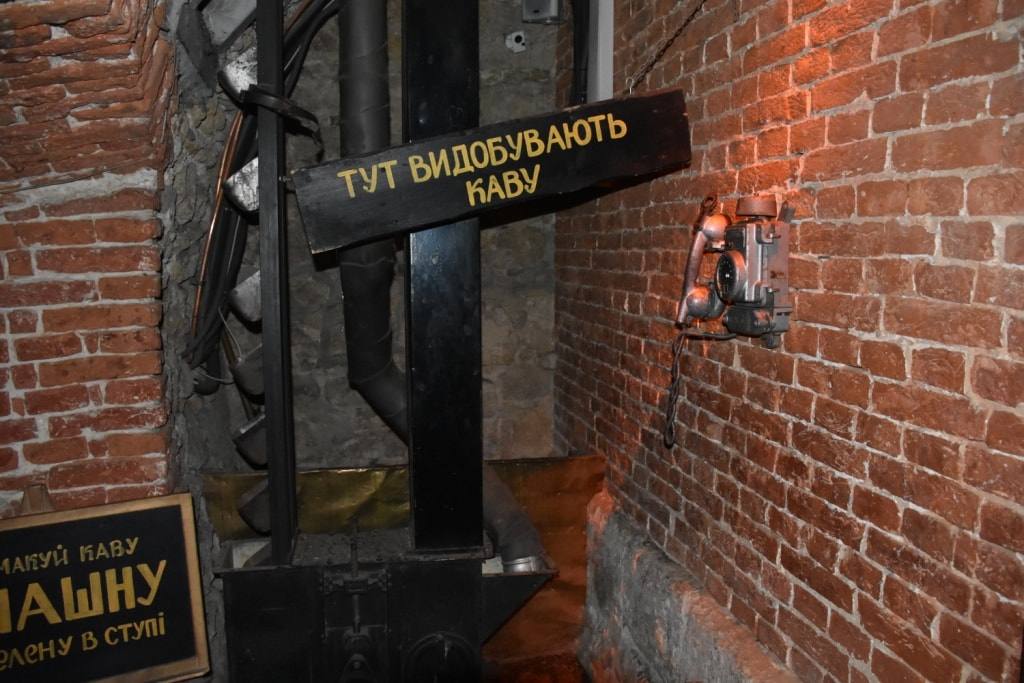 At the entrance, everyone is given a miner's helmet. A little more – and you find yourself in a separate world, where coffee is carried on carts, and then right in front of you sealed with an open flame.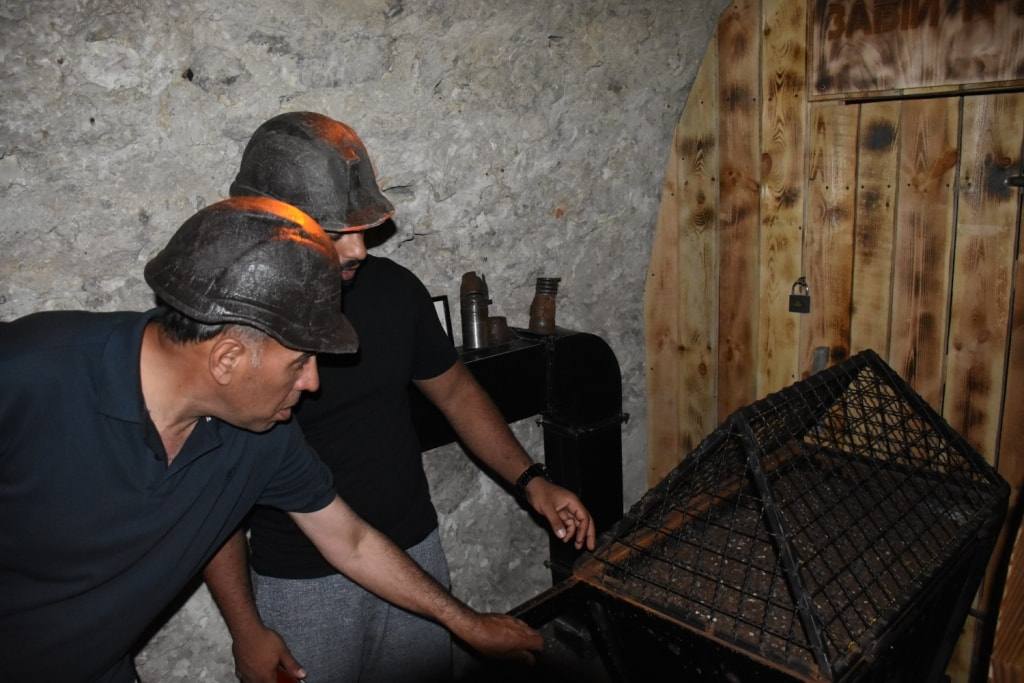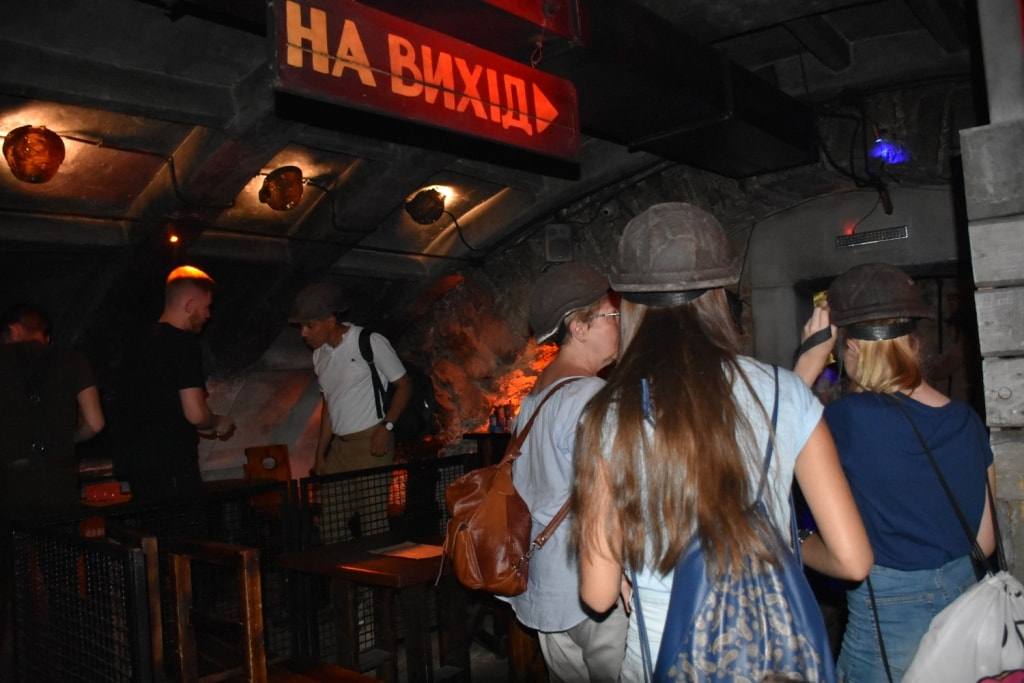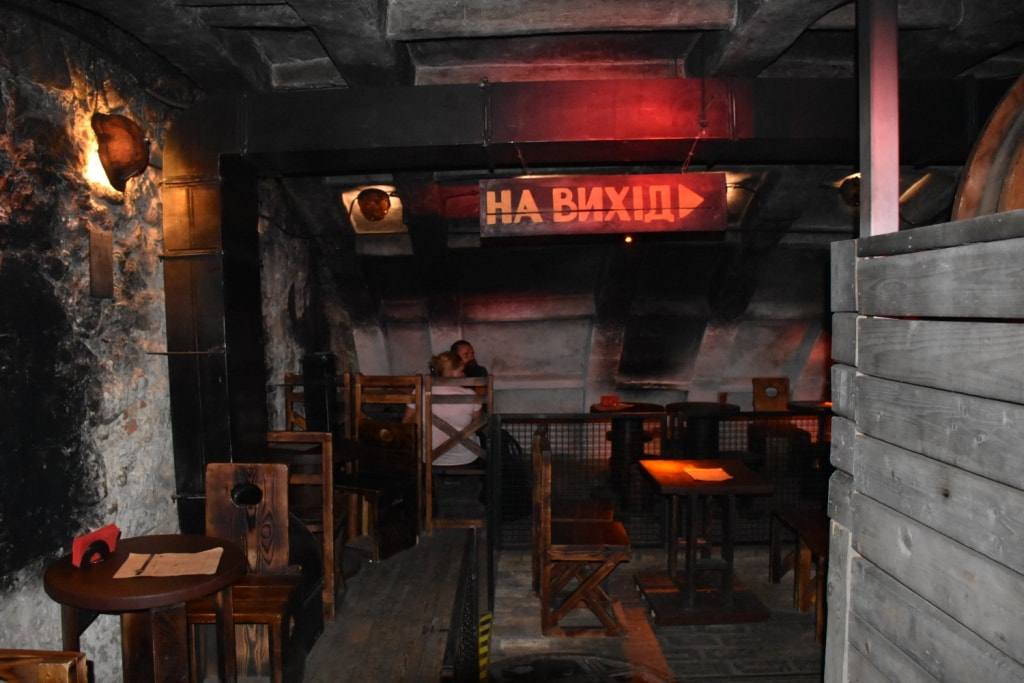 Sealed coffee costs 54 hryvnia ($2) and differs from the usual only "fiery" serving. I'm not going to say anything here. The pictures will tell you everything better than I can. Drakaris!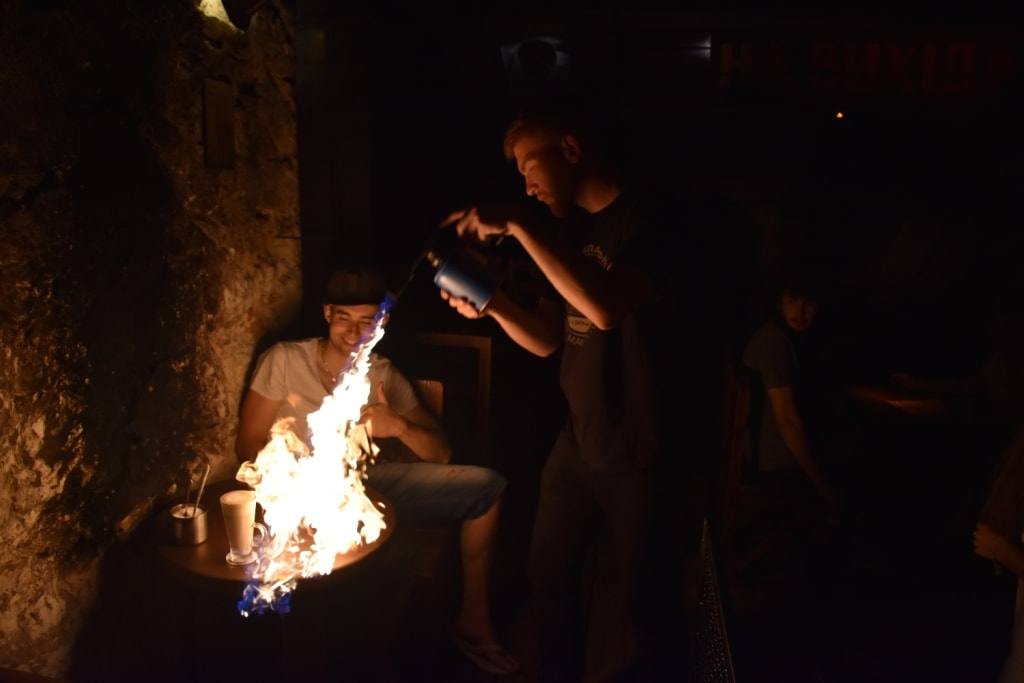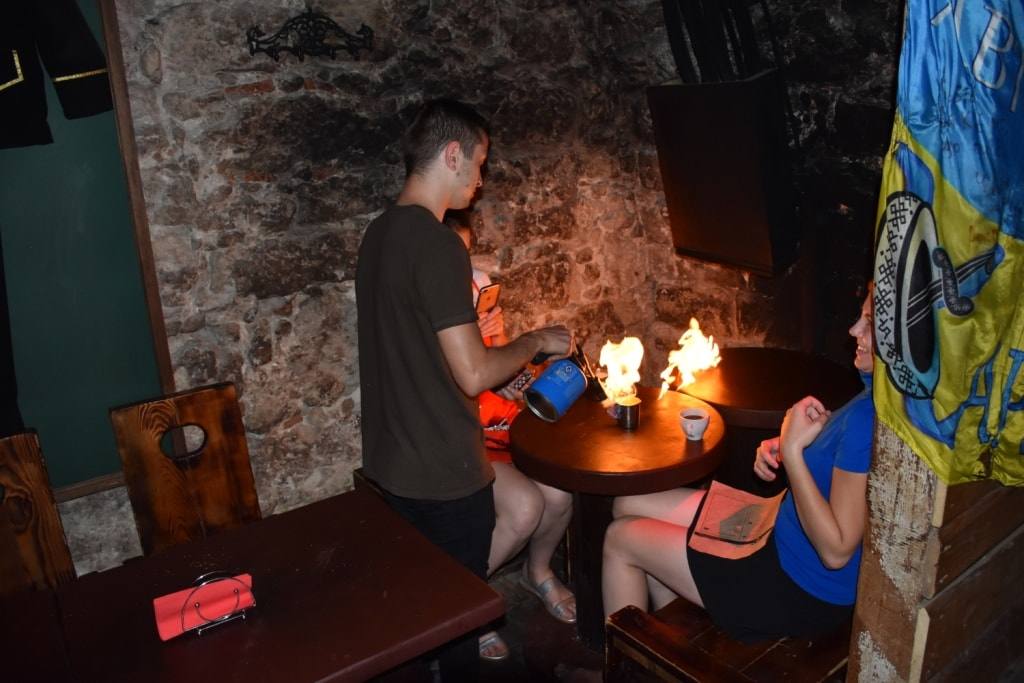 Be prepared that after such an order you'll have half of the restaurant with their phones. It looks really cool. The open flame melts the sugar or some kind of caramel on the coffee and you end up with this sweet crust.
You can then break it through with a spoon and drink your coffee as you normally would. You won't find sealed coffee in the "upper" halls, by the way.
Masoch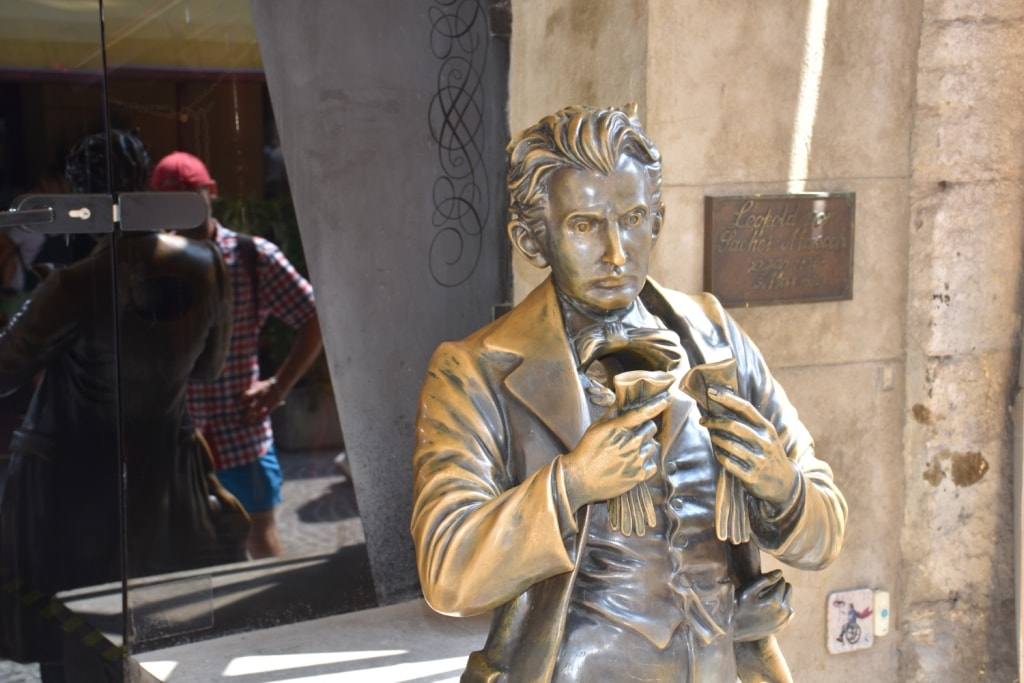 Address: Serbskaya, 7.
Another unusual cafe in Lviv (also known as the place where I got a whip on my back for nothing). For those who want to feel all 50 shades of gray or just spend an unusual evening in Lviv – this is the best place.
This cafe is named in honor of Leopold von Mazoch (dozens of years before E.L. James' sick imagination invented a sexual millionaire, whose "tastes are very specific", he was already full of writing books on BDSM). A statue of the writer stands right at the entrance of the establishment, allowing everyone to literally put their hand in his pants. The girls are usually delighted. But men are better to refrain from it (I have not checked myself, but I think I know what you'll find there).
So… Now about the cafe itself. Besides the set of whips, chains and various dishes of sexual themes, this place is notable for its "cocktails" with a very unusual serving. For about 80 hryvnias you will be whipped.
And for 250 you will be offered a real performance, during which molten wax will be poured on your chest, and in the pants is a little bit of this ice.
Well, look (I'm sorry for the quality of photos, all taken with a iPhone). I felt sorry for the English-speaking guy with every fiber of my being.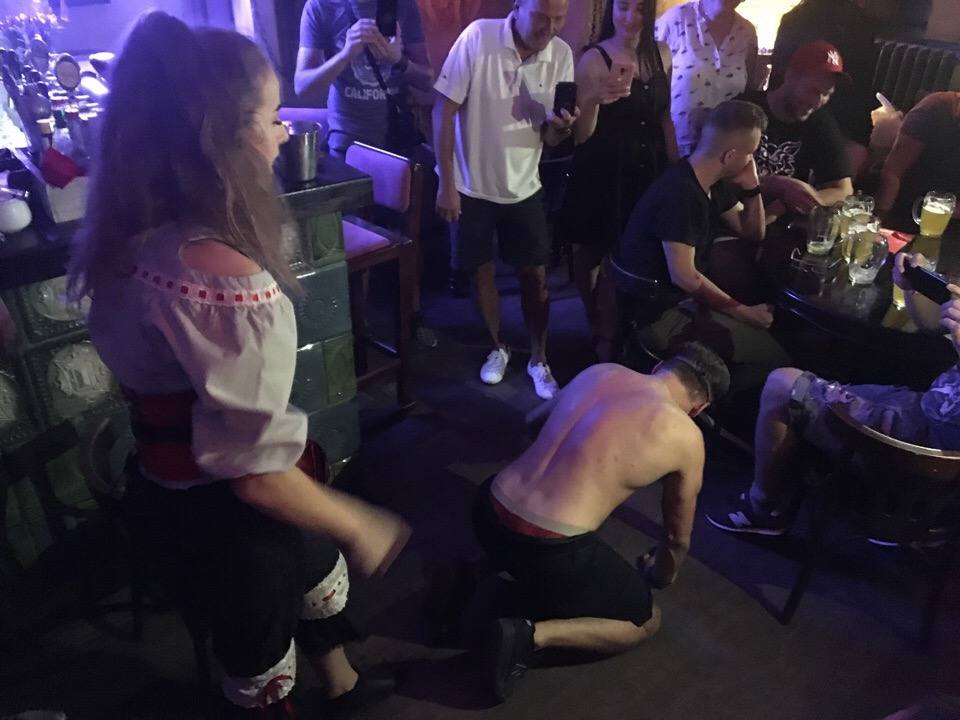 She said to him: Say, you are my slave!
I am your slave!
Breath. AAH! Ooooooh.
Say, you were a bad boy!
I was a bad boy!
Breath. AAAAAH! Mmmmmm.
I watched it from the sidelines (occasionally trying to dodge the whip flashed in my face) and thought about the fact that Anastasia Steele was at least given a helicopter ride for that. And anyway, she deserved it (she chewed up an entire pencil factory there for the movie). And this one… How do you say "wretch" in English? He probably hasn't read E.L. James. I'd have been screaming my head off by now: "Red. Red. ".
No, I'm sorry. Let me tell you about other places.
Meat and Justice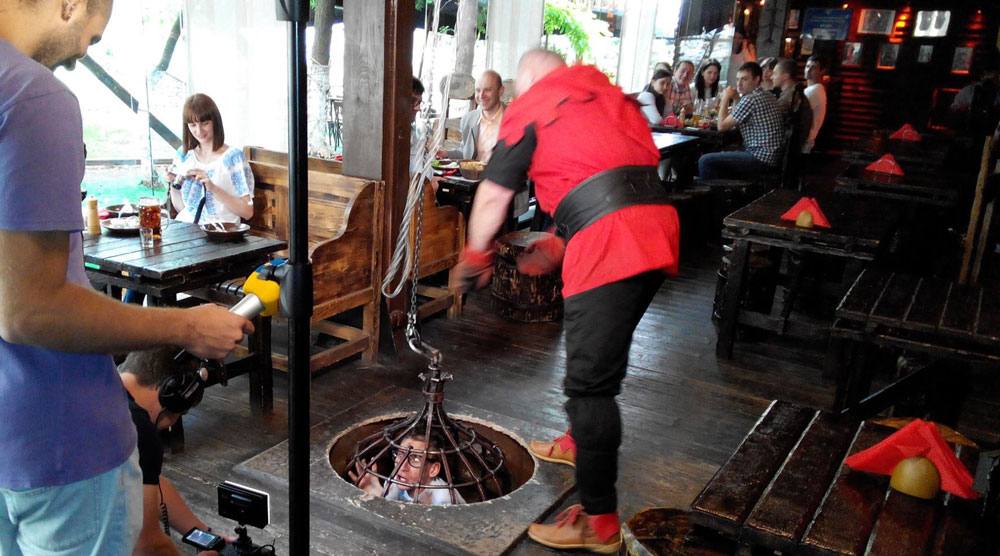 Photo from http://www.hotelslvov.com.uar
AddressValovaya 20.
It's the same BDSM, but a little bit lighter. Most of the time only the sausage is executed here in a showy and duly pathos, but if you want, you can also put some of the visitors in a cage. Usually, you'll sit in the cage until one of the "garish girls" kisses you. Although variations on this theme can, of course, be very different. The TV series "Escape" has been washed out for five seasons. Maybe they just needed to be kissed there. And it would have been over by five episodes?
Rib under the Arsenal.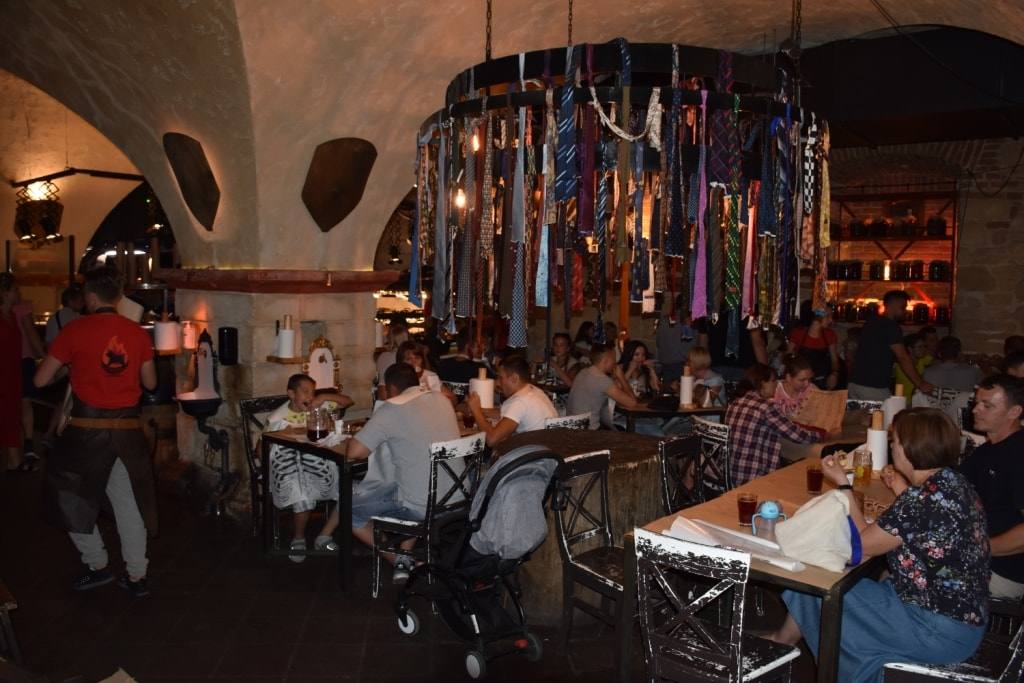 Generally speaking, you can go to that same grill bar, Meat and Justice, not just for the show, but for the delicious meat in its various variations. This is a good institution, but personally I like the other place best in terms of meat cuisine – "Rib under the Arsenal". At the entrance there is an impressive line of tourists almost all day long. People are put on a special sign and then let in depending on the availability. You will have to wait at the door for about 15-20 minutes, but the pork ribs are certainly worth the wait.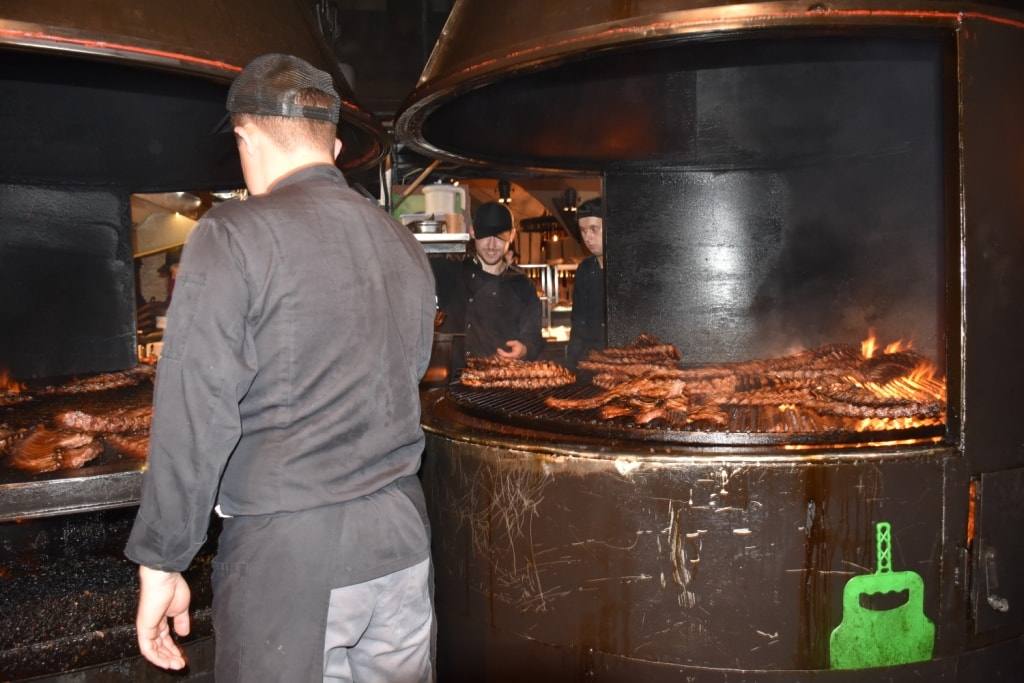 One portion costs 120 hryvnias (which is enough for an adult male). At first, you will be served a paper apron. Then the ribs themselves on a special tray. By the way, you will be chopped with a special cleaver (so sometimes you will come across small crushed bones in the ribs – be careful).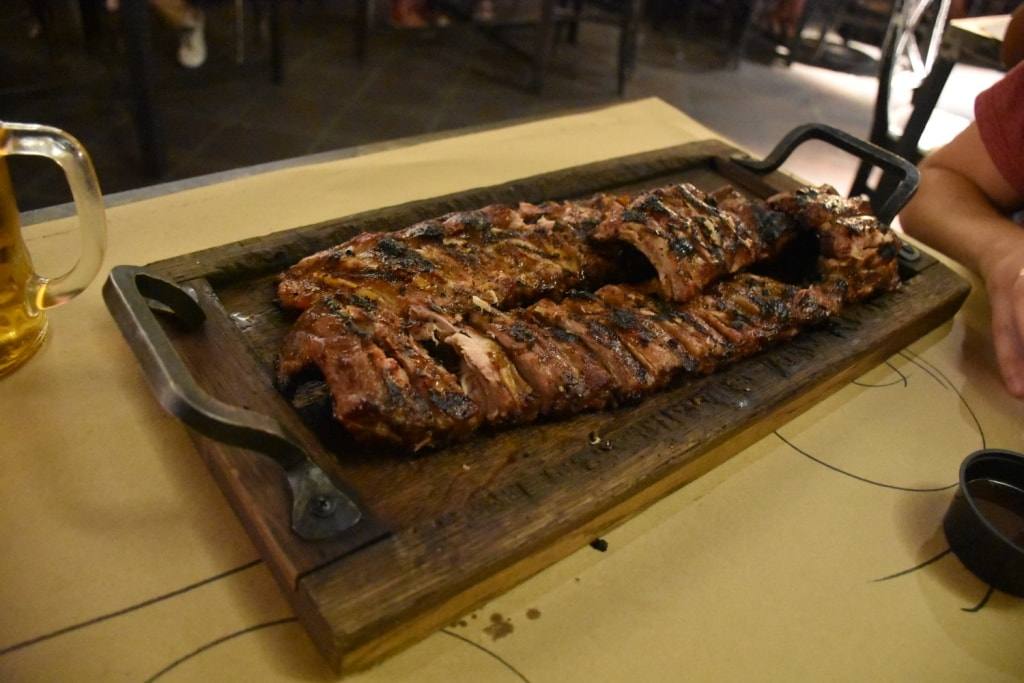 The food is very delicious. The ribs – just fire. No one beats you on the back with a whip. In general … If you will be in Lviv, I highly recommend you to visit this place.
About other restaurants in Lviv in short
The existence of such institutions in Belarus is probably impossible in principle. "Kopalnia Kavi" would have been closed long ago for violation of fire safety rules. And the "House of Legends" would have received an order to remove the "Trabant" from the roof as soon as possible (well, you never know – it's better to be reinsured). I'm not even going to say anything about the Masoch. Only He-Who-I-can't-Name-is allowed to organize BDSM in our country. Speaking seriously, I personally would like to create in Belarus also such a cool, unusual and creative environment for tourists. But until there is no such thing (and it is not expected), we are left to enjoy Lviv. So next I will tell you about a few more cafes that are worthy of your attention.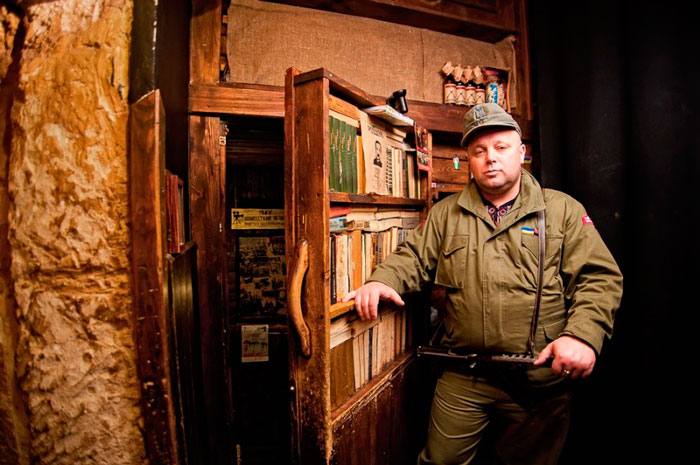 Photo from Lviv.bel
Kriyivka – Probably the most famous restaurant in Lviv (which, however, I never visited). The institution is styled as a cache of the Ukrainian Insurgent Army, so it is "hidden" and its address (allegedly) remains a secret for everyone (in booklets it says "somewhere on Rynok Square"). To find it, you have to come to the Venetian Kamenitsa building (14 Rynok Square), knock on the door and say the password "Glory to Ukraine" (they say "Zhyve Belarus" also works). After that they will let you in. There is also a possibility for those over 21 to test with a glass of mead. This place has its own shooting gallery.
The most expensive restaurant in Galicia– Another restaurant without an address is located in the same building as "Kriyivka". In order to find it, you need to knock or call at door number 8 on the second floor of the building. After that a strange-looking man in a bathrobe and house slippers will open the door.
– Well… This has to be the most expensive restaurant in Galicia!
– Yeah, not… You've been lied to.
After this talk you will be allowed inside… an ordinary Soviet apartment.
– I told you, there is no restaurant here.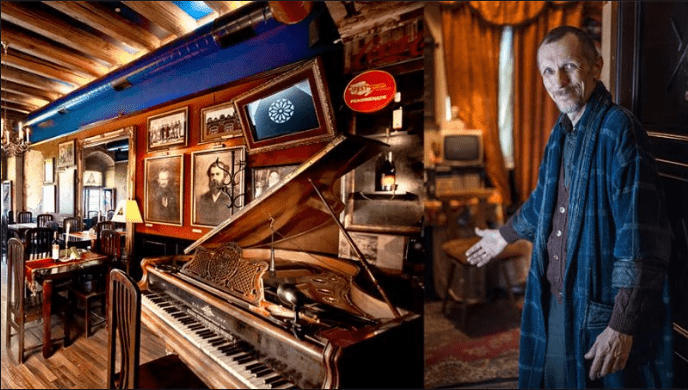 Author of the photo – Lena Glazkova. Source – Yandex.
Then you might start talking about the Freemasons, or anything else that day comes to mind weirdo hostess. Be persistent – and very soon you will be let into the restaurant, which hides behind one of the doors of that very Soviet apartment. Before the SDRGs, I had only seen something similar in the apartment of one of my college buddies. There, too, was a strange-looking man in a housecoat and a drinking place behind one of the doors. True, the entourage of a Soviet apartment still didn't disappear.
Gasowa Lyampa (Virmenska Street, 20).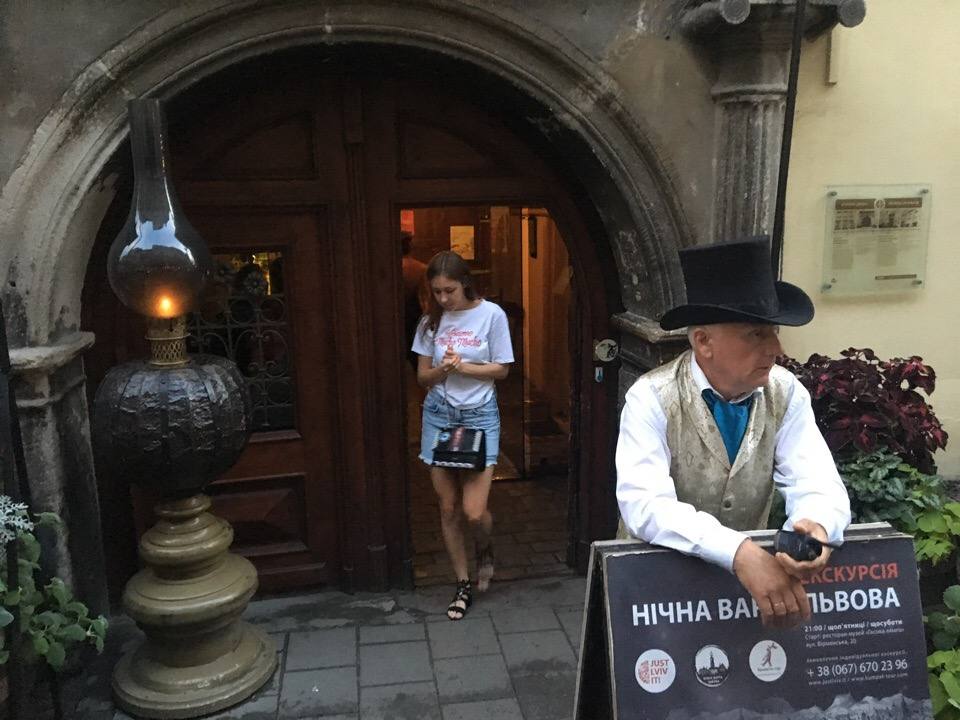 Relatively boring place, which, however, is quite popular among tourists. The main feature of the restaurant is a huge number of kerosene lamps used in the interior of the institution. They create a very cool entourage and in general look very cool. By the way, in front of "Lampa" there is another place that I personally really like. It is called "Wine and Bread". It's beautiful and romantic there… Candles on the table and wine in glasses. For a couple in love, it's a great option.
Pravda Beer Theater..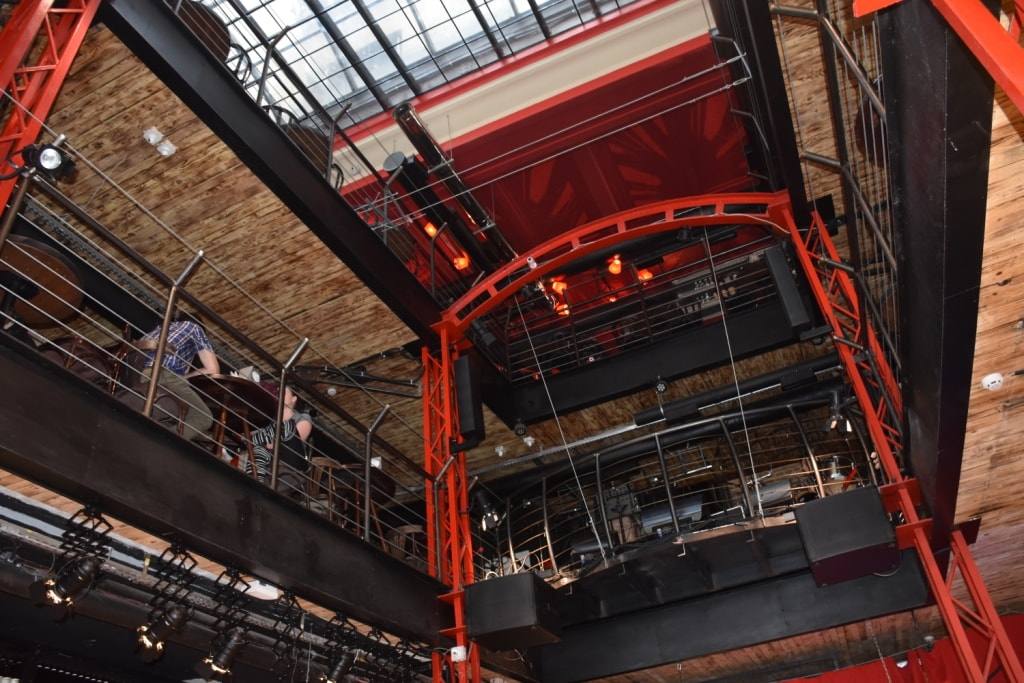 One of my favorite establishments in Lviv. It is always crowded here. Beer is relatively expensive. But in the evenings there is a real orchestra. And it looks very cool.
If you get bored with all the cafes with whips and cages – come here, buy drinks and listen to live music. You will like it!
PS. And what interesting institutions in Lviv can you recommend? Leave your answers in comments. I will be interested to read them.
What cafes in Lviv, Ukraine are worth to visit
Romantic, beautiful and incredibly fascinating Lviv tirelessly wins the hearts of its guests. However, what I like most is not its tangled streets, but its themed cafes. Let's talk about the must-see places to visit in Lviv!
Do you want to know where to visit Lviv? All tourist guides say in one and the same voice that the first thing you should do is go to the center, walk through the city hall, climb to the top of the observation tower, and see the legendary Lychakiv Cemetery.
You can't argue with that. But to see these sights, two days is quite enough if you rush at a gallop. For me, a trip to Lviv should be free, measured and saturated with the aromas of freshly brewed coffee and specialty chocolates from Lviv studio.
What cafes in Lviv, Ukraine are worth visiting
If you get chilly, you can always warm yourself up in one of the numerous cafes in Lviv, or buy a tasty mulled wine on the street. Evenings are especially pleasant in Lviv, when the youth spend their evenings outside, live music is playing and lanterns are decorating the main streets of the city like a Christmas tree.
Love for Lviv necessarily begins with its cozy little cafes and restaurants. Who does not know about the legendary "Kri§ivka"? This place has been visited by many famous people, it is famous for its thematic design and flavor, as well as for the non-standard serving of dishes. However, this cafe is very popular, so it is always very noisy and crowded. If you just want a cozy, pleasant and calm atmosphere, there are many other great places in Lviv:
– "Golden Ducat" is an incredibly quiet and romantic place . From the street you can see a small sign with the name above a small staircase leading to the basement. At the entrance you will be greeted by friendly staff and a pleasant coffee aroma. On the menu you will find not just coffee drinks but the real masterpieces of culinary art. Special attention deserves special coffee with cream, dried fruits, candied fruits and grated chocolate. Mmmmm … This flavor and taste will not leave anyone indifferent! In addition, there are many interesting desserts and sweets.
What cafes in Lviv, Ukraine are worth visiting
– "Bread and Wine" – what can be more delicious than fresh pastries? Only the fantastic cuisine of the wine and diner "Bread and Wine" in Lviv. You should definitely try the delicious multi-colored burgers and warm beer with raspberry or ginger syrup. However, it is only a small part of facility's exquisite cuisine. Fresh pastry literally melts in the mouth. Enjoy the size of portions of salads and stylishly decorated interior. The subdued light and candles on the tables create an exceptional atmosphere and dispose to a nice friendly conversation. I most liked the burgers: black, red, blue, green and yellow. By the way, only natural products are used to give the dough its non-standard color.
What cafes in Lviv, Ukraine are worth visiting
– "Meat and Justice" – if you like grilled meat, appetizing sausages and delicious beer, this institution will conquer you at first sight. Also here you can admire numerous instruments of torture of the Inquisition times, which you can "experience" at first hand. For this the cafe has its own cattle prod that will gladly put you in a debtor's pit or hang the stocks on you. You can even try on a chastity belt, if anything. When they bring you the bill, it will be nailed to the stump with all sternness by the pretty waiters. This is an ideal place for a noisy company.
What cafes in Lviv, Ukraine are worth to visit
After visiting one of these stylish and cozy cafes, walking through the evening Lviv on a full stomach will be even more pleasant. Moreover, you will have enough energy to see the evening city from the height of the High Castle.
Of course, this is not a complete list of places of interest in Lviv, and you can almost endlessly add to it. Where to go in Lviv? Every corner of this city is worthy of your attention. After traveling there you will definitely discover something new. Maybe you would like to add a few things to this list right now?