Kuala Terengganu, Malaysia. A few days in a Muslim city
July 2017 (updated: 20.04.2019) 7
We lived in the city of Kuala Terengganu in northeastern Malaysia for a few days. We flew to Kuala Terengganu from Kuala Lumpur to get to Redang Island. Although there are often posters around town that read "Visit beautiful Terengganu," the city is not spoiled by tourists; it hardly sees them. One cab driver even admitted that Russians are far from frequent visitors, mostly Europeans and Chinese come.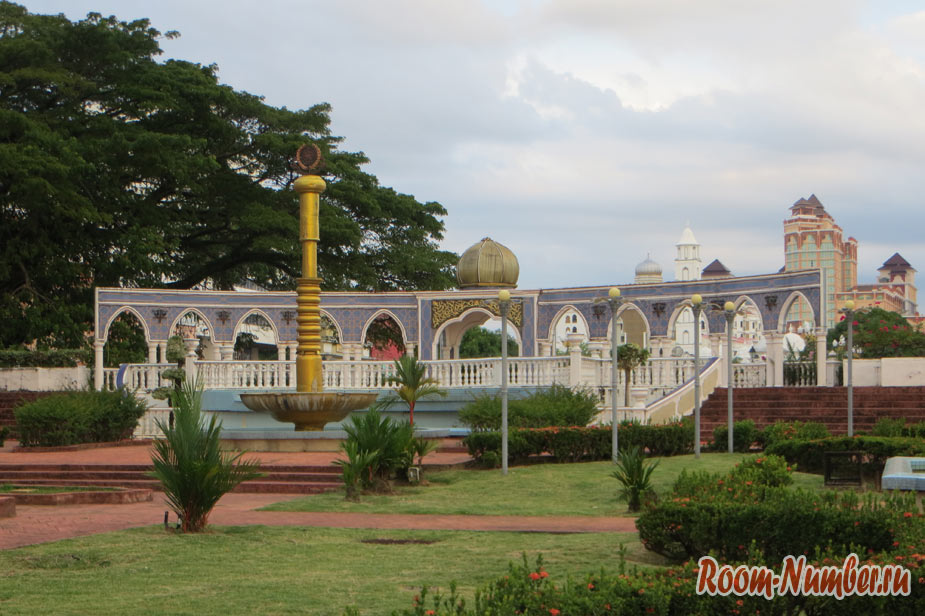 Kuala Terengganu Malaysia
Kuala Terengganu City
Kuala Terengganu is a transit city for most people on their way to the islands. Therefore, few stay here for more than 1 night. We spent a total of 3 days in KT. We stayed at Suite 18 Boutique Hotel. Went to 2 islands, rested, walked around the city and saw the sights of Kuala Terengganu. Also bought a suitcase.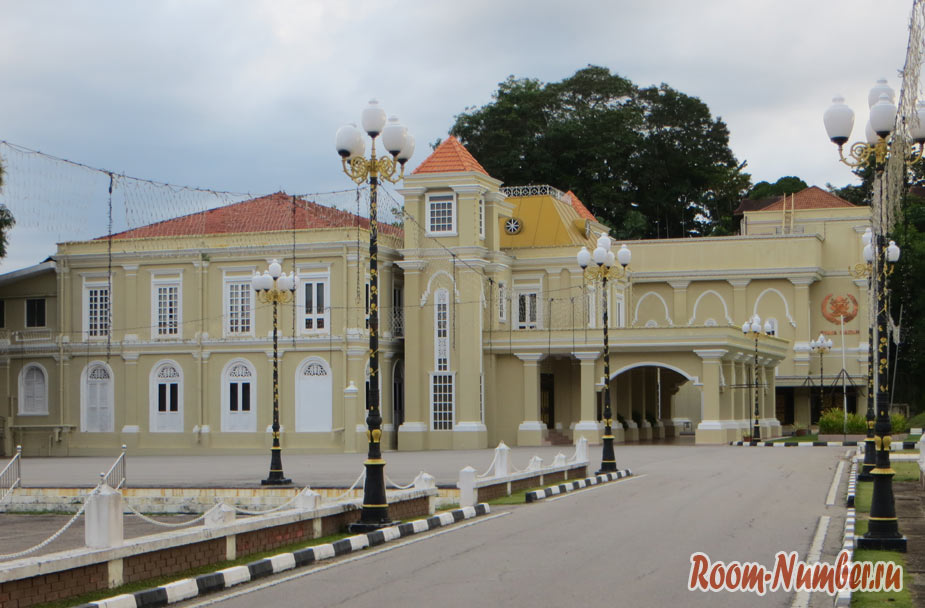 In some places you can see buildings like in Penang.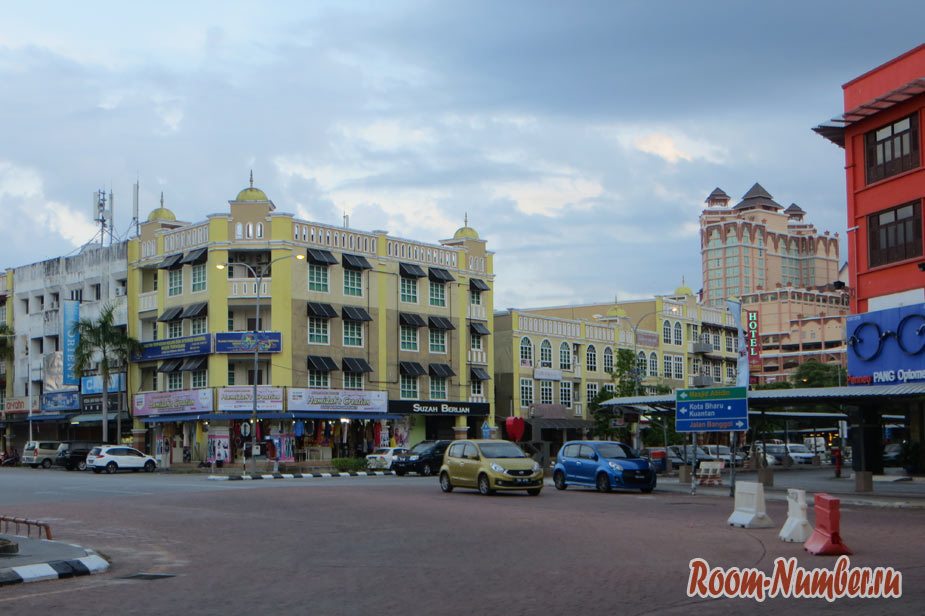 Everything in the city center is so bright.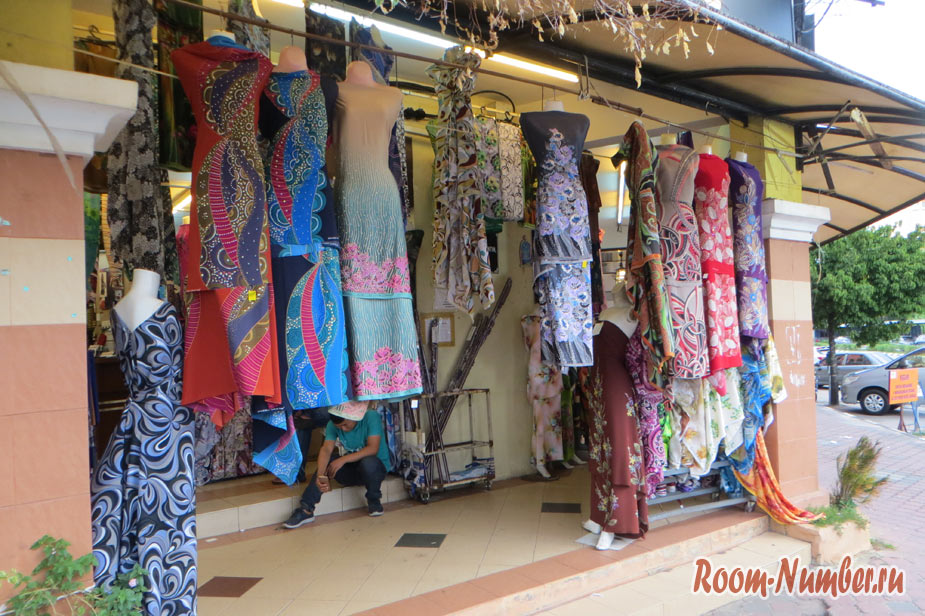 The state of Terengganu is famous for its batik. A lot of stores with painted costumes.
On the first day after a 30 minute walk around the city we didn't like Kuala Trenganu at all. It was somewhat dirty, you can often find overflowing trash cans, garbage falling out, there is no Malay comfort and convenience, which is inherent in other cities and islands.
Market
We looked at the local market on the waterfront. Lots of trash, bad smell, the backyard is covered in garbage cans and overall there is nothing to do or buy here.
Products for the locals, unknown to us.
Vagrants
Walking in the evening, periodically we noticed homeless people, begging near banks and just some muddy people. That evening we hurriedly bought what we needed at 7/11 and went to the hotel. But no drunks, they don't drink in Malaysia.
The waterfront in CT.
Waterfront with a bridge and artificial trees. Dirty and boring place.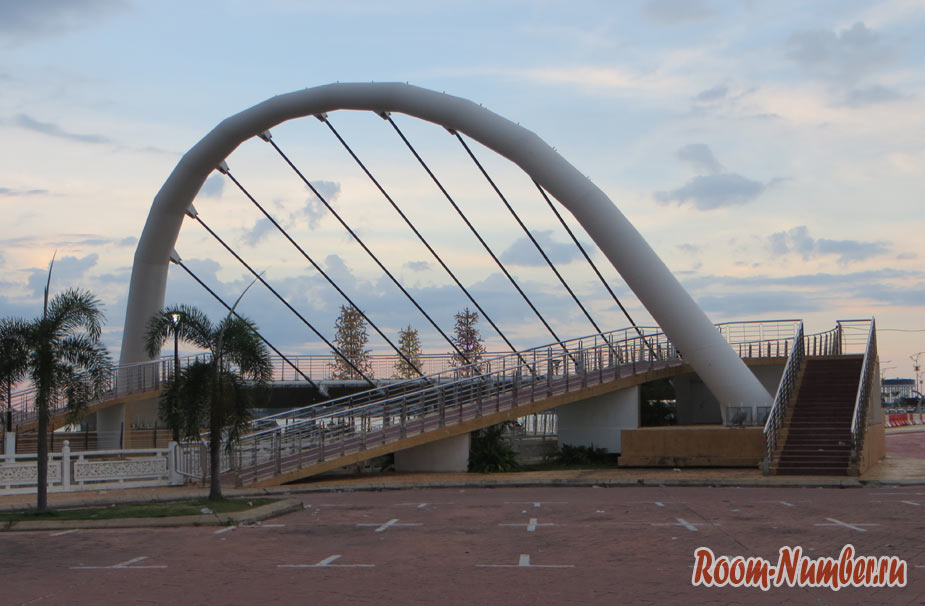 The bridge is a landmark.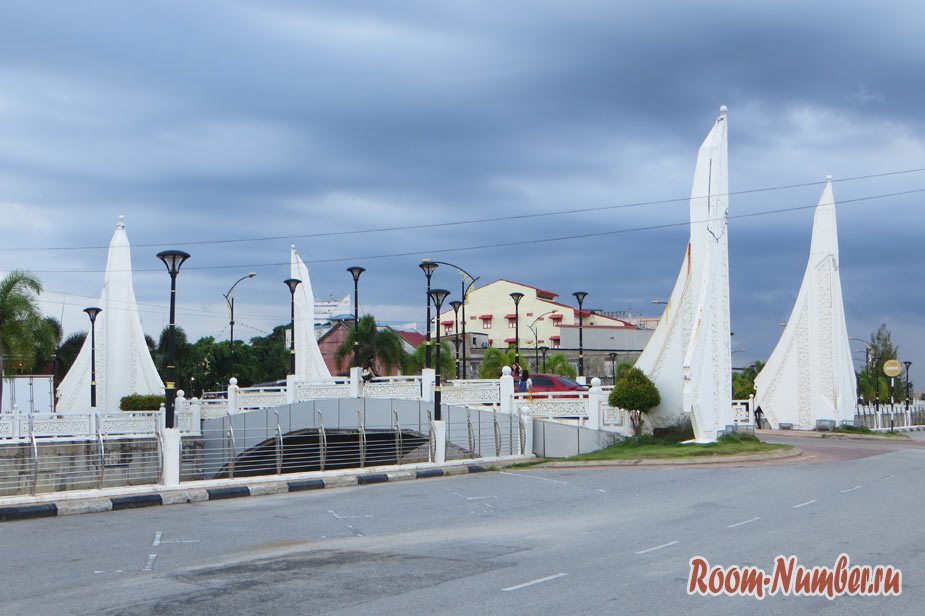 They built a children's entertainment complex on the embankment. It looks somehow neglected and abandoned. Not a single child rode on the carousel for some reason.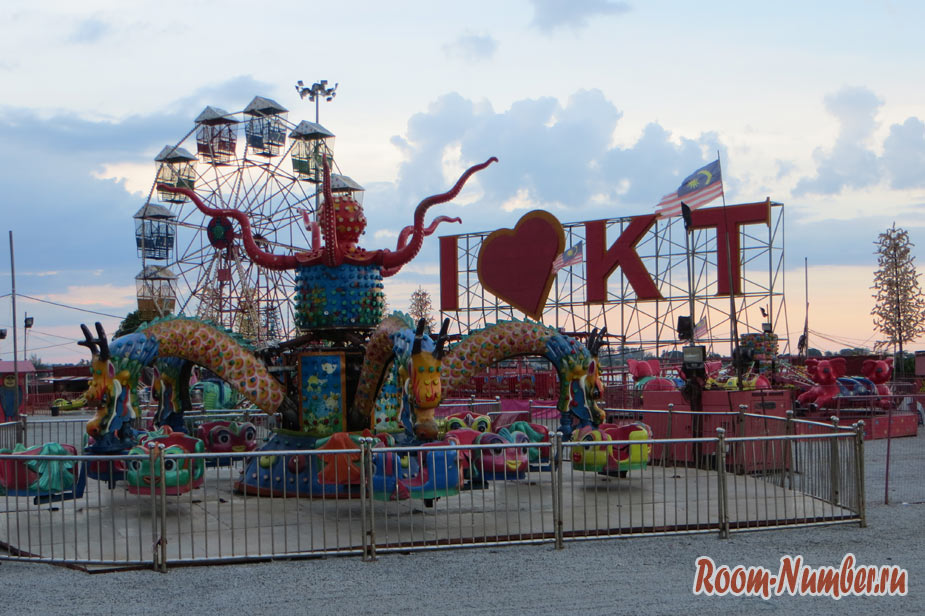 Cafes in Kuala Trenganu: Dress warmer.
Where to eat in Kuala Trenganu? There are no problems with food, there are many restaurants in the city center, including chain and fast food. We had scrambled eggs from 7/11 in the morning and a couple of KFC in the afternoon or Pizza Hut. Dress warmly if you do decide to eat here. All the cafes in Trenganu are cold, but Pizza Hut has the coldest freezer. The second time we took hoodies here and sat eating in our hoodies, looking perplexed at the waiters in T-shirts.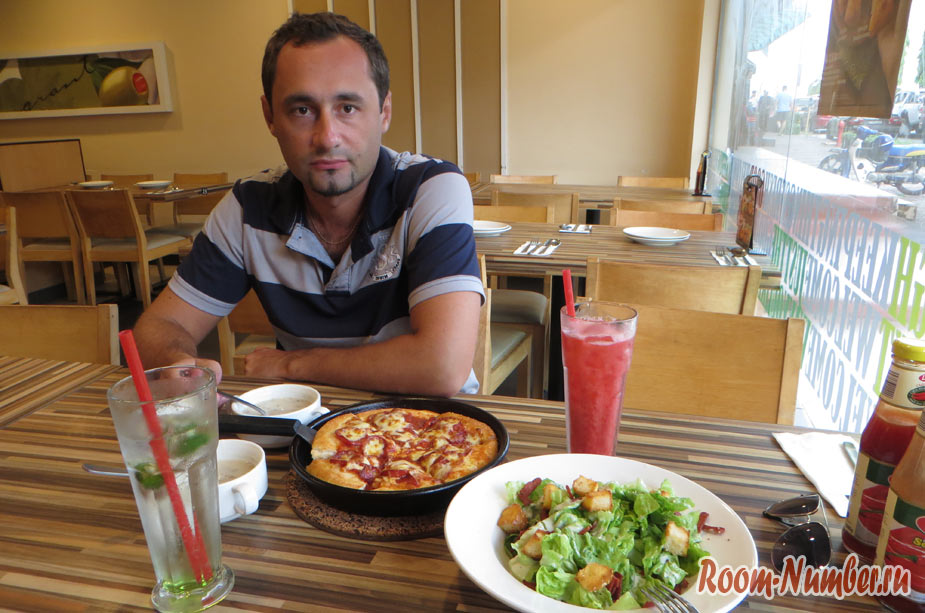 The tastiest Caesar salad, large and juicy pizza, two cream soups and two non-alcoholic cocktails for 46 ringgit ($12).
The first impression of KT changes over time
Back in Trenganu from Redang, it didn't seem so gloomy to us anymore. The second time we stayed at a boutique hotel in Chinatown, which starts after the I love KT sign.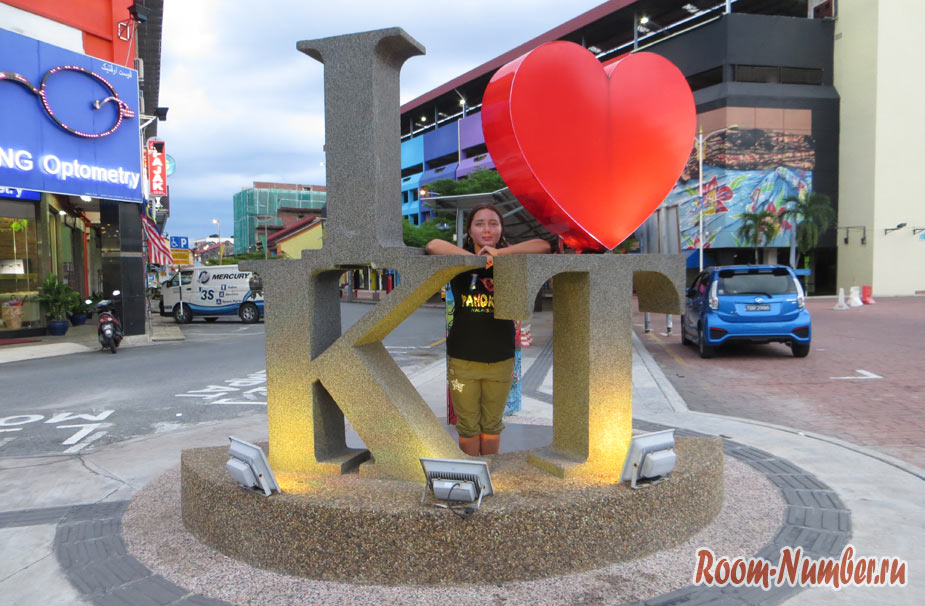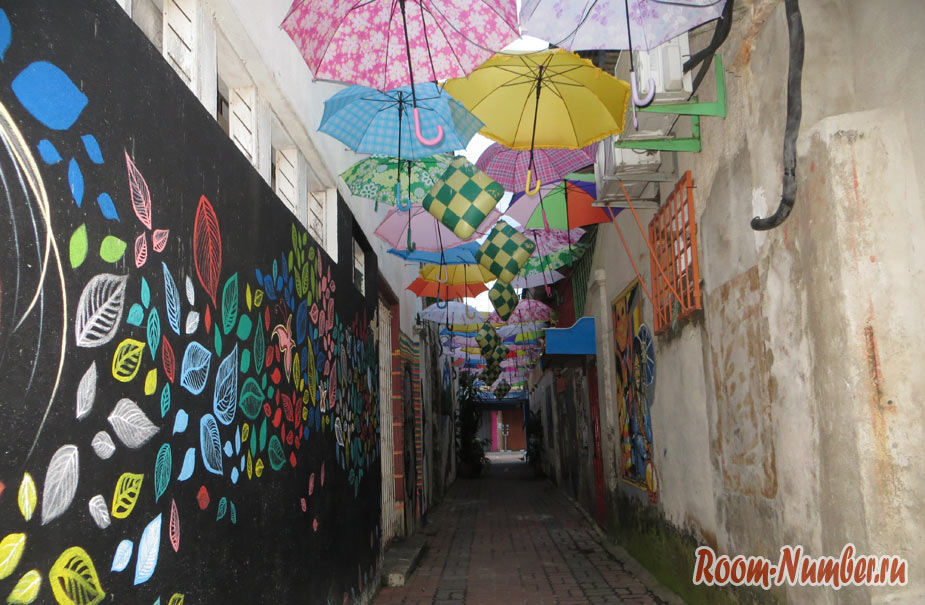 Street Art and Graffiti
Chinatown has all kinds of interesting streets with street art, like Georgetown. Like an umbrella street or graffiti walls. As it turns out, Penang is not the only place where they like to paint houses. As we travel around Malaysia, we notice that graffiti is not uncommon. Although, on the Internet, it is believed that only in Georgetown you can see street art.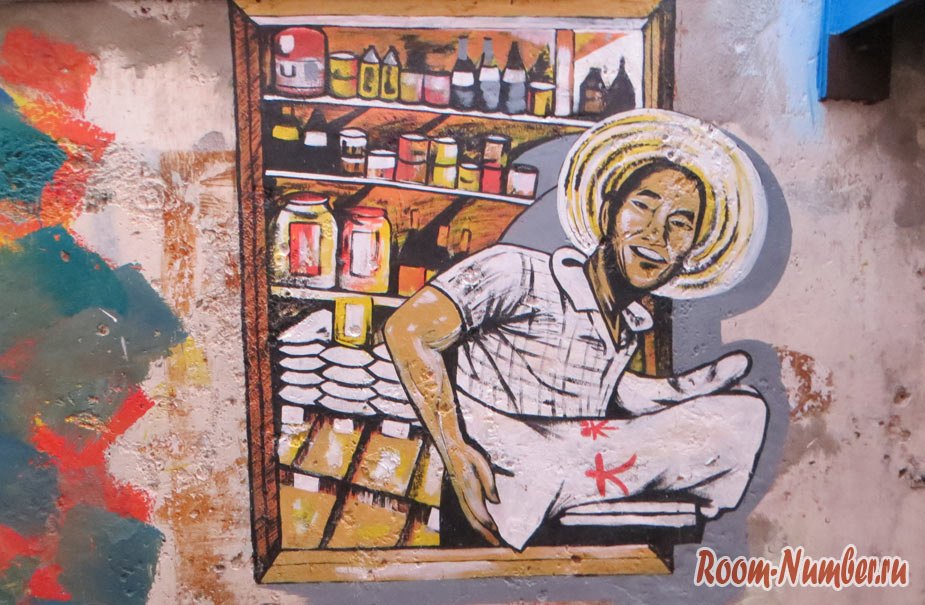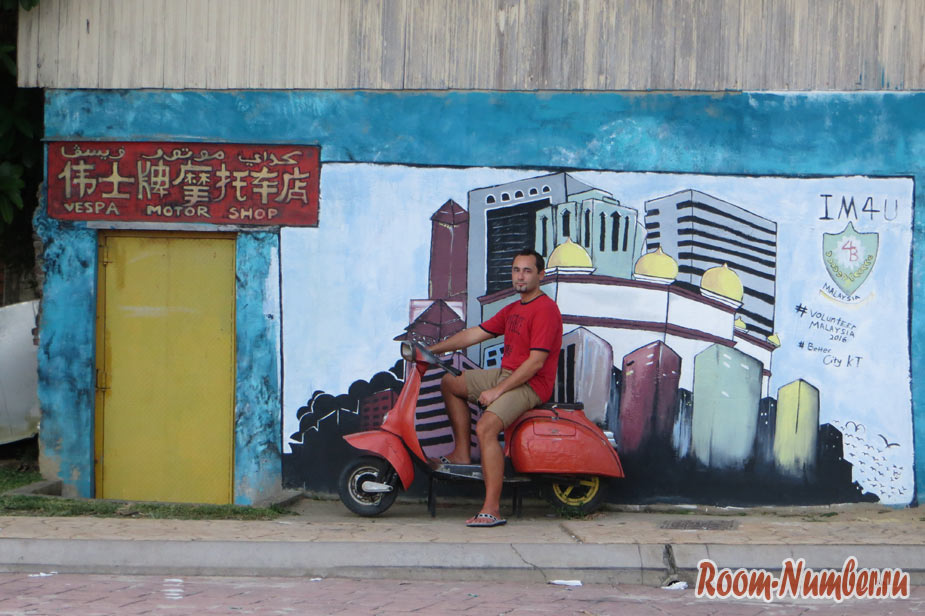 The city, not to say it's anything special. The houses are no higher than 3-4 floors, good roads, a few new, landscaped and clean neighborhoods, few people on the streets, almost no tourists.
Locals are mostly Malaysians and a few Chinese. There are no Indians in Terengganu, as they go where there will be work, which is Kuala Lumpur, Penang, Langkawi and Johor Bahru.
So what if it's a little bit dirty and neglected for Malaysia, and there are vagrants in the streets. But where is not all that? But there are the most unusual city buses, neighborhoods with colorful buildings and islands on the doorstep.
And there is something else that will surely stay in your memory. The Crystal Mosque – one of the most unusual mosques in the world, by the way. You can read about it very soon in our new articles.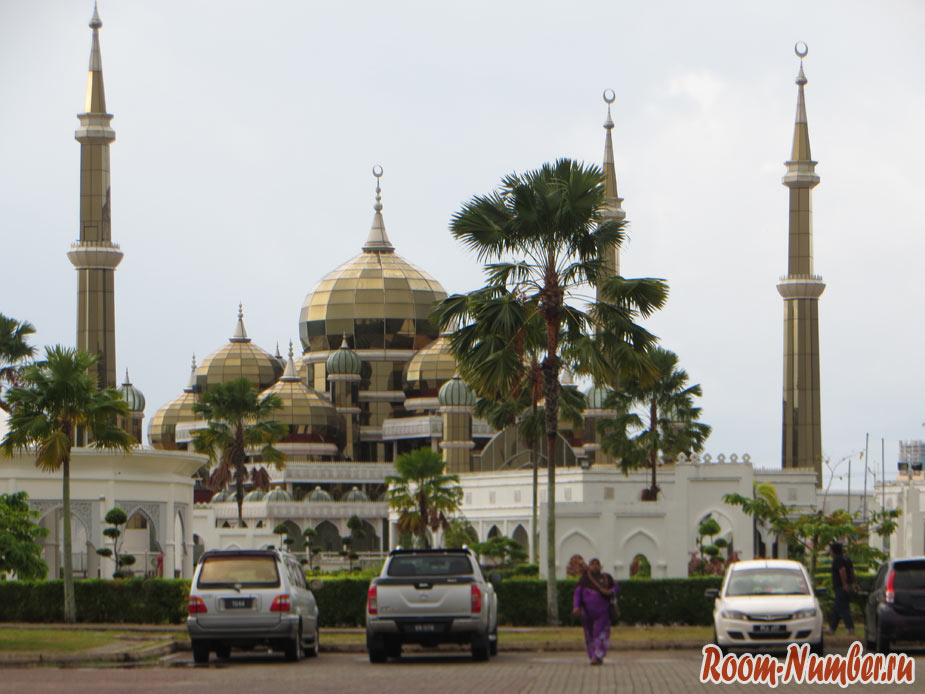 Unusual features of Kuala Terengganu
Retro Style Buses
It's amazing that public transport is available here at all. It also has air conditioning, wi-fi and television. Malaysia as always pleasantly surprised even in such an ordinary not touristy city.
The fare in this funny bus costs only 1 ringgit ($ 0.25).
Bus routes in Kuala Terengganu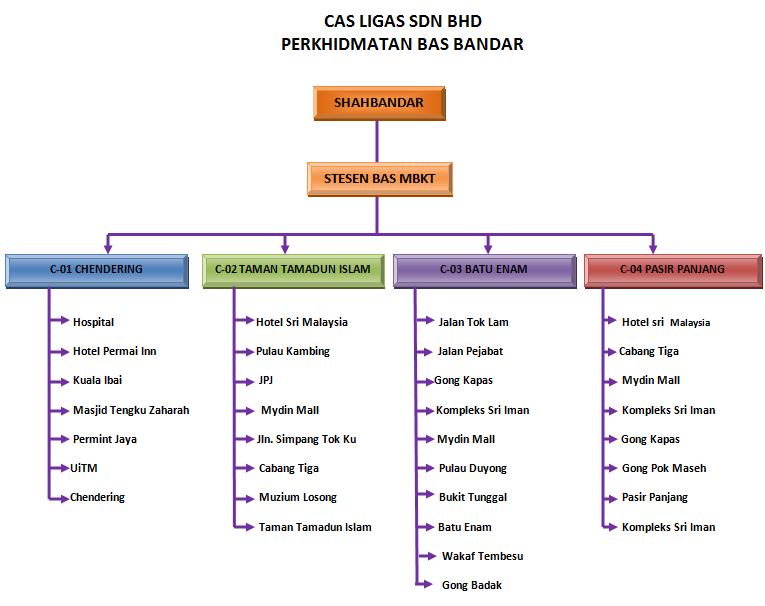 Bus routes and stops. Bus C-02 goes to the Crystal Mosque.
Colored Buildings
If you walk around the city, you'll come across colorful houses quite often. There are even entire neighborhoods of these colored houses.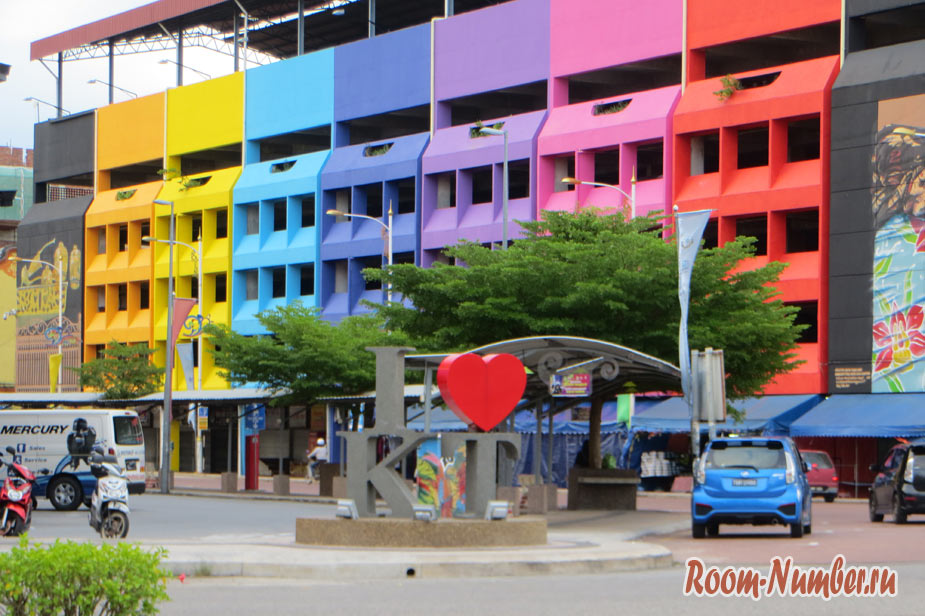 Lots of Cats
You won't find cats in KL, but Trenengganu, like Langkawi, is full of them. It's a pity for all of them. A lot of very tiny kittens running around and no one wants them. So they live, or rather survive. But it's good that the locals feed them. There are no dogs, because Muslims live here.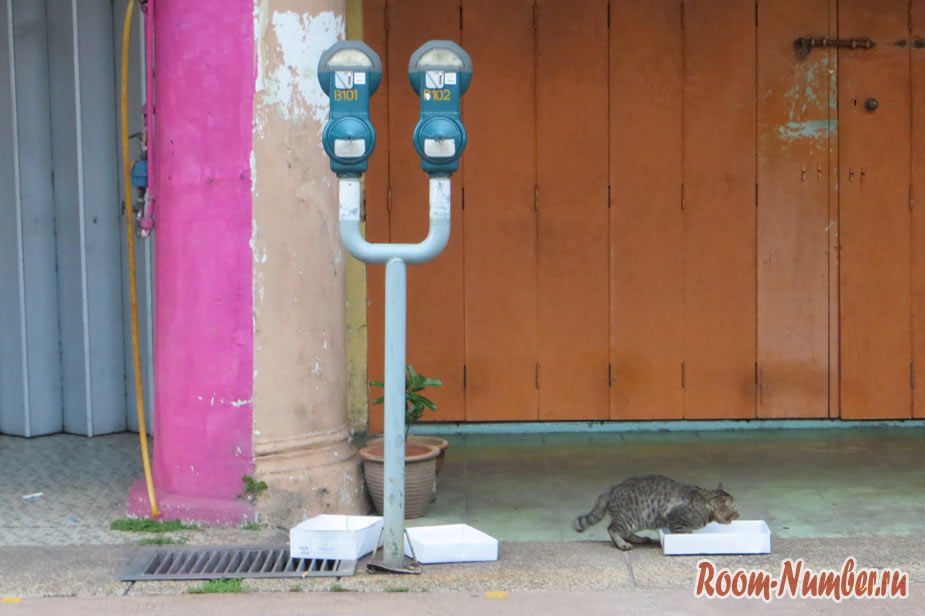 Some kind soul feeds the stray cats.
Smiling Passersby
In Malaysia, in principle, the locals will always smile at you. More often than not, even the first and just for fun. This is great, because the country does not develop tourism for Europeans, which means they are sincere. In Kuala Trenenganu, there were especially many smiles.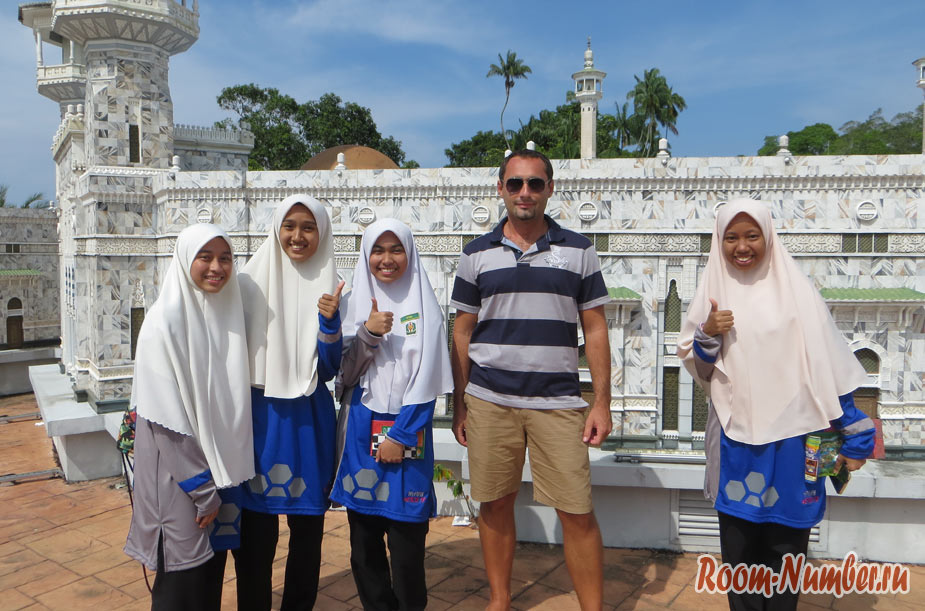 One of the school groups asked to take a picture with us
Islam in Malaysia
Kuala Terengganu is currently the most Muslim and religious city we visited in Malaysia. 95% of the population is Muslim and the influence of religion is felt.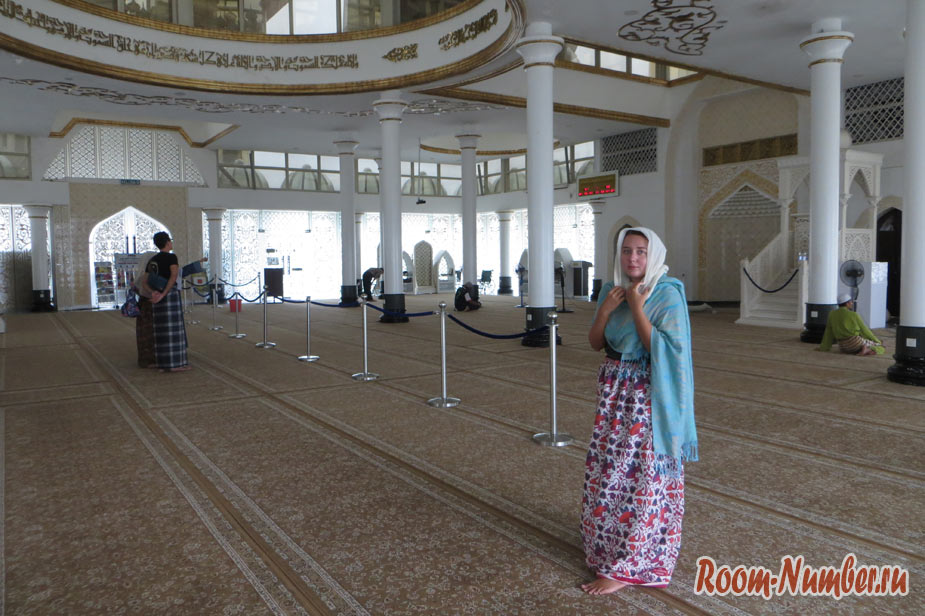 If in Kuala Lumpur are modern Malaysians mixed with Indians, Arabs, Pakistanis, Chinese, in Kuala Terengganu, it feels like you're back in time. Everything is different here. Not only prayers can be heard from the mosques, but entire parables are broadcast into loud microphones to the entire neighborhood.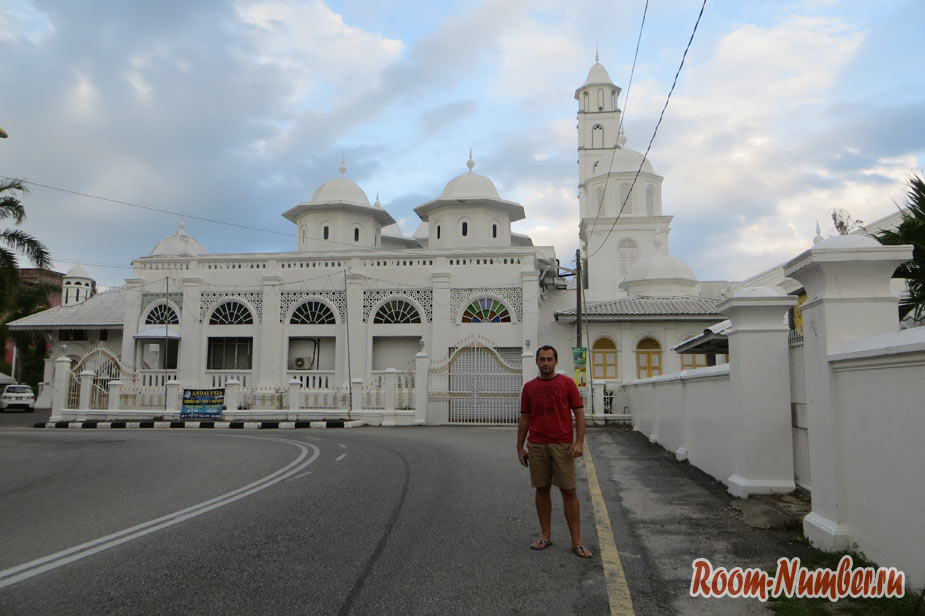 The arrow on the ceiling of Kiblat
An interesting peculiarity. In hotels there is an arrow on the ceiling with the inscription Kiblat. What is it? An advertisement of some kind, perhaps? Google Translate translates the word "Kiblat" from Malay as "kibla". Since we're not Muslim, we didn't even know what it really is. It turned out to be the direction to the holy Mecca in Saudi Arabia. Such a concern for Muslim guests, so that they know which way to pray.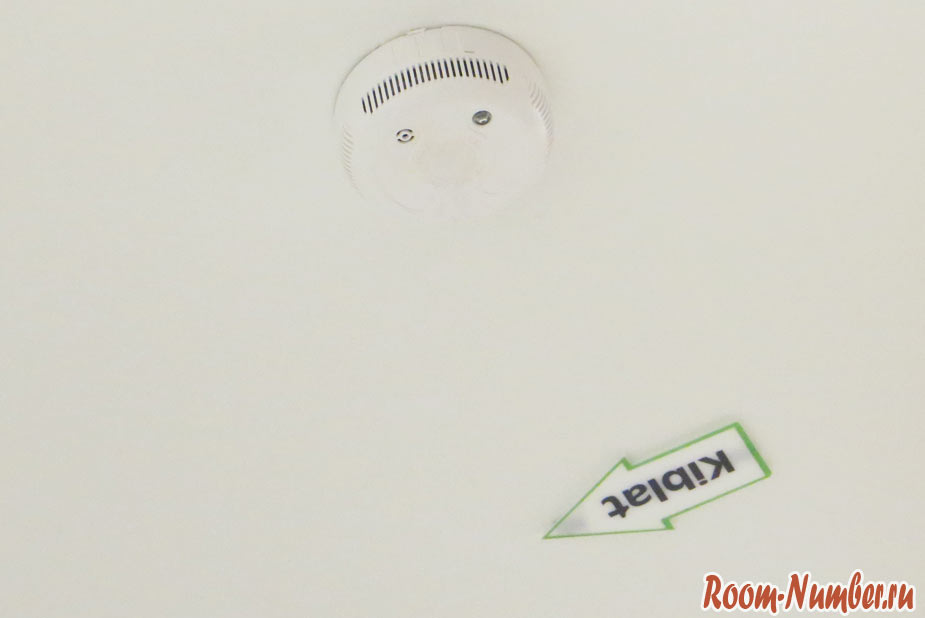 All this is unusual and very interesting. For 3 days in Kuala Terengganu, we have penetrated into Islam, which surrounds you from all sides. So, when you find yourself in Trengganu, then allocate at least one full day to the city. Walk the streets, listen to the calls of prayer, and visit the most interesting places in town. And you're sure to find some!
Where to stay in Kuala Terengganu
We recommend Suite 18 Boutique Hotel, where we ourselves stayed for 3 days. We also stayed at DJ Citi Point, but we can't recommend it unless you want to save money on an overnight stay. Both hotels are very popular, so reservations are a must. The prices on the spot are the same as the Bookings.
Kuala Terengganu
Tourist Malaysia is quite extensive. There are religious temples and sandy beaches, secluded islands and real jungle. Everything is interesting in Malaysia: sights, nature, people and cities. One of the favorite places for tourists is Kuala Terengganu.
General Information
Kuala Terengganu is a major city and the capital of the state of the same name in Malaysia. It is located on the Malacca Peninsula on its east coast and is washed on three sides by the South China Sea. Kuala Terenggana is only 500 km away from the capital of Malaysia. The city is located at a height of 15 meters above sea level.
The name Kuala Terengganu (or Kuala Trengganu) translates literally as "mouth of the river Trenganu. The city was founded by Chinese traders in the XV century and for some time was a major trading center at the crossroads of trade routes.
Most of the city's inhabitants are Malay. According to the official census of 2009, 396,433 people lived in Kuala Terengganu. The townspeople are quite conservative and do not like it when tourists disregard the local rules of conduct and traditions.
The large metropolis is now considered the main economic and cultural center of the entire state. Kuala Terengganu is a popular resort, a major port and a point of departure for holidays to islands near the coast.
Climatic and Natural Features
The city of Kuala Terengganu lies in a classic tropical monsoon climate zone. It is always hot and clear here, and the air temperature warms up to +26…+32°C. The rainy season in this region lasts from November to January. During this time, the average air temperature is +21 ° C. During the year in the region of Kuala Terengganu rainfall is about 2023-2540 mm, and the humidity is stable at 82-86%.
Geographically, the city is surrounded by the fresh waters of the Trenganu River and the South China Sea. The island of Pulau Duyung, closest to the coast, is connected to Kuala Terengganu by a pedestrian and road bridge.
The area around the city is full of natural beauty and attractions:
Pelagat forest reserve;
the hot springs of La;
Sekaiyu Forest Park;
cascading waterfalls;
the largest artificial lake in all of Southeast Asia – Tasik Kenir.
On the territory of the metropolis of Kuala Terengganu and its surroundings, there are many beautiful sandy beaches. Notable among them are Bukit Kluang, the beaches of Perhentian Island, and Rantau Abang beach on the coast, where leatherback turtles lay their eggs.
Attractions and attractions in Kuala Terengganu
The ancient city itself can be considered one of Malaysia's major attractions. Walking on foot will give you a lot of pleasure and allow you to immerse yourself in the local culture and identity. There is so much to see and do here:
Chinatown. The oldest street in the city, where the descendants of the Chinese founders and traders live. Chinatown has managed to preserve its architectural style and is a world-renowned monument. Many of the houses in Chinatown are several hundred years old.
Sultan Istana Maziya Palace, built on the ashes of the old palace, which turned into ruins during the Second World War. The modern building is an architectural blend of tradition and modernity.
Pasar Payang is a large central market.
Crystal Mosque. Its minarets and domes are completely covered with glass. Depending on which angle you look, the glasses change color. The mosque can accommodate 1,500 worshippers at a time. Around, in the Islamic Heritage Park, are miniature replicas of great architectural monuments from around the world.
Central State Museum. The main building houses ten beautiful galleries, the Fisheries Museum and the Maritime Museum, as well as four traditional palaces. There is a stunning herb garden and botanical garden.
Bukit Putri , or "princess hill" – a defensive fortification that dates from 1830. The fort itself, as well as a large bell, cannons of the fortification and the flagpole have been preserved.
Pulau Duyung Island is a famous center of classical shipbuilding and the Mahmud Bridge, which connects it to Kuala Terengganu, one of the most touristy cities in Malaysia.
Among the attractions worth noting the beach and water sports: fishing, surfing, diving, canoeing, etc. Sailing fans annually hold here the events of the international level. In a resort city there are large shopping centers, several night clubs, gyms and cinemas. You can take horseback riding lessons or fly kites.
Hotels and Restaurants Kuala Terengganu
In and around the metropolis itself, there are many hotels and other options for accommodation and temporary accommodation for visitors and tourists. Depending on your wealth you can:
rent a room in a good resort hotel of 3* and 4* format;
stay in a small guest house, villa
rent an apartment;
pay for a place in a gethouse or hostel.
Within the city limits, experienced tourists recommend the Hotel Grand Continental and Primula Beach Hotel. Accommodation in these establishments will cost you from $53 and $72 respectively. On the outskirts of the place Palau Duyong vacationers recognized the best resort spa hotel Ri-Yaz Heritage Marina, where the night will cost you from $122.
As for dining, the gastronomic facilities in Kuala Terengganu is also a lot. In cafes, restaurants and eateries you will be offered the usual European and classic Asian menu. In general, in culinary establishments of the metropolis traditional national cuisine of Malaysia is widely represented. Among the most popular dishes we should mention Naxi rice, which Malaysians can make everything from: noodles, desserts, side dishes, and pastry. Not to forget fish and seafood, egg dishes, chicken meat, as well as coconut milk, juices and local fruits.
What to bring from Kuala Terengganu?
The ancient city is famous throughout Southeast Asia for silk fabrics, especially sungkhet, and batik. Local craftsmen have long perfected the technique of painting on silk. You can buy cloth products in any store or at the central market. Various souvenirs, handicrafts, exotic fruits and seafood are also bought in Kuala Trenganu.
Bronze and carved wood products, shadow puppets, Oriental souvenirs, antiques and art in Chinatown are of particular interest to tourists. The Desa Kraft shopping mall is worth mentioning.
How to get there?
Kuala Terengganu also has its own airport, where you can take a direct flight from the capital of Malaysia and other major cities. The state capital is a link of the federal highway and many bus routes from Kota Baru, Ipoh, Johor Baru, etc. pass through the Central Bus Station of Kuala Terengganu.
How to get to Kuala Terengganu from the resort village of Mersing and its nearby islands? Quite simple: first you take a regular bus from Mersing to Kuala Lumpur, and then you get to Kuala Terengganu by the above mentioned ways.