Pernambuco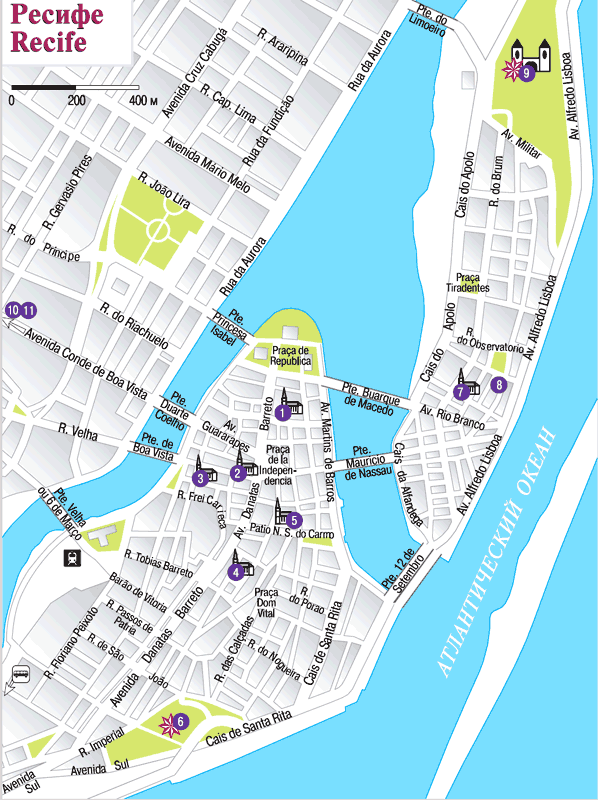 The city is formed by islands adjacent to the continent and connected by bridges. These geographical features give it a special charm. The best place to start exploring Recife is the Boa Viagem area, with one of the most beautiful beaches in the country, Boa Viagem, filled with bars, restaurants and hotels. In the center of the city, visit the historical sites that represent the legacy of the Portuguese and Dutch colonization: churches, museums, forts, parks, concentrated mainly in the areas of Santo Ant?nio and Recife Antigo.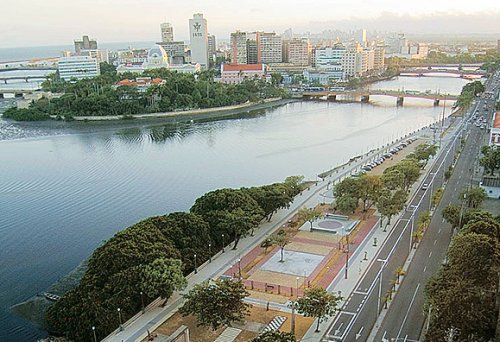 Tourist offices
Tourist office at the airport
Tel. 81 34 62 49 60, 81 32 24 23 61.
Tourist office at the bus terminal
tel. 81 34 52 18 92, daily. 7.00-19.00.
Tourist office
Santo Ant? nio, Casa da Cultura, rua Floriano Peixoto (Via Floriano Peixoto), tel. 81 32 24 28 50, Mon-Sat 9.00-19.00, Sat 9.00-15.00.
Bairro do Recife Office
p? a do Arsenal da Marinha (Arsenal da Marinha pl.), tel. 81 32 24 23 61, 8 a.m. to 10 p.m., daily.
Empetur Office
Salgadinho, av. Agamenon Magalhães, tel. 81 34 27 81 83, Mon-Fri 8:00-17:00.
Post and telecommunications
ACF Aflitos Post Office
Aflitos, av. Jos? Clementino, 106 (José Clementino Ave.), tel. 81 34 26 31 60.
AC C? Mara Municipal de Recife Post Office
Boa Vista, rua Princesa Isabel, 410, tel. 81 34 25 39 72.
Medical assistance
Hospital Hospital da Restaura?
Derby, av. Agamenon Magalh? es, tel. 81 34 21 54 44.
Hospital Hospital Get? lio Vargas
Cordeiro, av. General San Martin, (Avenida General San Martin), tel. 81 32 29 56 00, 81 34 45 47 59.
Hospital Hospital ?t? vio de Freitas
Tejipi?, rua Apr?gio Guimar? es, (Via Apr?gio-Gimarais), tel. 81 34 55 44 55.
Hospital Bar? o de Lucena
Iputinga, av. Caxang?, 3860 (ul. Caxang), tel. 81 34 53 35 66.
Hospital Hospital de Boa Viagem
Boa Viagem, rua Ana Camelo da Silva, 315 (Avenida Ana Camelo da Silva), tel. 81 34 65 80 66, 81 34 65 81 56.
Unforeseen events
Police Station
Boa Vista, rua da Aurora, 405 (Aurora St.), tel. 81 32 22 22 69.
How to get there
Guararapes international airport
Imbiribeira, p? a Min. Salgado F. (pl. Min. Salgado), south side, tel. 81 34 64 41 88.
Bus and light rail station (Terminal Integrado de Passagerios, TIP)
14 km south of the city center, Curado, av. Central (Avenida Central), tel. 814 52 11 03, 814 52 28 24
Public transport
Light rail
The subway is land-based and comfortable. Only one branch runs from the city center to the TIP bus station. The fare is $0.75 R. Travel time on the line is 25 minutes.
Boat trip
With musical accompaniment you can take a catamaran past the port, the sculpture garden Franciscu Brennand, walk under the old bridges along the historic center of the city.
Attractions
Capela Dourada
(Capela Dourada) S. Ant? nio, rua do Imperador, Mon-Fri 8.30-11.30 and 14.00-17.00, Sat 8.00-11.30, 2R$.
The Baroque Chapel (XVII) is part of the Franciscan monastery of Santo Antonio (Convento de Santo Ant?nio), which also includes the church of the Order of Terceira de San Francisco (Ordem Terceira de S?o Francisco) and the Museum of Religious Art (Museu de Arte Sacra).
The carved gilded altar of the chapel is made of cedar.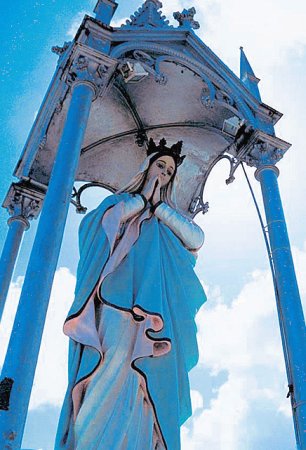 Church of Santo António
(Santo Ant? nio) Santo Ant? nio, p?a da Independencia, daily. 7.00-12.00 и 14.00-18.00.
The church, built in the Baroque style in 1790, is characterized by abundant carvings with gilding.
Church of Nossa Senhora da Conceição dos Militaris
(Nossa Senhora da Concei?? o dos Militares) Santo Ant?nio, rua Nova, 309, Mon-Fri 8.00-16.00, Sat-Sun 8.00-13.00.
At the entrance to the church is a painting of the Battle of the Guararapes Mountains.
Battle of the Guararapes Mountains
In 1649 the decisive battle between Dutch and Portuguese forces in the mountains of Guararapes (Pernambuco State, south of Recife) ended the Dutch conquest of Brazil. Stronger and more numerous, the Dutch troops consisted exclusively of mercenaries (mostly from Germany) and were naturally not as determined to win as the Brazilians and Portuguese who fought for the homeland and considered Brazil home. In addition, the conquerors did not take into account the humid climate of the tropics: their dense military uniforms combined with heavy weapons contributed to an early defeat.
The Cathedral of São Pedro dos Clérigos
(Catedral de S? o Pedro dos Cl?rigos) S. Ant?nio, P?tio de S?o Pedro, Mon-Fri 8.00-11.30 and 14.00-16.00.
The altars of the cathedral, built in 1728, are made of rosewood.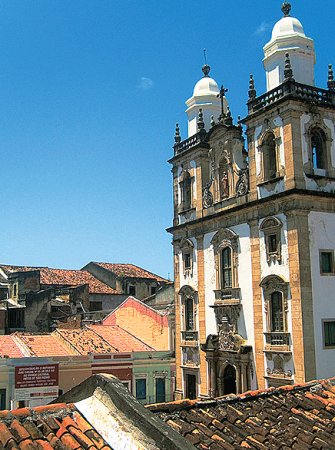 Basilica and Convent of Nossa Senhora do Carmo
(Basilica e Convento Nossa Senhora do Carmo) S. Ant?nio, p?a do Carmo, Mon-Fri 7.00-19.00, Sat 7.00-12.00, Sat 8.00-12.00 and 18.00-21.00.
The temple was built in the Baroque style. The altars are made of gilded wood.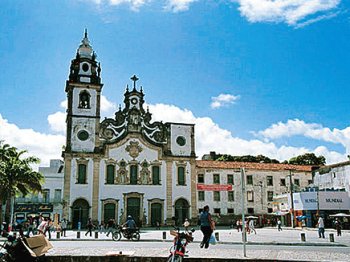 Basilica and Convent of Nossa Senhora do Carmo
Forte das Cinco-Pontas
(Forte das Cinco Pontas) S.Jos?, p?a das 5 Pontas, Fri 9am-18pm, Sat 1pm-17pm.
In 1677 the pentagonal fort built by the Dutch was rebuilt by the Portuguese and turned into a quadrangular fort. There is now a town museum (Museu da Cidade).
Church of Nossa Senhora da Conceição
(Nossa Senhora da Concei? o) Jaqueira, av. Rui Barbosa.
The church (1781) has a gilded altar and interesting 18th century Portuguese tiles and paintings.
Jewish Cultural Centre
(Centro Cultural Judaico) rua do Bom Jesus, 197, Fri 9am-5pm, Sat 3pm-19pm, $2R$.
The first synagogue in America (XVII) retains elements of the original building. With its existence, the center reminds everyone of the role played in America's destiny by people who have been called by history for centuries to "walk under God."
Forte do Brum
(Forte do Brum) Recife, p?a Comunidade Luso-Brasileira, Fri 9.00-18.00.
In the fortress there is a Military Museum with a permanent exhibition of weapons.
Museum of Ceramics of Francisco Brennanda
(Oficina de Cer?mica Francisco) V? rzea, av. Caxang?, 20 km, Mon-Fri 8.00-17.00, Sat 13.00-16.00, 4 R$.
On a vast area (15 thousand m 2 ) unfolded exhibition of works by the artist F. Brennand. Works on fantasy subjects are presented outdoors, the rest are in huge pavilions.
Instituto Ricardo Brennand
(Instituto Ricardo Brennand) 14 km from the city center, V?rzea, al. Ant?nio Brennand, 14 km, Tue-Sun 10.00-17.00, ad.
In the picture gallery there are works by the Dutch painter of the seventeenth century, Franz Post, and works by artists-travelers of the nineteenth century ("Brazilian Landscape").
There is a permanent exhibition of weapons of the XV-XVIII centuries (knives, swords, penknives, totally 2 thousand objects).
Parks
Parque Dois Irmaus
(Parque Dois Irmaus) 10 km from the city center, Dois Irmaus, p?a Farias Neves, avenue side av. Caxang?, daily. 8.00-16.00.
Doiz-Irmaus is both a zoo and a rainforest with winding paths.
Mirabilandia Park
(Mirabil? ndia Park) Salgadinho, av. Agamenon Magalh?es, Wed, Thu-Sun 14.00-20.00, 14 R$.
The park offers visitors to try 22 rides, including a roller coaster called Montanha Russa.
Pernambuco delicacies.
The state of Pernambucu is famous for its special cheese, which is traditionally grilled over charcoal on Boa Viageen Beach. Be sure to try its dessert with honey and two other dishes: cartola [cartola], a fried banana with cheese and cinnamon, and bolo-de-rolo [bolo-de-rolo], a puff pastry filled with guava.
Read also
Maine (state in the United States)
Maine (state in the United States) Maine, a state on the N. Atlantic coast of the United States, in New England, near the border with Canada. Area: 86 thousand sq.km. Population is 992,000, including 50.8% of the urban population (1970). The center is Augusta, and the largest city and port is Portland. Most of the area is concentrated in the interior of the state.
STATE is a name of the constituent entities of some countries (the USA, Australia, Brazil, Venezuela, Mexico, Malaysia, Nigeria etc.). With a few exceptions (India), states are organized not by national, but by territorial principle. Legal
State (from German: Staat, state, board), in a number of federal states (the U.S., Mexico, Venezuela, Brazil, India, Australia, Nigeria) the name of a state-territorial unit included in the federation. Usually, S. are not created on the basis of nationality (per.
ROCK STATE
During the heyday of glasnost, perestroika journalism actively mused the theory that rock 'n' roll was less of an art than an expression of youth social activism and an instrument of political protest. Fortunately, history has set the record straight.
The top 10 dishes of Brazilian cuisine: what a tourist should try
Brazilian cuisine is all about meat, seafood and mouth-watering street food. National dishes in the country are not cooked for the sake of tourists – the locals themselves eagerly devour them. So feel free to eat at eateries or buy street food. Restaurants do the same thing, they just serve it prettier. Let us tell you what food is worth trying in Brazil for every tourist. We have compiled a list of dishes with names in local and Russian, descriptions and photos.
Feijoada | Feijoada
Tourists consider it their duty to try this dish in Brazil. Here feijoada is the same as borscht in Ukraine or plov in Uzbekistan. The pride of local cuisine is cooked in restaurants and street eateries. Chunks of roast pork, chopped sausages, black beans, and spicy rice – the food is flavorful, hearty, and not greasy. A simple feijoad recipe includes farofa, fried cassava flour. It is responsible for the unique viscosity of the stew. For spice, the cook puts spices and a pinch of cayenne pepper in the dish. The classic appetizer for feijoada is a slice of orange.
Vatapá | Vatapá
Try what the locals eat in Brazil. Vatapá is a thick, spicy shrimp and fish stew. It includes seafood, bread crumbs, cashews, ginger, and tomatoes. They are poured with coconut milk and turned into a creamy pâté mixture. The mixture is simmered over low heat. Spices and allspice make the stew an even spicier dish. Watapa is served on a bed of unleavened rice. If you like seafood, order the dish at eateries or restaurants in Brazil – it's hard to be disappointed.
Moqueca | Moqueca
Of the national soups in Brazil, it is worth trying the thick seafood stew. The composition of the soup resembles the vatapá stew described above. However, moqueca is served without rice, and there are more vegetables in it. Tomatoes, onions, herbs, fish pieces, and shrimp are cooked in coconut milk with coriander and lime juice. If you have tried Thai tom-yam soup and can imagine it being non-spicy, then you already know what moqueca chowder tastes like. In Brazil, you can order this seafood-free soup with chicken – also curious.
Pastel | Pastel
Brazilian pastel is a staple street food sold in markets and catering establishments known as "pastelarias." It's a puffy fried patty with a hearty filling. Thin dough, crispy golden crust, juicy filling: they are always in short supply. Popular toppings include fried mincemeat, stringy cream cheese, chicken and vegetables, salted palm heart, and mini shrimp. Try a dessert Brazilian pastel, too: banana-chocolate, with sweet cheese or guava jam. It's best to snack on the patties with fresh vegetables or fruit to slightly smooth out the greasiness. Juices, coconut water, and Brazilian beer also work well.
Coxinha | Coxinha
Juicy golden coxinha cutlets in Brazil are worth trying twice: hot and chilled. This appetizer is made from chicken thighs. Legend has it that coxinha was invented by Princess Isabel's cunning cook. Her capricious son ate only chicken thighs for dinner. One day there were none in the house. The cook skewered the thighs, battered them in chicken broth, sprinkled breadcrumbs on the cutlets and deep-fried them. The crispy, browned appetizer caught on at the royal house, and the recipe gradually spread throughout Brazil. It hasn't changed since then. Out of respect for the resourceful chef, Brazilian coxinha cutlets are made in the shape of a chicken thigh. You can buy them in eateries, order them in restaurants, or find them in supermarkets as convenience foods.
Acarajé | Acarajé
A mouthwatering Brazilian street food with a juicy crab filling. The flavor of the batter is reminiscent of falafel. It is made from a flour of beans that look like chickpeas, beans, and peas at the same time. Underneath the crispy shell is a minced crab, cashews, yellow and red tomatoes with ginger, garlic and aromatic spices. Chefs can add whole mini shrimp to the appetizer and don't spare the searing pepper sauce. It's greasy, spicy, but irresistible – Brazil's street food is a hit with tourists from all over the world.
Churrasco | Churrasco
Brazilian meat dishes are divided into everyday and "special." Churrasco belongs to the second category. Brazilians cook it on weekends, as a family dinner or dinner with friends. This is not a stereotype: in the 21st century, the tradition is as alive as it was 100 years ago. Churrasco is a way of frying meat. It is cooked over charcoal in churrasqueira barbecues or over an open fire with skewers. The secret is not to marinate the meat, but to sprinkle it generously with coarse salt and send it to the fire. Churrasco like to cook with beef with a layer of fat. The steak is folded so that the fat absorbs the meat. In this way, the Brazilians manage to keep the meat juicy even when deep fried.
Deep-fried cassava | cassava
Instead of fries, fried cassava roots are eaten in Brazil. They taste similar, but the golden crust of the cassava is a little more crispy and the snack is softer inside. In dishes of Brazilian national cuisine, cassava is often a substitute for potatoes. It imparts a slight savory sweetness to the dish. Deep-fried cassava is a popular snack with Brazilian beer and a frequent companion to meat. Get it with ketchup or barbecue sauce. Feel free to buy cassava at sidewalk eateries – it's the same everywhere.
Tacacá | Tacaca
The traditional Brazilian tacacá soup is made in street cafes and gourmet restaurants. It is based on a strong yellow fish broth. It is filled with an impressive portion of shrimp, herbs, garlic, and aromatic spices. No pepper is added, so the dish is not spicy. The cassava flour makes the soup thick and pleasantly viscous. The stew is served with dried jambu leaves, which color the dish green. Try it, it's worth it.
Brigadeiro | Brigadeiro
The dessert is beyond compare among all the sweets of Brazil. The locals love it and tourists dream about it. Brigadeiro are large chocolate balls with a breathtakingly delicate filling. Inside the candy lurks a creamy mass of condensed milk, powder and cocoa butter. No preservatives. The dessert is sprinkled with chocolate powder and coconut or candy shavings. Take a bite and you'll feel the soft, lingering cream fill your mouth with sweetness. The Brazilian dessert has been compared to truffles. Look for brigadeiro in bakeries or pastry shops. The candy is sold in muffin molds.
Watch a short video that makes it easy to spot the peculiarities of Brazilian cuisine. This is how churrasco is prepared in snack bars.
Theme Tours
Europeans and Americans book not only sightseeing tours in Brazil, but also gastronomic tours. The Russians are interested in them less often, so to find a thematic "tasty" tours in Russian in Rio is usually not easy. We can advise 2 reliable options with a fascinating program.
Culinary master class in a Brazilian family
Individual excursion in Rio de Janeiro, where you will see how the locals live. A welcoming host will receive you in your own home. On the tour you will try feijoada, Brazil's most popular dish. You will learn how to make it according to the homemade family recipe, learn little tricks and have a heartwarming time. Read a detailed description of the tour at this link.
Trip to Niteroi
In the company of a Russian guide you will go to the most prosperous district of Rio de Janeiro. A trip over the world's longest overwater bridge awaits you, a stroll through a fish market where you can snack on oysters for only a dollar apiece. Niteroi offers gorgeous panoramas of Rio and the ocean. Best of all, this is the place to try some of Brazil's best seafood dishes. You can read the reviews and the tour program at this link.
Before your trip to Brazil, check out our guide to shopping in Rio de Janeiro and other cities in the country. Clothing, jewelry, tips on choosing traditional souvenirs, delicacies, gifts for loved ones – we've gathered the best ideas in one place.