Legoland in Germany, Günzburg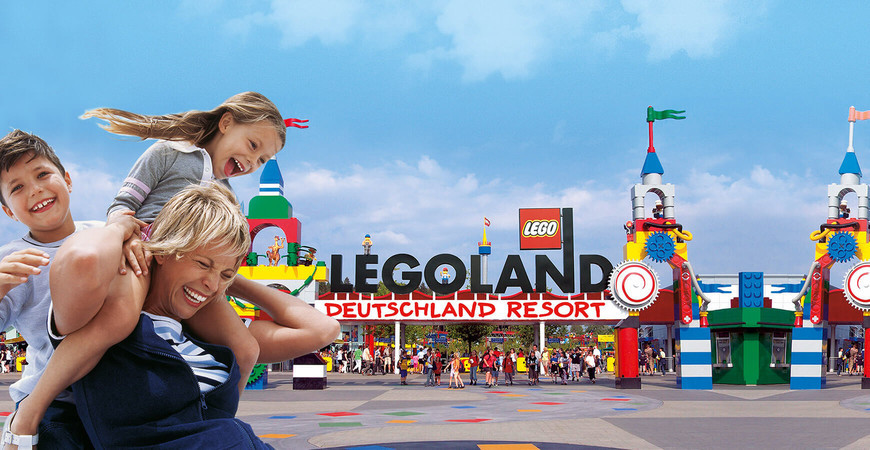 The park is open from 10:00 every day. Opening hours vary. At the latest park closes at 22:00. Check the website for the schedule.
Admission: adults – 54 €, children – 44,50 €. Ticket with open date (buy online) – from 39 € depends on number of people.
Legoland in Germany is one of the few themed children's parks in the world built from LEGO parts. The first Legoland opened in Denmark in 1968, and there are now similar parks in California, Dubai, Japan, Germany, Malaysia, Britain, Florida and New York. In Günzburg, Legoland opened in May 2002 on an area of 140 hectares.
When creating Legoland in Germany, 56 million real LEGO parts were used. They were used in the construction of rides and other attractions, in the construction of Miniland and for the creation of numerous characters and park characters. Visiting Legoland is designed for children from 2 years old, but adults here also "fall into childhood" and enjoy taking part in all the entertainment offered.

Prices in Legoland in Germany
adult ticket for visitors over 12 years old – 44 € (online), 54 € (day of visit),
Tickets for children (3-11 years old) – 39 € (online), 54 € (same day),
up to 3 years – free of charge.
Annual pass from 79 € (online) depends on the number of attendees.
Licence from Hyundai LEGOLAND driving school for children 7-13 years old – 6 €,
Parking – 6 €,
Rental of a baby carriage – 4 €,
luggage room: 3 € (small box), 4 € (big box).

Mode of operation
The theme park is open only during the warm season. The season usually begins in early April and lasts until November. In April, May and June the park is open from 10:00 to 18:00-19:00 hours. From July until 8:00 p.m. to 10:00 p.m. to 10:00 p.m. From the end of August again until 19:00 hours. Attractions close one hour earlier.

Rides and attractions.
The LEGOLAND area is divided into several themed zones, with 55 different rides and attractions, all built from 56 million LEGO parts.
Legocity area.
Lego City is home to one of the most popular attractions for children – Hyundai LEGOLAND driving school. Children from 3 to 6 years old are provided with a single pedal speed control car, and children from 7 to 13 years old are given a real driving course in a small car. Before the test, young drivers are shown a colorful video course or given instructions in their native language. After the briefing, it's time to drive on a busy highway with traffic lights, road signs, a car wash and little fellow students. The result of the exam is getting a "real" driver's license.
There is also a factory where you can make your own minifigure from the constructor, a mind-boggling ride Flying NINJAGO 22 meters high, the Airport carousel, cruise port, playground "shipyard" and other attractions. And in the real LEGO factory, after watching the production of details you can get one of them as a keepsake.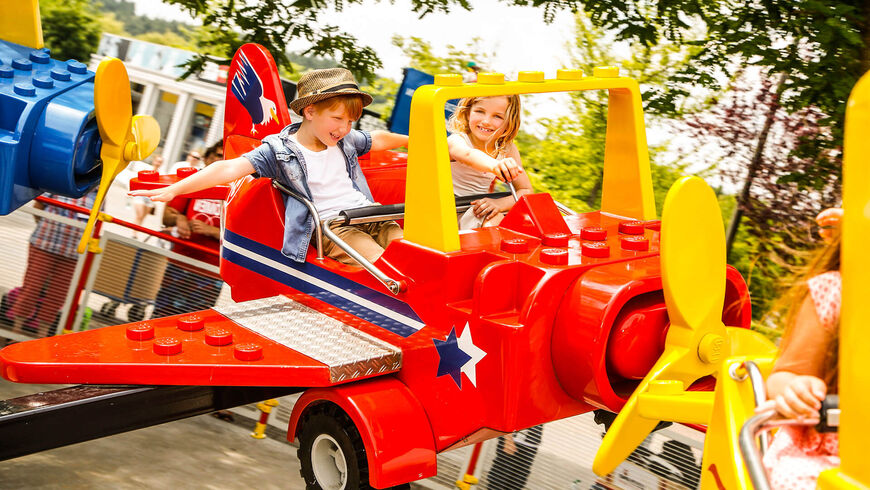 Imagination Zone
The central part of the area is a 50-meter high observation tower overlooking the entire amusement park. The cabin, in which children and their parents sit in comfortable seats, swirls around the base of the tower and rises up toward the amazing views of the park, the resort village, and the forest around them.
One of Legoland's Pedal-A-Car roller coasters wraps around the police station, Kids Power Tower and LEGO Arena, where events and shows are often held, and a large dragon pours water on people passing by. There's a DUPLO soft-surface playground for the little ones, and for those interested, there's an interesting gallery of soccer stars.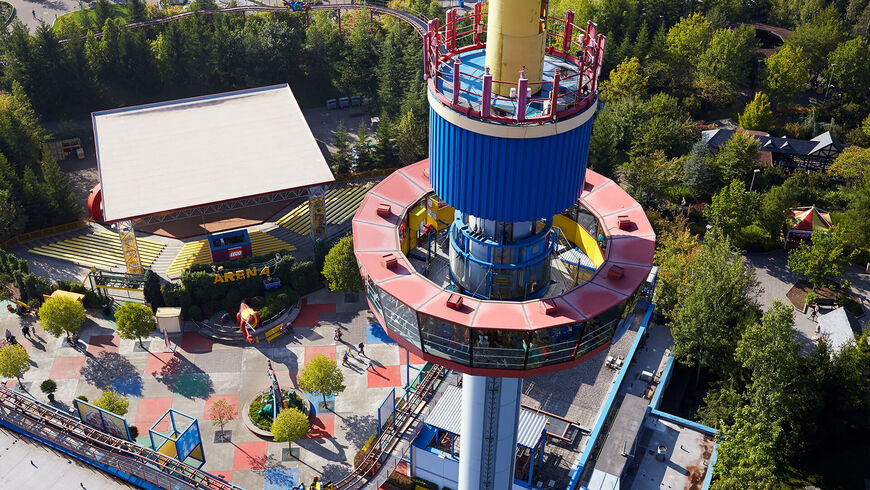 Extreme Zone.
One of the most extreme Project X slides is located in this part of the park. In addition to exciting rides, it is also a virtual reality ride, where you can participate in a real race in the middle of the Lego world, wearing virtual reality glasses. Other exciting attractions include a carousel on the water with the ability to shoot water, fast rotating techno cups, a room with computer games and a 4D movie theater. On one side of the water carousel you can play musical instruments, and on the other side you can enter Lego Academy to build your own unique Lego model.
In addition to extreme attractions in the area there is a real relax zone – an aquarium with a tunnel of 8 meters long, where more than 2000 different fish, including sharks and stingrays are swimming. Among the living inhabitants of the aquarium you can also see cute figures made of LEGO cubes.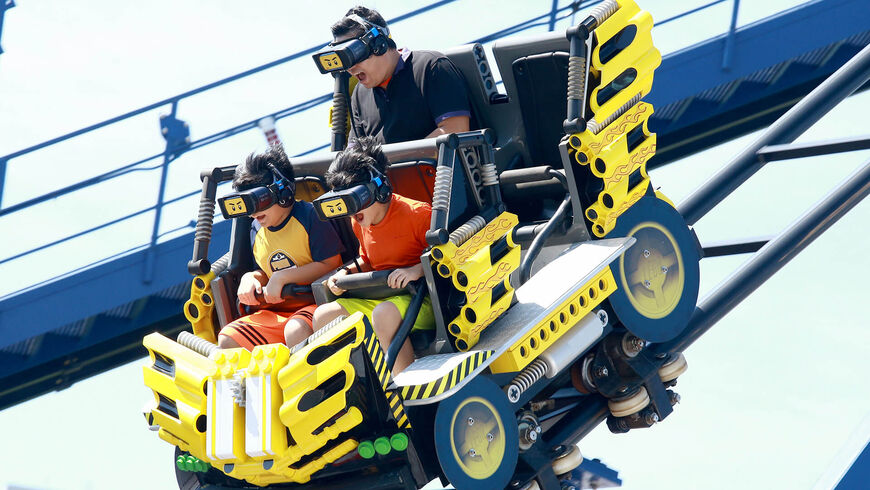 Kingdom of Knights
The Kingdom of Knights also boasts an exciting slide that you have to ride right on the back of a fiery dragon. For those who are afraid of the big slide, there is a smaller Dragon Hunt slide. In addition to slides, you can ride the Caterpillar carousel or lego horses in medieval ammunition, and try to pan for gold in a small mine.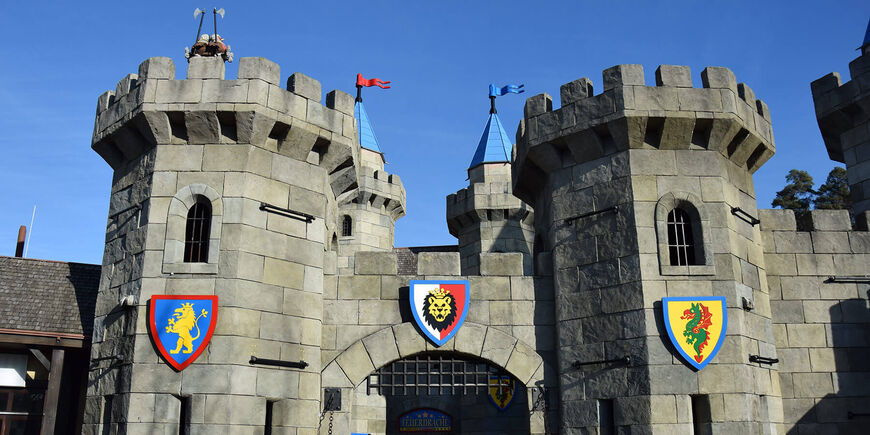 Adventure Zone
The Adventure Zone is home to a veritable jungle, among which the biggest adventure will be a trip to the top of the Jungle X-pedition volcano. From the top of the volcano, visitors slide down a water slide that is 12 meters high. Other water activities include swimming in a small canoe.
Younger travelers can take a safari tour in a small jeep through the jungle, where, among the greenery and ponds, there are about 90 life-sized lego animals. There's also an Adventure Playground for kids with lots of climbing, scrambling and rolling equipment.
Near the safari park and Miniland, the theater is open to the public and has exciting shows. See the official website for a program of events.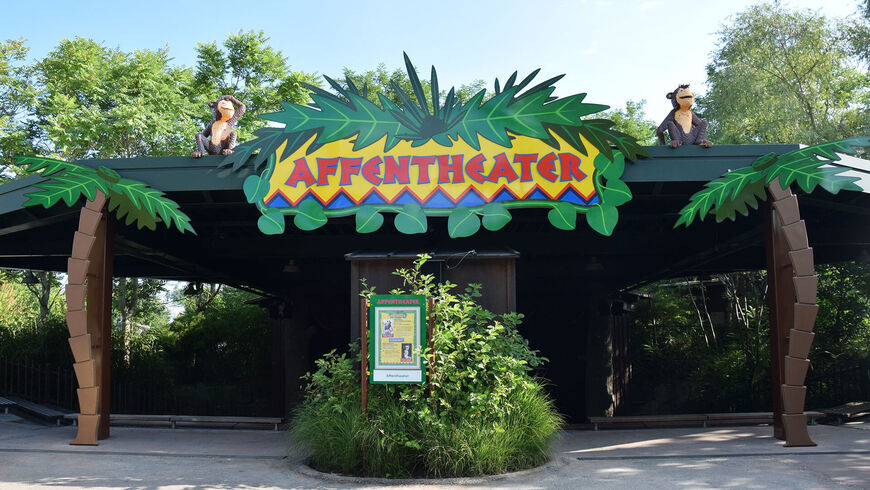 Pirate's Land, Pharaoh's Kingdom and Ninja World
Land of Pirates covers an area of about 5000 square meters. Once there, you are likely to take part in a real sea battle. The weapons in the battle are water pistols and machine guns, and the opponents are the other visitors. Be careful, because to take part in the battle and not to get wet, you can not. You can take part in a battle for the treasure in the land of the pharaohs in the temple of X-pedition, where the weapons for visitors will be infrared guns. Besides this, it is also possible to take part in a virtual battle in a new area of Legoland – the ninja world. This amazing world includes a 4D attraction that will fight the Great Eater! Effects of the exciting entertainment include light, fog and heat.

The centerpiece of Legoland is Miniland, the park of miniatures. It is around the park that the railroad runs, on which you can look at all the areas around Miniland in cute wagons, so that you don't miss the most interesting things when walking among the rides and entertainment.
Miniland
Most of the architectural and cultural attractions found in Miniland are represented in a 1:20 ratio to their actual size. This little world impresses not only with its authenticity, but also with the life that boils in its mini streets, mini rivers and mini houses. Little people walk the streets and go about their business behind the windows of small buildings, cars drive through the streets, boats float in the water, windmills spin. Visitors, by the way, can contribute to the greater vitality of the little worlds by pushing special switches.
Several German cities with beautiful and unique attractions are represented in Miniland. One of these is, of course, Berlin . Among the miniatures in this area are the central square of the capital Alexanderplatz, the Brandenburg Gate, Unter den Linden Boulevard, the Berlin Cathedral, the historic quarter of Nicolausfirtel, the Red City Hall made of red bricks, Museum Island, the Reichstag, the Berlin Zoo and the Victory Column.

Germany's fifth-largest city Frankfurt is represented by miniatures of German Manhattan with its skyscrapers, the old Römer Town Hall and the beautiful Alt-Sachsenhausen district on the banks of the Main. The administrative center of Bavaria, Munich, is represented by a chic replica of the modern soccer stadium Allianz Arena that resembles a flying saucer with a shimmering roof. The mini stadium holds 30 million mini fans in the space around it, 100 of which were made by visitors to Legoland.
Among other German attractions, the port of Hamburg, the largest in Germany and the 9th largest in the world, stands out. A miniature replica of the Port of Hamburg contains 146,000 liters of water. Neuschwanstein castle of King Ludwig II of Bavaria out of 300,000 LEGO parts is one of the most beautiful exhibits. The composition of the castle and miniature copies of the alpine mountains Sehuling and Tegelberg weighs more than 300 kilograms. Visitors also like the charming Swabian village with its quaint houses and farms.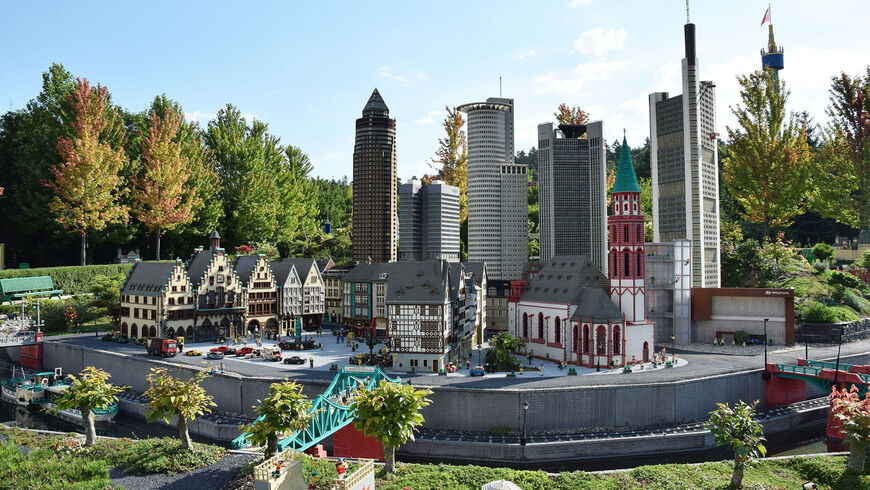 In addition to the local landmarks of the country there are copies of important and beautiful places in other countries. There is romantic Venice with its bell tower, the Doge's Palace, the Bridge of Sighs, the treasury of St. Mark's Cathedral in Venice, St. Mark's Basilica in Piazza San Marco, Rialto Bridge and gondolas. The Swiss city of Lucerne on the shore of the lake of the same name and Amsterdam, the capital of the Netherlands, with its windmills and tulips attract attention. A special place is occupied by the zone of skyscrapers, consisting of 5 world's tallest buildings: Burj Khalifa (Dubai), International Financial Center Pinan (China), Shanghai Tower (China), Royal Tower (Saudi Arabia), Freedom Tower (USA). The highest buildings in the world are copied at a scale of 1:150. Next to them stands a miniature Eiffel Tower, 35 centimeters high.
Miniland has not only copies of real buildings, but also part of the cinematic world. More than 1.5 million LEGO bricks on 140 square meters were used to recreate the world of George Lucas' Star Wars. In addition to the star characters and sets from the film, the big space destroyer "Finalizer" 5 meters high, recreated from 350,000,000 parts of the constructor, stands out.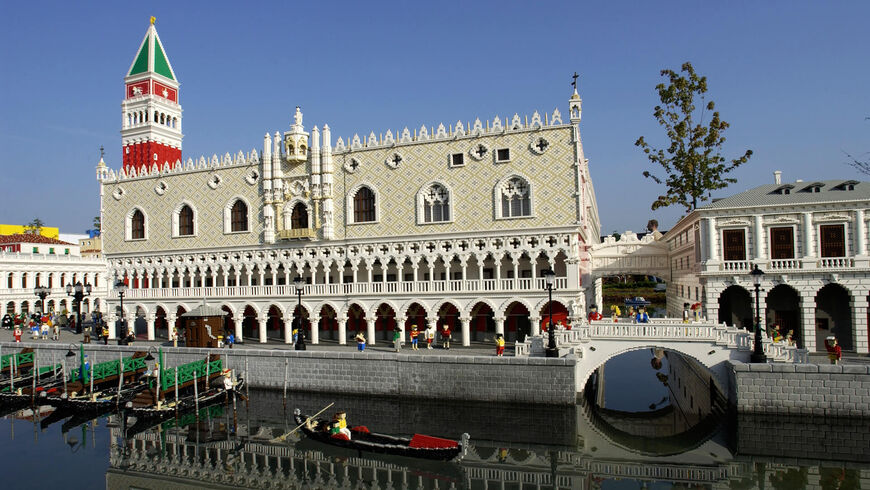 Resort Village and Extras
Since June 2008, the adventure continues even after the park closes. At the world's first LEGOLAND Resort Village, visitors can spend the night right next to the park in LEGO themed cottages, medieval castles, camping barrels or simply in a tent. There are 18 playgrounds, a ropes course, miniature golf, a bowling center and restaurants for guests large and small in the village.

Other extras:
Parking for 4,000 spaces,
themed hotels,
birthday parties and other events,
ATMs,
stores, including a LEGO parts store by weight,
baby carriage rental,
smoking areas,
medical center,
luggage room.
LEGOLAND app with map, navigator, store and other useful information – download for IPHONE, for ANDROID
LEGOLAND in Germany – a park of emotions and adventure
The world's largest park Legoland in Germany is interesting not only for kids, but also for adults, because it has an amazing atmosphere of the world of childhood. Here is a fairyland, painstakingly assembled from 50 million different plastic LEGO constructor parts. So if you do not know how to spend a fun weekend with the family, a tour to Günzburg Legoland will be the solution to all problems.
Theme areas of the amusement park
Germany's first amusement park, Germany Legoland of the world famous company Lego, opened on May 17, 2002 in the Bavarian town of Günzburg. It covers an area of 140 hectares, is surrounded by a beautiful forest, and is built completely from the parts of the famous designer.
There are 40 rides and 8 themed areas or lands within the park. There is a lot of interesting things for every member of the family.
It is best to start with a journey on the children's train – so you can orientate yourself on the ground and get an idea of all the lands.
Miniland Miniatures Land
This is, in fact, the heart of the park. Here, miniature copies of famous European cities, such as Venice, Amsterdam and others are assembled from Lego cubes. Lego-cities are inhabited by residents, there are cars driving, ships are sailing, planes are flying, and passers-by are hurrying somewhere. That is, everything is as in a real city, but at a scale of 1:20, which allows you to consider even the smallest details, made of 25 million parts of the constructor.
DUPLO Land
DUPLO Land is designed specifically for the youngest visitors. Soft coating, which it is equipped with, ensures the safety of children's games. Here they can easily somersault and even fall. Zona Duplo especially like children 3-6 years old, because it is a pleasure to play here: they climb on the houses, swing on swings, roll from the slides.
In addition, Duplo has the best driving school for kids. Here they can learn to drive and even get the right after passing the exam. So it is not only fun, but also useful to bring your child here for autumn vacations.
Imagination Zone
This zone will please even older children and adults, as you can create your own toys from the constructor. Here is the Lego Academy, where you can build models according to ready-made instructions, and you can come up with something yourself. The resulting construction, such as a car, can be immediately tested in the test center.
There is also a 3D movie theater that offers educational programs, and a viewing tower that shows the entire park.
LEGOREDO Town
In this land, you can play conqueror of the American Wild West or take a canoe ride on the river, which is surrounded on all sides by lego bears and other fauna of the lego world. And then the constructor train will take you to the Klondike, so you can get some gold. Entertainment for all here will be enjoyable and unforgettable.
Journey to the land of pirates Pirate Land
This area is for fans of active games and adventures. It will be interesting for both kids and teenagers, and adults. Excursion on the ship, battle with pirates, visiting caves and, of course, treasure hunting are waiting for them. To get it, you'll need to overcome many different dangers. So no one will be bored!
Knight's Kingdom
In this land you will be able to feel like a real knight. You will be transported to the times of knights' tournaments and duels, you will be able to go on real expedition to get gold that is, according to legend, hidden in the royal forest. But to get it you must ride the fire-breathing dragon.
Adventure Land
This is a paradise for adventurous children and those who love extreme rides. There are roller coasters, cable cars, mini-car races and other attractions such as a 4D movie theater that shows adventure films.
Admission is for adults and teenagers only – no kids allowed.
LEGO City
This is a real city with factories and plants, stores and cafes, the daily bustle, which is inhabited by lego-dwellers.
What else can you visit in the park
Right at the entrance to the park are the most popular rides for kids: roundabouts "Airport", "Tea mugs techno", "Harbor Cruise", the most popular for teenagers are extreme rides: roller coaster "Project X", water ride "Jungle Expedition" and the park in the park "Factory of Heroes".
Do not miss the Nijago ride, which will be of interest to both adults and children.
In addition to rides and various attractions, there are cafes and restaurants, where you can try the real Eintopf (thick German soup) and many other dishes of German and European cuisine.
There are also fast-food places, where you can just have a snack.
There is a "Legoland store" in the park, where the construction parts are sold by weight. Right there you will be offered to build your own Lego man, which will be a nice souvenir. You can visit the demonstration room to see the conveyor belt and the machines that make Lego pieces.
Useful information for visitors
Legoland is located at Legoland-Allee 1, 89312 Günzburg, Germany. Learn the latest news and important information about the park help official site in Russian (at the time of writing the page was in the process of translation into Russian).
Before visiting the park, be sure to check hours and hours of operation.
Legoland takes guests on weekdays from 10:00 to 17:00, on weekends, holidays and school vacations is working for a couple of hours longer.
Keep in mind, however, that all areas except Miniland are closed an hour earlier than the park itself.
A winter trip to Günzburg to visit the park is not a good idea, because Legoland does not work at this time of year. But from the end of March to November, you are welcome. By the way, in November it is still not very cold, so the walk and rest will be comfortable.
Ticket prices change every year. In addition, their cost depends on how they are purchased – at the box office or online, on the number of people in the group and days of attendance, as well as additional bonuses.
When you buy tickets online, you can get a discount of up to 24%.
You can learn more about the cost and conditions of purchasing tickets by following this link.
In 2019, the ticket price for a single visit to the park and catering within Legoland (Pizza Mania, City Restaurant, Asia Chicken House, Schnitzel Depot, Knight's Table) for one adult is €42.5 and €35.50 without food.
For a family/group of 4, €42.25 per person and €33.00 respectively; for a group of 5, €40.8 and €32.00 respectively (per person).
For €67.4, you can buy a package that includes an overnight stay at LEGOLAND Holiday Village, a 2-day visit to the park and breakfast (for 1 person). Admission is free for children under the age of 3.
How to get to the park
German LEGOLAND is located in a small town Günzburg between the two major cities Stuttgart and Munich, so you can easily get here from both cities; each is about 115 km away.
From Munich by train you can get for 20 euros for an adult and 10 euros for a child. The departure time is 8.35. You will get there just in time for the opening of the park.
From Stuttgart trains leave at 6:27 and 8:00. The cost of the ticket is almost the same as from Munich.
From the station in Günzburg there are buses to Legoland, but the distance of 2 kilometers you can walk.
Alternatively, you can use a shuttle service or an individual guide. In this case, on the way you will be shown all the sights of Bavaria. However, this trip is more expensive.
Hotels nearby
The park is so unique that it even has a hotel where you can stay overnight without leaving the grounds. We are talking about Legoland Feriendorf. At the reception you can buy tickets to Legoland at a discount and continue your walk after a night out.
The rooms at the hotel are comfortable and decorated in the spirit of Legoland. There is a bowling alley, miniature golf and ropes course, and a pirate ship for the kids.
There are other hotels that are just steps away from the park. Staying in them a day costs from 80 to 120 euros. For example, this is EuroHotel Günzburg, Hotel Heike garni Nichtraucherhotel, Landgasthof Hotel Linde and others.
Conclusion
Legoland in Germany – a unique world of excursions and entertainment, a place of cultural and educational recreation for the whole family. The convenient location of the park allows easy access by any means of land transport, and comfortable hotels, located nearby, provide an opportunity to have a good rest after hiking in Legoland. In short, it is not only a fascinating, but also very comfortable holiday awaits you.