Verbier
Verbier is a ski resort in southwestern Switzerland, in the French-speaking part of the bilingual canton of Valais, 11 kilometers from Martigny. It is the capital of the Four Valleys ski area, which also includes the resorts of Thion, Veyson and Nenda. The resort is 1.5 km above sea level; the ski area is 3300-1500 km.
General information about the resort
Verbier is a rather old settlement: The first written mention about it dates back to 1150, but the town is known to have existed even earlier: the burials found nearby bear witness to this fact, they date back to the 4th century B.C. The history of Verbier as a health resort started in 1925, when a group of enthusiasts, after a 15km walk from the village of Sembrasche, decided to go back downhill on skis. The descent made a most favorable impression and they decided to repeat it soon. Year after year the number of their followers grew.
Today Verbier resort is considered the best in Switzerland and one of the best in the world thanks to the excellent pistes, perfect transport system and the highest level of service. Verbier hosts world championships and competitions in alpine skiing (including junior skiing), freeride and paragliding, as well as major bicycle races such as the Tour de Suisse and Tour de France. The 24 Houres Freeride competition takes place at the end of January, with teams earning as many Swiss francs as the kilometers they ride, after which all the money earned goes to charity.
Here is the main base and campus of Les Elfes International, where teenagers from all over the world can learn languages (English, German, French and Italian), combining studying with a wonderful rest and sport – skiing or biking, depending on the season.
Weather in Verbier
The climate in Verbier is quite cool. Even in June and July, the hottest months, the average daily temperature is only +15 ° C. The coldest months are December and January – the thermometer does not rise above 0 ° C and the average daily temperature is -6 ° C. The rainfall is quite high, and the amount of precipitation does not vary much from month to month.
Verbier offers an active summer vacation: there are about 400 km of hiking trails and more than 200 – for mountain bikers. It attracts climbers and fans of paragliding. For lovers of less active and extreme recreation there are two golf courses.
Ski tracks
The Four Valleys area, of which Verbier is the capital, offers a total of 420 km of pistes – both black runs for real ski experts and blue runs for beginners. This area includes about 20 ski centers, the largest of which are Mon-For and Savoler near the village of Verbier, the Super St. Bernard, which is closer to the Italian border, as well as Nenda, Thion and Vezonne.
The resort itself offers more than 200 kilometers of marked trails, of which more than 80 kilometers are black trails, 31 are red trails, and 65 are blue trails. They are served by 48 elevators. If some time ago the resort was notorious for poor organization of the elevators and transport network, which caused large queues, but now this problem has been solved.
The ski resort in Verbier is open from December to mid-April, but the special Jumbo cable car from La Chaux takes you up to the Mont For glacier, which has the best slopes in Switzerland for summer skiing. From Mont For begins the resort's best mogul black piste. Also popular with professionals is the off-piste descent through the woods. From the summit of Savoler and Le Ruinette there are several excellent red and black slopes. From the summit of Les Atlas, where gondolas can be climbed, there are also predominantly runs for professionals.
The blue slopes are predominantly in the Bruzon area, which is located on the opposite side of the Drans de Banne valley, and in the Station sector just above Verbier. Most of the green pistes are located in the ski area of Mains de Riddes – about 60% of them there, another 30% are blue, because of what this area is jokingly called "playground". On Mon-For is the main area of snowboarding resort; the main service stations are on the Mon-For and La Chaux; on Savolere there is a snow park, rightfully occupying one of the first places among similar parks not only in Switzerland but also in the whole Europe.
Entertainment
The village of Verbier offers not only skiing and snowboarding – there is an excellent infrastructure, and the resort has swimming pools, sports complex, saunas, tennis courts, cinemas and much more. There are also nightclubs, working until 4 am.
Intellectual lovers can visit the Museum of Glass, the Alpine Museum, the Nanook Gallery with Innuite art and the Kunsthistorisches Museum. Very popular are the excursions to the old blacksmith's shop and to Verbier castle, built in XII or XIII century by Count of Savoy (first mentioned in 1287) and destroyed, presumably in 1476. You can also visit a cheese dairy, a bakery and the highest arch dam in Europe, which is located near the settlement, in Val de Ban valley. In the west of the resort, the well-preserved St Christopher's Chapel, dating from the end of the seventeenth century, is of interest.
If you come on holiday with children, you won't need to think about how to keep them occupied: the local tourist office has developed a range of activities to appeal to children of all ages. And if you just want your baby to be looked after, this task will be undertaken by children's clubs. They are designed for children of different ages, for example Schtroumpfs is ready to take care of babies from the age of 3 months and Kids Club is designed for older children – from the age of 3 years.
Where to stay?
Verbier provides a lot of options for accommodation: there are many hotels, private pensions, chalets. Service in hotels Verbier, as elsewhere in Switzerland, is at a very high level. The hotels that have received the best reviews are: 5* Le Chalet D'Adrien, W Verbier, 4* La Cordee des Alpes, Hotel Vanessa, Luxury Penthouse Apartment Kim, Le Chalet de Flore, 3* Rodasia, BnB Les Sapins Bleus, Apartment Trois Meleze, Apartment la Vieille Fontaine, Mondzeu Apartments, Mini Chalet Four Srasons.
Restaurants
Verbier is famous not only for its pistes and nightclubs, but also for its cuisine. The traditional cuisine of the Valais Valley is dense and hearty; the "Valaisian plate", which can be ordered at any restaurant, contains smoked lard, sausages, ham, cured meats and cheese. The traditional dessert of crushed rye bread soaked in a mixture of elderberry juice and red wine, with the addition of dried fruits and raisins, siii, is also very hearty. Raclette cheese and cured meat cooked according to the local traditional recipe are definitely worth a try.
The best restaurants of the Swiss national cuisine in Verbier are La Marmotte, Sonalon, Cordee des Alpes, Le Grenier in the hotel Chale d'Adrien, La Grange, Au Vieux Verbier, Relais des Netsu, Cabane Les Chamoix, Le Channe, the restaurant Montpelier, Le Dahu, Marlenaz, Chez Dany.
How to get there?
If you decide to vacation in Verbier (Switzerland), you should be interested in how to get to the resort. It is about 165km from Geneva airport; in Geneva you can take the train to Martinet and Chablais and change to a bus that goes to Verbier. The trip will take you about 3 hours. The resort is 300km from Zurich and from there you can take the train to Martini and change to a bus or take the train to Le Chablé and from there take the gondola to Verbier. The gondola goes every 15 minutes. The trip from Zurich takes a little over 4 hours.
Verbier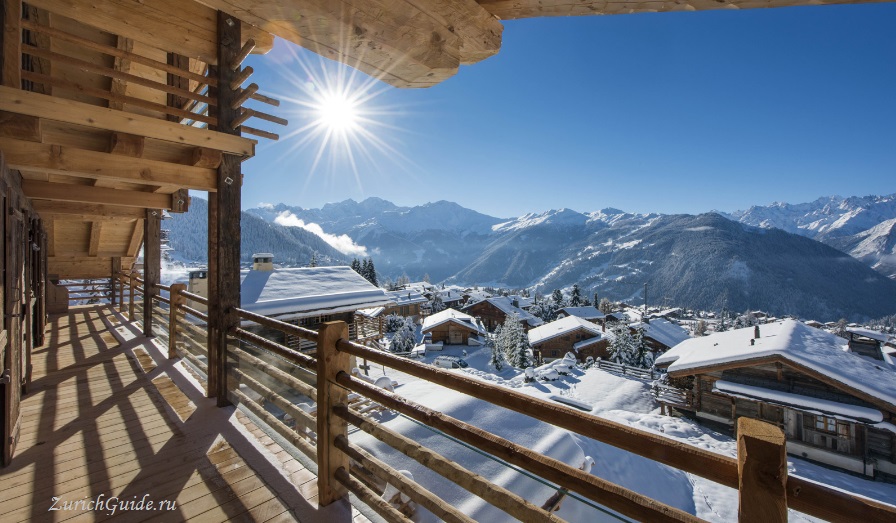 The ski resort of Verbier – the biggest in Switzerland ski area (400 km of groomed slopes). It is perfect for experienced skiers. The resort is considered one of the best in the world for freeriders. Some areas remain covered with snow throughout the year. As a result, many top skiers have settled in Verbier, taking advantage of the opportunity to train all year long on the steep slopes.
The ski resort is located in southwestern Switzerland, in the canton of Valais, on a sunny terrace at an altitude of 1500 meters, next to the summit of Grand St. Bernard between the Matterhorn and Mont Blanc. The highest point of the sector is the summit of Mont-Fort (3329 m).
The ski season in Verbier is from December 19, 2016 to April 8, 2017. With the 4 Vallees ski pass with a term of 6 days or more, you get 50% off a day ski pass to Chamonix!
Verbier Weather:
Verbier travel guide:
Verbier Attractions:
Mont-Fort : This glacier is the highest point of the Verbier ski resort (3,330 m above sea level). There is a black trail going down from the top of the mountain.
Mont Gelé : This mountain station, at 3023m, is accessible by cable car from Les Attlés.
The Grand Saint Bernard Pass: located at 2,469 m, the 70 km road through the pass connects Martigny in Switzerland with Aosta in Italy.
Martigny: Celtic tribes, Roman and Napoleonic armies left their mark on this small Valesan town. A few archaeological finds give an idea of the beginnings of the settlement.
Dürnand Gorge: as you walk through the tunnels, up the steps and along the galleries, you can hear the roar of the river as it winds its way through the towering cliffs to the right and left of Dürnand.
Verbier Ski Resort:
Ideal for experienced skiers and freeriders
Some ski resorts in Switzerland can rival Verbier for their luxury chalets and hotels, but few can match it for terrain complexity and altitude. If you've mastered the basic freeride trails in Verbier, you can relax – you're a great skier!
Les 4 Vallées is the name of a huge ski region around Verbier with a total of 410 km of pistes and over 90 elevators and cable cars connecting Verbier, Nenda, Veysonne, Thion and La Tzouma stations. The cable car makes accessible the summit of Montfort 3330 meters high. From here you have a fantastic view of the Matterhorn, Gran Combe and Mont Blanc.
The main freeride trails are the 900m vertical descent from Col de Gentianes to Tortin, and the 1000m descent from Vallon d'Arby down to La Tzoumaz at the edge of the ski region.
There are even steeper descents from Mount Mont-Gélé (3,025m), and from the summit of Mont-Fort (3,330m) offers black runs up front and spectacular freeride slopes leading down to Siviez.
The resort itself is a sprawling village of chalets, hotels and apartments, between which a bus circulates. Resort life revolves around the central square, Place Centrale, the main elevator to Médran 500 meters away, and the lively streets in between.
Alternative Verbier:
The main mountain in the ski resort of Andermatt, Gemsstock, is also a dream for skiing professionals: several serious pistes and challenging freeride trails.
In Zermatt in the main sector of skiing there are excellent routes for freeriders.
Information on the resort of Verbier:
Resort 1,500m.
Lines: 1,500 m – 3,330 m
Elevators: 92
Lengths of runs: 412 km, 39% blue, 44% red, 17% black
Ski pass for 6 days: CHF 355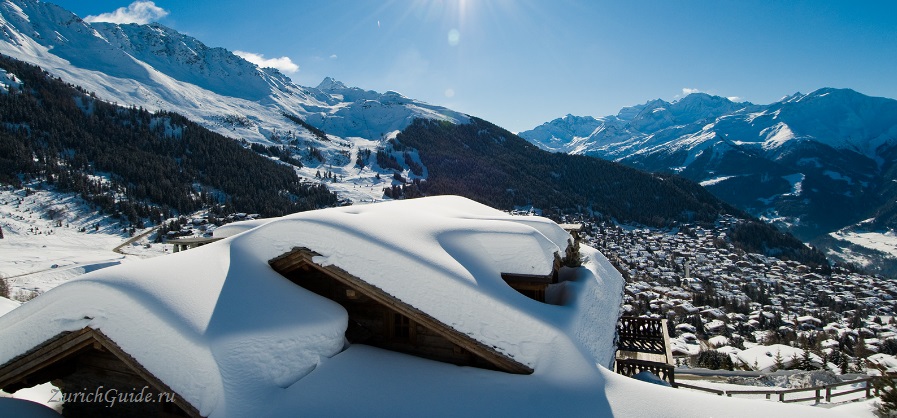 In addition to skiing:
In addition to alpine skiing, you can also enjoy snowshoeing in Verbier in winter. The resort is a famous starting point and transfer point for the so-called Haute Route to Zermatt and Saas-Fee.
Or you can take a fun ride down one of the 2 10 km long toboggan runs!

Leisurely options:
Val de Bagnes: Champsec 9 km/ Plamproz 2.4 km
Verbier: Les Ruinettes 5 km/ Resort 1.8 km
Dog sledding:
Olivia Milan M.
+41 (0)79 270 76 24
chiensdetraineau.ch
Walk from Les Ruinettes to La Chaux, Verbier
Walking in snowshoes:
Val de Bagnes 28 km
La Tzoumaz 13 km
Verbier 12 km
Savoleyres to La Tzoumaz.
Ski rental in Verbier: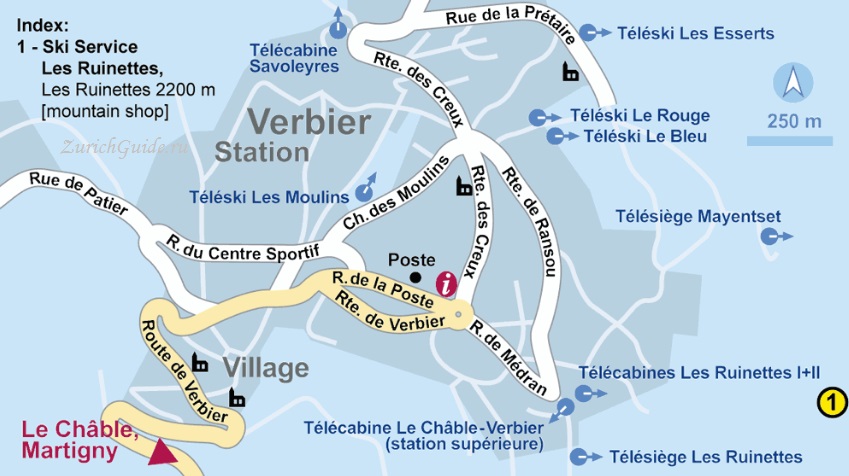 Verbier Ski Passes:
A complicated pricing system with multiple periods broken down, and the cost of ski passes differs depending on the period.
The ski season is roughly from December 20 to April 8.
1-day ski pass: starts at CHF 67 (weekdays low season) and ends at CHF 75 in high season. In some periods you can buy a ski pass cheaper, taking not a full day, and for half a day (however, the discount is not particularly large).
A ski pass for 6 days costs CHF 373, 355 and 337 depending on the period. Moreover, with the 4 Vallees ski pass with a 6-day validity you get 50% discount on the daily ski pass in Chamonix!
+5 CHF per card – key (non-refundable, but can be recharged and reused).
Discounts on ski passes:
Young people 19 – 24 years old: 15% discount.
Seniors (born from 1939 to 1951): 15% discount
Family pass: 10% discount
Group ticket: 15% discount for groups of 15 people or more.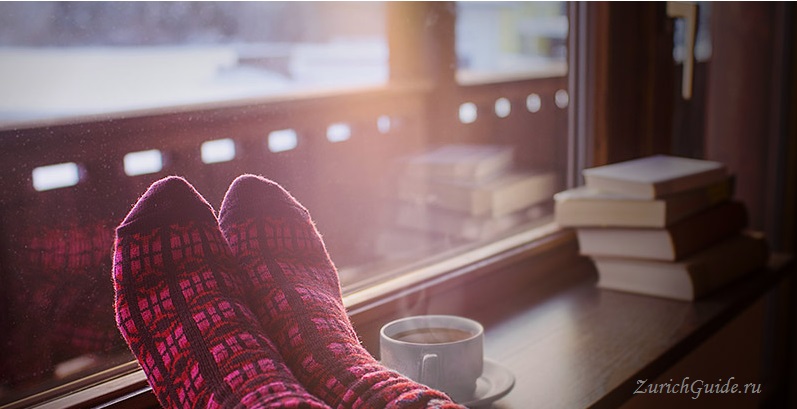 Summer in Verbier:
As in all other Swiss alpine resorts, active life continues here in the summer, only skiers are replaced by mountain bikers and mountain hikers. The region has about 400 km of hiking trails with stunning views of the mountain peaks and crystal clear mountain lakes. Experienced hikers can follow the tracks of chamois, a path covered with snow even in summer.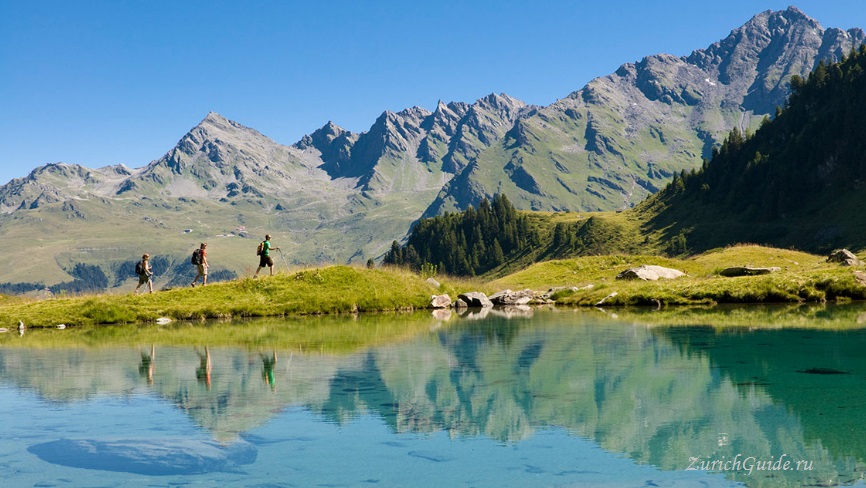 The best hiking trails in the Verbier area:
Sentier des chamois / Verbier – 6h
Tour des lacs / Lourtier – 3h / 7:30
Bec de Sery / Lourtier – 4h
Tour du Lac De Mauvoisin (around Lake Mauvoisin) / Fionnay – 7h30
Pierre Avoi / La Tzoumaz, Verbier, Vollèges – 1h 30 or 4h
Sentier du lac des Vaux (Lac des Vaux path) / La Tzoumaz – 5h
For those looking for a more extreme holiday, there are great climbing opportunities, paragliding flights over the valley and 200km of mountain biking trails.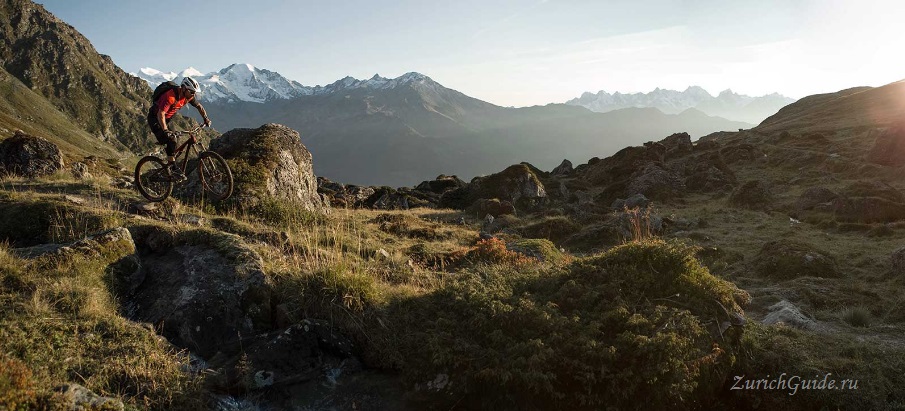 For the lazy, there is also an option: a train ride to the summit of Mont For, with its spectacular panorama stretching from the Matterhorn to Mont Blanc, will be absolutely unforgettable.
And in July and August the Verbier Festival & Academy is held here: many big names from the world of classical music gather at this festival to share their knowledge with young talents from all over the world (July/August).
Nearby thermal centers: Saillon, Lavey, Ovronnaz, Val-d'Illiez, Loèche-les-Bains.
Getting to Verbier:
The town of Verbier is located in southwestern Switzerland, not far from the border with France and Italy. There is no regular transport here – from the nearest town with a station (Le Châble) you have to take an elevator. The town Le Châble is a small provincial, high-speed trains do not go here, only the regional ones from Martigny. So first you have to go to Martigny with or without change, there take a train to Le Châble and only then take a gondola ride to get there.
The best way to get to Verbier is from Geneva airport. From the airports of Zurich and Basel – far and expensive, here you need a Swiss shuttle-ticket.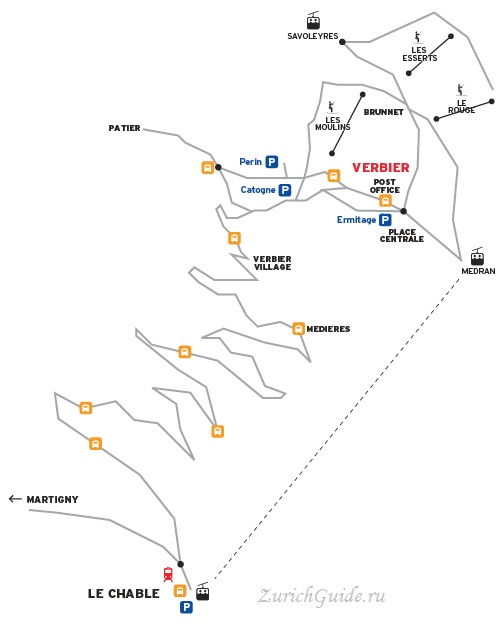 In the ski season in Verbier there are buses from Sion, and in Martigny there are direct buses from the airport of Geneva, Basel, from the central station of Milan, from the resort of Chamonix-Montblanc.
Verbier transportation schedule:
Ski elevators:
From Zurich airport to Verbier:
From Zurich airport to Verbier you will have to travel with 3 – 4 transfers. The trip takes about 3:40 – 4:20.
At Zurich airport you have to take the train in the direction of Brig (departs at 40 minutes hourly), go to Vispa (2:20 approximately), there take the regional train towards Genève-Aéroport and go to Martigny (40 minutes), there take the regional train towards Le Châble and go to the end (about 30 minutes). Then take the gondola up to Verbier TV station. The last departure is possible at 17:18, arrival in Verbier at 21:20.
The ticket costs 117 francs, so if you go to Verbier just for skiing, it's better to buy Swiss Transfer Ticket – with it will be cheaper: 141 francs for round trip instead of 234 francs with regular tickets.
From Geneva airport to Verbier:
The best way to get from Geneva airport to Verbier is to take the train towards Brig to Martigny station (1:50 approx.), get off and take the regional train on track 50 towards Le Châble and ride to the terminus, about 30 minutes. Then take the gondola up to Verbier TV station. Total trip is about 2:40, ticket 56 francs 1 way. Swiss Transfer Ticket is not needed here.
The last departure from Geneva airport to Verbier is possible at 18:21, you will be there at 21:20. The timetable is at sbb.ch.
Map of Verbier, parking in Verbier: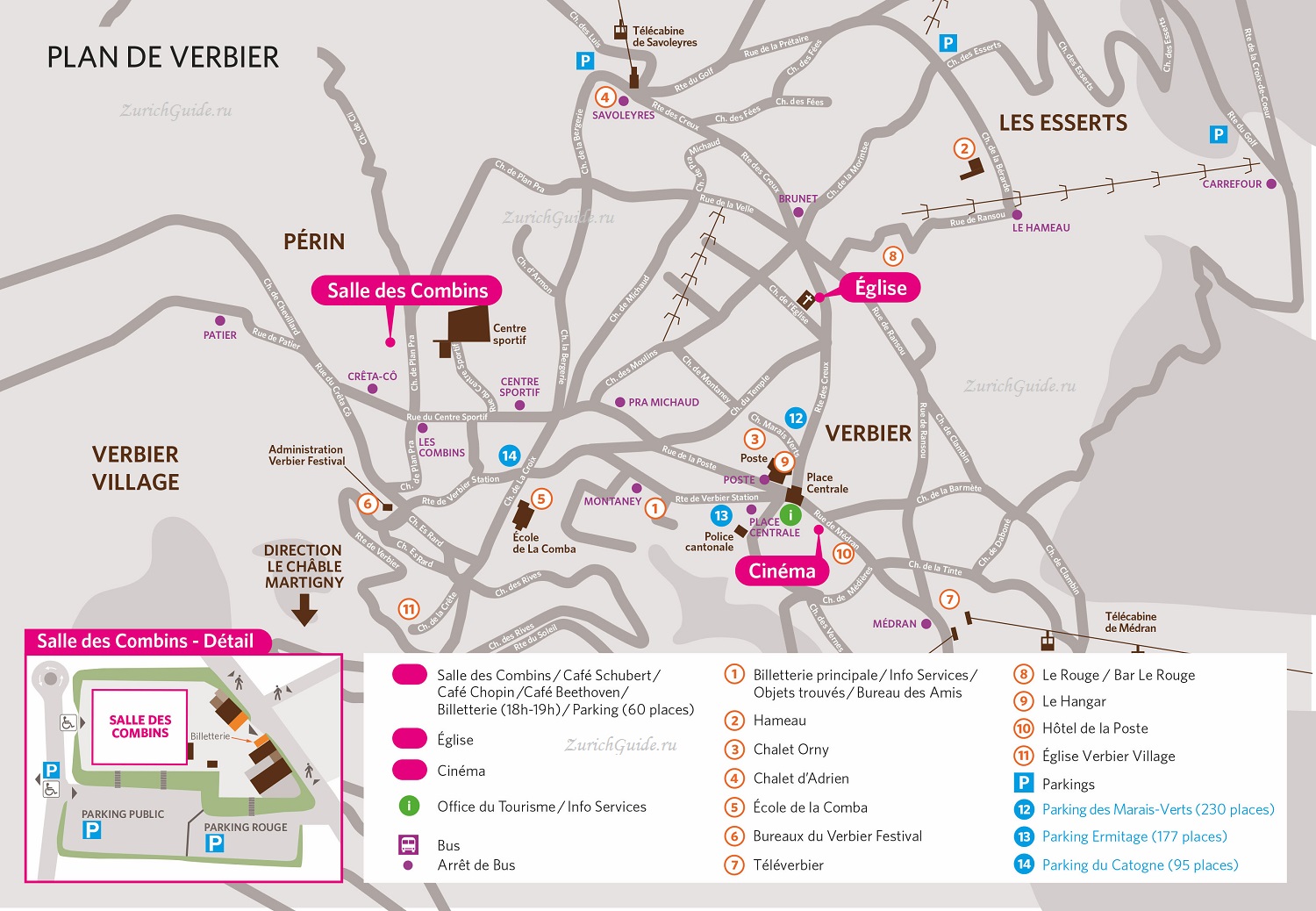 Did you like this article?
You can thank the author and help the site to continue to exist. Whatever you can do, we'd be grateful for any help!