Uninhabited islands of the Pacific Ocean. List of habitable ones. Photo and name, how to get there
There are uninhabited islands in all of Earth's oceans. The Pacific Ocean is no exception. But not all of them are uninhabited. On some you can find lost tourists who seek to explore the closed and distant corners of the Earth.
The uninhabited islands of the Pacific Ocean have magnificent and varied vegetation. And what a view the islands offer. Clean and clear water, untouched nature, birdsong. All this is the perfect place to rest your body and soul.
Uninhabited islands in the Pacific Ocean suitable for life
The uninhabited islands of the Pacific Ocean are stunningly beautiful. Some of the most popular and mysterious of them are:
| | | |
| --- | --- | --- |
| Territory Name | Territorial affiliation | Territorial affiliation Area in sq. km |
| Cocos Island | Costa Rica | 23,9 |
| 2. | Solomon Islands | 118 |
| 3 Enderby Island | New Zealand | 7,1 |
| Takutea Island | Cook Islands | 1,22 |
| 5. Nikumaroro Island | Republic of Kiribati | 4,1 |
| 6. Rock Islands | Palau | 47 |
| 7. Nukupule Island | Kingdom of Tonga | About 3 |
| 8. Caroline Island | Republic of Kiribati | 24 |
| 9. Tofua Island | Kingdom of Tonga | 55,6 |
The uninhabited islands in the Pacific Ocean are inhabited not only by interesting flora, but also by various species of fauna.
Cocos Island
Cocos Island is part of the state of Costa Rica and is about 580 km away.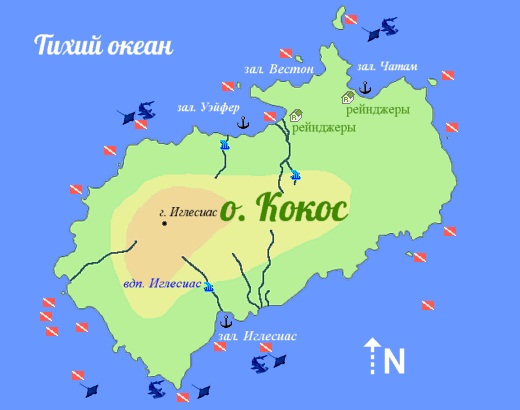 The central part of the island is represented by gentle plains. Mountains are placed mainly along the coast. The highest point is Mount Iglesias about 770 meters above sea level. On the island, you can find rivers and scenic waterfalls.
Cocos Island is unique in its flora. It has about 70 plant species that do not grow anywhere else. The large variety of vegetation attracts the attention of many birds that consider the island their home. The island is covered with tropical forests. Some species of animals and insects can also be found on the territory.
The island has a sufficiently large number of poisonous snakes and insects. Among the animals can be found deer, pigs, cats and rats, which, at one time, were brought here by people.
Reefs and underwater terrain attract a large number of diving enthusiasts. You can get to the island by boat, which sails from the port in Costa Rica. The trip is not close and in good weather conditions takes from 35 to 40 hours.
Cocos Island with its unique flora and fauna is a protected area and is listed as a World Heritage Site by UNESCO. Legends claim that Cocos hides many treasures, so many have tried to find them, but so far without result. Some still do not give up trying to find the treasure.
Tetepare Island
The island of Tetepare belongs to the Solomon Islands. You can get there by boat from the neighboring island of Rendova that is 2 km away from Tetepare.
The island is becoming a favorite place to explore the flora and fauna. Many scientific expeditions come here to study the behavior of the inhabitants. Every year new species of plants and fish are discovered. Many animals and birds use this island for laying eggs and giving birth.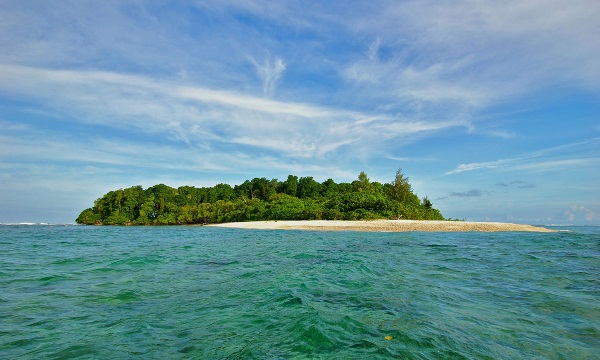 A large population of wild pigs can be found on Tetepara. They are used for food and are destroyed by the inhabitants of the neighboring island, so that the boars do not harm the picturesque nature of the island.
The island is visited by tourists who want to be alone with nature and rest from all the benefits of civilization. The warm and clear waters of the Pacific Ocean, rich flora and fauna help you feel in paradise and enjoy the beauty of the territory.
Enderby Island
Enderby Island belongs to New Zealand and is about 350 km away from the state.
It belongs to the Auckland Archipelago and is protected by UNESCO.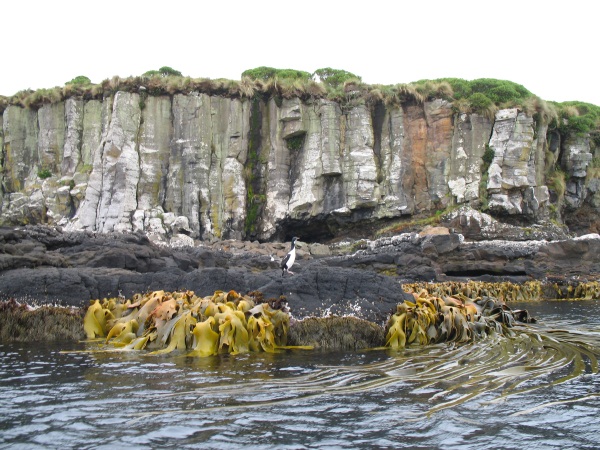 The island itself is small, about 7 square kilometers, but has different types of vegetation and landscape. Trees are found near the coastal area. A little farther and higher you can see the steppes. And in the interior of the island, at an altitude of about 300 meters, there is a stony desert, on which mainly mosses and lichens grow.
Enderby Island serves as home and nesting place for many birds. There have been many attempts to bring pets into the area. This has all been successful. However, the animals harmed the flora and were exterminated in order to preserve the exotic and unique plant species. This island is a favorite place for sea lions, who come here every year to breed.
The island has a small supply of fresh water, which can be obtained from small streams. The weather is mostly overcast. The temperature almost all year round is kept at the same level and is about +4 – +8. Many tourists come to Enderby, who are interested in archaeological excavations, flora and fauna. You can get to the island from both New Zealand and Australia.
Takutea Island
Takutea Island is part of the Cook Islands, which belong to New Zealand. It is small, only about 1.2 square kilometers, and is formed of sand and coral.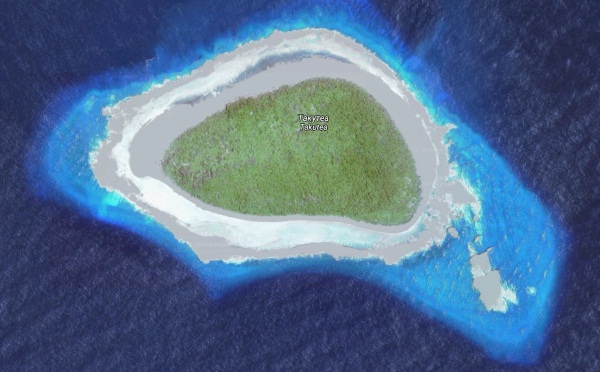 It is a great place for ecotourists and divers. The island has never had any native inhabitants, so there is a pristine beauty of plants and a large variety of marine life. Takutea is a nature reserve.
Getting to the island of Takutea is not easy, because it is surrounded by reefs, and to moor a boat is very difficult. It is best to do it in good and clear weather. You can use sightseeing boats from Bounty Bay, which involve overnight stays on the island. You can also make arrangements with locals from Atiu Island who go to Takutea for fishing or for coconuts.
Nikumaroro Island
The Pacific island of Nikumaroro belongs to the Republic of Kiribati and covers about 4 square kilometers. Two small straits run through the atoll.
The island has a rich flora. Exotic species of trees and shrubs can be found here. The coastal waters are a favorite place for sharks, which prefer to breed here. Many species of birds also choose this island to raise their chicks.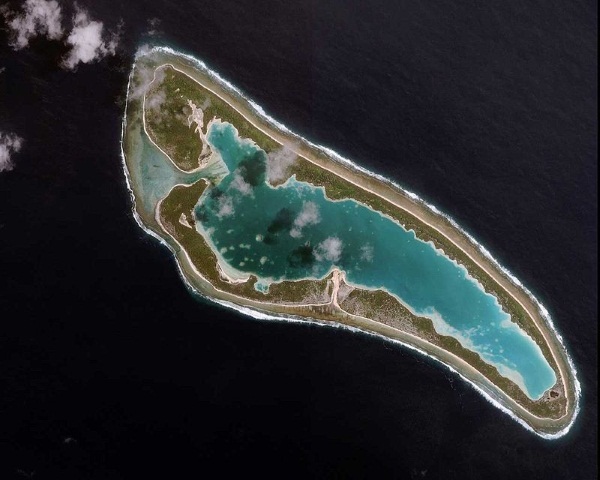 There are many coconut palms on the island, and people used to use it as a coconut plantation. But due to the lack of water and rainfall, this idea quickly failed. Therefore, the remains of houses built at that time can be found in the area.
Near the island in the early 19th century shipwrecked. But until today, parts of the ship have survived and are scattered all around the perimeter. Nikumaroro Island is often chosen by divers for diving. A large number of fish can be found in the coastal waters, which attracts fans of fishing.
The island can be reached by sea boat from Tarawa Island, which has air service.
Rock Islands
The Rock Islands are part of Palau and are about 36 kilometers from the main town of Koror. The islands look like mushroom caps as water and microorganisms chisel the base of the island.
The Rock Islands are 250 pieces that emerged from an ancient coral reef. They rise above the water and have dense vegetation that attaches to the reef with roots without soil.
Another distinctive feature of the island are the underwater caves and passages, which attract a large number of divers from all over the world. They can not only explore all the tunnels, but also enjoy the beautiful views and the rich fauna of marine life.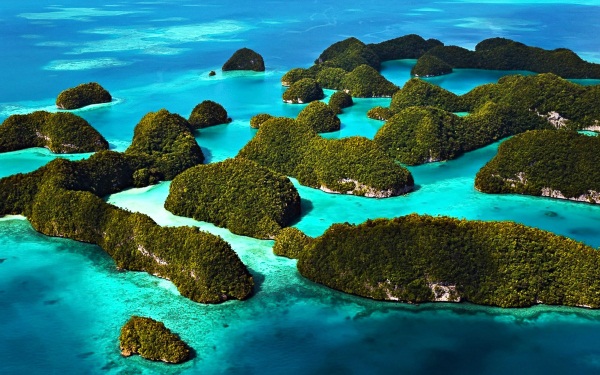 Many of the islands attract fans of archaeology. Here you can find various inscriptions in caves, the remains of people who once lived in this area.
Among the small islands is an amazingly beautiful lake of jellyfish. There are a huge number of them, but jellyfish are not dangerous to humans and do not sting him, which attracts many divers, who are willing to swim next to hundreds of thousands of jellyfish.
You can get to the islands only by boat or sea boat.
Nukupule Island
The uninhabited paradise of Nukupule, washed by the waters of the Pacific Ocean, is part of the Kingdom of Tonga. The island features tropical trees. You can see coconut palms and taste coconuts. A sandy beach is located throughout the island. Drinking water can be obtained from rainwater. There are no snakes on Nukupula, but you can meet turtles.
The island is very popular with fans of surfing, kitesurfing and diving. For fans of fishing also have a decent place and a variety of edible fish. The temperature on the island is almost the same all year round, ranging from 20 to 27 degrees. Almost every year, the territory of the Kingdom of Tonga is hit by cyclones of varying strength.
You can get to the territory of Nukupule by boat or sea boat, which sails from the island Lifuka. The road takes about 12 km. Lifuka Island has its own air service, so there will be no problems with transportation.
For those who want a separate island, you can rent Nukupule for 99 years for 250,000 US$.
Caroline Island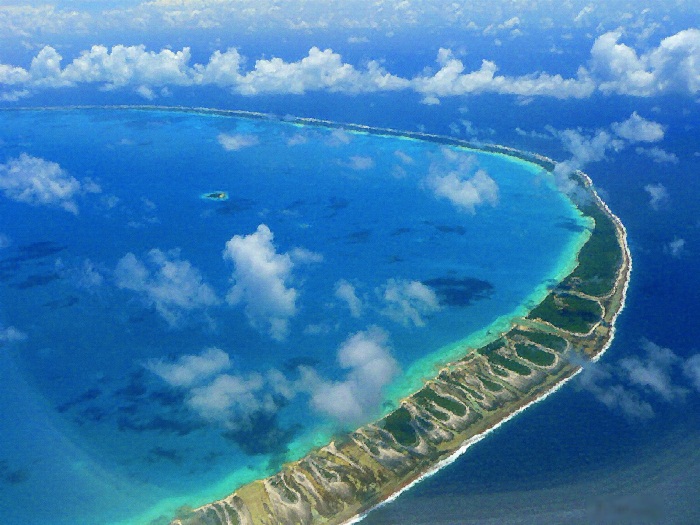 Caroline Island is part of the Republic of Kiribati. Due to global warming and rising water levels in the ocean, there is a possibility that this island could be completely submerged in a few years, as it is located only 6 meters above the water level.
Caroline Island consists of many small areas that are divided by small straits. The temperature is around +27 … +33 all year round. The big advantage is that the island has fresh water supplies.
The territory of the island is a favorite place for crabs. There are a huge number of them. You can meet a large number of birds, which prefer to lay their eggs here. Caroline is a protected area, which is a UNESCO World Heritage Site.
Getting to the island is not easy. From the capital of Kiribati to Caroline is about 420 km.
Tofua Island
The Pacific island of Tofua belongs to the Kingdom of Tonga. It is worth noting that it is more of an active volcano than an island.
Fans of surfing and sailing can safely choose Tofua. Winds are present here all year round. There is something to see for diving enthusiasts as well. In the coastal zone, you can meet interesting species of marine life and look at the volcano under water.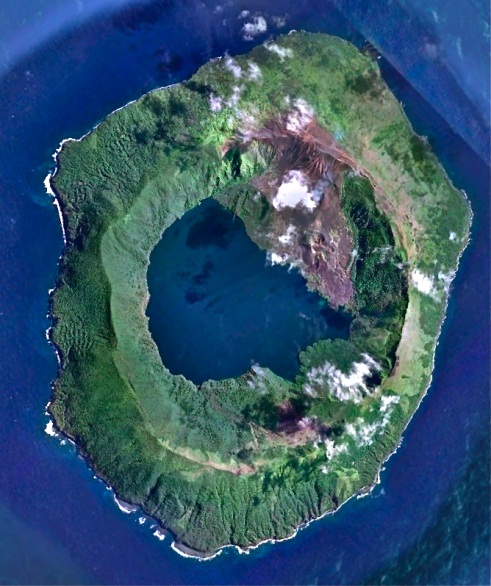 On the island you can see some plant species that grow only in this area. In the center of the volcano is a sulfur lake.
You can get to the volcano by boat from Lifuka Island.
The uninhabited islands of the Pacific Ocean attract tourists who want to cut themselves off from the outside world and seclude themselves in a quiet and peaceful place.
They can be alone with the picturesque nature and get acquainted with unique species of plants and animals. Overnight in such places allows everyone to imagine themselves for a few days Robinson. Just a lot of scientific expeditions engaged in archaeological research in pristine areas.
The Pacific Ocean has a large number of uninhabited islands. Many of them are habitable for a short time.
Honestly, most of us dream of visiting a remote tropical island at least at some point in our lives.
But can city dwellers really cope with island fever, seeing the same people every day, having only one TV channel and using the phone once a week? The clean air and incredible and wild nature is indeed a plus, but is it enough? Take a look at what life on a remote island means – these are the five remotest inhabited tropical islands visible from space:
1. Ascension
Ascension is a 91-square-kilometer volcanic island located in the southern Atlantic Ocean. It is 2,250 km from the east coast of South America and 1,600 km from the west coast of Africa.
It was first visited by a Portuguese navigator in 1503. Nearby is St. Helena, where Napoleon was imprisoned in 1815.
Although ships often stop on the island to hunt birds and huge green turtles, the British soldiers who inhabit it can go months without visitors.
The island is home to satellite tracking stations and ground antennas, Wideawake airfield, and also hosts joint military exercises of the Royal Air Force and the U.S. Air Force.
Ascension has five settlements with 940 people, mostly military. Since there is no permanent residence, everyone must have a work contract to stay on the island.
In recent years, tourists have been showing up here more and more often. Sport fishing and bird watching are popular activities, but there is a golf course that is considered the worst in the world. In addition, the locals already have a bank branch and 40 kilometers of roads.
2. St. Helena
St. Helena is a 122 square kilometer volcanic island located in the South Atlantic Ocean and is considered one of the most isolated places in the world, 2,000 kilometers off the coast of Africa.
Because of this remoteness, the British used the island as a place of exile for centuries. First Napoleon Bonaparte and then more than 5,000 imprisoned Dutch, French, and German settlers from South Africa.
The island was discovered in 1502. Portuguese sailors found it uninhabited, but with plenty of trees and fresh water, so it became an important stopover for ships entering the South Atlantic.
Unlike Ascension, St. Helena was settled shortly after its discovery and today has 4,255 residents living in eight neighborhoods. The island prints its own banknotes and has a bank, post office and Internet.
Tourists are drawn to the site of Napoleon's exile. They arrive by ship, as there is no airport on St. Helena.
3. tristan da Cunha
Tristan da Cunha is a volcanic group of islands and the most remote inhabited archipelago in the world 2800 km from South Africa and 3300 km from South America. One island, Tristan da Cunha, is inhabited by 269 people.
The island is dominated by a volcanic cone that towers over the green slopes. The last major eruption occurred in 1961, at which time its inhabitants were evacuated to England.
The islands were discovered in 1506, but were officially explored in 1767 when a French frigate visited. They were uninhabited at the time, but the island had.
Like Ascension Island, the first settlements appeared on Tristan da Cunha after Napoleon's expulsion to St. Helena. The British did not want the French to use the island for a potential salvage operation, so they annexed it to St. Helena in 1816.
Originally the 113-square-mile island was settled by British troops, but gradually civilians came along as well. Today the main income comes from agriculture, and most people work for the local government.
Foreigners are not allowed to buy land or live in Tristan da Cunha. Getting there is not easy, so tourists are advised to plan their trip a year in advance, as they need a special permit and location on one of the few ships that visit Tristan da Cunha.
For those who live on the island, life has become a bit more technological: They now have two television channels, telephone lines, Internet access, and the local school (with five classrooms) has a computer room. However, mail is only delivered ten times a year by ship.
4. Easter Island.
The Dutch explorer who discovered the island gives it its name because he set foot on its shores on Easter Day, 1722. Its first population was Polynesians who came from neighboring islands.
Easter Island was annexed to Chile in 1888 after most of its indigenous population died. Along with its inhabitants, the island's ancestral knowledge and culture disappeared, so many questions about it are still a mystery.
The language of Rongorongo and its alphabet have not yet been read, and the origin of the large stone statues symbolizing Easter Island is still unresolved.
The population of the island today is 3,791, a mixture of Europeans, mestizos and Indians. Most of them live in the largest settlement, HANGA ROA. Easter Island has one of the most remote international airports in the world.
Two flights a week carry a steady stream of visitors of tourists and scholars, guaranteeing the main income of the island.
5. PITCARN
PITCHARN is a group of four volcanic islands in the South Pacific. Pitcairn, with an area of 47 square kilometers, is the second most populated island.
Occupied by Polynesians for centuries, the island was abandoned when British sailors discovered it in 1767. It became a British colony in 1838 and was one of the first to grant women the right to vote.
This island has always been sparsely populated, reaching 233 people at its peak in 1937, and since then many of its residents have emigrated to New Zealand. Today its population is 50, which is less than one inhabitant per square kilometer.
Agriculture and fishing are the main sources of income on the island. It has no airport, but its inhabitants have one street telephone. Cruise ships stop there every few months.