The Greek Islands: What to know before you travel
In Greece, there are dozens of picturesque islands. There are ferries between them – you can organize a trip on your own or save on a tour.
Despite the fact that the islands are close to each other, they are very different. For example, Folegandros is mountainous and deserted, and Santorini is noisy and fun: there are thousands of people. For a two-week vacation you can see several islands at once.
In this article, we'll tell you how to travel between the islands like locals – by ferry. The instructions are suitable for independent travelers, as well as for those who came to Greece with a ticket. The main rule is to buy ferry tickets in advance.
What you will learn.
Introductions
✈️ The Road.
Greece has dozens of airports in different parts of the country. In June, you can take a direct scheduled flight from Moscow to Athens, Rhodes, and Crete. If you want to get to Santorini by plane, you must change planes in Athens.
A flight in peak season costs on average 20,000 R . If you buy a ticket in advance or catch a cheap charter, you can save: some can fly to Greece for 6,000-12,000 P .
To get on the first ferry and travel to other islands, it is more convenient to fly to Athens: Athens port of Piraeus has the largest number of ferries. Before flying back we advise you to return to the mainland at least 24 hours before your flight to Russia: sometimes ferries are cancelled because of a storm.
Islands of Greece
Crete is the largest island in Greece and is washed by three seas: the Ionian Sea, the Cretan Sea and the Libyan Sea. The main attraction of the island is the palace of Knossos. According to legend, the labyrinth of the Minotaur was located there.
Crete has dozens of beaches, hotels, guest houses and restaurants, as well as olive oil factories and water parks. There is a bus connection between the cities on the island, so you can do without renting a car. Our reader Vasily Sorokin recommends Crete to those who want civilization and entertainment at the level of the mainland, but with an island flavor.
Santorini is considered one of the most beautiful places in the world. The towns of Imerovigli, Iaia and Fira with their snow-white houses are located on top of a steep cliff opposite a volcano. The best times to walk around these towns and enjoy the views are at sunrise and sunset.
Rhodes is a popular island among tourists. It is suitable for families with children. It has a water park, a zoo, ancient fortresses and dozens of pebble beaches.
Milos. The length of the island – only 21 km, but there are a lot of sparsely populated and unusual beaches. For example, the beach Sarakiniko resembles the surface of the moon: instead of sand there are snow-white rocks of unusual shape.
Folegandros is a rocky island with even fewer tourists than Milos. The main attraction is the Church of the Virgin Mary at the top of the hill in the town of Chora. It is the best vantage point on the island. "CNN listed Chora as one of the seven most beautiful villages in Europe.
Folegandros should appeal to those who like mountains and solitude. But there are fewer hotels there and prices are higher than on popular islands. For example, in June, three nights in a three-star hotel in Folegandros costs about 20,000 P and 16,000 P in Rhodes.
Corfu has varied terrain. On one side are gentle beaches, where it is good to swim with children, on the other side are rocks. The island is very green and suitable for independent travel.
To Zakynthos, or Zakynthos, tourists go for Navagio. It is a bay with blue water, which is surrounded by tall rocks. On the beach of Navagio lies an old rusty ship covered in autographs of tourists.
Ios is an island in the southern Aegean Sea. It is tiny, but also quite densely populated: according to statistics, there are 17 locals per square kilometer. It is worth coming here for the views, which are not inferior to Santorini. There are several picturesque mills on the mountain, and the church has a view of the narrow bay, where sea liners from other islands call in.
Aegina is an hour's drive from Athens. According to our reader Olga, people go there not for the partying, but for the sea. In Aegina there are pine trees and the water is clear even in the port. Of the sights are the Orthodox monastery and the temple of Afaya.
Money.
Cards are accepted almost everywhere in popular tourist spots. You'll need cash for minor expenses: buying water on the beach or renting a sun lounger, taking a bus ride. Going to small islands like Folegandros, you should also take some cash just in case: the terminals may not work there.
Ferries in Greece
Greeks call ferries all vessels, but actually they are divided into several types: ferries – ferries, catamarans and hydrofoils. Ferries are the slowest, catamarans are a bit faster. Hydrofoils are the fastest, but less common.
In Athens, ferries depart from the port of Piraeus. The road from the metro station of Piraeus to the ferry can take 30-40 minutes
Holidays in Greece by yourself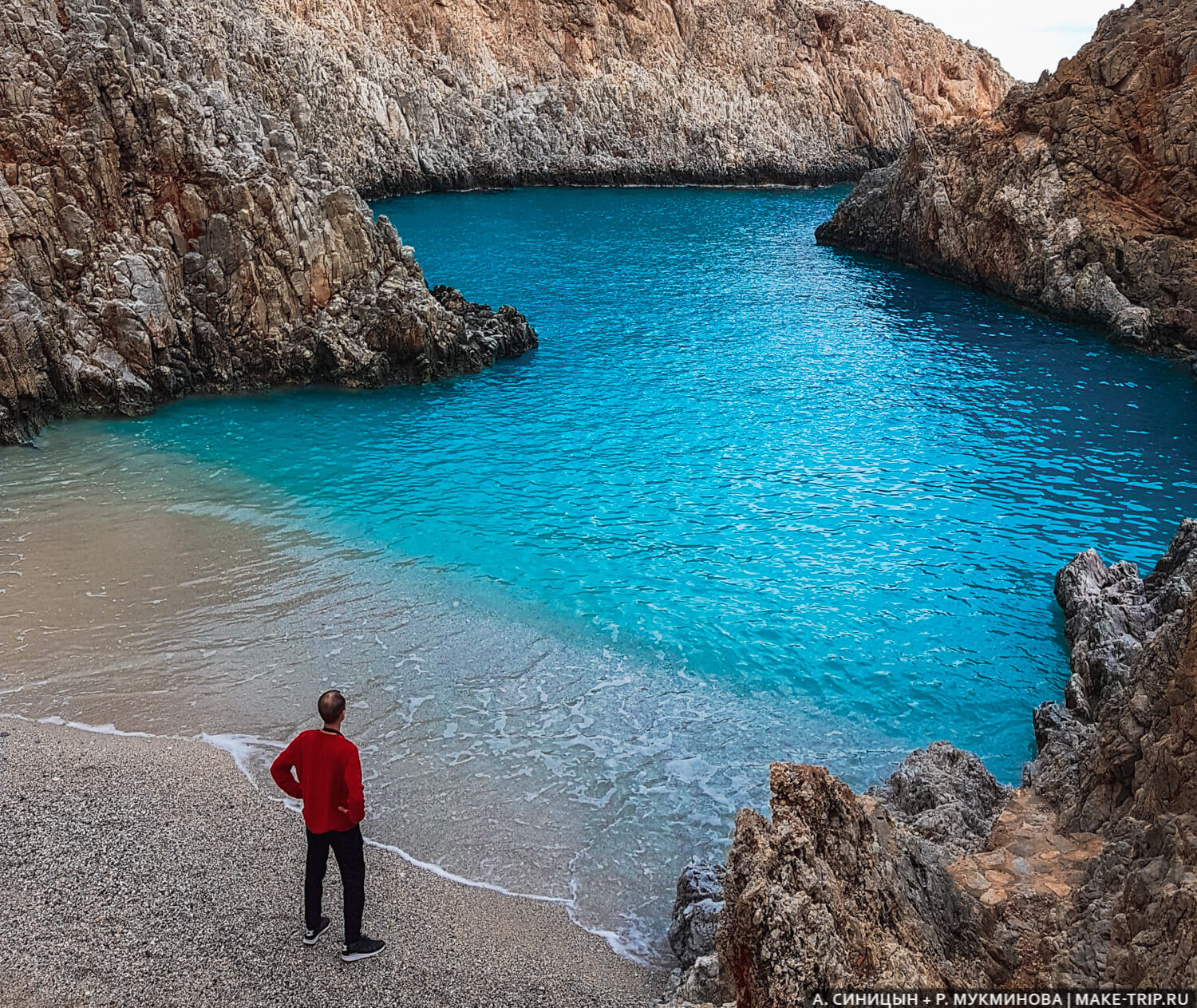 Tips from our experience, example prices in 2022 and useful links. Planning a vacation will be easy!
Content:
Is it complicated?
No, independently go on vacation in Greece will be easy even for those who decided to go abroad for the first time. The country is understandable, without surprises, the travel industry is well developed, people are friendly, safe, not too expensive. Ideally, it is desirable to have at least a basic level of English, because few people speak Russian in Greece. However, thousands of our compatriots feel great abroad, even with complete ignorance of languages. It is easier than it seems.
On your own or as a package.
We went to Greece twice: on a hot tour to Rhodes for five days and on a big independent trip for 25 days. During the last one we explored Athens far and wide, travelled more than a thousand miles over Crete in a rented car, then went to the north of the country, where we also took a car, visited Meteora, saw Thessaloniki and climbed Mount Olympus. It was a crazy program! Although, offhand, we did not even look at 1⁄10 of all the interesting places in Greece. The country is absolutely bottomless in terms of attractions and beauties.
So, which of our trips do you think was more interesting? Actually both were good. When we came on the Rhodes trip, we didn't sit still either, but we toured the whole island and had a great time. Therefore, it is not important how you get on vacation in Greece (by tour or by booking tickets and accommodation), but how you organize your leisure time already on the spot. In short, everything is in your hands! And for the rest our guides to Greece will help you.
For many years now we have only been buying tours online, it's much more convenient and profitable than travel agencies. I can recommend the reliable services Travelata, Onlinetours.ru and Level.Travel, where you can find packages from 120 tour operators.
If the usual package tours seem too banal and boring for you, check out Youtravel.me. The service is indispensable for those who crave bright travels, but do not have time to plan them independently.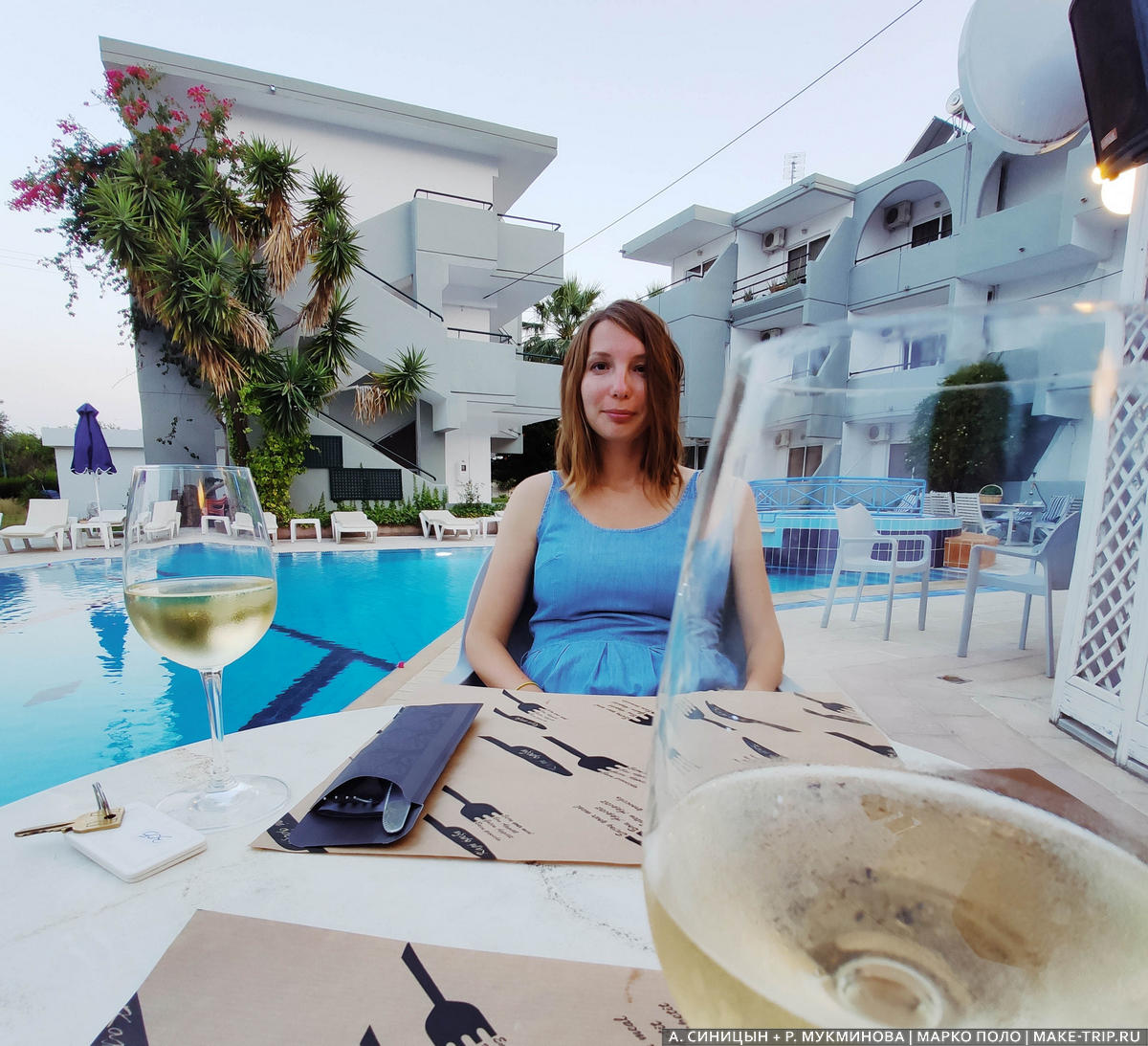 Sipping wine with Renata at our hotel in Rhodes. That trip, though short, was pleasant and memorable.
For a trip to Greece, any European country's Schengen will do. If not, you need to get a Greek visa. By following this link you will find detailed instructions on how to get one, which Renata has prepared for you. The Greeks are not fun: our family, for example, they were unfairly denied a visa, which led to the cancellation of the holiday and the loss of $ 90,000 ₽. So read our article and you will learn all the important nuances.
At Compare.ru and Cherehapa you can buy cheap insurance, the policy for a week costs from 300 ₽.
Flight is the easiest and most affordable way to get to Greece. Before the pandemic, there were many flights and prices were good – from ₽6,000 round trip. Now there are fewer direct flights and the price tag has gone up. Let us hope that things will get better soon. Well, while tickets from Moscow and back are plus or minus ₽ 12,000. However, the cost depends on the season and destination. See the current prices on Aviasales and read my tips for buying cheap tickets.
When to go
For the warmest sea, come June through October. The ideal time for a beach holiday in the Mediterranean is the first half of autumn, when the heat goes down, prices go down and the flow of tourists goes down. For active travelers is also good in spring. Learn more about the seasons and weather in Greece.
We vacationed in Greece in June and October-November. The fall trip pleased us not only with comfortable weather for long walks, but also with a nice opportunity to see different seasons in different parts of the country. If in Crete at the beginning of November we were still enjoying the very real summer, and I enjoyed sea swims, after a couple of days in Macedonia and Thessaly we were already admiring the beauties of golden autumn.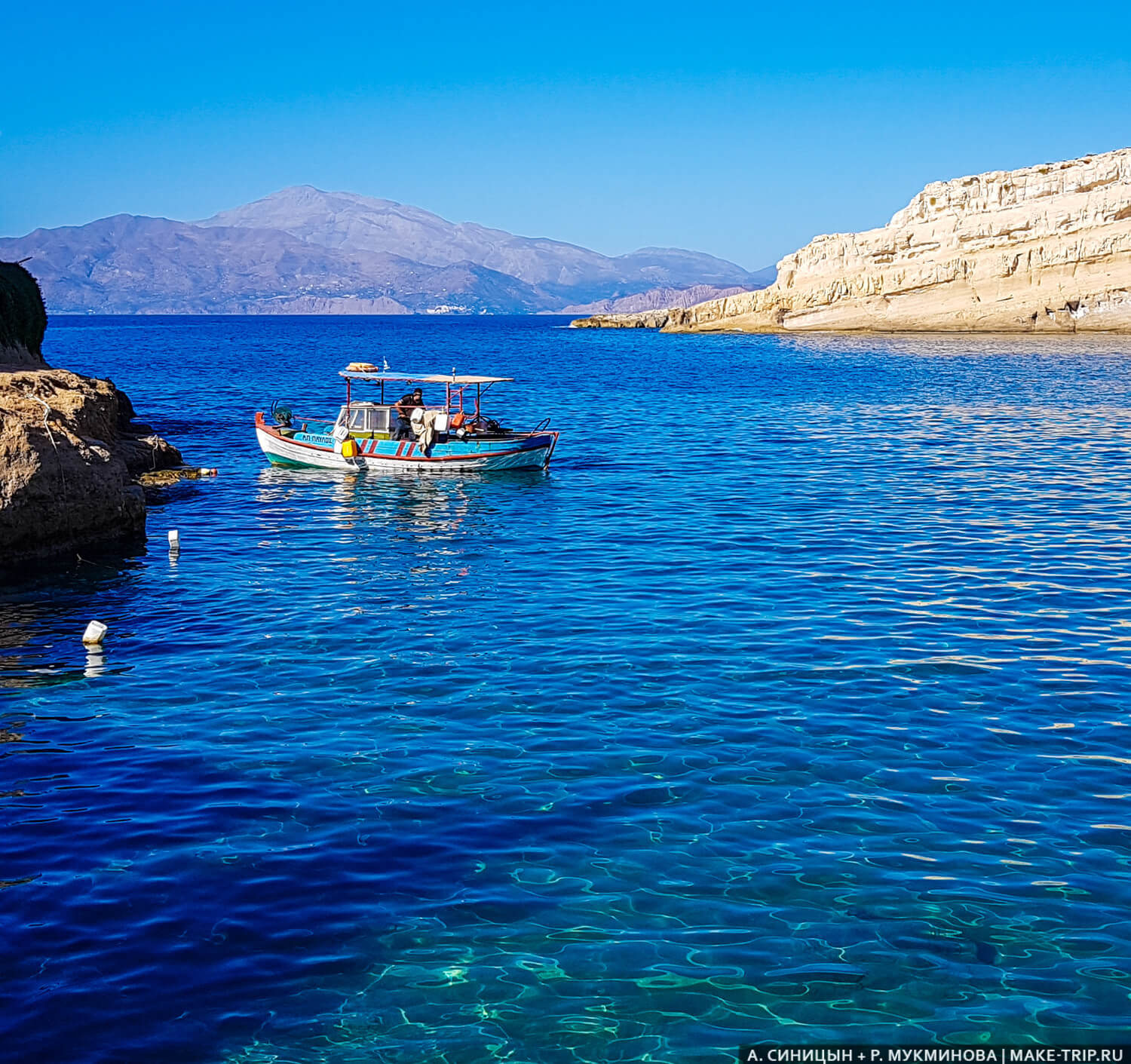 Matala. At the beginning of November it is still the real summer in Crete.
Where to vacation
In Greece, there are so many places for paradise holidays and interesting travel that you can go there if you want 10 years, and you won't get bored. Each island, each resort and each beach is special. We can discuss the topic for a long time, so immediately redirect you to our review of resorts in Greece.
The pink sand on Elafonisi beach in Crete. Sitia is a small cozy resort in eastern Crete.
Accommodation
For your independent holiday in Greece book any accommodation that suits you: a hotel, an apartment, a room, a hostel. We often rent an apartment – it's as convenient as possible, and cheaper than a hotel. In the end we get much more space, comfort, independence, as well as the ability to wash, dry and iron things. Thanks to the kitchen, we can cook seafood for dinner and eat it in the most obscene amounts. In my article about inexpensive vacation in Athens, I've already told how we ate shrimp, octopus and fresh mussels by the kilograms, spending only 4 € per person. Do you want to indulge in the same hedonism? Then rent an apartment with a kitchen instead of a hotel.
We usually book both hotels and apartments on Booking.com, but it's always worth checking prices on Hotellook.com: it will compare prices on Bookings and dozens of other sites in a minute – in case there is a better deal.
A bedroom in our apartments in Chania, Crete. We always try to choose not only spacious and comfortable, but also beautiful accommodation.
Going to Greece on "all inclusive" is a no-brainer. The country is famous for its cuisine, which is a sin to ignore. We have never once booked a hotel with meals here. Why do you need it when at every step there is a cozy restaurant or a nice tavern with home cooking?
The food in Greece is almost always delicious, and the portions are generous. The prices are not high by European standards. We usually spend 15-25 € for dinner or supper for two and only in very rare cases we have eaten 30 €. But this is without alcohol, with alcohol it will be 10-20 € more expensive. Budget and fast snack is gyro (local shawarma) for 3 €. Learn more about food prices in Greece.
We cooked 1.5 kilos of fresh mussels – one of our favorite delicacies in the Mediterranean. A kilo of mussels cost 4 €.
Transportation
It's better to book an airport transfer in advance online at Gettransfer.com or Kiwitaxi.ru. See our instructions for how to get from Athens, Heraklion and Thessaloniki airports.
Cabs : boarding costs about 3,20 €, 1 km costs about 0,80 €.
Public transportation is well-developed and you can take it to almost any place in the big cities. The most common are buses and streetcars, and in Athens there is the metro. A trip around the city costs from 1.10 €, the ticket must be stamped. Before you stop, press the special button, and if you want to get on the bus, wave to the driver to stop. You can buy tickets from special vending machines, kiosks and from the driver. Many towns have electronic displays at bus stops that tell you when the right bus is coming.
To travel around the country, use air . Domestic flights are inexpensive – from 10 €. You can easily find tickets on Aviasales. There are also active intercity buses . The main carrier is KTEL. The cost of the ticket depends on the distance at a rate of about 5 euros per 100 kilometers. On the mainland trains are available : slow and fast Intercity (IC).
Ferries
During an independent holiday in Greece you probably would like to get from one island to another. It's not a problem, because in the homeland of the first European seafarers excellent water transport: catamarans, high-speed and regular ferries, hydrofoils, catamaran cabs, yachts for rent. Navigation is from May to October. Schedules are unstable, check with Greeceferries.com or Paleologos.gr. The scatter of prices depends on the type of boat, distance, carriers, conditions: for example, a fast ferry from Heraklion to Santorini costs 60-80 €, a slow ferry – 26 €. If you want to save money, choose the non-tourist slow ferry, especially the night voyages will be inexpensive.
Rent a car
Without a car in Greece, you lose a lot. Even on a small island, personal transportation is useful for trips to remote beaches and attractions. And what to say about Crete, Halkidiki and the mainland – there without a car is like without hands. A car will save you money on cabs, buses and excursions, especially if you are staying with a family or a group. We rented a car twice in Greece (Crete and Thessaloniki), and in Rhodes took a scooter. The funny thing is that both mopeds and cars cost the same – 20 € per day.
We rent cars on two sites: Localrent.com and Rentalcars.com. We compare prices and conditions on both and choose the best one.
Traveling in Greece by car is inexpensive, easy and pleasant. I highly recommend it.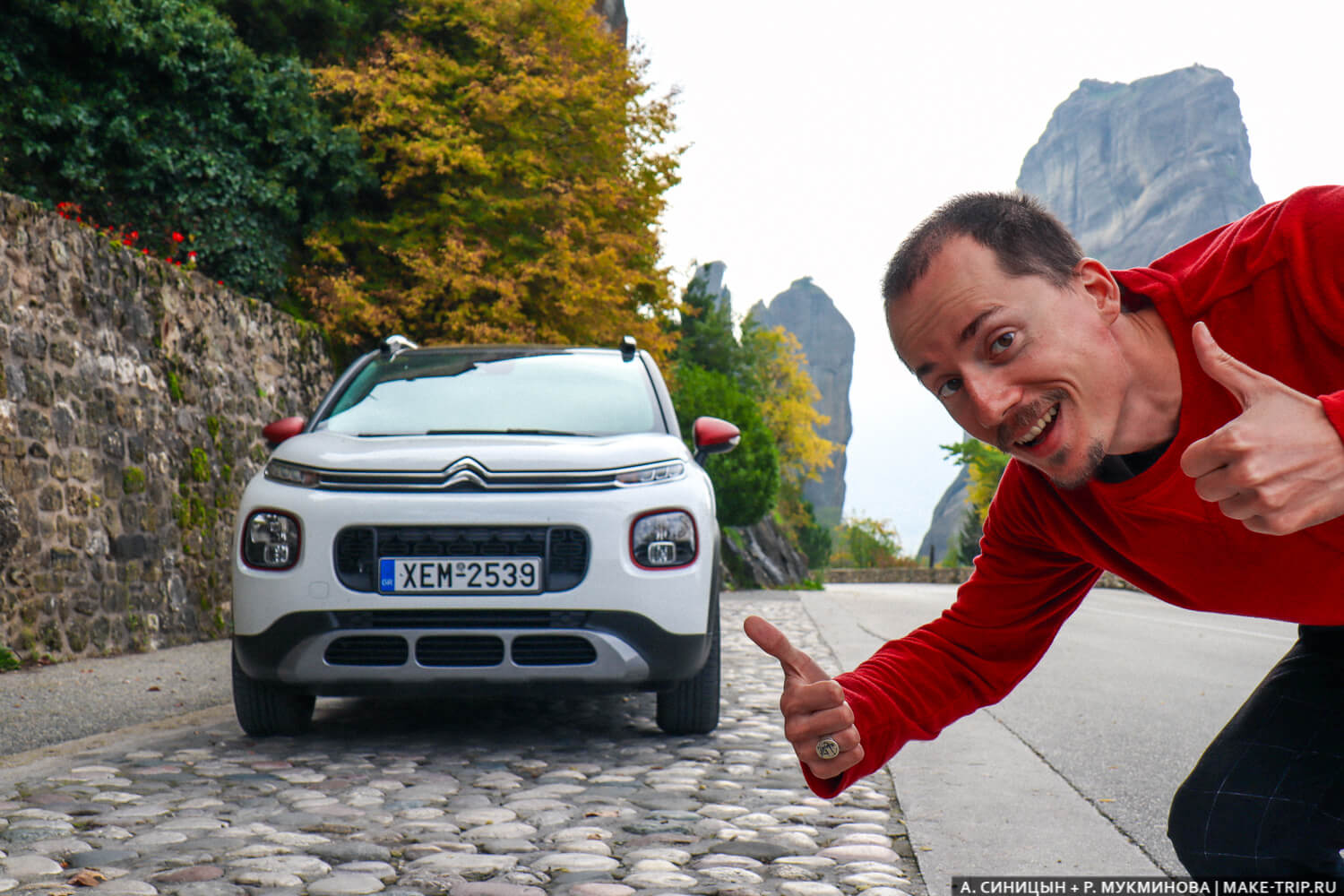 Our Citroen brought us to admire the quaint scenery of Meteora.
Excursions
For the most interesting and unusual programs go to the service Tripster. There you will find more than 100 excursions in popular cities and resorts. Offered as inexpensive group tours, as well as the most convenient individual. I like the service, above all, because there you can always find a sincerely keen guides and unique programs that do not know about the unfortunate packaged tourists who are doomed to go on a boring excursion tour operator.