Korean food: 20 delicious Korean recipes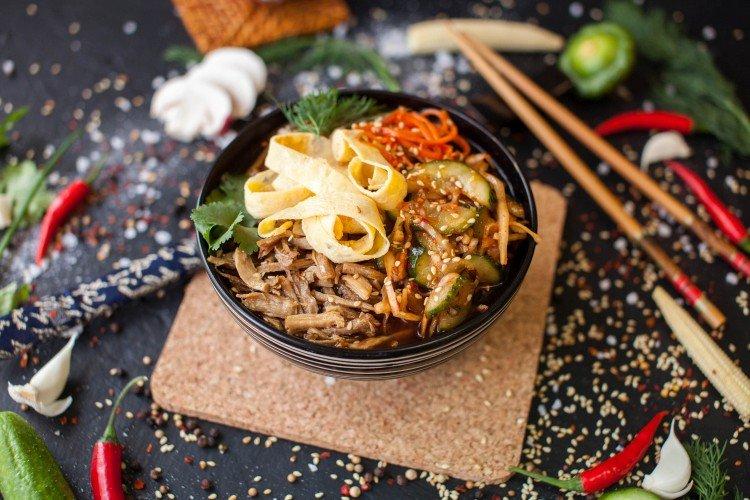 Photo: zen.yandex.ru
Korean cuisine attracts spices, interesting techniques, an abundance of vegetables and unusual dressings. It's also quite simple, despite the not-so-trivial ingredients. Here are 20 Korean recipes that you can make yourself!
1. Kimchi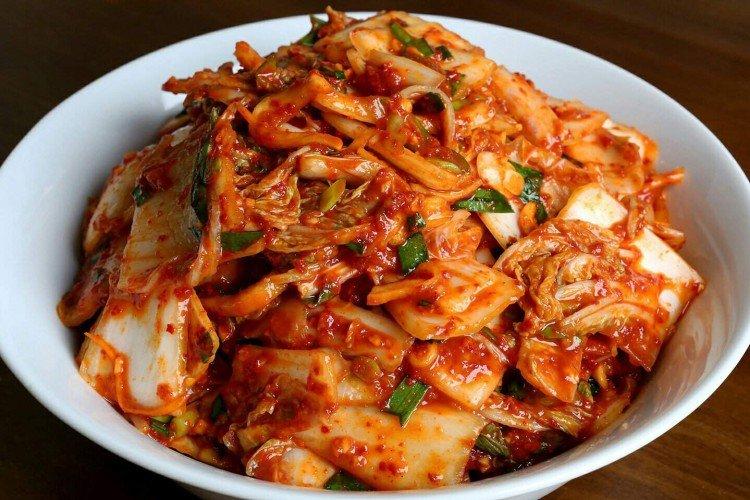 Photo: jam-bakery.ru
A stand-alone appetizer and a base for many other dishes.
You'll need: 1 kg of Peking cabbage, 4 garlic cloves, 1 carrot, 1 chili, 0.5 onion, 2 tbsp red pepper, 90 g salt, 0.5 tsp sugar, soy sauce, spices.
Preparation: Cut the cabbage into pieces and fill with a cold brine of water and salt. Press and leave at room temperature for 12 hours, turning over while doing so.
Mix the spices, water, crushed garlic and soy sauce to taste, and rub on each cabbage leaf. Add the chopped onions and carrots, fill again halfway with the remaining brine and put under a press in the refrigerator for 2 days.
2. Pigodi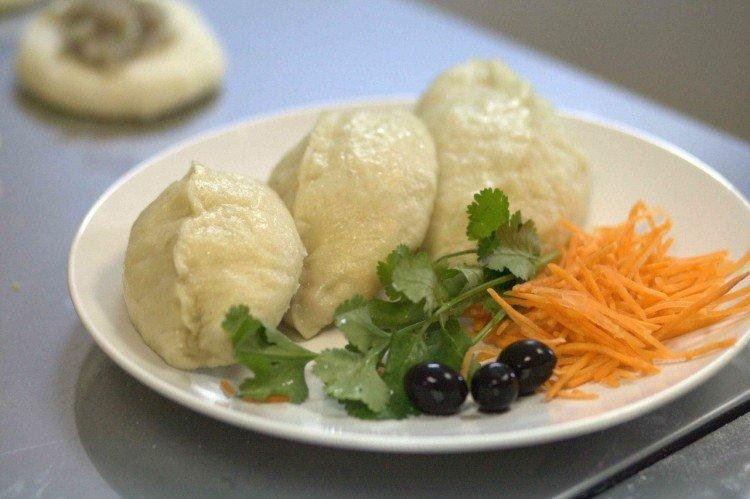 Photo: kakprosto.ru
Steamed patties with filling, also known as "pänse."
You'll need: 350 ml water, 650 g flour, 1 tsp each salt and sugar, 1 tbsp vegetable oil, 40 g fresh yeast, 250 g minced meat, 350 g cabbage, 150 g onions, spices, garlic.
Preparation: Fill yeast, sugar and salt with warm water, leave for 10 minutes, and knead the dough with the flour. At the end add butter and leave it for an hour in warmth.
Shred the cabbage and lightly fry it with minced meat, onion and spices to taste. Divide the dough into balls, roll out into tortillas, put the filling in each one and seal the edges. Leave the pigodi for 15 minutes and steam for about half an hour.
3. ttoki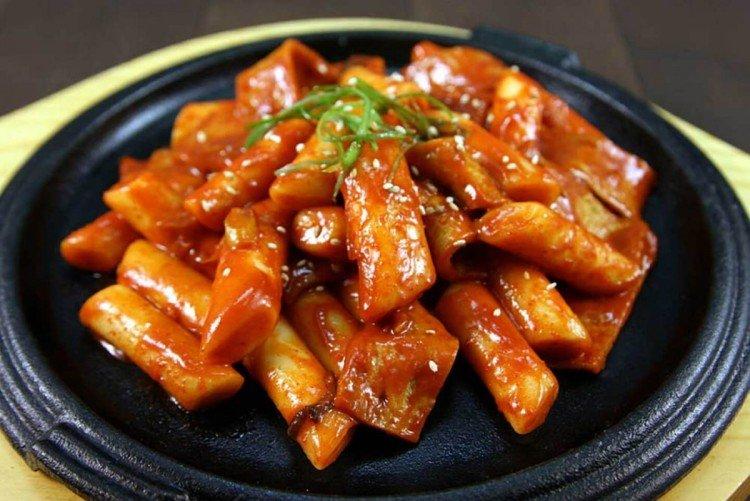 Photo: qraved.com
Delicious rice dumplings can be a dessert or an accompaniment to a main dish.
You'll need: 3 cups rice flour, 1.5 cups water, 1 tsp. sesame oil, 1 tsp. salt.
Preparation: Mix salt and flour, gradually add water and knead the dough. Leave the mixture to steam for 20 minutes, add the sesame oil and knead until smooth. Roll the dough into sausages, slice and fry with sauce or honey to taste.
4. Sundae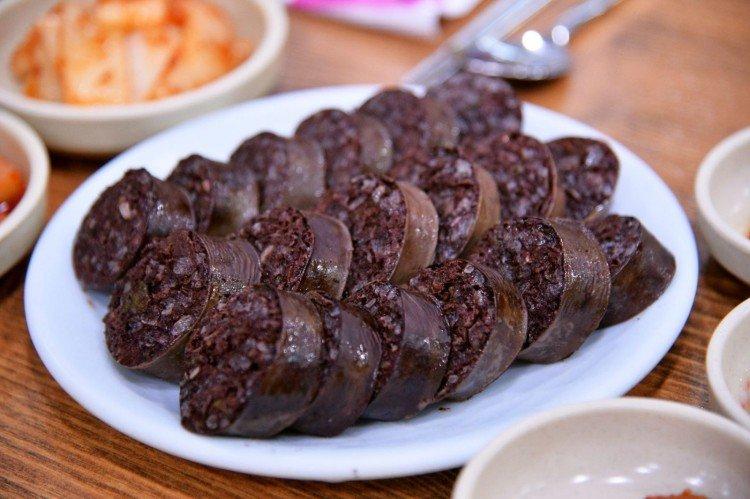 Photo: worldofmeat.ru
You're not going to believe this, but Korea even has its own recipe for blood sundae!
You'll need: 500 ml of blood, 600 g cooked rice, 250 g lard, 300 g kimchi, 100 g carrots, 400 g onions, 60 g garlic, 2 m of skulls, spices.
Preparation: mince bacon, onions and garlic, finely chop carrots, onions, garlic and kimchi and mix everything with rice. Add the blood and spices, mix thoroughly, fill the skull and boil the sundae for 7-8 minutes after boiling.
Uzbek cuisine: 20 most delicious recipes of Uzbek dishes
5. Kimchi tigue
Photo: koreantaste.lt
Original multi-ingredient soup with spicy pork.
You'll need: 250 g pork, 350 g kimchi, 200 g tofu, 0.5 onions, 2 garlic cloves, 100 g oyster mushrooms, 3 cups water, 100 ml wine, 1 bunch of green onions, spices.
Preparation: Cut the meat into small pieces and fry directly in the pot. Pour the wine, stew for 5 minutes, and add shredded kimchi. After 10 minutes add 0.5 cup of kimchi brine and water, bring to the boil and cook for another 10 minutes. Then add all the other ingredients, chopped randomly, and after 5 minutes remove the soup from the heat, season and sprinkle with green onions.
6. Twenjiang chige.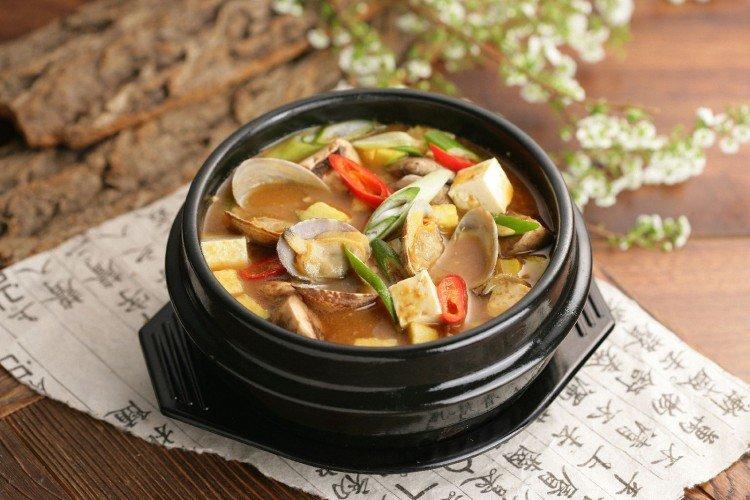 Photo: news.xopom.com
For this spicy soup, you definitely need soybean paste of the same name.
You'll need: 1 potato, 0.5 zucchini, 1 onion, 5 garlic cloves, 25 g dried anchovies, 200 g seafood, 150 g tofu, 500 ml water, 4 tbsp twenjang paste, spices, chilies, green onions.
Cook: Cut the vegetables into medium cubes and chop the chili, garlic and green onions. Put everything in a saucepan, add the seafood and anchovies, pour in water and bring to a boil.
Turn down the heat, add the Twenjiang paste, stir and simmer for 15 minutes. Add cubes of tofu to the soup, stir again and simmer for another 5 minutes. Turn off the heat, season and sprinkle with green onions.
7. Shiryagi tyamuri.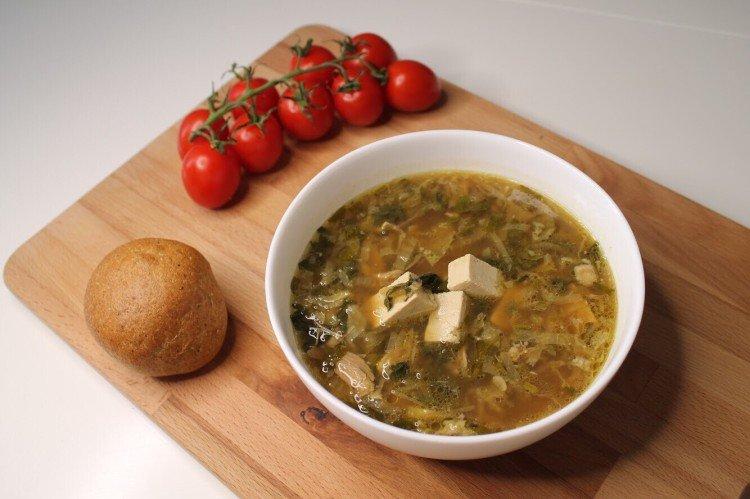 Photo: pinterest.com
Korean pork soup with Peking cabbage.
You'll need: 300 g pork on the bone, 2 potatoes, 300 g Beijing cabbage, 1 onion, 2 tbsp soybean paste, spices.
Preparation: Boil the meat until tender, and add the potatoes chopped on a Korean grater. Immediately add the cabbage, and when they are cooked – fried onions and soybean paste. Finish the soup with spices to taste.
8. Kuksa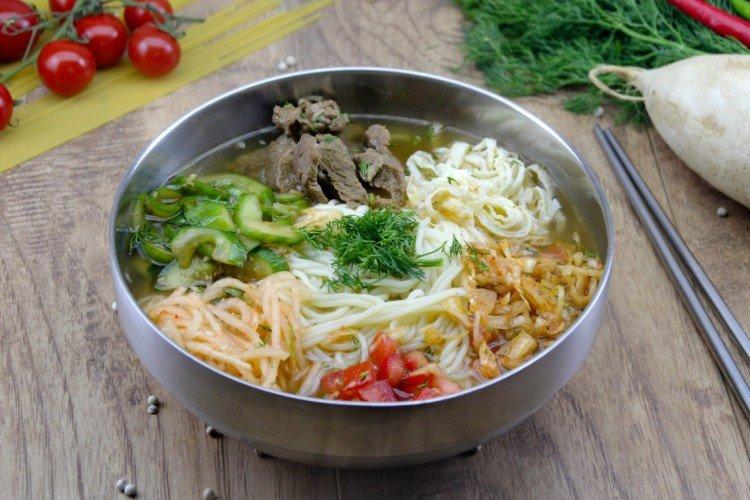 Photo: recept-borscha.ru
Traditional noodles with various additions, spices and sauces.
You'll need: 300 g noodles, 300 g beef, 2 eggs, 100 g radishes, 300 g cucumbers, 2 garlic cloves, 200 g cabbage. 50 g cilantro, 1 l of water, spices, soy sauce, vinegar.
Method: Cut the meat into thin slices and fry quickly over a high heat. Add shredded cabbage and spices, stew for 10 minutes and let cool. Separately, boil and rinse the noodles.
Grate radish and cucumbers, chop coriander and garlic, and mix all with soy sauce, vinegar, spices and oil to taste. Whisk the eggs with a couple of spoonfuls of water, fry thin omelets and slice into noodles. Arrange all ingredients on plates and pour over water with soy sauce, sugar and vinegar.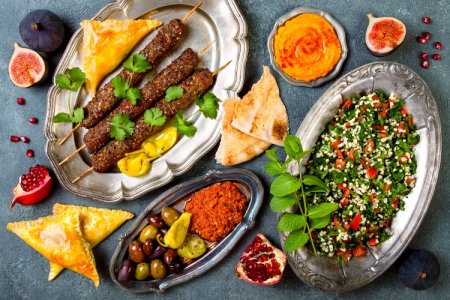 Turkish cooking: 20 delicious recipes for Turkish dishes
9. Kimpab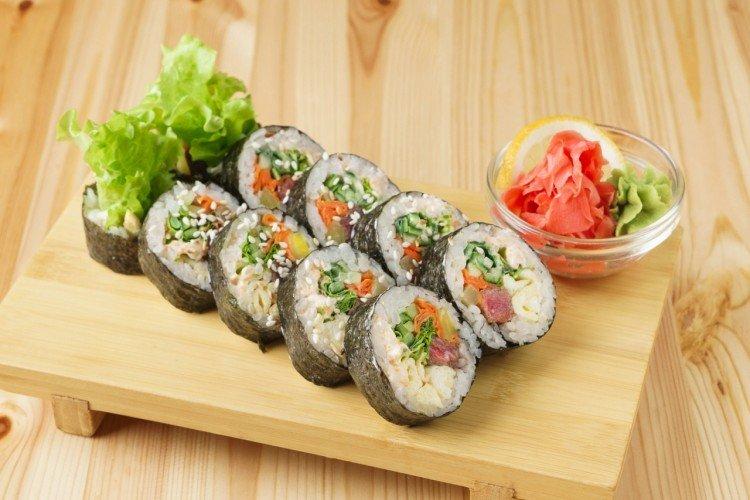 Photo: r-sushi.ru
Like any other rolls, these can be made with any filling.
You'll need: 300 g seaweed, 1 cup sushi rice, 2 cups water, 3 tbsp rice vinegar, 3 eggs, 300 g ham, 300 g pickled radish, 6 sheets of nori.
Method: Boil washed rice until tender and season with rice wine vinegar, sugar and salt to taste. Whisk eggs until puffy, fry scrambled eggs and cut into straws. Similarly slice the radish and ham. Spread rice and a strip of each ingredient on nori, and roll up the kimbab like regular rolls.
10. Chirgum cha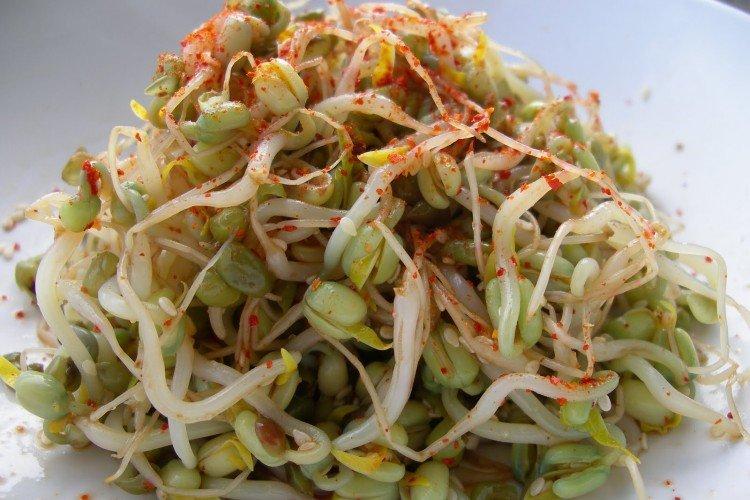 Photo: donatewales.org
An easy snack salad made with sprouted legumes.
You'll need: 400 g mung bean sprouts, 3 tbsp soy sauce, 50 ml corn oil, 50 g onions, 2 garlic cloves, 50 g coriander, 1 tbsp sesame oil, 100 ml water, spices.
Preparation: Finely chop onion, fry in corn oil until brown, add spices and strain oil for dressing. Blanch the mash sprouts in boiling water for 30 seconds, then rinse immediately with cold water. Chop garlic and cilantro, add spices and soy sauce, and drizzle everything with sesame and onion oil.
11. Pibimbab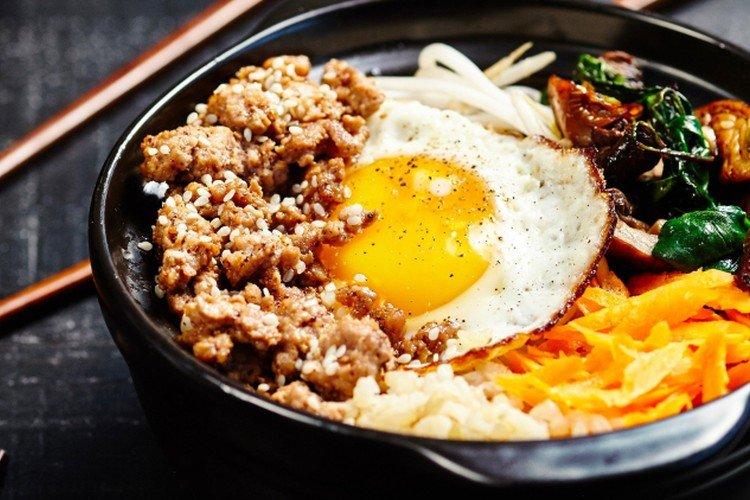 Photo: alfa-omeg.ru
Where would you go without rice and eggs in Asian cuisine?
You'll need: 150 g rice, 120 g bean sprouts, 0.5 bunch of spinach, 100 g pumpkin, 3 mushrooms, 100 g minced meat, 0.5 carrots, 3 eggs, 3 tsp soy sauce, spices, garlic, sesame seeds, 1 tsp sesame oil.
Preparation: Cook rice, separately boil 20 minutes germinated beans and mix with a clove of garlic and sesame oil. Simmer spinach for one minute, squeeze, chop, and mix with spices, garlic, and soy sauce.
Thinly slice the pumpkin, salt and fry until tender over high heat. Do the same with the mushrooms and carrots, and separately fry the stuffing with spices and soy sauce. Put all the ingredients in bowls and top with fried glazed eggs.
12. Vecha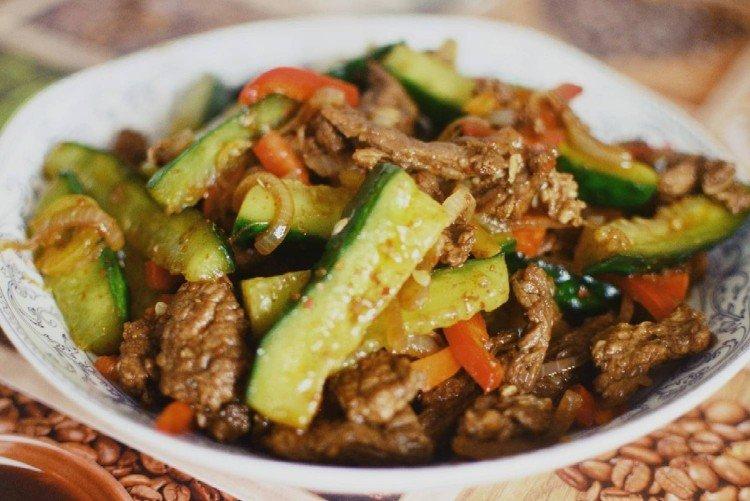 Photo: jam-bakery.ru
A perfect springtime snack of fresh cucumbers.
You'll need: 300 g beef, 3 cucumbers, 2 garlic cloves, 1 tsp vinegar, 2 tbsp soy sauce, 1 onion, 1 pepper, spices.
Preparation: Cut cucumbers in large blocks, sprinkle with salt and leave for 20 minutes. Drain the liquid, add the vinegar, garlic, spices and sugar to taste, and mix. Finely slice the meat and onion, fry until tender and then stir in the soy sauce. Slice the peppers into julienne strips, mix all the ingredients and let the appetizer infuse.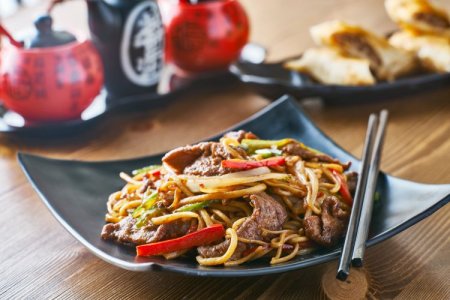 Asian Cooking: 20 the tastiest Asian recipes
13. Chicken in sweet and sour sauce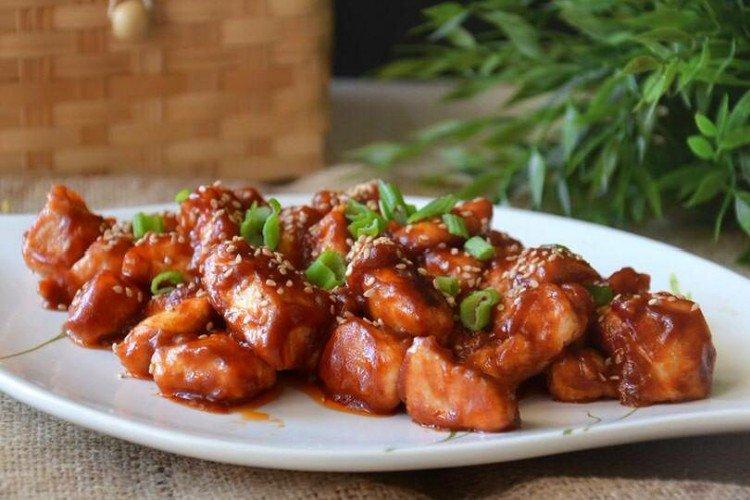 Photo: zen.yandex.ru
An Asian classic that is usually served with rice.
You'll need: 500 g chicken, 4 tbsp starch, 1 tbsp sesame seeds, 4 tbsp sugar, 3 tbsp apple cider vinegar, ketchup and soy sauce each, 1 tbsp sesame oil, spices, garlic, chili.
Preparation: Slice the chicken, mix with the starch, fry until golden and set aside. In a skillet, pour vinegar, soy sauce, sesame oil, ketchup, add sugar and garlic, and bring to a boil.
Add some water and starch to desired consistency, return the chicken to the skillet and braise for a couple of minutes over low heat. Sprinkle with sesame seeds.
14. Puktai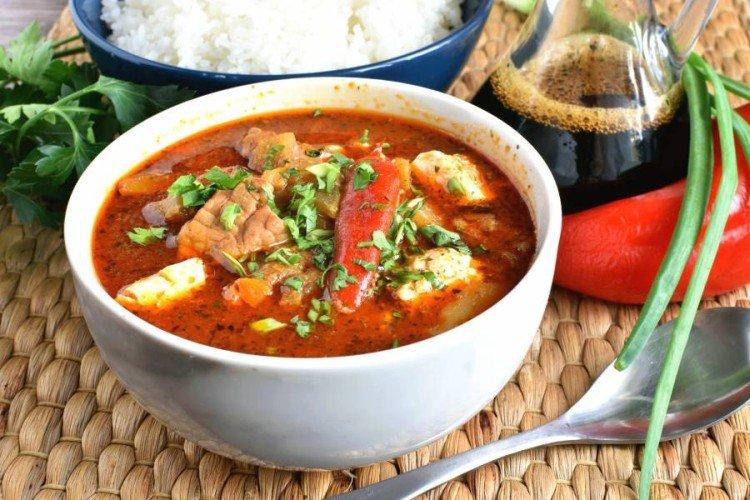 Photo: top10a.ru
Another Korean soup made with literally everything you had on hand.
You'll need: 300 g pork, 1 onion, 2 potatoes, 1 eggplant, 1 radish, 1 sweet pepper, 1 hot pepper, 3 garlic cloves, 200 ml grated tomatoes, 100 g tofu, 1 tbsp soybean paste,2 tbsp soy sauce, spices.
Preparation: Cut the meat into small cubes and fry with the onion. Add garlic and bell peppers, a couple of minutes later add the eggplant, radish and hot peppers. After another couple of minutes, pour water over everything, add the potato slices and cook until almost cooked through.
Lightly fry the soybean paste with spices and soy sauce, pour the tomatoes, simmer until thickened and add the paste to the soup. Cook for a couple of minutes, add cubes of tofu and take the thick soup off the heat.
15. Omuk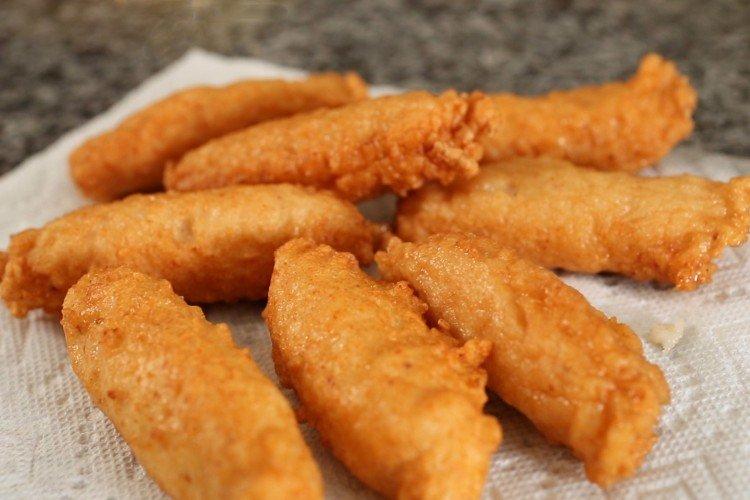 Photo: maangchi.com
Simple, quick and convenient fish sticks sold as fast food in Korea.
You'll need: 200 g fish fillets, 70 g shrimp, 80 g squid, 1 onion, 2 garlic cloves, 1 protein, 60 g flour, 60 g starch, spices.
Preparation: Chop the fish, seafood and onion with a blender or meat grinder. Add the protein, garlic, spices, sugar and a spoonful of oil and mix until homogeneous. Add flour and starch, mix again and form stick patties. Fry them on all sides.
16. Kamdi cha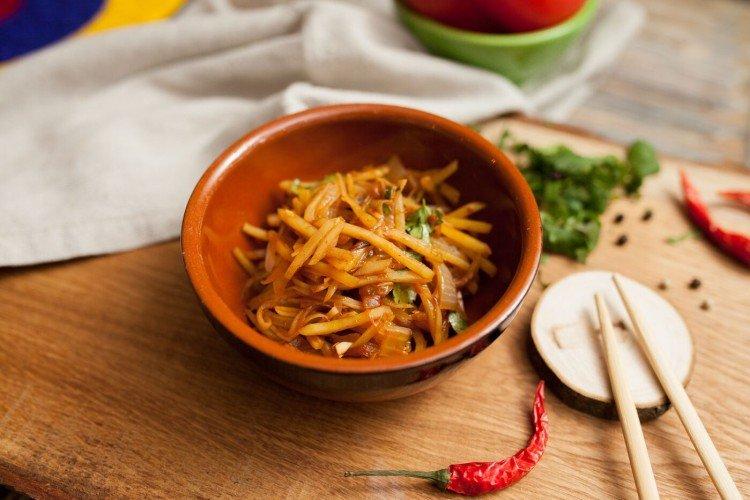 Photo: vegan-pvp.com
An unusual Korean-style potato salad.
You'll need: 500 g potatoes, 1 onion, 2 garlic cloves, 3 tbsp vegetable oil, 2 tbsp vinegar, 1 tsp salt, spices.
Preparation: Grate potatoes on a grater for Korean carrots, pour cold water with vinegar for 5 minutes, boil for 2-3 minutes in boiling water and strain in a colander. Chop the onion and garlic, fry until brown and add to the potatoes with spices and oil. Allow the salad to stand for a long time.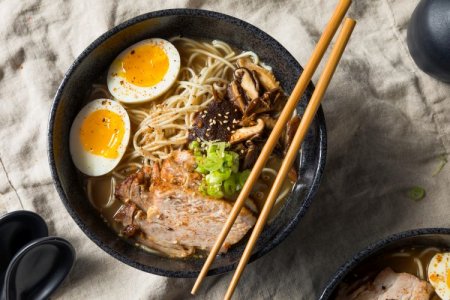 Japanese Cuisine: 20 of the Tastiest Japanese Food Recipes
17. Tokpokki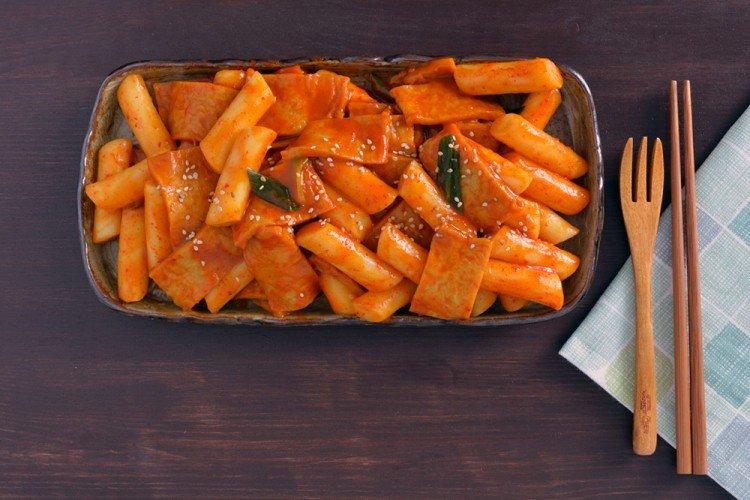 Photo: kimchiandbasil.com
Rice dumplings are sometimes sold pre-made.
You'll need: 300 g rice flour, 400 ml water, 2 tbsp paprika, 1 tsp red pepper, 2 tsp salt, 3 cloves garlic, 1 carrot, 1 onion, 150 g sausages, 100 ml tomato juice, 1 tsp each honey, sugar and sesame oil, 1 tbsp vegetable oil.
Preparation: For the dressing, mix a spoonful of water, garlic, a spoonful of paprika and salt, sugar and red pepper. Mix rice flour with salt and a glass of water, steam for 20 minutes, add sesame oil, knead into a dough and cut into slices. You will need 300 grams of dough.
Fry the onion and carrot, add the sausages and tomato juice, then after two minutes add the ttoki and another glass of water. At the end, add the dressing to taste, the remaining paprika, honey, stir and cook for 10-15 minutes over high heat.
18. Yakwa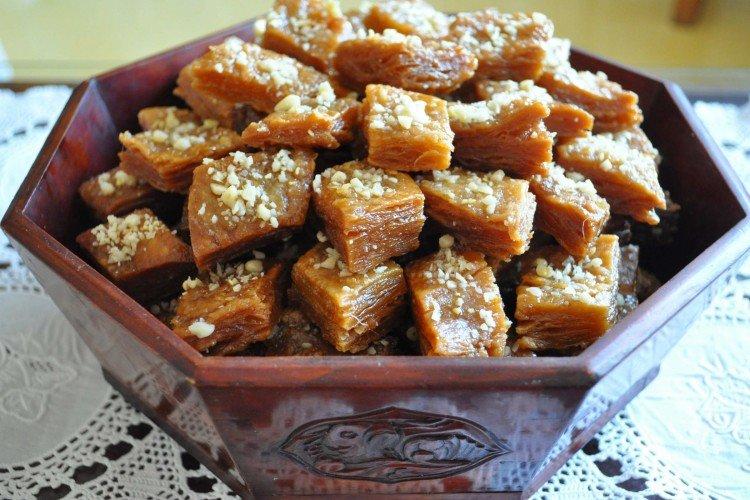 Photo: wallpaperup.com
Roasted honey cookies, also called yughwa.
You'll need: 140 g flour, 20 ml sesame oil, 30 g honey, 20 ml water, 20 ml rice wine.
Preparation: Mash the flour with the sesame oil, and separately mix the honey, water and rice wine until smooth. Add the syrup to the flour, knead into a smooth dough and leave for 30 minutes. Roll out the dough to a 1 cm thick sheet, cut into slices and fry in plenty of oil. Serve with honey.
19. Cacti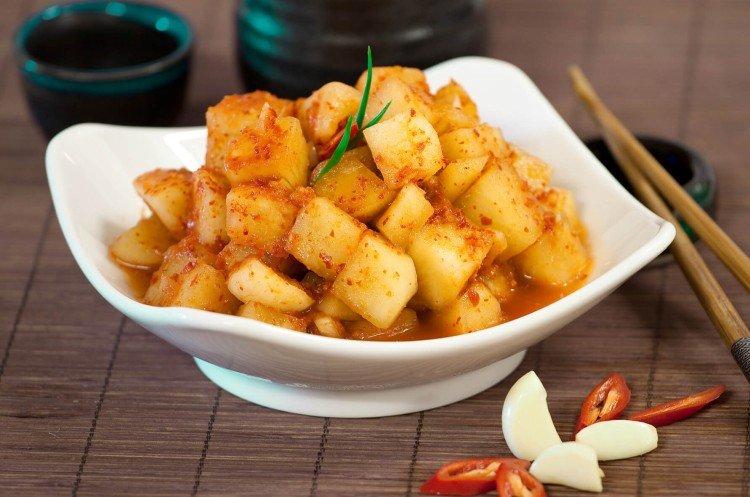 Photo: koyori.ru
Daikon with pear and Korean-style fish sauce. You can use soy sauce instead of fish sauce.
You'll need: 1.5 kg of daikon, 2 carrots, 1 pear, 1 bunch of green onions, 25 g ginger, 50 ml of fish sauce, 4 cloves of garlic, chili, 2 tbsp salt and sugar each.
Preparation: Dice the daikon, sprinkle with salt and sugar and leave for half an hour, stirring occasionally. De-seed in a colander and drain with 50 ml. Finely chop the garlic, grate the ginger and pear, chop the carrot into thin slices and the onion into short ribs. Add the fish sauce, the juice of radish, hot pepper, mix everything thoroughly and leave in a sealed jar to marinate for 2 days.
20. Pulcogi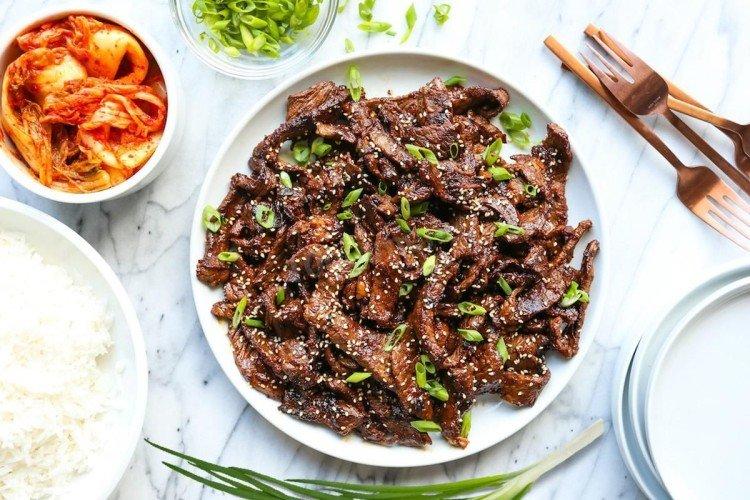 Photo: pinterest.ru
Great beef in a pear marinade.
You'll need: 500 beef, 0.5 pears, 1 onion, 4 garlic cloves, 30 g ginger, 3 stalks of green onion, 3 tbsp soy sauce, 2 tbsp sugar, 1 tbsp sesame oil, spices.
Preparation: Mix grated pear, chopped onion, garlic, ginger, spices and green onions. Very thinly slice the beef and marinate in this mixture for at least half an hour. Roast the meat in several batches over high heat.
Korean cuisine: features, traditional dishes, recipes
This article is written for introductory purposes. Consult with your doctor.
Reading time: na minutes
Content:
Asian dishes contain few calories, but they are hearty and delicious. Korean cuisine is famous for its spiciness and use of lots of spices. Pickled vegetables, grilled meat, seaweed soup, and Korean rolls are popular here. In the streets they sell fish cakes, boiled and fried seafood, and pancakes with various fillings. For dessert, Koreans prefer rice rolls with bean fillings.
Korean cuisine features
Each city adheres to the ancient traditions of cooking. Koreans use a lot of garlic, red pepper, and soy sauce, which spices up the food. The diet of Koreans necessarily includes rice, noodles, sauerkraut, fish, and meat.
Differences from Russian
Korean dishes are too spicy for the people of Russia, they often contain exotic ingredients with a specific smell. Koreans constantly use soybean paste with a pungent flavor (twenjang) and sauce, red hot pepper, garlic, ginger, 70% acetic acid, and coriander.
The most common Korean dish is kimchi made from Beijing cabbage. Pickled fish, seafood, or meat without heat treatment (hwae) are popular in the country. They are eaten with soy bean sauce, wasabi, and cabbage leaves.
Korean cuisine is considered one of the healthiest in world cooking.
The main features of
green – affects blood circulation;
red – improves the cardiovascular system;
yellow – affects the skin;
white – normalizes the state of the gastrointestinal tract;
Dark – removes harmful substances from the body.
Koreans cook food over high heat until it is half-ready; they do not tolerate overcooked or overcooked foods. The main foods are rice and noodles, and they are combined with vegetables, meat, and fish. The locals are not accustomed to eating hot dishes. If they have been thermally processed, they are necessarily cooled.
The basis of Korean cuisine
The basic products include rice, vegetables, fish, and seafood. Large amounts of spices, soybean paste and sauce are added to each dish.
Cereals are considered the mainstay of the Korean diet. Rice is boiled without adding salt and seasoning, as various appetizers of fish, meat, and vegetables give it flavor. Noodles, baked goods, tea, and wine are made from it. Congbap and pibimbap dishes, which contain this ingredient, are popular with locals. The former additionally includes barley, beans, black soybeans, and peas. Pibimbap includes soy spicy paste (kochujan), thinly sliced vegetables (zucchini, daikon, cucumbers), and meat.
Spicy flavored seasonings
kanjan – sauce with a pungent odor, which is a result of fermentation of soybeans;
kochujan – dark red soybean paste based on sticky rice and fermented beans with lots of hot peppers;
twenjan, a brown paste made from soy malt and a salt solution.
Fish and seafood
Koreans are leaders in the consumption of seafood. They prefer tuna, shrimp, crabs, and Atlantic salmon. Their favorite dish is gyeongjang gejang, which is raw crab marinaded with sesame oil and spices. Fish and seafood are used to prepare kimbap (analog of Japanese rolls), hwae, omuk (fish sticks), meungtang (spicy fish soup), and chemul pakjeon (fried flatbreads with seafood).
Seaweed (seaweed soup, brown seaweed jelly) is often used to prepare appetizers and first courses.
Pork and beef
In the country, meat is more expensive than seafood. Despite the high price, locals often consume meat dishes. Bossam (boiled pork brisket with spices) or jokbal (pork legs stewed in spices and rice wine) are traditionally served with alcohol. Favorite meat dishes of Koreans include pulkogi and kalbi, which are cooked on a grill. Tasty soups (gomtang, solonthang, and saxo) are made with meat broth.
Vegetables
Pickled or sourdough vegetables are an essential part of traditional Korean cuisine. As an appetizer they are served with rice, meat, fish, and seafood. Potatoes, tomatoes, cabbage, carrots, eggplants, zucchini, radish are used here. The most famous vegetable dish, kimchi, is made on the basis of Beijing cabbage, but there are over 200 variations.
What Koreans eat on a daily basis
Koreans eat soups at all hours of the day, which are made with meat, fish, or vegetable broth. An important part of the local cuisine is considered meat roasted on an open fire, rice breads, and omuk. Rice cakes with sweet filling or deep-fried cookies are preferred for dessert.
They are characterized by their density and the use of a large number of spices. Locals make two types of soup, "kuk" and "thang. The first type includes more liquid and less thick soup, while the second type is the opposite. Koreans first put fish or meat on a plate, which they pour in a clear broth with soy sauce added.
Sollonthan. The main ingredient is different parts of beef. To get the milky-white color, the soup is boiled for a long time, so Koreans prefer to order it in cafes.
Twendian tigye. An unusual taste and spice is given by a broth based on seafood, seaweed, and anchovies with soybean paste. Mushrooms, vegetables, fish, and meat are added to it.
Muguk. This dish is made of thinly sliced daikon radish and beef. The meat, marinated in sesame oil, is fried and put in the liquid.
Tampon. Spicy soup includes seafood, meat, noodles, and lots of vegetables. It is flavored with dried chili flakes, crushed garlic, ginger, and fish sauce.
Samgetang. The main components are ginseng root and whole chicken stuffed with sticky rice and Chinese dates. Additionally, ginger, leeks, radishes, garlic, and herbs are put into the soup.
Miekkuk and kuksi are the most popular soups in Korean cuisine.
Appetizers
In South Korea, an appetizer (panchan) is perceived as a middle ground between a condiment and a side dish. It always includes a lot of garlic, red and black pepper, paprika, and onion. According to tradition, the portions of the appetizers are small, but they are plentiful. Most of these dishes are vegetarian, but sometimes there are appetizers with seafood or meat.
The table necessarily serves kimchi, chon (pancakes made of flour and potatoes), and namul (fried, pickled, or fresh vegetables with spices). In addition, there are chorim, chim, and pok chim appetizers. The first ones are prepared by long boiling of products in broth with spices. Chim is stewed in pots until the liquid evaporates. Pokkym means light frying of vegetables, meat, seafood with spices.
Meat on grill
Cooking food over an open fire has become an important culinary tradition. Such dishes are called "kui". In local restaurants, an individual grill oven is placed in front of the guests so that they can roast meat, vegetables, and seafood. The most popular dish is considered pulkogi – grilled marinated beef or pork.
For supper people often eat pork breast roasted on an open fire with vegetables (samgepsal). For holidays, grilled pork or beef ribs are prepared as kalbi. A marinade of soy sauce, corn syrup, apple puree and citrus fruits gives the meat a sour-sweet taste.
Fast Food in the Street
Local markets offer simple but delicious food. Meat, squid, octopus, and shrimp kebabs are appetizing, lavishly doused with a spicy-sour sauce.
tokpokki – spicy rice rolls fried in sauce with vegetables;
kkochi omuk – fish flour dough on a skewer cooked in broth;
thwigim – deep-fried seafood, dumplings, vegetables, eggs, noodles;
pungoppan – pastry in the form of fish with a sweet filling of red beans;
keranppan – fried bun with egg;
omuk – fish cutlets served with fresh vegetables and anchovy- or crab-based broth;
chemul pajon – pancakes with a vegetable filling or seafood;
sundae – a blood sausage made of pig's blood, noodles, and barley.
Sweet
Koreans use rice flour instead of wheat flour. Desserts include cane sugar, honey, and sweet fruits and berries. Popular dishes include bean paste tortillas (hottok), steamed rice cakes with sweet filling (ttok), deep-fried cookies (yakkwa), and nut cake (hodupai). Tasik cookies have an unusual taste and appearance. They are made of pine pollen, black sesame, lemongrass, seaweed, or mung bean. The products are stamped with the dragon and phoenix bird seals.
Traditional Korean dishes
In addition to the famous kimchi appetizer, locals also enjoy twenjang chige stew, solonthang soup, and chapchee noodles. Pulkogi, semgepsal, kuksu, and hottok cakes are popular dishes in the country.
Sundupu jigae.
This Korean stew is traditionally cooked in a clay pot. First, fish is boiled in the pot. Then beef, tofu, clams, hot peppers, and eggs are added to the liquid.
Takchuk
Liquid rice porridge is cooked in chicken broth, for which a whole chicken is used. The carcass is stewed over low heat for at least 2 hours. Later, the meat is separated from the bones and added to a plate of rice.
Sollonthan
This soup is a traditional winter soup. Different parts of beef are used: shank, brisket, shin, tongue and gristle. These ingredients are boiled for 10 hours to get a thick broth of milky color. Put green onions, ginger, garlic, and a sprinkle of black pepper and salt.
Twenjang chige.
This national dish resembles a liquid stew based on a large number of ingredients. The main ingredient is the soybean paste twenjang, which is added to a broth of white radish and dried anchovies. Later, zucchini, potatoes, green onions, seafood, and tofu are added to the liquid.
Kimchi
Pickled vegetables are the backbone of Korean cooking. Kimchi is made from kolrabi, eggplant, radish, and cucumber, but the most popular dish is made from Beijing cabbage. It is coarsely chopped and soaked for several months in a salted seafood broth. Chili peppers, garlic, ginger, and green onions are added. The fermented vegetables are used to make soup.
Chapchee
This Korean appetizer is made from starchy noodles fried in sesame oil. They are mixed with thin strips of vegetables and meat, mushrooms, herbs, and seasonings. The result is a spicy salad which is topped with soy bean sauce and sprinkled with sesame seeds. Serve it with rice, either hot or cold.
Samgepsal
These are thin slices of grilled pork belly. They are eaten with lettuce or perilla leaves. As a garnish, pickled or fresh vegetables, chopped garlic, kimchi, soy sprouts, radishes, and seaweed are suitable. Samgepsal is considered a good appetizer for the local soju liquor.
There are many pork dishes prepared in Korea.
Pulkogi
A popular meat dish considered analogous to barbecue. Pieces of beef, veal, or pork are marinated in a sauce with garlic, sesame oil, sugar, and black pepper. They are grilled with onions, pears, and mushrooms. Pulkogi can be wrapped in cabbage leaves or lettuce.
Khotok
Flour product in appearance resembles pancakes. The yeast dough is made from wheat flour. In the classic recipe, the filling consists of honey, cinnamon, any nuts and seeds. Nowadays, sweet red bean paste, pulkogi, kimchi, and tofu are added to hotpotok.
Jannem tundak
These are shanks or other parts of chicken in a spicy-sweet sauce. First they are salted, peppered, and dipped in batter. The meat is deep-fried. In a separate bowl, fry garlic, add kochujan, grated ginger, rice wine vinegar, chili pepper, paprika, and corn syrup. Put shanks in sauce and stir to combine.
Kuksoo
A cold dish reminiscent of okroshka. Kuksoo consists of noodles, vegetables, meat, and scrambled eggs. Chopped cucumbers, tomatoes, onions and pork are fried with garlic and spices (chili pepper, kochujan, paprika, coriander). Shredded cabbage is poured with soy bean sauce. Make scrambled eggs which are rolled and thinly sliced. Place all ingredients in a bowl and pour over muree dressing. Salt, sugar, soy sauce, rice wine vinegar, herbs, garlic, cucumbers, tomatoes, and tomato seeds are added to cold water.
Kimbap
This is the Korean equivalent of rolls. Kimbap is made from brown or white rice wrapped in red seaweed. In the middle are beef ribs, cucumbers, carrots, tuna, calamari, crabmeat, kimchi, and cheese. The filling can be fresh, fried, or pickled.
Pibimbap
A traditional Korean dish includes rice, fresh or pickled vegetables (namul), and thinly sliced roast beef. Pibimbap is often filled with daikon, mushrooms, cucumbers, soy sprouts, spinach, zucchini, bamboo, and fern. Chicken or seafood are sometimes used in place of beef. Eggs or a raw egg are placed on top of the rice. Depending on the composition of the appetizer, there are different types of dishes, but pibimbap cheonju is considered the most popular.
Tokpokki
Cylindrical rice cakes are stewed in a gochujang-based sauce. It gives the tasteless dough a spicy-sweet flavor. Tokpokki are often served with omuk, sausage, Korean dumplings, and eggs.
Korean Beverages
South Korea is home to a large number of non-alcoholic and alcoholic beverages. Koreans have popular teas made of flowers, citrus fruits, green plums, lemongrass, cinnamon, corn, cereals and seeds, and Chinese dates. Cafes serve a drink based on a powder of roasted beans and seeds that is mixed with milk and sugar. Traditional drinks include yulmu and sunnun. The latter is made on the basis of the crust formed after boiling rice. Yulmu is made from the grinded fruit of the yowl tears plant.
The tea ceremony in Korea is no less exquisite than the Chinese one.
Soju is the national Korean liquor with the scent of green tea and lemon. It is made from varieties of sweet or starchy potatoes. Soju contains up to 20% alcohol. But the drink, made in the city of Andon, has a strength of 45% and is equal to cognac.
Munbeju is a distilled liquor made from sorghum, millet, rice, wheat, and nuruk sourdough. Its aroma is dominated by the smell of pears and the amount of alcohol is 40%. Moonbeju has the status of intangible cultural heritage of South Korea.
Makkoli (nonju) is a milk-colored drink. It is made by fermenting a mixture of uncooked boiled rice and water. It has a sweet taste and a strength of 5-7%.
Cheongju. A pure rice wine that is similar in characteristics to sake. Nuruk rice is fermented for 16-25 days. There are varieties of cheongju: with chrysanthemum, ginseng, lotus leaves, rhododendron, and pine sprouts.
Fruity and floral wines are common in the country. They are made from raspberries, pomegranates, chrysanthemums, honeysuckle, and azalea flowers. Koreans drink the medicinal wines tosoju and pakseju. The exotic beverage pamju is made on the basis of soju liquor, in a vessel with which a poisonous snake is placed.
Traditional holiday dishes
No holiday is complete without chapchee, kimchi, chimpeni cakes, and rice bread. On birthdays, miekkuk, which promotes longevity, is a must-eat. Korean New Year's Eve dishes include beef broth soup with rice dumplings (ttokguk), kalbi, and pancakes with stuffing (chon). For dessert, they serve ttok cakes of different colors with a sweet sikhe drink based on boiled rice and pine nuts. Traditional crispy yugwa buns made of rice flour and alcohol are always prepared for weddings and are sprinkled with honey.
Attention to Serving
Koreans are proud of ancient traditions, so they adhere to them in serving. Dishes are served in small portions. A bowl of rice, soup, metal chopsticks, and a spoon are placed in front of each person from left to right. The latter is used for soup, stew, and rice, while the chopsticks are used to eat appetizers. Panchan is served in communal plates, so they are placed in the center of the table. It is indecent to lift the bowl of food and bring it to the mouth, and it is customary to bend over the utensils.
Recipes for Home Cooking
Korean dishes are simple but hearty. They necessarily include spices, soybean paste or sauce that make the food flavorful and tasty.
Chicken in soy sauce
chicken shanks – 8 pcs;
soy sauce – 50 ml;
hot water – 100 ml;
sugar – 8 tbsp.
Chicken in Korean soy sauce has long been prepared by all housewives in other countries around the world.