Czech Republic tours from Moscow 2022
We've picked out several actual offers for holidays and prices in Czech Republic. We've divided them into different kinds of rest and Czech hotels to make it easier for you to choose. If you have any questions about rest in the Czech Republic, call our offices and our consultants will help you!
Holidays in the Czech Republic
The Czech Republic is a country equally famous for its cuisine, ancient sights, specialty beer and excellent opportunities for recreation. No wonder that tours to the Czech Republic are so popular with our compatriots.
Geography
Bordering Germany, Poland, Slovakia and Austria, this country with a total length of the borders in 1880 kilometers is in the geographical center of Europe (the country even has an obelisk, proudly confirming this status). The landscape is very diverse, and there are many mountains, extensive river systems, and about a third of the territory is covered by forests.
Climate
The climate in the Czech Republic is rather quiet: it changes from maritime to continental and varies greatly in the different seasons. In July the temperature reaches on average +20 degrees, in January (the coldest month of this country) it usually reaches -3 degrees. If you want to come to the Czech Republic to ski, you should focus on the season from December to April.
The official language of the country is Czech. You should know at least the basic phrases, because in English to communicate here is much harder. A good thing: many words of the local language are similar to Russian (because of the common linguistic origin).
Religion and Customs
In the Czech Republic, there are many interesting traditions, which definitely should not be missed. For example, if you come here on December 26, you can not miss the day of St. Stephen, during which people go out on the streets caroling. It is also customary here to celebrate Christmas, Easter, Shrovetide, New Year, Independence Day and the Day of Liberation from Fascism.
To buy a ticket to the Czech Republic in 2020, the Russian citizen will need a valid passport that expires no earlier than three months after the end of the visa. There are several types of visas to this country:
– transit, will be useful for those who are not going to the Czech Republic itself, but simply passing through its territory (visa-free transit is possible, if carried out in the transit zone);
– C category visa will be appropriate if the stay is planned for no more than 90 days, plus it allows visits to other Schengen countries, can be executed through a travel agency;
– D category visa, it is important for those who are going to stay in the country for 90 days or more (up to a year), apply at the Czech Consulate General.
Currency
The basic unit of currency used in the Czech Republic, is the krone (100 halers). Please note: Euro is not actively used, it is recommended to change it in banks or exchange offices. In tourist places the cost of exchange may be up to 20% of the total amount.
Hotels
Hotels in the country, especially in Prague, are quite consistent with their declared level of stars, and the average price of single and double rooms is lower than those in Europe. You can stay at local hotels, as well as global chains like Hilton. Keep in mind that, as a rule, these facilities offer almost no entertainment for children, as it is common in many other countries.
Entertainment
The Czech Republic certainly has a lot to see and do during your trip. If you like wildlife, check out Jihlava Zoo or Zlín Zoo. If you prefer to hear about scientific achievements, you can visit the scientific center "Techmania". There is also a luxurious aquadrome, an auto-drome, and one of the largest water parks in Europe, Aqua Palace, for active recreation. You can go to the Strahov Monastery, which has existed since the 12th century and contains a unique library with more than 200,000 volumes.
Shopping
Prices in the Czech Republic on average lower than in other European cities, so here very often come for shopping. In this country you can buy not only luxury goods, but also fairly budget items. Often people here buy shoes, clothing, handicrafts, original alcoholic beverages including beer (by the way, the country is one of the first places in the world for its consumption) and wine, and jewelry, which necessarily contains the famous Czech garnet. Keep in mind that most stores are open here from 9 am to 6 pm (except for some malls).
1001 Tour" will help you to make a cheap flight from Moscow to the Czech Republic. Use our service to find the best deals.
Tours in the Czech Republic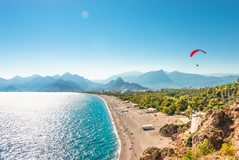 Last minute tour prices and deals to the Czech Republic from Moscow
Cheapest tours in the Czech Republic in 2022
Prices are per person based on double occupancy. We've selected the cheapest tours for each month. Click here and choose a hotel for your dates.
September
October
November
December
for 3 days
–
–
–
–
for 7 days
–
–
–
–
for 11 days
–
–
–
–
for 14 days
–
–
–
–
Selecting tours by hotels
The hotels which our tourists choose most often for their journeys.
Czech Republic: journey through time and rest for body and soul
The Czech Republic – the heart of old Europe. No other country on the European continent has preserved so many buildings and cultural traditions in their original form. "Golden Prague is not inferior to Vienna. Holidays in the Czech Republic should be aware that the country introduced a city tax and in many hotels there are deposits. The country has four major rivers, there are 2500 castles, more than 50 resorts, the lack of the sea compensate the mountains and springs. Tours to the Czech Republic are popular all year round: the capital and resorts, museums and palaces, restaurants and breweries are visited by millions of visitors.
Excursion tours of cities and castles Pre-war charm preserved territories of the kingdoms of Bohemia, Moravia and Silesia Duchy, excursions to local cities, castles and nature reserves impress experienced tourists.
Prague is a city of 100 towers, Gothic and Baroque buildings, bright roofs and glossy sidewalks, majestic bridges, cozy gardens (local parks) and atmospheric restaurants. Romantic part of the city is situated on the left bank of Vltava – Malá Strana and Hradčany Castle. The right bank part of the capital attracts tourists with the Old and New Town, cathedrals and squares.
Brno, the ancient capital of Moravia, is interesting with its magnificent cathedrals, squares with preserved monuments, museums and Špilberk Castle, the city town hall and karst caves.
A trip to the castles can be a separate route or can be included in guided tours. Since medieval fortifications are perfectly preserved in absolutely all regions of the Czech Republic, you can visit nearby castles in any city. It is worth seeing the interiors of the palaces and manicured gardens, visiting museums and viewing platforms.
The most beautiful castles of the Czech Republic:
Hluboka nad Vltavou;
Karlstejn;
Krumlov;
Krivoklat;
Konopiste;
Orlik;
Lednice;
Telč;
Chateau Baroque;
Hvalsky;
Litomishl;
Mnichovo-Hradiste.
You can see the sights of the Czech Republic at any time of year, but the most picturesque period is spring and autumn.
Treatment and SPA at Czech resorts Recovery and recreation in hotels and spa hotels at thermal springs with mineral water is provided in Karlovy Vary and Mariánské Lázně. Tours to Czech spas are popular among Europeans and citizens of Russia since the times of the Austro-Hungarian Empire.
In Karlovy Vary the composition of mineral water is identical in a dozen springs, but the saturation with carbon dioxide and temperature are different. Vacationers drink the water and take therapeutic baths in numerous sanatoriums and spa hotels. There is a polyclinic, balneolechebnitsa, pump rooms.
Mariánské Lázně (former Marienbad) is the second most popular balneological resort in the Czech Republic, situated next door to Karlsbad (less than 50 km). There are 40 springs here and another 100 in the region. Local peat and muds, inhalations with healing gas, and baths are used for recovery procedures.
You can have a rest with your family, strengthening your health and gaining new impressions at any time of the year. In summer the number of holidaymakers is much greater.
Gastronomic tours to the Czech Republic During the winter holidays (from mid-December to mid-January) the number of travelers in the country increases, and gastronomic tours in the off-season will bring more fun. Foodies will not be able to resist getting to know the local treats and iconic Czech drinks:
beer;
slivovitz (brandy);
Moravian wines;
aromatic Becherovka;
herbal absinthe.
The city restaurants and pubs invite you to try pork knuckle, sweet and sour soups in bread, dumplings with cabbage and local cheeses. At fairs and festivals, squares of the old town tourists can taste Czech pastries and sweets. For beer you can go to the brewery and taste the best varieties, because the drink in the pubs seriously inferior in taste and often does not meet the expectations of tourists.
Winter tours In winter, lovers of active recreation go to the mountainous regions of the country, where the season begins in December and ends in the middle of spring. Tourists most often buy ski tours to the resorts of Giant Mountains, Harrachov, Špindlerův Mlýn and Liberec. Well-equipped slopes, pubs, bathhouses and entertainment for the whole family attract athletes and fans from all over Europe.