The 6 best ski resorts in Austria: an overview
Austria – a classic winter holiday for true connoisseurs. Ski resorts with a high level of quality and service, a lot of impressive peaks and different ski areas, a lot of entertainment and reasonable prices compared to France, Switzerland, Germany. We have compiled for you a selection of the most attractive resorts in Austria, which are worth paying attention to.
Friends, we remind you that we have a super handy app for iOS, which is available in the App Store
Download, try it and leave your feedback!
Selden
Sölden is well known to those familiar with ski Austria. It is rightly considered one of the best resorts not only Austria It is regarded as one of the best resorts not only in Austria but also in Europe, thanks to its unique nature, a long skiing season and pistes that suit everyone, from champions to beginners. Selden – Sölden is 2 ski areas (glacier and winter) and 3 peaks (the famous "Big Three" – Geislachkogl (3058 m), Tiefenbachkogl (3250 m), Schwarze Schneide (3340 m)), for which come here and professionals extreme climbers.
© depositphotos
© depositphotos
The total length of slopes is 145.5 km, most of them are red slopes, which can be accessed with the help of elevators (there are 33 of them). Snowboarders will enjoy the snowpark, and for fans of skiing there are kilometers of hiking trails.
Also for the pleasure of tourists there is an observation deck, panoramic cafes and restaurants that are "scattered" on different peaks and slopes, allowing the full view of these incredible landscapes. Sölden is also loved for its famous thermal springs complex under the open sky – Aqua Dome, with baths, saunas and salt procedures. In addition to this resort you can go sledding, snowshoeing, ice skating, cross-country skiing or go hiking. There is something for everyone!
The cost of the ski passes (price for the moment):
1 day: adult €51.50-62 (depending on the day), teen (15-18 years old) from €41, children from €28.50; for a week: adult from €316, teen from €252.50, children from €173.50.
How to get there: from Innsbruck (from the airport, transfer/car – 1-1.5 hours), from Munich (2-3 hours), from Salzburg (2.5-3.5 hours). Ticket prices: Kiev-Innsbruck – from €250 (round trip), Kiev-Munich – from €130, Kiev-Salzburg – from €160.
Prices for accommodation: 3* – from €100, 5* – from €380 (double occupancy).
Kitzbühel
One of the first ski resorts that appeared in Austria. Kitzbühel is a mix of the largest ski area and the historic center.
Kitzbühel is a favorite destination for snowboarders (especially the Kitzbüheler Horn), and is home to the world famous "Streif" slalom course, where world cup competitions are held. There are 60 runs (most of them red) and 54 elevators, a fan park, half-pipes, cross-country skiing and bordercross pistes… In other words, Kitzbühel is not just for a reason that it enters the famous Best of the Alps rating.
As for entertainment Kitzbühelcan offer four outdoor skating rinks, swimming pools and tennis courts, curling, sledding and snowshoeing and much more. This is also an old town with many attractions: the fountains Stadtbrunnen and Brunnen Spielende Gemsen, City Hall, 3 ancient castles (Lebenberg, Munichau, Kaps), chapel, churches and cathedrals, the Museum of Skiing History (at an altitude of 1700 meters), the City Museum of Kitzbühel, located in an old tower, Hinterobernau Farmstead Museum and Kitz Art Gallery.
The cost of the ski passes (price for the moment):
1 day: adult from €49.50, teen from €36.50, children from €24.50; for a week: adult from €276.50, teen from €207, children from €138.
How to get there: you can get there by car or by bus from Salzburg (75km) or Innsbruck (90km). Airfare Kiev-Salzburg – from €260, Kiev-Innsbruck – from €250 (both ways).
The cost of accommodation: 3* – from €130, 5* – from €325 (for double occupancy).
St. Anton
This resort is ideal and will satisfy all the wishes of experienced skiers. Every year in St. Anton attracts thousands of professional skiers, skiers, snowboarders from all over the world, because the resort is considered not only one of the best in quality and service, and is also famous for the excellent slopes, high difficulty skiing, 3 half-pipes and 2 fan parks. For beginners, of course, there are pistes too, but experienced skiers claim that not even all of the blue pistes here are really easy.
© depositphotos
7 best ski resorts in Austria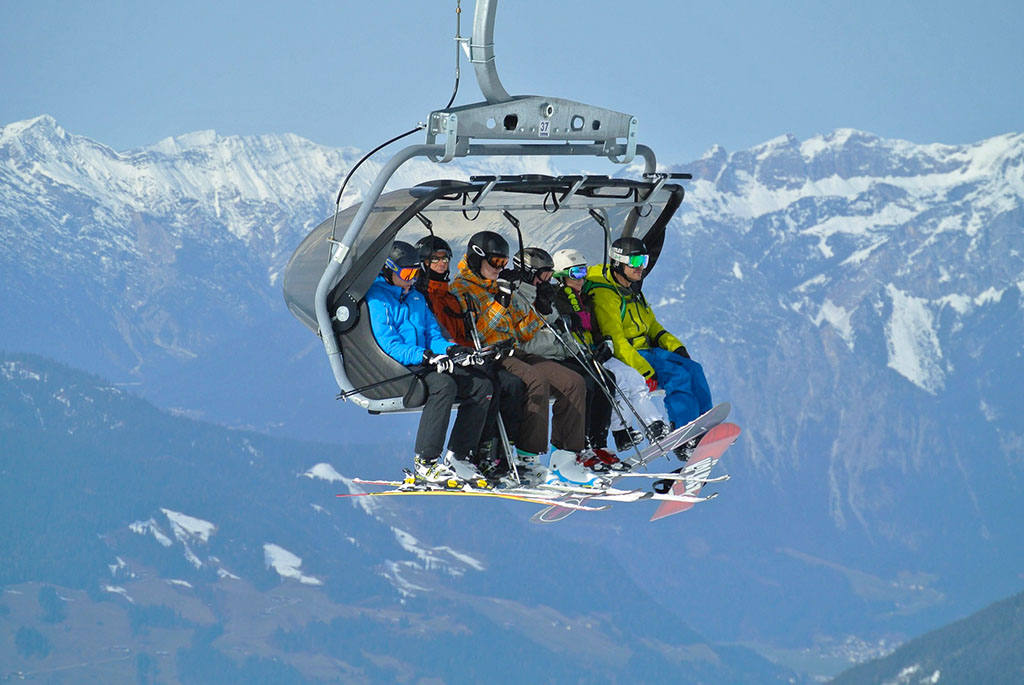 The Austrians like to say, "We don't tell you about the snow, we guarantee it!" Learn about Austria's most popular ski resorts, climate, ski season, slopes, ski pass prices, equipment rentals and tourist reviews.
Most of Austria is covered by the spurs of the Alps. Winter sport in the country is so popular that there are about 1000 ski centers. There is a lot to choose from! The Austrians prefer to develop not large ski centers, but small traditional resort towns. Most of them are situated in the middle mountains. The best ski resorts of Austria are in Tyrol.
Exchange rate: 1 Euro ≈ 57 RUB.
Search for last minute tours on Travelata service – it will find the best deals among different tour operators. Want to save your money? Explore our 7 rules for buying tours online.
Contents:
Climate and weather
The country lies in a continental climate zone, so in winter the ski resorts of Austria are cool. The higher, the colder: for every 100 meters thermometer column goes down by 0.5 ° C. In winter the average temperature is -10 ° C. For the mountainous terrain is characterized by heavy snowfalls.
Skiing season. Skiing season in winter resorts of Austria lasts from December to late March to mid-April, when the snow on the slopes begins to melt actively. On high-altitude glaciers such as Dachstein Gletscher (2700 m), ski all year round. Most tourists try to visit the winter resorts around Christmas time to combine a mountain holiday with hiking through the colorful Christmas markets.
Where to find cheap tickets? Use the search engines Aviasales and Skyscanner – they compare prices of all airlines. Learn the secrets of finding cheap airline tickets.
Useful selection:
Cel-am-See. Photo: nikolpetr / Depositphotos.com.
Ski resorts on a map of Austria
The best ski resorts in Austria
Even a seasoned expert would not be able to identify the leader among the Austrian winter resorts. All of them are located in picturesque places and are renowned for their comfort. Austrian ski resorts have first-class hotels, professional ski service and training centers for beginners. It's just a matter of finding something to suit your tastes!
Schladming
To the list of the most popular ski resorts in Austria include the center of winter recreation in the mountains Dachstein. This resort, 90 kilometers from Salzburg, began developing in the late XIX century, and today has become a pleasant place for youth parties and off-piste skiing. Snow falls a lot in the mountains, so the season lasts until mid-April.
Slopes . From 190 km of descents 60 km account for easy routes, and 110 km – for routes of average complexity. There are 12 tracks on Dachstein Glacier. There is a snow park and a large area for lovers of grazing. Most of the skiers ski on Hochwurzen and Planai. In these places is the most difficult in the region black slalom, where the stages of the World Cup and night slalom. The tobogganing route is 7 km long.
Prices . A day ski pass for an adult costs 53.5€, 40€ for a student and 27€ for a child. To rent a ski or snowboard set for the day costs 21,5-32,4 € for adults and 10,8-16,2 € for children. Sleigh rentals are 7€.
Reviews . Fans of alpine skiing love the fact that the resort has many descents through the woods and long trails that lead from the top to the bottom of the mountains. There are great après-ski opportunities near the ski areas: bars, discos, restaurants, brand-name shopping, massages, saunas and spas.
Ski slopes in Schladming (large size)
Mayrhofen
Among the best ski resorts in Austria include a major center of winter recreation, located 65 km from Innsbruck. This is a prestigious resort, the hallmark of which is the famous narrow-gauge railway. Here there is a lot of après-ski entertainment for young people and there is the steepest track in the country "Harakiri", which has an angle of 78%.
Trails . The total length is 136 km, and in the area surrounding the resort – 550 km. The skiing area covers slopes from 630 to 2500 meters and is serviced by 57 elevators. Beginner slopes are 40 km long. The longest slope is 10 km.
Prices . A day ski pass for adults costs 53,5 €, for youth 42,5 € for children 24 €. To rent a ski set for a day for an adult costs 32 €, for a child 18 €. Helmet rental costs 4€ and a snowboarding kit costs 26€.
Reviews . Mayrhofen is considered almost the best ski resort in Austria for beginners. Beginners have a lot of fun on the soft slopes and can always be trained by experienced instructors. Tourists like the opportunity to engage in active recreation – for example, popular snowmobiling and snowshoeing. On the street Waldbadstraße open a spacious skating rink. There is also a 7.5 km long toboggan run in the resort.
Ski slopes in Mayrhofen (large size)
Sölden
Sölden, one of the famous ski resorts of Austria, is spread out in the largest valley in the Eastern Alps Oetztal. On its territory there are three peaks above 3000 m with great views. The resort has two snow parks, a halfpipe, nightclubs, restaurants and a large sports center Freizeit Arena Sölden.
There are 145.5 kilometers of trails. The longest of them is 15 km and the lighted one is 4 km. The beginner's routes are 69.5 km long, the red and black routes are 29.2 km long. The slopes are served by 34 elevators.
Prices . A day ski pass for adults costs 54,5 €, for students 43,5 €, for seniors 46,5 € and for children 30 €. Pick up a set of ski equipment or a snowboarding set for the day for between 33€ and 58€.
Reviews . Due to the variety of infrastructure, the resort gets flattering reviews. Vacationers love the opportunity to relax in the thermal springs, swim in the indoor pool and attend trendy night parties.
Route map in Sölden (large size)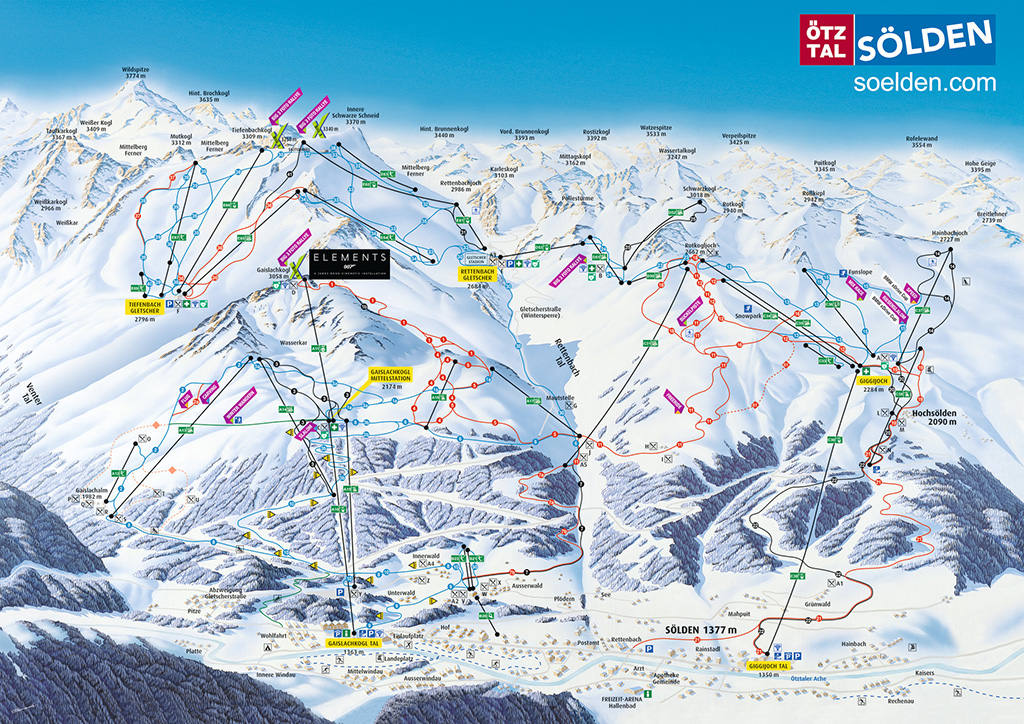 St. Anton am Arlberg
The rating of ski resorts in Austria is often topped by the recreation center, which is located in West Tyrol, 100 km from Innsbruck. St. Anton is called the sparkling diamond in the winter crown of the country. It is a versatile recreation center for beginners, experienced skiers, freeride fans, cross-country skiers and luge fans.
Slopes . Skiing area starts from 1300 meters and has the height difference over 1.5 km. Freeride routes stretch for 200 km. Beginners' slopes are 130 km long, medium difficulty slopes are 123 km long, and professional skiers' routes are 51 km long. The slopes are served by 90 elevators.
Prices . A full-day ski pass for an adult costs €54.5, for youth and seniors €49.5, and for a child €32.5. A day's rental of skis, poles, boots and helmet, depending on the model, costs 46-68,4€. The same amount you have to pay to use a full snowboard set.
Reviews . Holidaymakers are happy with the après-ski resort. There are 80 cafes and restaurants, a couple dozen stores and nightclubs. There are saunas, jacuzzis and indoor pools. Those who enjoy outdoor activities can go ice skating and paragliding.
Ski resorts in Georgia
Infrastructure, elevators and slopes at St. Anton Resort
Popular ski resorts in Austria include the center of winter recreation, which is part of the famous skiing area Arlberg. Lech is considered the most expensive and snowy resort, as well as the cradle of skiing in the country. On the slopes here are used to spend their free time of celebrities and the rich.
Slopes . The skiing area has an altitude difference of 1 km. About a third of all slopes are green. Difficult routes occupy 24%, and the off-piste skiing zone covers 200 km of slopes. Snowboarders use the halfpipe and two fan parks.
Prices . A full-day ski pass costs 54.5€ for an adult, 49.5€ for youth and seniors, and 32.5€ for a child. A 6-day ski rental costs 110-213€, snowboard 46-132€, helmet 35€ and snowshoes 64.8€.
Reviews . Holidaymakers note the incredibly high level of service and delicious Austrian food in local restaurants. The resort is recommended for skiers of all skill levels and considered a great place for a family vacation.
St. Anton and Lech piste diagram (large size)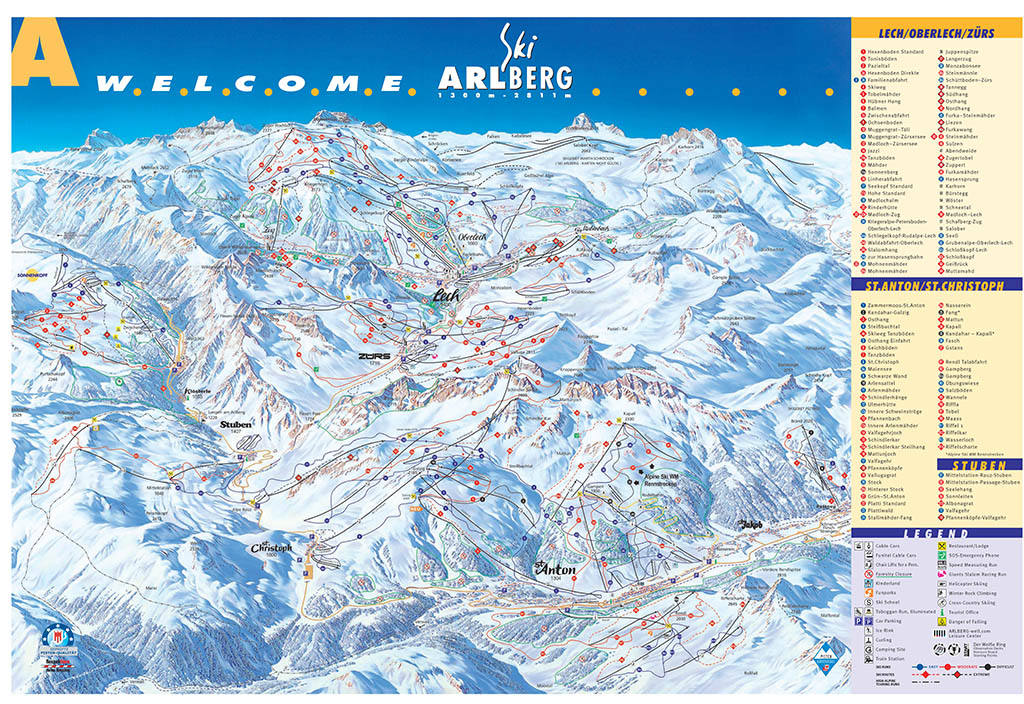 Bad Gastein
A prestigious year-round resort located 100 km from Salzburg at an altitude of 1600 m. For its high price, pompousness and the oldest in the country mountain casino, Bad Gastein is often called the "mountain Monte Carlo". One of its symbols was a picturesque waterfall. Apart from skiing you can have recovery procedures in spa centers, hot radon springs and salt chambers.
Slopes . There are few easy slopes, so Bad Gadschein does not belong to the ski resorts of Austria for beginners. The slopes are dominated by red and blue slopes, which are more suitable for advanced skiers. The quality of infrastructure is so high that the resort hosts the World Cup. There is a bordercross piste, a halfpipe and a modern snowpark.
Prices . The cost of a ski pass for an adult in the low season is 41.5 €, in the high season – 44.5 €. Child's ski pass costs 14-22,5 €. Kids under 6 years old can go on the elevators for free. To rent a ski set for a day for adults costs 21-40 €, and for a child – 7-17 €. To rent a snowboard costs 24 €, helmet – 6 €, toboggan – 5 €, ski poles – 2 € and snowshoes – 8 €. Each year the collection of rental equipment is updated with models of the new season.
Reviews . Holidaymakers note the beauty of the alpine village. In addition to skiing, tourists visit the thermal complex AlpenTherme. The resort is recommended for anyone who likes to combine skiing with sightseeing, visiting restaurants and parties.
Ski pistes scheme in Bad Gaschstein (large size)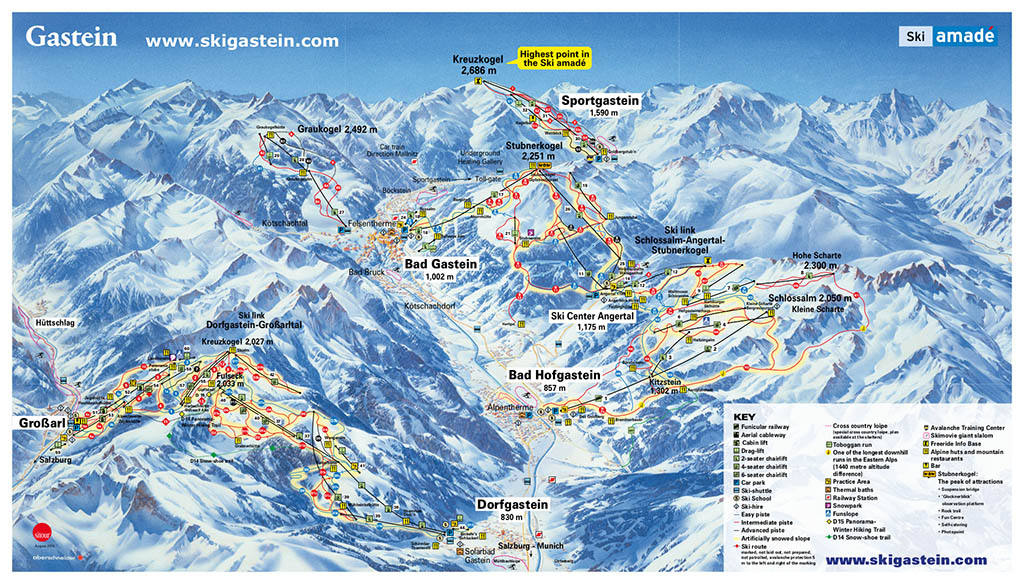 Zell am See
A list of Austria's most popular ski resorts wouldn't be complete without the center of winter recreation, which is located on the shores of Lake Zeller See. The Zell am See is part of the "European Sports Region" with over 130 kilometers of groomed slopes.
The tracks are designed for intermediate skiers and beginners snowboarders. There are 57 kilometers of easy slopes, 50 kilometers of moderate difficulty slopes, and 31 kilometers of difficult ones. Almost all slopes start at the top of Schmittenhohe (2000 m).
Prices . A two-day ski pass for an adult costs 105.5€ and for a child 47.5€. Rent a ski and snowboard set for 1 day costs 24-37€ for an adult and 12-15€ for a child. Ski boot rental is 8€ and helmet rental is 1-2€.
Reviews . The main pluses of the resort – a large number of ski schools, plenty of nightlife and holiday shows. Vacationers like the fact that the routes of different levels of difficulty are isolated from each other. Zell am See is among the best ski resorts in Austria for children. There are many kindergartens and schools to teach the basics of skiing. A one-day session with meals and an animator for young skiers from 2 years is 70-85 €.
Scheme of trails in Zell-am-See (large size)
Tips and reviews
Visitors to Austrian winter recreation centers note many pluses :