Top 10 most dangerous hiking trails and bridges
Dangerous gaps and rotten boards bound together by scraps of rusty cable as long as you can see. Somewhere below the ominous abyss of water rumbles. The howling wind makes the bridge sway violently from side to side, and as you grasp the handrail to keep from falling down, you suddenly feel your heart begin to beat faster and faster. Having experienced this once, some never dare to go on a similar route again, and others on the contrary, all their lives are looking for the most dangerous trekking and bridges – just in order to feel these emotions again. So, where should go all lovers of adrenaline in the first place?
10. Bridge over Lake Thrift, Switzerland.
Let's start with something the least scary. The bridge over Lake Thrift is the longest pedestrian suspension bridge in the Alps (if not all of Europe). This bridge is about 170 meters long and is about 100 meters high. It is located in the Thrift Gorge and attracts about 20,000 visitors each year. While on the bridge, it is best not to look down. Suspended at dizzying heights, the bridge can swing wildly in windy conditions. It's best to admire the stunning nature around you and then you'll be fine.
9. Heavenly Gate + Great Road to the Gate + Glass Heavenly Path, China
The 130-meter-high arch is the crown jewel of Mount Tianmen National Park, often referred to as the "soul of Zhangjiajie County." This impressive arch, known to all as the Heavenly Gate, was formed absolutely naturally. It is about 30 meters wide and about 1,500 meters high. To reach the top you have to climb 999 steps. The number nine has always been regarded as sacred in Chinese culture, so any repetitions like 99 and 999 are very important. The great road to the Gate takes you from 200 meters below sea level to 1,300 meters above sea level! Guess how many exciting turns you can count on this serpentine road? 99! If you are not ready for such feats, you can always choose a cable car as an alternative.
There is another attraction in the park, which literally takes your breath away. This is the so-called Glass Heaven Path – the highest in the world of its kind. It is about 21 meters long and just under a meter wide, and nothing but clear glass was used to build it. The trail is about 1,432 meters above sea level. To walk along it tourists are provided with special shoe tips to avoid scratching the glass and slipping. Jumping and running to test the glass is not recommended. Remember, this is China after all! Although to put yourself at unnecessary risk is probably not worth it in any country in the world.
8. Haiku Stairs, Hawaii
3,922 metal steps take you to a height of 853 meters on the Hawaiian island of Oahu. The Haiku Staircase was built in 1943 as part of a large military radio communications system to install cables for antennas. It is currently closed to the public due to its obvious unsafety. However, despite all the warnings, many trekkers climb it under the cover of darkness to avoid being caught.
7. Half Dome Mountain, Yosemite, USA
Rising more than 1,444 meters above Yosemite Valley and 2,697 meters above sea level, Half Dome is a true calling card of Yosemite National Park. Despite an 1865 report that said "the summit is absolutely unreachable, and is probably the only elevation in the park on which no man has ever set foot and never will," George Anderson reached the summit in 1875.
These days thousands of trekkers conquer the summit on an eight-mile hike. The last 122 meters are climbed almost vertically using two metal cables. There have been several fatal falls along the route at all times.
6. Quesva Chaca Rope Bridge, Peru
The Queshwa Chaca is considered to be the last surviving Inca rope bridge. The Incas used natural natural fibers that were available to them to build it. Each year in June, residents of the nearby community renew the Keshwa Chaka Bridge, even though a wider, more reliable bridge has been built for everyday use. They do this to uphold tradition and in memory of their ancestors. The bridge is about 36 meters long and 67 meters high over the Apurimak River.
5. Hussaini Bridge, Pakistan
You either have to be very brave or crazy to walk across this bridge. But believe it or not, people who live in the Hunza Valley in Pakistan and want to get to the nearest town or village, cross Hussaini Bridge almost every day. The bridge spans Lake Borit in Upper Hunza. Despite its dangerous and deplorable condition, many trekkers come here in search of adrenaline and in pursuit of a thrill.
4. The Inca Trail to Machu Picchu: Steps of Death, Peru
The world-famous Inca Trail to Machu Picchu consists of three overlapping routes: the Classic, the Mollepat and the One-Day Trail. A visit to this World Heritage Site is never without climbing a huge number of steep and very narrow stairs. The route itself is quite difficult and requires good physical preparation, but definitely worth the effort. The Incas were excellent mathematicians and engineers and it was they who invented the so-called "hovering" steps, which seem to hang in the air next to the wall. Imagine being at an altitude of about 2,500 meters – would you be happy to climb such steps, given the rather high probability of falling?
3. Angels Shelter, USA
Angel's Haven is the summit of a long and narrow rock formation in Zion National Park in Utah, USA. It is accessed via a nearly four-kilometer route, and the peak itself has been described as so tiny and lonely that "only an angel could land on it. The most dangerous part of the trail begins after Scout Lookout, a turning point for those lacking experience or physical fitness. These last 800 meters are solid stone steps, so narrow (about half a meter wide) and steep that in some places the park rangers had to install special chains for support.
2. King's Path, Spain
The Royal Trail is a crumbling path that has been cut along the walls of El Chorro, a huge limestone gorge near Alora. The path is half a meter to a meter wide and is located about 107 meters above the Guadalhorce River. The King's Path has been recognized as "the most dangerous trail in the world. After several tragic accidents the Spanish authorities officially closed the trail in 2000, but adrenaline-seekers still manage to get around all the bans and fences.
1. hua Shan, China
This route is guaranteed to amaze even the most experienced trekkers. Mount Hua Shan is one of China's five sacred mountains, and the Hua Shan route is considered by many to be one of the most dangerous in the world. According to the Chinese authorities, the death rate on the route is almost zero, however, statistics from other countries were much more frightening – some of them claim that up to a hundred people die on the route every year. Those who dare to conquer the route without any safety equipment will have to find out how well they can navigate on wooden and metal planks about 30 cm wide. This will determine the outcome of their hike – the summit with breathtaking panoramic views or a precipitous fall into the abyss. For those who are smarter, special belay chains are driven all along the trail and a special safety harness can always be rented from the park office.
Top 25: The Most Dangerous Bridges You're Better Off Not Walking On
We always walk across bridges that cross noisy highways, rivers and lakes without even thinking about it. But surely we think twice before crossing a foot rope bridge high in the mountains, or a high suspension bridge crossing a huge canyon or a noisy, turbulent river.
So where are the world's deadliest bridges? If you are an extreme lover, then you will probably be interested to know where some of the world's most dangerous bridges are located? However, you probably need this information if you are among those who do not like to experience an adrenaline rush.
So, here are 25 of the most dangerous bridges that you'd better not walk on!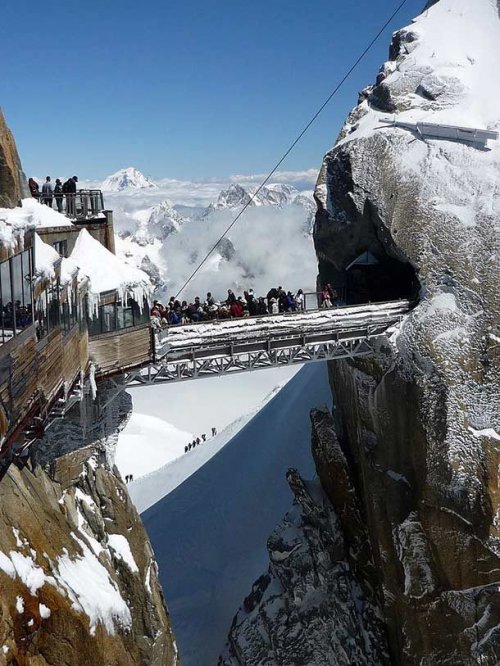 25. Aiguille Du Midi Bridge, France photo: Rémih, Aiguille du Midi passerelle
The name of the peak, Aiguille du Midi, literally translates as "noon peak". Its height is 3,842 meters, so crossing this bridge from one peak to another is not for the faint of heart.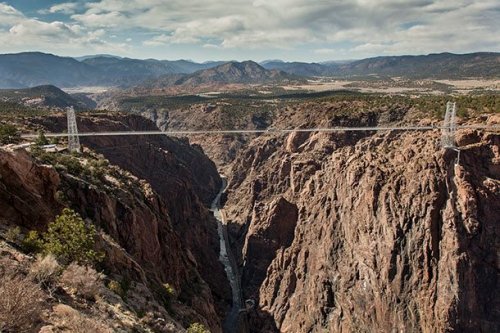 24. Royal Gorge Bridge, Colorado, USA Photo: Bkthomson, Royal Gorge Bridge
Being the highest-level bridge in the United States the nearly 370-meter-long Royal Gorge Bridge crosses a deep 274-meter gorge. It is sure to test your faith in modern American engineering technology.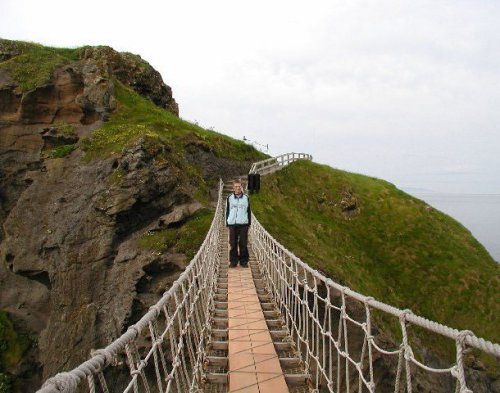 23. Carrick-A-Rede Rope Bridge, UK
Photo: Kenneth Allen, Carrick-a-rede rope bridge – geograph.org.uk
Originally built by fishermen, the Carrick-a-Rede rope bridge crosses a crevasse 20 metres wide and 23 metres deep, being the only way to reach Carrick Island. At one time it had only one rope handrail.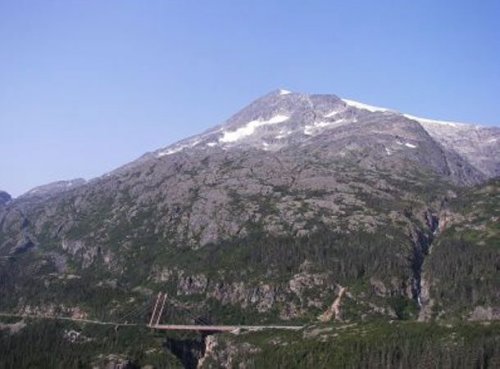 22. Cape William Moore Bridge, Alaska, USA Photo: Wknight94, Captain William Moore Bridge
Completed in 1976, the Cape William Moore Bridge has seen its share of ore-laden trucks crossing. It sags under the weight of men and cars crossing it and, according to the plan, must soon be replaced by a more modern and durable one.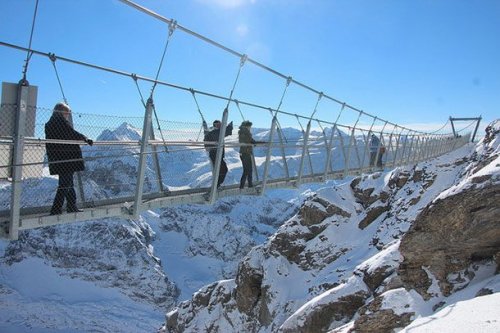 21. Mount Titlis Bridge, Switzerland photo: Takver via flickr
Holder of the record as the highest suspension bridge in Europe (about 3,000 meters above sea level), the Mount Titlis Bridge will undoubtedly push your limits and test your acrophobia (fear of heights).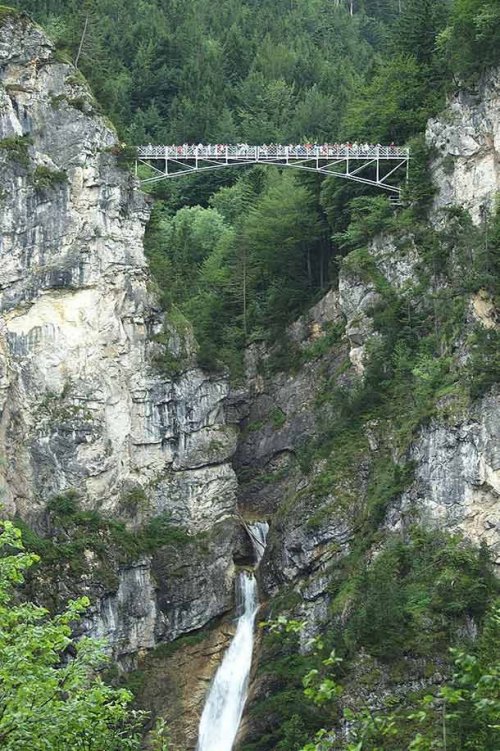 20. Marienbrücke, Germany photo: böhringer friedrich, Marienbrücke 1
In 1840, Crown Prince Maximilian II. had the Marienbrücke Bridge built as a present to his beloved Marie, who was a mountaineer. Given the age of this structure, one must assume that it has to be reconstructed quite often, making it quite a risky venture for sightseers.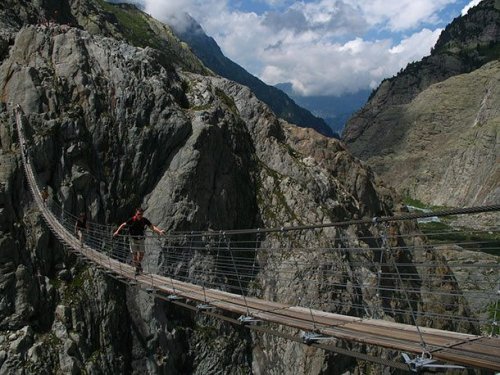 19. Trift Bridge, Switzerland photo: Thisisbossi, 6104 – Gadmertal – Triftbrücke
As the longest suspension bridge in the Swiss Alps the Trift Bridge is almost 100 meters high and is almost 171 meters long. It would certainly be a shame if something were to happen after you finally get up to Mt.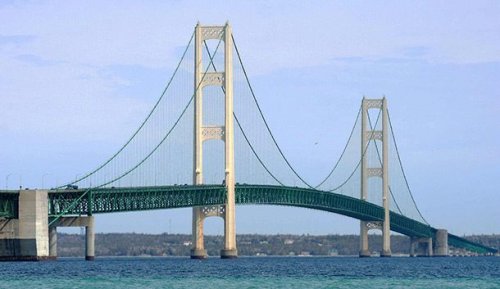 18. Mackinac Bridge, Michigan, USA Photo: Jeffness / commons.wikimedia.org
Mackinac appears to be a fairly harmless structure at first, but the strong winds here can sometimes be so strong that cars can simply be blown off the bridge. For those too afraid to drive across one of the most dangerous bridges in the States, there is a ferry service.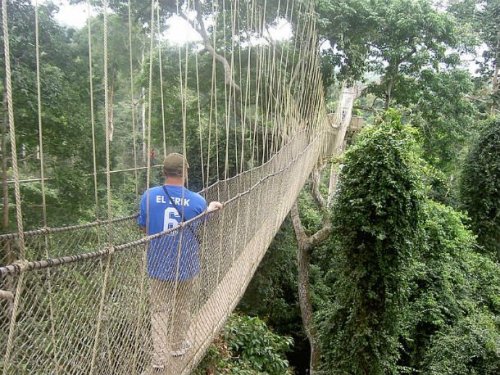 17. Canopy Walk Bridge, Ghana Photo: Erik Cleves Kristensen via flickr
At 40 meters high Canopy Walk Bridge in Ghana offers a unique view of the surrounding forest. The bridge is connected by ropes and planks between two trees, so only the bravest dare to walk across it.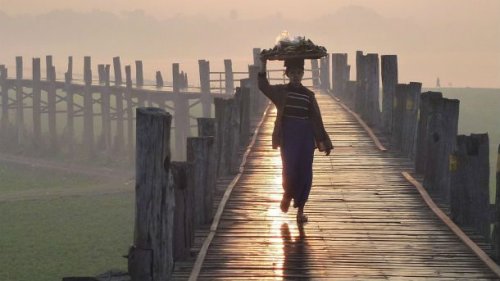 16. U Bein Bridge, Mandalay, Myanmar Photo: maxpixel.freegreatpicture.com
Built in 1850, the U Bein Bridge is the oldest and longest bridge in the world. It is made of teak wood and is nearly one mile (1,609 meters) long.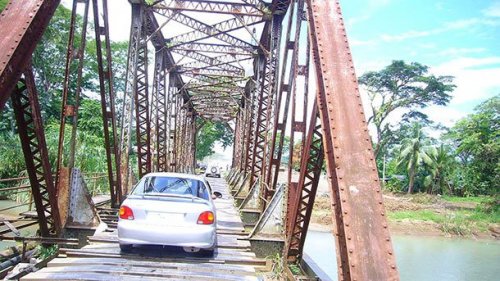 15. Quepos Bridge, Costa Rica Photo: hex1848 via flickr
Some people call the Quepos Bridge "the bridge of death," and that's honestly all you really need to know about it to make the right decision before stepping on it.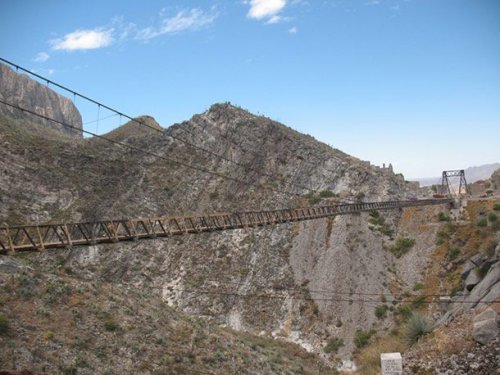 14. Puente de Ojuela Bridge, Mexico Photo: Fenerty / commons.wikimedia.org
Built in the 19th century, when the mining industry was just beginning to develop in Mexico, the Puente de Ojuela Bridge was supposed to be used for transporting goods, but it is now a tourist attraction.
It's perfect for those who like swaying bridges and wide openings between the boards through which you can see the canyon below.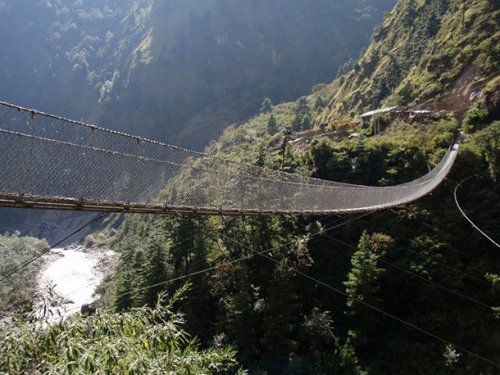 13. Ghasa Bridge, Nepal Photo: John Pavelka / commons.wikimedia.org
If you're really looking for an unstable bridge with great potential to collapse right under your feet, you've found it!
The bridge was built to get rid of congestion during livestock drives. So if it suddenly breaks down, you can share the experience of some animals.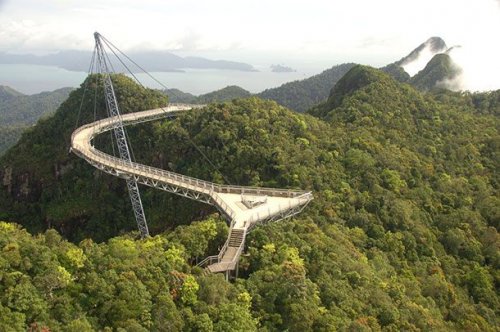 12. the Langkawi Sky Bridge, Kedah, Malaysia photo: The Dilly Lama via flickr
The Langkawi Sky Bridge is one of the most unusual bridges in the world. It deliberately skirts the mountain, giving visitors a unique panorama.
Of course, standing on the 130-meter curved bridge, just knowing the fact that it is supported by just one long pylon doesn't give you much confidence anymore.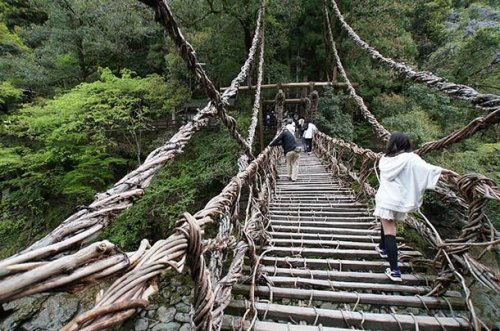 11. the Iya Kazurabashi Bridge, Japan photo: ume-y via flick
No one knows who built the Iya Kazurabashi Bridge or other similar bridges, but some believe they were built a long time ago by people trying to escape the Gyeongju clan.
The bridges were built in a special way so that they could be easily cut off, denying enemies the opportunity to pursue the fugitives. Not exactly conclusive proof of their structural strength.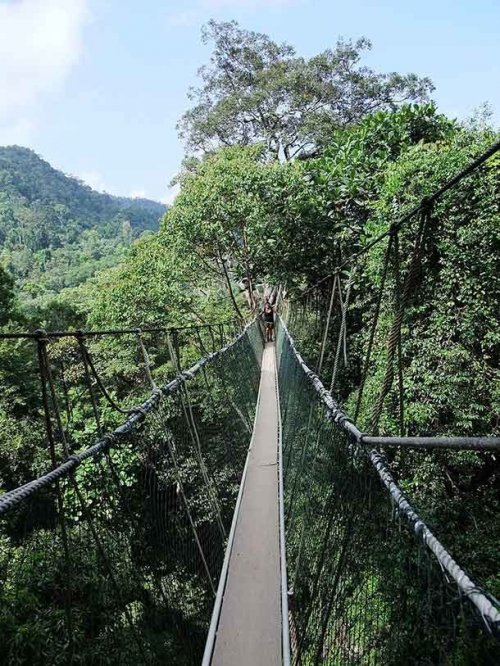 10. Taman Negara Canopy Walkway, Malaysia photo: RoB / commons.wikimedia.org
Although it may sound more structural than walking on a grapevine, the Taman Negara Canopy Walkway is a 510-meter-long bridge located 45 meters high with a very narrow passage that two people simply won't get apart on.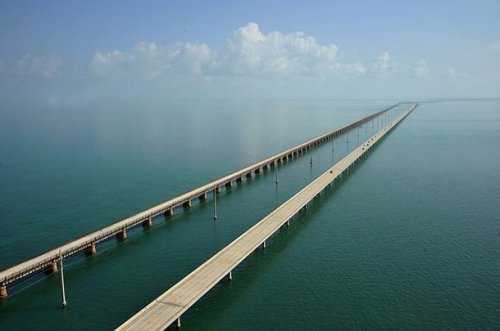 9. Seven Mile Bridge, Florida, USA photo: Sathish S via flickr
The Seven Mile Bridge is a bridge that spans 6.76 miles (almost 11 kilometers) over the Atlantic Ocean in the Florida Keys. So if you can't stand bridges and are afraid of ocean waves, this bridge is not for you.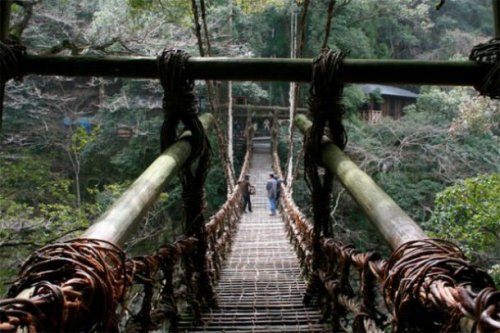 8. Musou Tsuribashi Bridge, Japan photo: pixgrove.blogspot.ca
Built back in the 1950s, the Musou Tsuribashi Bridge is held together only by wire and a few wooden planks making a narrow passage. You have to be a brave man to walk across this bridge. or a madman.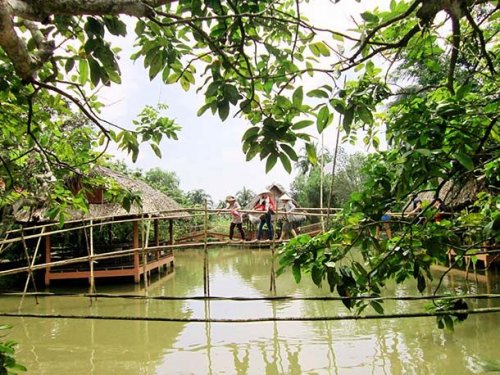 7. The Monkey Bridges of Vietnam photo: Bùi Thụy Đào Nguyên / commons.wikimedia.org
Popular in the Mekong Delta and a symbol of Vietnam, the Monkey Bridge is essentially a bamboo trunk crossing the water, connected to only one bamboo crossbar. Anyone who is not used to walking on bamboo will certainly find this bridge very dangerous and incredibly difficult to cross.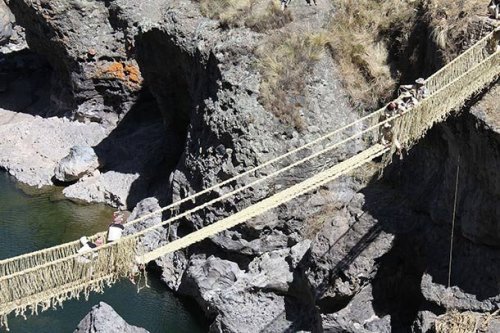 6. Qeswachaka Bridge, Peru Photo: commons.wikimedia.org
Crossing the Apurimac River canyon, the Qeswachaka Bridge is built to an ancient Inca design of ropes that are woven from ropes of grass and attached to the trunks of eucalyptus trees. However, the fibers deteriorate rather quickly, so it must be rebuilt every year.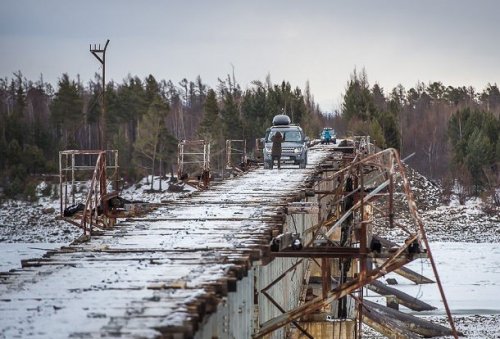 5. Kuanda Bridge, Transbaikalia, Russia photo: Sergey Dolya / facebook.com/BlogFromRussia/
The Quanda Bridge is a narrow and old metal bridge covered with slippery wooden boards and with no side railings. One wrong move and your car could fall into the icy water of the river it crosses.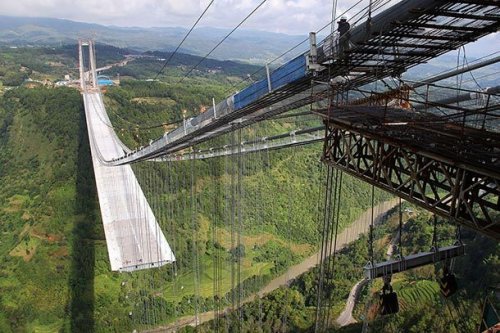 4. Longjiang Suspension Bridge, China Photo: commons.wikimedia.org
The Longjiang Suspension Bridge is one of the highest and longest bridges in the world. It is 1.2 kilometers long and lies 280 meters above the river below. Not the best place to overcome the fear of heights.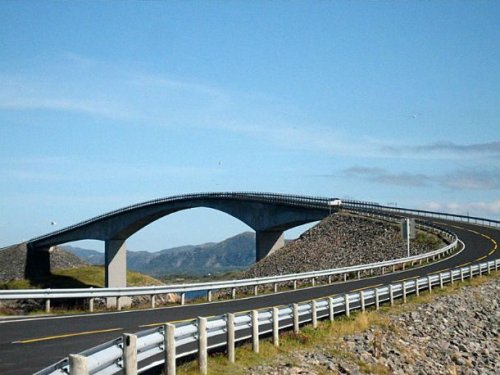 3. Storseisundet Bridge, Norway Photo: wikimedia commons
Looking like a bridge leading nowhere, the Storseisundet Bridge in Norway resembles a roller coaster that seems to go down instead of providing a safe passage over it.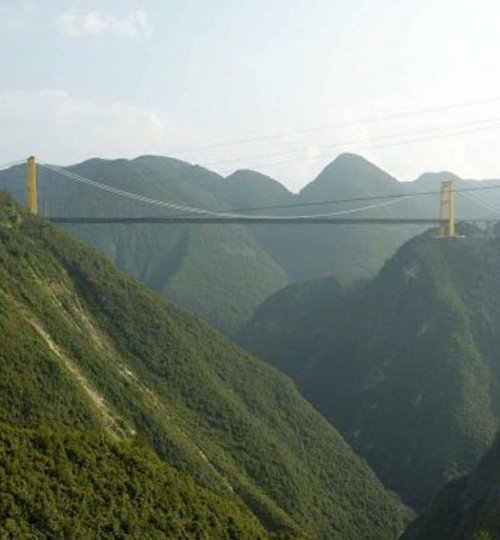 2. Sidu River Bridge over the Siduhe Valley, China Photo: Glabb / commons.wikimedia.org
People afraid of heights will want to pay attention to this bridge. At 1.22 kilometers long and 496 meters high, it is the highest suspension bridge in the world.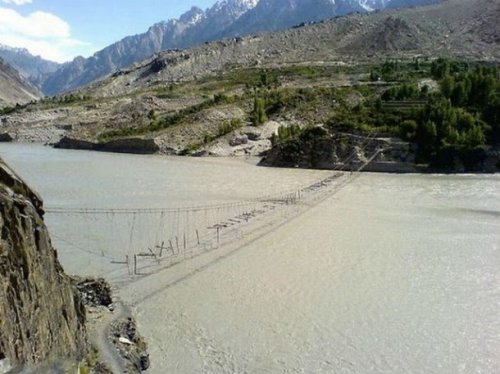 1. Hussaini Hanging Bridge, Pakistan Photo: pixgrove.blogspot.ca
Located in the mountainous region of northern Pakistan, the Hussaini Hanging Bridge helps travelers cross Lake Borit. The rather long bridge, insufficiently supported by just a couple of cables and loose wooden planks, helps you cross to the other side of the lake.
During high winds rocking this bridge and another, older and broken bridge nearby, you will need nerves of steel to walk across it.