Marbella Beaches – the best places for a good holiday
The tourist town of Marbella, the beaches of which are located on the Costa del Sol, can be called without exaggeration almost the most visited place in Spain. The coastline of this resort, which stretches along the Alboran Sea for almost 30 km, is a long flat strip, divided between 26 picturesque beaches. Most of them are covered with golden or gray-yellow sand of different textures, from soft and fine to coarser and coarser. Pebble areas are very few. The boundaries between the beaches are not clear – they flow into each other so smoothly that it is hard to understand where one ends and another begins.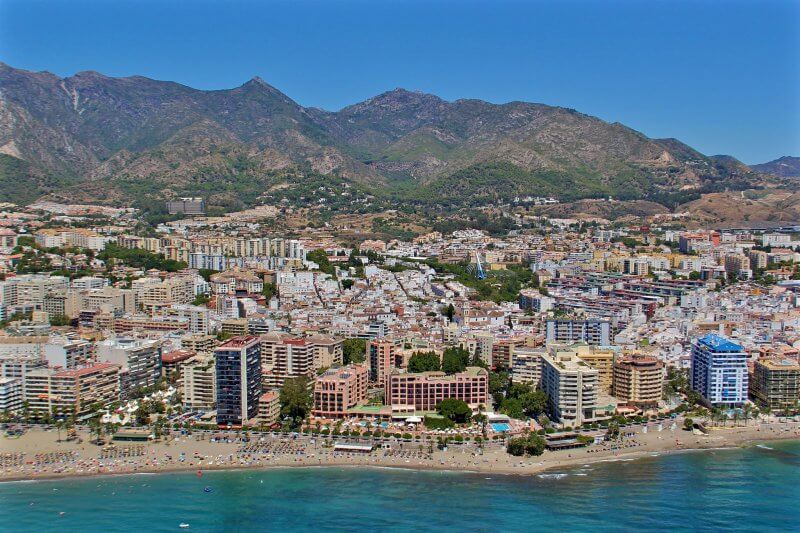 The beaches of Marbella have a high occupancy rate and well-developed infrastructure. They are daily cleaned and leveled by special machines. In addition, along the coast of the resort stretches a number of first-class hotels, with direct access to the sea and having their own swimming pools, fitness centers, tennis courts, bars, spas and children's play areas.
Well, all you have to do is choose the right option! We hope our rating will help you in this endeavor.
Nagüeles
Playa Nagüeles, located in a picturesque artificial bay, is among the best beaches of the Golden Mile. Its length is more than 1.5 km, so even in the high season there will be a place to stay. The territory of Nagueles is very clean and well-groomed, and most importantly – it has all the conditions for a comfortable and enjoyable holiday. There is almost everything: expensive restaurants, equipped recreation areas, toilets, showers, elite beach clubs, etc. If desired, you can rent a deck chair with an umbrella from the sun and various water transport (jet skis, catamarans and even small recreational yachts). In addition, many catering establishments offer bicycle rentals.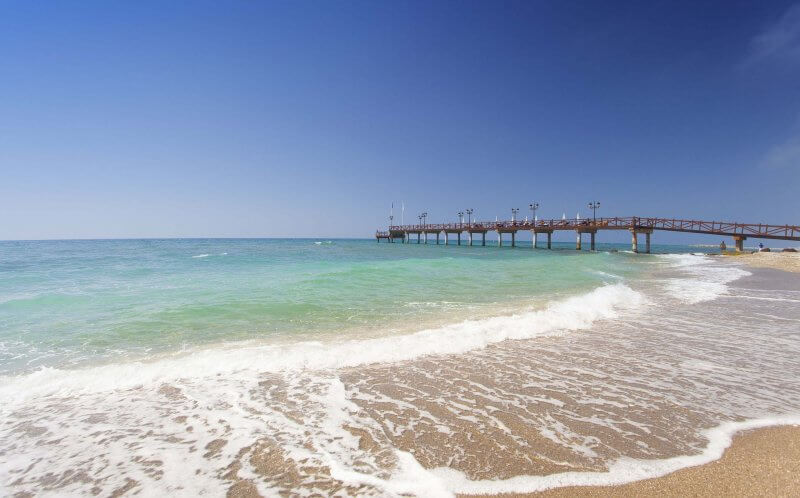 Natural shade of the coast is provided by green bushes, and the safety of tourists is provided by a huge breakwater installed on the western part of the beach, and a team of professional lifeguards, working all summer.
The water is clean and calm, so you can easily enter the sea. Nearby is a 6-kilometer embankment Maritimo, along which are placed many summer cafes, souvenir stores, luxury hotels, apartments and villas.
It should also be noted that the Playa Nagüeles regularly holds concerts, parties, celebrations and other entertainment events, and from the coast there is a beautiful view of the Concha mountain, which rises just behind Marbella. And the last important fact: Nagueles is incredibly popular among the rich and famous, here often rest famous scientists, musicians, athletes, show business stars and other representatives of the world elite.
Casablanca
Playa de Casablanca stretches for 2 kilometers along the city's homonymous area and is one of the most visited tourist attractions in Marbella. The coastline, covered with clean fine sand, has all the necessary elements of the beach infrastructure. The well-groomed area is equipped with a playground, beach club, paid umbrellas and sun loungers, showers with fresh water.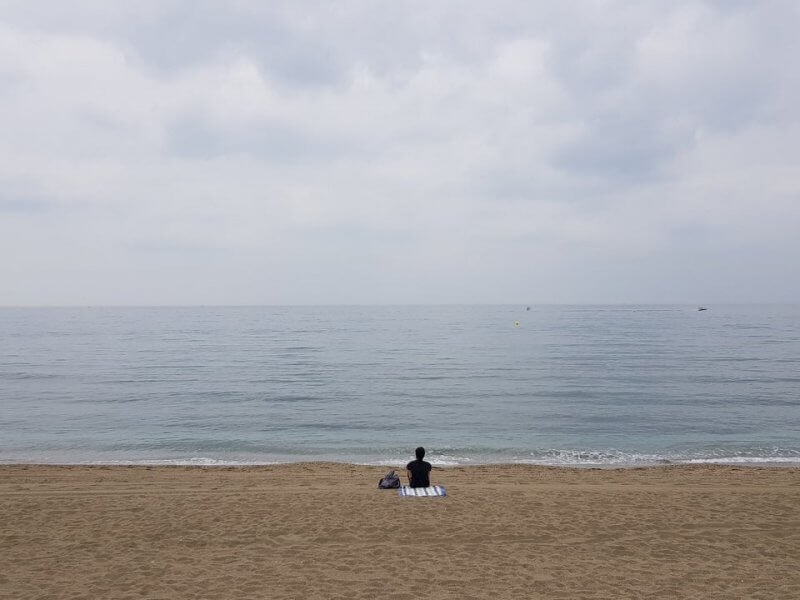 There is a small parking lot nearby, and on the promenade you can find many cafes, restaurants and entertainment venues. In addition, the beach every now and then strolls peddlers food and various souvenirs.
The descent into the water is gentle. The sea is clean and quiet, suitable for families with children. Another important advantage of Casablanca is a convenient location – it is separated from the city center by just a few minutes' walk.
La Fontanilla
La Fontanilla is the central beach of the resort of Marbella, which, despite its rather modest size, is equipped with everything necessary for a good holiday. On it you can find not only many cafes, fruit stalls and small beach restaurants, but also ramps for wheelchairs, toilets, and beach equipment rentals and various water transport facilities.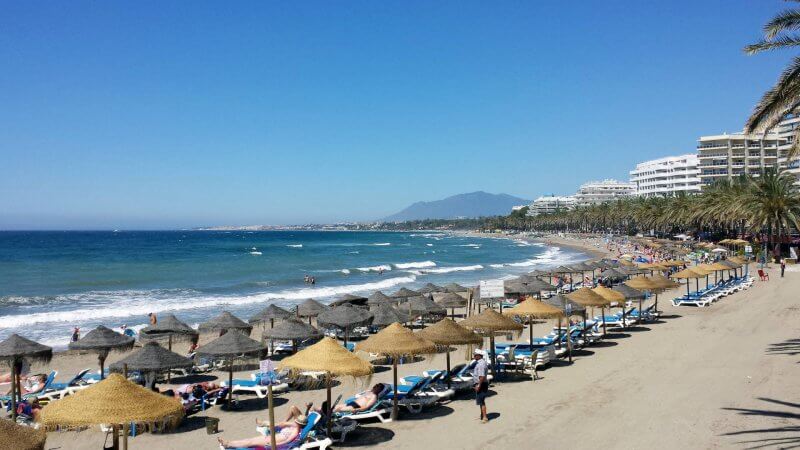 During the high tourist season, Playa de la Fontanilla is always very crowded. In addition, there are often dog handlers and numerous street vendors offering traditional beach snacks, national souvenirs and other trinkets. Going into the water at the beach is not very easy – the shoreline and then there are rocky areas. One of the busiest parts of the city's promenade runs along the entire shoreline.
El Faro
Playa del Faro is a small picturesque cove located next to the medieval lighthouse after which it is actually named. The coastline is quite narrow and not too long, so at the height of the tourist season there isn't even room for an apple to drop here. Despite the large number of people, both the sea itself and the entire surrounding area are very clean and well-maintained. For this El Faro regularly receives a "Blue Flag" award.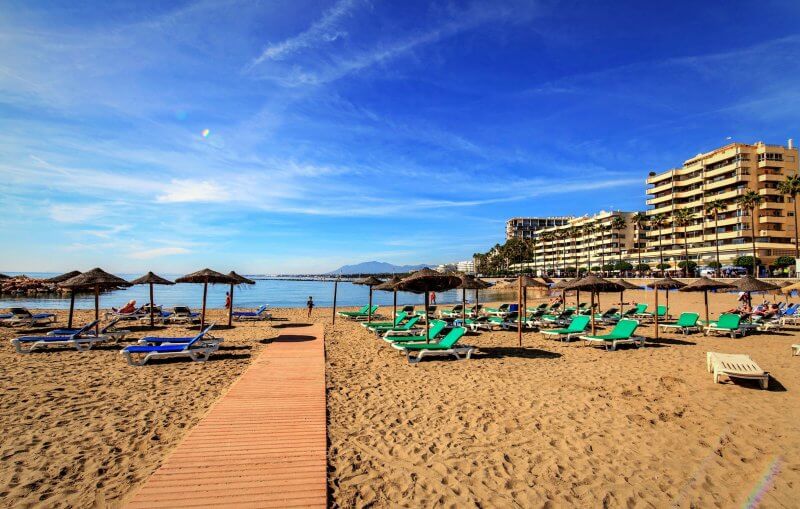 The beach is covered with fine light yellow sand. Tourist infrastructure is represented by restaurants, stores, cafes, rental umbrellas, sun loungers and various water equipment. Nearby is the famous avenue Maritimo, has its own parking, to the city center is quite close. Unlike the previous option, the entrance to the water here is gentle, and the bottom is soft and sandy.
Venus
Playa La Venus is the largest city beach, located in the fashionable area of Marbella near the old town. The length of the coastline covered with fine gray-yellow sand is at least 1 km. The width of the beach is also quite impressive, so even in the high tourist season it is possible to find a free space.
One of the main advantages of Venus is its proximity to the port and the good facilities. The beach is equipped with bars, cafes and restaurants, changing cabins, toilets, showers with fresh water, beach equipment rental and other useful elements. Moreover, there are several paid parking lots and a large playground with 3D sculptures of wild animals.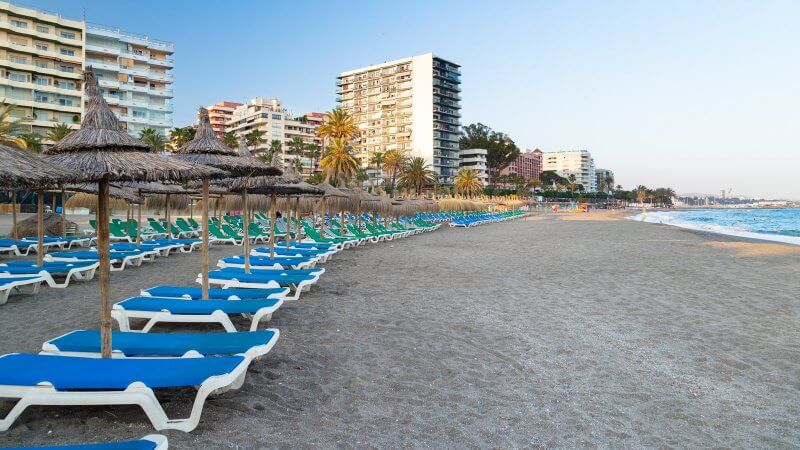 The entrance to the beach is comfortable, the bottom is soft and sandy and the sea is clean and calm (a few meters from the coast there is a breakwater). The only drawback – in this part of the coast is always quite cool, so get into the water will not be able to all. Among other things on Playa La Venus you can see a lot of street vendors and so-called "beauty salons" located directly under the palm trees. They offer massages, braiding African braids, and beauty treatments.
La Bahadilla
Playa La Bajadilla is a wide sandy beach, located in the central part of the coast and is a de facto continuation of Playa La Venus (the boundary between them is defined by a long breakwater, which appeared in this place about 20 years ago). The area is very clean and well maintained. It has everything for a comfortable holiday – rent equipment for water activities, beach equipment rental, showers with fresh water, toilets, catering facilities, souvenir stores and children's play area with slides. At high season on the beach lifeguards are on duty. Close by is the town center, a few paid parking lots and the fishing port with the same name. A few steps from the beach is a picturesque promenade. The entry to the water is gentle, the sea is clean, warm and calm, making La Bahadilla a good place to relax with children.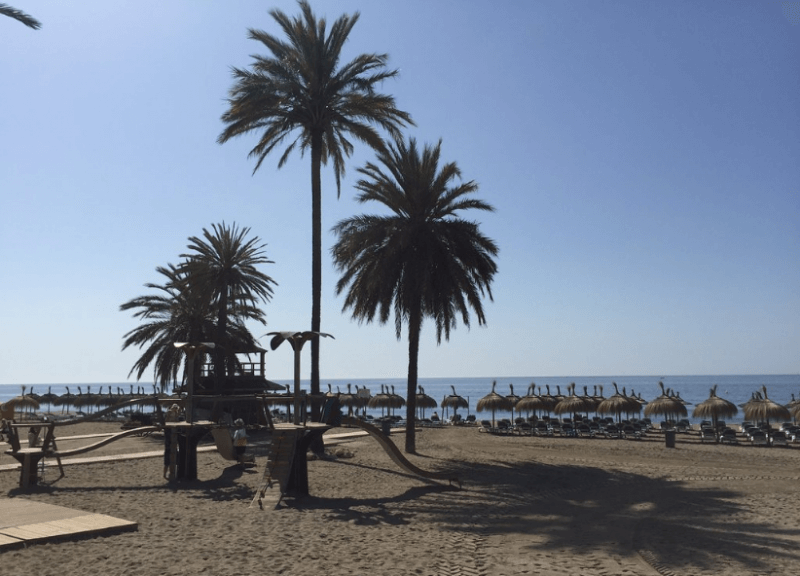 Los Monteros
The resort of Marbella, the beaches of which are considered one of the best on the entire Costa del Sol, can boast another picturesque place, which is in demand not only among visitors, but also among locals. We are talking about Playa Los Monteros, located near the hotel complex of the same name and surrounded by numerous sand dunes.
The beach is quite long (about 2 km) and quite wide. Coverage – light sand. The descent to the water is gentle, smooth and sandy bottom, the sea is warm and shallow.
One of the main features of Los Monteros is a developed infrastructure. There is a zone for kitesurfing, a beach club, free parking, a golf course, showers, toilets, rentals, a small clinic, etc. Professional lifeguards are responsible for the safety of holidaymakers in the summer season.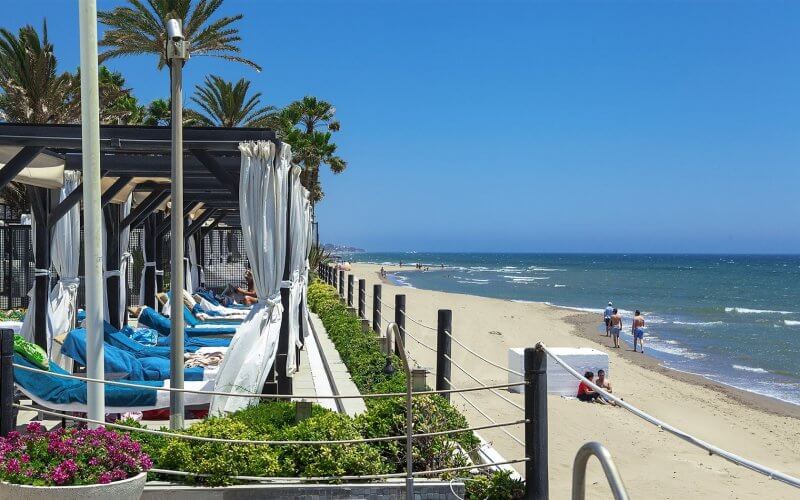 In the immediate vicinity of the coastline is a city promenade, as well as a number of hotels, villas and apartments (one of these houses is said to belong to Antonio Banderas himself). And if you feel like relaxing in a club, check out La Cabana, owned by the Los Monteros Hotel.
An overview of the promenade and beaches of Marbella:
Author: Olga Sheiko
Updated: 16 Dec, 2019 Numerous beaches in Spain delight with beautiful nature, developed infrastructure…
Updated: 10 Nov, 2021 A mild climate, a large number of attractions and fascinating excursions…
Updated: 20 Feb, 2019 The country is characterized by a pleasant, mild climate, developed infrastructure. The presence of…
Updated: 28 Jan, 2020 Marbella is a resort in Spain known for its luxury,…
Top 10 best beaches of Marbella, Spain

The jury is ready to announce the results! We've tallied up all your votes and determined the top 10 beaches in Marbella and on the Costa del Sol. The best places to visit during your vacation or if you are living here and dreaming of escaping the summer heat to the beach or just dreaming of a great tan.
OFFICIAL LIST OF THE 10 BEST BEACHES IN MARBELLA (ACCORDING TO OUR READERS).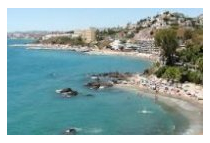 10. Beach "Carvajal", Benalmadena: Large urbanized beach (1,600 meters long) with many convenient services nearby. Excellent golden sand and relatively small waves. Fairly busy beach in the summer. It is loved by local families. Located 35 minutes from the center of Marbella.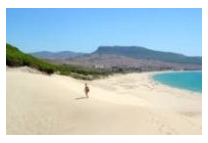 9. Tarifa, Cadiz: located on the Costa de la Luz in the province of Cadiz (very close to the Strait of Gibraltar and opposite Morocco), just 1 hour west of Marbella. Here you will find wide beaches with white sand. This place is worth the travel time!
8. Pinomar, East Marbella: this small beach, only 350 meters wide, is located east of Marbella. Here you will find golden sand and moderate waves. Pinomar beach is located next to the beach of the Costa Bella, just 10 minutes from the center of Marbella (Highway N34, turnoff at kilometer 189).
7. Estrella del Mar, East Marbella: Another great beach in East Marbella. Estrella del Mar beach offers golden sand and clear water. It is located near the Hotel Vincci, Estrella del Mar urbanization in Las Chapas. (Route N340? Kilometer 191).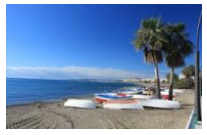 6. La Rada, Estepona: The beach "La Rada" is the central beach of Estepona. It is very large, and here you will find 2630 meters of golden sand. Great beach bars are located along the beach, and a great path for those who like to walk. (Special tip. The most favorite chiringuito of our editorial " Bikini Beach ").
5. El Alicate, Elviria : a long beach of 1900 meters with golden sand and moderate waves. In summer, it can be quite crowded. There are plenty of beach bars where you can enjoy the typical Spanish tapas. (Special tip. The most delicious paella, according to our editorial, you can find in "Los Sardinales"). Get off at El Rosario and head right to the El Alicate sign, then head directly to the beach.
Nueva Andalucia : quite a long beach of 1050 meters. It is a very popular destination for lovers of good sand, which is located on the beaches of "El Duque" and "La Siesta". Opposite the hotel "Guadalpin" there is a small cove and quite shallow water. It is ideal for holidays with small children. (On the N340, exit at Hotel Guadalpin).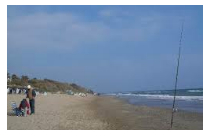 3. Las Chapas, East Marbella: This beach, 750 meters long, can be very crowded in summer. It is located in the urbanization of Las Chapas. (Take the N340 exit at Las Chapas and head towards the sea.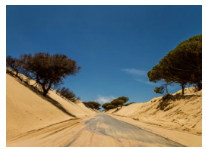 2. Punta Paloma sand dunes: This beach is unspoiled and does not offer the typical services of Marbella, such as showers, toilets, and rental beds. Descending the dune is easy, but climbing back down can be problematic (especially for those with injuries). Go in the direction of Algeciras and then in the direction of Tarifa. Drive past the road to the center and follow it to Punta Paloma, which is located at km 74.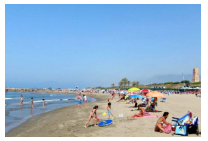 1. Cabopino, East Marbella : Another great beach in the east of Marbella. The beach "Cobopino" is 1200 meters long with clean sand and clear water. It can be very crowded in the summer. To the west of it is the nudist beach "Dunas de Artola", so parents – be careful. (Special Tip. The favorite restaurant of our editorial staff on the beach "Andy`s Beach" . Here you can eat good quality Spanish food).
According to our poll data, most of the best beaches are east of Marbella. You can find more informations about these beaches on the pages: Beaches in Marbella and Beaches East of Marbella. Find even more interesting information about the beaches in Marbella HERE!
Do you have your own opinion? Share your opinions and appraise the local beaches in our poll, we would love to hear your vote!
10 OF THE BEST BEACH BARS (CHIRINGUITOS) IN MARBELLA
10. Beach Plays La Fontanilla (Restaurante La Red)
9. Plays Cabopino (Andy's Beach) 8.
8. Beach "Playa Hotel Don Carlos", Carretera de Cádiz Km 192, (Nikki Beach).
7. Beach "Playa de Río Real" (Trocadero Arena)
6. Beach in Puerto Banus (Picasso Pizza)
5. Beach "Playa Hermosa" (Poco Loco)
4. Beach in Nueva Andalucía (Restaurant Los Espigones)
3. Playa Trocadero, also known as "Playa Santa Petronila" or "Playa Nagueles" (Trocadero Playa Restaurant)
1. Beach "Real de Zaragoza" (Ranchon Cubano)
From Estepona to Malaga there are a huge number of beaches that you should visit during your visit to Marbella. Let's face it, great beaches are one of the main reasons why tourists come to Marbella. Each beach here has its own unique look, and our readers have quite clearly pointed out their most favorite. Let us know your favorite beach in the comments at the bottom of this page and write about your favorite beach restaurant.