Spain's 15 most magical places
Spain harbors in its expanses not a few mysterious places that are like a magical dream. This is the list of the 15 most interesting of them.
Incredible waterfalls, forests, as if from a fairy tale, rock formations of incredible shapes, caves in which the dragon slumbers, rivers in which turquoise water flows, absolutely red or pink land … In Spain there are many hidden corners, each time to discover something new without going out of the country.
In fact, there are so many magical places in Spain that it's hard to choose them. We have tried to choose for you 15 of the most magical places in Spain and tell you about them to make it easier for you to plan your new trip to our fabulous Kingdom.
1. Minas de Riotinto, Huelva, Andalusia
The lunar scenery, the absolutely red lands and the red water in the river create the illusion that you have gone to Mars. But no, friends, you're on Earth and you haven't gone anywhere. What's more, you're on the land of the Kingdom of Spain!
Minas de Riotinto is one of the most interesting places on the map of Spain. These are landscapes that have been changed and transformed by human activity since the Bronze Age, when man began to exploit these places and their subsoil.
If you decide to visit this surreal place it will not leave you indifferent.
2. Selva Irati, Navarra
Imagine a dense forest with a fairy or a forest dwarf or a hobbit (whichever you prefer) hiding behind every tree. And all in the midst of incredible colors: red earth, thousands of shades of green on the trees, and the incredibly blue sky of Navarra. The Selva Irati is the second largest beech forest in Europe (after the Black Forest in Germany) and the best preserved in its pristine virginity.
This unspoiled environment is ideal for sports and recreation, photo walks, senderism and just weekend walks to enjoy the unique scenery.
3. Cathedral Beach, Lugo, Galicia
Want to feel like a little ant on planet Earth? Head north of Galicia and visit Cathedral Beach.
Huge, 32-meter cliffs in the shape of arches descend into the ocean. If you get here at low tide (in the morning or late afternoon), you can walk under these arches that seem to have been carved into the rock by giant Cyclops.
In fact, this unforgettable spectacle has been honed by nature for many, many thousands and millions of years. Do not miss the opportunity to visit this one of the most amazing places in Spain.
4. Gorge of the Gulch of Hell (Garganta de los Infiernos), Cáceres, Extremadura
The Gorge of the Gulch of Hell is without a doubt one of the most unique landscapes that lurk in Spain.
It is located in a privileged place in the north of the province of Cáceres in the western part of the Sierra de Gredos range, in the heart of the Valle del Herte, full of waterfalls, streams, natural pools and huge bowls (pozos) carved in the rocks by the water erosion of rivers.
This place is ideal for hiking, photo shoots. This is a worthy place to feel like a hero of "The Lord of the Rings" or "The Hobbit".
5. Garahonay National Park, La Gomera, Canary Islands
Shrouded in mist, or pierced by rays of bright sunlight, the Garahonai laurel forests look like prehistoric landscapes. All that's missing are dinosaurs and pterodactyls in the tree branches for complete realism…
It is a magical place, usually shrouded in perpetual darkness, so old and so pristine, untouched by human activity, that it takes us back to the Tertiary period.
The forest is on the beautiful island of Gomera, part of the Canary Islands archipelago. This corner of Spain is so full of wonders that you are sure to fall in love with it.
6. Las Medulas, Leon, Castile y Leon
Burgundy sand, sharp peaks, red cliffs towering between chestnut and oak trees. Las Medulas is a natural monument that began to form during the time of the Roman Empire, which mined gold in these places in open pits and exported tons of it outside of Spain.
Walking through Las Medulas is like stepping into another reality, another dimension that allows you to expand your horizons.
Las Medulas is a UNESCO World Heritage Site and is one of the most incredible cultural parks available in Spain.
If you are traveling to Las Medunas visit the Orellana viewpoint to enjoy the panoramic view, be careful, it will steal your heart forever!
7. el Torcal de Antequera, Malaga, Andalucía
This is an almost surreal landscape, striking in its strangeness. El Torcal de Antequera is characterized by bizarre forms of limestone formed by karst processes.
Walking between these peaks and polished rocks and rock formations immerses you in Other Worlds previously unknown to man. From the first steps of your walk through this place, your imagination is completely captivated by the surrounding landscapes.
El Torcal de Antequera is a true natural paradise in Spain that you must see to believe it1
8. Drac Caves, Mallorca, Balearic Islands
One look at the Drak Caves is enough to imagine a sleeping dragon guarding the treasure chests, as he lights a torch and in its dim light you can watch the drops on the stalactites roll down into the mysterious lake in the cave.
This magical corner is near Manacor and its 4 caves drop to a depth of 25 meters below ground level. Inside the cave is a large underground lake near which you can hear the captivating sounds of classical music.
It is hard to imagine a more beautiful place in Spain…
9. Ordesa National Park, Huesca, Aragon
Deep intermountain valleys, high mountains, lush vegetation, turquoise rivers, waterfalls, and all this dissolves in the stunningly beautiful atmosphere of the Ordesa National Park.
Ordez National Park, located in the Pyrenees of Aragon, is something out of the realm of fiction, beyond comprehension. You could make fantasy films here.
Park Ordesa is located on more than 15,000 hectares of beautiful landscapes, here is the largest waterfall in Europe, so it is simply impossible to choose just one corner to enjoy all the beauty of Ordesa.
But we can advise you to go through Añisclo Canyon, Pineta Valley, and on to the famous Cola de0Caballo Valley.
10. Gulpiyuri Beach, Asturias
Despite the fact that mass tourism has already reached this unique place, it does not lose its magical appeal.
Get out to this beach one day at dawn and you will see a stunning picture of a sea beach, with a piece of the sea… but you will not see the sea itself, or rather the ocean, as everything is surrounded by green meadows, sun-drenched and high rock.
Although the depth of the lagoon is not deep enough for swimming, the beach of Gulpiyuri seems special, unreal… Perhaps at night nymphs come here to bathe….
11. Fageda den Horda, Olot, Catalonia
Mountains that are actually a sleeping volcano, green landscapes, incredible patterns of tree roots on the ground, all this gives mystery and a veil of magic to this place.
The Natural Park Zona Volcanica de la Garrocha, in spring and fall, is covered with an incredibly colorful carpet, which gives even more confidence that here you are sure to meet one of the heroes of local mythology.
Bring a book, some food, sit under a tree and wait…maybe you'll get lucky…
12. las Bardenas Reales, Navarra
Las Bardenas Reales is a semi-desert place where you will encounter various stone sculptures carved by water and wind over many thousands of years. Among the bizarre forms you will find a variety of plateaus, volcanoes, mysterious mountain dwellers and whatever else your imagination tells you.
A walk through Las Bardenas Reales is like a trip to the moon, only you do not have to leave the planet Earth.
13. Sierra de Cazorla Natural Park, Jaén, Andalucía
Next to the sea of olive trees that cover most of the province of Jaén, you are a green paradise that is more typical of the north of the country.
La Serrada de Elias is the most famous route in the area and the most beautiful. In addition, this route passes through the village of Cazorla, a small medieval wonder that adorns the Castle de la Jedra with an imposing fortress wall.
Here time stands still and peace rules the place and the world.
14. Monasterio de Piedra, Zaragoza, Aragon
Nature Park The Monastery de Piedra is a true symphony of water, light and nature, which merge here to give rise to one of the most magical places in Spain.
The course of the River Piedra has formed rocks, lakes, caves and waterfalls in its path. Once you set foot in the Monasterio de Piedra Natural Park, you will leave your heart here forever.
15. Green Caves (Cueva de los verdes), Lanzarote, Canary Islands
The volcanic island of Lanzarote is so unique that it's no surprise that it harbors such wonders as the Green Caves in its depths. This is a volcanic cavity, 7 km long, which was formed by the lava of the Corona volcano 5,000 years ago.
It is one of the longest lava tunnels in the world and has been home to local people for centuries. Today these caves are open to tourists.
10 Secrets that travel agencies are hiding about Spain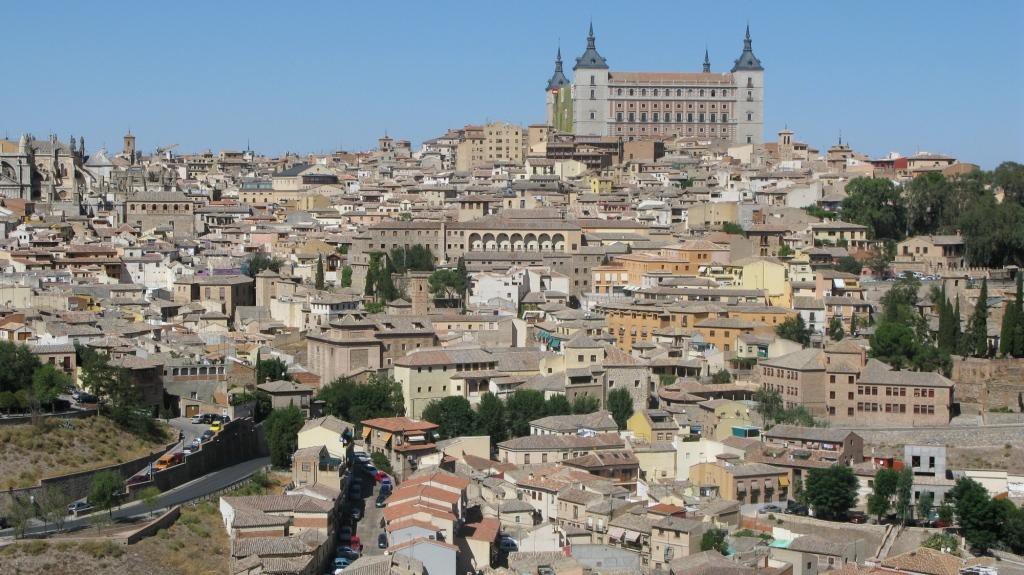 My review of the trip to Spain will be more for those who are just going to go to Europe. I will try to give the most useful information for the traveler, because going abroad is associated with the purchase of a tour at the agency, but very often managers do not tell about the place where you are going almost nothing, except the name of the hotel and what time the departure and arrival. Simply because they were not there. Having been to Spain for 3 times, I can make conclusions about how and where it is better to relax and where it is worth a trip. After reading my review in full, you will understand all the subtleties of traveling to European countries, and you will have an idea of how much the trip actually costs, how much the food, souvenirs, tours, and all the essentials. You will discover all the secrets that travel agency managers are hiding when they offer you to buy a trip. In general, on the road.
The story will be dedicated to my last trip in 2010m.
So, flying from Novosibirsk, time in flight 8 hours.
First Secret. Note, be sure to pay attention, before you go, whether the transfer airport – hotel is included in the price. Cab is expensive in Spain and in Europe as a whole, you will have to pay more, because usually the hotel is located on the coast at a distance of 100-150 km from Barcelona airport. There is a possibility to use public transport – it will be much cheaper, see the schedule here http://www.sagales.com/.
You had a connection to Moscow, time difference between flights was 1-2 hours. You need to take your luggage upon arrival and check it in for the new flight.
The 2nd secret. At Domodedovo airport Transaero and S7 and other companies have electronic check-in counters, where you can check in for your flight without waiting in line at check-in counters (usually they are crowded) I recommend asking an airline employee to check you in or, if you can, you can choose your seat on the plane and not wait in line.After landing take off. We landed in Barcelona 8 hours later. Everything on schedule, no delays. We walk down the big very long corridor to the end and go down to the exit to the city. There is a good selection of alcohol, perfume and some clothes and souvenirs. The prices are reasonable. Before you go out meets a representative from the travel agency and says which bus to board to get to your hotel. A couple of hours and you're at the hotel.
To the sea is usually no more than 5 minutes walk from the hotel. A 3* hotel in Spain is a small room without extravagances, but the food is much better than in Turkey (who was in a 3* hotel in Turkey will understand). Who do not want to overpay. can safely take three stars.
At sea you can swim, and you can go on excursions.
The third secret. The hotel on the coast offers you to visit excursions. The most interesting, in my opinion, are
Barcelona sightseeing, Barcelona Fountains + Bullfighting, Salvador Dali Museum, Mount Montserrat, Nice, Monte Carlo, Madrid, PortAventura Park,
Attention.
The cost of tours of approximately 25 euros for half a day, 50 euros for a full day, 200 euros for 2 days with a departure in other cities (Madrid.Nice). Despite the long transfers, all the excursions are very interesting and will give a lot of unforgettable impressions.
The 4th Secret. Travelling around Europe is very convenient because you can for little money and very fast to fly to another country, tickets on budget airlines are rather low.In addition, they are cheaper than the train.
The 5th Secret. To travel from the coast to Barcelona, you can take a bus or train. From the bus station (train station) this trip takes 1-1,5 hours and costs about 10 Euros round trip.
The 6th secret. When you choose a hotel, do not forget about food. In Spain, "all inclusive" from three meals a day is different in availability of free drinks, but otherwise the food is the same. The only thing is that at "all inclusive" you can get drunk at least all day.But if you choose between 2 and 3 times a day it is better to take 3. Lunches are expensive enough. To have dinner in a typical café you will have to pay from 25 euros for 1 person. 3 meals a day will pay back in a week.
The 7th secret. In the supermarkets food prices are about the same as in Krasnoyarsk. However, very low prices for olive oil and wine are immediately striking. A bottle of Italian champagne or table wine can be bought for 1 euro.Oil is also within 1-3 euro.Spaniards buy oil in cans, because they use it a lot in cooking olive oil. Fruit costs about the same as in our supermarkets. There's anything you want. From lemon to pineapple.
Must try Jamon, the local meat. The taste is unusual. About 10-20 euros depending on weight.
The 8th Secret. It is worth noting that the best time for shopping in Spain, as in any other European country, is July and August.
Why? And, really, the most real sales, when things can be bought at significant discounts of up to 80%, and as usual, and brands. In Spain are very high quality clothes are made locally, and only wealthy wealthy people buy famous brands, because they are 30-50% more expensive, and the quality is hardly different.
Buy things in small stores, where prices are usually lower than in the major hypermarkets in Barcelona and Madrid. And there are a lot of small stores. Barcelona is sometimes called one big store
But if you don't want to walk around, it's more convenient to go to El Corte Engles, but it is a little bit more expensive.
The 9th Secret. When you are in Barcelona, you can go to a concert or flamenco show. A very fiery dance.
At the end there will be a link to a website where you can read about it all.
Spain, despite its small size, is very diverse. People in the north and south dress, talk and behave differently, although the difference in temperature they have not such as we have – 40 degrees :), but only 10-15
Secret number 10. Spain allows you to visit the best parties in the world on the island of Ibiza or in the city of Lloret de Mar, where every 100 hotels have 90 nightclubs. You can relax as a family with kids in a quiet resort on the Costa DoradaKeep an unforgettable romantic trip to the Canary Islands, TenerifeWork and stay in the country for a longer period in BarcelonaStudy the history of the many museums and historical monuments in MadridJust do nothing and sunbathe and swim in any of the many resort townsOptly relax and walk around the night in Barcelona
Who was attentive, remember that my review is called 10 Secrets. And for those who liked my review, and who have read to this place waiting bonus – 11-th Secret. Warning!
The 11th Bonus Secret. When you are in Spain, you have to visit the cities of Barcelona or Madrid. If you haven't seen them, you haven't seen Spain. A visit doesn't just mean check in and check out, it means spending at least 1 to 2 days there until you get bored
Be polite when you are in Spain – say hello to everyone – the vendors, strangers in the elevator, the reception at the hotel, and just passersby
It's more fun that way
Here's a short introduction
Como estas? – How are you?
Buenos dias – good morning!
Many interesting things about Spain can be found on the Internet, but as they say, better to see once for yourself than hear 100 times. Moreover, this year there will be direct flights from Krasnoyarsk (the cost is approximately like Turkey).