Nine of the most popular shopping malls in Paris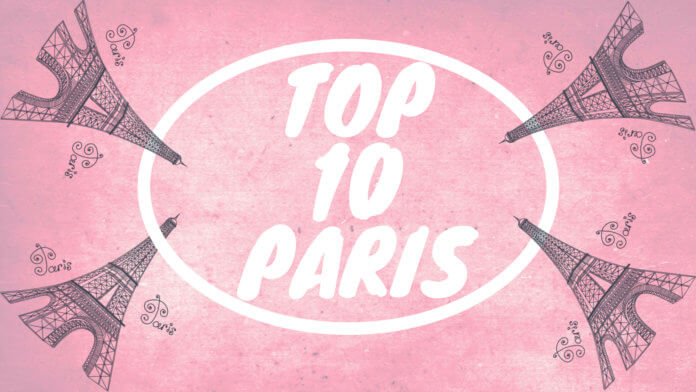 Top Places to go in Paris
The main shopping malls of Paris!
Shopaholics are not born, they become shopaholics after visiting malls in Paris. Bright halls filled with fashionable clothes, luxurious jewelry, exquisite fragrances, stylish shoes and insanely attractive accessories will take anyone's will away.
Some prefer to shop at flea markets, some at small stores, others prefer the brand-name boutiques on the Champs-Élysées.
| The shopping center | Subway | Opening Hours |
| --- | --- | --- |
| Galeries Lafayette | Chaux d'Antin La Fayette and Havre Comartin | From 9:30 to 20:30 |
| Printemps Haussmann | Havre-Comartin | 9:35 to 8:00 p.m., Thursday until 8:45 p.m., and Sunday 11:00 to 7:00 p.m. |
| Les Quatre Temps | La Defense | From 10:00 to 20:00 |
| Carrousel du Louvre | Palais Royal – Musee du Louvre | From 10:00 to 20:00 |
| Forum des Halles | Les Halles et Chatelet | 10:00 – 20:00 except Sundays |
| Le Bon Marche | Sevres-Babylone | Open daily from 10:00 am to 8:00 pm and on Thursday until 9:00 pm. |
| Bercy Village | Cour Saint-Emilion | From 11:00 to 21:00 |
| Bercy2 | Cour Saint-Emilion | From 11:00 to 20:30 |
| Bazar de l'Hotel de Ville (BHV) | Hotel de Ville | Mon-Fri and Thu-Fri – 9:20 am to 7:30 pm |
But only on the huge areas of commercial centers all kinds of goods are gathered, from nice trinkets and souvenirs to branded goods. That's where we're going now, so leave all your worries to the house elves, and take part in an orgy of consumerism.
1 Galeries Lafayette.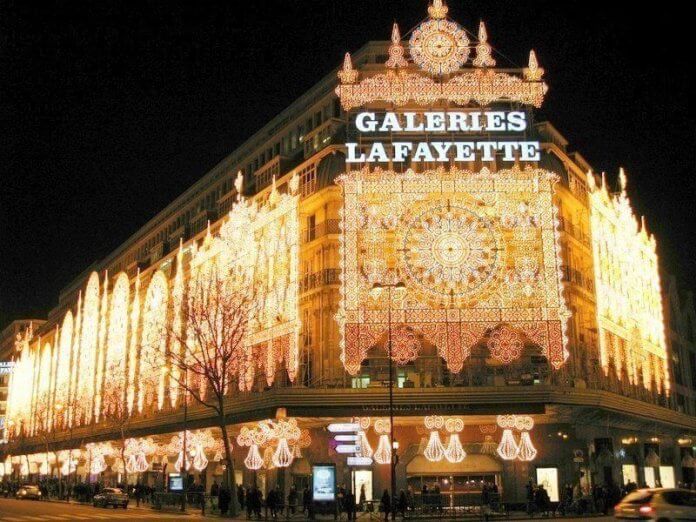 Galeries Lafayette in Paris is more like a beautiful fairy-tale palace under a glass dome with stained glass windows, bathed in illuminating lights, marble and gold trim.
The area of more than 30,000 square meters accommodated wine supermarkets, cafes and restaurants, fast food and delicatessen shops, but most importantly – hundreds of outlets with all kinds of goods. Among them are such famous brands as Armani, Trussardi, L´oreal Paris, Cristian Lacrua, Galliano, Calvin Klein, Montana, Dior, Dolce & Gabbana, Prada, Gucci, Hugo Boss, Chanel and others.
This is the most expensive mall in the capital, but the most beautiful, where for a few hours the world is perfect, the mood is peaceful and the background music is hypnotic.
People come here not only to buy new clothes, but to admire the building itself and the views from the gallery on Montmartre and the Opera Garnier, in front of which it stands. And when it's time for the Christmas holidays, a lushly decorated huge Christmas tree appears in the central hall.
Even without planning to buy anything, visit this place on Boulevard Haussmann, 40 for curiosity, because it also hosts celebrity meetings, plays, all sorts of shows and free Friday fashion shows.
Working time: 9:30 – 20:30.
Nearby metro stations: Chaux d'Antin La Fayette and Havre Comartin.
2 Printemps Haussmann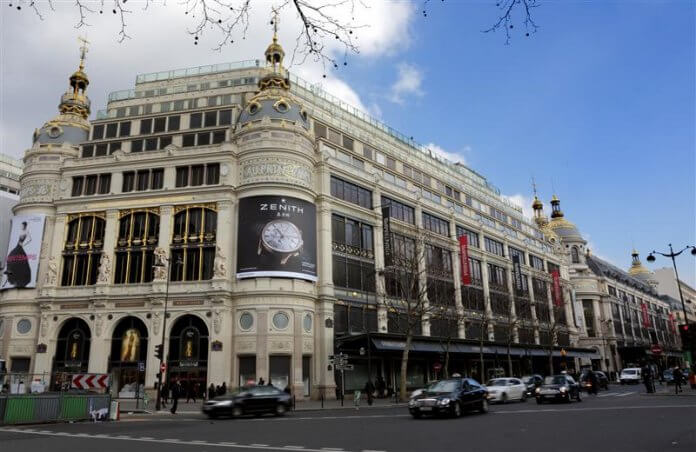 This department store is a block away from Lafayette at 64 Boulevard Haussmann and is an equally breathtaking sight. You can walk around it like in a museum and marvel at the beautiful decorations, the 3,185 coloured glass elements in a mirrored dome and the panorama of the city seen through the windows.
Founded in 1865, the store was conceived as a place for people with refined aesthetic tastes, indifferent to elegant outfits. It managed to keep its credo and now most of the leading fashion houses are concentrated in its vast territory.
"Spring", as the name of the gallery is poetically translated, occupies an area of 44,000 square meters, which are distributed between three 25-storey buildings, connected by air passages.
Printemps Mode is the main space, combining the departments of fine clothing, perfumes and accessories for ladies. It's a favourite shopping destination for Prada, Chanel, Calvin Klein and other famous brands.
Printemps Homme presents men's lines of clothes, fragrances and shoes. Of course, they are also not deprived of the sonorous names of the brands to make the strong representatives of mankind look metrosexual to match the beautiful sex.
Printemps Beauty & Home combines women's and men's trends in fashion. It also offers products for children, furniture and everything you need to decorate your home. You can buy souvenirs, sports and travel equipment, delicacies and much more. And when your eyes glaze over with things and prices, it's nice to sit in a local cafe admiring the views of Paris with a cup of coffee and fresh pastries.
If you are going to shop in Printemps Haussmann, keep in mind – the higher the floor, the more expensive the goods are.
As a service, there are floor guides speaking different languages, including Russian.
If you are going to spend a lot of money in many departments, not to pay in each separately, on the first floor you can fill out a form for "joint shopping" service, and then at the end of shopping you can bring a total amount to the cashier.
In addition to the fact that in anticipation of the holidays here are announced total discounts of up to 80%, so foreigners can return 12% of the total amount spent. This is called "Tax-Free," and you can use it either on the zero tier of the department store or at the point where the purchase was made.
Opening hours are 9:35 a.m. to 8 p.m., Thursday until 8:45 p.m., and Sunday 11 a.m. to 7 p.m.
Near the metro station: Havre-Comartin.
3 Les Quatre Temps.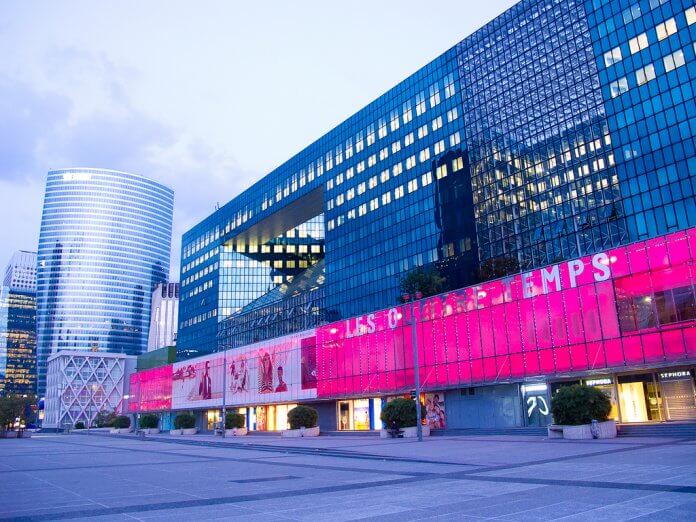 At 15, Parvis de la Defense stands one of the capital's most popular department stores, Les Quatre Temps, whose name translates as "4 times."
To find out what draws Parisians to it, head to the business district of La Défense, so different from the rest of the city. Instead of ancient buildings with quirky architecture you see a futuristic world of glass with a mirrored surface in which the surrounding space is reflected and multiplied.
Among the crystal skyscrapers is a 5-storey building, the largest shopping center in Paris and one of the largest in Europe. More than two hundred stores and 43 restaurants are located on its area, so the choice of assortment will impress anyone.
Massimo Dutti and Sandro, Tissot and Zara, Lcl and H&M, Desigual and Esprit, Mango and Aldo, footwear, accessories and fashion are represented from floor to ceiling. At Zara Home look for something for the home interior, and at Darty for electronics.
On the ground level in the Cultura store you can explore collections of CDs and books. Going up to the first floor, you'll find a post office and banks, McDonalds and several restaurants, while in Naturalia fans of organic food will love it. On the second floor are children's products – toys and outfits for young dandies. For parents, this is a dangerous area, as your child will definitely not allow to leave the cherished area without a newfangled fun.
On the third tier, the selection of cafes, bars and restaurants is even greater. At Starbucks they serve coffee to go, and if you're craving for a show, head to the movie theater, having previously sent the kids to the game room.
The Auchan supermarket occupies three floors and offers a wide variety of merchandise including groceries, household chemicals, clothes, cosmetics, and sundries.
The Tax-Free system also works but each outlet gives a portion of the money back individually.
Metro station: La Defense.
Open all days of the week: 10 a.m. to 8 p.m.
4 Carrousel du Louvre
It is impossible to be in Paris and not visit the Louvre. And to combine sightseeing and shopping, the city administration decided that the appearance of a commercial center near the Royal Palace is a great idea. But in order not to break the harmony of the historical monument's architecture, it was placed underground in the place where the glass pyramid rises. Its second part descends in a mirrored repetition into the center of the lobby of the department store.
Since the Carousel du Louvre is more tourist-oriented, there are many souvenir shops where you can buy postcards and posters, figurines, trinkets, bags, bijouterie, tablecloths, printed matter. But there are also more expensive products: leather bags, perfumes and cosmetics, watches and jewelry represented by famous brands: Swarovski and Lalique, Tie Rack and Lacoste, Fragonard and L'Occitane, Apple and others.
Like other major shopping centers in Paris, the Carousel du Louvre offers a variety of services. In the restaurants you can eat delicious food, use ATMs and rentals, exchange currency and refer to the tourist center, buy tickets to the Louvre and other museums: Versailles, Orangerie, Orsay, Picasso.
The department store is located at 99, Rue de Rivoli.
The closest metro station is Palais Royal – Musee du Louvre.
Open daily: 10:00 – 20:00.
5 Forum des Halles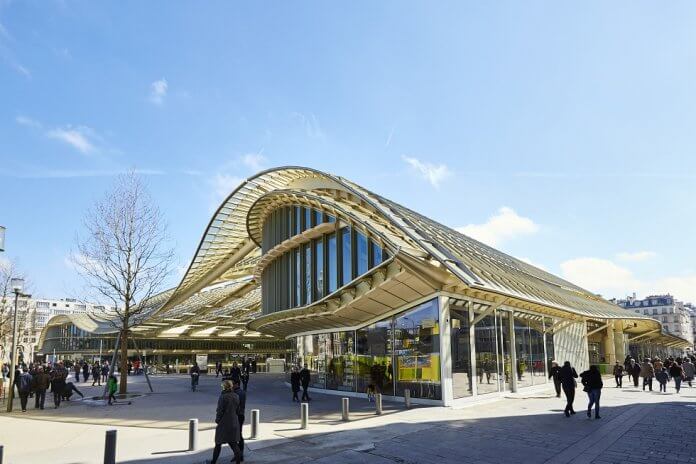 At 101 rue Port Bergé your attention will surely be attracted by the glass arches and porticoes. This is the entrance to the unique Forum des Halles department store, which is almost completely underground except for the top floor.
Tourists love to explore it because it stands close to the Louvre and other sights, and locals have a warm feeling for another reason. The site once housed the enormous Les Halles food market, which Emile Zola aptly called "The Belly of Paris."
Now it is a five-level commercial center, which offers a wide range of goods for the average buyer. Once inside, it's hard to imagine that it's hidden underground. The reason is the lighting, where artificial illumination is complemented by a system of mirrors, located in such a way as to reflect daylight coming through the transparent ceiling of the upper level.
Leading brands are presented here as well as little-known brands: H&M, Calvin Klein, Mango, Adidas, Nike, Levi's, ZARA, KOOKAI.
People come to Forum des Halles for clothes, perfumes, jewelry, fashion accessories, items for sports and outdoor activities, computers, audio and video equipment.
Numerous coffee shops, pastry shops, and restaurants offer a selection of national cuisines, and McDonald's is open for fast food lovers. You can also visit cinemas, photo galleries and art exhibitions.
Metro station: Les Halles et Chatelet.
From 10:00 am to 8:00 pm (except Sundays).
6 Le Bon Marche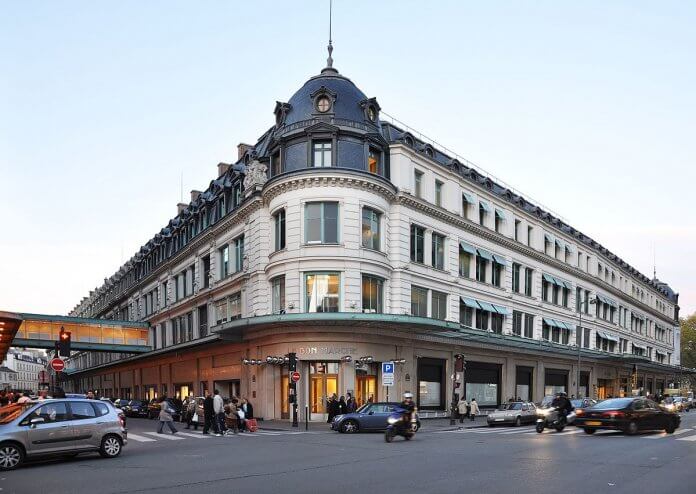 Le Bon Marche is another store mentioned in Emile Zola's Lady's Luck. Besides, the name of the architect who worked on its creation, the same Gustave Eiffel, the author of the Eiffel Tower, adds weight to it.
This is a truly luxurious place, and those who are able to tastefully spend money, waiting for a fascinating shopping experience. One can say that in one building gathered all the Champs Elysees. Here are more than 40 names of fashion houses with their latest collections.
Here are the best collections of women's underwear in the capital, an incredible choice of cosmetics, luxurious wedding accessories for the happy newlyweds, as well as amazing delicacies from around the world. The department store has its own cultural department, where exhibitions are held and works of art are sold.
Le Bon Marche is located at 24 rue de Sevres, next to Sevres-Babylone metro station.
Open daily from 10:00 am to 8:00 pm, and on Thursday until 9:00 pm.
7 Bercy Village.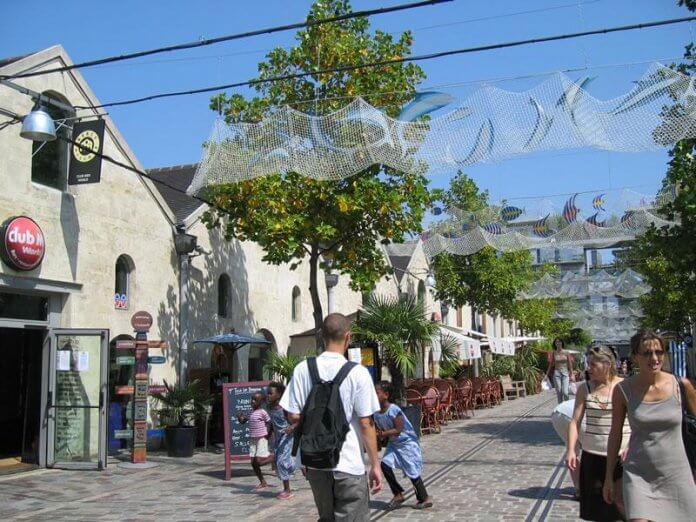 If you are still exploring Paris shopping areas, why not head to the Bercy Village at Cours Saint-Emilion, near the metro station of the same name.
It used to be the place where winemakers worked, storing huge barrels and bottles of heady nectar in spacious warehouses. When the time came to reconstruct this part of town, it was decided to keep the stone sidewalk and partially preserve the facades of the buildings, and in some places you can see and large barrels, only now they serve as decoration.
Bercy Village cannot be called large, but its charm is in unexpected and original finds – things that are sold only here.
Stores include secondhand booksellers, perfume stores, specialty surfing goods, pet stores, home furnishings and, of course, an assortment of wine.
A variety of services are provided, too, and there are art exhibits, cinemas, beauty salons, restaurants and cafes for visitors to enjoy.
Open daily: 11 a.m. to 9 p.m.
8 Bercy2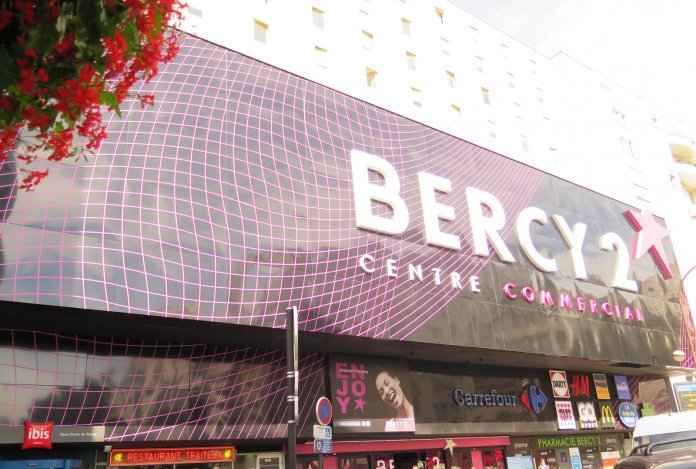 Do not go far from Bercy Village, because in the same area at 4, Europe Square, Charenton-le-Pont there is another great department store – Bercy 2. Prices are designed for the average shopper, and the range of clothing and household items, sports and leisure, jewelry and optics, toys and cosmetics, all for health and beauty.
You can also go to a bank branch, buy groceries or try mouth-watering meals at one of the restaurants, bakeries and coffee shops.
It is closed on Sundays, but other days it is open from 11:00 to 20:30.
The nearest metro station is Cour Saint-Emilion.
9 Bazar de l'Hotel de Ville (BHV)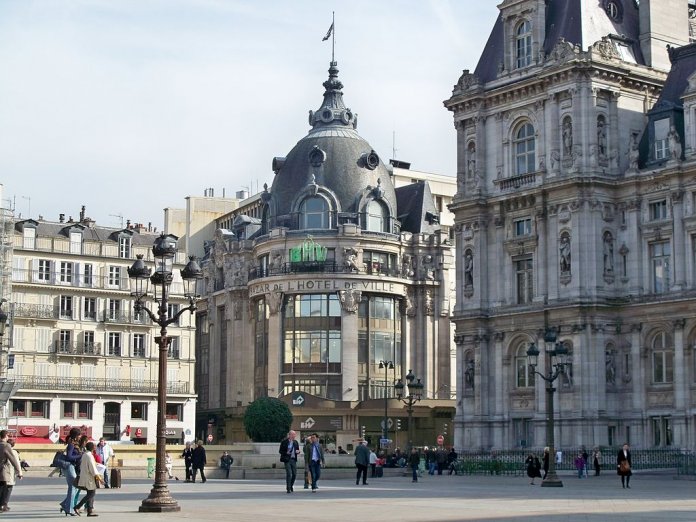 The name Bazar de l'Hotel de Ville (BHV) literally translates as "Market of the Town Hall" and is located across the street from the City Hall. The building itself stretches over several streets and therefore its address is: Via Verreri, 55 and Rivoli, 52-56.
Tourists poke around its many halls, in which it is easy to find the goods of interest. The seven levels have an uninterrupted flow of customers that fill the halls of jewelry, clothing, accessories, and electronics. The sports, perfume, toys and cosmetics departments are also bustling.
People come here for souvenirs, linens, dishes, living space decorations, and handicraft items. If you spend €175 or more, you can get a 12% refund.
Tired of shopping, stop at one of the cafes or sushi bars for a bite to eat.
The schedule is hopping:
Mon-Fri and Thu-Fri – 9:20 am to 7:30 pm
Wednesday – 9:30 a.m. – 9 p.m.
Saturday – 9:30 a.m. – 8 p.m.
Sunday – day off.
These are the largest shopping centers in Paris, where you should definitely visit to experience all delights of the capital's shopping.
The most famous department store in Paris, France
Lafayette Gallery on Boulevard Haussmann is not just a department store, it is one of the most famous attractions of Paris, which attracts tourists from all over the world not only for shopping. It attracts tourists and the building of the department store, which is a unique architectural creation, and its magnificent dome is classified as a historical monument.
Contents
History of Galeries Lafayette
Galeries Lafayette is a legendary Parisian department store, the Mecca of Paris shopaholics and its numerous guests. The gallery was founded in 1893 by cousins of Alsace brothers Theophile Bader and Alphonse Kahn. The brothers decided to open a shop in one of the busiest areas of Paris near the station, where hundreds of people from the Parisian suburbs and other cities came daily.
The brothers opened the store at the intersection of the busy Rue La Fayette and Rue de la Chaussée d'Antin. Between the sales departments in the store were alleys through which numerous visitors moved, so it was decided to call the store "Galerie".
The correct choice of the store's location and competent management, introduction of unusual for those times promotions and sales allowed the enterprising brothers to promote the business well and steadily obtain high revenues. Encouraged by their success, they decided to purchase the surrounding areas and buildings, and significantly expand the store's retail space. In 1906, the brothers commissioned the celebrated architect Georges Chédan to add to and remodel the store on Boulevard Haussmann opposite the Grand Opera.
Georges Chédan already had a number of highly praised and rewarding projects in his career: he was a recipient of the Prix de Rome. And this time the architect has brilliantly coped with the task, and the store has further increased its turnover after the expansion. In 1912, a chic building with an amazingly beautiful glass dome was built.
The Gallery building itself is a real architectural masterpiece. The glass dome that adorns the building is in the Neobyzantine style and is rightfully considered a monument of architecture. The eight-story building has a stunning panorama of the city. From here, one can admire the Opéra Garnier opera and ballet theater and the Basilique du Sacré Coeur on the top of Montmartre Hill.
Want to go skiing? Then learn more about the Three Valleys ski resort in France. Information on how to get to the Three Valleys, hotels and slopes.

Learn all about the great French sculptor Auguste Rodin here.
Galeries Lafayette official site
Galeries Lafayette has launched its official website at www.groupegalerieslafayette.fr and does online shopping. On the multilingual site you can find information about the department store itself, but also about the services, the history of the foundation of the store, a lot of interesting information about fashion brands and trends.
The Distance Selling Service delivers any product (excluding food and Louis Vuitton branded products) to any city in the world. Place your order for delivery of products from Galeries Lafayette's extensive catalogs by calling +33 (0)1 42 82 80 72 or +33 (0)1 42 82 80 46 or by writing to vd@galerieslafayette.com.
Galeries Lafayette today
There are now more than 300 popular brands on offer at the eight-storey, 120,000sqm Galleries Lafayette, including Prado, Jean-Paul Gaultier, Chanel, Baldinini, Salvatore Ferragamo, John Galliano, Christian Lacroix, Sonya Rykiel, Thierry Mugler, Armani, Dior, Trussardi and many, many more. This is not a complete list of the presented in the shopping center world fashion houses, which, in addition, regularly hold their shows here. Clothes, footwear, accessories, household goods – here you can find everything what your heart desires. This is a paradise for lovers of shopping and connoisseurs of the real fashion.
Every day Galeries Lafayette's numerous boutiques serve over eighty thousand customers. Especially great inrush is observed on the eve of Christmas and other holidays, when the store declares significant discounts and various attractive actions.
Separate floors are occupied by departments for women, men and children, household goods. Young people can find the most popular products from trendy brands – Pepe Jeans, Timberland, Incity, Diesel, Roxy, Quicksilver, Levi's, Lee, Wrangler and many others.
Lafayette Gallery's administration constantly organizes celebrity exhibitions, vernissages and fashion shows, concerts. In the 50s the famous French singer Edith Piaf performed here more than once. On Fridays you can watch free fashion shows. In 2010 the fashion house Yves Saint Laurent held an unusual event within the walls of Galeries Lafayette "Fashion is you!" with non-professional models as participants. The event even made the Guinness Book of World Records. Popular in the West, Mikhail Gorbachev signed his autographs here in the late 90s.
The gastronomic court – Lafayette Gourmet – has excellent restaurants and bars serving fancy food and the famous French champagne. And champagne can be tasted on almost every floor of the store. There are also counters with sausages and pastries. Coffee lovers can enjoy this wonderful drink in the Starbucks coffee shop. On the top floor the most popular restaurant in the mall offers a view of the Eiffel Tower, the symbol of France.
On the first floor of the department store is a reception desk, where multilingual receptionists will help guests to orientate in this huge building. On the same floor is the GlobalBlue exchange office. Galeries Lafayette Contact, also located on the lower floor, offers a unique service for Russian-speaking customers. The service includes information in Russian, various programs and activities, personal shopping, personal shopper services, delivery of purchases to the hotel, etc.
Guests who come to the mall with children, if necessary, can use the children's room located on the fifth floor in the children's goods department.
The department store also has beauty salons Shanel and SPA Decleor, where beauticians offer a variety of spa treatments and will help you choose the most suitable skin care products.
Guests of Paris are offered 45-minute tours of the Galeries Lafayette.
Galeries Lafayette consists of three centers, each of which has its own specialization.
Lafayette Coupole
Lafayette Coupole is the main Galeries Lafayette shopping center, where you can buy products for women, children and newborns – clothes, underwear, shoes, accessories, jewelry, jewelry, perfumes and cosmetics, baby products, toys, electronic and household products.
On the sixth floor are boutiques of bridal attire for brides and grooms. All the brides of Paris and other French cities come here to choose the most luxurious dresses from the best European designers. The store offers a wide range of wedding accessories. Experienced consultants and stylists will help you choose the most appropriate gown that will fit your figure.
In this building, on the ground floor, is the Tax Free (duty free shopping for non-EU citizens) office. On presentation of the receipt with the seller's signature, you can get a refund of 12% of the value-added tax (VAT) paid on all purchases.
Interesting: some boutiques of Galeries Lafayette provide discounts to those who have a tourist card Paris Pass.
Lafayette Homme.
Lafayette Homme presents goods for men. This building is home to the Lafayette Gourmet, mentioned above, which sells delicacies and the most exquisite products from around the world.
A selection of 10 recipes for foie gras. Recipes for roasted foie gras, foie gras pâté and more.

You can learn all about making French macaroons here.

How to apply for a visa to France on your own can be found at: http://tourtofrance.net/sovety-turistam/kak-oformit-vizu-vo-frantsiyu-samostoyatelno.html
Lafayette Maison
Lafayette Maison is located opposite the first two buildings, occupying an area of 10,000 square meters. Here you'll find a huge range of home products – furniture, dishes, bedding from the best manufacturers and much more. There are also luxurious crystal tableware, silverware and porcelain sets by the famous brands Christofle, Gien, Saint-Louis. Goods from famous designers Alessi, Designers Guild, Design Stockholm House, etc.
On the first floor of the store is Alain Ducasse chocolate boutique, where visitors can enjoy the luxurious taste of real chocolate made according to classic recipes.
It is in this building that weekly half-hour free fashion shows are held at 3pm. From January to April, the TillweDrop show by fashion designer Jean-Paul Lespagnard is held here.
Sign up for the free fashion shows by calling +33 (0)1 42 82 30 25 or emailing fashionshow@galerieslafayette.com.
Galeries Lafayette Christmas lights
Every year, well before Christmas, Galeries Lafayette showcases are transformed in a magical way, attracting Parisians and visitors with thousands of lights. Numerous shop windows of the huge shopping center are transformed into true works of light art.
Chrysalide" light artwork celebrating the shopping center's 100th anniversary
To celebrate the 100th anniversary of the Lafayette Coupole main building, the management of the department store commissioned an unprecedented show to the iconic designer Jan Kersal to light up the store front. Together with the architect Juric Tardio, Jan Kersale created the Chrysolide light painting, changing as the seasons change.
Galeries Lafayette opening hours
Monday through Saturday the store is open from 09:30 to 19:30. On Thursdays the store is open until 21:00. On Sunday the store is closed.
Galeries Lafayette department store address in Paris
Galeries Lafayette in Paris is located on Boulevard Haussmann 40 (blvd Haussmann). The phone number is 01 42 82 34 56.
The department store occupies almost the entire block and can be accessed through several entrances from different sides.
How to get to Galeries Lafayette?
Take buses nos. 20, 21, 22, 24, 26, 27, 29, 32, 43, 53, 66, 68, 91, 94, and 95.
Metro: Chaussée d'Antin, Opéra, or Trinité stations. From the Chaussée d'Antin – Lafayette subway station, you can enter the main hall of the Galeries directly from the underground tunnel without going outside and following the "Grands Magasins" sign.
Take the RER train: Auber (Line A) or Haussmann St-Lazare (Line E).
Nowadays Galeries Lafayette, having turned into a whole network of stores, has expanded beyond the borders of its native France and opened its branches in Berlin, Dubai, Abu Dhabi, Moscow and other cities of the world. Despite the fact that the chain's largest store is located in Dubai, the store with a luxurious dome and numerous mosaics on Boulevard Haussmann in Paris remains the most attractive and symbolic.