Agritourism in Tuscany: the best farmhouses for holidays
Tuscan landscapes are fascinating with their unique beauty: picturesque vineyards and olive groves, lonely medieval villas surrounded by fields with neatly scattered sheaves of hay, tall tall cypresses, indicating the right way … Looking at the pictures of Tuscan vastness and want to dive into the simple farm life, forgetting about the bustle of city life and bustling metropolitan areas. In this article we have prepared a review of the best, in our opinion, agritourisms, that is farmhouses in Tuscany, which transmit the color of rural life in Italy.
Casa Verniano
Not far from Siena, in a quiet and picturesque place, there is a homely private agricultural farm with welcoming hosts. This farm is a real treasure for travelers who want to feel the flavor of peasant life, to know the customs of the locals and try simple peasant food.
The farm grows vegetables and fruits, produces wine, olive oil and all kinds of jams. Breakfast is served here in buffet style, and for dinner you can order typical Tuscan dishes prepared by the hostess.
In addition, there are many farm animals in the villa. There are horses, donkeys, goats, rabbits, chickens and geese so you won't get bored!
Casa Verniano is a complex of old buildings, restored and equipped with everything you need for a comfortable stay. Clean and cozy apartments, panoramic terraces, outdoor swimming pool, gazebo, barbecue area and, of course, breathtaking views!
Learn more
Agritourism Santa Chiara
In the suburbs of Volterra, one of the pearls of Tuscany, there is a cozy private farm that welcomes guests. His wife, Signora Livonia, will cook for you a delicious lunch or dinner made from the produce grown in her own garden. While visiting this lovely couple, you'll feel right at home.
The couple produce olive oil and wine, have an olive plantation and vineyard, and raise pigs, rabbits and chickens.
Read more
Cafaggio agricultural farm
Off the tourist trails, in the heart of Tuscany, between Florence and Pisa, there is a large agriturismo farmhouse where some varieties of Tuscan delicacies are made. Cafaggio agriturismo is a complex of restored farmhouses adjacent to an agriturismo farm, owned for over half a century by the Salvadori family.
On the property, calves, donkeys, pigs and horses are raised, olive oil, wine, honey, some varieties of cheeses and sausages typical of the area are produced. For breakfast we serve delicious homemade pastries, yoghurt and other products of our own production.
In addition to the beautiful views of the Tuscan countryside, the place is quiet and has an inexpressible atmosphere of tranquility. In addition to the outdoor swimming pool, there are various leisure areas on site and for connoisseurs unforgettable horseback rides are organised.
Find out more
Il Leopoldino Agrotourism
An agritourism paradise does exist and it is located in the province of Pisa, not far from the beautiful town of Lucca! It is a small farm, run by a young couple Arianna and Giulio. For their guests, they offer several options of accommodation in modest but clean and cozy rooms.
The owners breed goats and chickens, have their own apiary, olive grove and vineyard. They produce olive oil, wine, jams, Signora Arianna serves delicious breakfasts with homemade pastries for her guests, and for dinner you can ask her to prepare dishes of peasant cuisine.
In addition, the owners of the farm organize interesting donkey rides.
Find out more
Capannacce Organic Farm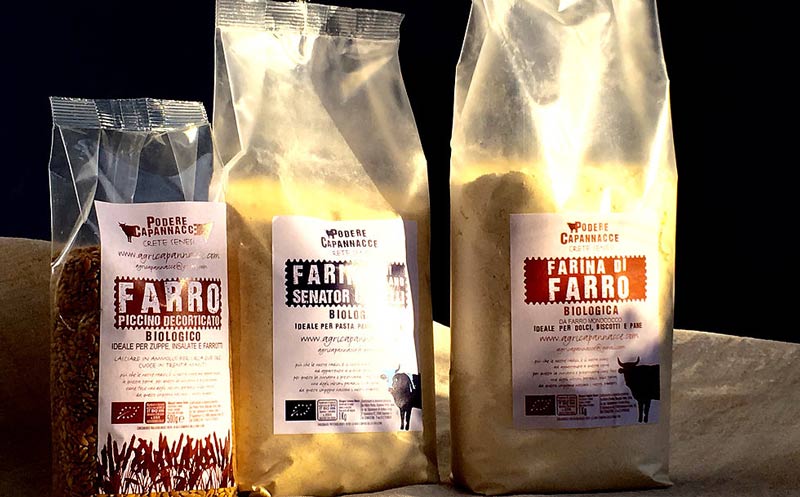 Between Arezzo and Siena, Capannacce Organic is a private agro-farm specializing in wheat and organic flour production.
It also produces olive oil, cheeses and delicious honey.
A special kind of cows (BOVINI PONTREMOLESI) and thoroughbred English horses are bred on the estate.
The agritourist farm is located on the site of the former farm. Guests are offered accommodation in restored rooms, equipped with everything necessary for a comfortable stay. Each cottage has its own kitchen and bathroom. Barbecue facilities are available on site.
Not far from Capannacce Organic are the Rapolano thermal springs, famous for their healing waters.
De' Cortesi Estate
Another agritourist paradise in Tuscany can be found around the town of San Gimignano.
This old medieval manor house with a beautiful garden and incredible views of the Tuscan hills is famous for the cultivation of aromatic herbs and one of the most exquisite culinary spices – saffron! It also produces Extra Vergine olive oil.
The interiors of the estate are tastefully furnished with antique furniture and the courtyard is full of flowers, carefully cultivated by the mistress.
The grounds include an outdoor swimming pool and various seating areas.
Learn more
How to save on hotels
You can and should look for hotels not only on bookings! Italy for Italian lovers recommends Hotellook, which will help you find and compare many hotel rentals on several booking sites at once!
Farmhouses in Tuscany – the best places for agritourism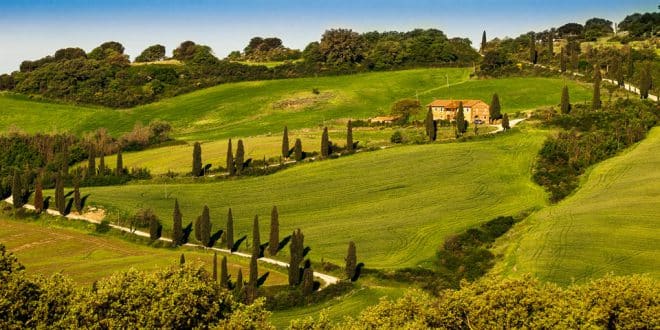 Undoubtedly, the region of Tuscany is the most popular for agritourism in Italy. It has good infrastructure, beautiful medieval towns, as well as wine and, of course, incomparable Tuscan cuisine.
Dozens of books and feature films have been written about Tuscany, it inspires and falls in love at first sight.
I advise you to plan at least a week to explore Tuscany, which you can spend in one of the fabulous farmhouses – this is how you can understand and feel the traditions of the locals.
From personal experience and reviews, I've selected the best farmhouses for agritourism, and they are mapped out – study it before you go.
Be sure to read the descriptions of each place, and look at the photos and reviews on the boqing before booking.
Agriturismo Tripala
150 euros per night for up to 5 people, 130 euros for 2
Nearest town: La Spezia, Cinque Terre National Park
Agriturismo Tripala is an oasis in the countryside, ideal for families. You can relax by the pool, sunbathe on the terrace, ride mountain bikes or walk in the beautiful Apuan Alps.

The farm is located in the north of the region in the Garfagnana National Park. Owners Carlo and Silvia have created an incredible piece of paradise in the mountains of Tuscany. The house sits on a hill with spectacular views of olive groves and is an ideal base if you want to visit the historic cities of Tuscany, including Lucca, Pisa and Florence. The coast is only an hour away by car, so you can explore the beautiful fishing villages of Cinque Terre or swim in the azure waters.
The nearby medieval villages (Antognano, Pugliano) have several pizzerias and restaurants serving delicious local cuisine, as well as wines from grapes ripened on the nearby slopes. The owners speak English and Italian, always ready to help if you need any advice. Outside there is a communal pool measuring 15 x 6 m.
Carlo and Silvia are engaged in organic olive oil production based on vegetable olive oil. The surrounding gardens are especially beautiful in spring and early summer, with the color and fragrance of many rose bushes and peonies.
The hosts offer accommodations in two-level apartments with a large kitchen and sitting area and separate toilets for each room. It's easy to have the perfect week's vacation here. To explore the surroundings, you can borrow free bikes or go hiking.
Agriturismo Fattoria Casabianca
60 euros a night for 2 people, 150 euros a night up to 6 people, amazing breakfast 12 euros
Nearest town: La Spezia, Cinque Terre National Park
The Casabianca estate is placed among vineyards, 15 minutes by car from Casciano di Murlo and about an hour from Siena, Montalcino, Montepulciano and the Val d'Orcia.

The farmhouse is a 13th-century country house with 5 separate farmhouses at a distance of 1 to 5 km from the reception, a swimming pool for adults and one for children and 2 tennis courts. The houses vary in size and design and are located at different addresses on the estate,
The drive here is already an adventure, some of the roads are not even on google maps! The roads connecting the farmhouses are unpaved, if you're lucky, you'll see wild animals along the way – deer, hares, wild boars There are difficulties with Wi-Fi, it only pulls at the main house – an ideal place if you're looking for unity with nature and are ready to escape from civilization for a while.
Parking is free. The farmstead produces organic wine and olive oil.
The farm's own restaurant serves Tuscan cuisine. Next to the reception is a tasting room, where you should definitely try their Casabianca wine. Buffet breakfast is served daily from 8:30 to 10:30. You can cook on your own; the in-room kitchen is equipped with everything you need.
The semi-Olympic-sized pool has sun loungers and parasols, and the artificial lawn has a dirt lawn. Horseback riding lessons are available nearby.
You can spend 3 to 10 days at the farm and then optionally spend a day or two at the Petriolo Terme Spa Hotel, which is just an hour away.
Casina Della Burraia
60 euros a day for 2 people
Nearest town: Arezzo
The cozy farmhouse Casina Della Burraia is an hour's drive from Arezzo, far from big cities. The farm was built with care and dedication to local traditions and a love of nature and animals.

Suitable for couples looking for a place to enjoy beautiful nature, delicious food and surrounded by friendly hospitable owners. The hostess's name is Elliana and she cooks her own hearty and incredibly delicious dinners.
On the territory there is a garden with a children's playground. The owners of the guest house breed animals and make jam. The staff is very friendly, the food is great (from their own yard and woods). The rooms are beautiful, the candles are nice. Highly recommended.
To get to the house you have to take a short off-road adventure, just type Castello di Valenzano into your navigation. When you get there, drive past the castle and take the dirt road to the right just beyond the castle. Follow about 3 km uphill and you are in a fairy tale.
I suggest a walk around the area after dinner, you can see the fireflies – the view is magical!
Podere Il Pino
140 euros per night for 2 people, 150 euros for 4, 200 euros for 6 adults.
Nearest towns: San Gimignano, Volterra
The farmhouse Podere Il Pino is a family business run by very simple, sunny and sociable people.

The house is located in the vineyards and olive groves of the hills of the Chianti Valley, just a few kilometers from the most beautiful and important cities of Tuscany – the fabulous San Gimignano is only 20 minutes by car.
Here is the ideal place to relax with family, friends, which gives you the opportunity to restore your body and soul in nature. Surrounded by fragrant pine trees, there is an 18-meter swimming pool, it is equipped with a hydromassage section and has a furnished terrace for sunbathing.
The apartments have their own patio overlooking the large garden. Inside, everything is well thought out and equipped with a kitchen with stove, microwave, refrigerator and even a corkscrew. A shared laundry room is also available. Free barbecue facilities are available in the garden. I suggest you buy homemade wine from the owner for 4 euros per bottle.
Tenuta Casteani Wine Resort
100 euros per night for 2 guests
Nearby towns: Grossetto, Siena
The Tenuta Casteani Wine Resort is located in a private area of vineyards and forests with a stunning location on top of a hill, with a beautiful view over the Tuscan countryside. It's optimal to stay here for one to three nights.

In summer, the swimming pool is open, walking around the neighborhood you can see deer, hares, owls. The owner Riccardo will be happy to arrange a tour of the winery or a tasting of Tuscan wines. The house has a restaurant that is open all days except Sundays.
Agriturismo Barbi
92 euros per night for 2 guests.
Nearby towns: Pienza, Montepulciano and the Val d'Orcia.
The farmhouse Agriturismo Barbi is ideally situated in the heart of the Orcia valley, overlooking Pienza and the hills, the very landscapes that most tourists associate with Tuscany.

The owner's name is Vilmo and he was born and raised on a farm where today he produces Extra Virgin olive oil, traditional Pici pasta, and grows barley and lentils, all of which are available for purchase.
Vilmo is happy to share his knowledge of organic farming and the history of the region. In fact, you are on a real working farm with olive trees and arable fields stretching as far as the eye can see.
The apartment has everything you need for a long and comfortable stay – dishes, washing supplies, clothes dryer, hair dryer and other important little things.
I advise you to stay here for at least a week, which will fly by unnoticed. In the evenings you will enjoy the best sunset in the world. The only downside – it will be a pity to leave the paradise.
Agriturismo Zampugna
160 euros per night up to 4 people
Nearest towns: Montepulciano, Pienza
The farmhouse Agriturismo Zampugna also has a great location in the valley of Val d'Orcia.

The owner Ricardo gives a small compliment at check-in – he gives a bottle of delicious wine from his vineyard. You can see that the house is made with love, provides important little things, glasses for different types of wine or, for example, there is even a special knife for cutting cheese. There is a seasonal outdoor pool, a little away from the villa itself, with a very beautiful view of the Tuscan hills.
Ideal to stay in Tuscany for at least 3 days: the views and silence around are amazing. The place is very cozy and secluded, there are no stores or restaurants nearby, but that is only a plus. You get the feeling that you are the only one in this amazing place.
Ricardo is always happy to give advice on local restaurants and stores. Barbecue facilities are available in the garden of the house.
Podere Casanuova
120 euros per night for 2 people, 205 euros for 4 people.
Nearby towns: San Gimignano
The farmhouse Podere Casanuova was built in the XVII century, it is surrounded by flower gardens and only 5 kilometers from San Gimignano.

The only noise you will hear in the house will come from nature. The owner's name is Lucia and she always tries to give advice and fulfill clients' wishes.
The pool is usually open May until the end of September.
Podere Castellare
110 euros per night for 2 people, 250 euros for 5 people, breakfast 8 euros.
Nearby towns: Florence, and The Mall Luxury Outlet and the Baths of Bagno di Rapolano.
The farm Podere Castellare is located in the heart of the Casentino Natural Park.

The owner's name is Adriano and he is always happy to help with advice. The house is less than 20 minutes from the Baths of Bagni di Rapolano and Petriolo, where it is recommended to spend a day.
There is a garden, outdoor pool, table tennis, free bike rental and a peaceful view of the vineyards. For breakfast, only local organic snacks, and for lunch and dinner, the restaurant serves Tuscan cuisine. .
Fonte Alla Lepre.
85 Euros a night for two, 125 Euros for four.
Nearest towns: Volterra, Livorno, Cecina
Fonte Alla Lepre is an inexpensive and cozy house with a pool, a place where you will wake up to birdsong. I recommend spending from 2 days to a week here.

For 16 euros you can visit the health and spa center with sauna, Turkish bath, Jacuzzi, multi-sensory shower and relaxation area. If you get bored of looking at the hills, the nearest relatively large town is Cecina, a 20-minute drive away with restaurants and the water park Acqua Village Cecina (www.acquavillage.it). Another 10 minutes and you're on the beach.
The house has a restaurant specializing in local food.
Badia a Coltibuono
150 Euros per night for two, 425 Euros for seven in a 4-bedroom apartment, breakfast 13 Euros
Nearest city: Siena
The 11th century farmhouse Badia a Coltibuono is located in Chianti, a former abbey, situated on a mountain that offers a beautiful view of the Arno Valley. Here is a truly unique opportunity to spend time in the historical atmosphere of a 1000 year old monastic abbey and farm. The current owners have been running it for almost 200 years.

It is very interesting to feel how people lived in such places long before our time, and even now, but no longer monks, but aristocrats. The house is located 650 meters above sea level, an area characterized by temperate summers, during which the villa feels a natural evening chill.
One can relax in the magnificent Italian-style garden and in the summertime around the large outdoor pool. In early July, the air was filled with the blooms of centuries-old linden trees. There were stunning views, a beautiful park, the scent of lavender in the air . In the morning you wake up to the chirping of birds and ringing of bells.
In the morning you wait for a delicious homemade breakfast in the garden. The rooms are furnished with antique furniture. Frescos on the walls of some of the rooms are preserved and you can walk through them. There is an opportunity to visit a wine tasting, produced by the abbey with a visit to the cellars.
It should be borne in mind that the concept of the house does not allow for air conditioning in the rooms, there is a fan. In cooler times it is not important, and as a unique experience, a short stay is quite comfortable.
I advise to read about: Chianti wine
Which airport to fly into
For travel in Tuscany it is best to fly to the airport of Pisa, Bologna, Genoa or Rome.
From Moscow to Bologna, there is a direct flight www.aeroflot.ru.
From Moscow to Pisa there is a low-cost airline www.pobeda.aero.
From Kiev to Bologna and Pisa fly skyup.aero.
Travel schedule and prices
Let's see a rough travel plan and try to calculate the costs.
Car expenses
As an example, we will arrive at Pisa airport and rent a car for 10 days at auto.italy4.me beforehand. We choose a good provider with an average score above 8.
A Ford Fiesta with a manual gearbox will cost you 150 euros.

You can take an Audi A3 with an automatic, but will have to lay out 473 euros, then the choice is yours.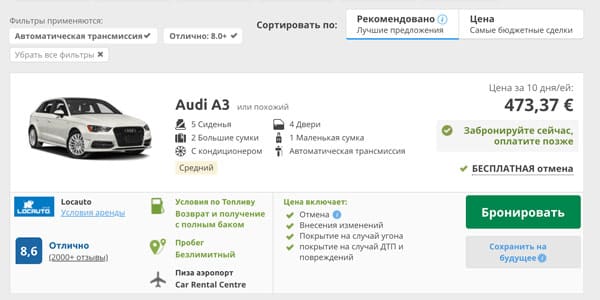 A day will pass on average you will be 100-150 km, more than that, I do not recommend. Tuscany itself stretches from north to south for about 300 kilometers.
Let's calculate the maximum and with reserve: 2000 km for 10 days at an average fuel consumption of 7 liters per 100 km and the price of a liter of 1.6 euros for fuel will spend 7×1.6×20=224 euros. There are seldom paid sections on regional roads, but you should budget another 50 euro. Total car for 10 days will cost about 400 euros for a company of up to 4 people.
Expenses for food
Meal costs are quite difficult to predict – it depends on personal preferences. You can save and cook by yourself, then you can settle for 200-250 euros for two people a week. If you dine at restaurants, taste the Tuscan wines, and do not deny yourself anything, then I would lay out about 1000 euros for two people for a 10-day trip.
Living expenses
Accommodation costs are also individual. In the review above I cited good options for 60 euros a night as well, but the average cost of a room in farmhouses in Tuscany is 100 euros.
I'm sure now your vacation in rural Tuscany will be unforgettable and inspire you to explore other regions of Italy, lead each one as a separate country! If you still have questions about choosing a farmhouse, I will be happy to answer your questions in the comments.