Travel plan to Japan during the season of the scarlet maple leaf momiji
Many tourists say that autumn is the best time to travel to Japan. It is usually considered gray and rainy, but Japanese autumn is an unusual combination of beautiful red maple and mild weather. Autumn in Japan shines with hundreds of colors, and millions of Japanese tend to make their way to the other side of the country to enjoy the beautiful views.
Yellow, orange, red, brown… In fact, saffron, gold, cinnamon, copper, brown tea, orange, honey and dozens of shades of these colors are present in Japanese autumn colors.
Autumn scenery and the soothing hot springs of Yokoya Valley
Yokoya Valley is located in Nagano Prefecture. Here you can take a walk while admiring the beautiful scenery. By late October, the valley is dominated by bright red leaves on the trees, giving it the status of one of the most popular fall walks in eastern Japan.
Four waterfalls can be seen along the route before continuing toward the mountains. After the walk, it is worth a swim in the hot springs.
Mount Fuji in a Sea of Autumn Leaves
Lake Kawaguchi in Yamanashi Prefecture is one of the famous five great lakes surrounding Mount Fuji. During November, the lake's shores are covered with red and golden leaves. The Fuji Kawaguchiko Folk Autumn Festival is held here at this time. A place worth visiting is a 150-meter "tunnel" stretching along the north shore of the lake.
Mount Fuji, shining in purple this time of year, is considered one of the most beautiful fall views in Japan. Fall photos of the landscape with the mountain as a backdrop will be unforgettable.
Shichi-go-san
The holiday is celebrated on November 15, during which parents ask the deity to take care of their children. It involves girls from three to seven years old, as well as three- and five-year-old boys. The children are dressed in beautiful kimonos.
The age of the children is related to ancient rituals:
children walked around with shaved heads until they were three years old–only then were they allowed to grow their hair out;
Five-year-old boys wore a hakama for the first time;
Seven-year-old girls were allowed to change the narrow strap with which they tied their kimono for the traditional adult obi.
If you think of Japan only as "the land of sakura blossoms," and you can't visit in the spring, you should reconsider your vacation plans. Japan is also beautiful in the fall, from September to November. This season is especially recommended for visiting the country and not only because of the pleasant temperatures and generally good weather, but also for contemplating the beautiful atmosphere of colorful autumn maple leaves.
Japanese seasonal delicacies
The Japanese are known for their love of seasonal foods, and so many fruits, vegetables or fish have become symbols of a particular season. In autumn it is especially persimmon fruits (Shonai khaki). In addition, during this period, when traveling in Japan, it is worth trying apples, Japanese pears-nihonnashi and tangerines.
Japanese autumn is primarily associated with "new rice" – fresh rice. Rice grown this year is considered whiter, more tender and softer than last year's "old" rice.
Grilled saira (Cololabis saira), a species of carnivorous marine fish of the Scomberesocidae family, called Japanese samma, is worth trying in the fall. It's one of the dishes that Japan doesn't fall without.
Etizen Ono Castle in the Clouds
The castle is located in the center of Ono, in Fukui Prefecture. According to legend, it was built by order of Kanamori Nagachaike from 30,000 stones donated by Oda Nobunaga. The construction lasted five years. In 1775 the castle was burned down and can now be admired in its restored 1968 form. Surrounded by mountains and located more than 249 meters above sea level, Etizen Castle attracts attention and in recent years has become known as "the castle among the clouds. The best views are in October and November.
Festivals
There is a special attitude to such events here – they take place with enviable regularity, and each time it is more than just a colorful holiday for people. People go out into the streets to walk, rejoice and spend time with their loved ones. It is not uncommon for the Japanese to put on their national costumes and go out to celebrate.
Tsuchiura National Fireworks Festival
In Eastern countries, fireworks have always been seen as something magical and special. Preparations for the festival, which takes place on October 3, begin almost a year in advance, and each fireworks display here is a work of art. Hundreds of thousands of pillars of fire rise to the sky, and more than 200 districts take part in this festival of fire and light. And how beautifully the sparks of the fireworks reflect in the water!
The event in Tsuchiura (Ibaraki Prefecture) differs from others in that it is also a competition. Pyrotechnicians from all over the archipelago come to the city to show off their skills. In one evening there are about 20,000 shots! It is impossible to describe in words the splendor of fiery salvos that burst into hundreds of tiny multi-colored sparks against the background of the night sky – you have to come here and see everything with your own eyes.
Chrysanthemum Festival at Yahiko Shrine
From November 1 to 24, you can immerse yourself in a sea of flowers at Yahiko Shrine. Chrysanthemum lovers come to the exhibition to show off their achievements and admire the work of other gardeners.
But it's a mistake to think the festival is just a big chrysanthemum show. Particularly skilled gardeners can create entire living paintings made entirely of flowers!
Read also: The calmest motivational video: no words, just Japanese schoolchildren doing their homework
"Bridge to the Moon."
Kyoto is the most visited city, especially there tourists try to get there in the fall. After all, it is famous for its beautiful views. The Arashiyama district attracts many visitors who want to enjoy close contact with nature.
The famous Togetsu-kyo Bridge (155 meters) connects the banks of the Oikawa River. Its name means "the bridge that passes the moon. It was given by Emperor Kameyama. He noticed that at night the moon, moving across the sky, seemed to pass over the bridge. The view of the calm flowing river and the yellow and red leaves in the background create a breathtaking view.
A carpet of red lilies in Kinchakuda
In the western part of the city of Hidaka (Saitama Prefecture), surrounded by the Koma River, is Kinchakuda Park. Every year from September to October, the riverbank is carpeted with more than 5 million red spider lilies (lycoris). During the blooming season, the park hosts a lily festival that attracts many tourists who come here to admire the plants.
Watching the lilies under the soothing streams of water is one reason to visit autumn in Japan.
A Guide to Autumn Japan



In autumn, Japanese people love to admire the fall of leaves. Some prefer to do this away from civilization, while others simply walk through a park or garden. For those who want to meet autumn in Japan, where a tour has already been planned, and enjoy the golden season as the Japanese do, this guide will be useful. It will help turn the trip into an exciting adventure that will exceed all expectations. At this time of year, the scenery is breathtaking and the weather is perfect for a "Momiji hunt."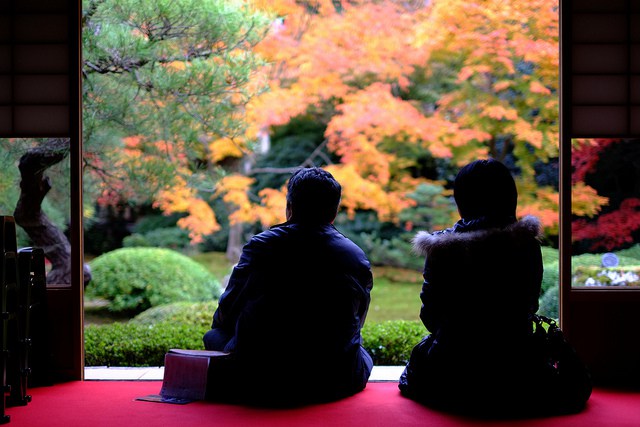 It should be kept in mind that many tourists come to Japan every year in the fall. This is not surprising, because in the autumn in the Land of the Rising Sun there is a lot to do and see. In addition, Japan has been recognized as one of the few countries in the world where the colors of deciduous trees in the fall are incredibly rich.
For travelers who love to contemplate nature, autumn tours to Japan will be the perfect choice. Do not think that the most appropriate time to travel to this country is spring. The Japanese fall foliage, as well as traditional autumn festivals will not leave anyone indifferent. Below are some useful tips for those who have decided to buy a tour to Japan in autumn.
The beauty of autumn leaves can be admired from early September to late December throughout Japan. The leaves begin to turn yellow earliest on Hokkaido, the second largest island. Before planning a fall tour to Japan, it is worth checking the latest forecast, which provides information on the period of leaf fall in different regions of the country.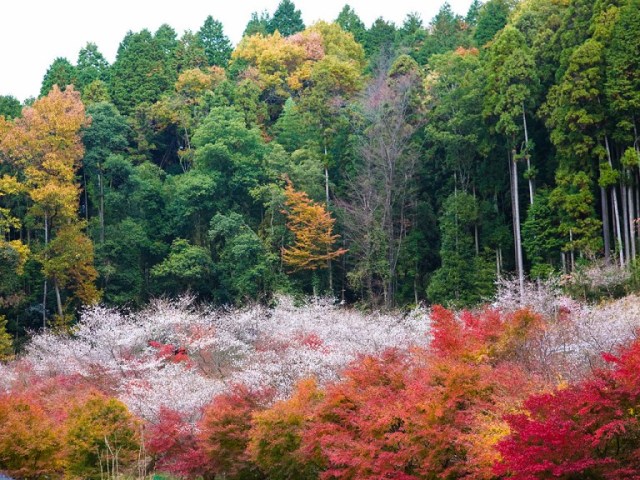 Japan is very small in size compared to neighboring countries, Russia and China, but it boasts endless discoveries when it comes to natural beauty and unique culture. It's worth including old historic towns/villages, museums, temples and shrines, castles, and more in your trip plan.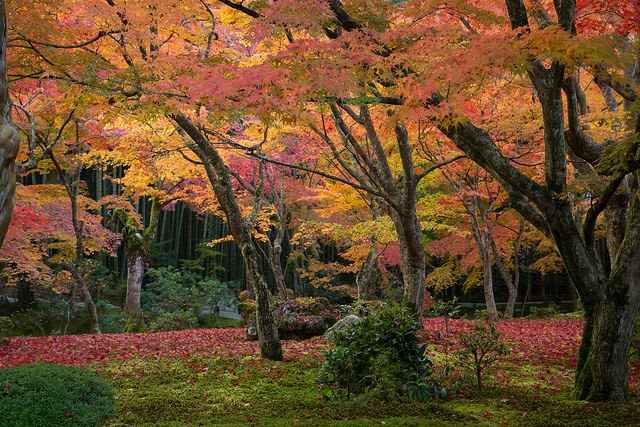 As noted earlier, Japan is visited by many tourists in the fall. Therefore, it is highly recommended to book a hotel or ryokan in advance. If you do not do this, there is a chance to pay a higher price. The best way to save money is to order a complete tour, the cost of which is usually already included in the excursions, including in the company of a Russian-speaking guide.
Hike in the mountains will be full of unforgettable emotions and adventures. On the way to the top, you can admire the autumn scenery, and from the observation deck on the peak of the mountain you will see a spectacle of incredible beauty. In search of the best hiking trails that will lead to spectacular fire scenery, you can go to Hokkaido, Miyajima, Nikko, Hakone, Kamakura, Aomori, Fukushima, Takayama, Tokyo, Naru, Osaka, and Kyoto.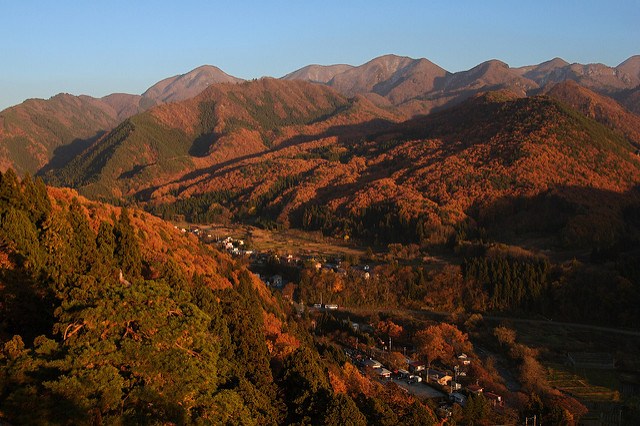 The weather in the fall sets up favorable weather for visiting most tourist spots around the country! Travelers no longer feel the summer heat, the weather is cool and comfortable for sightseeing. Rains are possible, so you should check the weather forecast before your trip and take an umbrella if necessary. You should also wear a light jacket.
The changing color of the leaves – a fascinating and magical spectacle, which is well enjoyed by those who buy a tour to Japan in autumn. Many trees change their color with the onset of autumn. Red maple leaves in Japan can be seen everywhere, but the ginkgo trees are not found everywhere. Where can you find them in abundance? The answer is simple: go to Tokyo.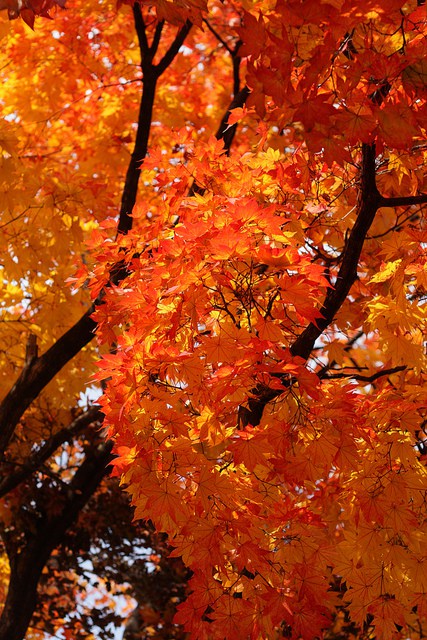 Japan is a country of festivals (matsuri). They take place all year round, although most of the most spectacular ones take place in summer. Takayama Autumn Festival, Kichijoji Aki Matsuri, Sapporo Autumn Festival, Marioka Autumn Festival, Toshogu Shrine Autumn Festival in Nikko, Meguro Sanma Matsuri and others are considered the most popular autumn festivals in Japan. In addition to the beautiful scenery, the autumn season features a string of popular festivals that will make a visit to Japan unforgettable.
For those who dream of visiting the Land of the Rising Sun in the spring to see the famous blooming sakura, Japan has prepared a surprise. It can be seen next to the yellow trees in Obara (Aichi Prefecture) in autumn.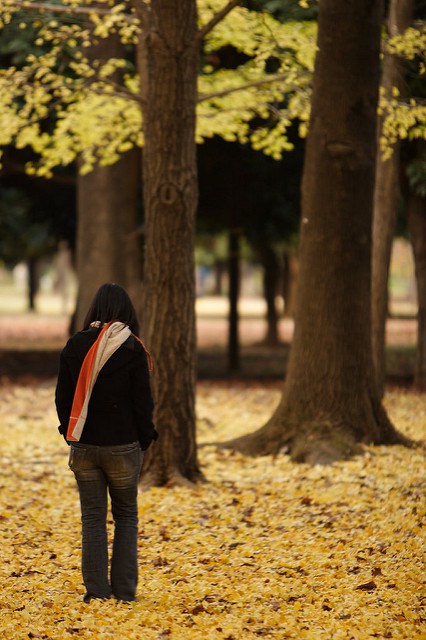 Fruit picking is a great outdoor activity, and I highly recommend participating in the harvest. Travelers who are in the Tohoku region can devote their time to apple picking at fruit farms located mainly in Aomori. The prefecture itself is quite popular as a place to pick delicious juicy apples.
Some mouthwatering seasonal Japanese dishes are worth trying in the fall, such as matsutake mushroom soup, yakimo, grilled saury, korokke, nabemono, oden, and others. There are food festivals in many areas throughout the country. Travelers who buy a tour to Japan in the fall and decide to attend such a festival will be able to taste many local dishes and have fun.
Tourists who come to Japan for the first time usually think they have to purchase a Japan Rail Pass before arriving in the country. Do all tourists need to do this? Seasoned tourists don't think so. It is worth buying a JR Pass only if the itinerary includes several trips over long distances. For example, if a traveler plans to go to Aomori from Tokyo, and then from Aomori to Sapporo, it is better to buy a pass just before arrival in Japan. On the other hand, if a tourist only plans to explore Tokyo and its neighboring cities, a JR Pass is not necessary.
Lastly, autumn tours to Japan are very popular among travelers who love this time of year. A trip to the Land of the Rising Sun will allow you to enjoy this calming season in Japanese harmony. And one more thing worth mentioning: in the evening in some places around the country, maple trees are illuminated. A lot of amazing places, attractions and activities at this time of year offers Japan, vacation in autumn in this country will deliver aesthetic and emotional pleasure.
Visa to Japan for Ukraine, Kazakhstan and Belarus | tours to Japan.