Thai cuisine
If you want something special, pay attention to this recipe. You will appreciate the taste of this Thai dish and your friends will ask you how to cook fried rice with seafood.
Thai Tom Soup KXA 4.5 5
A recipe for Thai soup made from chicken broth, coconut milk, shrimp, mushrooms, lemon, chilies, garlic and ginger. Tom KXA soup is the calling card of Asian cuisine. Added:
Thai-style noodles 3.8 5
Let's add a little oriental! Thai noodles are a great dish that takes only about 15 minutes to prepare. Cook the noodles with chicken and vegetables over high heat.
Gai Pad Med Ma muang 4.2 5
A dish with such a complicated name is actually a chicken breast with vegetables and cashew nuts. A traditional Thai dish. But the breast turns out very tender, juicy, flavorful, with a slight tang! Added:
Cha yen 5.0 5.
Cha yen is a traditional Thai beverage that translates to "iced tea." This sweet, fragrant drink is great for quenching thirst in the heat. Watch how to make cha yen, it's quick and easy!
Kai Phat Met Ma-muang Khimphan 5.0 5
This is a traditional Thai dish. It is fried chicken breast with vegetables and cashews. Simple and delicious! Come on in and I'll show you how to make Kai Phat Met Ma-muang Himphan. Added:
Kai Phat Ka-prau 5.0 5.
Kai Phat Ka-prau is a traditional Thai dish. It turns out that Thai cuisine is rich in dishes with chicken breast, and here it is too: tender and flavorful. Come in and see how to make this dish. Added by:
Khau Phat Kai 5.0 5.
"Khau Phat Kai is a traditional Thai dish. It is fried rice with chicken breast. It seems simple, but there are secrets to making this dish. See how to cook it … more
Tjok 5.0 4
Tjok is a traditional Thai rice porridge. It is made without salt and spices, the rice is cooked almost to a sticky consistency. The benefits of this porridge are so great that all Thais start the day with it!
Khau Phat 4.4 4
"Khau Phat" or "fried rice," the national Thai dish, is a colorful, hearty dish of rice with meat, shrimp and pineapple. Instead of salt, soy sauce is added to khao phat. Added: Daria Vakulova 04.03.2017
Thai Omelet 4.5 4.
Omelet is another option for a hearty and quick breakfast. Before you a recipe on how to make a Thai omelet. In it is added not milk, but minced meat. For a spicy twist, we add a hot red pepper.
Khao Phat (fried rice) 3.7 4
Khao Phat is a traditional Thai dish. It's very easy to make, and it comes with a wide variety of ingredients. If you want to have a taste of Thailand at home, make Khao Phat! Added:
Thai Fried Rice 2.6 2
Thai-style fried rice is not only a delicious and hearty side dish, but also a complete hot dish. Thai fried rice is spicy and a little spicy thanks to the chili peppers. Enjoy! Added:
Shrimp with Rosemary 4.9 2
This recipe for cooking shrimp came to us from far away Thailand. It is quite popular there because the Thais know a lot about seafood and know how to cook it properly. Added:
Thai Vegetables 5.0 2
Thai-style vegetables are a juicy, delicious and healthy dish. When you make it, it will fill your kitchen with oriental flavors. And it won't take you long to prepare it.
Thai Style Chicken 4.3 1
Recipe for Thai-style chicken. The sour-sweet sauce goes very well with the tender, juicy meat. Added:
Tom Yum Sauce 3.4 1
Today you and I are going to learn how to make Tom Yum Sauce. Right off the bat: those people who can't eat spicy, be careful. Because this sauce is based on red chili peppers. Added:
Shrimp in coconut milk 4.5 1
Shrimp in coconut milk is completely exotic to us. But nowadays you can find any product you want, even coconut milk. But I personally often replace it with cream or just milk. Try it:
Thai Beef 4.5 1
Thailand is a country with a rich culinary culture! This dish belongs to the Thai national cuisine. Beef is cooked with vegetables and delicious sauce. The dish is very rich and filling!
Pad Thai 4.7 1
An exotic dish with a sour-sweet taste which is very easy to prepare at home. Simply get the right ingredients and go ahead and surprise your family and friends with a delicious pad Thai dish.
Salad with tamarind 5.0 1
I want to offer you something unusual. An overseas product that will take you and your imagination to far away Thailand. Tamarind is consumed either as bean pods or as a paste. Added:
Thai noodle soup 3.7 1
If Asian cuisine appeals to you, I recommend taking a look at this interesting recipe. The curry paste-based soup is tangy, flavorful, and really delicious. You have to try it! Added by: Catherine Fesenko on 06.01.2019
Spicy Fried Shrimp 5.0 1
How do you turn down a couple of pieces of meaty shrimp for dinner? You can't! And you shouldn't even try, because they are not only delicious, but also healthy. Choosing an interesting recipe will surprise the whole family. Get to it! Added:
Thai Coconut Soup 5.0 1
Coconut milk is a popular ingredient in Thai cuisine. Today to make an easy coconut milk soup. With mushrooms, tofu and vegetables. The soup turns out thick, spicy, with a rich flavor. Added by: Katerina on 11/08/1990
Vegetarian Tom Yum 4.3 1
Tom Yam is a traditional soup of Thai cuisine. There are many variations of its preparation, I suggest you try a vegetarian version. … more
Tun Tun – Thai Egg Rolls 3.3
A recipe for a delicious Thai appetizer, usually served with plum sauce. Added by: Vladimir Ivanov 28.12.2011
Thai chicken pizza 5.0
Recipe for cooking chicken pizzas from the Thai masters culinary business. Added: Vladimir Ivanov 24.02.2010
Thai style eggs 4.0
Recipe for Thai style eggs.
Thai salad with beef 3.6
Recipe for an Asian salad with beef, mint and cucumbers. Quickly and tastefully.
Kale and Peanut Salad 4.5
I'm sharing a recipe for a Thai-style salad with kale and roasted peanuts. This is a juicy, bright vegetable salad with a tangy peanut paste dressing. It can be served as a separate dish. Added by: Veron on 05/19/2022
Spicy chicken wings 4.8
Very tasty wings are made by combining salty, sweet and spicy sauces. Just boys lickin' it ! Added:
Spicy Beef Noodle Soup 3.0
Recipe for Thai beef noodle soup.
Thai Turkey 4.7
Recipe for Asian-style turkey soup with rice, beans, and nuts… more
Chicken kebabs with peanut sauce 4.6
Tender meatballs of chicken marinated in coconut milk and curry, served with peanut sauce Added:
Meatballs in Red Curry 4.5
Recipe for Thai meatballs in red curry sauce. . more
Thai style Sudak 4.3
Recipe for cooking pike-perch with rice and vegetables. Thai cuisine. Added by:
Spring roll 4.9
Recipe for cooking spring rolls with meat and vegetables. Thai cuisine.
Thai rice noodle dish 4.1
Recipe for Thai rice noodle dish. A delicious Thai dish. It is worth a try.
Beef curry Panang 3.7
Recipe for a spicy meat dish. Thai cuisine. Added:
Creamy clam soup 5.0
Recipe for creamy clam soup with bacon and potatoes. Added by:
Confirm deletion of recipe
You cannot cancel this action
You may only vote for 1 recipe. Are you sure you want to vote for this recipe?
Thai cuisine
Thai cuisine is one of the spiciest and most unusual in the world. However, it should be noted that in restaurants and cafes at popular Thai resorts Thai cuisine adapted to the taste of Europeans – for the Europeans Thai people are preparing not so devilishly spicy and exotic dishes as for themselves.
In general, diversified and original Thai cuisine is distinguished primarily by active use of spices and seasonings. Thai national dishes are absolutely unique culinary compositions combining sweet, sour, salty, bitter, and spicy. There are regional and seasonal peculiarities of Thai cuisine, so it is rather difficult to speak about it as a complete culinary tradition. However, the most popular ingredients that are used in Thai cuisine remain unchanged: rice, chili peppers and coconut milk.
The basis of the majority of local dishes is rice, and the word "eat" in the local language translates to Russian as "to eat rice". The Thais know a huge number of ways to cook and use rice. If you believe the statistics, every day each resident of Thailand eats almost half a kilogram of rice. It is rice that saves the sensitive stomachs of Europeans from the scalding exoticism that Thai traditional cuisine offers – spicy dishes should be eaten with rice and not with water in any case.
However, not all dishes of Thai national cuisine contain rice. Rice or egg pasta are also very popular here and are usually served with young sprouts of soybeans and other vegetables, as well as sauces and additional ingredients – shrimp, meat, and peanuts.
The pride of Thai cooks is soups. Thais eat soups at any time of the day or night. They are served cold and hot. The most popular Thai soup is Tom Yam, a spicy, acidic soup with shrimp, which is the trademark of Thai cuisine. There are many variations of liquid soups in Thai national cuisine, but all of them are spicy and slightly sour.
Thailand is a sea country, and hence fish, shrimps, squids, crabs, and shellfish are an important element of Thai people's diet. Seafood is usually steamed, grilled, or simply boiled in water. Fish is often stuffed with herbs and spices. Perhaps the most popular Thai fish dish is fried mackerel. Another widespread and much-loved Thai dish is squid pieces fried with garlic in a sweet sauce.
The most revered meat is pork, which is usually boiled or stewed in coconut milk. There is a wide range of poultry dishes. For the lovers of exotics, Thai cuisine can offer original dishes from crocodiles, snakes, sharks, and frogs.
The most popular Thai snacks do not seem acceptable to everyone either: fried scorpions, locusts, water cockroaches, spiders, flies, and beetles. Ordinary Thais chew these snacks daily as seeds, considering them very useful for the body. By the way, Thais do very rarely suffer from cancer, and medics believe this is largely due to Thai cuisine.
Thais usually wash down their dishes with ice water or tea. Strong alcoholic drinks are poorly combined with spicy Thai dishes and therefore are rarely served.
Thai traditional cuisine is rich in sweet dishes and desserts. But what is interesting, Thais don't really care about their sweets, but tourists coming to Thailand simply adore all sorts of cakes and ice cream made of coconuts, rice, and bananas. Perhaps the most popular Thai dessert is the original pancakes filled with eggs and bananas with chocolate.
Thai cuisine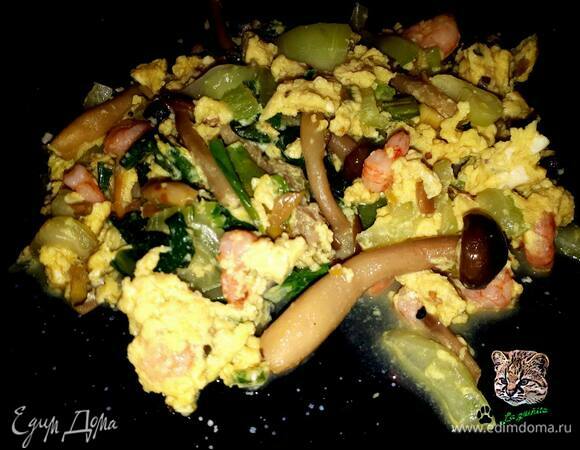 Fans of rich Asian cuisine will love the recipe for Thai-style legs. A concentrated marinade sauce combines sweetness, saltiness, spice and spiciness.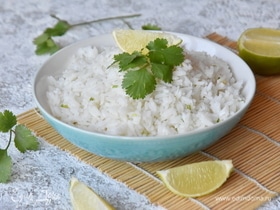 A side dish of rice takes on an exotic Asian flavor if you add shavings of coconut when cooking it. The dish is very quick and easy to prepare.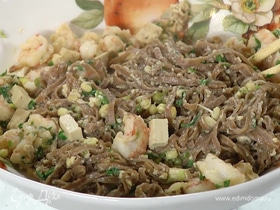 It is a variation of the classic pad Thai made with buckwheat noodles instead of rice noodles. You can make it not only with shrimp, but also with chicken or fish, or even make it vegetarian. Fish sauce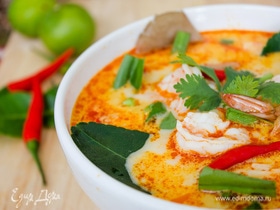 Do not substitute galangal for ginger, they are different products. To make it easier to extract the flavor additives from the broth, string them on a skewer. Do not boil them until they are done.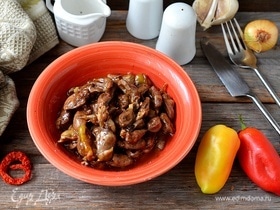 Thai-style chicken hearts are spicy, fragrant, and very juicy. This dish is a great way to diversify your lunch or dinner!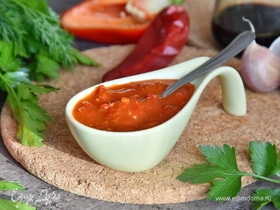 Sweet chili sauce is one of the popular spices in Asian cuisine. This versatile sauce is added to soups, sauces, noodles, salads, rice, poultry, fish and meat dishes. This sauce can be prepared in two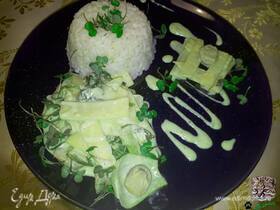 Bamboo is an incredible plant that accompanies humans in many areas of daily life. In addition, the young shoots of bamboo are still very tasty and healthy. You can buy them in canned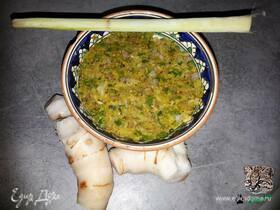 Here is a recipe for curry paste, which can serve as a base for many dishes. I do not recommend you to eat it in its raw form, as it is quite spicy. But it will give your recipes

A light and tangy cucumber salad is quite popular in Thailand. The salad is uncomplicated and quite tasty, and thanks to the dressing and peanuts it takes on an Asian flavor. This salad goes well with any meal.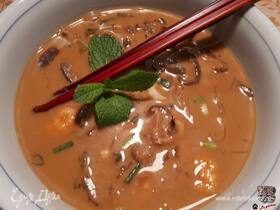 Shiitake is a great way to enhance the flavor of the shrimp, as well as a wonderful flavor of the sea.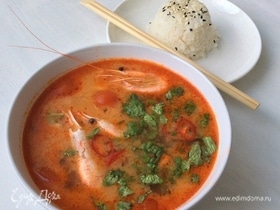 Spicy, moderately sweet and sour, and so unusual! A simplified version adapted to the ingredients available.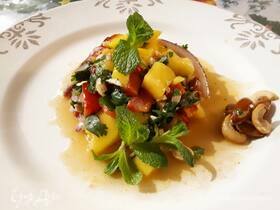 This salad will not leave you indifferent! Light, tangy, original and also very healthy!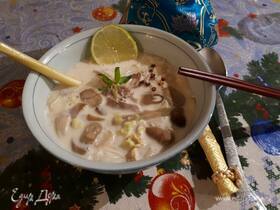 "Tom Kha Gai" is one of the most famous soups of Thai cuisine. Curiously enough, before it became a soup, it was a dish of fried chicken with calgano. The original taste of this soup will not leave you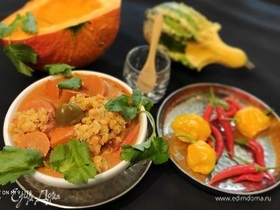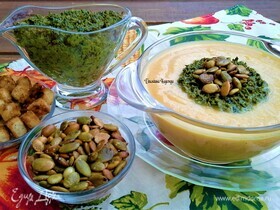 There are many recipes for pumpkin puree soup – they are all good in their own way. After trying their soup in Thailand, I knew I had to add spice and spice.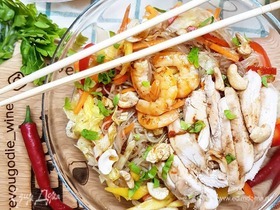 Incredible combination and light satiety. You can feel the juices and colors role-playing in your mouth after such a collaboration of ingredients. I, by the way, have been enjoying making different salads lately. Cold and.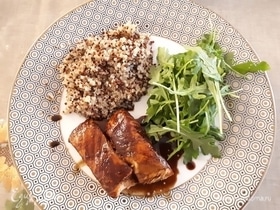 Thai cuisine is considered not only one of the most exotic, but also one of the most healthy, delicious and original. Thai dishes are flavored with a large number of spices, which have the effect of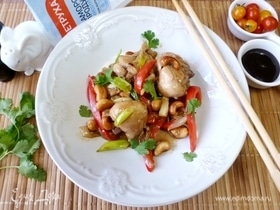 Thai-style chicken does not require any special ingredients, almost everything is in the fridge or at the nearest supermarket. This dish is common in Thailand and outside of that country. It can be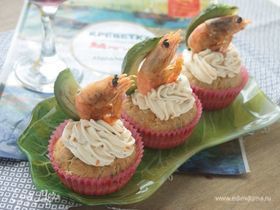 These muffins are good as a basic and only appetizer for an aperitif or as one of the appetizers at a large feast. The delicate batter and classic combination of shrimp and avocado and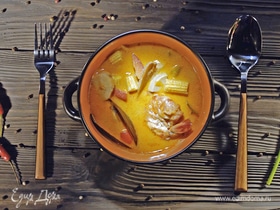 Hi all, I want to share with you a recipe for this wonderful dish that is on the top of the most delicious dishes in the world and tops many of those lists.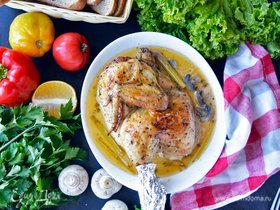 A simple recipe for making delicious chicken with "Tom Yum" sauce will not leave your loved ones indifferent.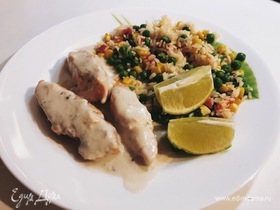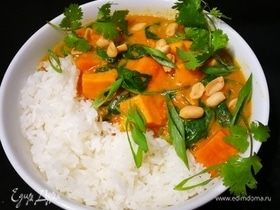 If in the morning, going to work, you can't find your favorite scarf and pull everything out of closets and drawers, this is not nice. In this case, you will like some interesting ideas for storing things. Universal devices will not only help to keep order in the apartment and cabinets, but also give the room an original look!
There is no word for "hunger" in Thai. This linguistic phenomenon is explained simply – in this country there has never been a shortage of food. And even Buddhism did not affect the culinary traditions of the country, because Thai recipes are very diverse and include not only fruits and vegetables, but also meat and fish.
A traditional Thai dinner consists of several dishes – as a rule, there are at least four of them. These can be curry, soup, vegetables, spicy appetizer, rice, noodles, omelet, and fruit. Rice is usually served with beef, pork, chicken or shrimp. All Thai recipes are suitable for cooking at home, besides each hostess can combine flavors as she wishes. There are no strict rules of cooking in Thai cuisine, and this gives a lot of room for creativity.
Take a look at the pictures of Thai recipes and you will be amazed by the brightness, beauty, and richness of the dishes. Chicken in coconut milk with lemongrass, coconut soup with mushrooms and salmon, eggplant with ginger in soy sauce, crab cakes with chilies and cilantro, Thai pancakes with mint, mustard and honey, salad with mango and peanuts, pineapple in caramel – all you want to try immediately! The best Thai recipes with cooking tips and step-by-step photos can be found on our Eat At Home site. As you discover new tastes, you'll find that the East is a delicate business…