Istria – an inexpensive holiday in Croatia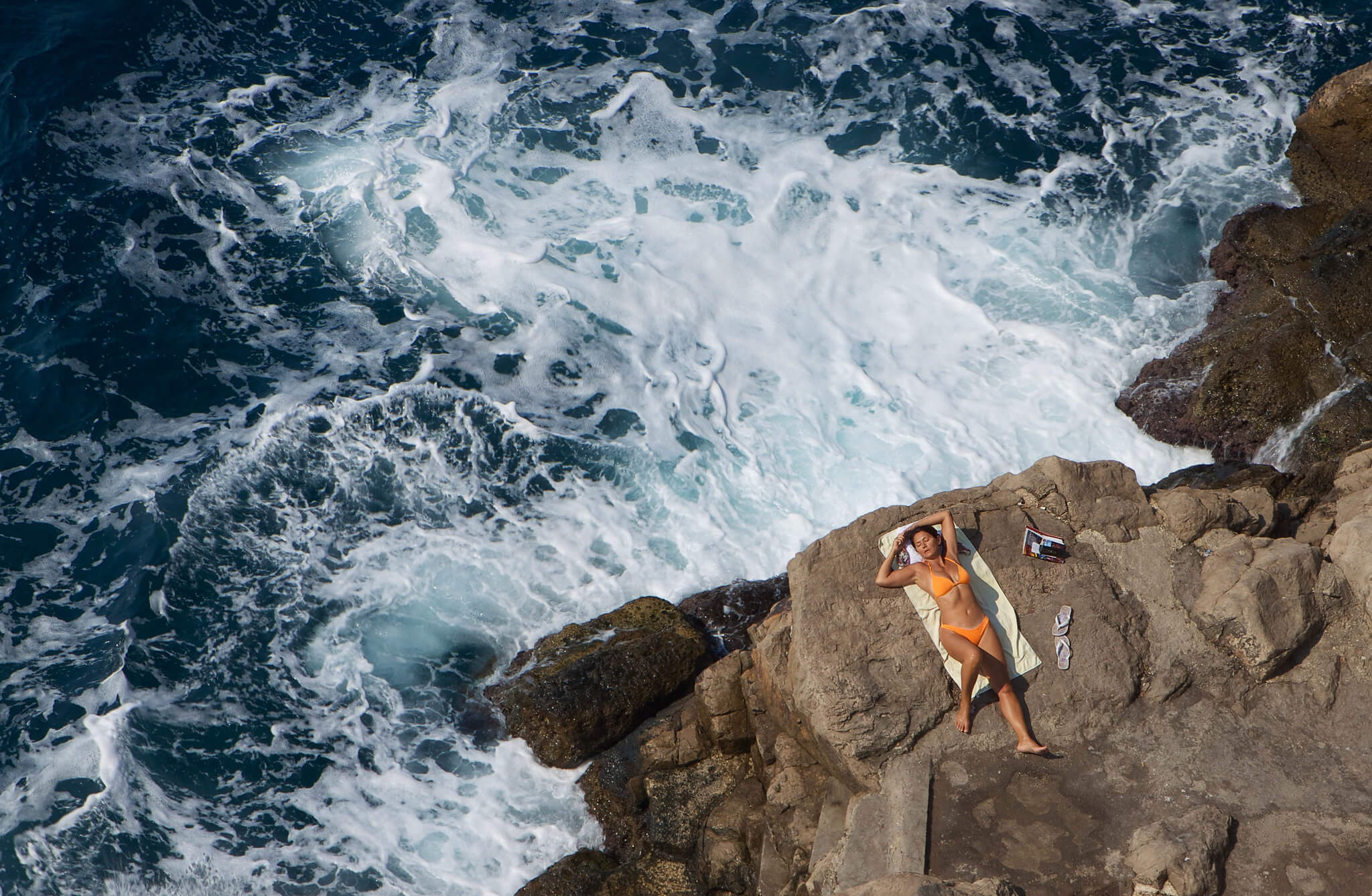 The westernmost peninsula of Croatia is liked by everyone who cannot stand the intense heat. Istria offers resorts and hotels for all tastes. Collected reviews of beaches and interesting places. Is it convenient to vacation with children? Tips of tourists.
Contents:
Resorts of Istria
The resort region is located on the border with Italy. For the beauty, mild wonderful climate, interesting monuments, clean sea and comfortable beaches the Croatian peninsula is called the Istrian Riviera.
There are many resorts on the peninsula:
Umag, the westernmost town in Istria and Croatia, which is enjoyed by fans of tennis, surfing, diving and gastronomic tourism.
Novigrad is a small fishing town with narrow streets, a beautiful church and modern infrastructure. It hosts the largest fish festival in Europe.
Porec is a large resort with a beautiful historical center and great opportunities for active recreation. The main attraction is the Byzantine Basilica, which is protected by UNESCO.
Vrsar is a small town with a unique atmosphere of the Middle Ages. A great place for a quiet holiday by the sea!
Rovinj is a romantic resort city built on an archipelago of 22 islands.
Pula is the pearl of the Istrian peninsula. It is the most ancient Croatian town on the Adriatic Sea. Pula is a paradise for lovers of archaeology, ancient architecture, beach recreation and nightlife.
Medulin is the southernmost town in Istria. It is chosen by fans of water sports, discos and nightclubs.
Rabac is a green town preferred by families with children and young people.
Opatija is a picturesque resort with a pleasant promenade by the sea, ancient temples and mansions.
Lovran is an ideal place for tourists at an age and couples. The small resort is loved for its perfectly preserved old town, promenade and modern spa.
Krk, an island to the east of Istria, is known for its lush nature, historic monuments and wonderful beaches.
Brijuni Island is an archipelago to the west of Istria, which has the status of a national park. Holidays on Brijuni are not cheap.
Elenok: "Peninsula Istria – beautiful nature, gorgeous sea, clean air. I rested in Poreč. The water is exceptionally pure and of turquoise color, the bottom is stony".
The coastline of Istria stretches for 430 km. There are few sandy beaches. Photo: kowalikus / unsplash.com. The Roman amphitheater in Pula. Photo: niels_to / unsplash.com.
The best hotels
Istria's resort towns and villages welcome vacationers at all levels of hotels, family hotels, apartments, villas and campgrounds. Search for tours to Istria on Travelate.
The best hotels in Istria, according to reviews by tourists:
Castello Gulici Porec 3* is a cozy guesthouse in an old stone mansion, 3 km from the center of Porec. For double room you will pay from 75 €.
Rooms Jakić 3* – a bright apartment near the beach in Medulin. During the high season a room for two costs from 115 €.
Azzurro Mare 4* – a stylish apartment hotel 2 km from Pula's amphitheater. A double room costs from 100 €.
Hotel Sol Sipar for Plava Laguna 4* – an excellent beach hotel with a spa and an indoor pool in Umag. A room for two with breakfast costs from 170 €.
Amadria Park Hotel Milenij 5* is a luxury hotel in the center of the fashionable Opatija resort. A room for two with breakfast costs from 209 €.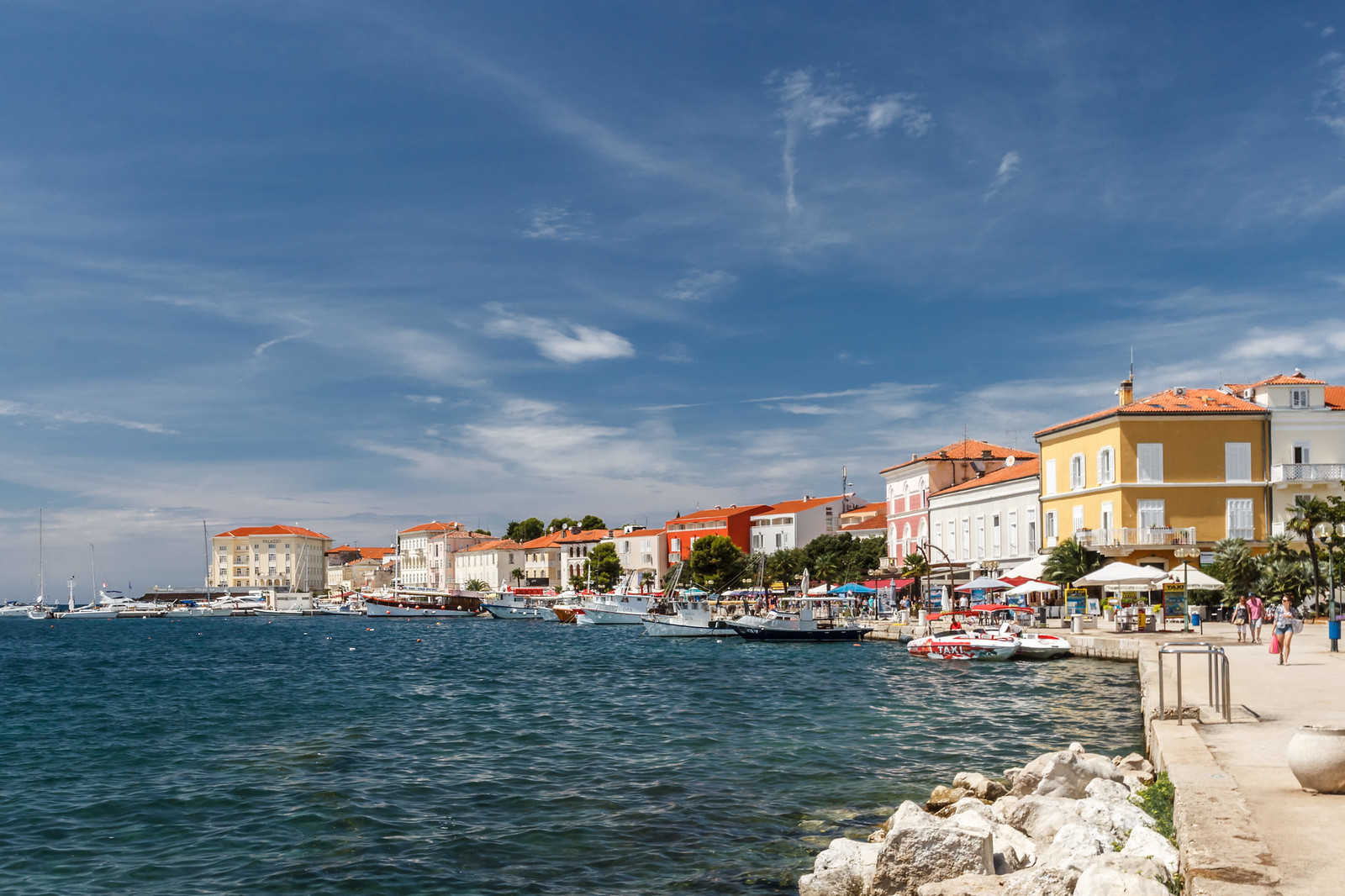 Poreč is the center of a picturesque resort area on the Adriatic Sea. Photo: Valinor Photography / flickr.com.
Beaches of Istria
The peninsula's coastline stretches for 430 km. You can swim and sunbathe on rocky, pebbly, natural platform beaches and artificial concrete slabs. There are very few sandy beaches. Many places to relax by the sea are marked with an honorary Blue Flag.
All beaches in Istria are free. For a more comfortable stay tourists rent deck chairs and umbrellas from the sun. Because of the stony bottom and sea urchins, we advise to swim in aqua suits.
Talant: "Fazana Beach is pebbly and crowded. Along the beach there is a running track to the neighboring Peroi, about 4 km. It's nice to run in the morning: the Croats are not a very sporty nation, there are few runners, and those are tourists".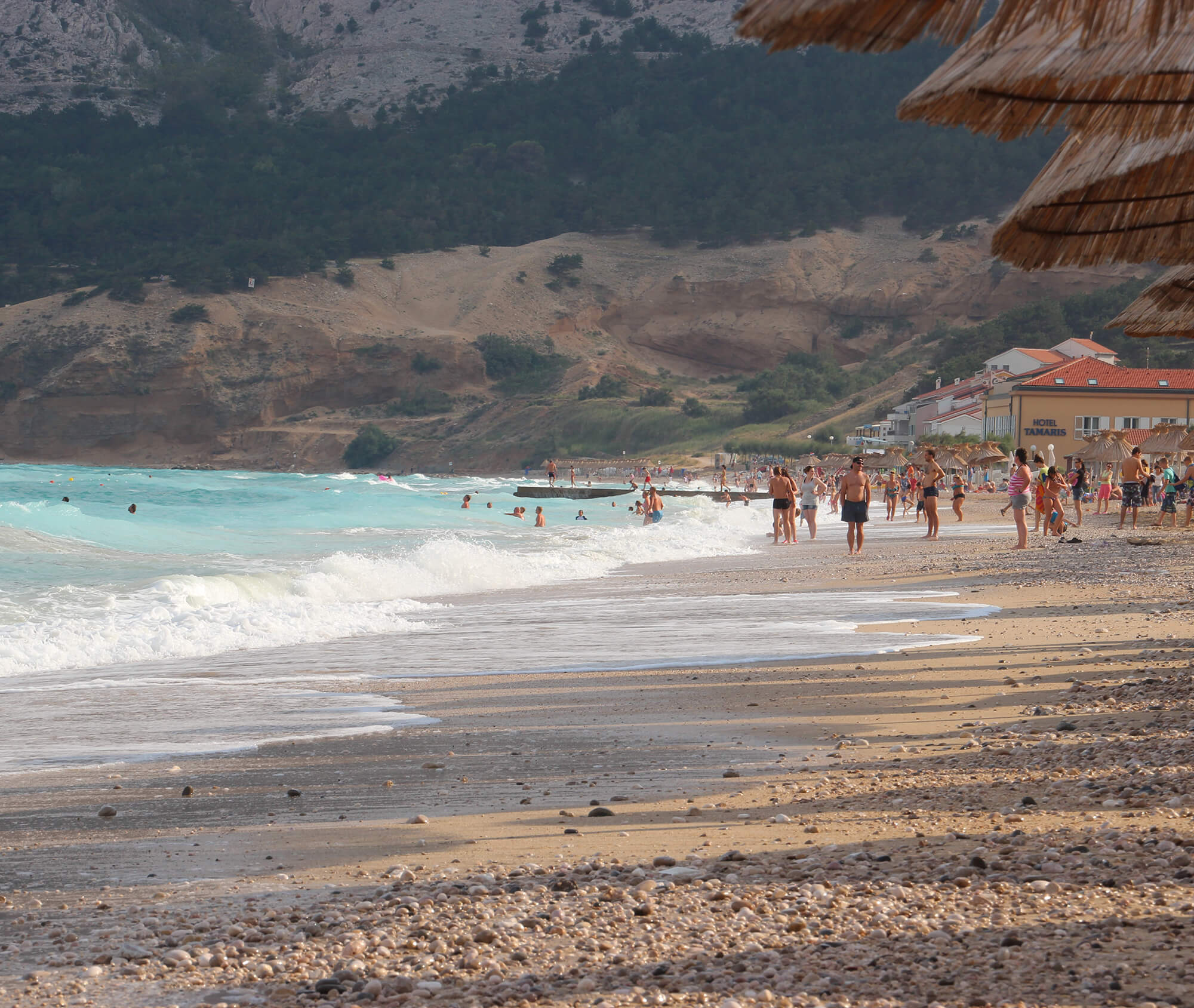 Baska beach on the island of Krk. Photo: Andorado / wikimedia.org / CC BY-SA 3.0.
What to see
Istria is famous for its picturesque hills, vineyards, pine forests, rocky coastline, and historical and cultural monuments. People come to Pula to see the Roman amphitheater, and in Porec – to see the ancient basilicas. The small town of Ravna Gora is a mecca for fans of hiking, biking and mountain climbing. According to reviews of tourists from Istria are popular excursions in Croatia – to Plitvice Lakes, Brijuni Islands. Also, tourists love tours to Italy.
Arsenal: "In Istria, Croatia, there are many ancient cities, where it is nice to walk and there is something to see. One of them is the amazing fortress city Hum, which is listed in the Guinness Book of World Records as the smallest city in the world. You won't see any modern buildings, so it feels like time has stood still here."
People come to Pula to see the Roman amphitheater. Photo: dbajurin / Depositphotos.com. Plitvice Lakes. Photo: unsplash.com / @adspedia.
Holidays with children
Parents with children love coming to Istria because of the climate. It's less hot in the summer, and the little ones feel better than in the southern regions of Croatia. Sandy beaches and attractions on the peninsula is not enough, but in Istria is a wonderful nature and great opportunities for tourism. Explore the picturesque peninsula with your child on bikes and on foot!
Gets: "Also we all really liked the attitude to children – in Croatia they simply adore them: Bus drivers would always say hello to kids and ask them anything, grandma and grandpa passers-by would always pay attention to kids – some of them stroke their heads, some just smiled, even school kids at the bus station were very caring towards kids – some took them by the hand, some just smiled, and I don't speak about sales clerks and waiters at restaurants… We were surprised by such attention, and as parents we were very interesting and pleasant to watch it".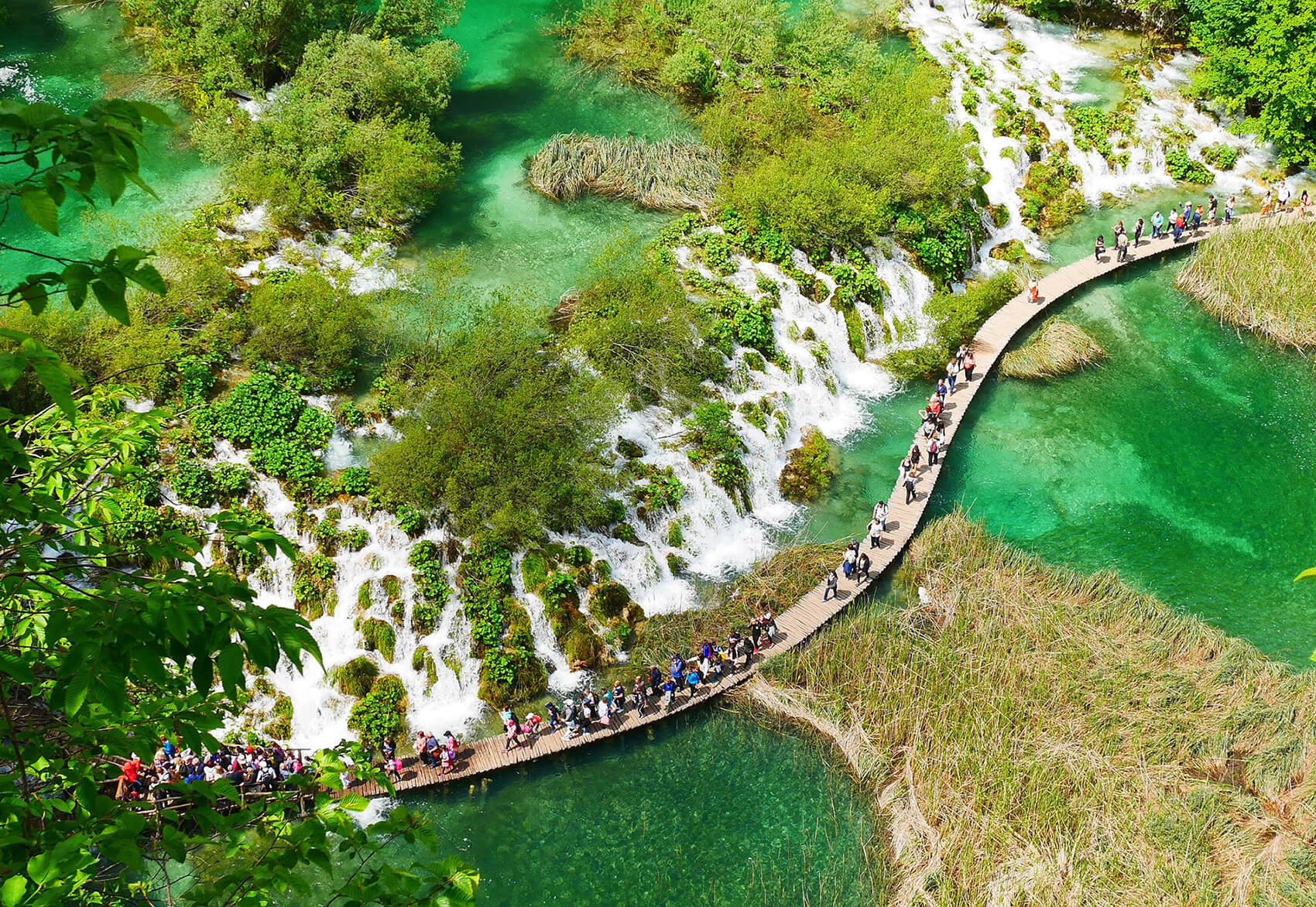 Tourists at Plitvice Lakes. Photo: king521_yolo / unsplash.com.
When it's best to go
The climate in Istria is much drier and cooler than in Dalmatia. The average temperature in July is +26 ° C. The water in the Adriatic Sea rarely warms to +25 ° C. If the beach season in the other resorts of the country begins in May and lasts until October, in Istria it is comfortable to swim in July and August. In June and September the temperature of sea water is about +20 ° C. For a holiday with children is already cool!
Sergey: "We stayed in May. We got on an anomaly, because of 12 days the sun was only 2.5 days. It rained for 5 days in a row, the other days were overcast.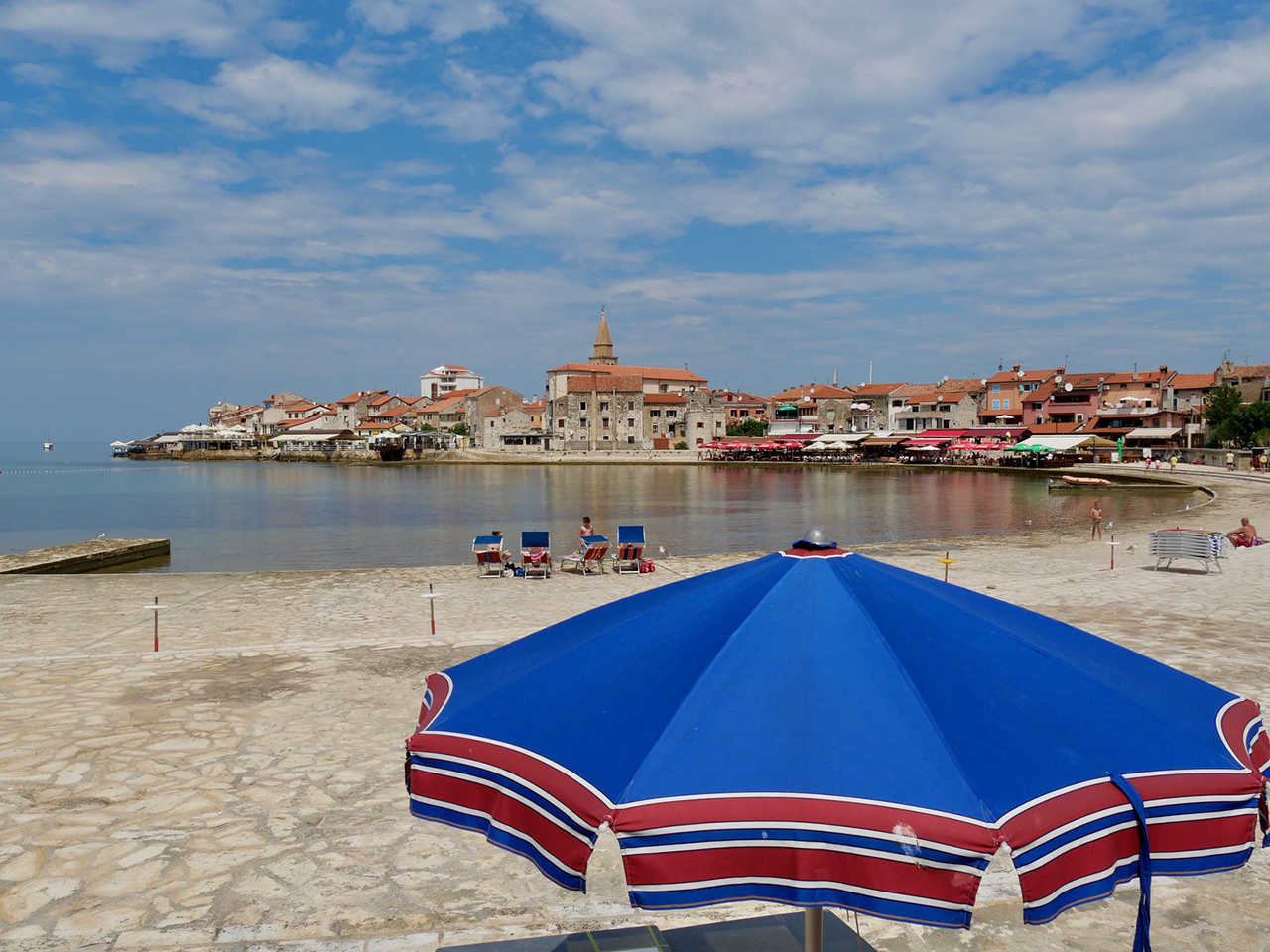 In Istria it is comfortable to swim in July and August. Photo: Granding / flickr.com.
Conclusions: is it worth to go to Istria
Istria Peninsula offers the cheapest vacation in Croatia. According to tourist reviews, parents with children, connoisseurs of historical sites and ecotourism like it here. There are interesting hiking and biking trails along the green hills and picturesque coast. Beach recreation is inferior to Middle and Southern Dalmatia, but in Istria there are many well-maintained stony and pebbly beaches.
Pine and deciduous forests, clean air from the mountains and the sea create a special microclimate. Doctors value the resort opportunities of Istria and recommend vacationing in this part of Croatia to anyone who suffers from respiratory diseases.
Gets: "Once again I remember the delicious Istrian air – because of the huge number of different conifers and generally a lot of greenery, the air is saturated with different aromas. I fell in love with the Croatian pines, which descend directly to the sea and sometimes embrace the cool Adriatic."
Istria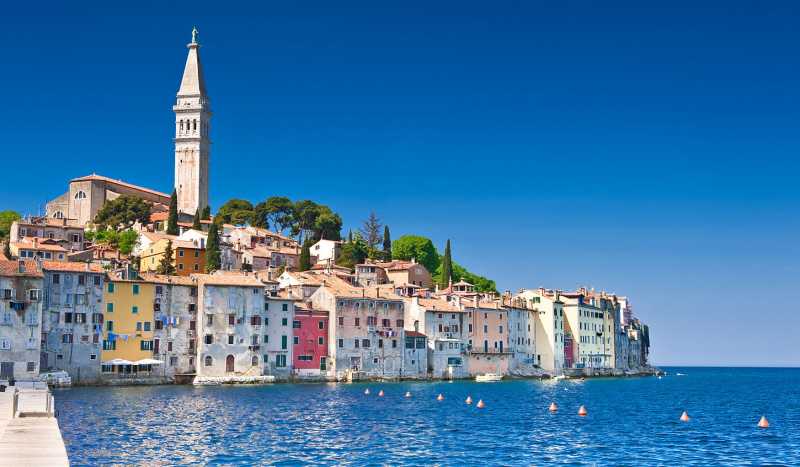 The Istria Peninsula is one of Croatia's most popular resort regions. Tourists call Istria a paradise, where there is a measured and relaxing atmosphere.
The nature is very beautiful: the clean sea, rocky coast, pine forests and deciduous parks – and in this beauty blends so well ancient cities and modern hotels. It remains to add, perhaps, that Istria is on the list of the best places for family holidays Europe's Best Destinations.
All the most important things about resorts, beaches, sightseeing and choosing a holiday with kids in Istria are in the Kidpassage review.
Istria on the map of Croatia
Istria is a peninsula in northwestern Croatia, washed by the waters of the Adriatic Sea. Almost all of the territory of the island is occupied by the Istrian zhupania (county) with the administrative center in the town of Pazin.
The distance from Zagreb to the main resort towns of Istria: to Pula – 267 km, to Rovinj – 249 km, to Porec – 248 km, to Umag – 259 km, to Rabac – 226 km and to Opatija – 174 km.
One should look at the map, where Istria is located, and you can immediately guess at the pages of history there are mentions of this peninsula: the Roman Empire and the subsequent fusion of Roman and Slavic culture, the Venetian Republic and the unprecedented cultural boom, the Austro-Hungarian Empire and the emergence of the first resorts.
After World War I Istria was incorporated into Italy and after World War II it became part of Yugoslavia. Now most of the peninsula belongs to Croatia, a smaller – Slovenia and a very tiny – Italy.
What does all this mean for travelers? A vacation on wonderful beaches of the Adriatic, excursions to beautiful old towns and acquaintance with cuisine, where Italian and Croatian traditions are intertwined, that is everything that leaves the most pleasant impressions.
Holidays with children
Often families with children plan their holidays in Istria. The main advantages of the region are obvious: the convenient location, mild climate, good environmental conditions, the variety of resorts. If you look more closely to the peninsula, will be noticeable and other positive aspects.
Pine trees grow right along the coast, creating a natural protection from the sun's rays. The air there is curative, suitable for the treatment of respiratory diseases. Many people come to Istria with children to forget about lingering bronchitis, tonsillitis and even asthma.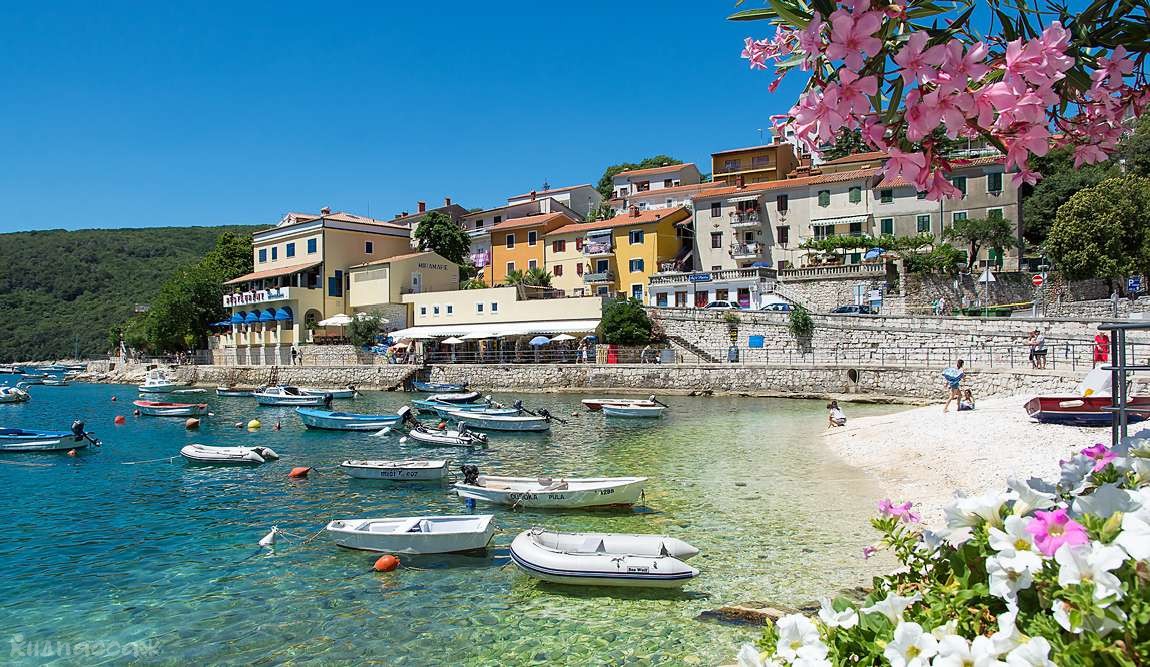 Another plus is the absence of big cities. Istrian resorts are devoid of bustle and crowds even in high season, so if you want to relax with a child in a quiet but not sleepy town, feel free to choose Rovinj, Porec, Rabac or other resorts of the peninsula.
Tourist infrastructure of Istria pleases with a good choice of hotels, apartments and villas, all at relatively low prices. You can choose a family hotel with all the amenities for a vacation with a baby or a cheap apartment, if you're going to spend maximum time on the beach and travel.
To be fair, let's talk about the disadvantages. In Istria, there are not many activities for children, and the beaches are not always suitable for baby bathing. Resorts are trying to remedy the situation, equipping playgrounds and equipping small beaches with a gentle approach to the sea.
But on the peninsula a lot of attention is paid to sports. Here you can see tennis courts, numerous bicycle paths, a variety of water sports entertainment.
When it's best to go
Duration of the tourist season in Istria is determined by the weather and availability of flights. Favorable weather for beach recreation and excursions is in the middle of May and lasts until mid-September, respectively, before and after these dates the number of flights to Istria is negligible.
The loading peak of the resorts of the peninsula falls in July and August. For a quiet holiday is better to come to the opening of the season in Istria, that is, in late May – June.
True, you will have to do without bathing in the sea: not to deprive yourself of the pleasure of refreshment in the heat, look for a hotel with pools for adults and children. A lot of interesting events on the peninsula also take place in summer.
In Umag and Rovinj people flock to see the sailing regatta. Rabac hosts a colorful carnival in June. In July, lovers of folk music gather in Poreč. In different cities several times during the summer fairs of Croatian cuisine are organized with obligatory entertainment for children.
If you go to Pula with children, you can see something interesting, from the gathering of bikers to jazz concerts, which takes place almost every day. It seems that the question of when it is better to go to Istria is settled by itself.
Weather and climate
Istria has a very mild climate, so even on the hottest days in this resort, both adults and children feel great. It would be logical to assume that in the northernmost Croatian resort area is slightly colder than in Central or Southern Dalmatia, but in fact the difference is almost imperceptible.
You can go on vacation with a child in Istria at the end of May. The sea is still cold, but the air has time to warm up to +23-25 ° C. Sometimes May is very hot, although there are also cool days.
The weather has stabilized by June: thermometers easily reach +25 ° C, and occasionally get up to +30 ° C. Before the heat is the norm, you can have a good holiday with the baby in Istria.
The heat comes to the peninsula in July. The average air temperature in the second half of summer is +28°C, but the sun is not stingy with +35°C. The situation is saved by the sea breeze, but you should not abuse the sunbathing.
Meanwhile, the best holiday in Istria with children is in July and August, because only by this time the sea is really warm.
As autumn arrives, the weather tends to deteriorate. It often rains and the air cools quickly. The average September temperature is about +24°C, but colder temperatures of +16-20°C are not uncommon. Sometimes September gives a week or two of lovely summer weather, but an autumn vacation in Istria should rather be called unpredictable.
It should be noted that the rain on the peninsula rains all year round. In May and June it often rains, in July and August the weather is clear. The rainiest month is September.
Another feature of some resorts in Istria are cold nights. If in Poreč, Rovinj or Rabac the temperature in the evening falls to +19-22 ° C, but in Opatija it's +15-16 ° C, and in June and September can be only +13 ° C.
Sea water temperature
Istria is the northernmost resort and the swimming season here ends a bit earlier than in the central and southern parts of the coast. But you can swim for almost three months, staying in the water for a long time.
The sea temperature on the east and west coast of Istria differs by almost a degree. When vacationers in Rabac cautiously test whether the water is good, tourists in Poreč and Rovinj already bravely swim.
The time for bathing begins in mid-June, when the sea gets as warm as +22°C. By early July, the water temperature rises to 24°C in Istria, and in two weeks reaches 25-26 ° C. Until the end of August, the sea is still warm. If the weather is hot for a long time, the sea can get as warm as +28-30 ° C.
With the advent of autumn, the water becomes invigorating. In early September, the sea maintains a temperature of +23-25 ° C, but by the end of the month cools to +20-21 ° C.
Nutrition
Hotels in Croatia are not too much trying to lure tourists with full board or all-inclusive. Hotels usually offer only breakfast, and at lunch or in the evening travelers relax in konoba – restaurants of national cuisine, where portions are huge and prices are moderate.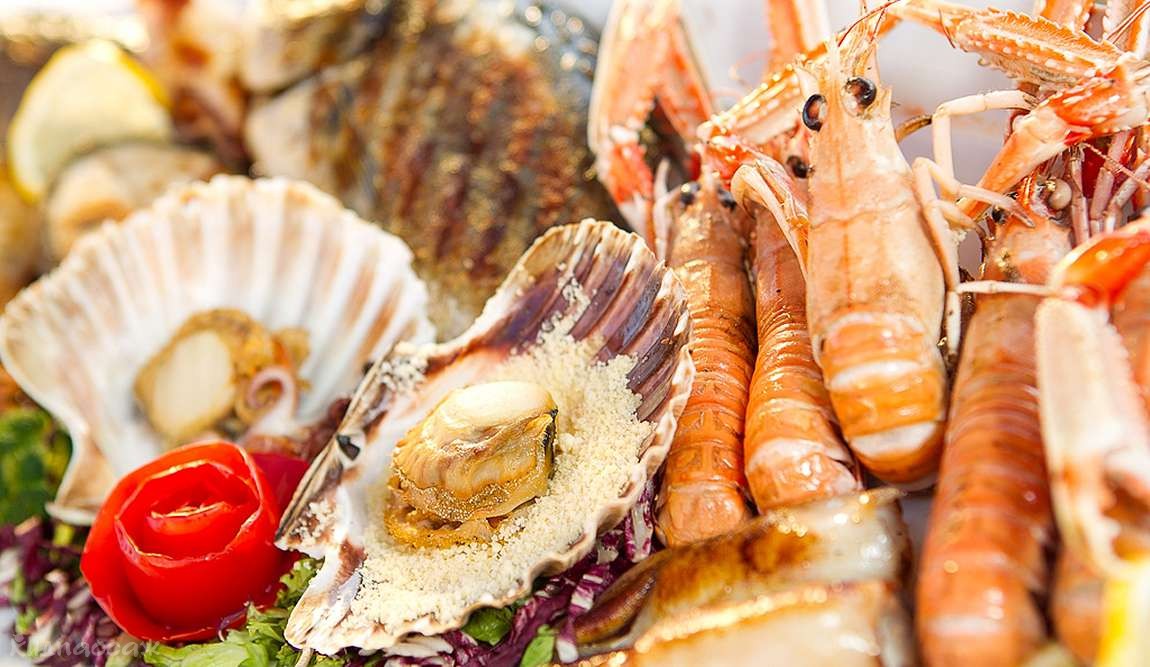 Cuisine of Istria is rich in seafood and vegetables, but also meat is in honor here. Most of the dishes on the menu are suitable for children who do not need special food.
Transport
Public transport in Istria is focused more on the service of tourists, because in small towns you can easily get around on foot or by bike.
But here in Poreč and Umag, there are tourist trains that connect the hotels with the city center. The fare on such a train costs 10-20 kuna, the same price applies to tickets for children.
And in Rovinj there are river streetcars that connect the city with the Brijuni islands. The ticket for this mode of transport costs 15 kuna.
In Rabac is a bus service to the town of Labin. In high season, buses leave every hour (the exact schedule is on the tourist website of the municipality). The trip costs 20 kuna.
In Opatija there are three bus routes. It is best to buy bus tickets at tobacconist's kiosks, then the cost of two rides is 15-30 kuna. Tickets for 10-20 kuna, which are sold on the bus, entitle you to one trip.
Most bus routes are in Pula, with buses and shuttles going to the nearest suburbs as well. A ticket for a ride costs from 8 to 25 kuna.
Intercity transport in Istria is quite convenient for trips. Buses go through all the resort towns and allow you to get even to remote attractions.
Because of the convenience of bus routes traveling in Istria by cab is less popular. Cabs in Croatia are relatively expensive, and a short trip will cost at least 40-50 kuna.
Cab from the airport will cost 35-200 euros, while direct shuttle bus tickets from the airport to the resorts, depending on the distance, cost 3-40 euros when purchased online and 4-50 euros when purchased from the driver.
Rent a car in Istria is recommended if you want to travel a lot. On the narrow city streets on the car ride is uncomfortable, parking in the resorts is small, but the trips around the neighborhood car will come in handy.