Santa Monica
Santa Monica is a suburb of Los Angeles, which is ideal for families. It has a special microclimate. Breezes blowing from the Pacific Ocean make Santa Monica's air fresher and cleaner than continental Los Angeles areas. The dividing line of the main road is planted with coral trees. They bloom with almost no leaves, all covered in bunches of bright red-orange flowers. Indeed, there is something of coral about them.
Save on your trip to Los Angeles!
Video: Santa Monica
General Information
The understated atmosphere of the resort town dampens the sophistication of the setting, which attracts creative people among Los Angeles residents and commuters, which is not the case in the neighboring suburb of Venice. The beach and park turn out to be the scene of amateur performances by acrobats, strongmen, clowns, and jugglers of all kinds. In 1892, tobacco magnate Albert Kinney had a desire to replicate on the Pacific coast the Italian Venice, with canals, gondolas, one or two palazzos, hotels and arcades. Then oil was found here and the idea was abandoned. Four canals were left, with the Beacon Bridge spanning the lagoon, from where the water flows into the canals. The area was reborn as a colony of artists, filmmakers, and bohemians.
At the beginning of Santa Monica are golf courses with the most elite golf clubs. Membership in such clubs is hereditary. To be a member of one of the clubs of Santa Monica is very prestigious, but to get oh how not easy, even as a celebrity. For example, such a famous and wealthy man as Sylvester Stallone is not accepted in these clubs. Despite his many years of attempts to get there. I will not spread gossip about him, but the fact remains, as well as the fact that in this town ends the world-famous Route 66, about which a whole novel could be written. There is not a rocker in the world who has not dreamed at least once in his life to conquer this, one might say, road element, where the dangers of the Wild, but still the West can still wait for you around the corner. Endless romance, the wind in your face, the feeling of freedom from everything will accompany you all the way.
The pedestrian street in Santa Monica is called Third Street Promenade . Throughout the street are sculptures of animals whose bodies are artfully carved out of bushes and whose heads are made of metal. Some of the heads have a fountain.
Naturally, the Santa Monica Promenade is not without its must-haves, such as Starbucks Hear Music Coffeehouse, Mann Theatres, AMC Theatres and Loews Theatres, an outdoor supermarket of fresh produce, fruits and vegetables, reminiscent of an American-style Farmers' Market. The Santa Monica Farmers' Market opens every Wednesday. It's not just one of the city's special attractions. The market features a variety of bands, jazz bands and a variety of ensembles that have made Santa Monica famous as one of the most musical cities in America. Large areas on the Promenade are occupied by clothing and fashion accessories stores Anthropologic, French Connection UK, Urban Outfitters, Gap, Armani Exchange, American Eagle Outfitters, Apple computer store, Pottery Barn home improvement store, and book boutiques Borders, Barnes & Noble. By the way, it is a characteristic feature of America when in any, even a seemingly purely idle place you will find a representative of a business selling spiritual food.
In summer, every Saturday close to midnight singers, classical guitarists, magicians, clowns, hip-hop dancers, drummers, and many other members of the stage arts flood the street in such numbers that they sometimes disturb each other with their performances, creating an atmosphere of musical mess.
Santa Monica Bay Beach is huge. Clubs, theaters, and discos are open late here, and young people race through the streets on rollerblades, skateboards, and scooters. It is a long strip of sand with no beginning and no end. At least the width of the beach is limited by the high coastal escarpment. Along the slope there is a seaside boulevard. Again, flowers on the ground, flowers on the trees, palm trees, the sea. Yeah, I wanted to write "girls. But not girls. Bums. On the boulevard there are centers of free food for them, they say, very tasty. There are long lines of these guys near the feeders. After eating, they lie there, some walk around, resembling ghosts who have mixed up the time of day. There are many of them on the boulevard. The pleasure of walking down such a boulevard has its own specifics, so it's worth going down to the ocean sand and onward for coastal pleasures.
Going down to the water and looking at the non-bathing people, you realize that there are luxurious beaches in Los Angeles, but swimming is kind of rare and only in summer, and that's if you're a bit of a walrus. The current coming in from Alaska makes the water hard to heat at any time of year. That's how you have to enjoy it without swimming.
Santa Monica has its own bus company, Big Blue Bus, which also serves West Los Angeles and the UCLA campus. Accordingly, bus numbers are designated BBB1, BBB2, and so on. The city is also served by Los Angeles County Metropolitan Transportation Authority buses. Interesting facts about the famous city: such famous people as actors Ben Affleck, Sean Austin, Tobey Maguire, Robert Redfort, actresses June Lockhart, Christina Ricci, Tom Anderson – the founder of MySpace, Nobel Prize winner John Nash, singer Susan Vega were born here. Another band, Linkin Park, is named after Lincoln Park in Santa Monica.
The band Savage Garden had a song called "Santa Monica." Santa Monica Boulevard crosses four cities: Santa Monica, Los Angeles, Beverly Hills, and West Hollywood.
Santa Monica Beach in Los Angeles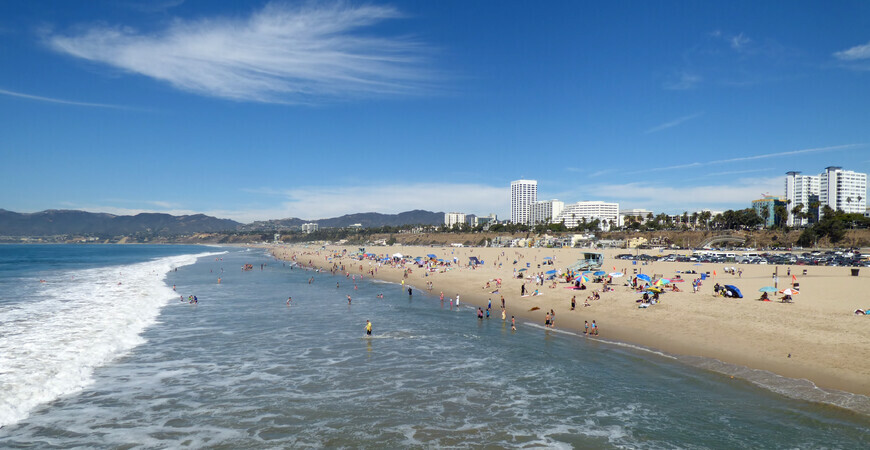 Santa Monica Beach is a famous beach located in the Los Angeles suburb of Santa Monica. The city of Santa Monica is famous for its luxurious beaches. The local coastline is great for both noisy groups and for a relaxed vacation with children.
The beach of Santa Monica is about 5 km long, and the width of the shoreline varies in its different parts, averaging a few tens of meters. The beach is very clean, well maintained and has a sandy coast. The sand here is fine, clean and very pleasant. Entrance to the sea is gentle and similarly sandy.
The beach is incredibly beautiful, and the sunsets that can be seen from the beach, bring everyone in an incredible delight.

The main attraction of Santa Monica Beach and the entire suburb in general is its popular pier, which goes into the ocean for several hundred meters. Opened in 1908, the pier to this day is the main center of life of the resort and the attraction for all tourists. The Santa Monica Pier stands out for its scale and has everything for a better beach vacation and evening entertainment.
Water Temperature
The maximum ocean water temperature at Santa Monica Beach even in summer does not exceed 24°C, so it is quite cold to swim here. The warmest months are July and August, when the average water temperature is 20°C.
Average ocean water temperature in Santa Monica Beach by month:
January: +15.1°C;
February: +14.9°C;
March: +14.7°C;
April: +14.9°C;
May: +16.4°C;
June: +18.1°C;
July: +20.0°C;
August: +20.4°C;
September: +20.2°C;
October: +19.7°C;
November: +17.9°C;
December: +16.3°C.
Infrastructure
Any beach would envy the infrastructure of Santa Monica Beach, it has absolutely everything to ensure that the relaxation of residents and visitors to the city was at the highest level.
Service at the beach is represented by the following services:
Playgrounds for children. For children there are their own joys – several equipped playgrounds on the beach.
Rental. Bicycles can be rented here, for which there are special bicycle paths.
Catering points. It is impossible to imagine such a huge beach without bars, restaurants and cafes. There is also a great many of them, where visitors are offered hot dishes, snacks, salads, drinks and, of course, fast food.
Lifeguard booths. Since the beach has a fairly large area, lifeguard booths are located every few hundred meters.

Stores. Along the coast and in the city itself there are a huge number of stores that represent excellent shopping opportunities, including souvenir stores.
Hotels. There are also hotels along the entire beach where you can stay if necessary.
Specially designated areas. These places are designated for picnics.
Showers and public toilets. Visitors to the beach can safely rinse themselves after their vacation on the beach and visit the restroom if necessary.
Much of the services are located, of course, on the big pier: there are also clothing and souvenir stores; cafes and restaurants; a surfing school, which teaches the water sport; an aquarium, which is very interesting to visit and even has a parking lot.

Active recreation
There is never a dull moment on the grandiose Santa Monica Beach, especially regarding the pier, it is always fun, noisy and feels like a daily holiday atmosphere.
Among the activities on the beach, particularly the pier, are the following:
Volleyball, surfing, swimming, paddling activities.
Chess lessons at a special school called "Chess Park" near the pier.
Fun activities at "Pacific Park" amusement park with "roller coaster", "Ferris Wheel", "Inkie's Wave Jumper", "Sig Alert EV", "Sea Side Swing". Rides are open from 11:00 to 21:00.
Games in the arcade "Playland Arcade.
In addition, Santa Monica Beach regularly hosts concerts, parties and discos during the summer.
How to get to Santa Monica Beach
You can get to the beach as follows:
By bus: #8, 534. Get off at the "Ocean / Colorado" stop, which is located in front of the pier.
By subway: Get off at "Downtown Santa Monica Station" (blue line), then walk to the ocean, and there is the pier.
By cab: Santa Monica City Cab, Uber Taxi.
By car: If coming from Los Angeles, go southwest to the Pacific Ocean on I-15 N and I-15 S.
Route from Los Angeles to Santa Monica Beach by car:
Santa Monica Beach Panorama on Google Maps :
Video: Santa Monica State Beach