Japan. Trains, train stations. Kyoto
In the first part I told about the organization of the trip to Japan: the cost of airline tickets, hotels, transportation, features of visas and the JR Pass. In the second part we'll talk about one of the most important components of the country – rail transport, and some everyday little things on the trip that will help the journey. And also – in this part I will tell you about Kyoto, a beautiful and incredibly fascinating city in picture-commentary format.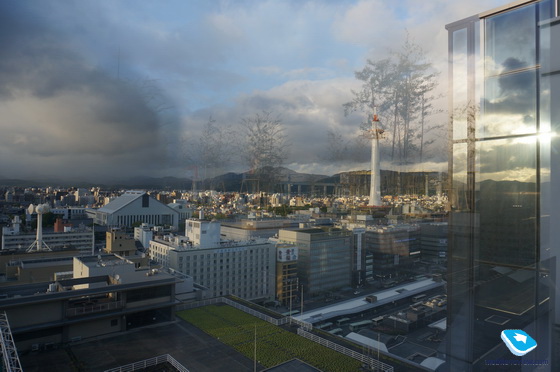 Train Stations and Trains
It's no secret that Japan is a technologically advanced country and it has one of the most upscale and modern rail systems. High speed trains and huge modern stations are the basis of this system and then come the smallest details that make up the whole picture.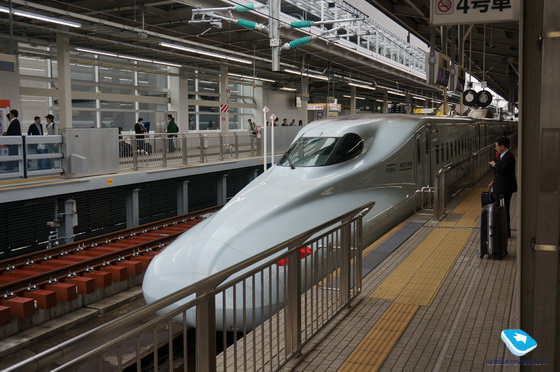 Shinkansen, or "high-speed trains," are the backbone of Japan's rail system.
Railroad stations in Japan are literally small autonomous cities within cities. It has everything – hotels, recreation areas, lots of stores, cafes, restaurants, cinemas and more. I'll take the train station in Kyoto as an example. It's the second largest railway station in Japan (the first is in Nagoya), incredibly beautiful and unusual, in my opinion. The station area includes many buildings connected by covered galleries or underground, trains run on several levels, and on the roof of the main station building there is a beautiful recreation and observation deck as well as a helicopter landing area. It is difficult to describe the experience of Kyoto station in words, you just have to see it. Kyoto Station is very different in its architecture from everything else in the city, it looks futuristic and even a little strange against the background of castles, temples and two-story houses, but this only makes it even more unusual.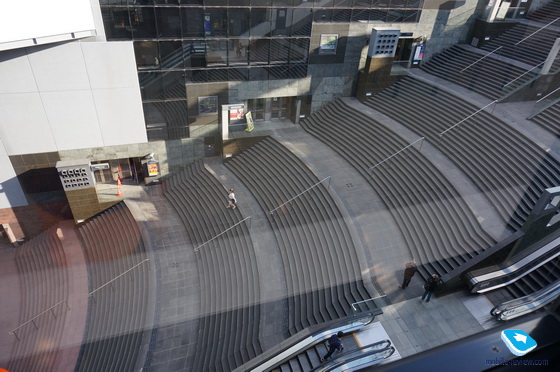 You can climb the steps to the observation deck of the station.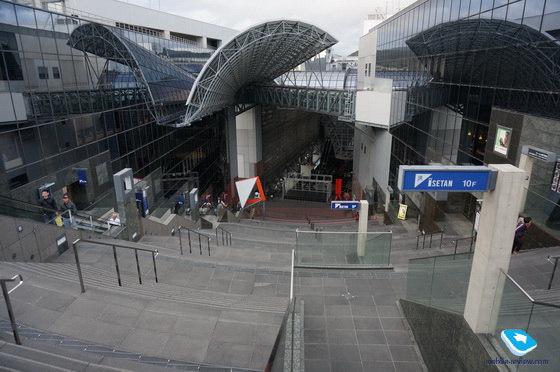 A view of the main Kyoto Station building from above.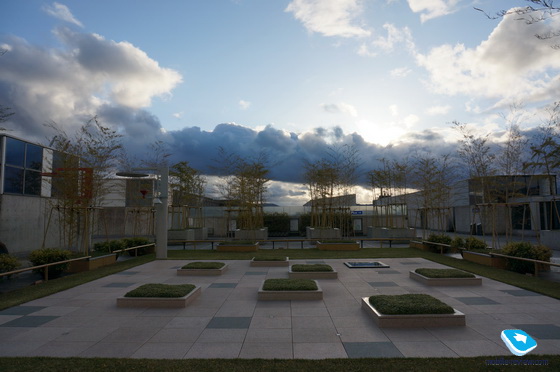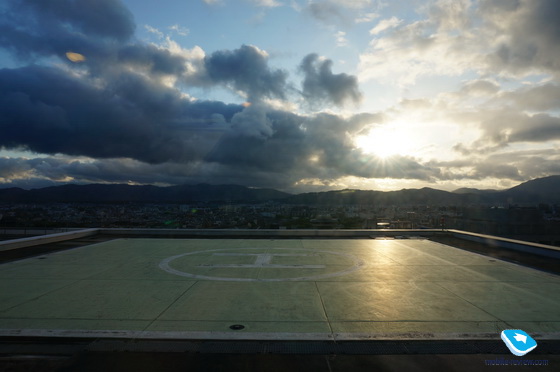 There's also a helipad on the roof of the main building.
It is difficult to get lost at the station: all announcements on the trains are broadcast in Japanese and then in English, most information boards also alternate between these two languages. On the platforms, there are screens everywhere with information about the trains arriving and information about which carriages on the next trip will have reserved seats and which will not. Also there is a marking all over the place for people to properly take a turn. It's very convenient because no one is trying to get on the train before the other person is on the train.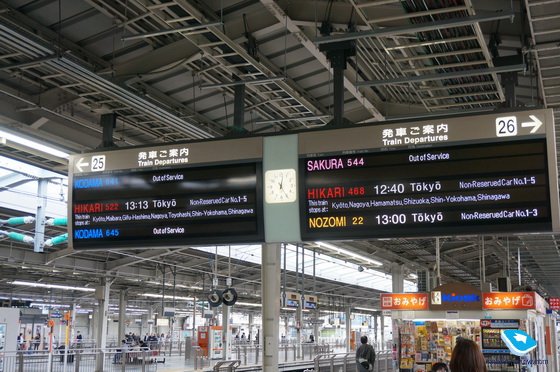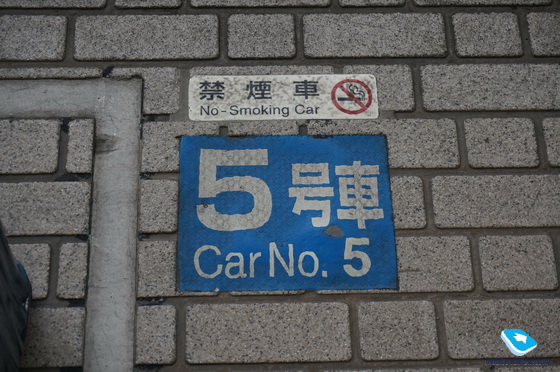 On the trains themselves, the Japanese really like to do one thing: eat. Also at the station, many people buy bento boxes, small boxes with cold or hot (more often with cold) cooked food, it can be sushi, it can be meat, rice, vegetables and so on. Before my trip to Japan, I read a lot that for a "non-Japanese" bento is an unusual and very strange food. But in fact it was not so – it is very easy to find a bento you like, because the choice of these boxes of food is enormous and, at the worst, you can always take a version with meat, sauce and rice, for example, without additives.
By the way, you can buy water or something else already on the train – some cars have vending machines for drinks.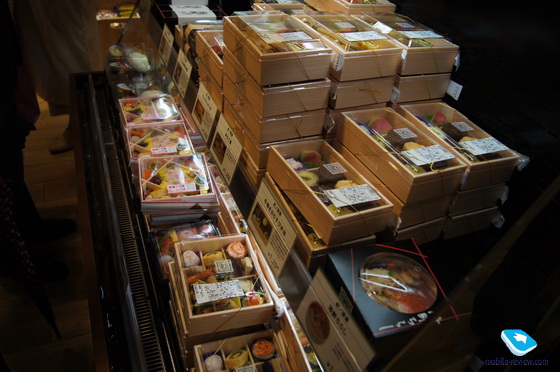 The selection of bento boxes in stores is enormous.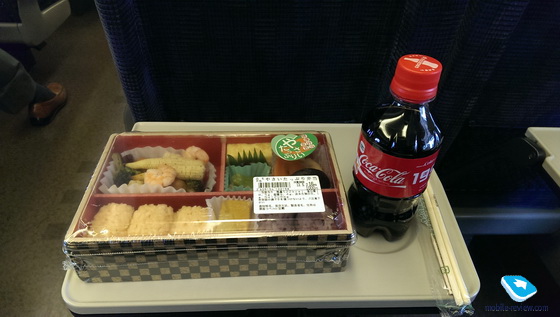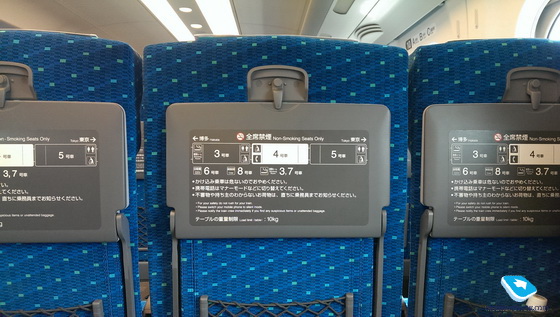 On the backs of the front seats on the train are folding tables for food. While the table is folded, you can read on it useful information about where in your car the toilet, telephone booth, garbage can, "smoking" area and so on.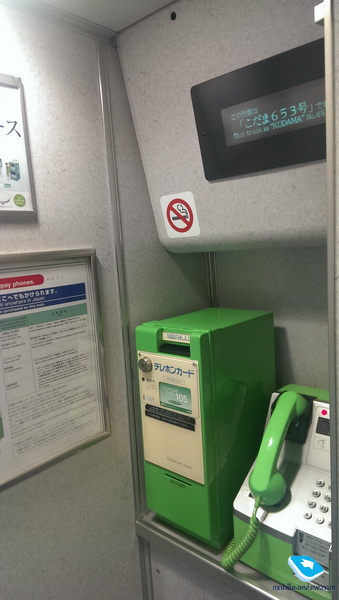 This is what a "landline" looks like on a high-speed train.
The central train station in Tokyo (Tokyo Station) is not as big as the stations in Nagoya or Koto, but it has a partially preserved old look. Among the modern high-rises and high-speed trains it looks very unusual.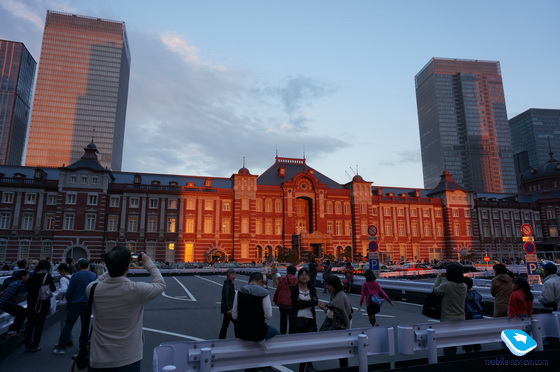 At all major stations and in some stations there are lockers for bags – usually they are located in several parts of the station in blocks – cameras for large bags, for medium-sized and small. Paid for storage by the day, with coins. If you don't have coins, you can exchange them, and there are usually automatic machines for exchanging paper money for coins near the big "bag lockers. The storage lockers are very convenient, but at large train stations (in Tokyo, for example) sometimes it is difficult to find a free place, you have to stand near one unit and wait for someone to come and free the box.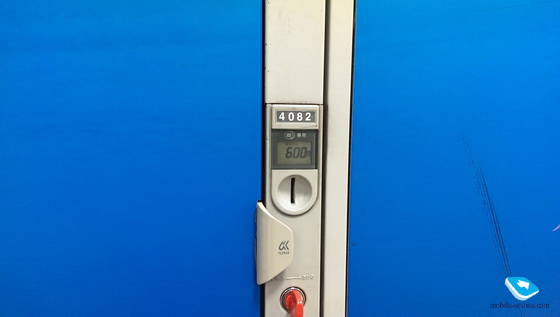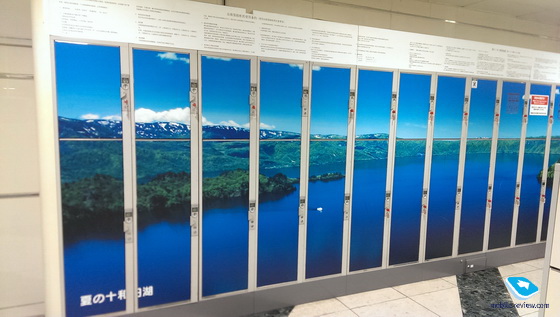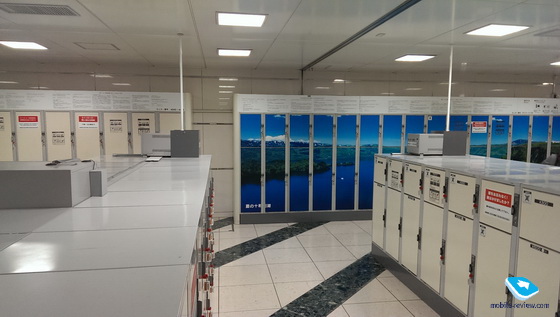 What else do you need to know about rail transport in Japan? It is very accurate, trains run very often, the gap between the fastest shinkansen in one direction is about 30 minutes, which fits several other fast trains in the same direction. Trains are incredibly beautiful, in my opinion, they are comfortable, they almost do not stick your ears, and two to four hour trip goes unnoticed, especially if you have a local "sim card" with the Internet or a compact router. Train seats recline, not too much, of course, but enough for a nap.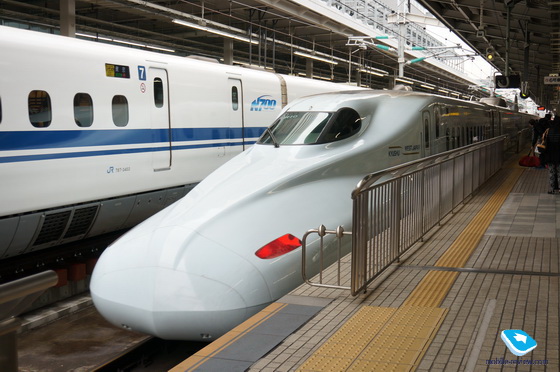 Important little things
If you decide to buy a JR Pass to ride between cities and use it on the train in Tokyo, it's worth thinking about where to store the passes. It seems like a small thing, but when you go to Japan for two weeks it is important. You will have to show your JR Pass often, especially when you travel by train in Tokyo. Enter the station – show the JR Pass to the controller near the turnstiles, exit – show it again. Entering the station – show it, entering from the station to the high-speed train platforms – show it again, leaving from the platform and the station – show it twice more.
If you keep JR Pass in a backpack pocket – you'll get tired to get it every time, also because morning and evening commuter trains in Tokyo and just in big cities are very crowded, and often you'll be walking in the stream, so taking off your backpack and rummaging through it to show the ticket is not always convenient. But if you have your fare somewhere close to your pocket with quick access, it becomes much more convenient. At first it seems like a small thing, but personally, after two weeks of traveling in Japan and constantly taking my passes out of the backpack's far pocket, I thought for sure that I would tell about it and advise travelers not to repeat my mistake and look for a convenient pocket with quick access (smile) for the JR Pass.
Kyoto
Wikipedia "tells" us that Kyoto is a city designated by decree of the Japanese government, located in Kyoto Prefecture. The city has an area of 827.90 km² and a population of 1,463,444 (June 1, 2010). From 794 to 1869 Kyoto was the capital of Japan and the main residence of the Emperors .
In fact, to get to know and really see Kyoto, you need to spend a week or more, in my opinion. The city is not huge, but it's not small either, but there are a lot of interesting details, and the small towns, temples, and parks adjacent to Kyoto would require a separate time to explore. I absolutely love this city. I won't take up your time with long descriptions, but just attach photos and comments below.
Kyoto doesn't have many high-rise buildings, except on the outskirts, closer to the center people live mostly in two or three story compact houses. This is what a corner at the intersection of two typical streets looks like somewhere in Kyoto:
It's not customary here to hide possessions behind locks, and residents try to decorate and individualize their huts as much as possible. Hence the large number of pots with flowers near each entrance of the house, various decorative elements and decorations made by their hands. All this creates a very homely atmosphere right on the streets, you walk along the residential houses and a feeling – as if you were already at someone's house, but for some reason you still have your shoes on.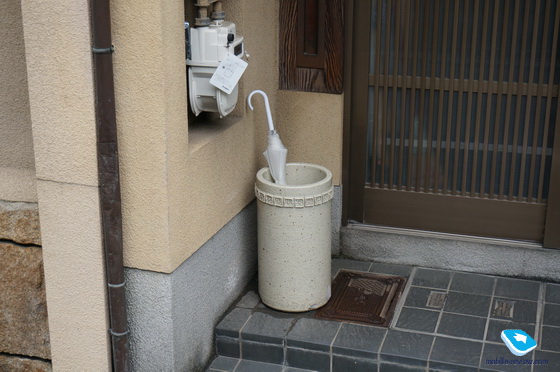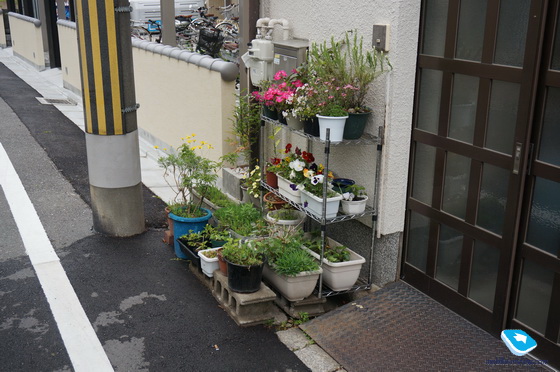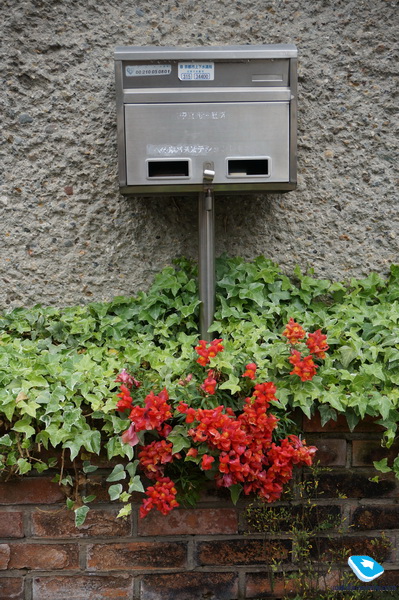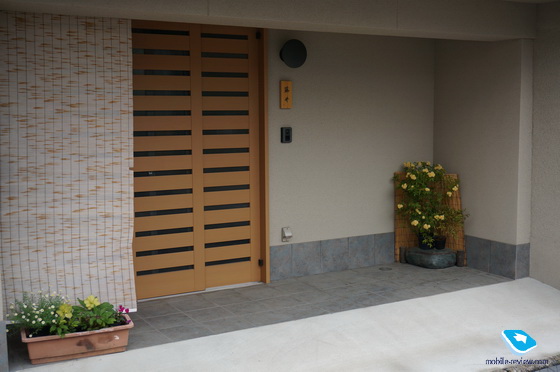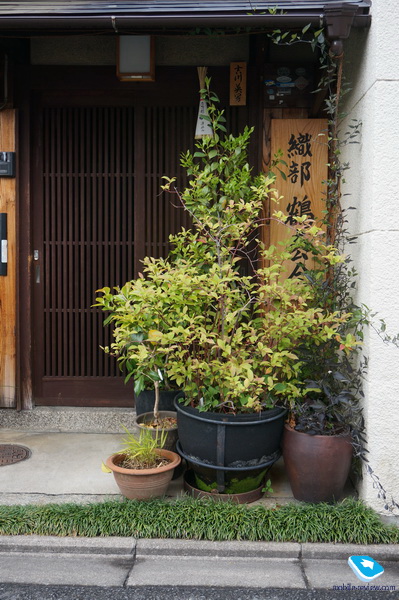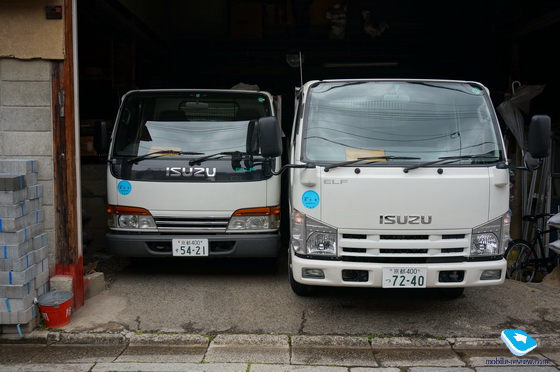 The peculiarities of local parking.
Small nice details around, you can walk around the little streets all day and see how it all works.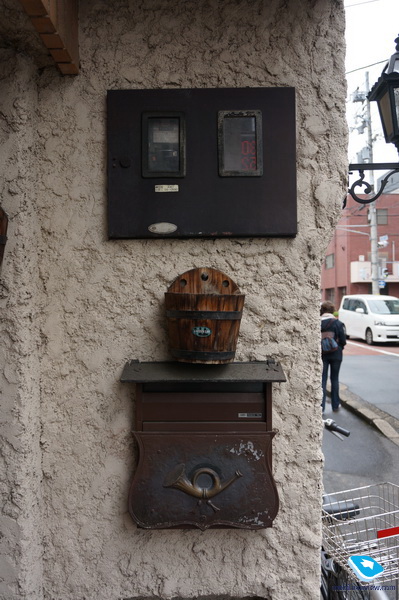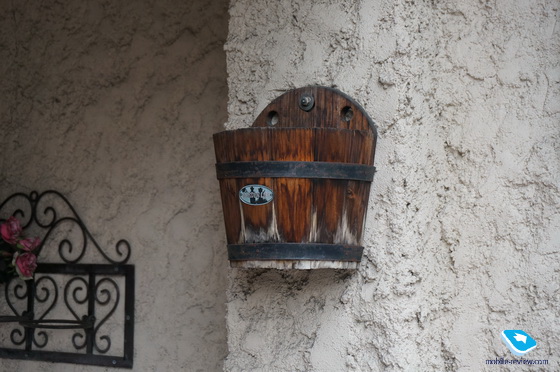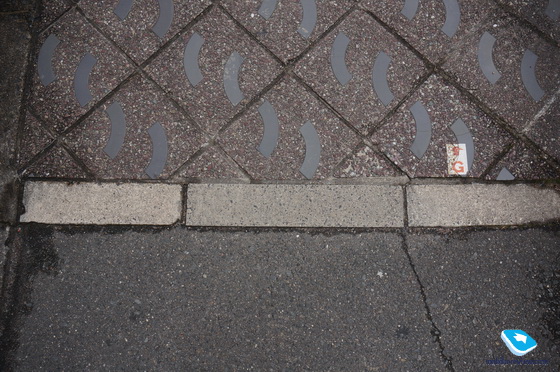 Speaking of possessions – bicycles here are also often stored on the street, usually they are not even attached by chains to the poles, just put and all. There are a lot of bicycle parking lots in the city, where bicycles are also just placed without being attached to the poles.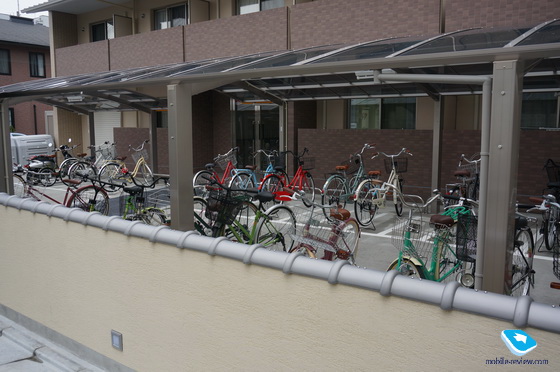 The streets are very narrow, but even in those conditions, the residents put pots of flowers and park a car or a moped outside and leave a little space for passages (smile).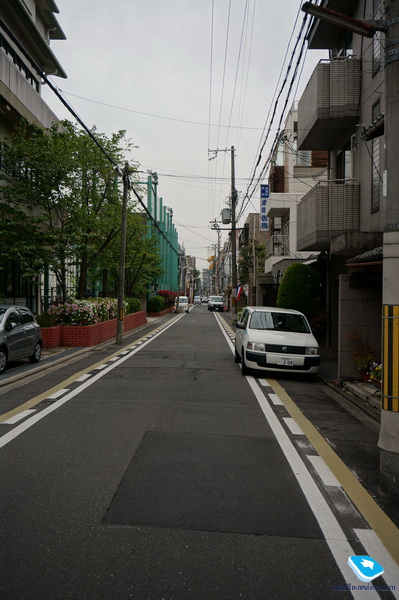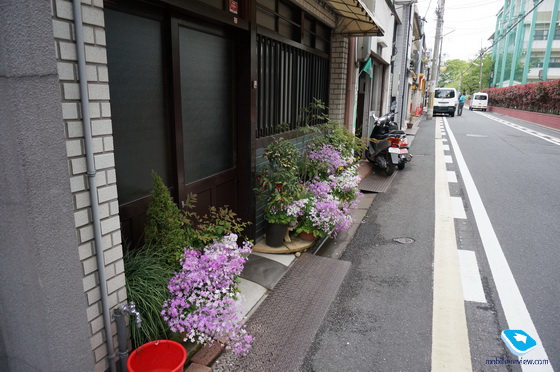 As we walked around, we encountered a high-tech parking lot: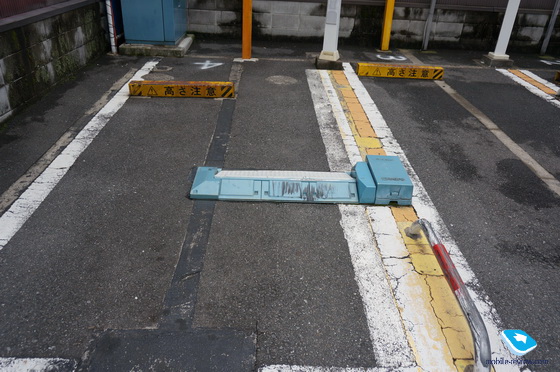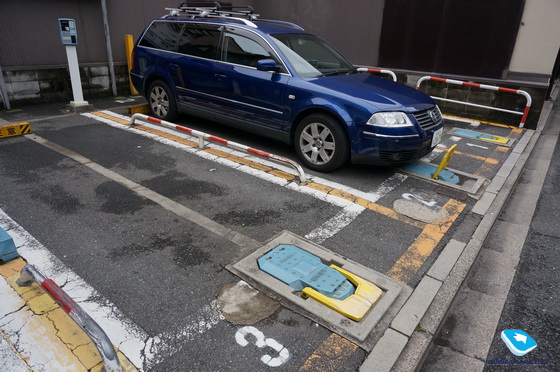 If I were asked to describe Kyoto in a few words, I would say that this city is very neat, clean and nice. Yes, it is. If you leave or even walk away from the train station, you'll see a completely different Kyoto – two-story, narrow streets, beautiful courtyards, and the smallest details – you can just walk around without the goal of seeing anything in particular and it will be interesting because everything here is different, not like in our country.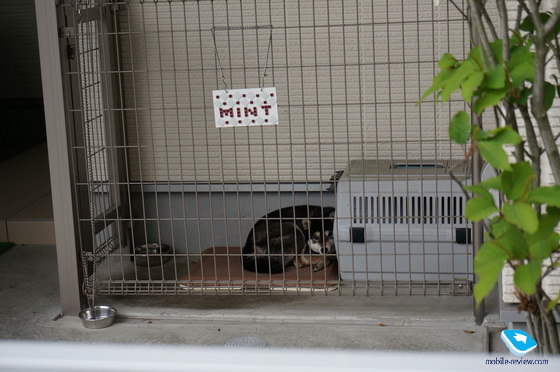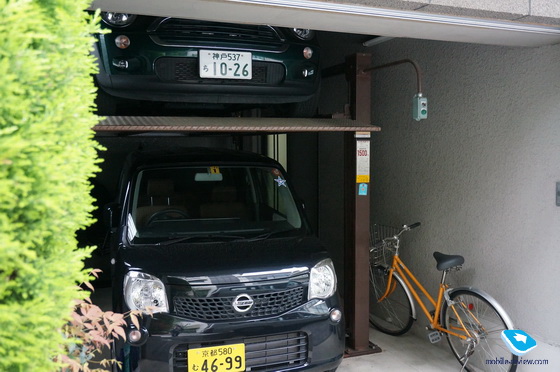 At the same time in Kyoto can be quite different: there is a large beautiful park at the imperial palace, where you can relax and stroll, as well as long shopping streets with covered galleries and many stores, large shopping centers, high-rise buildings and so on.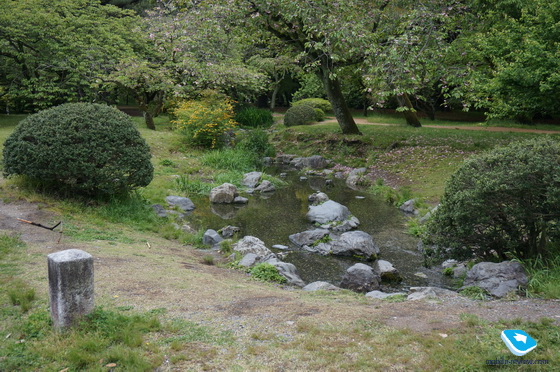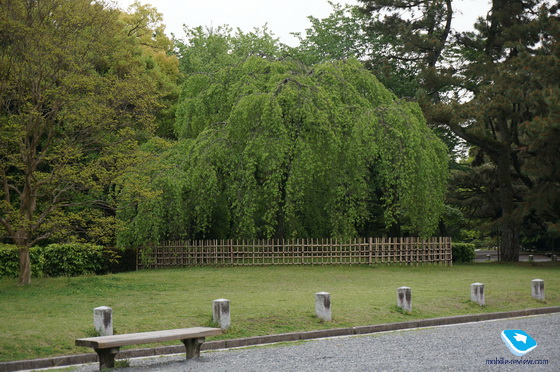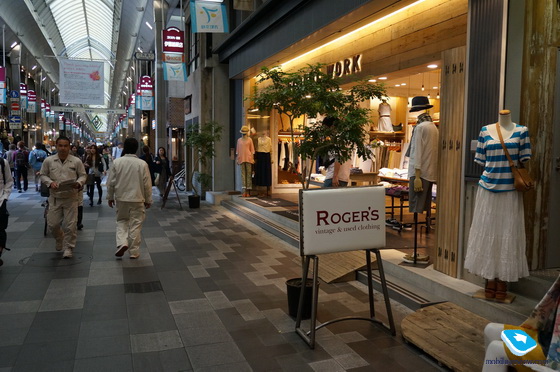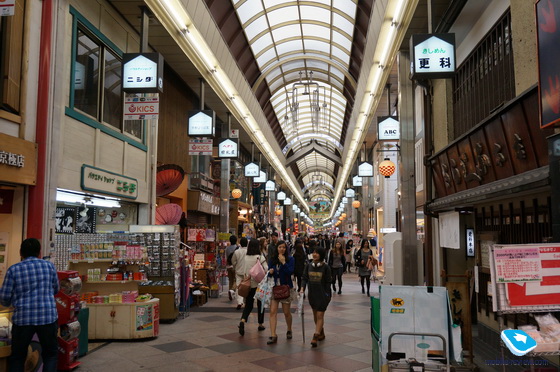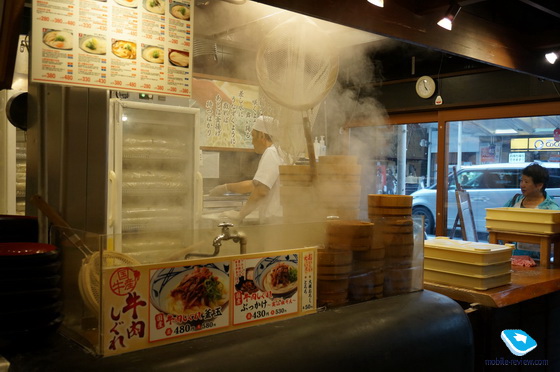 "Udon" in one of the cafes.
Arashiyama
An area west of Kyoto that is extremely popular with the Japanese, especially when "Momiji" – the red maple season throughout Japan – comes around. This is the time from September to November. However, in any other month Arashiyama is no less beautiful. If we leave the exclusively Japanese definitions of different places or correct for all the rules, Arashiyama is a beautiful park about 20 minutes away from Kyoto by electric train (you can use JR Pass).
In the fall the number of red maples here is breathtaking, at other times it's just the surrounding beauty, the clean air, and the atmosphere of tranquility. Here, by the way, there is a bamboo grove, famous all over the world for the number of pictures. Surely you have seen photos of this type at least once: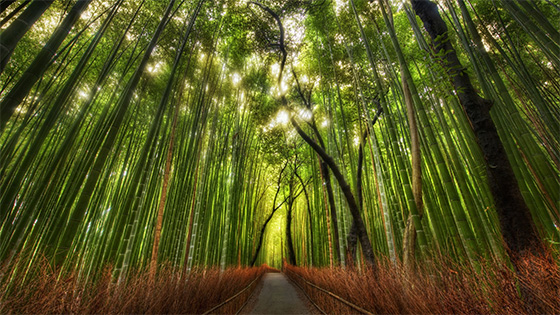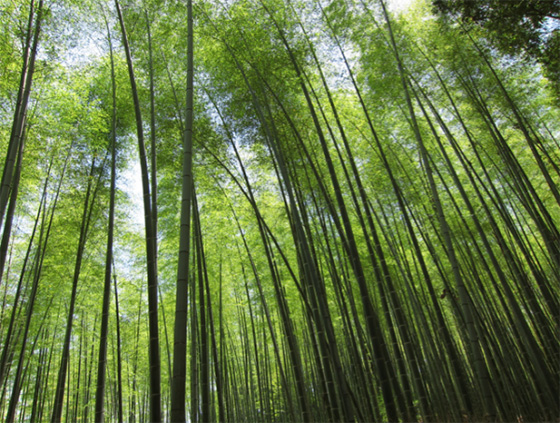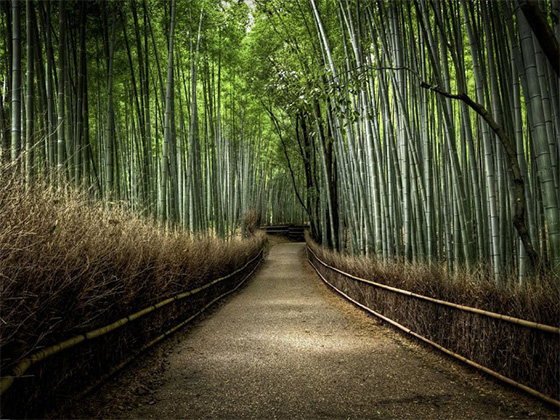 Most of these pictures were taken in the Arashiyama bamboo grove. However, there are usually a lot of people there and it's not easy to get a clean shot: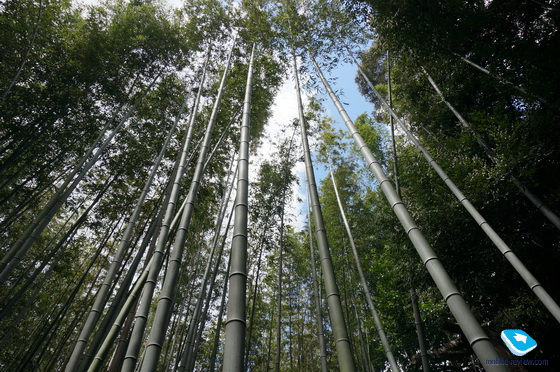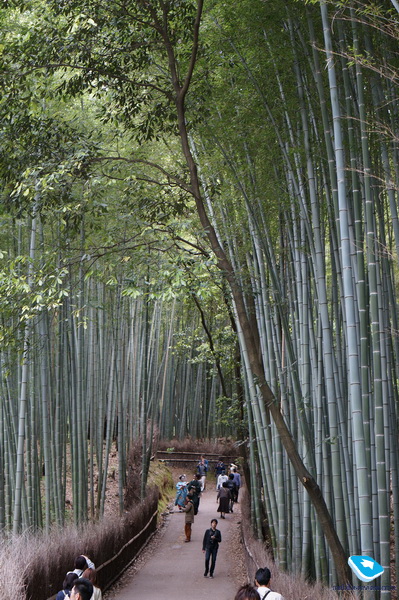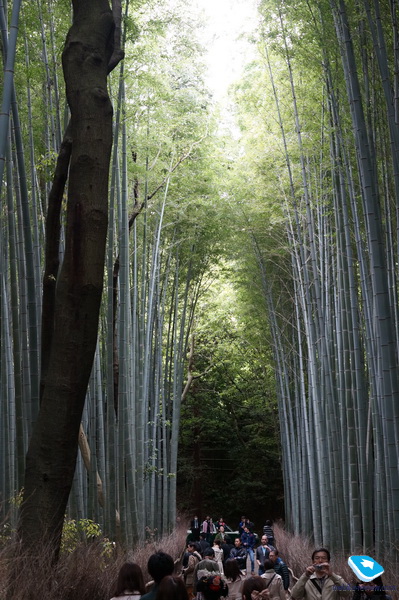 Like everywhere else in Japan, the sewer manholes here are beautiful: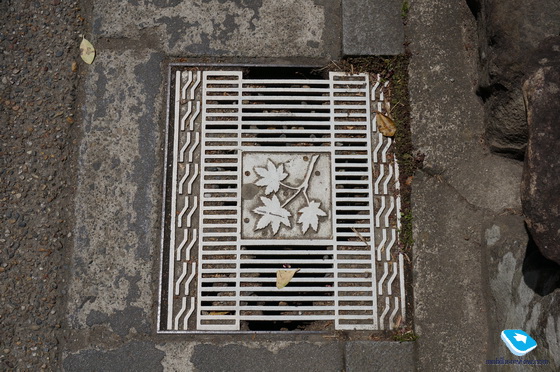 You should go here if you find yourself in Kyoto, tired of skyscrapers and fast pace, and just want to take a half or a day off from the hustle and bustle. Usually Arashiyama is very crowded, but it doesn't disturb the overall atmosphere of tranquility that prevails here. It is a very nice and beautiful place with several temples, different interesting plants and a small park of wild monkeys nearby.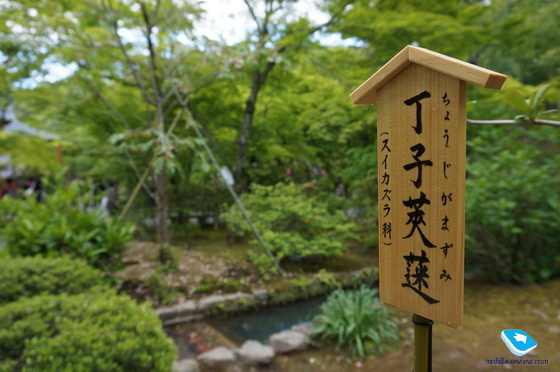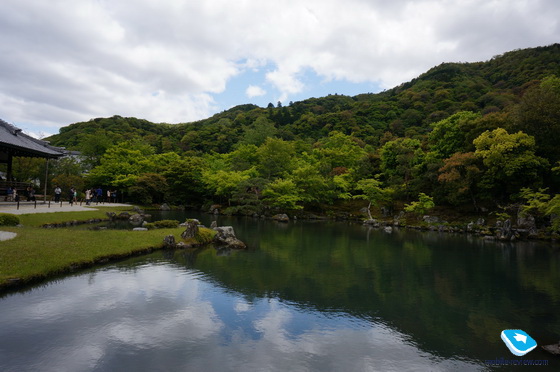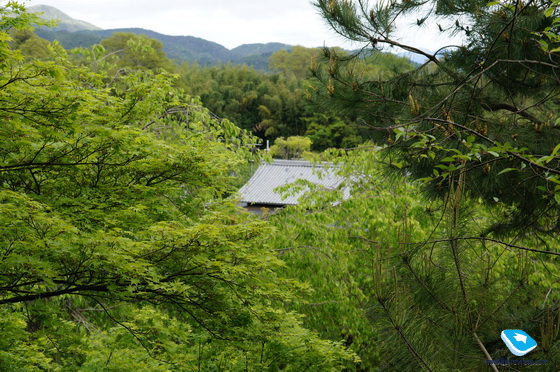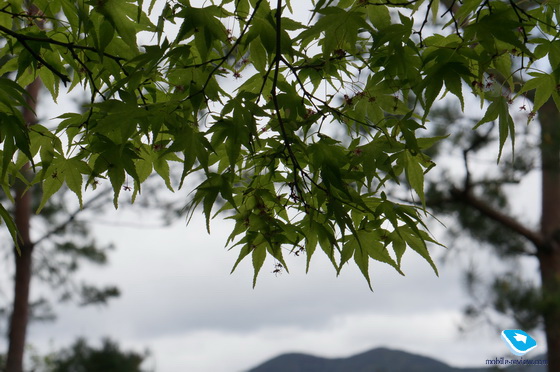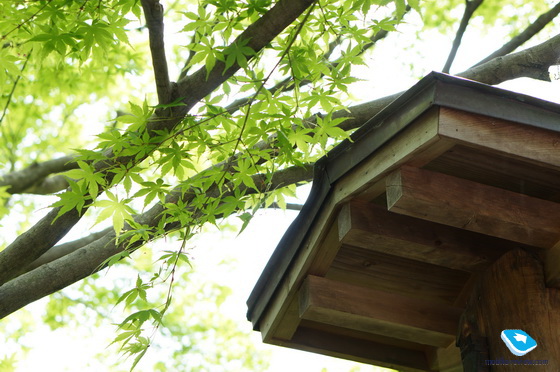 In the next part we'll talk a little bit about Osaka, Himeji and Yokohama. In the meantime I invite you to comment again, if you want to know something specific, don't hesitate to ask questions. Maybe I will be able to answer, maybe our other readers, who have been to Japan or are there now (living, working).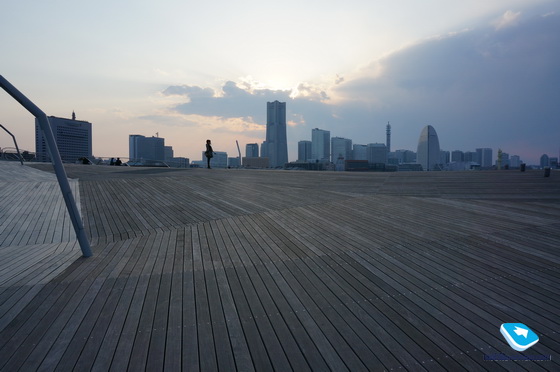 A picture to attract attention – Yokohama.
Links to the topic
Artem Lutfullin (artem@mobile-review.com) Twitter Instagram Published August 24, 2013
ru_japan
Of course many people have already photographed and written about this unusual architectural structure, but I really liked it and decided to join the rest :-)) The train station building in Kyoto is really unusual. It was designed by the Japanese architect Hiroshi Hara, who also designed the Umeda Sky Building in Osaka, the Tasaki Art Museum in Nagano and the Yamato International Building in Tokyo. This is the fourth Kyoto Station building and the project was completed 15 years ago, in 1997. The building itself consists of the train station, a huge shopping mall, a movie theater, a hotel and the local government offices. 1.
2.
The openwork metal constructions draw the eye:
4. Right at the exit of the station there's another local landmark – Kyoto Tower:
5. The same reflection in the office part of the station:
6. The left side of the 470 meter long station building is occupied by the Hotel Granvia Kyoto.
7.
8. "The escalators are moving into each other:
9. In the direction of the shopping complex another line of escalators rises leading to the upper observation deck:
10. The wide span of stairs is occasionally used for running competitions – for example on the third Saturday of February there will be a competition between teams of 4 people – who will run upstairs the fastest
Anyone interested?
11.
12.
13.
14. There is a small garden with bamboo saplings on the upper ground:
15.
16. Through the thick and tinted observation glasses we can't really take pictures :-(((.
17.
18.
19. And then it started snowing:
20.
21.
22. In the evening these garlands beautifully illuminate the escalators:
23.
24. A small cafe with cozy plaids invites for warm tea
25.
26. And again tower from another view
27. And it's already snowing heavily outside.
28.
29.
30.
31.
32.