Porto public transport
One of the most important aspects when visiting new cities is public transportation. So I've put together for you a kind of guide to Porto's public urban transport, which includes metro, buses, streetcars, funiculars and electric trains.
Fare Zones
Many tourists coming to Portugal are shocked by the fact that Porto is divided into certain fare zones of public transport, hence when crossing certain zones the fare will be different. Let's try to understand the nuances of the fare zones and how much the fare will be when crossing certain zones.
On the fare zone map below you can see that there are more than 20 zones in Porto . The northern parts of the city are labeled N1-N16, the central part of Porto is labeled C1-C16, and the southern part of the city is labeled S1-S13. The more zones you cross, the more expensive the fare. To travel through one zone or to cross two zones you need the cheapest Z2 ticket. For example, if you are going from the center of Porto – zone C1 – to the adjacent zone C2. If you are going from C1 to C5 (crossing 2 zone borders), you will need a Z3 ticket to travel. When crossing all zones you need the most expensive ticket Z12.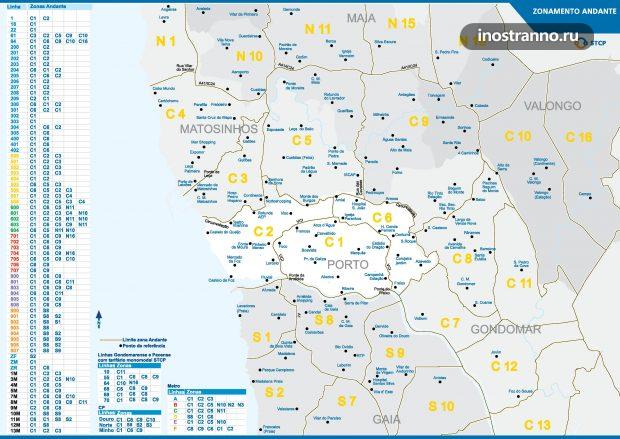 Are you intimidated by this map and afraid that you will not understand which ticket to buy? No problem, Porto's public transport website has special route planners that do the calculations and tell you which ticket to buy. Also, the ticket vending machines have detailed maps and useful information with which you are sure to buy the right ticket.
Types of tickets and fares
I think you have understood what the fare zones are, now I will give you the fares for transport in Porto.
To buy tickets you will need a non-personal Andante contactless card on paper. You can load any ticket on this card. The card can only be used by one person. The card can only contain a certain number of the same tickets at a time, e.g. 10 Z4 tickets. To download a monthly or quarterly pass you need a name card (with photo) Andante e Rede Geral STCP. The cards can be purchased at ticket outlets in major metro stations, newsstands and Ticket Vending Machines.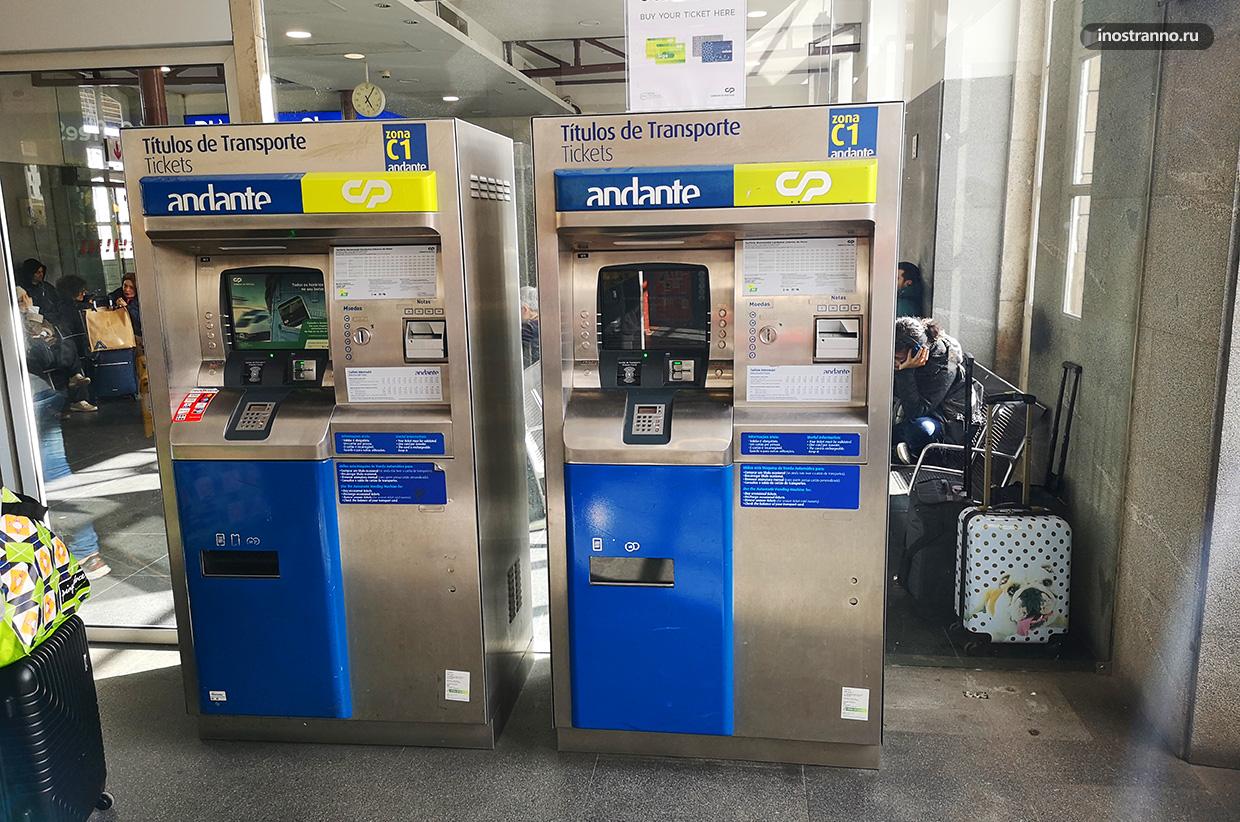 If you load 10 of the same tickets onto the card, you get a bonus of 1 ticket. Once your ticket is validated, you are entitled to ride on this ticket for a certain amount of time, which depends on the ticket type (number of zones). Just don't forget to punch your card each time (put it to the electronic validator) when you enter the transport.
Unnamed Andante card: € 0.60
Andante PVC card: € 6.00
Andante 4_18 e Sub23 Card: € 3.00
Driver's Pass (valid for one trip): € 1.95
Andante Tour 1 Day Pass (valid for 24 hours after validation): € 7.00
Andante Tour 3 pass for 3 days (valid 72 hours after validation): € 15.00
1-month pass: € 47.70
1-month pass for students: € 35.80
Again, every time you enter a vehicle, you must put your card to the electronic validator. After that, you are entitled to ride for a certain amount of time in all areas covered by your ticket, making as many connections as you like. For example, if you bought a Z4 ticket, you are entitled to ride on it for 1 hour and 15 minutes, starting your route on the metro, then transferring to a bus and then another bus. It's as simple as that!
If you've loaded a pass for the day, with this type of ticket you can ride all modes of transport for 24 hours after validation.
There are special cards for tourists, such as the Andante Tour Ticket, which is valid on STCP buses, certain bus routes, subway lines and commuter trains.
Retro streetcar fare is not included in the scope of the pass, you need to buy a ticket at the entrance to the streetcar.
The penalty for a stowaway is very high: from € 120.00 to € 350.00. The controllers do not care whether you forgot to validate your ticket, whether you did not buy a ticket or whether you forgot your card at home – you just get a fine, period.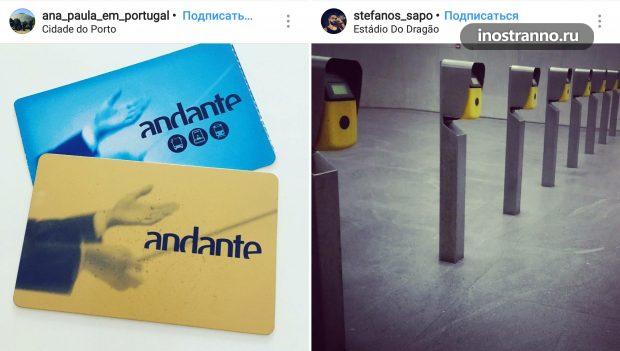 Official public transport website
Porto public transport has an official website. Porto Metro also has an official website.
The official website for Porto STCP public transport : http://www.stcp.pt/en/travel/
Porto Metro official website : http://en.metrodoporto.pt/
On these websites you can create a route from point A to point B. When you plot your route, you will be given information about the travel time, which transport to take, where to make the transfers, and what type of ticket to buy. The site is easy to use. The site also has the latest information on fares, changes to city transport, timetables for all modes of transport, and the latest news.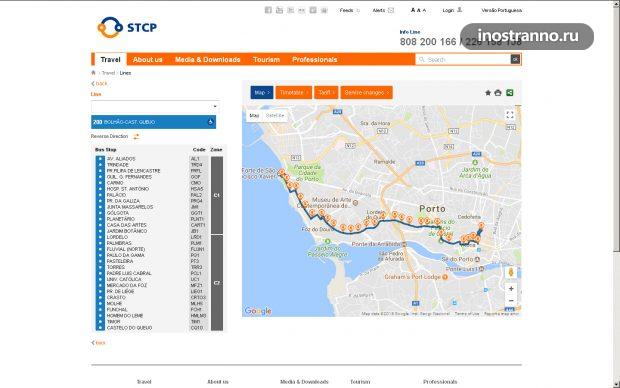 Metro Porto
The Porto Metro (Metro do Porto) is part of the city's public transport network and is the most convenient mode of transport with more than 160 thousand passengers a day. The Porto Metro is fairly young: its first line was launched in 2002.
Porto subway is shallow, and the rolling stock refers to light rail subway. If you look closely, the rolling stock is an ordinary modern streetcar, which in some sections runs underground and on the outskirts of the city runs on the railway tracks, which, again, strongly resemble streetcar tracks, because the gauge is 1435 mm (like the streetcars in Prague, streetcars in Berlin, streetcars in Barcelona).
The Porto Metro consists of 6 lines, 82 stations, 67 km of tracks and 102 rolling stock.
Each line has a color designation, and the numbering of lines is carried out not by numbers, but by letters: A, B, C, D, E, F. At each station there are benches and a scoreboard indicating the time until the next train. Entrance to the subway is marked with the letter M, the stations also have signs, which can be easily identified with the exit to the correct platform.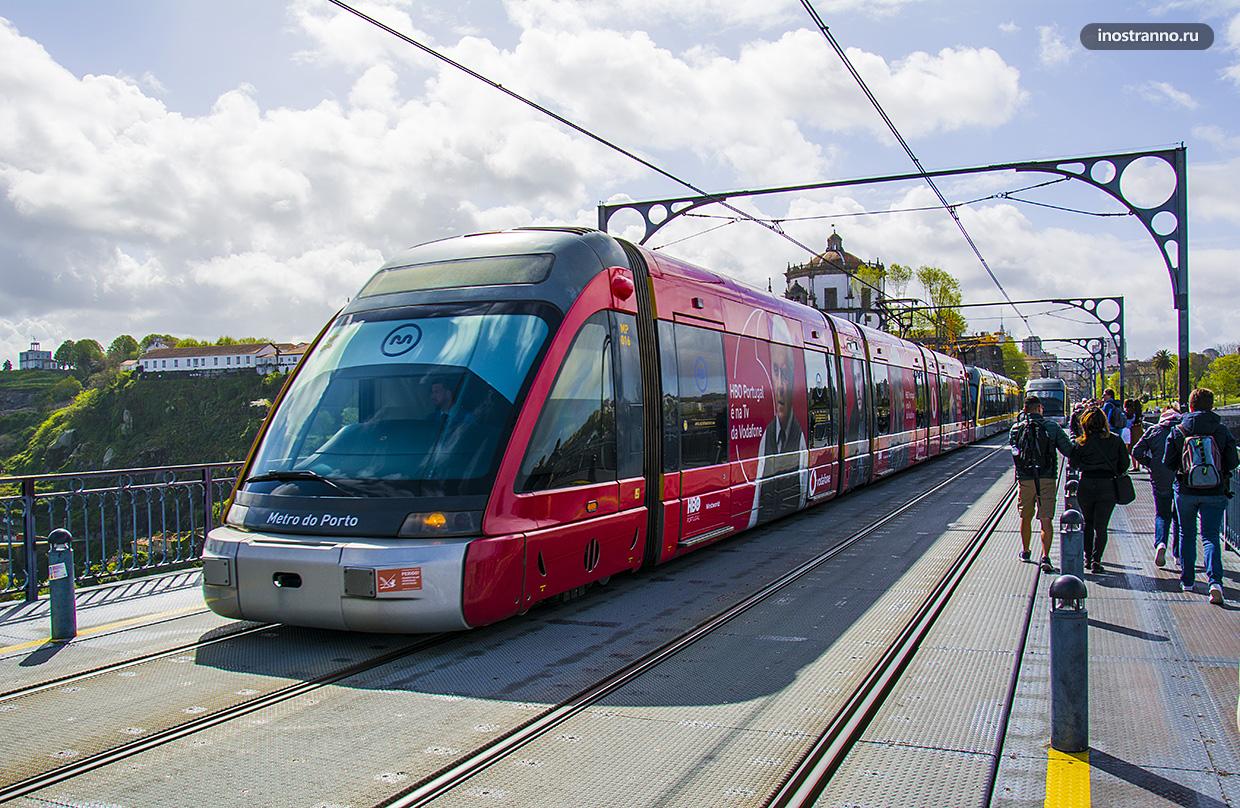 All lines have different opening hours. Most lines start operating at 5-6 a.m., and trains run until 1 a.m.. Intervals of rolling stock on some lines: 5-17 minutes, and on some lines, trains run once every 30 minutes. Late evening trains are the least frequent. On the official metro website you can find out the exact timetable of certain routes, lay a route from point A to point B.
On the Porto metro map below you can see all the metro lines and transfer stations. It is clear from the metro map that the metro does not only go through the city center, but also connects the center with the suburban cities: Matosinhos (Line A), Paua de Varzin (Line B), Castelo Maia (Line C), etc.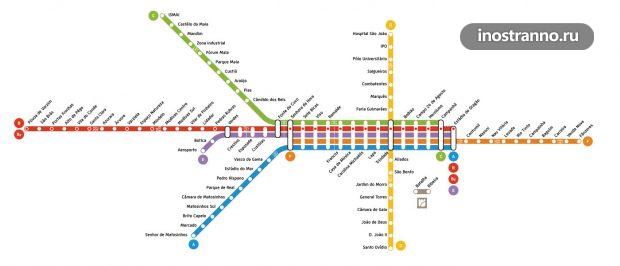 Buses in Porto
Porto has a well-developed bus network. There are 472 buses on 83 lines (11 of which are night lines). Buses are mostly modern, of Man and Mercedes make. Timetables depend on the day of the week and the number of routes, most daytime buses run from 05:00 to midnight. Night buses run from midnight to 05:00, buses are designated by the letter M, for example, 1M.
Fares on buses are the same as in the subway, all described above.
At bus stops you can find all the useful information and timetables for routes passing through that stop. There are bus stops equipped with a board indicating the time of arrival of the next bus. If you want to get on the right bus, you should wave your hand, letting the driver know you want to go. To get off the bus before the desired stop, press the Stop button, which is mounted in the handrail.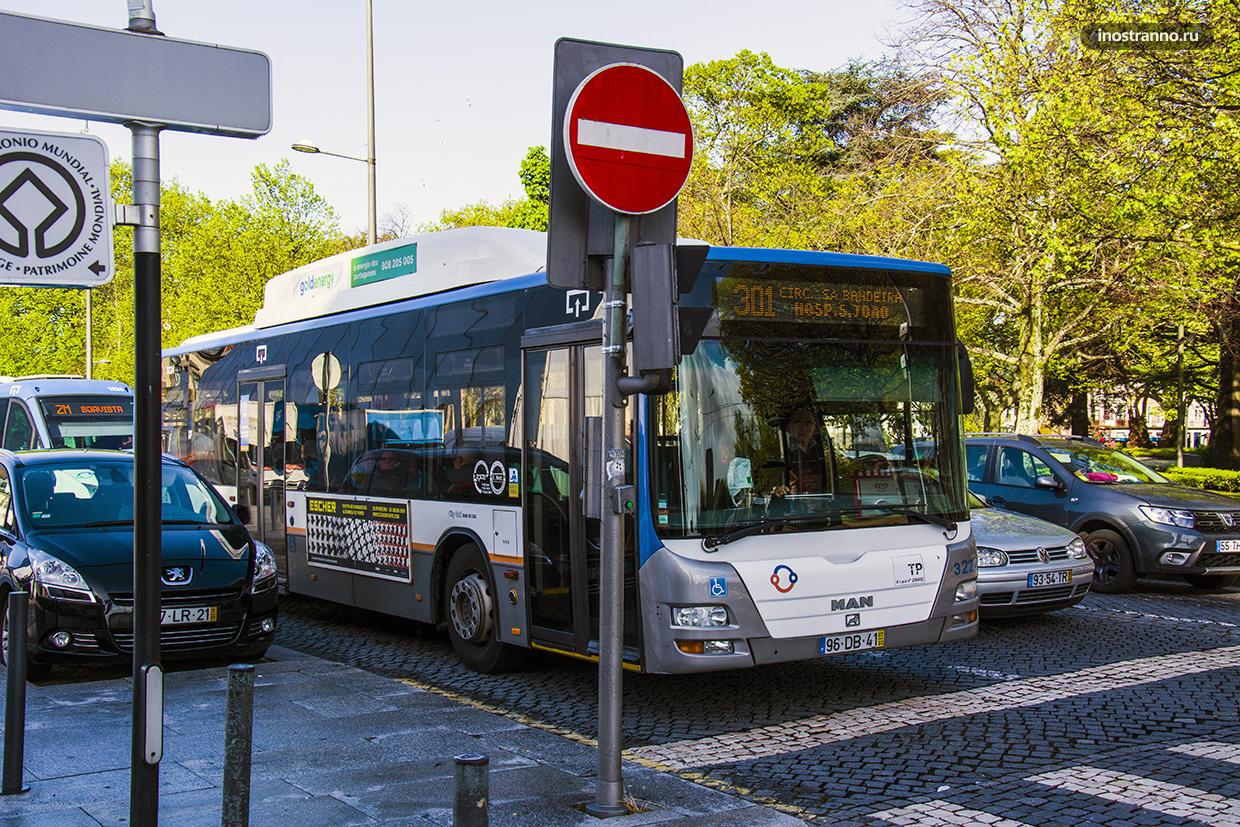 Porto electric trains
Portugal has a well-developed rail system, so it's no surprise that there are electric trains from Porto to the main suburbs, and trains of various classes to the larger cities. The most convenient way to reach other cities or suburbs is from the two largest stations in Porto: Campanhão (Estação de Campanhã) and São Bento (Estação de São Bento).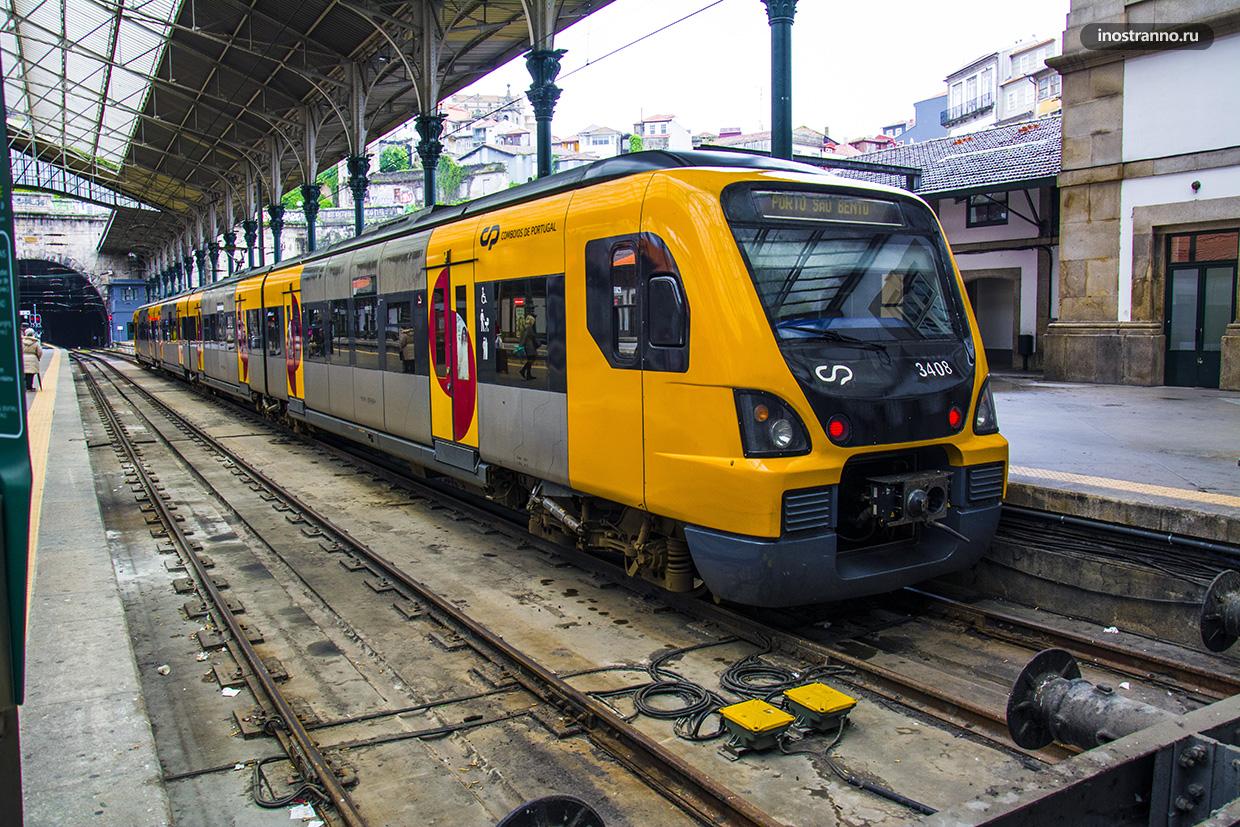 There are a total of 4 lines of suburban trains, each line has a specific color designation. The schedule of trains is best learned at the station or online at the official website of Portuguese railroads. To travel by train you'll need the familiar Andante card.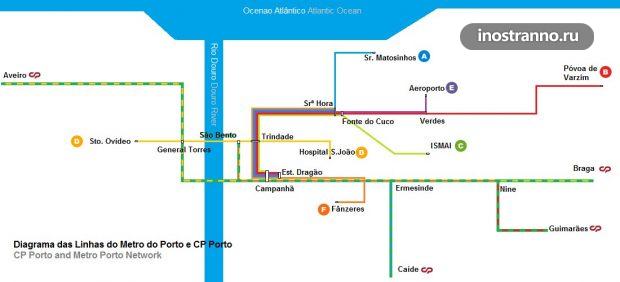 Porto Tram
Porto used to have a strong streetcar network but now has only 3 routes that are no longer actually part of public transport, but are part of the sightseeing retro streetcar network.
The STCP, SA – Porto Tram City Tour electric historic streetcar network is an irresistible exlibris of the city of Porto. With a history dating back to 1872, when the first "American Car" line of the city of Porto was opened, the current electric tram network consists of three separate STCP lines, which run through the most emblematic areas of the city:
Line 1 (Infante-Passeio Alegre) – Line 1 along the riverbank. The route passes through the historic center, the Passeio Alegre garden and continues along the only tracks along the River Duero. The schedule is from 9:00 to 19:16 every day, at 20-minute intervals.
Line 18 (Circular Massosarel-Carmo) is the restored Line 18. The streetcar line runs between Massarelos and Carmo.
Line 22 (Casey and Battle/Guindais) is the lower Line 22, a streetcar route that crosses the historic center of the city and runs on a circular route between Casey and Battle/Guindais.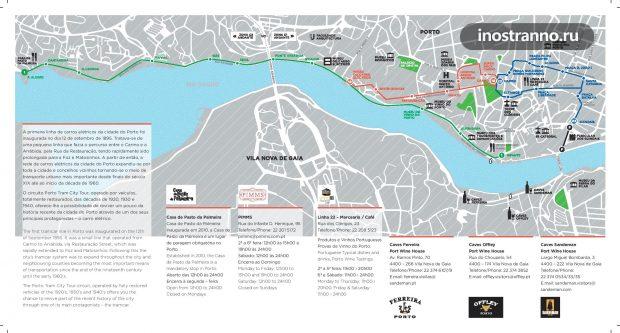 Public transportation passes and tickets do not apply to the streetcar routes. Only tickets bought on boarding the streetcar are valid.
One trip costs: € 3,00.
Adult two-day pass: € 10.00
Children's (4 to 12 years old) pass for 2 days: € 5,00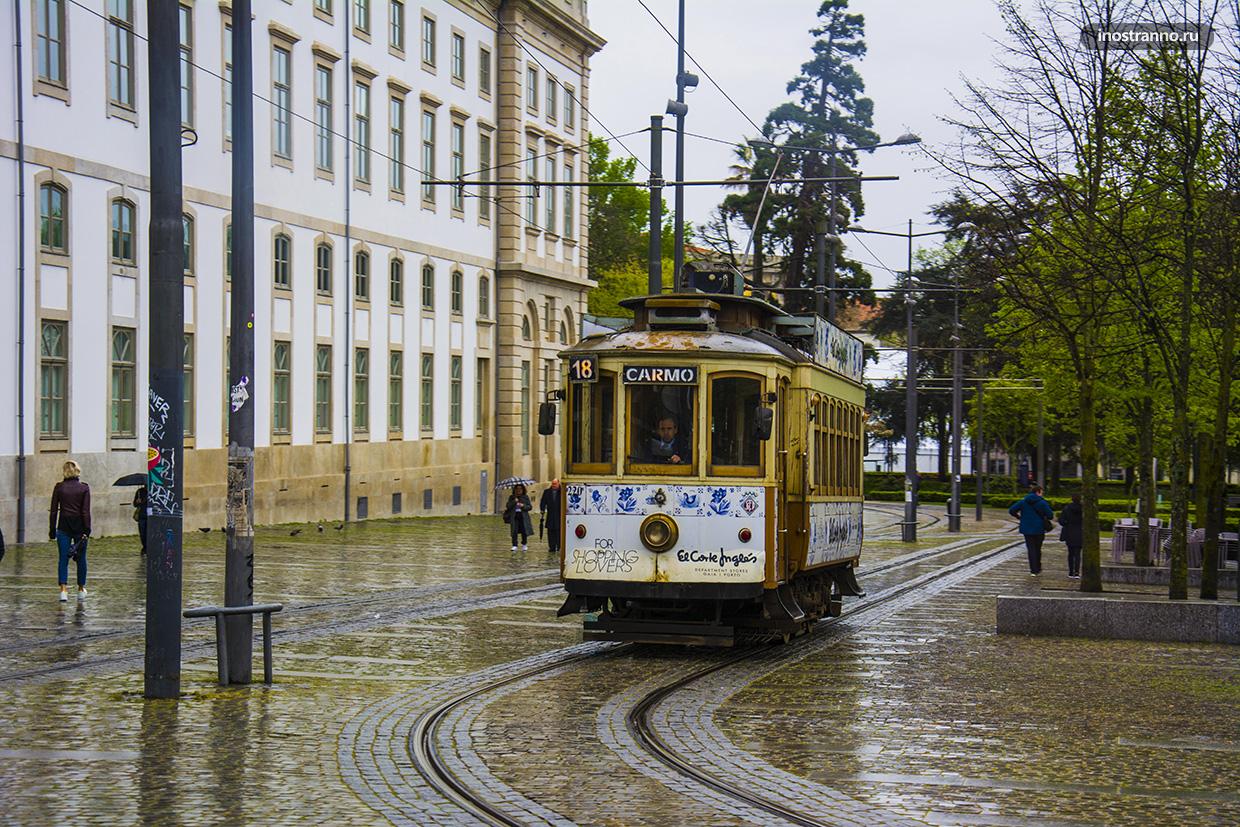 Porto Funicular
In addition to the traditional modes of transport, Porto has several funiculars. Tourists are mostly interested in the Funicular dos Guindais, which was built back in 1893. On the streetcar map above you can see the location of the funicular. The lower stop is Ribeira and the upper one is Batalha. The cable car fare is € 2.50 for an adult and € 1.25. Opening hours: November to March from 08:00 to 20:00, April to October from 08:00 to 22:00. On Friday, Saturday and public holidays the opening hours are extended by 2 hours.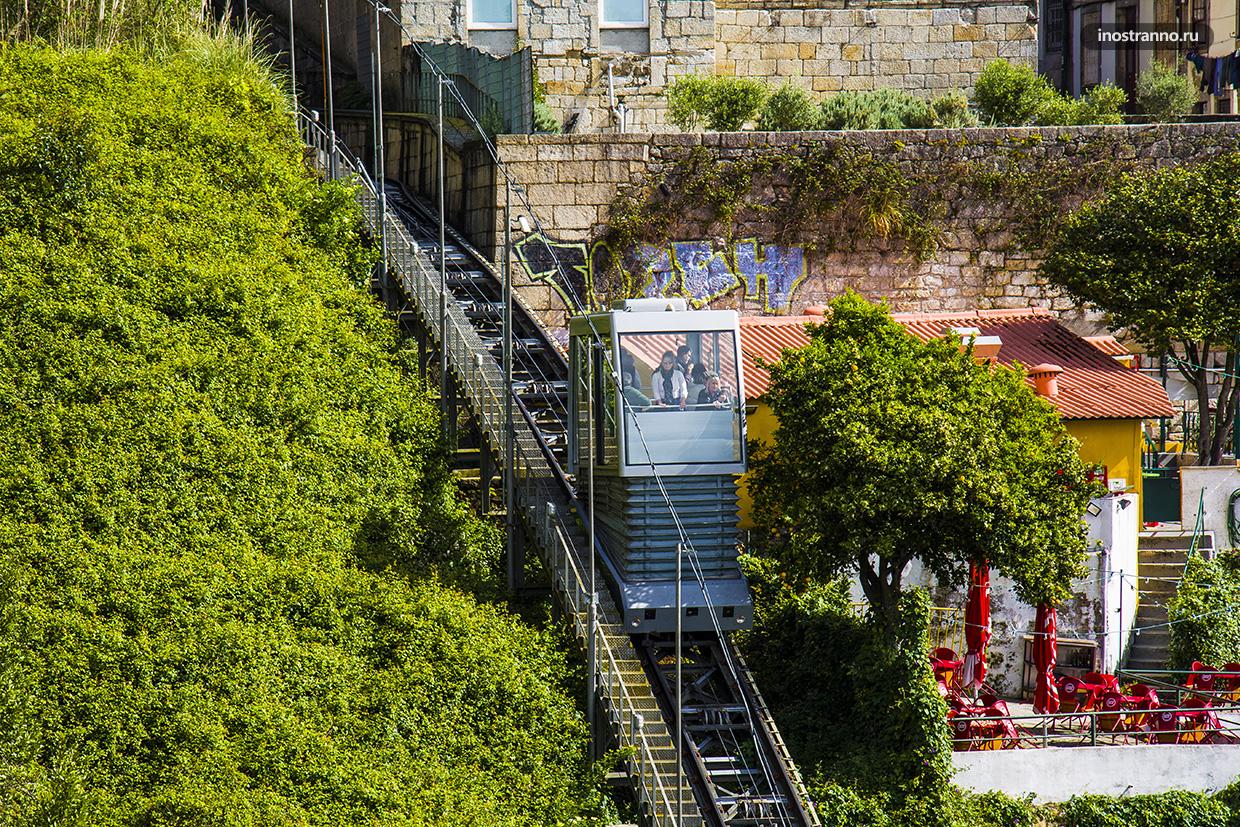 In addition to the cable car described above, tourists love the cable car ride (Teleférico de Gaia), which offers breathtaking views of the Porto promenade. The ticket price for an adult for such a short trip is €6.00 for a one-way trip and €9.00 round trip.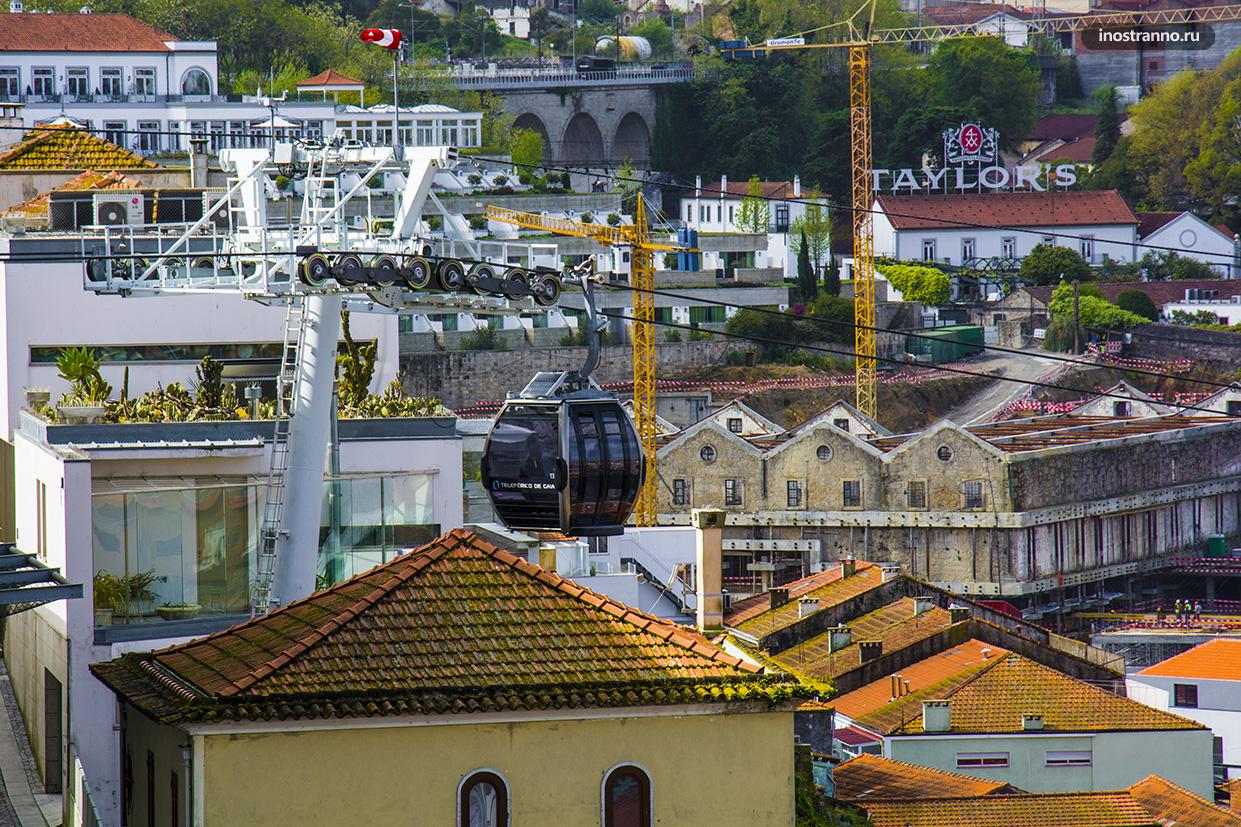 Rent a car in Porto
When Porto is already conquered, the tourist faces the question: what is the best way to go to explore the natural attractions and cities of Portugal? Someone chooses trains, someone chooses international buses, and car enthusiasts take a rental car.
You can rent a car in Porto from the following companies: Goldcar, Guerin, Centauro, Sixt, Budget, Avis, Drive on Holidays. Compare the price of all rental agencies and immediately book a favorite car you like on the popular Rentalcars website. Even in the peak season you can find a free car. Tourists who like to save money will love the prices, because the prices for rental cars start from € 6 per day.
With a limited budget you should take into account all the costs of rent: fuel, parking, toll roads and bridges and contingencies. Fuel prices in Portugal are high: Sem Chumbo 95 – € 1,581; Sem Chumbo 98 – € 1,702; Diesel (Gasóleo) – € 1,358. There are 24 toll freeways in the country, the cost of which, depending on the section, varies from € 1.7 to € 19.30. There are also tolls on bridges. For example the bridge Vasco da Gama costs € 2,75.
When travelling around Europe and Portugal it is a good idea to pay attention to the traffic rules because the fines are quite high.
Here are the most important differences to the rules of the road that travelers should be aware of. You have to drive at a speed limit of 50 km/h inside cities, 90 km/h outside cities, 100 km/h on highways and 120 km/h on freeways. Maximum permissible blood alcohol level: 0.49 ‰. Daytime running light is compulsory in low visibility conditions and when driving through tunnels. Fog lights may only be used in foggy conditions. The use of seat belts is compulsory for all passengers. Talking on the phone without a hendsfree is prohibited and fines are up to €600.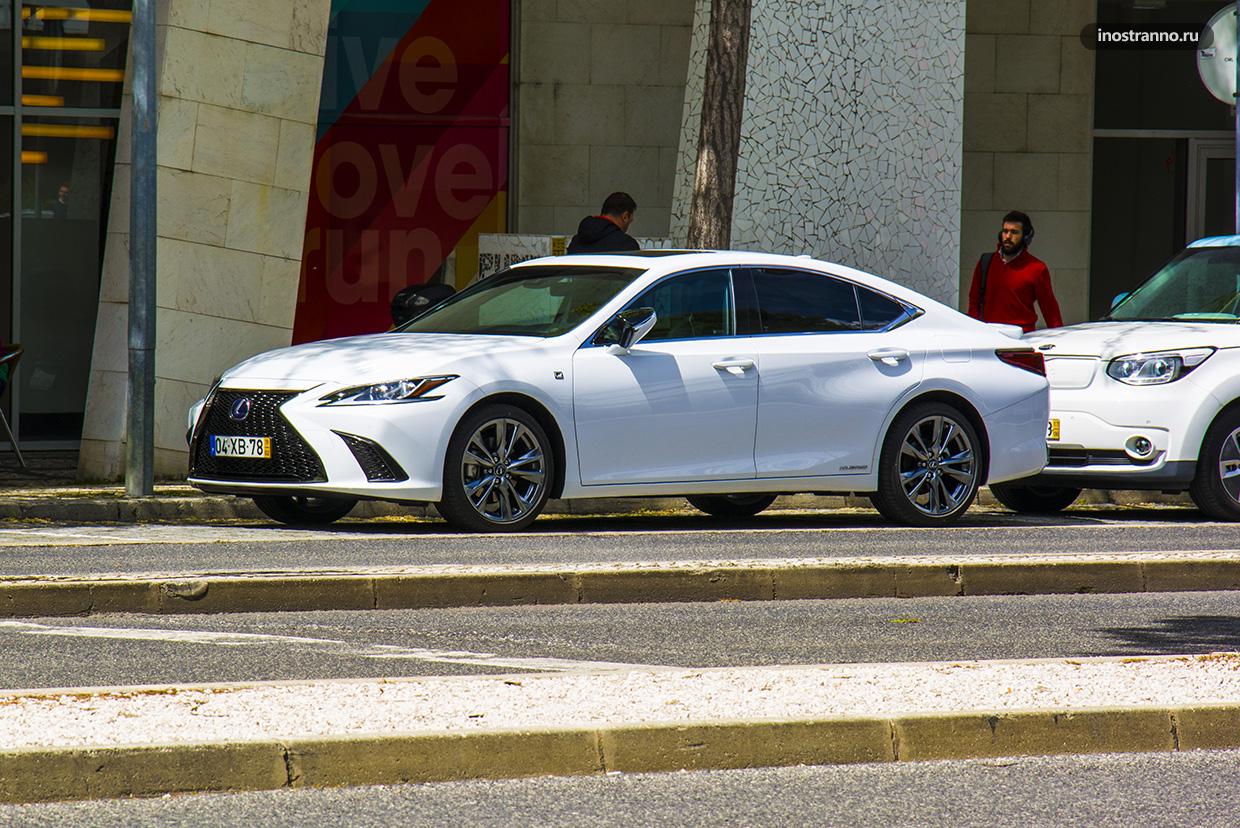 Cabs in Porto
Cabs are by far the most convenient mode of transportation if you need to get somewhere in Porto from door to door and you don't want to get tired, and if you want to get to Porto's Francisco de Sa Carneiro Airport.
Cab cars in Porto are painted light beige or black, but with a green roof. The cab must have a Taxi badge on the roof and a meter in the cabin. Cab cars are all different brands, from new Mercedes or Skodas to old Citroenes.
You can take a cab from the wheels, call by phone, through an app, or get into a cab at special cab stands (Praça de táxis). At the cab stands, you must get into the first car in the queue.
In Porto there are the following cab fares: landing € 3,50 (the fare of 1,8 km is included) ; the cost of each following km of journey from € 0,47 to 0,94 . The daytime fare is lower, the nighttime fare is higher. The night fare is valid from 9 p.m. to 6 a.m. as well as on public holidays and weekends. The 1 hour waiting time costs €15 , which means that if you get caught in a traffic jam, the meter keeps adding Euros to your fare. The fare from the airport will cost about € 25. You can pay the fare in cash as well as by credit or debit card.
Drivers of some companies know English, Spanish or French. There are drivers who only speak Portuguese. So if you need to get to an exact address, show that address on paper or on your phone.
Just do not think that all cab drivers in Porto are honest, as everywhere else in the world there are cab drivers who may not give change, not turn on the meter or turn on the most expensive fare, take a long route or not return forgotten items. So when taking a cab ride, be careful not to forget things.
If you need to get to the airport, to a hotel at a resort or in a city: Vila Nova di Gaia, Gandra, Fafi, Aveiro, Bravaines at a certain time, you can order a cab transfer from a reliable company instead of a cab, where the fare will be slightly lower than that of an airport cab. Plus, you'll know for sure that you'll arrive at the right place at the appointed time at a fixed price. Cab transfers are also ordered by people who have luggage with them and don't want to walk from the public transport stop to the hotel in the heat.