What to try in Austria – Top 15 Gourmet Dishes
Austrians cannot be called conservatives in the field of cooking, the national cuisine was formed for many centuries and absorbed elements of French, Slavic, German traditions. Originally Austrian cuisine was more like a peasant menu, and only in time refined food appeared in it. Our review is dedicated to the question – what to try in Vienna?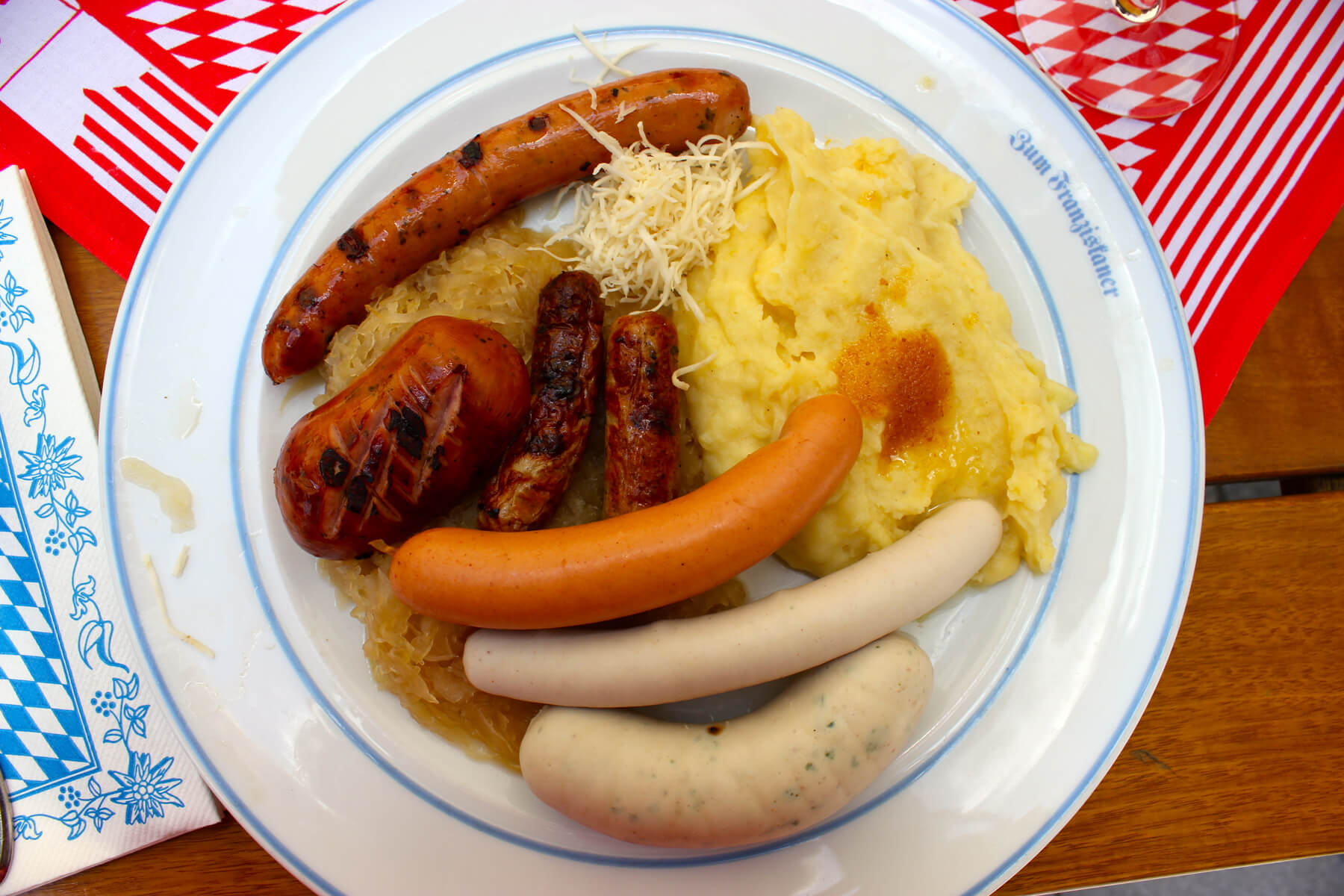 Interesting fact! Sausages and sausages are rightly considered the pride of national cuisine. According to statistics, the country produces more than fifteen hundred names of meat delicacies. In metropolitan restaurants and cafes they are served under the name "frankfurter".
General information about Austrian national cuisine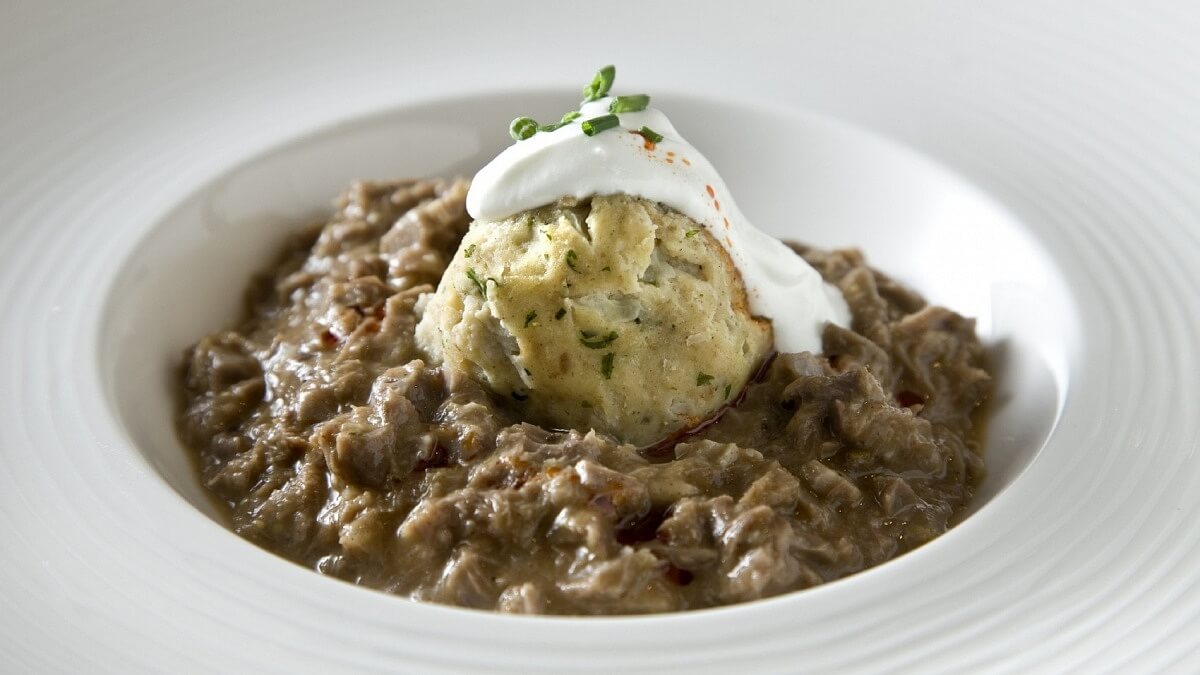 Beuschel
Each Austrian region has developed its own culinary traditions. For example, in Vienna, the traditional foods are Beuschel, schnitzel, tafelspitz and smoked meats. Sauerkraut is usually used as a side dish. Vienna goulash, which appeared in the period of the Austro-Hungarian Empire. The meal is more like a stew of meat, served with dumplings, potatoes. By the way, gnocchi in Vienna are a dish in their own right, seasoned with bacon.
Austrian desserts deserve close attention. Many treats with Austrian roots are known throughout the world. These include Zacher cake and apple strudel. A great addition to the desserts is coffee. The locals know how to make this drink masterfully.
Interesting fact! In Austria, we grow about 50 thousand hectares of vineyards, but outside the country Austrian wine is not as common as the French or Georgian. However, resting in Vienna, do not deny yourself the pleasure of having a glass of white dry wine.
Meat dishes
Austrians prepare a huge number of treats from meat, of course, the most popular food is sausages, frankfurters. They are eaten as part of a complex dinner or with a salad. It is hard to list all the national Austrian meat dishes, suffice it to say that on the menu there are dozens of treats from pork, beef, veal, chicken and game. In the fall, the hunting season opens and the local culinary establishments have food from venison, roe deer, wild boar, and in February there are culinary festivals.
When asked what is the first thing to try in Austrian cuisine? The locals answer – of course, Austrian schnitzel. It was first mentioned in a cookbook dating back to 1884, but historians say the recipe was known much earlier.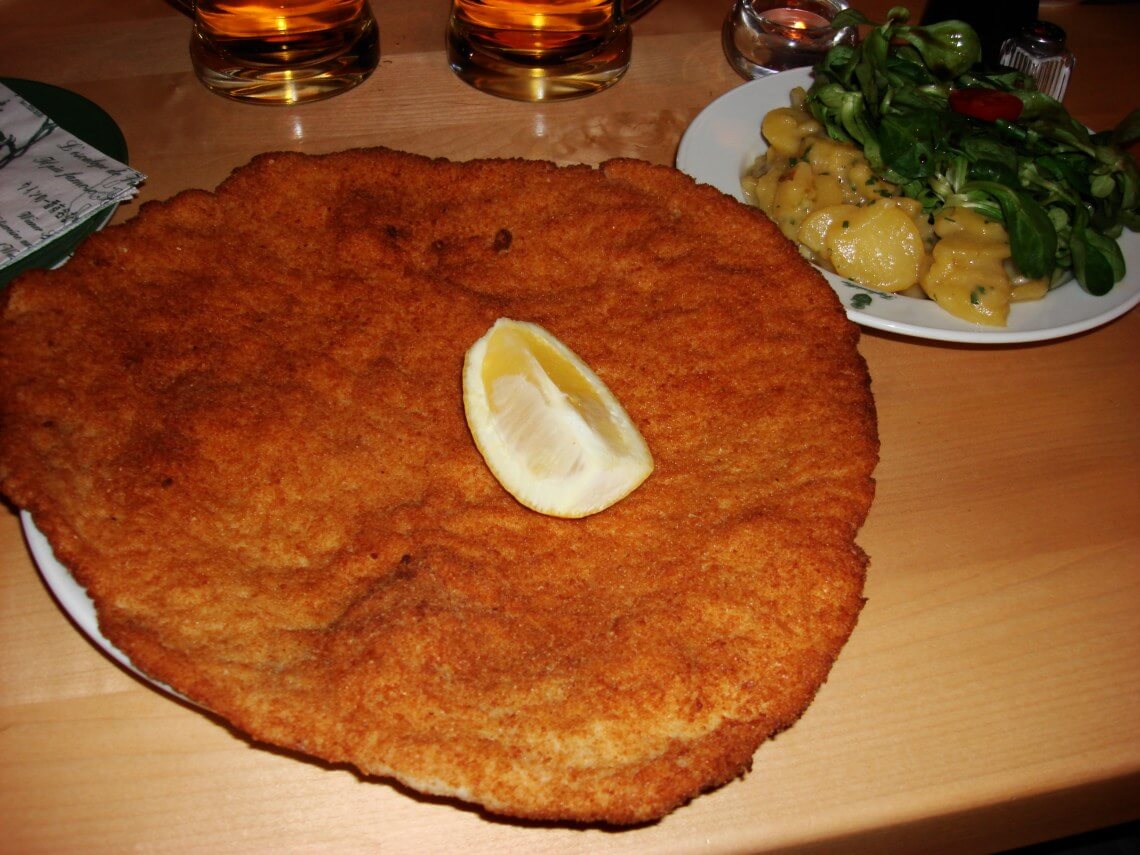 There are two versions of how schnitzel appeared in Austrian cuisine. The first version is that it was brought by Milanese merchants in the 14th and 15th centuries. And according to the other, in the middle of the 19th century, Field Marshal Radetzky brought the recipe. In his report to the Austrian emperor, he told about an unusual way of cooking meat.
Good to know! The original recipe uses veal, the top of the hind leg, for cooking.
In Vienna, the schnitzel is served so large that one portion is enough for two people. Don't be surprised if you hear that every gastronomic establishment prepares the meat delicacy better than anyone else. The price of a schnitzel in Vienna ranges from 7,20 € to 20 €.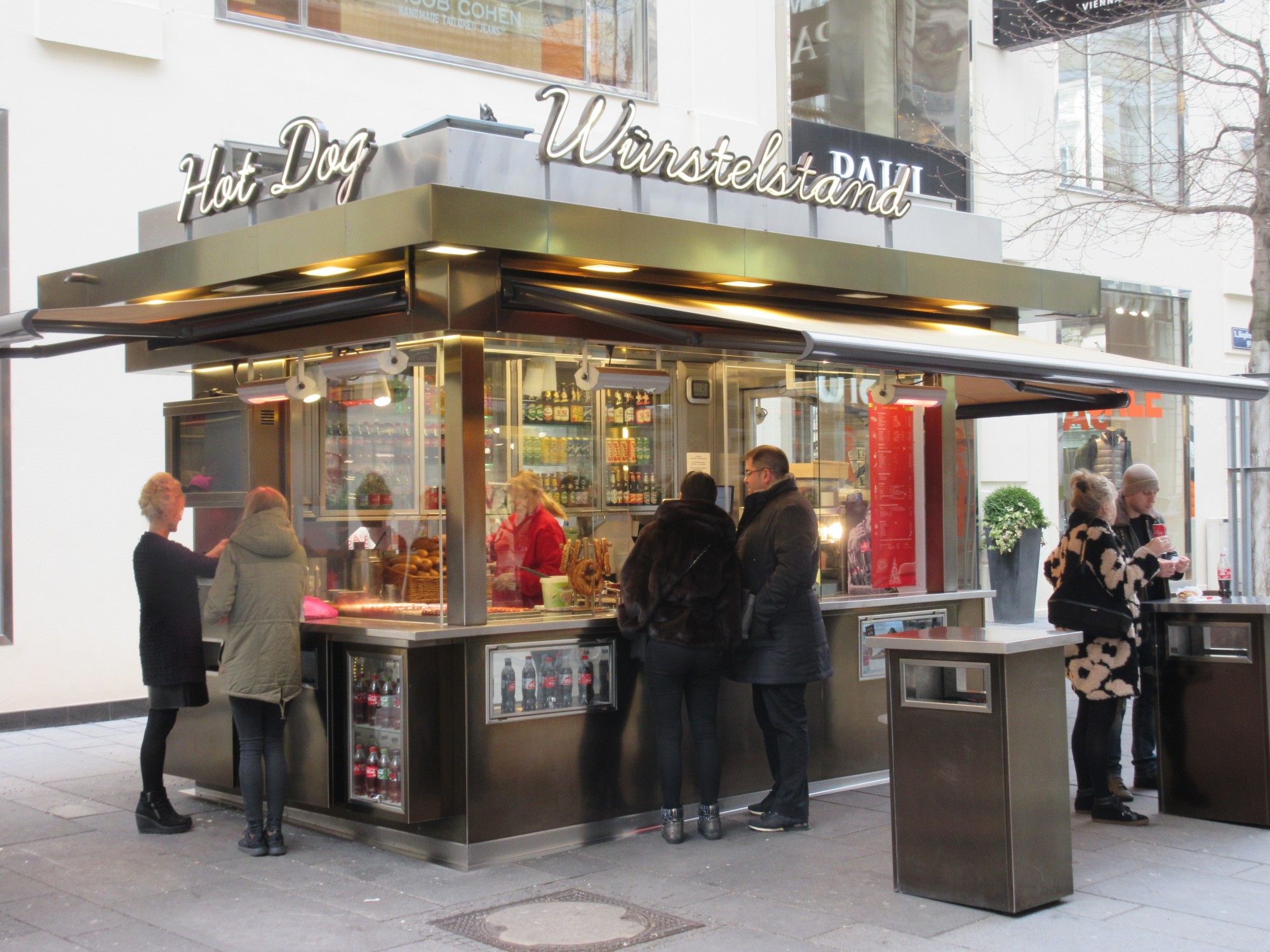 The tastiest sausages in Vienna can be tasted in the street stalls that are set up all over the city. From the point of view of a tourist visiting Austria for the first time, the easiest places to find are the Wurstelstand tents on Albertina Square, Ringstrasse and Graben.
There are no less than five kinds of food on the menu, sausages are sold together with a baguette or a bun, you can pick up fries, salad or sauerkraut as a side dish.
Interesting fact! Sausages and sausages in Vienna are not boiled, they are baked or fried.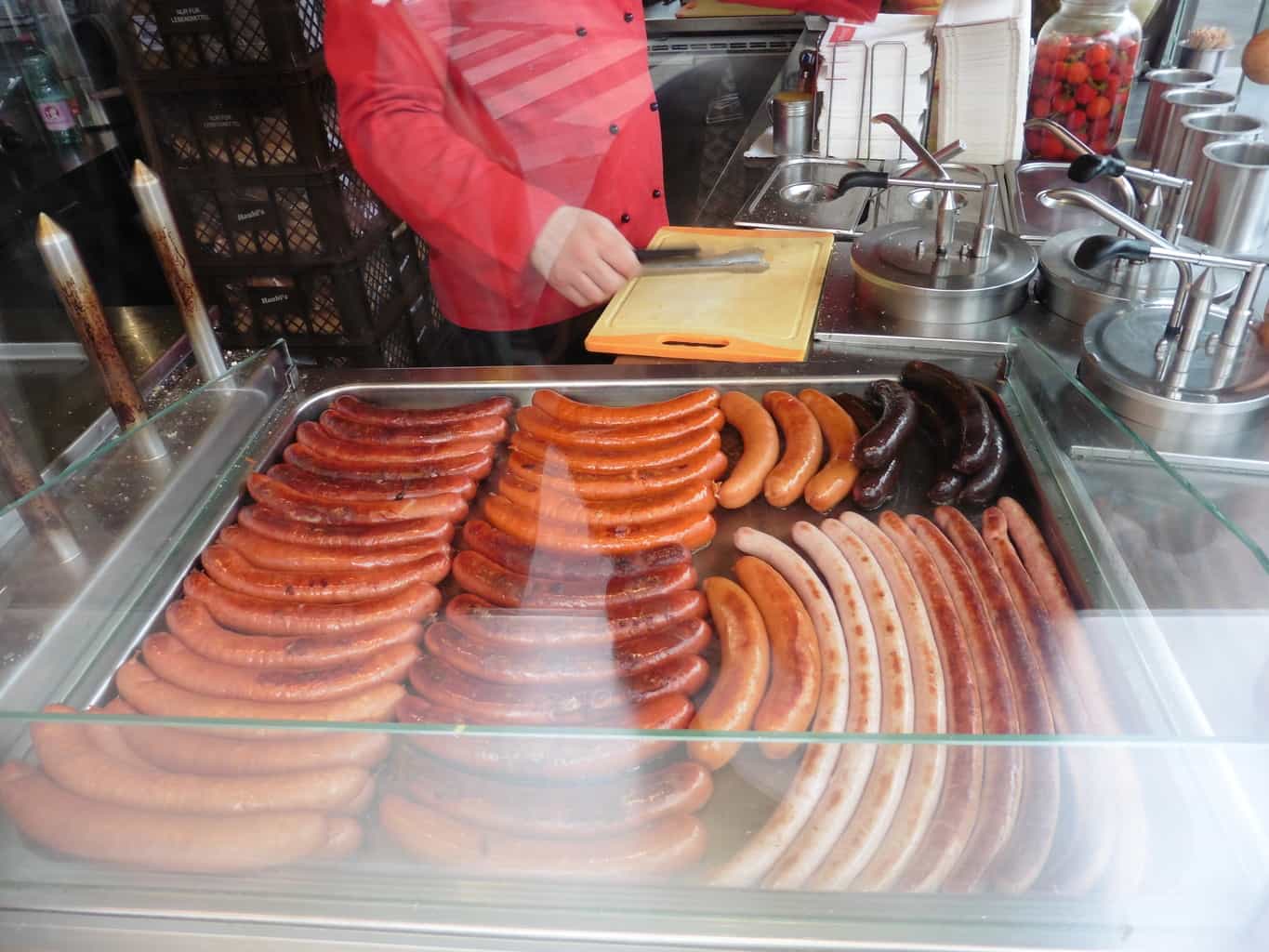 Of course, the most popular in Austrian cuisine are sausages. Despite the fact that the name of the delicacy indicates the country, sausages appeared in Germany. According to Germans, they were invented by a resident of Frankfurt – butcher Johann Georg Lahner. However, according to the Austrians, the recipe belongs to the same Lahner, but the cook came up with it after he moved from Germany to Vienna.
Interesting fact! According to the original recipe, the sausages include pork, lard, spices and ice. They should not be boiled, as the casing could burst and the juice could leak out.
Another national Austrian dish is prepared from boiled beef in broth with vegetables, horseradish, onion sauce, and roasted potatoes. The meal is served right in the casserole. The meal is very hearty and you can try it in the restaurant chain "Plachutta". The institution specializes in the preparation of this dish. When ordering, keep in mind that the portion size is very large and one is enough for two people. The price for Austrian tafelspitz varies from 18 € to 33 €.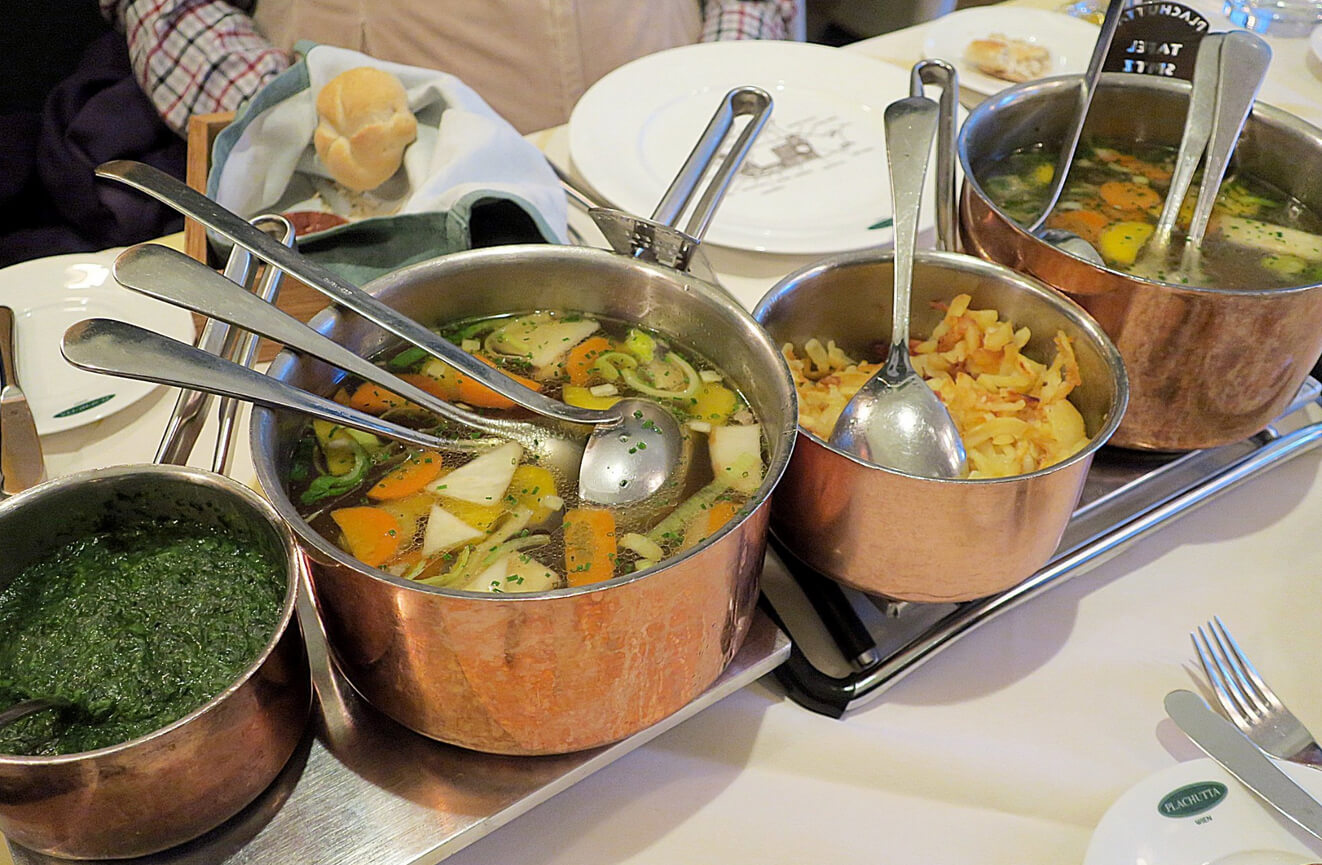 Good to know! It is not superfluous before you go to Austria to see on the Internet how to eat the dish. In restaurants to the tafelspitz they give instructions with explanations or the waiter advises how to act – a little broth is poured into the plate, then meat and garnish are placed, a portion is eaten, broth is poured again, beef and vegetables are laid out.
Garnishes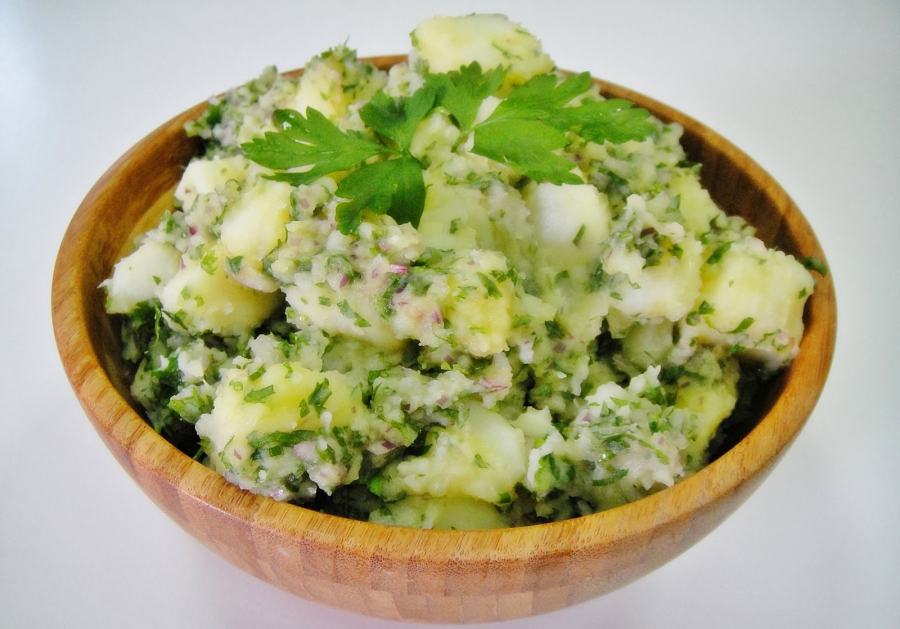 The traditional side dish for the schnitzel. Boiled potatoes are seasoned with salt, parsley, onion, and vinegar. In many Austrian establishments the price of the salad is included in the price of the schnitzel, but it can also be ordered separately. Costs range from €3.50 to €8.
For many Austrian regions and Vienna, sauerkraut is the main side dish and addition to many meat dishes of Austrian cuisine. There are a huge number of ways to pickle cabbage. The most common recipe is almost identical to the generally accepted, the only difference is that they do not add carrots and cranberries to the cabbage, but put bay leaf, juniper, cumin and dill.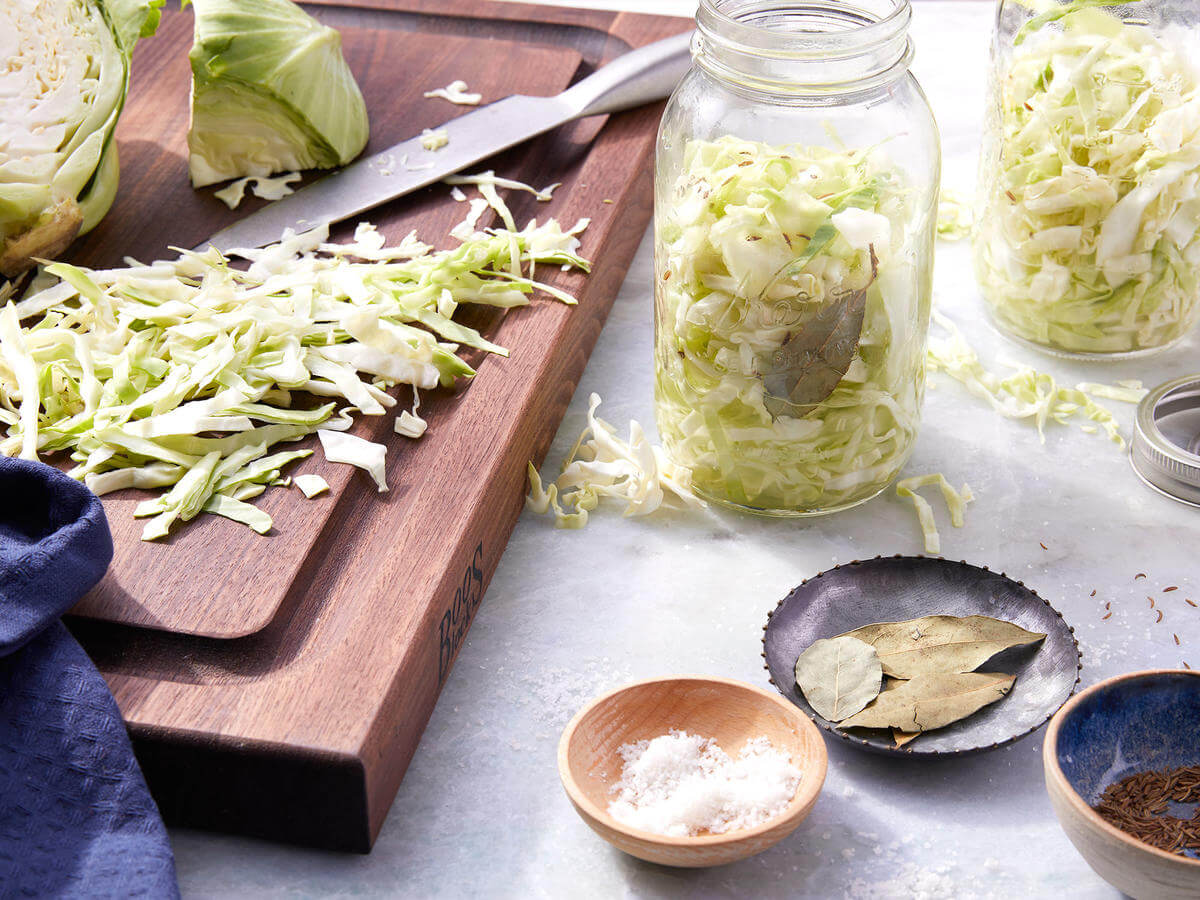 Soups in Austria belong to the category of appetizers. The national cuisine offers a wide range of both simple and original recipes. All traditional Austrian dishes, and soups are no exception, are nutritious, because life in the mountainous areas is not particularly favorable to save calories. Austrian cuisine is characterized by the use of a variety of herbs and spices.
Austrians love first courses, and traditionally begin every lunch with beef broth soup with small liver dumplings called Leberknädzuppe.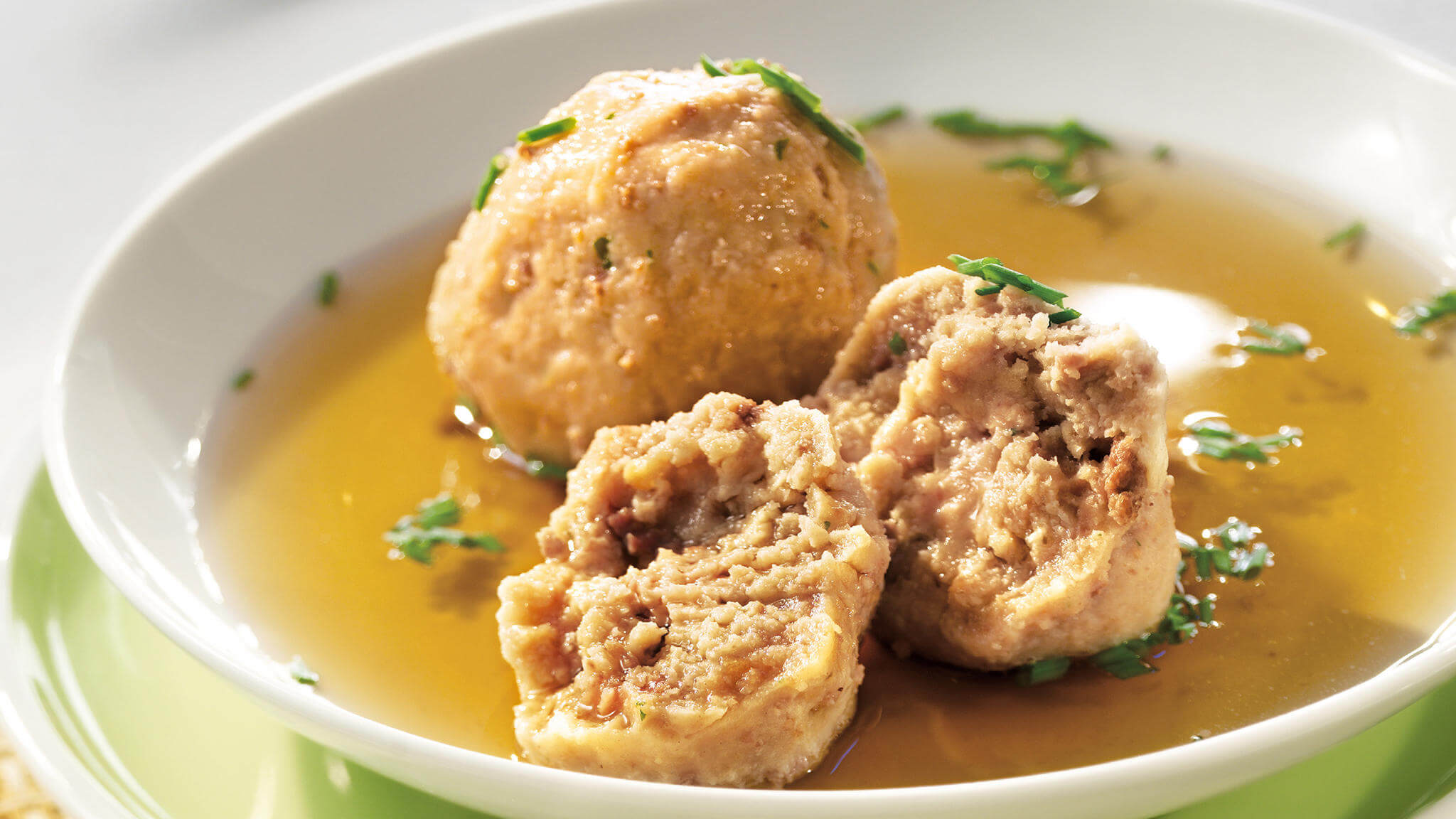 The first course of beef broth (chicken broth is also used) with different dressings. The most popular is pancakes sliced into strips and herbs.
The Austrian recipe is much like the Hungarian version. The translation of the name of the meal means goulash by carriage. The dish is served with scrambled eggs, pickled cucumber, and sausage.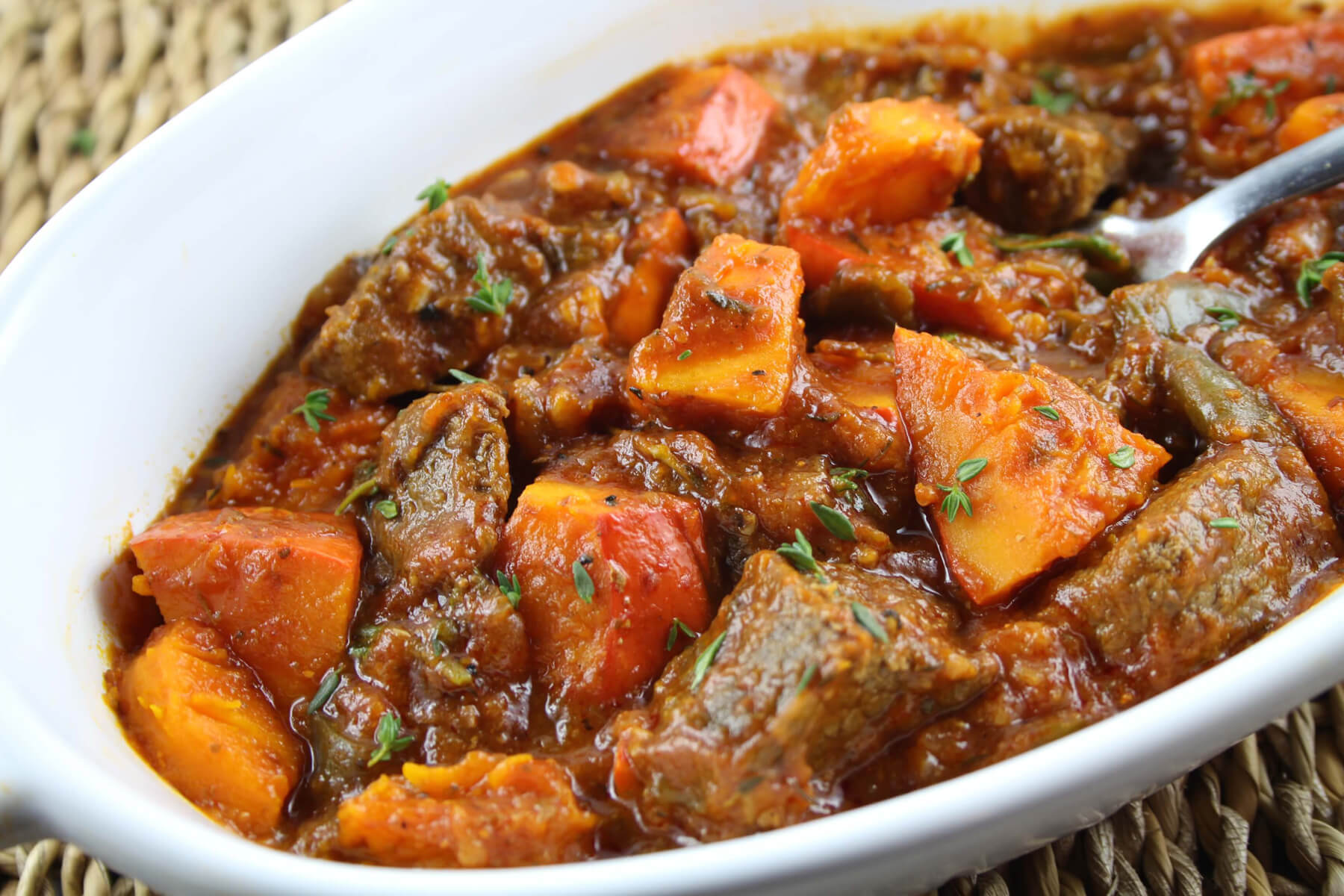 Good to know! It is quite difficult to try the traditional goulash in Vienna, in many places guests are offered a counterpart – a dish of beef Rindgulasch. The price varies from 11 € to 14 €.
Desserts
Austrian cuisine is rich in various desserts. The most famous sweet dish is strudel. According to the original recipe, apples are wrapped in dough, but today in Austria, food is prepared with various fillings of fruits and berries. Be sure to try the famous Sacher cake, which is still baked according to the original technology. The national cuisine has a huge selection of sweets – pies, cookies, rolls, souffles, and puddings.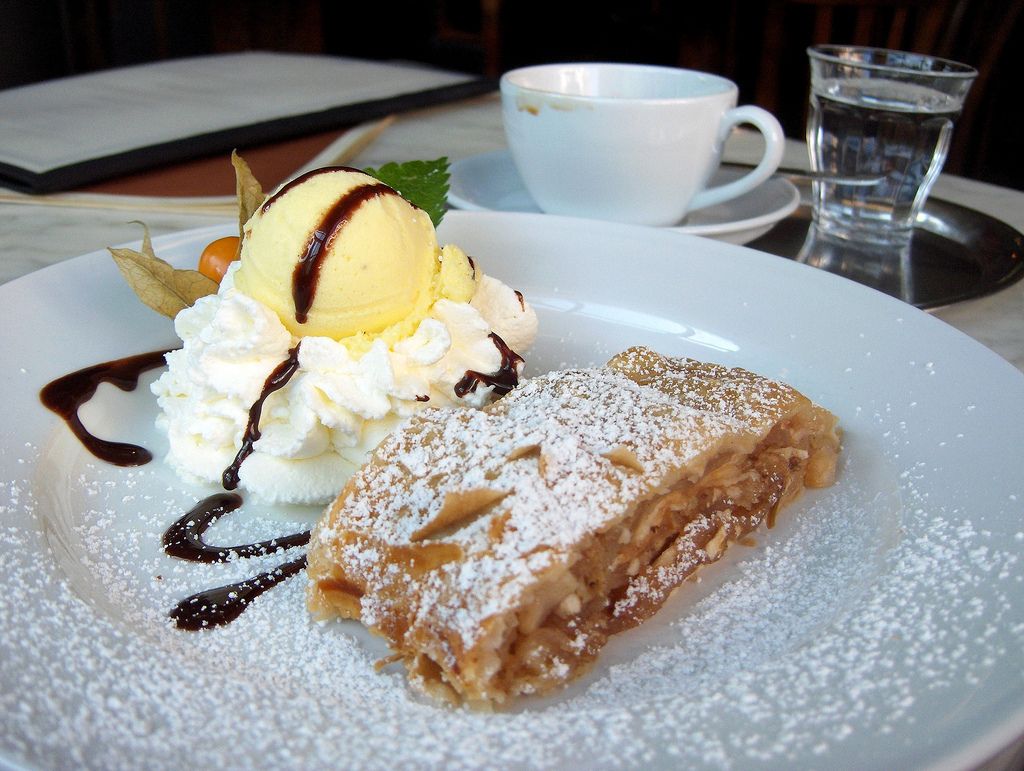 Austrian cuisine loses its authenticity and originality without apple strudel. The peculiarity of this dessert is its thin dough. It is served with ice cream, sourdough and powdered sugar.
The first recipe for this sweet appeared in a cookbook by an unknown author in 1696. Today that copy is in the Vienna library.
Interesting fact! To sample the dish, visit Vienna's oldest café, Café Mozart at Albertinaplatz 2, which has been open since the 18th century. You can also visit Café Gerstner, founded by the court pastry chef of the Habsburgs in the mid-19th century. The average price for an Austrian strudel is 7 €.
Another national Austrian food is soft Viennese waffles, characterized by a porous structure, a large number of fillings and multitude of tiers. Fruit, berries, cream, chocolate and ice cream are used as toppings. The average cost per waffle is 4 €.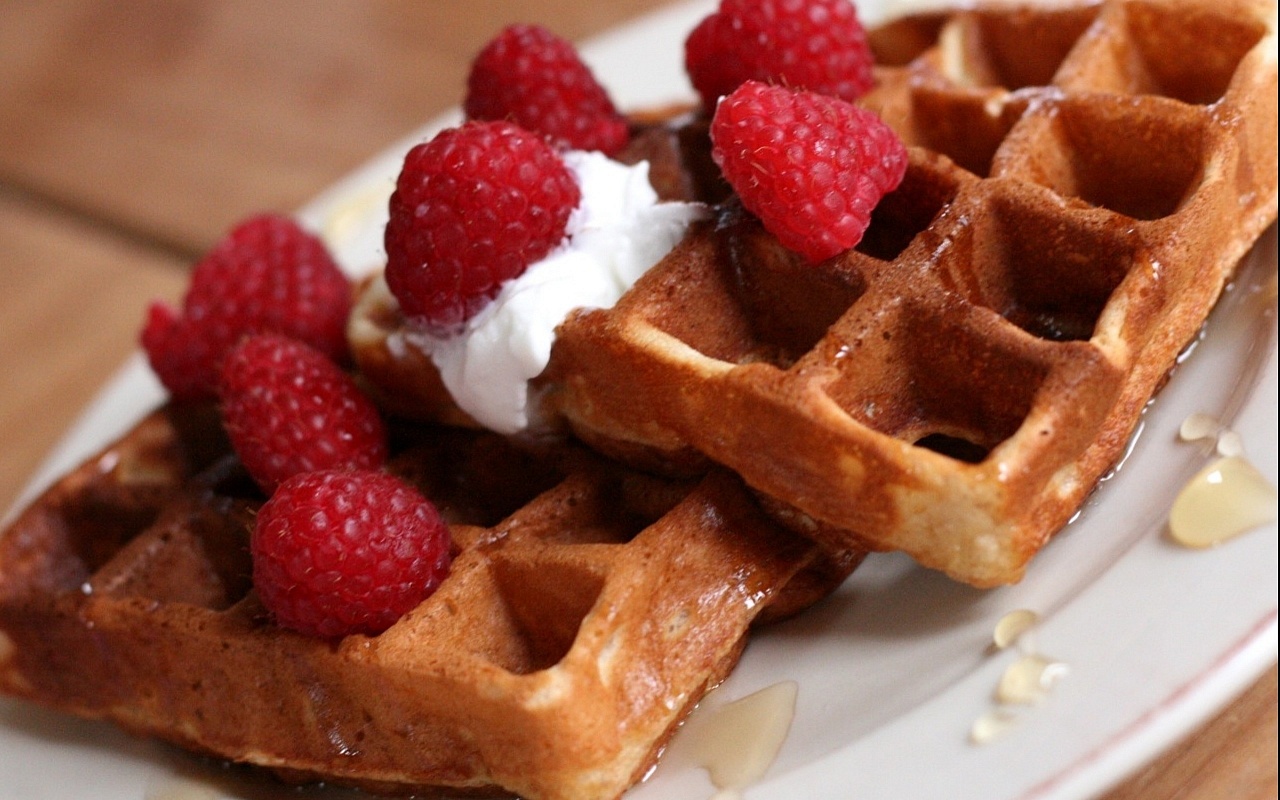 This cake is rightly considered the king of desserts all over the world. It is made of chocolate sponge cakes, a layer of apricots, and decorated with dark chocolate and cream. The food is named after the author – Franz Zacher.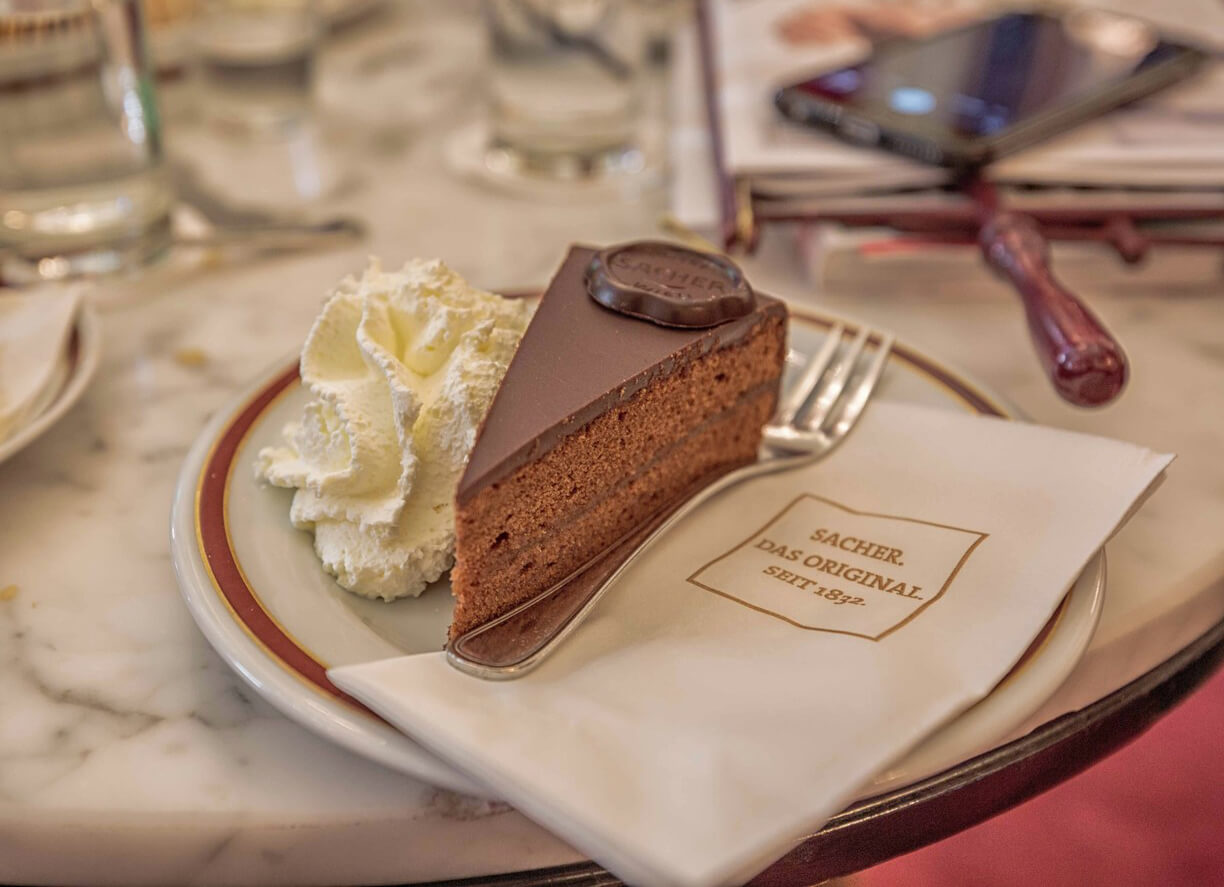 Interesting fact! It is noteworthy that the original technology of making the cake is kept secret. You can try the real Sacher only in the cafe at the hotel of the same name near the Vienna State Opera.
Another well-known treat in Austrian cuisine is sponge cake, kneaded with a fork and dusted with powdered sugar. It is served with plum jam. The dessert is called imperial because that's how Emperor Franz Joseph liked to eat it. In Vienna, the Central Café, where Trotsky, Stalin, Lenin, and Sigmund Freud liked to spend time, invites you to try the imperial omelet. It has been open since 1876. You can recognize the cafe by the impressive queue at the entrance, which, however, moves very quickly. The dessert costs about 9 €. The portions are big and one is enough for two people.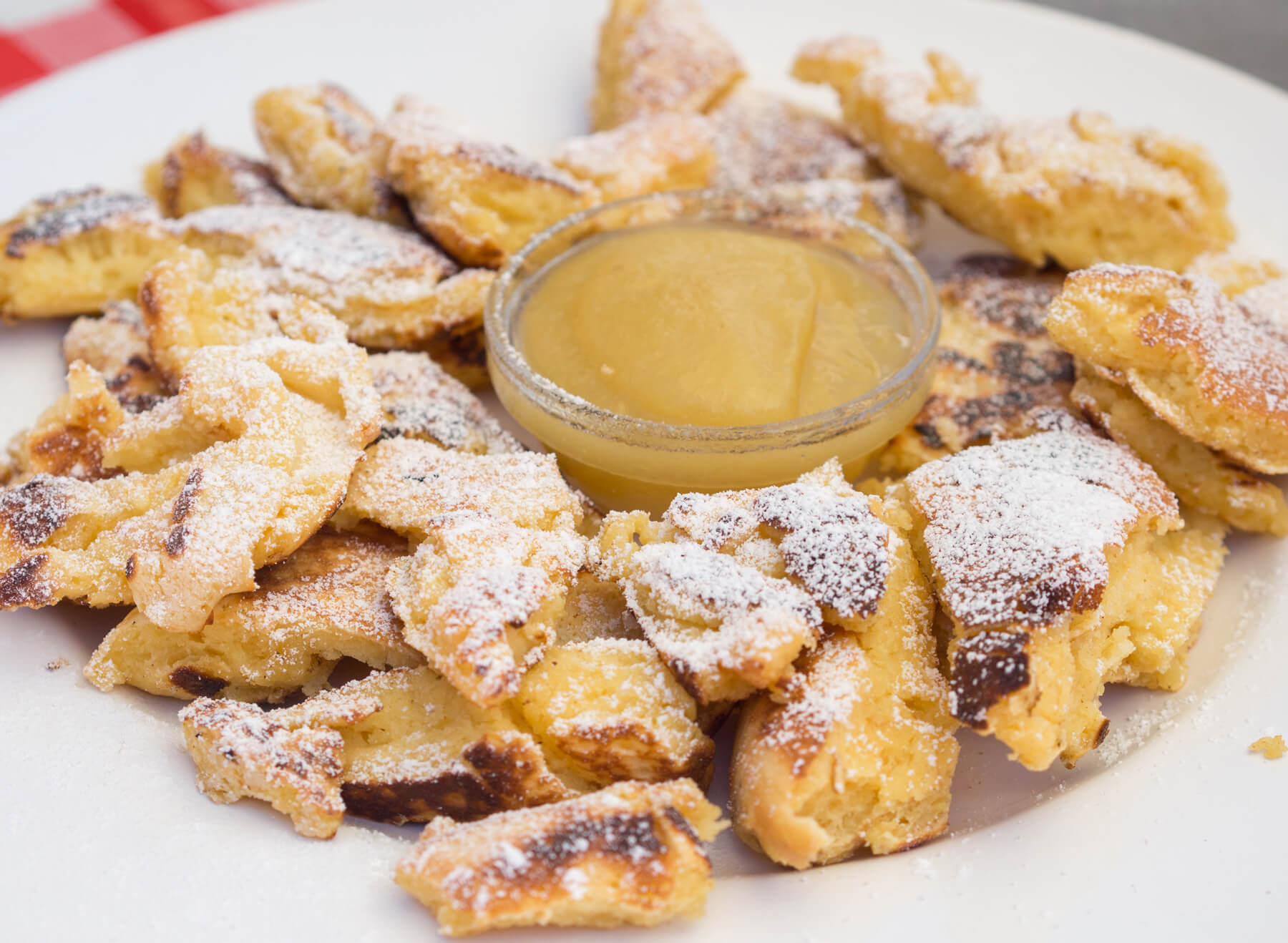 Drinks
We have considered – what to try in Vienna from the food. But Austrian cuisine is unthinkable without such drinks as coffee and beer. It is considered that coffee came to Europe through Austria, where it was first used not just as a drink and turned into a real ritual.
Interesting fact! According to statistics, residents of Vienna and throughout Austria drink coffee several times more often than beer. Every coffee shop offers its visitors no less than 30 varieties of coffee. For each there is a specific method of preparation.
For tourists in the coffee houses offer not just coffee, and a certain entourage – the drink is carried out on a silver tray, served pastries or sweets, be sure to put a glass of water and fresh newspapers on the table.
First of all, in a cafe or a coffee shop, you need to decide on the size of the portion, there are two of them: small – clayner, large – gosser.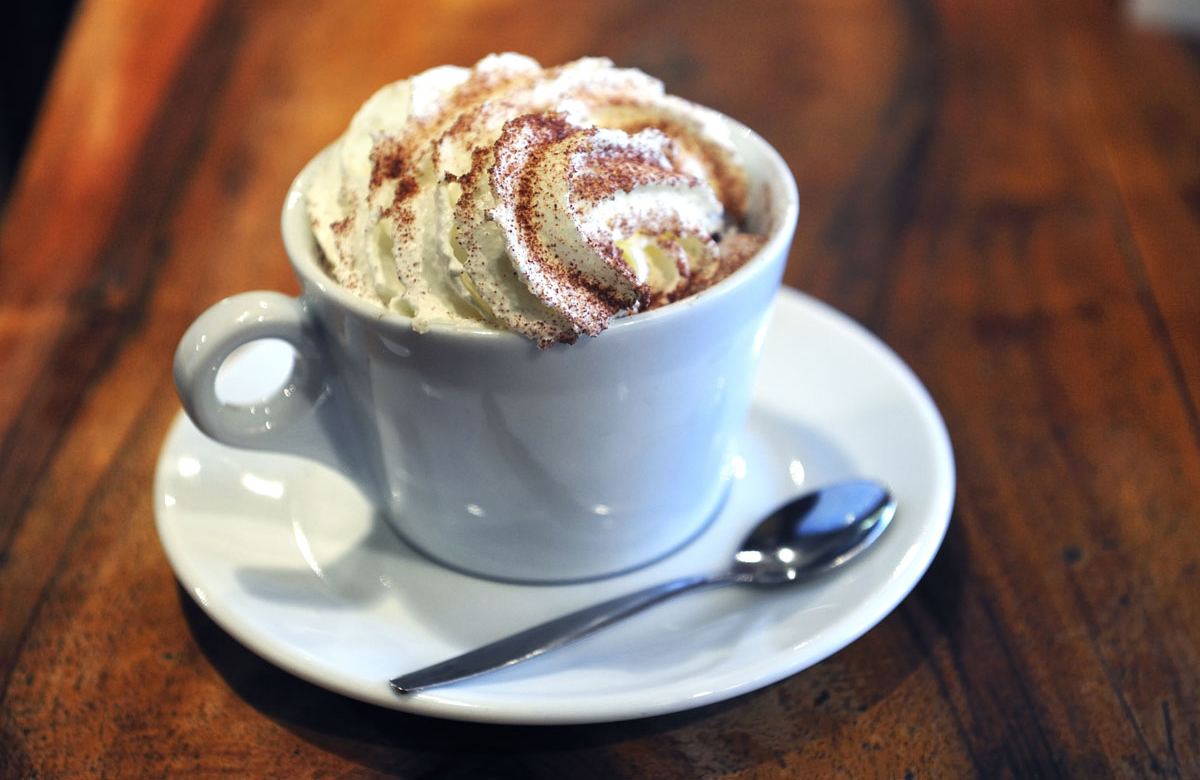 There is no single classic recipe for Viennese coffee; in every coffee shop you will be offered several kinds of this drink. Rather popular variety is Mélange. Uniform technology of preparation also does not exist. In some places, they add sugar, and somewhere – cream or milk. Mélange is a cap of milk foam, which is used to decorate the drink.
An interesting fact! Popular types of coffee in Vienna – in addition to the traditional black coffee in the Austrian capital they make espresso, coffee with ice cream and cream, with rum and ice.
During the cold season in Vienna, mulled wine is sold in every store. To make it you need dry red wine, lemon zest, sugar and a bunch of spices. The drink is served hot and must be drunk in 4-5 minutes, because when it cools, it loses its flavor and aroma.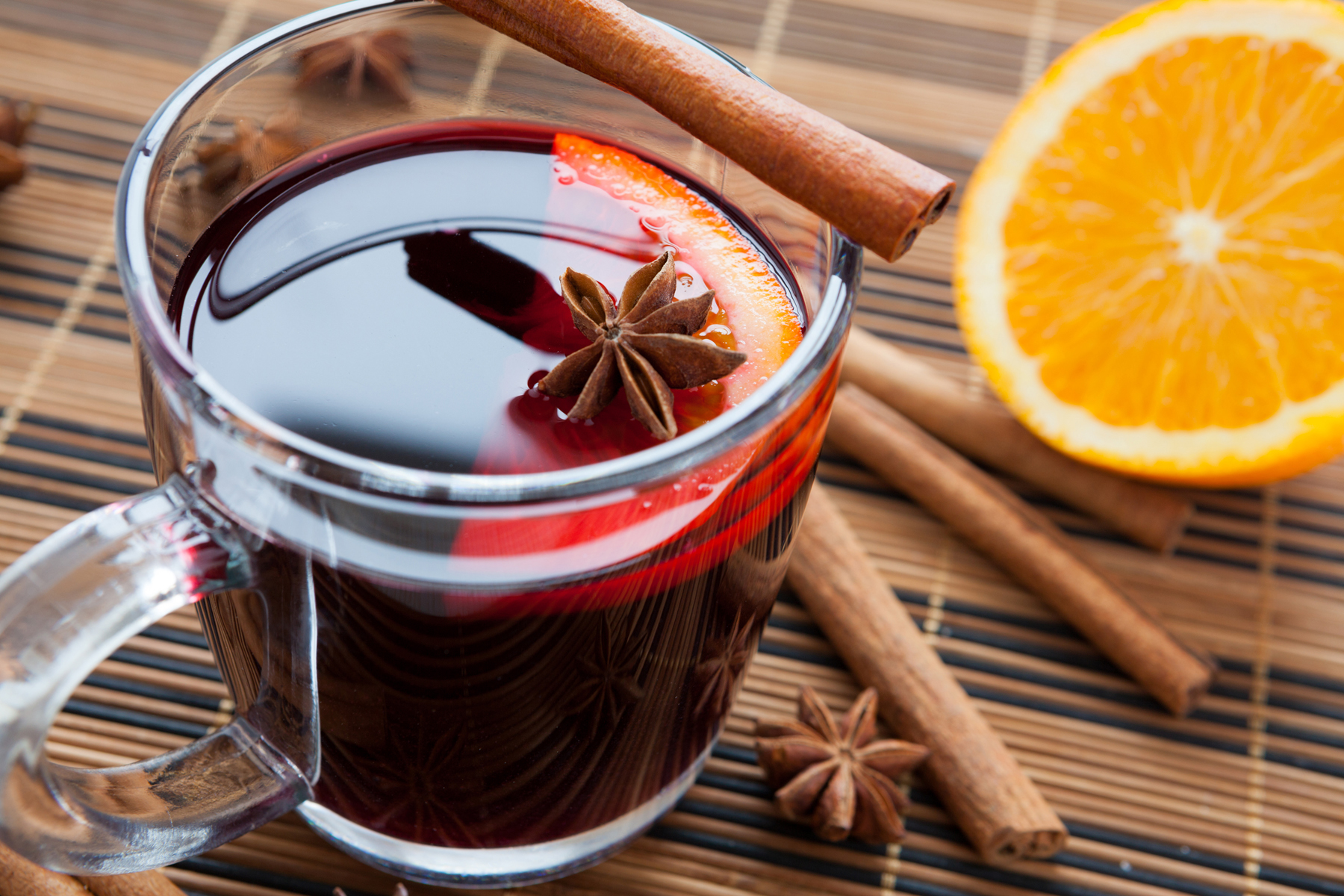 Traditionally, in Vienna and Austria, mulled wine is drunk on Christmas Eve at the fairs. The first fair opens in the historic part of the city, the Spittelberg. It is also possible to visit the fair on the main town hall square, where the central market is also located. There are more than 150 stalls with mulled wine and other warming drinks.
Austria is considered a beer country, and this is not only because of the great variety of varieties of beer, but also because of its perfectly developed culture of drinking. The most popular beer varieties:
Each variety differs in strength, density and set of ingredients. Traditionally beer is served in 0,5 l mugs, but you can also order a smaller format glass or a liter jug. Beer is necessarily offered with light snacks, they are included in the price of the drink.
Of course, this is not a complete list of national Austrian dishes that deserve the attention of tourists. We offered the most common of the varied list of what to try in Vienna. Many of the capital's establishments that have been hosting guests for more than a century offer treats prepared according to unique, ancient recipes.
Author: Julia Matyukhina
Updated: 23 Mar, 2021 The national cuisine of Sri Lanka is characterized by spiciness and spiciness, with…
Updated: 30 Jun, 2021 The Swiss cuisine has been forming for many centuries under the…
Updated: 30 Apr, 2020 In a land of scorching deserts, a mixture of religions and eternal…
Austrian National Cuisine: Not just a schnitzel
Of traditional Austrian dishes everyone can name without hesitation coffee Viennese style and strudel. Thinking a little bit, you can remember the Viennese sausages, schnitzel and, perhaps, beer and schnapps.
Not much, you agree, especially if you need to think about the menu in case of a trip to Austria with a child. Meanwhile, it is worth getting acquainted with the traditions of Austrian cuisine in advance: first, so you do not get lost in front of the long names on the menu, and secondly, to know what you can offer to children.
This Austrian Kidpassage guide to Austrian cooking has exactly the right foods for children.
Contents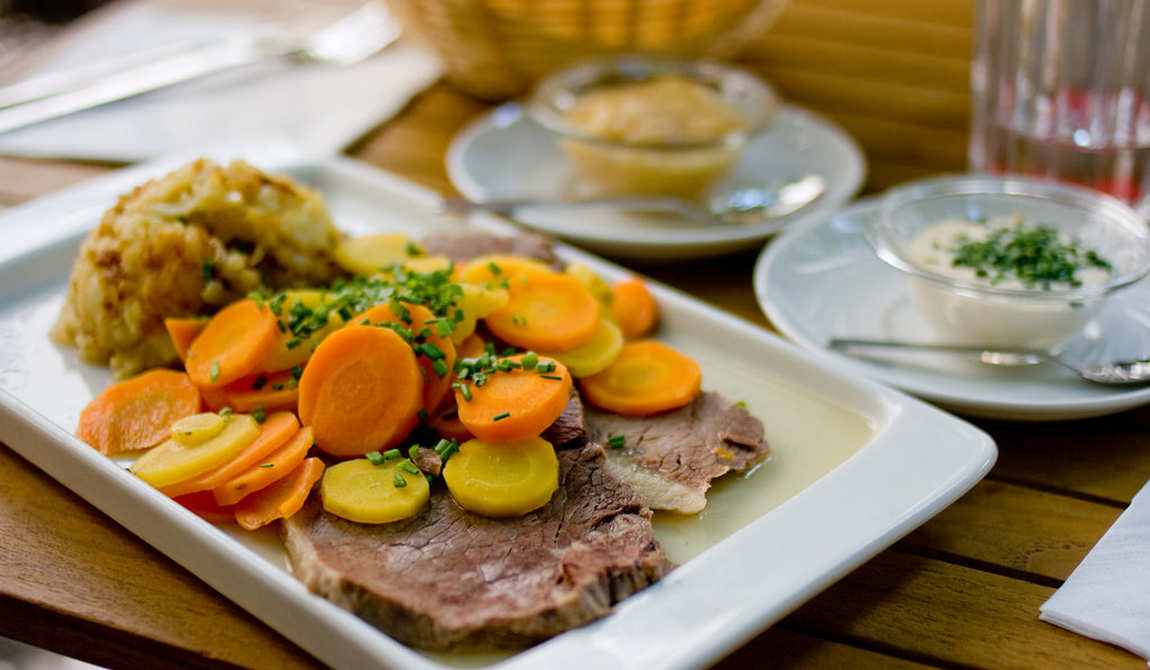 Features of Austrian cuisine
What can definitely be said about the traditional cuisine of Austria – the dishes here are mostly unsophisticated and very hearty. Austrians like to eat hearty meals, there is always meat on the table – beef, pork, lamb, game, poultry, giblets are also valued.
Among vegetables, cabbage and potatoes prevail, but roots are also widely used: parsley, celery, parsnip. Flour products – dumplings, noodles, pancakes – are also common here. Carinthia, the lake region, is famous for its fish dishes.
Gourmets can easily trace the influence of the cuisines of neighboring countries: the love of sausages and sausages comes from Germany, the thick goulash from Hungary, soups with dumplings or flour dressing from the Czech Republic, and polenta from Italy.
But there are dishes in Austria that may have the word "Viennese" in their name, even if they are cooked in other countries. Let's talk about them.
Famous national dishes of Austria
The most famous dish of Austrian cuisine is Viennese schnitzel (Wiener Schnitzel) . It is worth the trip to the restaurant just for the sake of it: A juicy veal chop the size of a plate in golden crust is a real surprise.
This schnitzel also tastes great. You are usually served with potato or coleslaw and after such a nourishing meal you don't really need to order anything else. Don't worry if you can't manage to finish the schnitzel.
The meat is very thinly minced and any tourist who has worked up an appetite while sightseeing in Vienna is able to eat such a cutlet.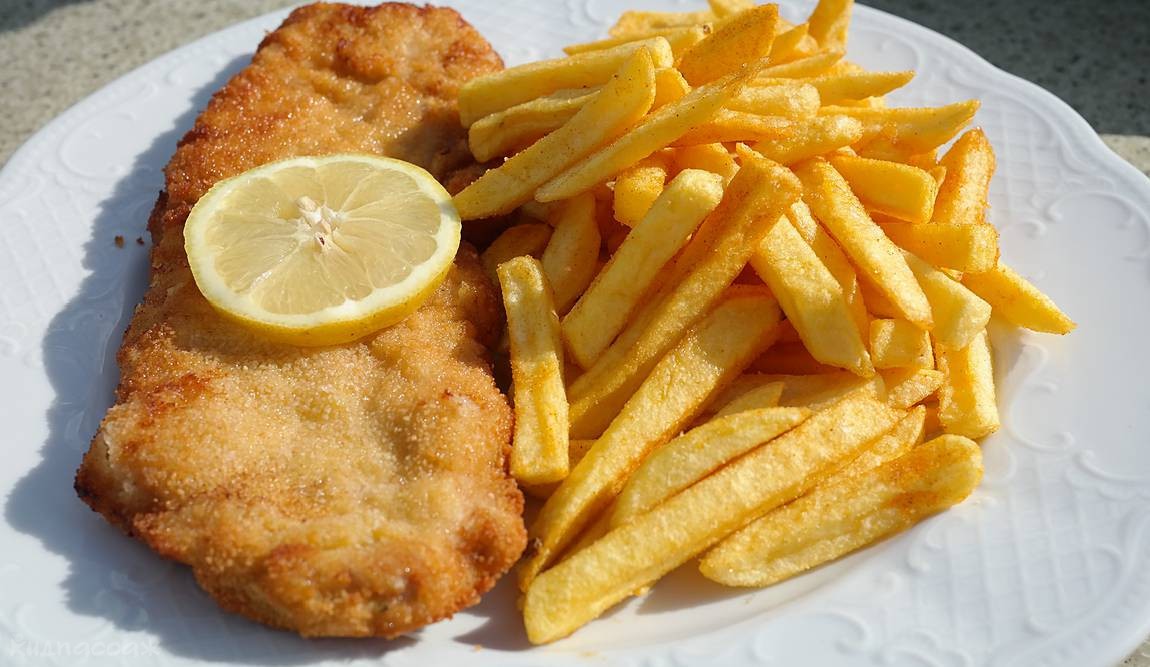 Vienna sausages are commonly listed on menus under the name of Frankfurter (Frankfurter) . It is believed that their recipe was invented by Frankfurt butcher Johann Lahner, adding beef to the traditional ground pork. Note that in Austria, sausages are fried rather than boiled, so they are unusually greasy.
The calling card of Viennese cuisine, strudel, may at first glance seem like a simple dish. A juicy filling of sliced apples and sugar, wrapped in a fine pastry, is a true Viennese Apfelstrudel.
There is another version, with a cottage cheese filling, called a Topfenstrudel (Topfenstrudel). And in general as a filling can be used anything: apricots, cherries, poppies, even spinach.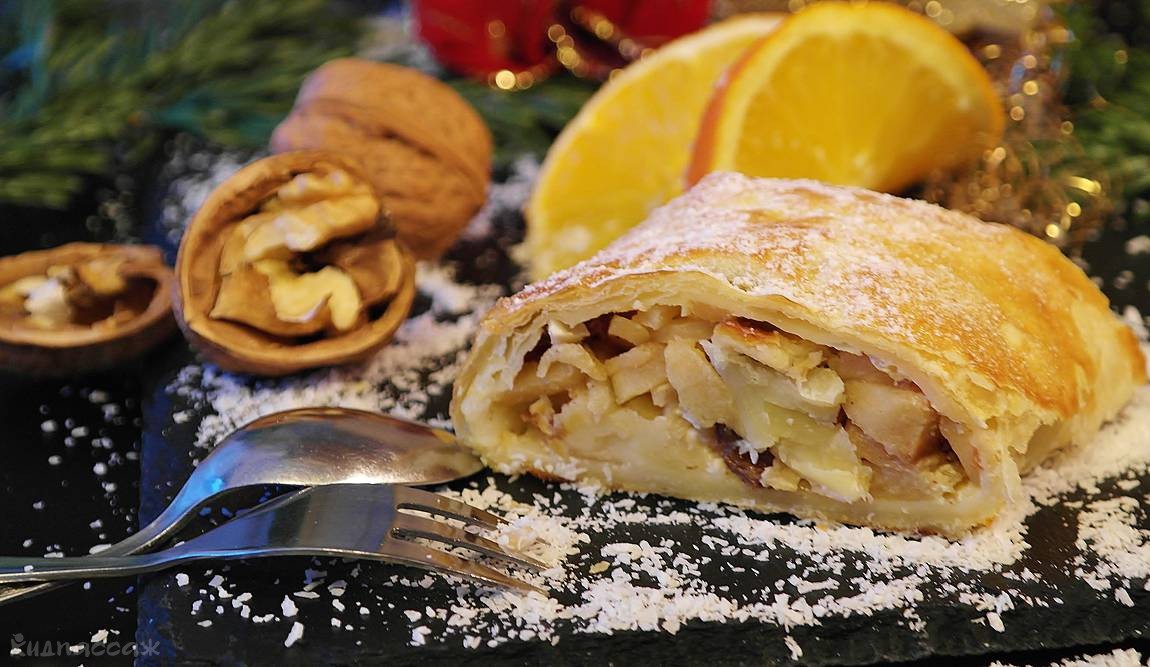 Strudel is not only recommended to try, but also to see how it is made. From the preparation of this delicacy whole shows are arranged, and master classes are held for those who wish.
The second most famous Austrian dessert is Sachertorte. The chocolate-biscuit cakes, dipped in apricot confit and covered with chocolate glaze, have a refined and unique taste.
The recipe for this cake was once the subject of court disputes. They resulted in the approval of two versions of the recipe: one used by the confectionery "Zacher", the other by the confectionery "Demel" .
But when it comes to Viennese coffee, there is confusion. Some people call it chilled coffee with ice cream, others call it coffee half-and-half with foamed milk, known as "mélange. Be that as it may, both are popular in Austria: Try both and decide which you like best.
Tasting these dishes has long been part of the tour program. But sometimes tourists just need to eat. So what else can you try from traditional Austrian dishes?
Salads
The most popular salad in Vienna is so called: "The Wiener Salad. Its composition is very simple: potatoes, cabbage and garlic. It therefore sometimes appears on menus under the name Erdapfel Salad (potato salad).
There are also other variants, when instead of cabbage in the salad they add pickled onions or pickles. Dressing is vegetable oil, vinegar, and sometimes horseradish or mustard.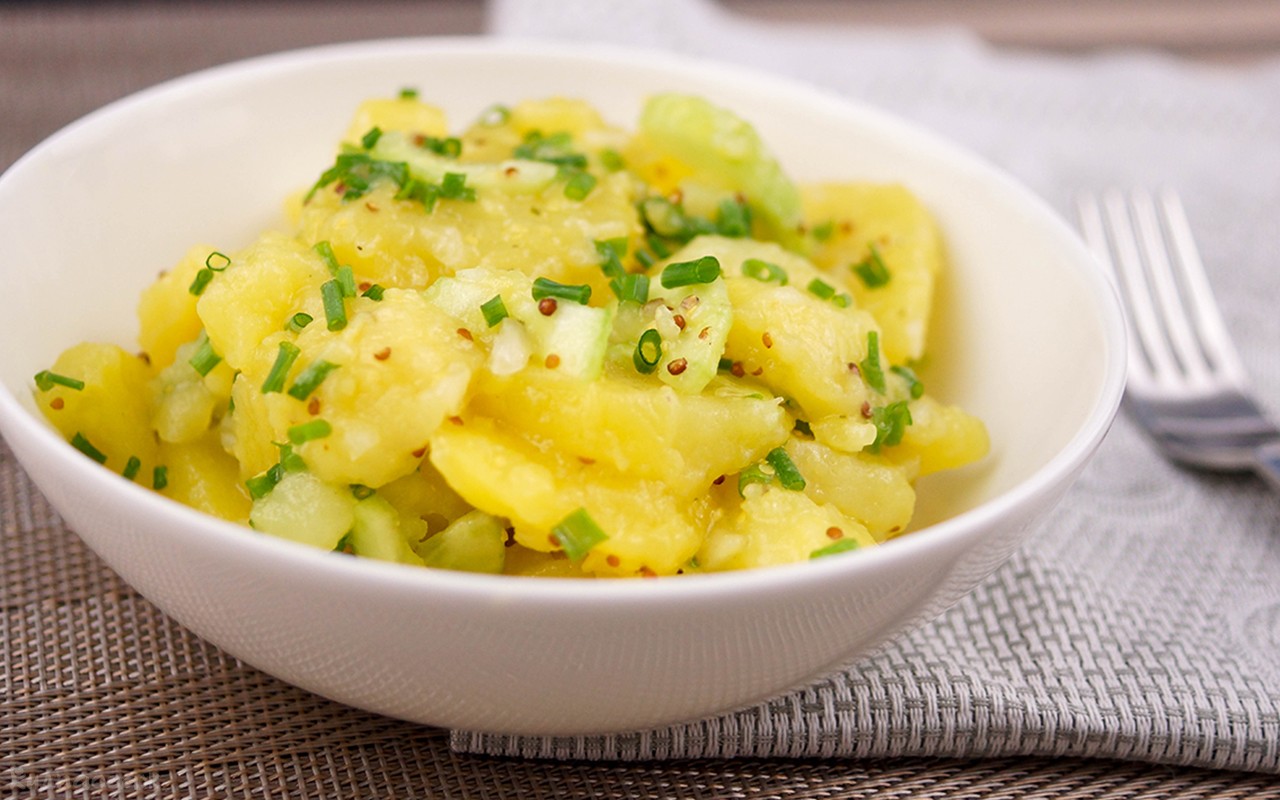 Carinthia has its own special salad made with lettuce and chicory. Other salads – made from boiled and fresh vegetables, with meat added – can usually be found on restaurant menus.
Soups in Austria are traditionally cooked in meat broth. Beef broth with various dressings turns into delicious dishes.
Frittatensuppe (Frittatensuppe) – broth with pancakes cut into thin strips.
Backerbsensuppe (Backerbsensuppe) – with deep-fried balls of dough.
Leberknödelsuppe – soup with liver meatballs.
Gemüsesuppe is a light vegetable soup.
Austria also has a goulash, which is a fatty, rich soup made of meat and vegetables. Austrian goulash is not as thick as Hungarian goulash and not as spicy.
If you want to surprise a young gourmand, offer him Apfelsuppe – apple soup.
But the milk soup, Stosuppe, is a bit like buttermilk okroshka. It is potatoes with cumin and sour milk or sour cream.
Main courses
There are a lot of meat dishes to choose from. The first choice is beef stew Tafelspitz, which is stewed on low heat for about 5 hours in a broth with vegetables.
Often the potatoes boiled or fried in lard serve as a garnish to the tender meat. As an unusual and at the same time light side dish you can order a stewed topinambour – Erdäpfelgulasch .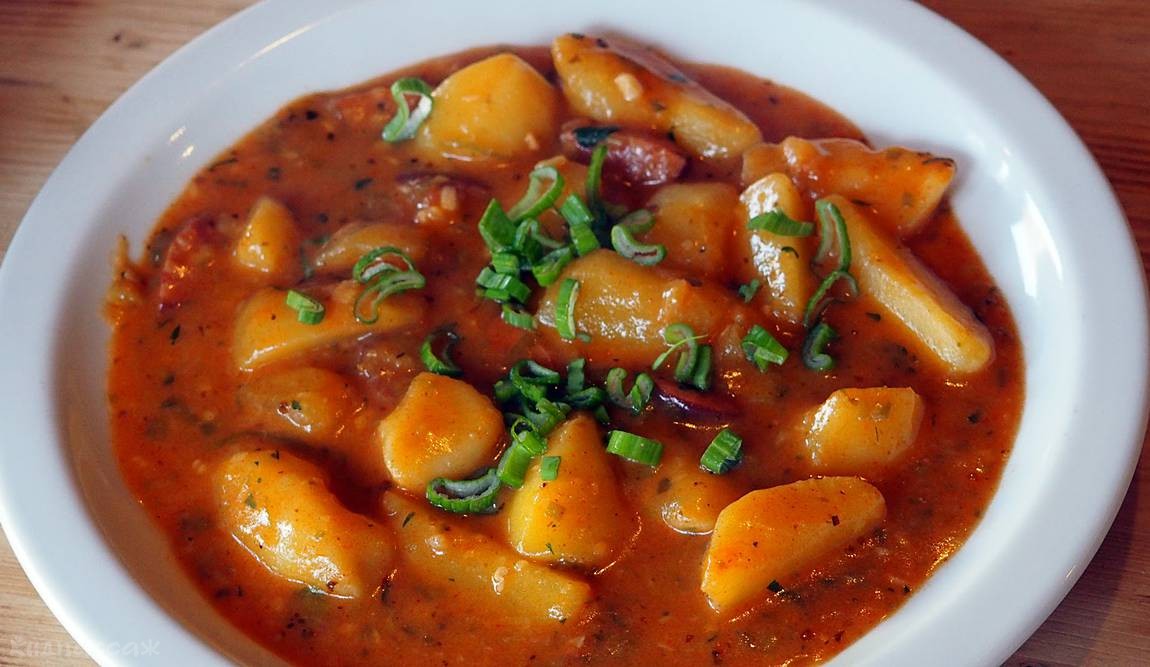 Also worth trying are Backhuhn or Backhendl roast chicken, Zwiebelrostbraten roast beef with onion, as well as the many cutlets, meatballs and entrecôtes. And children, who are difficult to seat at the table, because they like to snack and run away, can be offered a baguette with Vienna sausage.
While vacationing in Carinthia, you can try dishes of trout (Forelle), pike (Fogosch), pike (Hecht), carp (Karpfen) and other river fish.
Vegetable and pasta dishes
Pasta lovers will find a dish to their liking. For example Kasnudeln (Kasnudeln) reminds you of ravioli with cheese filling, Schlipkrapfen (Schlipkrapfen) – with meat filling. The Schupfnudel, a noodle made of potato flour, is very tasty.
A hearty dish is Schinkenfleckerl, a pasta casserole with ham.
On the menu of Tyrolean taverns there is often a Groestl (Groestl). It is a greasy dish of potatoes fried in oil or in lard, along with meat and tomatoes. The grestl is flavored with aromatic herbs and served with scrambled eggs.
Desserts
But if there is one thing Austria excels in, it is the desserts and pastries. This is where the artistry comes into its own: Vienna's finest pastry shops create elaborate works of art, multi-layered and intricately decorated. What desserts are peculiar to Austrian cuisine, what to try out of dozens kinds of cakes, pies and cookies?
Unlike Hungarian desserts, which use a lot of buttercream, Austrian sweets are dry. A striking example is Zacher cake, which combines biscuits, apricot confit and chocolate icing. Another example is the Linzer Torte, made of sandy almond pastry with a berry filling.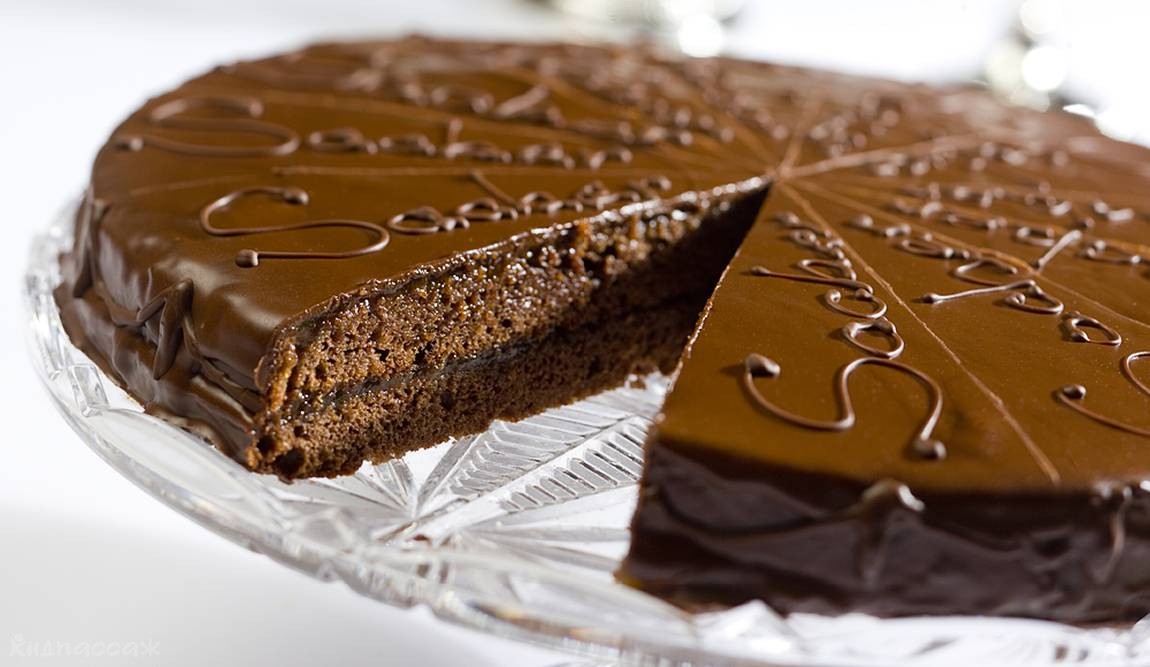 An omelet, on the other hand, is a feast for the stomach. Kaiserschmarrn is made sweet by adding flour, raisins and cinnamon to eggs whipped with milk. Crispy, crispy pancakes are served with powdered sugar or caramel syrup.
Children won't miss Buchteln – boat-shaped cakes filled with poppy seeds or nuts, puff pastries with all kinds of fillings, biscuit cakes, Christmas bagels Kipferl and Palatschinken – sweet pancakes with ice cream and chocolate syrup – floating in glass cabinets.
And if you are in Austria at Christmas time, you should definitely try the Stollen, made of yeast dough with candied fruit.
A delicious, melt-in-your-mouth dessert is the Nockerln. A soufflé of eggs and cream is baked until golden crust and served with lingonberry sauce. The homeland of this dessert is Salzburg, but you can try Nockerln in any confectionery in Austria.
Drinks
Traditionally, desserts in Austria are served with coffee and if you're ready to introduce the drink to children, order Milchkaffee. The herbal lemonade Almdudler is a popular, fizzy, aromatic and refreshing drink.
And at ski resorts you can sometimes find a non-alcoholic version of a warming drink called Jagatee, made on the basis of freshly brewed tea and heated fruit juice with spices. But it's also not hard to find tea and cocoa on the menu.
What to order for your child
In our review, we have included those dishes that can be offered to a child. If you do not put a lot of fatty foods, the introduction to the new cuisine will go smoothly. But there is a nuance: no matter how tasty the traditional Austrian dishes are, they are not suitable for young children who are just joining the common table.
Among the dishes that are suitable for children's meals are clear broth, boiled potatoes, pasta, in some areas fish and corn porridge.
Even if the hotel offers you a children's menu, be sure to specify its composition: it may be that the kids will be offered fries with chicken nuggets or sausages.
This disadvantage is compensated by a wide selection of baby food in supermarkets, and this applies not only to the capital, but also to towns and villages in any part of Austria.
Where to try dishes of Austrian cuisine
Austrian national cuisine will offer you in restaurants and taverns, common in small towns (in Tyrol and Carinthia taverns are called "Buschenke" or "Hofschenke").
And sausages do not have to be eaten sitting at the table. There are plenty of sausage stands on the streets of Austria, so you can snack on a hot, smelling sausage nestled in a freshly baked bun.
These little outlets sell several kinds of sausages and side dishes (fries, sauerkraut, greens). You don't have to look for the Wiener Würstelstand sign – your nose will lead you to the right kiosk.
On the street – or, more precisely, in the street food markets in Vienna – you can try another delicacy that has nothing to do with fast food: Vienna snails. This traditional dish has survived a period of neglect and has become popular again. You can now find boiled, baked and even candied grape snails in Austria.
And when it comes to sweets, you have to go to a candy shop for them. In this case, the taste of cakes and pastries in reputable pastry shops and inexpensive cafes will be the same, but the prices can be very different.
And if you want to have breakfast in the early morning, when restaurants and cafes are closed? Have breakfast like real Austrians at the nearest bakery. Every morning it sells fresh bread, pastries and even cakes.
To accompany the buns, you can order coffee and sit down at a small table by the window to watch the city wake up.
Wherever you are seated, you will be told when serving your order, "Greifen zi zu! Help yourself!"
"Guten apetit!" – we say, and suggest that after the meal, we look at another menu, which lists the best family excursions in Austria. Kidpassage has selected information on children's museums and activities: let the whole family enjoy the trip.