What to do when you're bored with your beach holiday – Koh Samui activities
Koh Samui Entertainment – What things to do and where to go on the island?
Due to the small size of Koh Samui and its status as a 'family' resort, active vacationers may find it boring. Such an opinion is wrong, because the island has a lot of entertainment that will make the rest rich and exciting.
The most popular activities on the island in terms of tourists. The information for the review is taken from the reviews.
Diving and snorkeling
The sea on Samui is ideal for diving and snorkeling. In clear weather, visibility under the water is tens of meters.
The bottom is mostly shallow (5 to 40 meters) and covered with white sand, which shows off the sea creatures, or strewn with boulders and coral. In addition to hundreds of species of tropical fish and arthropods, you can often see barracudas, whale sharks, rays.
The most popular dive spots are:
Sail Rock – beautiful underwater cliffs, including steep walls. It is home to tiger sharks. Depths from 20 to 40 m;
The waters near the islands of Koh Yippon and Koh Wao – full of corals and underwater caves in the shallow water. The bottom is shallow, 10 to 20 m;
KohNanguan – The waters around it are known for beautiful reefs and a shipwreck. The depth is 10 to 30 meters.
On the island there are dozens of dive clubs, including Russian-speaking who for a modest amount of 1000 baht will teach diving and orient under water in a special pool. For 2000-3000 baht will organize the rental of equipment and transportation to the picturesque dive points.
The cost of a day snorkeling tour with a visit to five locations, is only 800 baht.
Underwater walking (seawalking)
Seawalking is diving for the lazy. This entertainment is a walk underwater in a special helmet. The helmet is equipped with three large glasses, which provide an excellent overview and heavy shoulders. The weight on the shoulders of the seawalker's scuba diver is underwater. Oxygen is supplied to the helmet by a hose from a compressor in the boat.
Seawalking makes you feel like a scuba diver of antiquity or even an astronaut. The views and environment underwater create a believable feeling of low gravity and being on another planet.
Diving does not require prior training and preparation, and is carried out at a shallow depth of 3-5 meters, on a flat sandy bottom. It is comfortable and safe to move around on. An instructor, who is also a photographer, dives with the scuba diver.
The duration of 30 minutes. The price of 1500 baht.
Jungle Safari
The center of the island is one continuous tropical forest with mountains, hills, waterfalls and creeks. There are unpaved roads through which you can take a breeze ride on different machines, making stops at the most picturesque places.
Local tour operators offer the following types of jungle safaris
ATV – from 1300 baht per hour;
Jeep (as a passenger) – from 1200 baht for a day;
On elephants – from 800 baht for 30 minutes.
There are excursion programs that combine several methods of travel, for example, a half-hour ATV ride + ride an elephant + picnic at a price of 1,800 baht.
Wakeboarding
A wakeboard is a cross between a snowboard and a surfboard. It is used to ride on the water by holding on to a halyard attached to a boat. Wakeboarder can not only slide on the water surface at high speed, but also jump on the waves to a great height and curry tricks. Master a wakeboard can a person of any age, even children and the elderly. All it takes is half an hour of training.
You can ride a board in one of the wake parks:
Water Edge Sports;
Saards Water Sports;
Samui Boat Charter;
Wake Up! Wakeboarding.
Rides cost from 1000 baht for 15 minutes.
TIP! While riding a wake engages all muscle groups, so 15-20 minutes of riding it is equal to an hour of classes at the gym.
Climbing
There's a Rock climbing wall near Chaweng Noi Beach. It is created on the basis of several steep cliffs and a grotto. There are 12 stands, 7 of which are designed for climbing and 5 for descending. From the rocks there are great views of the sea and the island.
The height of the routes varies from 5 to 40 meters. Climbing on the easiest routes is performed on artificial hooks. Experienced climbers can test themselves on the stands with natural hooks.
At the climbing site has all the necessary equipment and equipment: ropes, harnesses, helmets, gloves and special shoes that can be rented for 100 baht. Staff can give instructions, training and reassurance.
The price of admission is 1500 baht.
Rope flying over the jungle
On Koh Samui hilly terrain. Enterprising Thais hung between some of the hills rope roads, which can be a ride over the jungle on ziplines (piggyback). Such a descent gives a lot of extreme experience. At the same time, it is completely safe.
There are three descents on the island under these names:
Lamai View Point – is also the most famous observation point on the island. It can be reached by cable car;
Tree Top – a short cableway between two trees. It is part of a small rope park;
Skyhawk Adventure – a large ropes park with three ropes courses and lots of other activities.
The cost of the flight is the same everywhere – 200 baht. But in the rope parks will have to pay another entrance fee – 300 baht.
Yoga Retreat
Yoga retreat – this is a complete immersion in yourself to work on your mind and body. The process is an exploration of new yoga practices and getting to know yourself. Classes are held twice a day for several hours, under the guidance of an experienced spiritual director in a beautiful and secluded setting. Outside of the exercises, one listens to lectures, studies thematic literature, and participates in discussions with like-minded people.
There are several specialized yoga hotels on the island, as well as a number of yoga studios and classes, consider the latter:
Vikasa Yoga – by Chaweng Beach;
The Yogarden – by Bophut Beach;
Absolute Sanctuary – at the hotel of the same name on Chong Mong Beach;
Bikram Yoga – by Chaweng Beach;
Trinity Yoga – by Chaweng Beach;
Ananda Studio – by Chong Mun Beach;
Yoga Boraan – near Maenam Beach.
Price – from 200 baht per class. The more days in the program, the lower the price will be.
Thai boxing
In Thailand, and on Samui in particular, a well-developed so-called Muay Thai camps – places where you can live, learn Thai boxing and perform in fights. There are more than a dozen such establishments.
Let us list the most popular:
JungleGym Samui;
SuperPro Samui;
Pinyo MuayThai Gym;
Samui Fight Camp;
Lamai Muaythai Camp.
The price per lesson is 400 baht.
TIP! If you rent a hotel room at the camp for 600 baht or more, you can attend classes for free.
Those who prefer to watch boxing rather than practice it can visit one of the Thai boxing stadiums in Chaweng.
Elephant Riding
Visiting Thailand and not riding an elephant is like going to a ski resort and never getting on skis.
Koh Samui has several places to go for this fun and unforgettable experience:
Namuang Safari Park- around the waterfall of the same name;
Island Safari – Near Koh Samui Airport;
Funny Day Safari – one kilometer south of Bophut Beach.
The 30-minute ride starts at 600 baht for adults and 500 baht for children.
Nightlife – which clubs can I dance at?
Nightclubs and discos are located on the main beaches of the island.
Chaweng
Green Mango – the biggest nightclub on the island. Divided into several zones – each with its own bar. Open until 5:00;
Reggae Club – Its name speaks for itself. Here you can smoke weed;
Ark Bar – a beach club with three pools and the best hookahs on the island.
Lamai
Man0uvers Club – The biggest nightclub on the beach;
Fusion Club, a disco club with a 1980s feel, but with a modern music repertoire.
Maenam
Napasai Pool Bar, an upscale nightclub in a 5-star hotel.
Bophut
Gecko Bar is an ordinary lounge bar with soft music by day. By night it is transformed into a discotheque.
Bang Rak
Dreamers – divided into two floors: the first floor is a restaurant bar, the second floor is a nightclub.
TIP! For raves it is better to go to the island of Phangan in the neighborhood of Samui. Every full moon there is a great three-day beach party Fool Moon Party, as well as a number of smaller parties in other phases of the moon.
Entertainment for the kids
There are not as many as one would hope, but enough for a week's vacation. Let's take a look at the main attractions.
Paradise Park.
The Paradise Park Jungle Contact Zoo is divided into several areas, each for a different species of animal. Built in the woods around a hill. It has a landscape pool, restaurant and hotel bungalow on top.
Samui Aquarium and Tiger Zoo
A zoo with tigers and an aquarium with several hundred species of tropical fish. Here you can pet a tiger cub and take pictures with him.
Samui Crocodile Farm
A collection of trained crocodiles and snakes that perform in shows several times a day.
Samui Monkey Theater
Represents the nursery of trained monkeys. Several times a day they perform a show, performing various tricks and dancing.
Coco Splash and Pink Elephant Waterparks
Water parks in Samui can not boast a large number and intricacy of attractions or special themes. But this fact does not prevent them to be one of the most popular attractions on Koh Samui for children and adults.
7 Best Koh Samui Excursions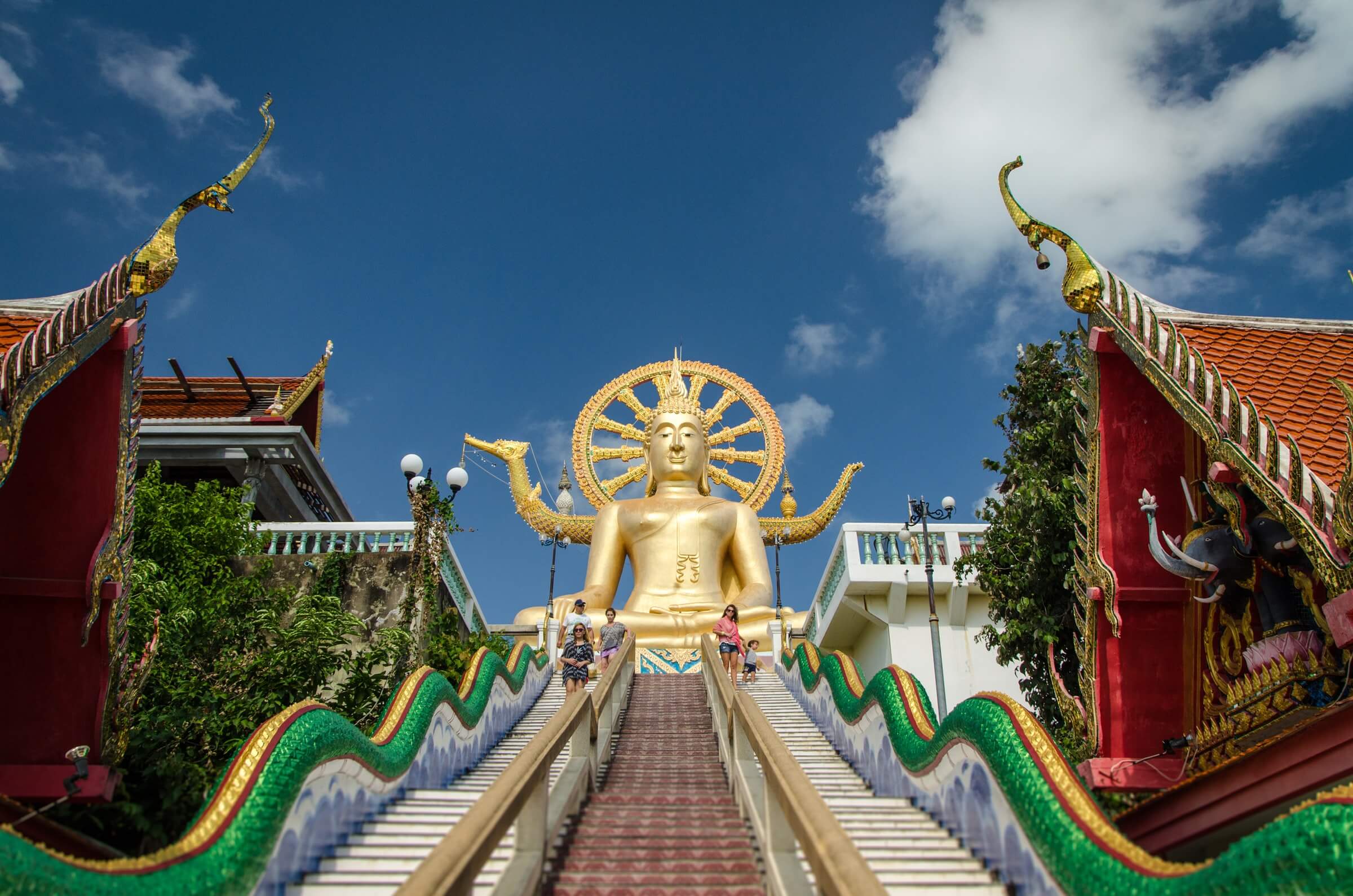 Spice up your Koh Samui beach vacation! Find out about the 7 most interesting excursions on the island to take during your vacation in 2022. Descriptions, prices and tips for tourists.
Jungle hiking and sunset chillout
Description . If you like eco-tourism and an author's view of Thailand's sights, take a 4-hour tour of Samui. You'll walk through beautiful jungle, see a scenic waterfall, and find yourself at a spot where you can take colorful photos of the setting sun.
Цена . Для взрослого — 66$. Уточнить цену >>
Reviews . A trip for a small group (up to 6 people) is always more interesting than a large combined tour. The load is not too large, so children can take part in the tour. Tourists appreciated the comfortable pace and the guide's knowledge of the nature of Samui.
Journey to the islands of Ko Tao and Nang Yuan
Description . On a boat trip to the beautiful islands, you can spend the whole day in picturesque places and relax on the white sand beaches. You can sunbathe, swim in crystal clear water, snorkel, taste traditional Thai cuisine and exotic fruits. On the island of Nang Yuan is a beautiful spot for lovers of scuba diving. The coral reef is home to sergeant fish, grouper and sea turtles.
Цена . Для взрослых — 57$, для детей до 12 лет — 43$. Уточнить цену >>
Reviews . The trip is designed for 8 hours and is suitable for holidays with children. Tourists note the good organization of the tour and the skillful work of the guide.
Nang Yuan Island. Photo: unsplash.com / @samule.
Diving in Samui with photography
Description . If you've never been diving but dream of going deep, do two shore dives with an experienced instructor. Not only will he teach you and help you put on your diving equipment, but he'll also take pictures of your emotions in the water. Diving is done in groups of up to 10 people.
Цена . Для взрослого — 72$. Уточнить цену >>
Reviews . Tour participants noted the beauty of the underwater world of the Gulf of Thailand and the quality work of the diving organizers.
Pearls of Ang Tong National Park
Description . One of Thailand's most beautiful parks, Ang Tong is made up of 42 tropical islands. The trip by speedboat takes 45 minutes. Tourists snorkel, watch stingrays, sea urchins and parrot fish, kayak, climb the observation deck and relax on the clean sandy beach. The highlight of the trip is the bright green Talai Nai Lake, which is located in the crater of an extinct volcano on Mae Island.
Цена . Для взрослого — 57$. Уточнить цену >>
Reviews . During the 8-hour trip you can get a lot of vivid emotions and learn interesting facts about the waters of the Gulf of Thailand.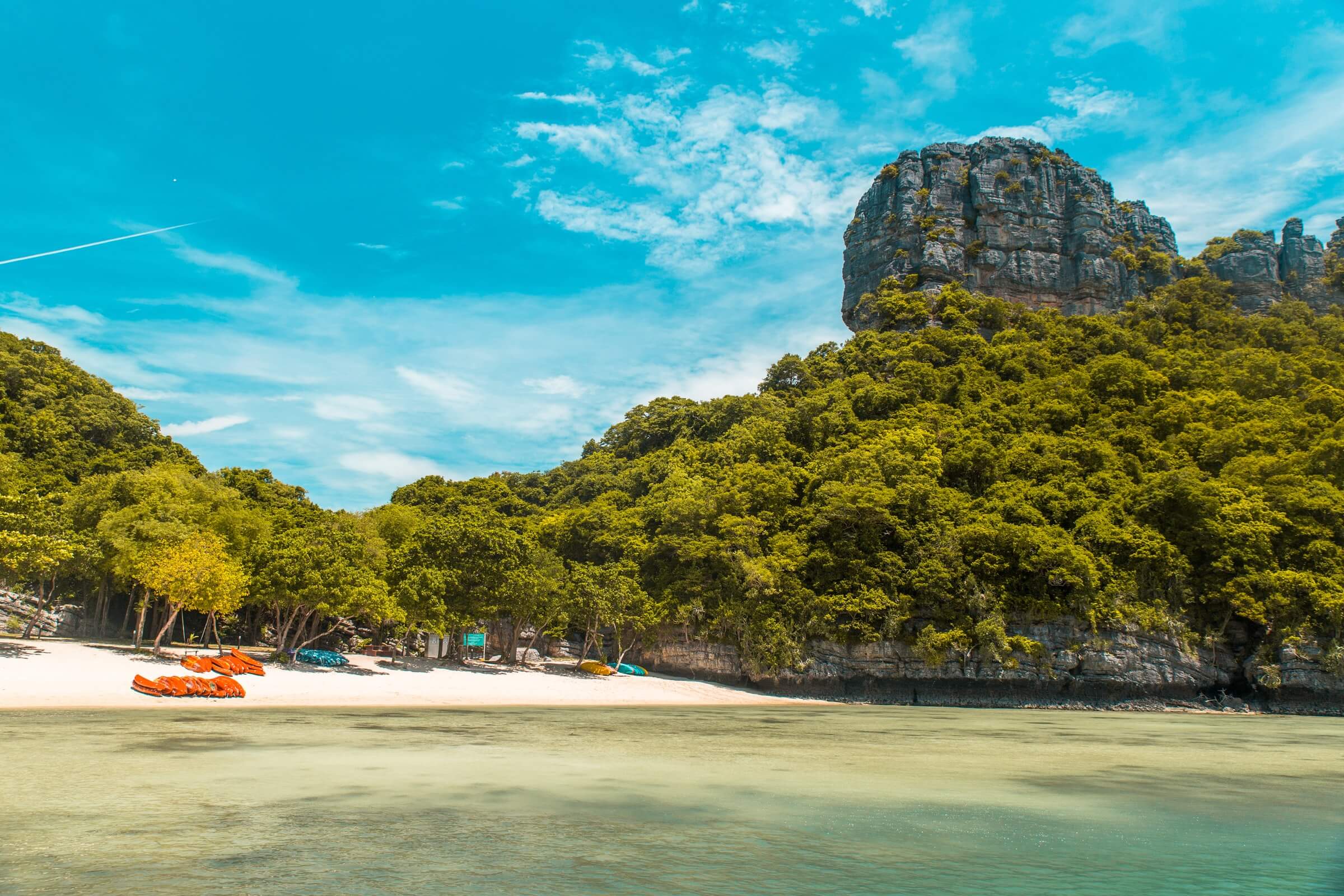 Ang Tong National Park. Photo: resnick_joshua1 / unsplash.com.
Sea fishing in Samui
Description . Tourists are gathered ashore and taken by boat to the islands of Ko Tan and Ko Madsu. You can fish en route and in the bay of the uninhabited island. Lucky fishermen bring home barracuda, mackerel, grouper, sea pike, seriolella and other Gulf of Thailand inhabitants.
Цена . Для рыбака — 55$, для участников, которые не ловят рыбу — 45$. Уточнить цену >>
Tourist reviews . All the necessary tackle – rods, spinning rods, wobblers and fresh bait – are on board. The organizers know the fishing spots well and give valuable advice to newcomers. Those who wish can go snorkeling.
Elephant rides, monkeys and a cooking show.
Description . Vacationers with children love this tour to Samui, during which you can get acquainted with the animals of the tropics. You will see an animal show, ride an elephant, see a waterfall and take part in an original cooking show. Learn about holidays with children in Thailand.
Цена . Для взрослого — 25$. Уточнить цену >>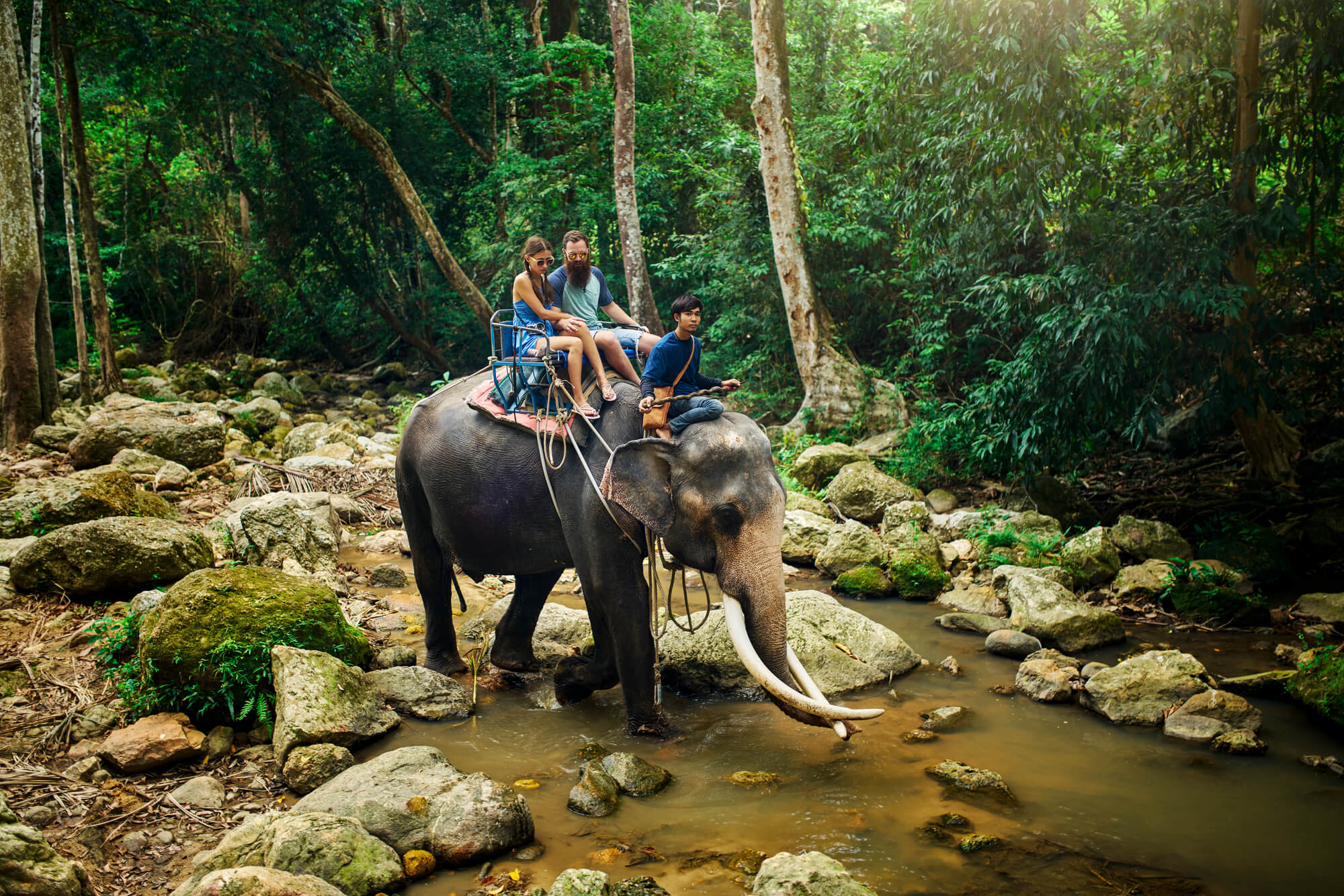 Tourists with a mahout on an elephant. Photo: resnick_joshua1 / Depositphotos.com.
The cable car on the island of Samui
Description . The 5000 m long Zipline is a real adventure for anyone who wants to experience vivid emotions and a unique experience! Twenty rope courses, spiral staircases, sky corridors and suspension bridges await you. Extreme Park is surrounded by a dense jungle. While gliding on the stretched ropes you can test your dexterity, see the exotic trees, the sea and the waterfall hidden in the forest.
The cost of the tour includes a safety briefing, personal insurance, all the necessary equipment, helmets, fresh fruit, drinking water, fruit juice, coffee, tea and toast.
Цена . Для взрослого — 72$. Уточнить цену >>
Travel Tips
Samui has a hot climate, so wear light clothing for excursions. For hiking, sneakers are better than beach flip-flops. Have a supply of drinking water, snacks, and money to buy souvenirs and pay for attractions in your backpack. Find out what to bring back from Thailand.
For temple tours, dress so your shoulders and knees are covered. Do not turn your back to the Buddha images or point your finger at them.
The sun is very active in Thailand. In order not to get heat stroke, do not go out in the daytime under the direct rays. On excursions, try to stay in the shade of trees and buildings. In the water, the risk of getting burnt increases several times – limit the time for snorkeling. Be sure to use sunscreen with a high degree of protection. Learn how to sunbathe properly and when to vacation in Samui.
Choose excursions to places that are difficult or impossible to reach on your own. Many places on Koh Samui are easily accessible on your own, by public transportation, cab, or motorcycle. Take a trip to the Buddhist temple of Phra Yai, see the big gilded statue of Buddha and take a photo at the Dragon Ladder. Visit Vat Plai Laem, Guanyin Chinese Temple, Laem Sor Pagoda, and other places of worship on the island.
If you're coming with kids, visit the Aquarium and Tiger Zoo on your own, check out the Butterfly Garden, and see animals and birds at Paradise Park Farm.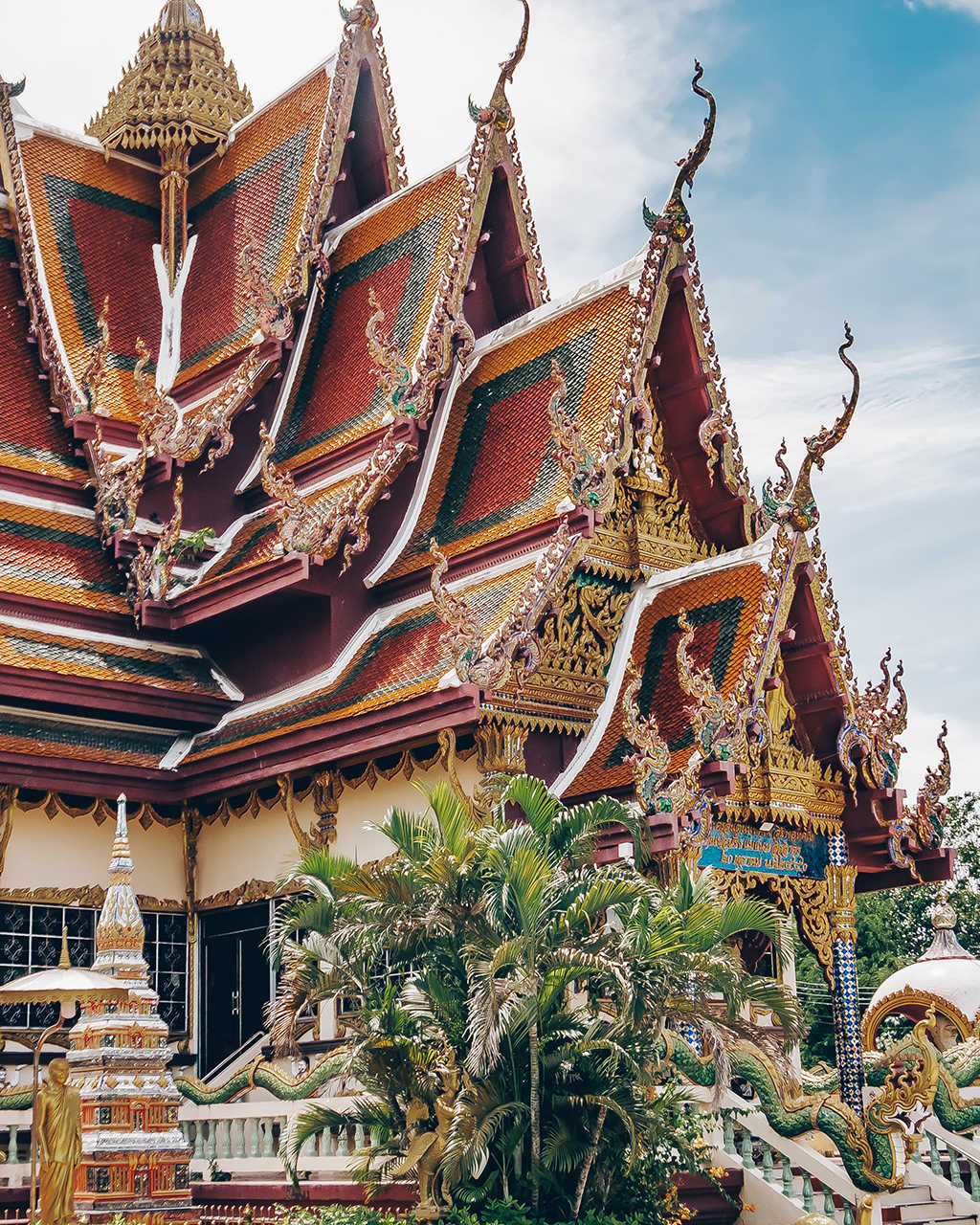 Wat Plai Laem in Samui. Photo: unsplash.com / @tufo.