Manchester, England travel guide.
Manchester Cathedral, originally consecrated in honor of St. Mary, St. Dany, and St. George, was built in the Perpendicular Gothic style in the late 15th and early 16th centuries. Of course, the church has been rebuilt many times; in particular, in the 20th century it was badly damaged in a bombing raid.
Manchester Stadium.
Old Trafford is the largest stadium in England after Wimbledon, with a capacity of 76,000 spectators. The home stadium of the legendary soccer team Manchester United. Built in 1910, it was virtually destroyed by German aircraft in March 1941.
Manchester Art Gallery
The history of the Manchester Art Gallery began in 1823, and today the museum occupies three connected buildings, two of which were built by Sir Charles Barry, perhaps the most famous architect in Britain, who built the Palace of Westminster in London.
John Rylands Library.
Rylands Library occupies a late-Victorian, neo-Gothic building on Deansgate Street in Manchester. The library itself was founded by Enriqueta Rylands in memory of her husband and opened in 1900. In 1972 the library merged with the University of Manchester Library.
Beetham Tower
The Beetham Tower (also known as the Hilton Tower) is a 47-story mixed-use skyscraper completed in 2006 and named for the clients of the building, the Beetham Organization. It was designed by Ian Simpson and occupies a narrow plot of land at the top of Deansgate.
Castlefield
Castlefield is one of the most notable hinterland areas in Manchester. It is bounded by the River Irwell, Quay Street, Deansgate and Chester Road. It was in this area that the ancient Roman fort of Mamucium (or Mancunium) was located, which later gave its name to Manchester.
Manchester Museum
The Manchester Museum, owned by the University of Manchester, has exhibits related to archaeology, anthropology, and natural history. It contains approximately 4.5 million objects from all continents of the world.
University of Manchester
The University of Manchester is one of the most recognized institutions of higher learning in the UK, and is also one of the top-ranked universities around the world. The founding date of the university is considered to be 1824 – in fact, it is the date of the foundation of the Mechanical Institute.
Manchester Museum of Science and Industry
The Museum of Science and Industry (MOSI) in Manchester is a major museum dedicated to scientific development, technology and industry, with a focus on the city's achievements in these areas. If you're visiting museums in Manchester, famous for its industry, you definitely can't miss this one.
National Football Museum
The English, the ancestors of soccer, have made sure they have the best museum dedicated to the No. 1 game. It's open in Manchester, a city that lives the sport 24/7, not just on match days for local giants City and United.
Manchester City Hall.
Manchester's Victorian Neo-Gothic City Hall stands at the north end of Albert Square. It was designed by architect Alfred Waterhouse and completed in 1877. Its rich and visible exterior is brought to life by the central clock tower, which rises to a height of 85 meters.
St. Anne's Church in Manchester
St. Anne's Church was consecrated in 1712 and is named not only after the saint, but also after her patroness, Lady Anne Bland. The church is listed as a Grade I listed architectural heritage church in Great Britain.
Manchester's Chinatown
Manchester's Chinatown is fairly typical of such downtown enclaves. That said, it is considered the second largest in the United Kingdom and the third largest in Europe. The main entrance to the area from Faulkner Street is marked by a multi-story characteristic gate built in 1987.
Industrialized Manchester, which also suffered during World War II, does not have a lot of ancient buildings and sights. Nevertheless, there is plenty to see here as well. Among the historic sites of the city are the Castlefield area, where there was a Roman fort and the settlement of Mamucium, which today has been restored and is available to the public. Of course, Manchester University deserves all the attention, and on its territory there is Manchester Museum, dedicated mainly to anthropology, natural history and archeology.
Fans of Gothic architecture will love Manchester Cathedral in Millennium Quarter, the widest in England, with beautifully carved choirs and many other hidden gems in the interior. Another similar building is the City Hall in Albert Square, an imposing and beautiful structure, a masterpiece by Alfred Waterhouse and a symbol of Manchester's greatness during the Industrial Revolution. There are free guided tours of City Hall, and the main rooms are usually open for viewing when not in use. Of particular note is the Great Hall with a mural by the Pre-Raphaelite artist Ford Maddox Brown.
Manchester is a cosmopolitan city, and for those interested in more than just the shabby past, a few of its specific neighborhoods are worth a visit.
Another architecturally extravagant building is the John Rylands Library. In addition to its impressive collection, which includes the oldest surviving manuscript of the New Testament, the library boasts an amazingly rich interior and cathedral-like exterior. Another historic landmark is the Church of St. Anne on the square of the same name. The church is over 300 years old and is actively used along with the cathedral as a concert venue.
Manchester is a cosmopolitan city, and for those interested in more than just its shabby past, there are several specific neighborhoods worth visiting. For example, Chinatown, one of the largest in the country: it's easy to see where it begins, thanks to the beautiful three-tiered arch-gate at the entrance. Another curious neighborhood is the Gay Village (or just the Village) off Channell Street. It is home to one of the oldest gay communities in Europe and is home to famous bars and clubs, popular for being open until the wee hours of the morning. It is also home to a monument commemorating one of the most famous victims of homophobia, the great mathematician Alan Turing.
Gay Village is home to the Curry Mile, an 800-meter chain of establishments where you can eat this famous dish.
Culturally, Manchester has a lot to offer to its visitors. In addition to the central library and theater, there is the famous Contact Theater on Oxford Road, which puts on brilliant contemporary productions. As for museums, the Imperial War Museum in Quays is definitely worth a visit. "The Lowry on Pier 8 in Quays has a collection of paintings by L. S. Lowry, and it also has two theaters. There are two art galleries, one modern and one classical, and the latter has a very good representation of various schools of painting, especially English. The gallery, in particular, has a good collection of works by T. Gainsborough. Finally, in industrial Manchester you can not miss the Museum of Science and Industry.
Less known, but no less interesting museums of the city – the British Costume Gallery in Platt Hall, Folk History Museum in Bridge Street, which is easily noticeable by the restored sculpture "Pigeons of Peace" at the entrance, "Urbis" in Millennium quarter, unmistakable all-glass building, where now operates a museum of National Football, and the Jewish Museum on Cheatham Hill Road.
Manchester
Manchester (UK) – the most detailed information about the city with photos. Manchester main sights with descriptions, travel guides and maps.
City of Manchester (United Kingdom).
Manchester is a major city in the United Kingdom, located in the northwest of England. It is the commercial and cultural capital of Lancashire, a major industrial center and seaport. Manchester was once one of the main engines of the Industrial Revolution, called "the capital of the English North" and was a city of factories and workers. Now it is a center of culture and art, media and education with plenty of entertainment and sports facilities, which greatly increased its tourist attractiveness.
What to do (UK):
£230 per tour
Tower of London Tour
Highlights of British history, the Crows, the Tudors and the Crown Jewels
from £125 per guided tour
Masterpieces of the British Museum
Explore the English collections and discover the history behind some of their most interesting pieces.
Geography and Climate
Manchester is located in Northwest England, 336 kilometers (209 miles) from London. The city is located on the River Eruell on the western slope of the low Pennines. The climate is temperate maritime with cool summers and mild winters.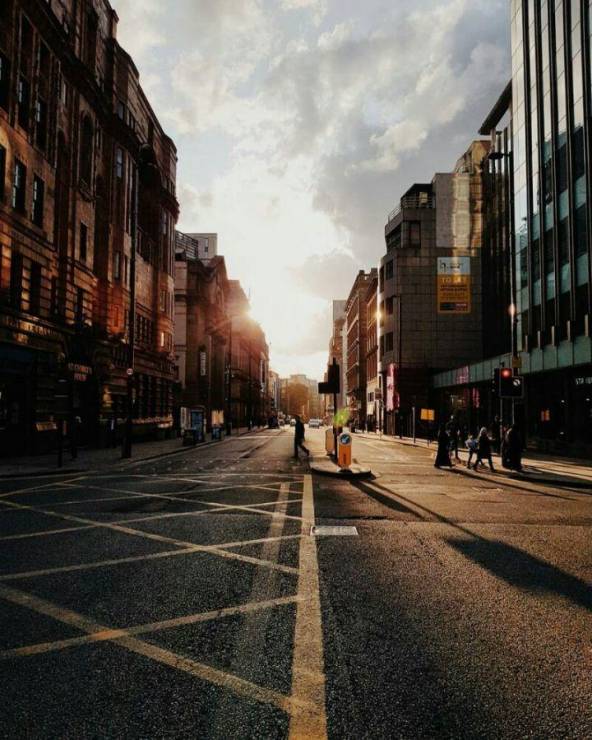 Streets of Manchester
Tourist Information
Population – more than 545 thousand people.
Area – 115.65 km².
Currency – pound sterling.
Language: English.
Time – UTC0, in summer UTC+1.
Britain is not a member of the Schengen Agreement. Visas can be obtained by personal visit to accredited visa centers, which are located in Moscow, Novosibirsk, St. Petersburg, Rostov-on-Don, Yekaterinburg.
Manchester has a major airport, which is among the top 50 in the world. The city is connected by regular air links with most major cities in Europe, as well as some cities in North America and Asia.
Manchester is a major rail hub, so getting to it by train is not difficult. It is also easy to get to the city by car.
Manchester's shopping district is one of the most diverse shopping areas in the United Kingdom. Not far from the city is a huge shopping center Trafford Centre.
Manchester is a cosmopolitan and multicultural city, so it has a huge selection of restaurants and eateries with a variety of cuisines. The West Didsbury and Chorlton areas are famous for excellent eateries. Cafe Rouge, Pizza Express, Nando's, and Bella Italia are not bad budget chains. There are dozens of pizzerias, kebabs, and other fast food joints on Oxford Road.
Manchester has a vibrant nightlife and is famous for its clubs, bars and pubs.
Manchester is home to two popular soccer clubs: United and City.
History
Manchester was first mentioned in the 10th century, although its origins date back to the Roman and Celtic era. The medieval settlement arose on the site of the Celtic Mancenion and a 1st century AD Roman military camp. Mancunium. In the Middle Ages, Manchester was an important trading city with many craft shops.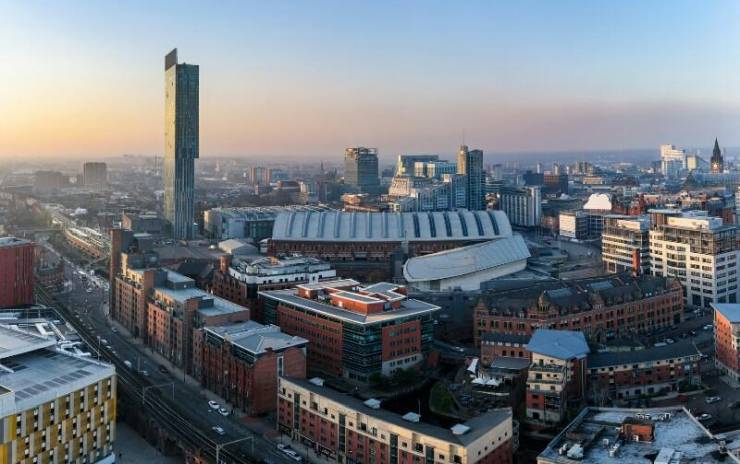 Manchester Panorama
Manchester's prosperity and rapid growth began in the mid-18th century with the start of the Industrial Revolution, when numerous factories and plants were built here. It soon became one of the largest industrial centers of Great Britain. In 1819 there was a violent clash between protesting workers and government troops. During World War II, Manchester was heavily bombed by German aircraft.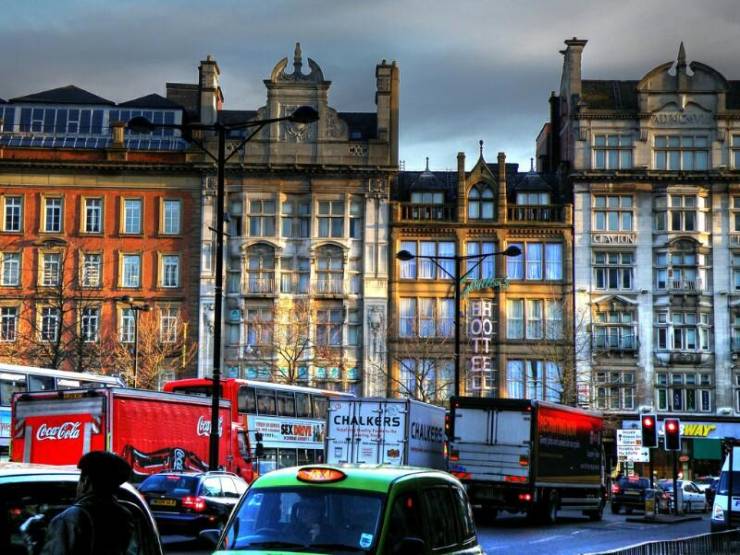 Manchester
Attractions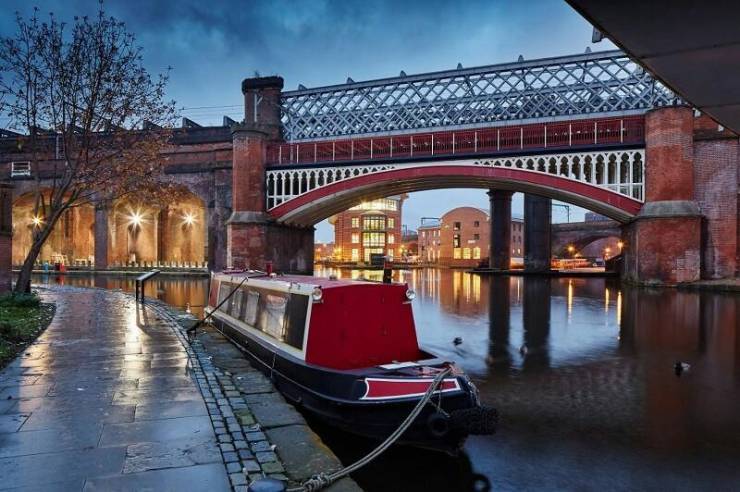 Castlefield
Castlefield is an atmospheric area of restored Victorian houses along the canals, the ruins of an ancient Roman fort and old warehouses converted into offices and stores. It's one of the best places to explore Manchester and one of its cultural centers.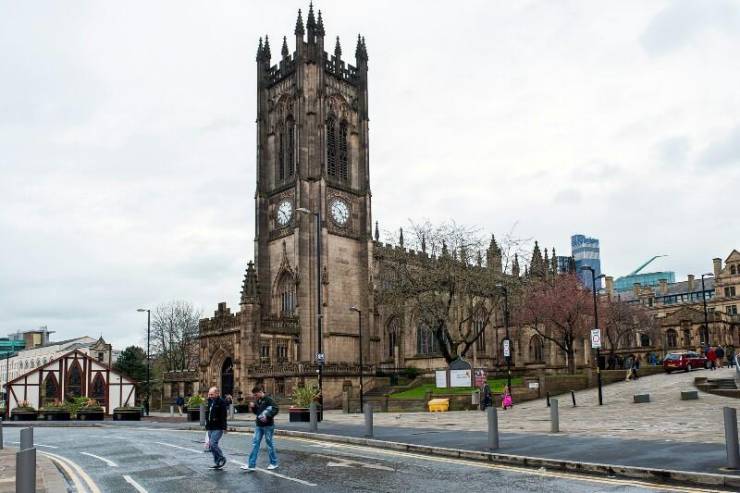 Manchester Cathedral
Manchester Cathedral is a cathedral built between 1422 and 1506. This beautiful Gothic church has an austere facade and a notable interior.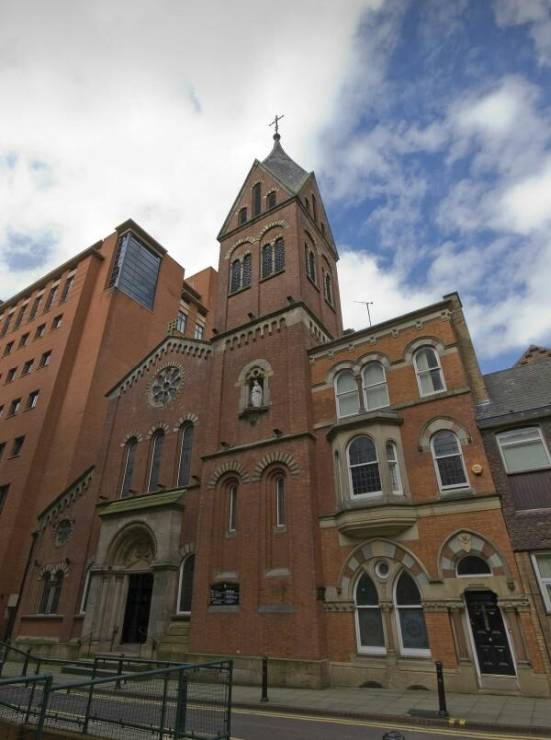 Church of St. Mary
St. Mary's Church is a simple late 18th century brick church that has many beautiful Victorian sculptures and a beautiful marble altar.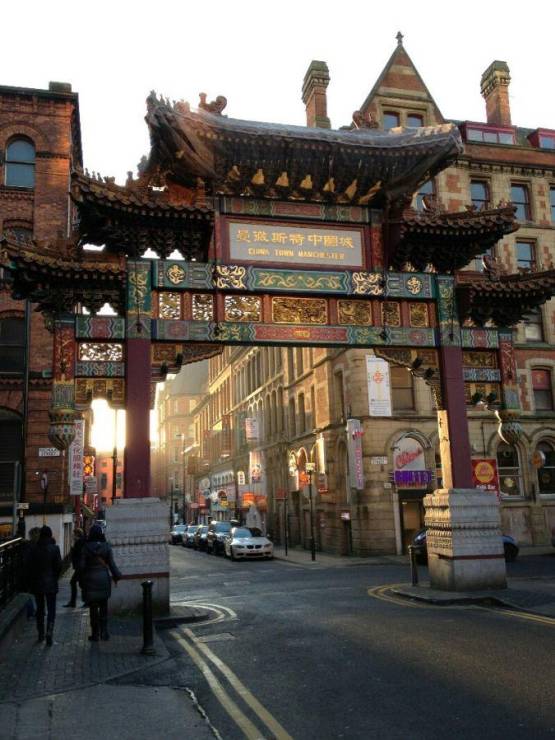 Chinatown
Chinatown is home to one of Britain's largest Chinese communities with an interesting Asian atmosphere and many traditional restaurants.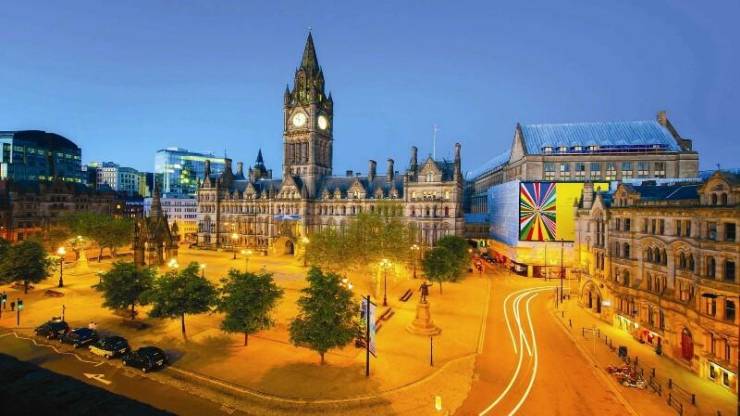 Town Hall
The Town Hall is an impressive 19th century neo-Gothic building with a magnificent panorama of Manchester from its tower.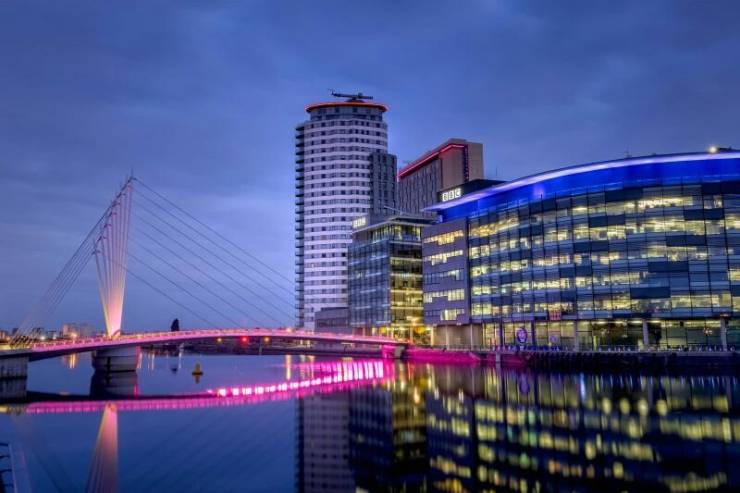 Promenade
Manchester's waterfront is a model for the transformation of the old port's abandoned warehouses and structures into modern entertainment and cultural facilities.
Museum of Science and Industry
Manchester Museums:
Manchester Museum, an extensive collection of antiquities including more than 16,000 ancient Egyptian artifacts and 20 mummies.
Museum of Science and Industry (MOSI) – interesting exhibits from the Industrial Revolution and beyond, housed in the oldest railway station building in the world.
National Football Museum – exhibits related to the number 1 sport.
Manchester Art Gallery – has one of the largest art collections in Britain outside of London, which includes masterpieces by Flemish masters, French Impressionists (Gauguin, Monet) and German artists.
Interesting tours
£130 per tour
History of coffee and tea in London
Find out where and how the culture of tea and coffee drinking was born, and experience the atmosphere of those glorious times.
Lera 5 26
£150 for a guided tour
Robert Lewis Stevenson's pictorial notes.
Discover Edinburgh in the pages of the Scottish writer's works