Top 10: The most incredible newly formed islands
Mark Twain famously spoke of the importance of owning land, for "it will be no more." While much of the world has indeed already been explored, mapped and distributed, new lands "appear" every day. Volcanic eruptions, earthquakes, and erosion have been altering the earth since its inception, changing not only landscapes and territories, but also creating new islands. If we consider the Pacific Ring of Fire, seismic and volcanic activity in this area often creates new islands, but many of them quickly disappear due to erosion, sink, or merge into larger islands. Other "new islands," however, can withstand geological and weather events long enough to attract and sustain insects, plants, and animals. Just as Hawaii, which was shaped by volcanic activity, has become one of the most diverse ecological systems in the world, many of these new islands may one day become paradise on Earth. Below is a list of some of the most incredible newly formed islands in the world – many have only recently appeared and have not even been mapped yet. Read on to explore some of these amazing new worlds and see them before they disappear into the ocean again.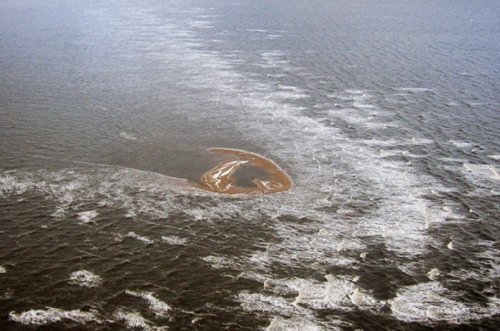 10. Yaya Island Location: Novosibirsk Islands Archipelago, Laptev Sea – Country: Russia Date of discovery: August 2013
Yaya Island was first spotted in September 2014 by a helicopter commander flying toward a military base near the island. When the crew saw the island, everyone started shouting "Me, I discovered it!" so the island was named Yaya. The oceanographic research vessel Admiral Vladimirsky officially explored the island and confirmed its existence in November 2014. Due to the addition of this island to the Russian territory, the Russian exclusive water economic space increased by 452 square kilometers. The island is believed to have been formed many years ago when Vasilievsky Island melted.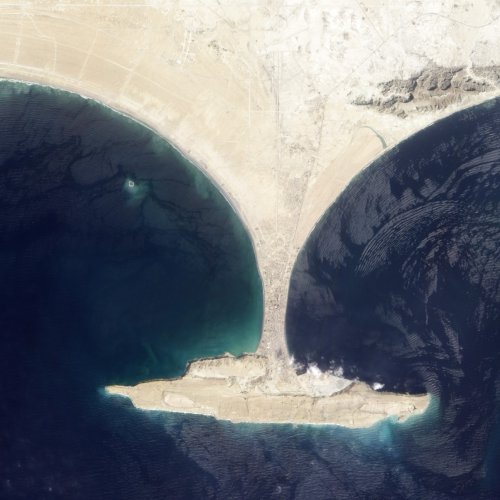 9. Zalzala Koh or Zalzala Jazeera ("earthquake island") Location: Shelf off Gwadar city, Balochistan province, in the Arabian Sea – Country: Pakistan Date of formation: September 24, 2013
After a massive 7.7 Richter scale earthquake struck the Pakistani coast of the Arabian Sea, a new island was spotted from the shore. The island measures 174.7 meters by 160.9 meters. The newly formed island rises 15-20 meters above the ocean, but has already sunk 3 meters since it appeared. Its surface is mostly covered with mud and huge boulders. There is no life on the island, but it has become a paradise for marine life, fish and corals. Oceanographers believe the island was created by methane emissions that were released during an earthquake. Scientists predict that Zalzala Island will eventually be submerged again.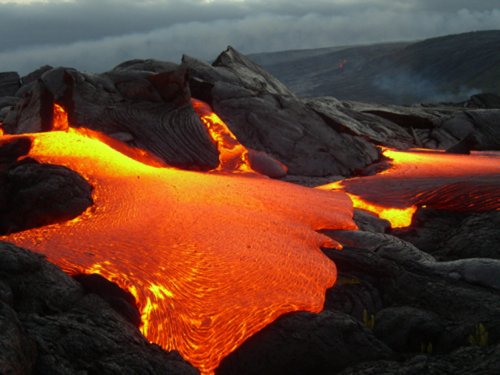 8. Nishinoshima or Rosario Island New Island
Location: 940 km south of Tokyo – Country: Japan Date of formation: 1974, 2013
Rosario Island was originally a small island consisting of the top of a dormant underwater volcano. Its size reached 650 by 200 meters. The first eruption occurred in 1974, causing the island to expand and merge with the surrounding land. Subsequent volcanic eruptions began in November 2013. As a result, the surface of the island has increased and its diameter now reaches 1 kilometer. Volcanic activity continues to this day, gradually increasing the size of the island. Because of the continuous outpouring of lava, there are currently no plants or animals on the island, but it is likely that when the volcano goes dormant, the island will return to its original, grass-covered state.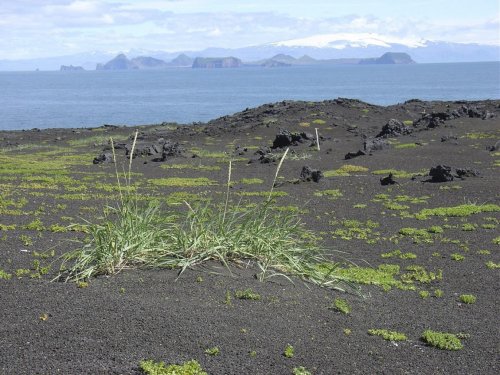 7. Surtsey Island Location: part of the Vestmannaeyjar Archipelago, off the south coast of Iceland – Country: Iceland Date of formation: November 14, 1963
The formation of Syrtsei Island began at a depth of 130 meters below the water surface in 1963. The island finally reached the water surface on November 14 of the same year. The eruption continued for several years, reaching a maximum size of 2.7 square kilometers, but has since gradually diminished due to erosion, reaching a size of 1.4 square kilometers. The first plants were found on the island in 1965, which have since covered the island with a variety of lichens, mosses and grasses. Currently, 14 species of birds use the island as a nesting site, among them gluttons, guillemots and gulls, as well as Atlantic terns. In 2008 the island was declared a UNESCO World Heritage Site due to its unique appearance and ecological progression.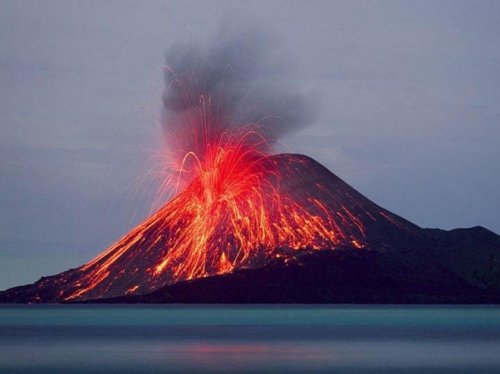 6. Anak Krakatau Island Location: Between Perboewatan and Danan islands in Sunda Strait – Country: Indonesia Date of formation: December 29, 1927
On December 29, 1927, a shield volcano erupted between Perboewatan and Danan islands in the Sunda Strait, creating a new volcanic island. This island, as well as two others that appeared soon after it, were quickly destroyed by marine erosion. A fourth island appeared in August 1930 and its lava flows were too abundant to be washed into the ocean. Anak Krakatoa has been an active volcanic island ever since, growing steadily with an average increase in size of 6.8 meters per year.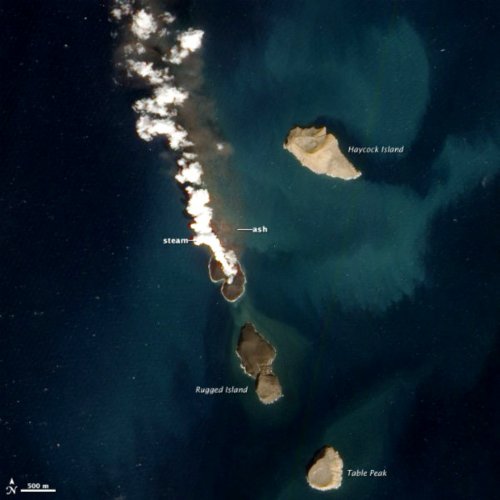 5. Al Zubair Group Of Islands Location: 60 kilometers off the coast of Yemen, in the Red Sea – Country: Yemen Date of formation: October 2013
A group of small, uninhabited islands of volcanic origin are located above an underwater volcanic shield in the Red Sea. The islands have had numerous volcanic eruptions over the years that have created a number of additional islands. While many of the islands are tourist attractions and provide many opportunities for outdoor activities, including hiking around volcanoes, diving and excursions, the newest of the islands is still largely unexplored. Its size is 530 meters by 710 meters and it still remains unnamed.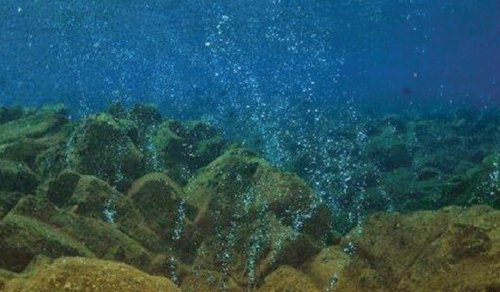 4. Banua Wuhu Location: Sangihe Islands, Celebes Sea – Country: Indonesia Date of formation: unknown
Unlike the other islands on this list, Banua Wuhu is an underwater volcano in the Sulawesi Sea that rises more than 400 meters from the sea floor and almost reaches the surface of the water, forming a shallow bank. Over the years it has formed a number of temporary islands, which have since been eroded by the waves. The islands were discovered in 1835, 1889, and 1919, but only a few rocks have remained of them since then. Because of the volcanic activity in the area, Banua Uhu is a popular scuba diving destination for tourists and scientists alike.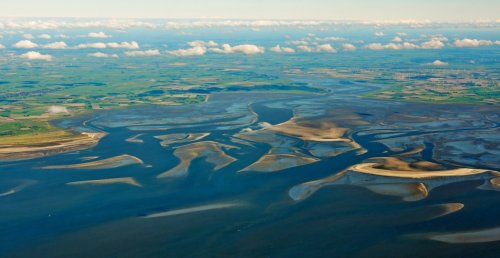 3. North Frisian Barrier Island Location: Norderoogsand Island in the North Frisian Islands Archipelago, North Sea – Country: Germany Date of formation: 2013
North Frisian Barrier Island is a unique sand spit in the North Sea that constantly changes location and shape due to tidal waves. Over the past 50 years, three different sandbars have risen from the bottom, but their shape and location are constantly changing. During the summer months, the sand spits become almost one meter higher because of the sand deposited by the waves, but during the tide, their surface goes under the water. The sandy shores of these spits are covered with wheatgrass and provide shelter for a number of birds and harbor seals. Because of their importance for animal migration, the archipelago of these islands is a protected area and part of the Schleswig-Holstein Wadden Sea National Park. All human activity on the islands is prohibited. On Süderoogsand, the oldest of the islands, there is a lighthouse, which was erected in 1985 to provide orientation and shelter for shipwrecked sailors. In 2013, the highest point of the sandy shore of Norderoogsand reached 3.5 meters, thanks to which it is now listed as a new island.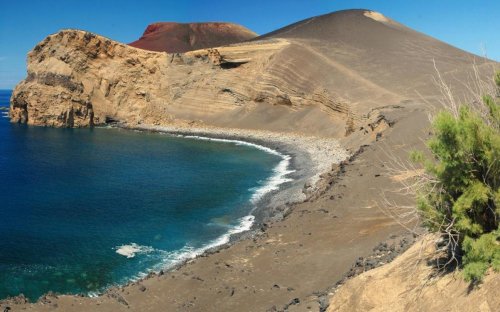 2. Ilha Nova, Capelinhos Location: West coast of Faial Island in the Azores – Country: Portugal Date of formation: October 10, 1957
From September 27, 1957 to October 24, 1958, a number of geological events occurred on Faial Island in the Azores. These included two major volcanic eruptions, as well as more than 300 earthquakes that destroyed 300 homes and led to the evacuation of more than 2,000 people from the area. By October 10, 1957, lava and ash ejected by the volcanoes created a new island off the coast of Fayal Island, which was named New Island (Ilha Nova) by local residents. Further deposits created an isthmus connecting New Island with Fayal Island. The volcano has been dormant ever since, but has become a popular tourist attraction in the area.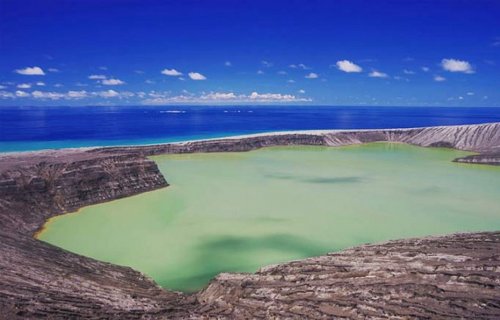 1. Hunga Tonga – Hunga Haʻapai Location: Between the islands of Hunga Tonga and Hunga Haʻapai, in the South Pacific Ocean – Country: Kingdom of Tonga Date of formation: 26 January 2015
Hunga-Tonga – Hunga-Hapai was an underwater volcano located between the islands of Hunga-Tonga and Hunga-Hapai. However, on March 16, 2009, this volcano erupted, creating an island several square kilometers in diameter. In November 2014, volcanic activity resumed and underwater earthquakes began to occur, once again changing the area. The eruption stopped on January 26, 2015. As a result, the new island merged with Hunga-Hapai Island and was only 200 meters away from merging with Hunga-Tonga Island. At the moment, the island is open to tourists and locals have already begun to explore its surface. Although plants have not yet begun to grow on its surface, a number of birds have already begun to nest on the island, which is a sure sign that this island will become a great preserve for birds.
The northernmost island found on Earth: why it was not noticed until 2021
Our planet is huge, and although man has been seeing it from space and studying it in the most advanced ways for 60 years, something remains unexplored. Certain corners of the Earth are often simply unnoticed, and a new island recently appeared in the Danish part of Greenland, discovered by accident.
What Scientists Discovered
The size of the island found in the Northern Hemisphere is some 1800 square meters. It is located 780 meters from another island, Oodaak. The latter is not very big either. A typical spit along the coast, consisting mainly of gravel. Initially, it even took some time for scientists to figure out what they had found.
When our planet is completely free of ice, many of the islands will be submerged. Photo: WestendRaider/flickr.com
The fact is that when they found the specialists from the University of Copenhagen, guided by GPS coordinates, suggested that in front of them is not a single island, but part of the Oodaak. They even posted photos of the island on social networks, to which they received many responses. Among the readers were fans of American island hunting, who under the photo actively began to discuss what it was. Such a strong reaction forced scientists to reconsider their assumption.
After talking to an expert from the Technical University of Denmark, they discovered that their calculations were initially flawed. And what they perceived as part of an old island was in fact a new one, previously unknown. In fact, they almost missed the discovery of the northernmost island on our planet.
Some islands appear and disappear without even being on the maps. Photo: Simon Hirsbrunner/flickr.com
However, you should not get excited about this event. The island itself is only three meters above water level. With global warming, which promises to flood vast areas of land by 2040 (read about it here), this newly discovered island will be flooded very quickly. On the other hand, it probably won't even live to see that time. With the next storm, the place will fade into oblivion in much the same way it came into being.
What this means for us
Finding new islands in the ocean is still possible. Man has not gone that far in his exploratory curiosity. The fact that we haven't found this island before is probably not the fault of scientists. It probably appeared quite recently, and since the seas are never calm, there could be a huge number of such "islands" on our planet. But there are also plenty of unexplored corners on Earth, where we have not yet been.
The islands may have formed from a major storm. Photo: Stig Nygaard/flickr.com
Recall that we also told about 7 fake discoveries that many people believed. You can read about them at the link .
Source : news.ku.dk
Join our community on Telegram, we're already over 1 million people