Biography and Memoirs " From My Life: Poetry and Truth " Part One " Preface
As a preface to the present work, which needs it more than any book, let the letter of the friend who [2] moved me to this inherently risky venture serve as a preface.
"At last, dear friend, we see before us all twelve volumes of your poetic works [3] and, rereading them, we meet much that is familiar, much that is unfamiliar; moreover, this collection revives in our memory something that seems long forgotten. One cannot help but look at these twelve books of the same format standing next to each other as a whole, and, of course, one wants to use them to get an idea of the author and his talent. If you remember the rapid, tumultuous beginning of his literary journey, then twelve volumes in the long time that has elapsed since then, perhaps, and not enough. Further: reading the individual works, it is impossible not to note that almost all of them owe their appearance to this or that occasion, and in each of them clearly visible certain external circumstances, as well as stages of internal development of the author, as well as moral and aesthetic maxim and views, born of the spirit of the time. In general, these works are not related to each other: sometimes it is impossible to believe that they came from the same writer.
Nevertheless, your friends have not abandoned further research; well acquainted with your life and way of thinking, they are trying to solve these or those puzzles, to solve these or those problems; as they are accompanied by old love and strong relationships, they find even a certain charm in the difficulties encountered on their way. And yet in other cases assistance, which you will hopefully not refuse to those who have such friendly feelings for you, would be very, very desirable.
Thus, the first thing we would ask you to do is to place the poetic works in chronological order, arranged according to their inner thematic connections, and also to tell us of the states of life and mind which served as material for them, and then, in a certain sequence, to speak of the examples which influenced you and of the theoretical principles which you adhered to. Let these efforts of yours be devoted only to a narrow circle of readers-it is not impossible that from them will arise something pleasant and useful to a wider circle as well. A writer, even in his old age, should not neglect conversations with his adherents, if only at a distance. And if not everyone in their old age is still able to produce unexpected, powerfully affecting creations, it is precisely at this time, when experience becomes more extensive and the consciousness more distinct, how interesting and invigorating it would be to turn again to something previously created and process it in a new way, so that it contributes a second time to the formation of people who at that time were formed together with the artist and under his influence.
This call, so amiably expressed, awakened in me a desire to respond. If in our youth we always want to follow our own path and, in order not to lose it, impatiently reject the demands of others, in later years we cannot help but rejoice when the participation of loving friends that excited us gives us the impetus to new activities. I have therefore without delay taken up the preliminary work and arranged in chronological order my large as well as small works printed in the twelve volumes mentioned. Further, I tried to recall in my memory the time and circumstances under which these works arose. But it soon turned out that this was not so easy: to fill in the gaps between the works I had published required the most detailed instructions and explanations. The fact is that my first experiments are missing from this collection, as well as much of what I had begun but was unfinished – moreover, in some cases the external appearance of some finished works has been erased, because in the course of time they have been reworked and cast into a new form. Besides, I could not pass over in silence my studies in the other arts and sciences-all that I had done in these seemingly alien fields, both alone and in collaboration with friends, in silence, for myself or for publicity.
All this I also wished to touch, seeking to satisfy the curiosity of my well-wishers, but research and reflection led me farther and farther; as I – in accordance with their deeply considered requirements – strove to reconstruct in order all my inner impulses, externally perceived influences, [4] as well as the stages of development I had passed – theoretically and practically – I was suddenly carried from private life into the wide world: A great number of significant people who had influenced me in one way or another appeared in my memory, and it was all the more impossible to pass by the tremendous shifts in world political life, which had a powerful influence on me and almost on all my contemporaries. It seems that the main task of biography is to portray a man in his relation to time, to show to what extent time was hostile to him and to what extent it was favorable, how under the influence of time his views of the world and of people were formed and how, as an artist, poet and writer, he was able to recreate all this for the outside world. But this requires something almost impossible, namely that the individual should know himself and his age, himself because he has remained the same under all circumstances, his age because time takes everyone with it, whether he wants it or not, defining and shaping him, so that a man, born ten years earlier or later, would be quite different as far as his own development and his impact on the outside world are concerned.
Thus out of such searches and observations, recollections and reflections, the present book has arisen; only by giving an account of its history can the reader judge it correctly, understand it and assimilate it. And what more could be said here – mainly about the poetic and at the same time historical treatment of the material – will undoubtedly find its place in the course of the further narrative.
Why did Goethe and other Germans travel to Italy?
Slovo/SLOVO Publishing House has published the fifth book by the Italian art historian, gallery owner and writer Philippe Daverio, "The Art of Looking at Art. From Giotto to Warhol," which includes Daverio's most scathing articles published in Art e Dossier, of which he was editor for many years.
We publish a chapter from which you will learn how (and why) Johann Wolfgang Goethe (and his other compatriots) traveled in Italy.
You can order the book on the publisher's website.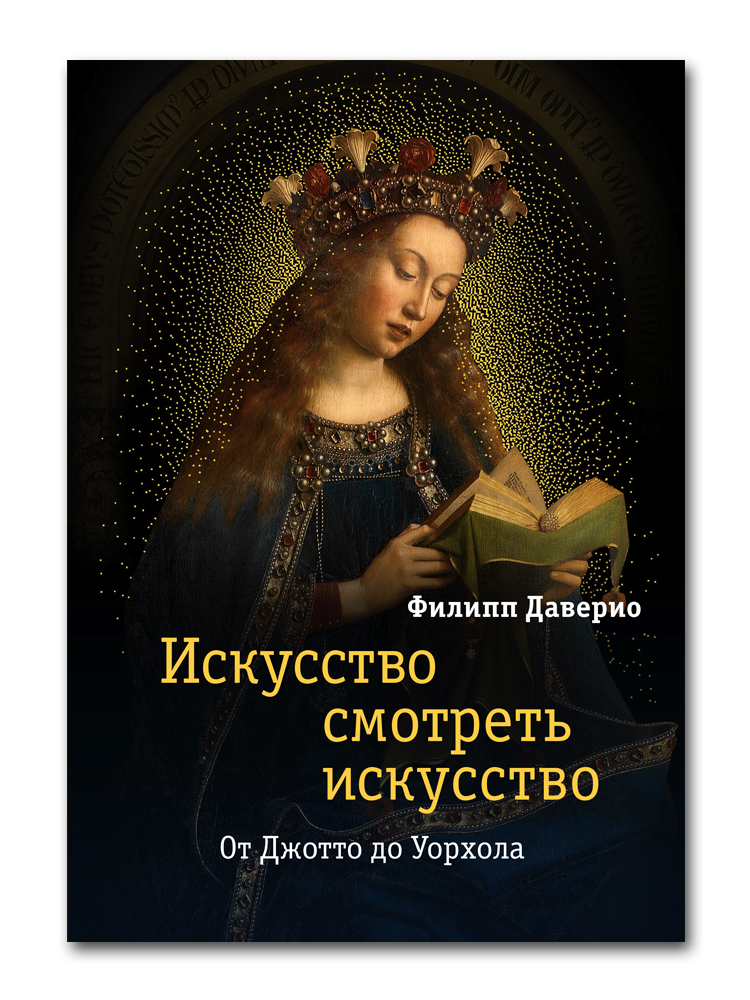 Mythos Italien
The Grand Tour nurtured the creativity of many generations of artists, musicians, writers and those who aspired to be them. Johann Wolfgang Goethe found himself in Italy at the end of the eighteenth century, but his attitude toward the Belpaese* would be quite different from the impressions of his predecessors. From then on, the myth of the voyage to the South will be different.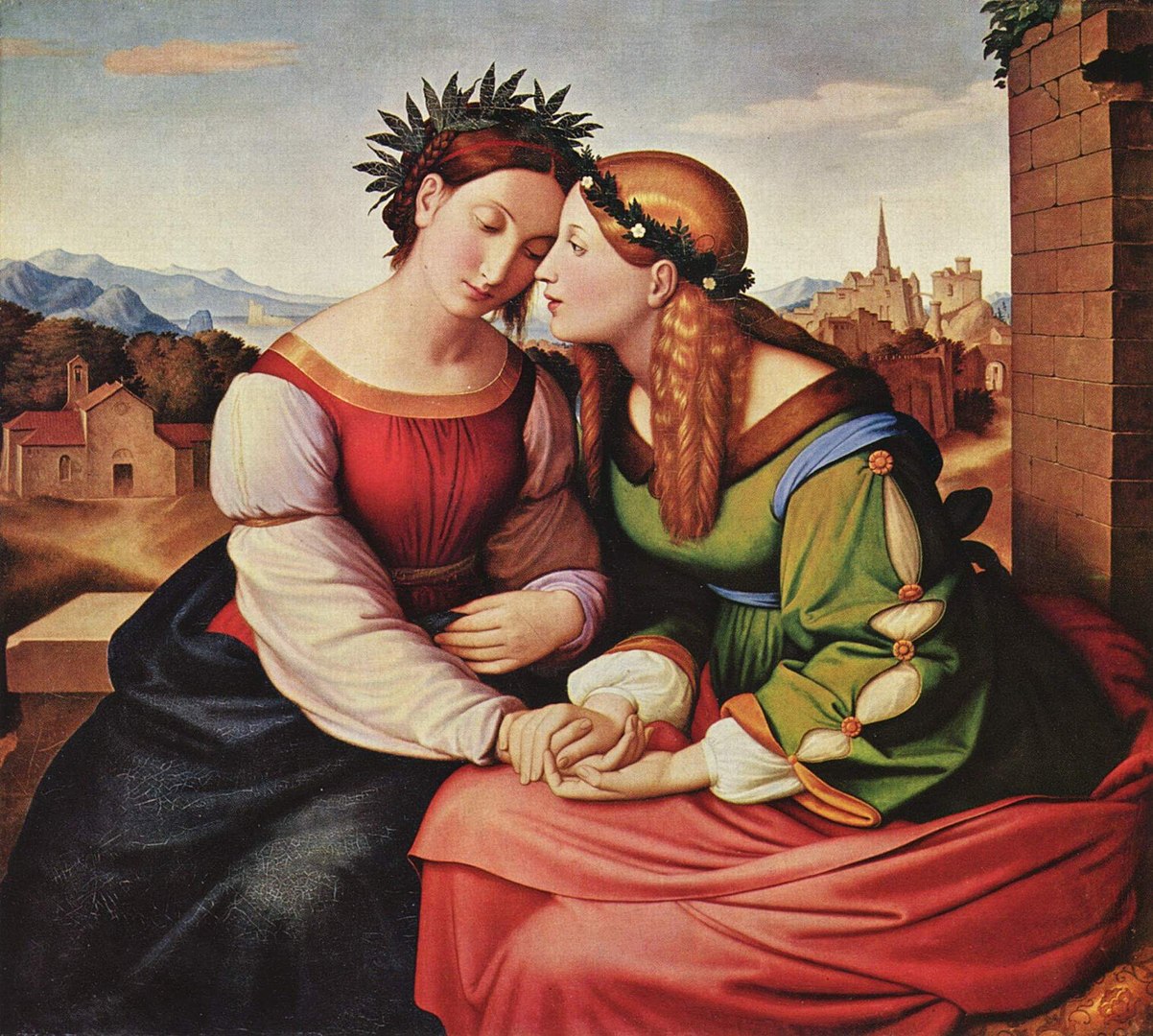 Friedrich Overbeck. Italy and Germany. 1811. Munich, New Pinakothek
What are all these Germans looking for in Italy? Everyone knows why the Germans of today come here, just do a little research on the beaches of the Adriatic, where food and shelter are modestly priced and wine is always available. But what were the Germans of yesterday looking for here?
In this connection, one must necessarily think of Goethe, who did not hesitate to embark on a long journey to the country "where the lemon groves bloom." What draws him to the south? Certainly not the Drang nach Süden** ("Onslaught on the South") that has driven German hordes to invade the peninsula since the time of Brennan. Goethe came from a good family; his father was a lawyer or so, but he lived in his own world and prepared his son for the same useful fate, and his mother was the daughter of a major city official. This allowed Goethe to waste time in the then fashionable Leipzig, for which he had to change his closet and drink beer with his comrades; to graduate from the University of Strasbourg, which he attended without pleasure, but where he met the early figures of The Tempest and the Tide; and to be in Wetzlar, where, following his experiences of love disappointments, the Sorrows of Young Werther was born in his mind.
In 1775, when Goethe for the sake of an administrative career moves to Weimar – a picturesque town with six thousand inhabitants in a duchy with a population of one hundred thousand – he is twenty-six years old, the novel and the suicide that followed the publication made him famous. In Weimar, the writer becomes a minister, receives a title of nobility and falls in love with Mrs. von Stein, who shed a lot of tears after one night at three o'clock Goethe secretly and under a false name sits in a carriage and go on a quest for adventure. Italy.
From 1786 to 1788 he travels around the country. But the Italian myth had already existed for him before, for in 1782 Goethe wrote "Song of Mignona" and the famous lines "Kennst du das Land, wo die Zitronen blühn? "***. This myth goes back to his childhood: his education was mostly at home, and his teachers taught him French, English and Italian within the walls of the house, where there were engravings that the poet's father Johannes Caspar brought back from his own "educational trip" to Italy, along with a small book he had written in Italian.
For Johann Caspar Goethe in 1740 the Grand Tour was a natural and perhaps even obligatory thing. For Johann Wolfgang Goethe things are quite different. He is a famous writer, but in addition, by virtue of the home education mentioned, he is also a brilliant cavalier, a good painter, cellist and pianist. Technically, he is ready to travel, because Italy is a country of theater, music, and monuments to be seen. We say "monuments to be seen," because Goethe does not focus on Renaissance masterpieces on his trip as the previous generation did. He spends only three days in Florence.
He is drawn by the crowds of Venice, mesmerized by the colors of Naples and the poverty of Sicily – much more than the ancient temples that thrilled Winkelmann. He stops in Rome, where he meets Tischbein and, thanks to his new friend, discovers a new painting and visits Hackert, who paints the rural landscapes of Caserta for Ferdinand IV.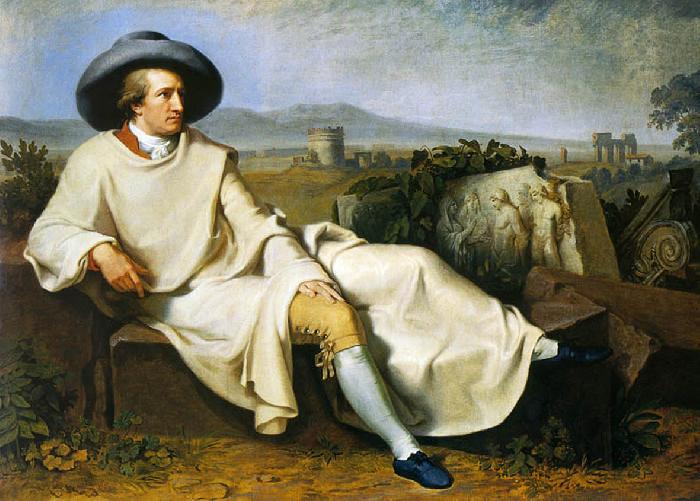 Wilhelm Tischbein. Goethe in Roman Campagna. 1787. Frankfurt am Main, Städel's City Gallery
He will remember the years he spent in Rome as the best of his life: it was then, on the threshold of his forties, among the rural landscapes of Lazio, that he learns the beneficial effects of carnal love with Faustina after the many sufferings that platonic love had brought him in Germany. He becomes an anthropological and political observer. About Italy he expresses the following thoughts: "Popular can only be made popular by drinking commoners and selling tall tales, day after day showing leniency to weaknesses and thereby aggravating them; therefore our times also find satisfaction in vulgarity.
Or, "It is always the people who dispose. The rich may boast and build themselves palaces; the noble may rule, but the people use the galleries and atriums built for their needs."
When Goethe returns to Venice for the second time in 1790, he shares with his dear Faustina the scathing words: "The land I have now left is Italy: the dust still swirls, / The traveler, wherever he sets foot, will be counted everywhere. / Look in vain for some German honesty: / Life, though in full swing, has no order to it. / Every man here is for himself, every man disbelieves others, every man is arrogant, / And every ruler thinks only of himself." ****. He is enticed by the beauty of the country and the life in it, but in human terms he is disappointed in Italy. Goethe will begin writing his memoirs of his trip to Italy after 1810, meaning that his thoughts will not really affect the generation immediately following him.
Goethe makes his journey some twenty years after Mozart, who left for Italy at the age of thirteen, in 1769, and remained there until 1771. The young genius was fascinated by the incredibly musical Milan, where Christoph Willibald Gluck and Milan Cathedral organist Johann Christian Bach studied under Sammartini. They both grew up in Italy and learned the musical and singing language of opera there. Thus an Italian myth developed, different from the one spread by Consul Smith when he sent Canaletto's paintings to England.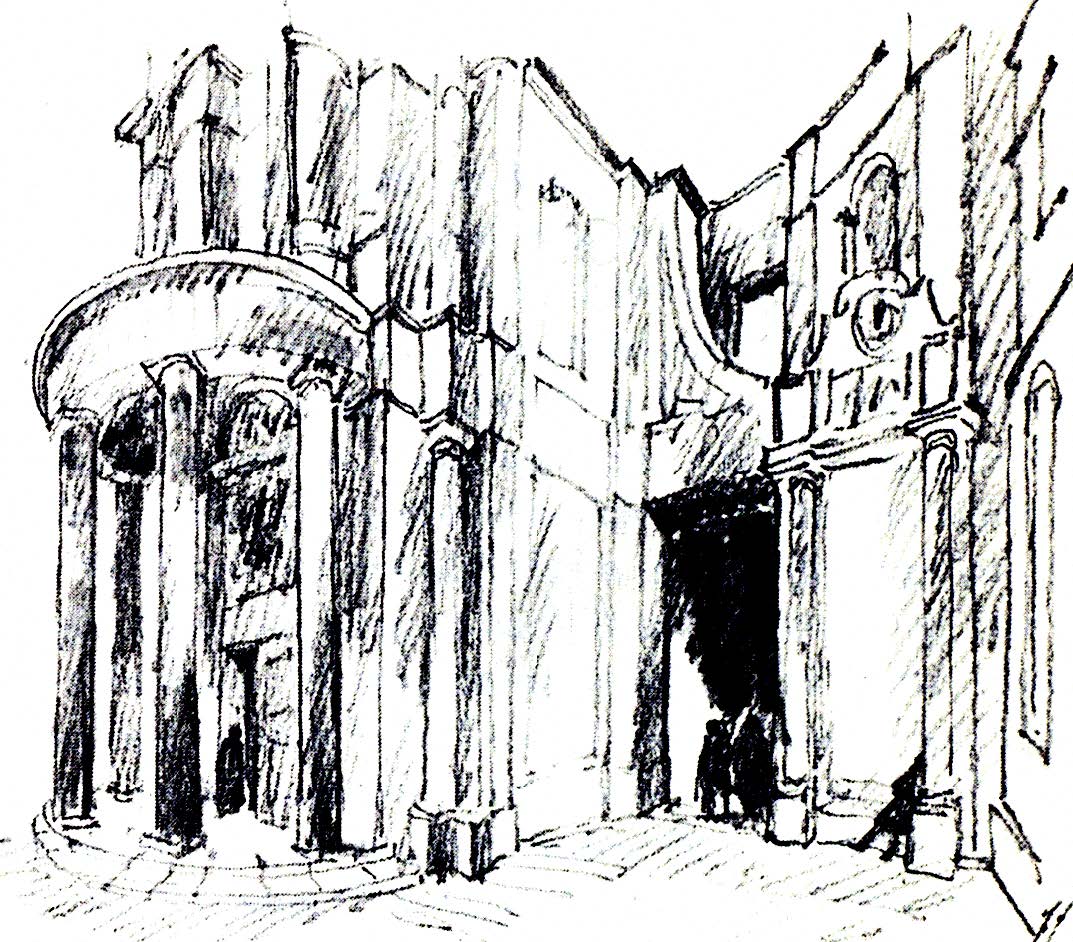 Johann Caspar Goethe. Drawing made during a voyage to Italy. 1740
This myth becomes so German that it penetrates deeply into the mind of a young writer from a fine Berlin family, Wilhelm Heinrich Wackenroder (1773-1798). Unfortunately, he died early of typhoid fever and managed to write very little: the anonymously published Heartfelt Exhalations of a Monk Who Loves Art (1796) and a work on music that his friend and fellow poet Ludwig Thicke would posthumously print under the title The Remarkable Musical Life of the Composer Joseph Berglinger. Here again, music and image create a new aesthetic that denies the rationality of the Enlightenment age and finds its source of inspiration in the spontaneity of the senses. Henceforth, the few "chosen souls" are no longer the rebels of The Tempest and the Tide, but artists who demonstrate a new, gentle and easy sensuality. Raphael in his story becomes a symbol of sincerity: "I am addressed to a certain image, represented by me and coming down to my soul." *****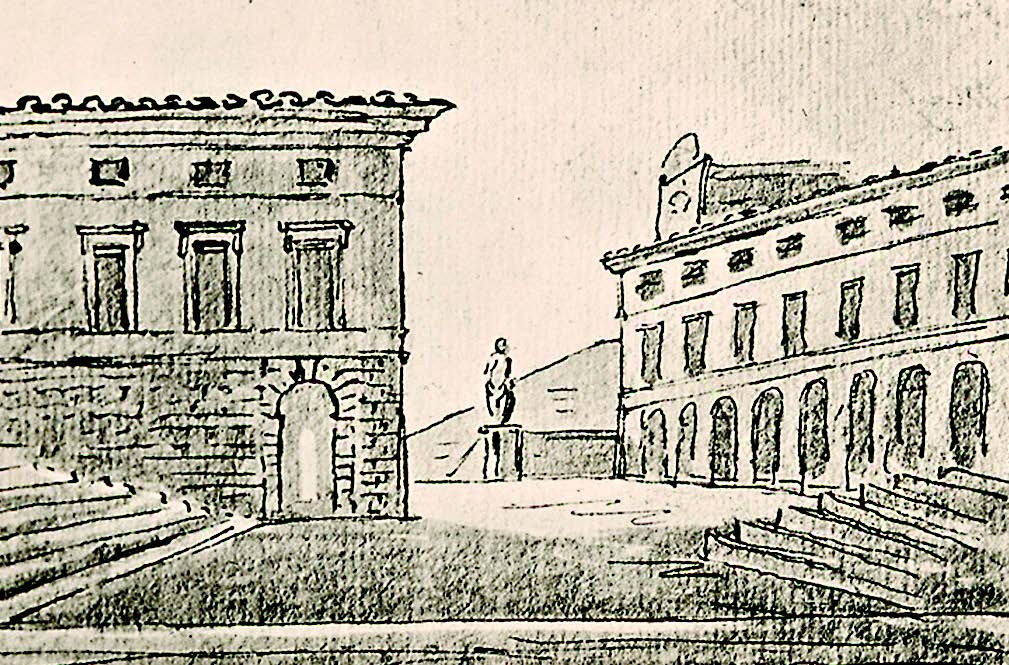 Johann Wolfgang Goethe. Drawing from notes on a journey to Italy. 1786-1788
Wackenroder's pages, which awaken the imagination without mediation, have everything and more, including a future fascination with Eastern saints. There is here a foreshadowing of the light irony of Heine, and the roots of a newfound Middle Ages that connects with the Renaissance the work of Dürer, who was also greatly influenced by the journey he made to Italy. All this was enough for a group of young artists in Vienna to form the St. Luke's Union in 1809 and embark on a journey to the mysterious South.
On June 20, 1810, their small group ends up in Rome with Overbeck, Pforr, Vogel, and Gottinger. They are then joined by Peter von Cornelius, the brothers Wilhelm and Rudolf Schadow, and a little later by Philip Feith. The artists lead a monastic life and grow their hair, which is why the artist Koch, who had long since settled in Italy, would call them "Nazareans. This is an avant-garde new wave group that sees in post-Napoleonic Italy something similar to what India would later become for hippies: a place filled with mystical and artistic meanings, transformed into mythical and artistic ones.
Turner's travels to hopelessly impoverished Venice after the decline of the Serene Republic of Venice are imbued with the same spirit that would drive Wagner to die in the Palazzo Vendramin and Thomas Mann to write his masterpiece.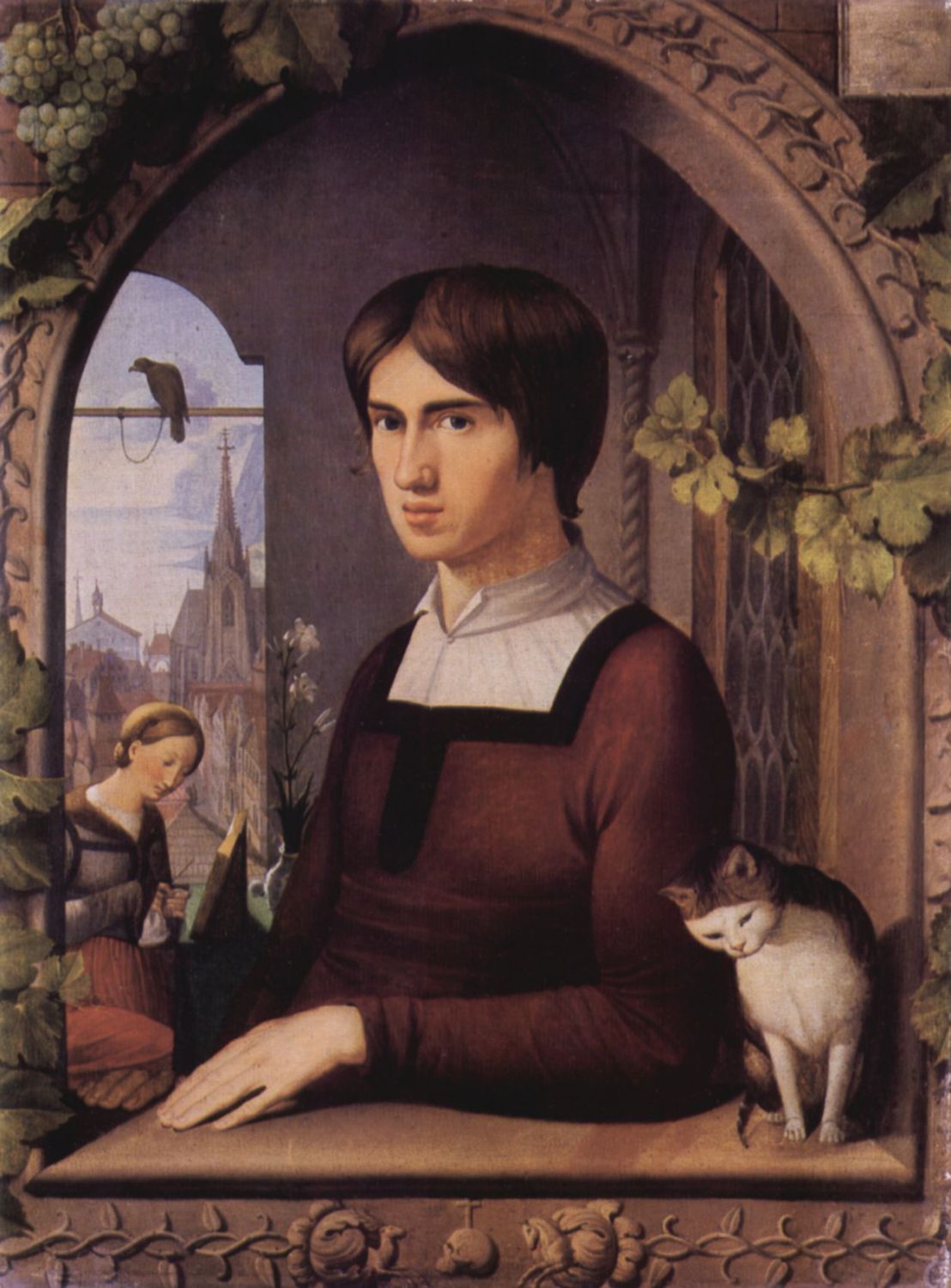 Friedrich Overbeck. Portrait of the painter Franz Pforr. 1810. Berlin, Old National Gallery.
Italy is dying. Goethe sensed this and left, arguing that a life without purpose is tantamount to an early death. Pforr died there for real, barely making it to Albano. Raymond Roussel originally committed suicide at the Hotel de Palme in Palermo on the day of the French national holiday, July 14, 1933. In 1931 Baron Wilhelm von Glöden died in Taormina, who had photographed young tanned boys in Sicily as Third World youths.
Perhaps that is why Hermann Hesse decides to settle just outside Italy, in the Swiss canton of Ticino, near the very Ascona where the best of the northern European intelligentsia had taken refuge during World War I, who could not accept the idiocy of the conflict.
Notes
* The beautiful country (it.) is a well-established poetic name for Italy, known since the days of Dante and Petrarch.
** Paraphrase of the slogan Drang nach Osten: "Rushing to the East," from the 19th century describing the German colonization of the east to expand the German "living space.
*** "Do you know the land where the lemon groves bloom?" (translated by M. Mikhailov).