Georgian vacations
Gamarjoba, genatsvale! We invite you to our unforgettable, bright and colorful tour of Georgia.
How long we've been waiting for the borders to open, and now it's here! There is no time to think, we have to grab our passport, throw it in our backpack and get ready, because we are going to visit Georgia's capital Tbilisi, the wine region – Kakheti and famous factory "Kindzmarauli", the city of love – Sighnaghi, majestic Kazbegi mountains and much much more!
It will be not just a Georgian vacation, it's a small life, which you will live together with like-minded people, the same adventurers and lovers of new and unexplored! This is new acquaintances, experience and knowledge, this is the most vivid emotions and memories, it is your first country abroad, or maybe another one conquered, it is an opportunity to fully reload and relax at maximum!
August 12-14, 19-21 and 26-28
September 2-4, 9-11, 16-18 and 23-25, September 30-October 2
October 7-9, 14-16, 21-23 and 28-30
November 4-6 and 11-13
DEPARTURE DAY IS THURSDAY
Departure from Krasnodar at 19:00 The place of the departure: parking lot of the store "Munich" (127 Krasnaya St.)
Also you can join us in the following cities: Minvody, Pyatigorsk, Nalchik, Vladikavkaz.
DAY 1 (FRIDAY) – GAMARJOBA, GENATSVALE!
At once we want to note, that the passage from the border and the road in total can take from 12 hours and more. So please take light plaid blankets and pillows on the road, and good mood.
But with favorable weather conditions and absence of traffic jams at the border crossing time will be minimal (let's hope for the best).
On the way we are having lunch. Ohhh, here starts our gastro-tour in the tour We all know that Georgia is distinguished by an incredible cuisine, in the morning we will start to try it.
We drive to Tbilisi. Check in to the hotel, have some rest, and then with new energy go on our first excursion 16:00 – starting an unforgettable acquaintance with the best and most beautiful places in Tbilisi. Our local guide will show you everything in the best traditions! So what will we see?
– Freedom Square – Baratashvili Ave. – Gabriadze Marionette Theatre – Anchiskhati Church – Peace Bridge – Figi Gorge – Sulfur Baths and the famous "Pushkin Bath" – The best and sweetest streets
20:00 – End of our excursion at the incredible viewpoint of the Narikala fortress! You will see the whole city as if on the palm of your hand. And we will go down by ropeway while admiring the panorama of Tbilisi.
20:30 – arrival at the hotel. After such a busy start we need to eat something delicious! We are having a powerful Georgian feast, getting to know each other better, sharing impressions, and of course, a lot of khinkali and wine!
DAY 2 (SATURDAY) – STRAIGHT TO PARADISE (OOPS, THAT IS WINE LAND).
08:30 09:00 – breakfast at hotel and drive to Kakheti. Kakheti is rightfully called a wine region, because this is where most of the wine in the whole Georgia is produced!
12:00 – 14:30 – We will have a tour and tasting at the winery "Corporation Kindzmarauli" – one of the oldest and largest wine producers in Georgia. We will see how the whole cycle of wine production is carried out. Then we will have a delicious lunch at the restaurant of the winery: our favorite khinkali and great wine! Afterwards, everyone will have some free time to buy souvenirs, walk around the territory on their own and buy wine.
14:45 – Group gathering and departure to the City of Love Sighnaghi and the Church of St. Nino
16:30, we visit the Saint Nino Women's Monastery. Here we will be told about the history of these sacred places, we will have a walk in the beautiful courtyard, which also has great views. Everyone will be able to enter the temple (in the appropriate form).
17:30 – Arrival in Sighnaghi. On the way we will explore different corners of this romantic town, we will hear its history from our guide. We will visit the central park, the observation point overlooking the town, and then climb the tower of the fortress wall to get a breathtaking view!
19:00 – group gathering and departure for Tbilisi.
20:30 – Arrival in Tbilisi. Here we have some free time: those who are tired can take the bus to the hotel, and the most active – to walk around the city or spend an evening with new friends
DAY 3 (SUNDAY) – VISIT CARDS OF GEORGIA
09:00 – 10:00 – breakfast, packing, check-out and check-in.
11:30 – 12:00 – Visit Anauri Fortress and the largest reservoir in eastern Georgia. Anauri fortress is not only one of the best monuments of late feudal Georgia, but also a UNESCO World Heritage Site
12:30-13:30 – Lunch in a wonderful restaurant in the village of Pasanauri. We will have traditional Georgian cuisine before driving home.
14:30 – Arrival at the People's Friendship Arch. The majestic stone construction overlooking the Devil's Valley attracts tourists on its own and on its panoramic platform at the height of 2384 meters.
15:30 – arrival to the village Stepantsminda which is situated at the foot of majestic Kazbek Hill! The village and its surroundings are amazingly picturesque: you can see breathtaking views of snow-covered mountain peaks! We will see Kazbek mountain which is 5033 meters high and covered with eternal snows and glaciers. We will also visit the Trinity church which is the only cross-domed temple in the Khevi region.
It is here, standing at the foot of the incredibly majestic mountains, that we make a wish to return to Georgia for sure! Of course we don't say goodbye, we say "nahvamdis" to Georgia, and happily go home.
At 5:30 p.m. we go home happy and satisfied.
Here again, a reminder that our return time depends on the situation on the road and the border. We hope for the best!
ORIENTED TIME of arrival to Krasnodar: 05:00-10:00 (Monday).
LIVING
For our tour we chose cozy hotel "Calista hotel" and not without reason! After choosing many different hotels and believing personally their quality and service, we can say with certainty that this hotel has the friendliest staff, clean and spacious rooms, and an amazing buffet breakfast. And the big plus is that it is completely at our disposal! No one is superfluous, just us and you)
All rooms with amenities. The rooms have TV, air conditioning, closet, kettle, fridge, hairdryer, slippers, bathroom accessories.
Your vacation with us will be wonderful, and with accommodation in such a wonderful place – twice as comfortable and better!
PRICE: 27 000 rubles/person*.
HOT! September 9-11 at a discounted price: 23 500 rubles/person
When booking one month before the tour and earlier we offer seats at a cost of 24 900 rubles/person
Price includes: – transfers by the program (Krasnodar-Georgia-Krasnodar and all transfers inside the tour); – meals (according to the program); – Georgian welcome dinner on the first day (khachapuri, khinkali, wine and other national dishes); – dinner at the winery "Corporation Kindzmarauli" (original khinkali, white dry wine); – accommodation in a hotel with amenities; – entrance tickets at all locations; – vivid photo report; – accompaniment by local guide on excursions; – excursion and tasting at the winery; – accompaniment by our team member throughout the tour; – ascent to Tbilisi by cable car (open from the bird's flight); – jeeping to the Trinity Fortress at the Kazbegi.
The price does not include: – souvenirs; – purchase of wine – dinner on the second day.
With itself: – passport; – a pillow under your head on the way (almost mandatory); – headgear; – sunscreen and glasses; – comfortable shoes and comfortable clothes for the tour! (you can take a couple of beautiful dresses for the photo).
The passport (must be valid during the whole period of stay in the country and have 2 blank pages for stamps, and not to have marks of Abkhazia and South Ossetia);
Want to join us? Click the "Book" button to leave a request. The tour organizer will contact you and tell you more about the booking.
If you have any questions about this tour, write us on WhatsApp (+7-937-549-30-69).
Vinsky's Forum
Georgian Vacation Summer 2016(Tbilisi-Kakheti-Batumi-Gudauri)
Car travel to Georgia reviews, travel to Georgia by your car reviews, travel around Georgia by car reports
This forum is currently viewed by: no registered users and guests: 1
Likes:
Georgian Vacation Summer 2016(Tbilisi-Kakheti-Batumi-Gudauri)
ctacbka91 " 24 Aug 2016, 14:53
On New Year's Eve our family has a tradition – everyone writes down the wishes that he would like to fulfill this year on a piece of paper and puts them in a box, and the next New Year we all read them and see what came true. My husband and I wished to go to Georgia, we have been dreaming about it for about a year. dreams do come true! On July, 23rd at 4.00 in the morning we have gone away from Moscow. The road was very heavy, there were heavy traffic and heavy showers, so we drove about 16 hours to Rostov, and spent the night there. On the 24th, at 11:00 am, we drove towards the border, and at 00:00 am we arrived at the border, stood in line and went to bed, as the border opens at 4:30 am Moscow time, and works only 14 hours. Mudflows have recently come down and are undergoing repair work that will last until November. Those 4 hours of "sleep" are the only unpleasant memories of the entire trip: cold, cars driving back and forth all the time and impudent Armenians trying to get in without waiting in line. But all the worst is behind us, 6:00 am and here we are in a wonderful country, around the gorgeous mountains and the air that is impossible to breathe in… Stopping to admire the views and go to the destination – Tbilisi. 3 hours more my husband is driving, he's already tired to death, so my shouts of a request to stop and ignore photos, promising to do this on the way back)) Separately, I would like to draw attention to the specifics of the local drivers These people are always driving with the open window, air conditioner does not use, even if the heat +40, constantly beeping and do not use the turn signals…Although what can I say about turn signals, they do not use any headlights in the daytime! A lot of police cars, they do not stand still as we do, and constantly ride in search of offenders. I liked their cars very much, they are just like cars from American movies, some fords, but I do not know the exact model)). We were very lucky with the accommodation in Tbilisi, we stayed at Hotel Dayroom Sulkhan-saba apartment, it was a minute walk away from Freedom Square. Tbilisi is a beautiful city, very colorful. The narrow streets, private yards with a life of its own inside each house and very friendly people. The program in Tbilisi was standard, we visited the main attractions, took a ride on the cable car, saw Narikala fortress, walked along Rustavelli Avenue, sat in a cafe on Chardin Street, saw the Peace Bridge, Dry Bridge, Holy Trinity Cathedral, Presidential Palace, Theater of Music, European Square, Sulfur Baths, etc. In Tbilisi there is a market for fruit, spices, churchella, and just to have a nice talk with hospitable Georgians) Here are some pictures of the city.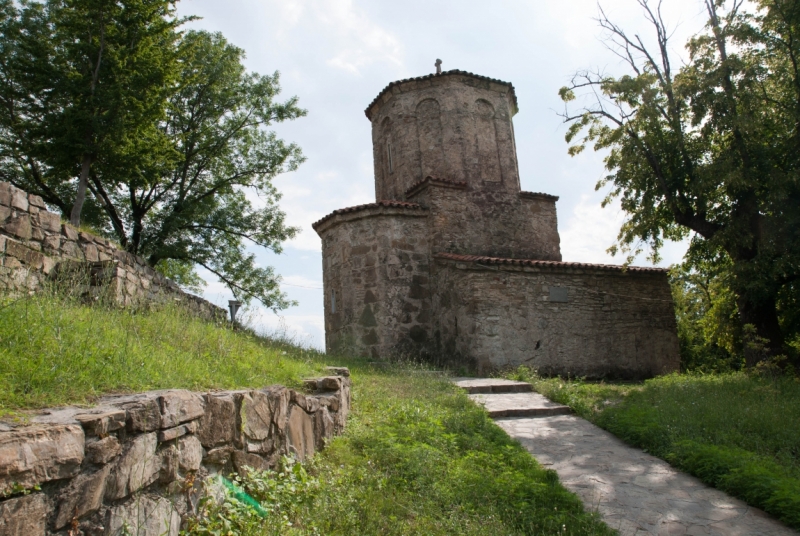 On 27.07 in the morning we went to Kakheti, the plan was to visit Alaverdi monastery, Nekresi fortress and Gremi Castle. Out of all the monasteries in Georgia, where we went, I was most impressed with Alaverdi.
On the way to Gremi Castle we accidentally saw a sign to Lake St. Elijah, and since my husband's name is Elijah and it was hot we wanted to swim, we decided to turn around and absolutely did not regret it. This is a very chic place – an equipped recreation area with sun beds and pavilions, lawns, playgrounds, very clean lake and almost no people. If you're in Kakheti, be sure to stop at this place for a couple of hours. We went for a swim and lunch at a local cafe and then drove forward. Next 2 nights we spent in Sighnaghi, at Hotel Herio. This hotel is located in the center of the city, a wonderful lady hostess in the morning fed us khachapuri and other delicacies of her own making. (I had the feeling that we came to stay with my mother, she was very caring)) And now about the city itself. Sighnaghi is the city of love, and is so called because it has round-the-clock registrations. The town reminds me a lot of Italy – small houses with tiled roofs. We spent our wedding anniversary in this town, on July 28. On the same day we went to the monastery of St. Nino and went to taste the wineries. The first winery was the famous Kindzmarauli. We had a free tour and tasting of 4 kinds of wine for 8 GEL (only I tasted it, my husband was driving). The factory is beautiful and the wine is good, but the girls-guides were talking in boring phrases and that is why we went to the second factory – Hareba. I liked it much more – a huge territory, we were completely alone, a young man (a factory employee) led us through all the rooms, told us about the technology, showed how they work, and then he organized a tasting, absolutely free of charge, I've tasted 8 kinds of wine and 2 chachas.)
On 29.07 in the morning we left for the sea in Batumi. The trip took about 7 hours. We spent 30.07-2.08 on the beach and walking in the city. The city is very beautiful, much richer than Tbilisi. The architecture is very peculiar, different buildings which seem to be incompatible with each other, but it looks very interesting. We were in a Jani apartment on the edge of town but it will take 20 minutes to get to the center by the seafront. The place is very well located, the beaches are empty and the water is clean. The best beach is located in Sarpi, on the border with Turkey, there are large pebbles, but clean water, but the praised Ureki with magnetic sands we did not like so much norodu that sit down nowhere. We visited the botanical garden, we were delighted. We were very lucky to meet a photographer Alex from Baku. Alex politely offered my husband a flash, when my husband was suffering, taking pictures of the sunset) And after their conversation about the mirrors, Alex took us a few wonderful professional photos which he then sent by mail)
And some more pictures of sunny Batumi.
2.08 we had planned to go to Svaneti, but after traveling about 4 thousand km we realized that we could not endure 16 hours of serpentine roads. It was decided to spend the last couple of days of our vacation in the mountains, as we planned initially, but not in Svaneti, but in Gudauri – close to the border. By the way if you, like us, dream about going to Svaneti, I advise to fly from Tbilisi and Kutaisi. The flight time is no more than one hour and the price is 65 GEL. We were unlucky – till 11.08 Mestia airport was not working. We arrived in Gudauri at 22.00, it was already dark, the lamps didn't work and it was very difficult to find our hotel. We stayed at New Gudauri 2, a luxurious hotel, right next to the ropeway. The next day we rode the cable car and walked in the mountains. There was a thunderstorm the day before, somewhere lightning hit, so the ropeway worked in test mode. Two of the three we rode successfully, but the third one stuck. Electricity was cut off and we were hanging in an open cabin in a cloud with rain at +7 temperature for about 20 minutes, it was scary)) But we got to the top at 3300m, the temperature was +3. Everything around was in clouds, so we did not see the most beautiful things and went down. The next day in Gudauri there was no electricity, nothing worked and we drove to the border. I want to point out that the wine can be taken in any quantity, we had 3 cases, the border guard said "aya-yai", sent my husband to read the rules that can carry only 3 liters per person and, wishing us a happy journey, let go)) In conclusion, Georgia is a wonderful country. The gorgeous mountains won us over, we will definitely come here again as there was so much to see!)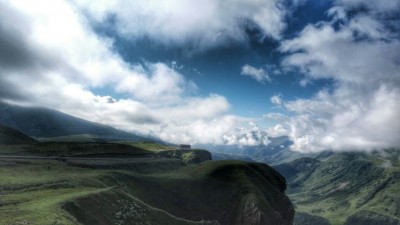 Attachments
New member Posts: 2 Photo: 68 Registered: 24.06.2016 City: Istra Thanked (a): 1 time. Thanked: 0 times. Age: 30 Reports: 1 Gender: Female