Where to rest by the sea in Georgia and how much it costs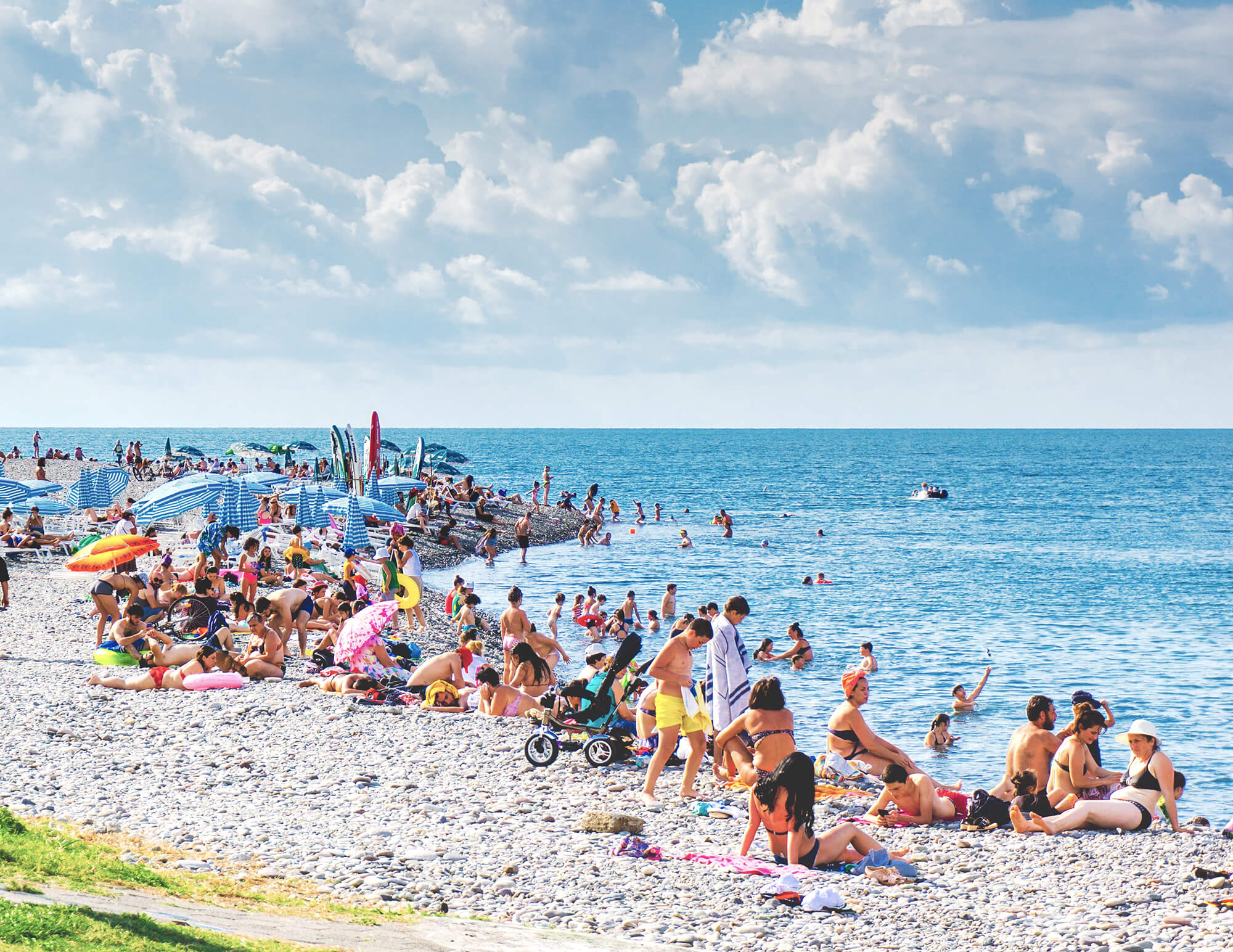 We have visited all resorts in Georgia from Poti to the border with Turkey. We tell you about our impressions – where it is better to come with children, couples and nature lovers. Learn about resort prices in 2022.
Is it expensive to vacation?
Georgians are generous and hospitable people! Compared with Russia and Southern European countries, holidays at sea in Georgia are inexpensive. Prices at the resorts are lower than in neighboring Turkey. In high season, a 2-3-bed apartment with a kitchen costs $ 16-18 per day, and in low season – less than $ 10. A double room in a 3* hotel with breakfast will cost $25-30. To stay at a 5* hotel can cost $ 85-100 – the price of "three rooms" in Barcelona.
Public transport in Georgia is cheap. The ticket for a high-speed train from Tbilisi to Batumi costs $ 8.09 (25 GEL), the fare on the Batumi bus is $ 0.16 (0,5 GEL), and the average price of a cab around the city is $ 1.4 (0,3 GEL).
Expenses for food will not burden your budget either. The average check in a cafe for two is $3.5-5. The streets of Georgian resorts sell delicious khachapuri for $0.5-0.85. Fresh fruit in season costs $0.5-2$ for 1 kg. If you come to Georgia, forget about cappuccino! Try the delicious Batumi-style coffee and you'll know there is happiness. A cup of fragrant drink with a thick crema costs only 1 lari – $0.32.
avokuJ: "You can have a very cheap vacation in Georgia. If you rent an apartment, you practically pay only for travel and rent. Meals are just like at home, even cheaper. Product prices are not globally different from Russian. Dairy products and eggs are a little bit more expensive. Fruit, vegetables are cheaper. While in Russia tomatoes cost 150 rubles per kilo, in Georgia you can buy them for 2-3 lari (50-75 rubles), the same is with berries. Cherries, cherries, strawberries are 75-125 rubles per kilo".
Imperatrica_0604: "On the seafront of Batumi you'll meet a lot of boats, which will offer you a boat trip. We paid 30 GEL for 4 people, it's worth it to admire the beauty of the shore. We even managed to see dolphins swimming nearby".
Sweetlips55: "The price for the subway in Tbilisi is 0.5 lari = 11 Russian rubles. The subway is very different from St. Petersburg and Moscow. I was always smiling and nobody was pushing me or pushing me.
Where to have a better rest
The Black Sea coast of Georgia stretches for 308 km. Choice of seaside resorts in Georgia depends on what kind of vacation you are counting on. The most promoted and largest in size – Batumi. In the modern seaside town like to vacation for young people and parents with children. Batumi has an excellent beach infrastructure, a large selection of hotels and entertainment, the sea water is not as clean as in small seaside villages. Learn about all-inclusive vacation in Batumi.
Gonio and Kvariati are resorts where you can choose a hotel with gorgeous sea views. For the clearest sea water we advise to go to Sarpi, and for sandy beaches – to Ureki, Shekvetili, Grigoleti or Maltakva. There are inexpensive public transport all along the coast. Live in different resorts, and you are sure to find a place to your liking!
Resorts in Georgia on the map
Batumi
Beautiful Batumi is as light and playful as young wine! Tourists from different countries – Russian couples, Ukrainians, Belarusians, residents of Kazakhstan, Turkey, Iran and the UAE – stroll along the promenade of Georgia's main resort. We even met Thais and Indians! Adjarians, Gurians, Mingrels, Turks, and expats from the CIS countries live in the international city. Many of them speak Russian fluently.
Batumi has its own airport, a wonderful old town, interesting museums, a large botanical garden and a wonderful promenade – Batumi Boulevard, which stretches along the sea for several kilometers. You can stay in a hotel, guest house, or rent an apartment from locals. Look for hotels in Batumi on Hotelluk, the best according to tourist reviews:
– from 618 ₽/day – from 940 ₽/day – from 989 ₽/day – from 989 ₽/day – from 1339 ₽/day – from 1854 ₽/day – from 1947 ₽/day.
Batumi beaches are wide and have coarse pebbles, so it's better to swim in special shoes. The water entry is shallow and the depth starts a few meters from the beach. The main drawback of the resort is the nearby mouth of the Chorokhi River. The river carries a lot of trash and silt to the sea when it rains, so the water is not too clean. People of Batumi and tourists love to swim in Sarpi and on Green Cape beach, which is situated in the northern suburb of Batumi – Makhinjauri.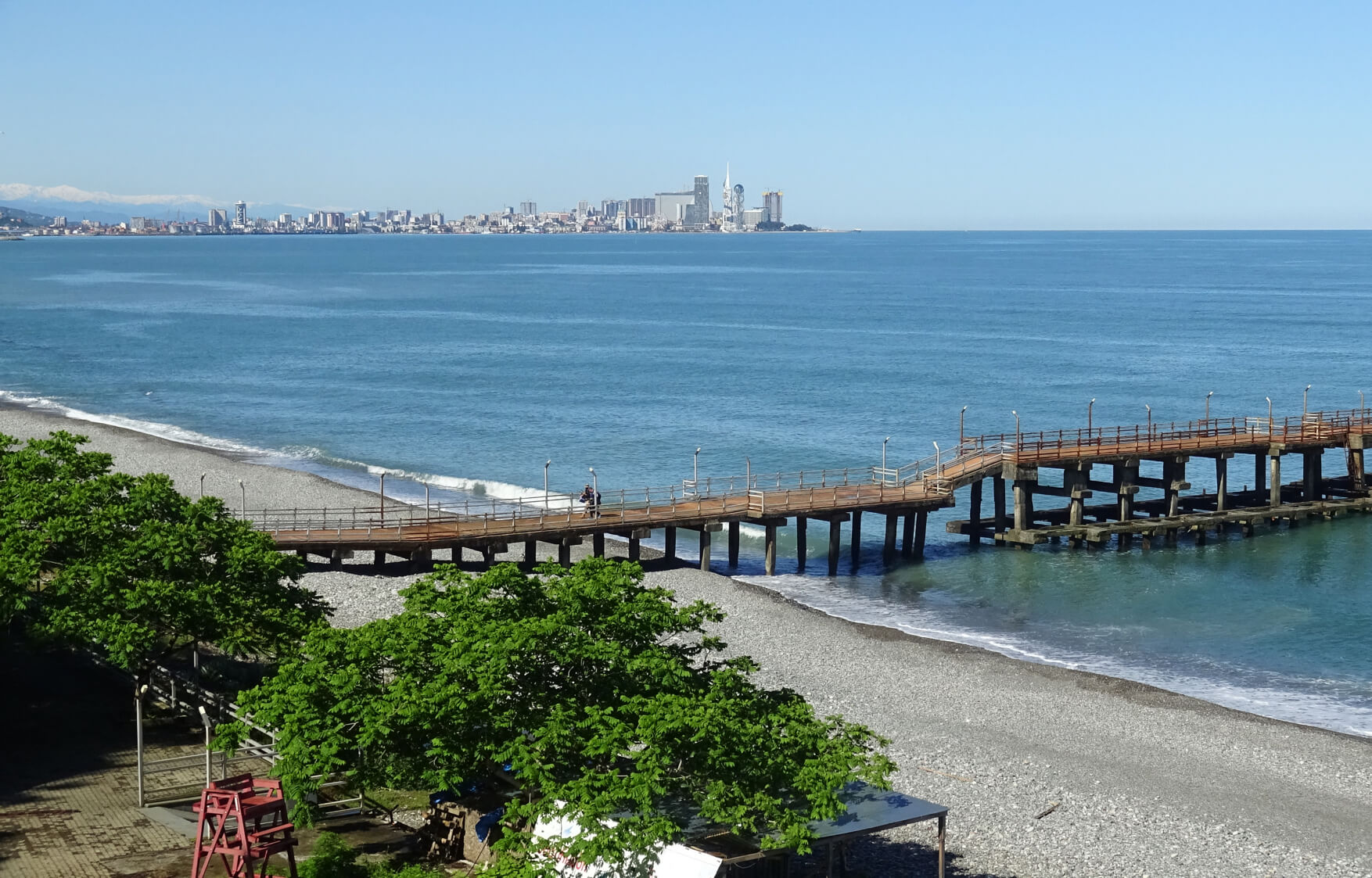 Green Cape beach. Author's photo.
Sarpi
Georgia's southernmost resort by the sea is located near the border with Turkey. Sarpi is a small village near the border crossing, which has stores, a drugstore and even a small ethnographic museum. Here Batumi residents love to vacation by the sea. Young people come to Sarpi to jump into the water from the coastal rocks. Learn more about vacationing in Sarpi.
You can stay in hotels and guest houses at the bottom of Sarpi and on the slopes of the mountain. The views of the bay from the top are spectacular! A minus point of Sarpi is the highway, which is used by cars and heavy vehicles 24 hours a day. You have to cross the road to get to the seashore. From Batumi to Sarpi there is a bus line #16. It will take you only 20-25 minutes to get to the clean pebble beach!
Look for hotels in Sarpi on Hotelluk, the best according to tourist reviews:
– from 1,014 ₽/day – from 2,225 ₽/day – from 3,339 ₽/day.
Gonio
To the south of Batumi, beyond the wide valley of the Chorokhi River stretches the large coastal village of Gonio. It is famous for its Gonio-Apsar fortress, which has been guarding this land since ancient times. Between the ancient fort and the sea stand residential apartment buildings, and next to the new embankment and palm trees quietly stroll around chocolate cows. Hotels and guest houses for tourists are to the south and on the slopes of the surrounding mountains.
The beach in Gonio is long and wide. The shore is covered with medium to fine pebbles. The depths start almost immediately. It seemed to us that the coastal current here is stronger, so in Gonio is not too good to swim with children. There are better resorts in Georgia! Learn about vacations in Gonio.
Look for hotels in Gonio on Hotelluk, the best according to traveler reviews:
– from 989 ₽/day – from 865 ₽/day – from 1113 ₽/day – from 3981 ₽/day.
Kvariati
Between Gonio and Sarpi lies a small picturesque village that is popular with everyone who wants to vacation by the sea in Georgia. There are apartments and budget hotels, on the slopes of the mountains are 3* hotels with swimming pools and near the highway – the cozy hotel Gonio Inn 4* and comfortable Sunset Kvariati 5* with its own beach. The only thing that spoil the impression is the construction site. Here and there in Kvariati you can see fences and unfinished buildings. Find out about holidays in Kvariati.
Search for hotels in Kvariati on Hotelluk, the best according to traveler reviews:
– from 742 ₽/day – from 1978 ₽/day – from 3709 ₽/day.
Chakvi
We fell in love with the tea capital of Georgia at first sight! Chakvi is a big Adjarian village on the banks of the river of the same name, 13 km away from Batumi. It has about 10 thousand people, stores, a market and pharmacies. Tourists stay in the private sector, rent apartments and cottages. We were amazed that the Georgian village has so many sidewalks with beautiful colored tiles. Look for hotels in Chakvi on Hotelluk, the best according to tourist reviews:
– from 989 ₽/day – from 1239 ₽/day – from 2455 ₽/day.
Chakvi is the best place to stay in Georgia by the sea for lovers of silence. The resort has a spacious beach, and there's plenty of room for everyone on the long pebble coast. There are no noisy highways and city bustle nearby. Just you and the lapping of the waves! Sometimes cows come to the beach, but they add color and do not spoil the impression of Chakvi.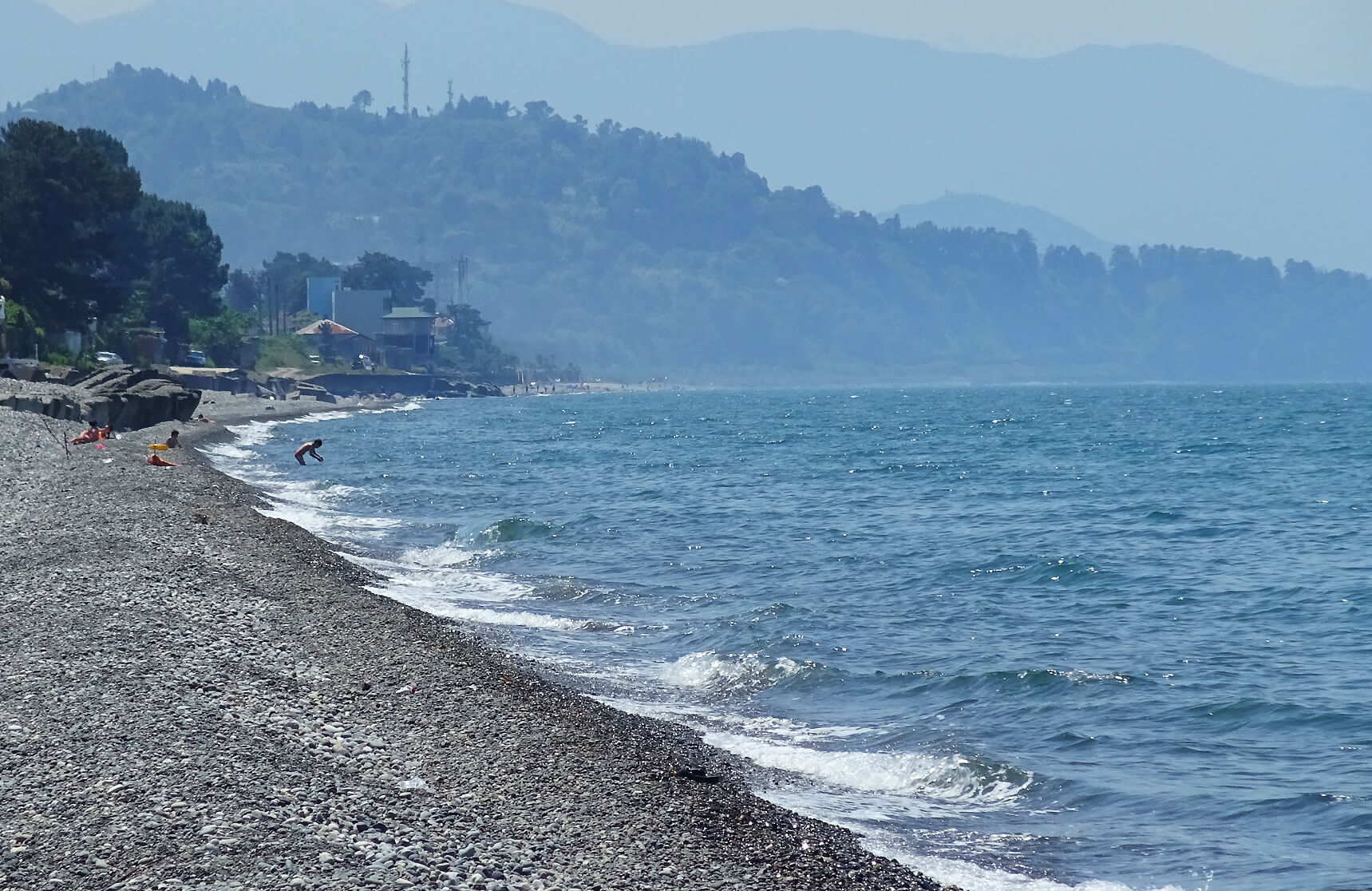 The beach in Chakvi. Photo by the author.
Tsikhisdziri
Despite its tiny size, Tsikhisdziri is considered one of the best places to rest by the sea in Georgia. It's all about the fashionable Castello Mare 5* complex, which stands on a green rocky promontory. The Georgians, with whom we rode in the minibus, talked about this resort hotel as a real wonder of the world. No wonder, as the small seaside village has built a modern hotel for tourists with luxurious presidential rooms, a swimming pool overlooking the sea, a tennis court, and a spa center. Look for hotels in Tsihisjiri on Hotelluk, the best according to tourist reviews:
– from 1,731 ₽ – from 1,698 ₽.
Tsihisdziri beach is small, pebbly, with clear sea water. For thrifty tourists in the village there is a cozy 3* hotel and apartments that are rented by locals. Just next door are the ruins of the Byzantine fortress of Petra.
Kobuleti
The resort town on the Black Sea is very reminiscent of the Baltic. We liked the wonderful promenade, clean pebble beaches, a seaside park and rows of tall pines. In the Soviet years, Kobuleti was considered the main health resort of Georgia and an excellent seaside resort. Now the palm belongs to Batumi.
Kobuleti stretches along the sea for 7 km. It is a narrow and long city, it consists of three parallel streets. In the southern part there is a market, a stadium and a museum, and to the north adjoins a little-known pearl of Georgia – the picturesque reserve "Bogs of Spain. Holidaymakers rent rooms in guesthouses, hotels, sanatoriums and resorts, and motorists like to stay in the camping area to the north of town. Prices for accommodations in Kobuleti are slightly higher than in Batumi. Look for hotels in Kobuleti on Hotelluk, the best according to tourist reviews:
– from 865 ₽/day – from 915 ₽/day – from 1236 ₽/day – from 1607 ₽/day – from 2472 ₽/day.
Ureki
A resort where it is best to vacation with children in Georgia, located 55 km north of Batumi. There are no entertainments and attractions in Ureki. The seaside village is visited for the magnetite beach with unique black sand, the healing properties of which are composed of legends.
Ureki employs doctors, who receive patients from various cities and help them get rid of diseases of the musculoskeletal system, rheumatism, neuralgia and heart ailments. People walk on the sand, lie on it, bury themselves in the sand almost entirely.
There is no promenade in Ureki, but there are beautiful pine trees along the coast. The local beach is wide, the shallow water stretches for 50-100 m. It's a paradise for kids and those who can't swim! There is a lot of accommodation for tourists, there are stores and a pharmacy. You can come for a couple of hours or stay for the whole vacation. Look for hotels in Ureki on Hotelluk, the best according to tourist reviews:
– from 794 ₽/day – from 855 ₽/day – from 1467 ₽/day – from 1467 ₽/day – from 1955 ₽/day – from 2933 ₽/day.
Shekvetili
Closer to Kobuleti is a resort village, which also has a beach with therapeutic magnetic sand. Compared to "dacha" Ureki, Shekvetili looks stylish! When we saw the pretty resort houses between the pine trees, we immediately thought of Palanga and Nida.
Near the resort there is a large amusement park and the park "Georgia in Miniature". Within walking distance is a pleasant place for walks – Music Park and a modern concert hall Black Sea Arena, where Georgian and international stars perform.
In contrast to Ureki, Shekvetili has luxury hotels – Scala 4 * and Paragraph Resort & Spa Shekvetili 5 *. It is nice to stay in a comfortable room and admire wonderful sunsets on the Black Sea from the balcony!
Look for hotels in Shekvetili on Hotelluk, the best according to tourist reviews:
We were surprised that Poti is not overly advertised as a seaside resort in Georgia, so we decided to go there to see for ourselves. Poti is a nice port town! We were impressed by the beautiful cathedral, interesting museums, a bustling market, a green park with a sculpture of Alexander Dumas, and the cute atmosphere of the Georgian countryside. Look for hotels in Poti on Hotelluk, the best according to tourist reviews:
– from 1113 ₽/day – from 1236 ₽/day – from 2102 ₽/day.
Living in Poti is convenient, but there is nowhere to swim in the city itself. There are no beaches, just stony seashores. Locals take minibuses or cars from Poti to nearby seaside villages. In Mqltava there is a wide beach with small gray sand, almost no trees. In Grigoleti there are pine trees on the shore, and the beach is narrower. The settlements are not as thoroughly cleaned as the best resorts in Georgia, so there is a lot of trash by the water, which is taken out by the sea.
In Grigoleti and Mcltava you can come for a day, rent a room or a cottage. Do not count on special infrastructure!
Cathedral in Poti. Photos of the author. The sea in Poti. Photo: marekssteins / unsplash.com.
When to go
Warm weather on the coast is established in mid-April. In spring, only walruses bathe, but it is nice to rest by the sea in Georgia. When there are not yet crowds of tourists, we like to walk along the coast, drink strong brewed coffee and enjoy Georgian cuisine. The blooming azaleas and roses look bright against the snow caps of the high Adjara mountains.
At the end of May, you can sunbathe on the beaches. Swimming is comfortable from June, when the temperature of the sea water rises to +20. +22°С. The peak of the tourist season is in July and August.
I can assure you that you should not be afraid of summer heat during vacations in Georgia by the sea! Fresh winds always blow near the coast, so it's not as hot here as in Tbilisi. The velvet season at Georgian resorts is comfortable. In September and October it's still warm. The sea water cools down slowly, you can swim until late October – early November.