Top 25: Incredible festivals from around the world for every taste
There are plenty of festivals around the world that give people with similar hobbies and interests a chance to get together and celebrate in a big way. That's why festivals usually have such a good atmosphere that touches even the most cold-hearted people.
In ancient Rome and Greece, many festivals had religious roots intertwined with the cultural/religious significance of traditional activities. Nowadays, however, things are very different, as many festivals have sprung up around the world, and for all tastes. Some of them are truly bizarre and abnormal, while others can be safely described as dangerous and risky. Some are also festivals in which some aspect of sexuality is elevated to a cult for some strange reason. But all of them are fun and fun to attend. For example, Spain has a clinical death festival where people talk about their experiences in the afterlife and say what they saw, or didn't see. In the Cayman Islands you'll see more pirates than you've ever seen on TV, and in Jamaica you can smoke as much marijuana as you want without having to worry about getting arrested. If you don't think these festivals are unique enough, let us introduce you to 25 incredibly cool festivals from around the world and for every taste.
25. Village Halloween Parade Remember the excitement and anticipation of Halloween back when you were a kid? As you got older, the magic began to disappear, or perhaps was replaced by the excitement of your own child. Nevertheless, Halloween is not just a holiday for children. Just ask the more than two million people who attend New York City's annual Village Halloween Parade in Times Square, during which there is usually mayhem with music and giant puppets.
24. Sturgis Motorcycle Rally The Sturgis Motorcycle Rally is an American motorcycle rally held annually in Sturgis, South Dakota, during the first full week of August. It began in 1938 and was originally held for stunts and racing, but has evolved into a gathering of motorcycle enthusiasts from around the world. It generates significant revenue for the people of Sturgis, a town of only 6,627 people. It is considered one of the largest motorcycle rallies in the world.
23. Pirates Week Festival
Every year in November the Cayman Islands host an onslaught of swashbucklers and swashbucklers at the annual Pirates Week Festival. Although the festival is called Pirates Week, the festivities actually last for eleven days. This fun-filled event includes a pirate attack production and many interesting costumes made with great imagination. Prepare to be transported to the world made popular by Disney's Pirates of the Caribbean movie series. There are plenty of Jack Sparrow look-alikes roaming the streets of Georgetown, so you'll want to be on your guard, or you could end up in Davy Jones' locker.
22. Krampus Festival The Krampus Festival is a unique festival in the holiday season. It is a race, laced with alcohol, where alpine runners compete in costumes of demons who kidnap children. The roots of this festival are not entirely clear, but it presumably dates back to pre-Christian traditions.
21. Kanamara Matsuri There is no more lavish festival in the world dedicated to the Japanese joystick than the Kanamara Matsuri held in Kawasaki. It's also known as the Festival of the Iron Phallus. Despite the smirks and laughter of Westerners, this is not a made-up festival, but an ancient tradition dedicated to celebrating fertility, long marriages and healthy births. It is also a way to raise awareness about sexually transmitted diseases, the worst of which is AIDS.
20. Holi If you happen to be in India, Nepal or Sri Lanka during the last lunar cycle of winter, called Phalguna (usually in February or March), you can get in a rainbow battle at the Holi festival of colors. Crowds of celebrants throw every imaginable type of brightly colored powder, liquid, and water balloons at each other. It is a wildly exciting and fascinating festival that involves everyone from small to large. Holi is celebrated throughout the region from a family-friendly celebration to huge street festivals with exploding colors.
19. Walpurgisnacht Walpurgis Night is an ancient holiday that welcomes spring and drives away evil spirits. Although there are many variations of the festival around the world, it is usually held with dancing and bonfires on April 30 or May 1 throughout Central and Northern Europe. Oddly enough, it is held exactly six months after All Saints' Day, better known as Halloween. Like Halloween, Walpurgis Night has its roots in ancient pagan customs, where the arrival of spring was celebrated with nightly bonfires. Where does the name come from? It comes from the eighth-century missionary known as Saint Walburga.
18. Festival of Giants For more than five hundred years, huge human effigies of "Giants" have towered over this celebration in northern France in one of the country's largest festivals.
17. El Colacho, the Spanish ritual known as "El Colacho" among locals or the "Festival of the Child Jumping" among foreigners, is as follows: men in red and yellow devil costumes and wearing athletic shoes jump over children born during the previous 12 months. The festival traditionally takes place on the Sunday after Corpus Christi (usually in May or June).
16. Comic-Con International Some people dismiss Comic-Con as a festival for geeks, but true fans know that it's four days filled with fun, a time to mingle with their favorite stars and play in a fantasy world, all set in San Diego. It's a celebration of popular art, packed with events ranging from autographs to movie screenings to costume contests (many people show up in costume), which is essentially a huge convention. And to be clear, no one is too much of a geek to attend Comic-Con, a huge convention that covers comics and other popular art forms.
15. Testicle Festival Every year in Clinton, Montana, locals gather to celebrate. testicles. The Testicle Festival includes several different activities, chief among them a testicle eating contest. You are given four minutes to see how many bull testicles you can eat. Yes, you have to eat bull testicles. There's also the Underwear Race 500, which is essentially what it appears to be – people running a race in their underwear.
14. Wife Carrying World Championships It would be fair to assume that a diminutive wife would prove an advantage at the Wife Carrying World Championships, but you would be mistaken. While a lighter wife will indeed help hubby get the distance a little faster, he will be on the losing end when the organizers reward the winner with an amount of beer equal to his wife's weight.
13. "Burning Man" The Burning Man Festival, held in Nevada, is not so much a festival as it is a way of life. The festival is more like a landmark party that transforms the Black Rock Desert into an alternative, free-thinking city for a week. This event attracts creative extroverts and creative expressionists, visitors are not just observers, but participants who invent, build and destroy a world of mangled cars, interactive communal camps and ethereal works of art in a utopian desert space.
12. Underwater Music Festival The Underwater Music Festival is held every year in the Florida Keys. Music is broadcast by local radio stations and is held underwater. Musicians dressed as mermaids and watermen join in the fun and put on a show for all spectators. Many diving enthusiasts come out of the water for fun and food, but the festival also contributes to the preservation of the Keys coral reef ecosystem.
11. Wodaabe Gerewol & Cure Salee The roles are reversed for the men of the Wodaabe tribe, who wear makeup and elaborate costumes during a beauty contest known as the Gerewol. Gerevol may not be a full-fledged beauty pageant, but it is also a courtship ritual, as participation in the pageant often leads to flirtation and potentially love. In the Wudabi tribe, arranged marriages are traditionally practiced and many participants are already married at the time of the festivities. Nevertheless, it is quite possible that flirting at this beauty pageant will lead to a second or third marriage. Polygamy is not considered reprehensible by the Wudabe people.
10. Golden Shears Festival It may be hard to believe, but one year the crowds at this sheep shearing festival were so large that an army had to be called in to control them. At this point, it's all about speed and quality of shearing as competitors with scissors in hand fight for the championship title. Competitors literally have to be head and shoulders better than everyone else to win the competition in handling and squeezing wool.
9. Battle of the Oranges The Spanish are well known for their annual food battle called La Tomatina, but it's nothing compared to Italy's Battle of the Oranges. The origins of this festival are unclear, but what we do know for sure is that a punch in the face of citrus can't be painless. Nevertheless, this does not deter the participants, who come by the thousands to take part in the battle.
8. Air Guitar World Championships Remember the good old days of rock ballads, when you used to show off on the dance floor, pretending to play epic air guitar while singing AC/DC's "Back In Black." This festival is your chance to show off your super moves again in front of thousands of fans at the Air Guitar World Championships in Oulu, northern Finland.
7. KaZantip Republic According to the locals, KaZantip Republic is not what you think, but what you sometimes dream about. The fact is that the people who take part in this festival are firmly convinced of the existence of parallel universes. It's kind of like Burning Man, if you turn a dusty desert into a sun-drenched beach on a Cambodian island. The beach is two square kilometers of pure paradise, where lovers of summer and creativity come together to worship sun, sand and sexuality. The KaZantip Republic has its own constitution, religion and rules.
6. War of the Rockets Festival (Rouketopolemos) What could be more impressive than chocolate eggs at Easter, you ask. How about 60,000 rockets fired between two churches on an idyllic Greek island? This is how the most important date in the calendar of the Orthodox Church on the Greek island of Chios, the fifth largest island in Greece, one of those semi-arid, sun-whitened pearls of the Aegean Sea for which postcards and screensavers were invented. The bad news, however, is that this festival is known as one of the most dangerous, as many people have lost their arms or even their lives during it.
5. The Calcio Storico Fiorentino (Florentine Calcio Championship) Some call it the world's most violent sporting event. Once a year, in the middle of elegant Renaissance Florence, in front of the marble facade of the Church of Santa Croce and its statue of Dante, rival teams play a match on a sand-covered playing field, while fans cheer on their team with wild shouts.
4. Roswell UFO Festival UFO lovers and skeptics gather at this site of the 1947 Roswell UFO incident to celebrate the unknown and have fun. So what are you waiting for? Hurry and pack your bags and head to Roswell, New Mexico for the Roswell UFO Festival to try to make sense of one of the most famous UFO incidents in the United States.
3. Cannabis Cup The festival was founded in 1987 by Steven Hager, an American writer, activist and ardent supporter of marijuana legalization. He first conceived of the event as a harvest festival designed to promote the cultivation and use of cannabis for personal use. Thus, since 1988, every year in November, thousands of budding growers and smokers have come to Negril, Jamaica to attend what is widely known in the world as the preeminent festival of drugs, namely the Cannabis Cup.
2. Naghol Land Diving In a terrifying ritual to please the gods and a brave demonstration of manhood, men jump off a tower made of sticks and branches, falling to the ground below. The only thing that can serve to save them is the vine. Yes, what you have just read is pure truth. On Pentecost Island, in the southernmost part of the Southern Ocean, Sa men annually build a 30-meter tower from sticks they find in the jungle, climb it and jump off, remaining hanging on nothing but a vine with which they tie around their ankles. If the vine is slightly short, the jumper will hit the tower. If it is too long, the jumper will at least feel pain and possibly break some bones or even die.
1. Festival of Near-Death Experiences Mexico may have a Day of the Dead (Dia de los Muertos), but Spain has outdone them with its Near-Death Festival, officially known as the Fiesta de Santa Marta de Ribarteme. This festival may sound like something creepy, but it really isn't. To understand what goes on there, think of this: solemnly dressed family members carry survivors of last year's clinical death to the church, where a mass is held around noon. During it, many survivors sit in coffins. Cool, isn't it?
The 10 most unusual festivals from around the world
Throughout the year, every culture puts on different holidays and festivals. In most countries around the world, you'll find that the celebrations have at least a few things in common – eating, drinking, and dancing. But some countries can amaze you with their unusual traditions, so when you are in another country, be prepared to experience culture shock from what you see.
1. Songkran Festival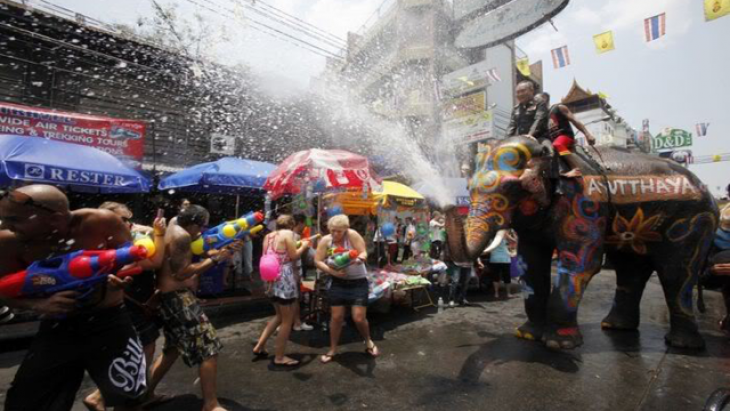 Every year on April 13th, Thailand celebrates the New Year with a water cannon war. And it doesn't happen in any one area, it happens all over the country. But the fun is not limited to water cannons. Some people prefer buckets or even elephants.
2. la Tomatina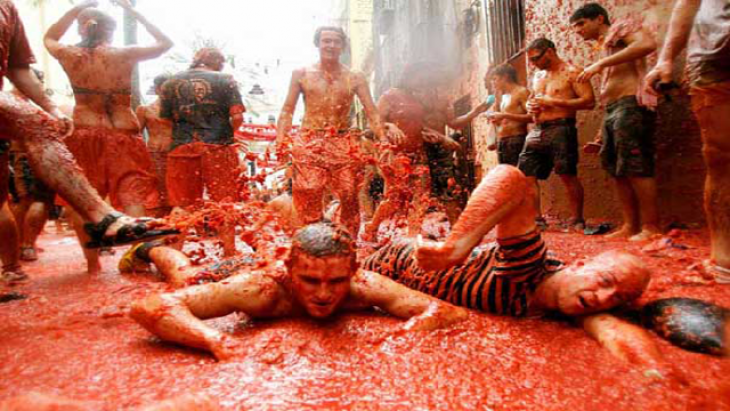 It once started as a simple street fight between teenagers throwing tomatoes from the neighboring vegetable stands. Now it's an annual celebration held the last week of August in the small Spanish town of Buñol. Thousands of participants come from different countries to take part in the "tomato battle."
3. Festival Fiesta de Santa Marta Ribarteme ("barely dead")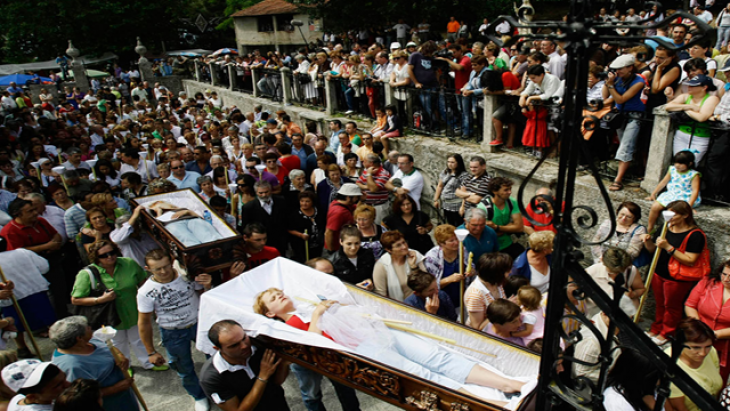 This festival is held annually on July 29 in Las Neves, Spain. Hundreds of people attend mass in honor of St. Marta de Ribarte, the patron saint of the resurrected. Don't be surprised if you see people lying in coffins. No, they are not dead. They are in the coffin because they have survived death for the past 12 months, and in this way they express their gratitude.
4. Running of the Bulls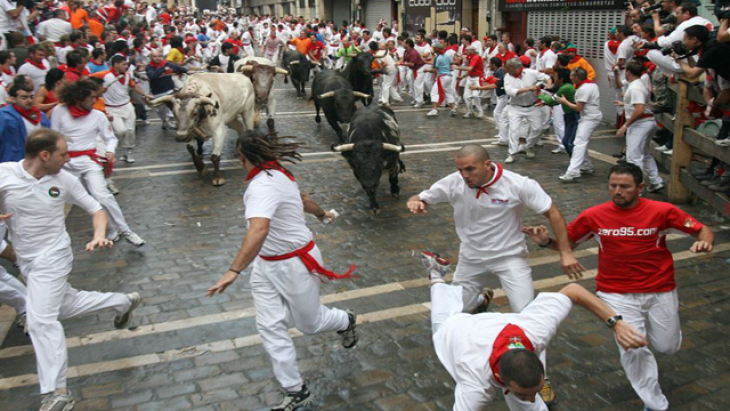 Probably one of the most popular events on this list, the Pamplona Bull Run in Spain is actually part of the San Fermin Festival, held every July. The only requirements for participation: you must be at least 18 years old and sober.
5. Up Helly Aa Viking Festival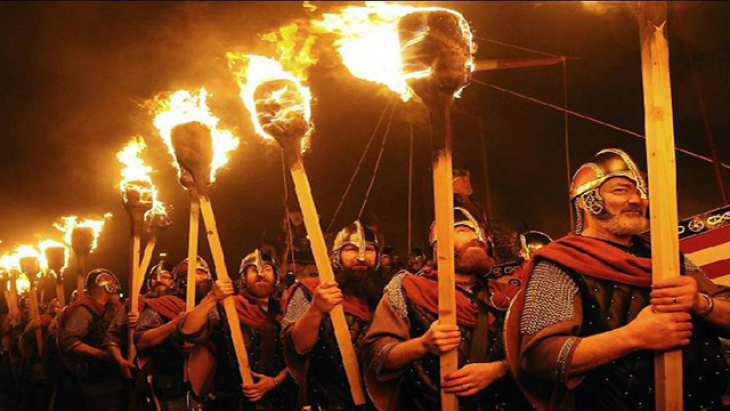 This festival takes place every year on January 30th in Scotland. In the tradition of the festival is a torchlight procession dressed as a Viking and the burning of a rook.
6. Festival "Summer Redneck Games".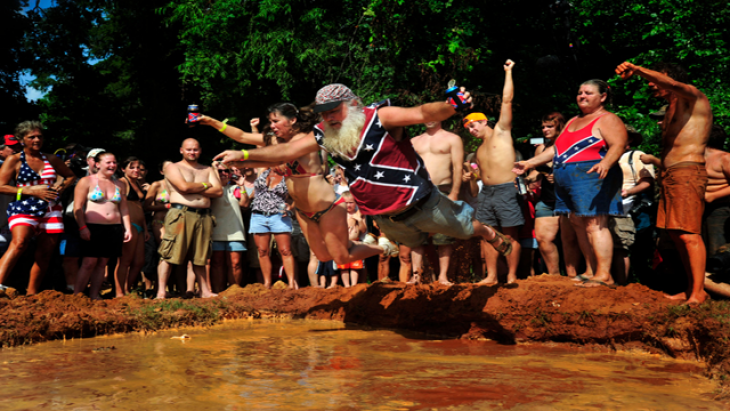 In 1996, when the Olympics were held in Atlanta, some locals held their own festival. The festival tradition included diving in the mud like pigs, launching toilet seats for good luck, because they looked like horseshoes, spitting watermelon bones and singing armpit serenades.
7. Fireball Festival.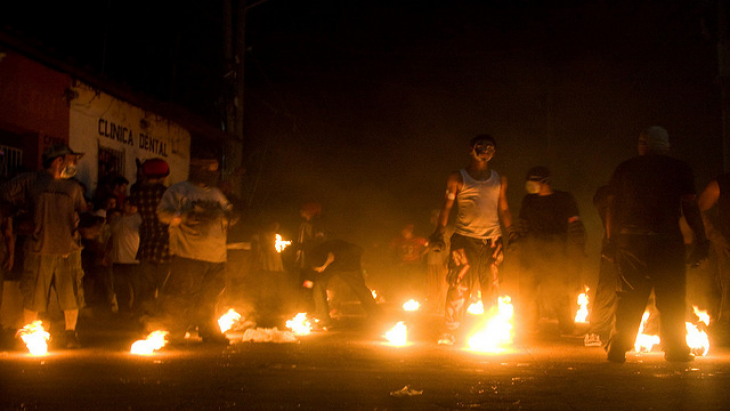 This fire festival is held in El Salvador on the last day of summer every year. In 1917, there was a volcanic eruption that nearly wiped the small town of Nejapa off the face of the earth. The town and residents survived and have been holding this festival ever since as a reminder. During the festival, people divide into 2 fronts and begin bombarding each other with fire rags.
8. Konaki Sumo Festival.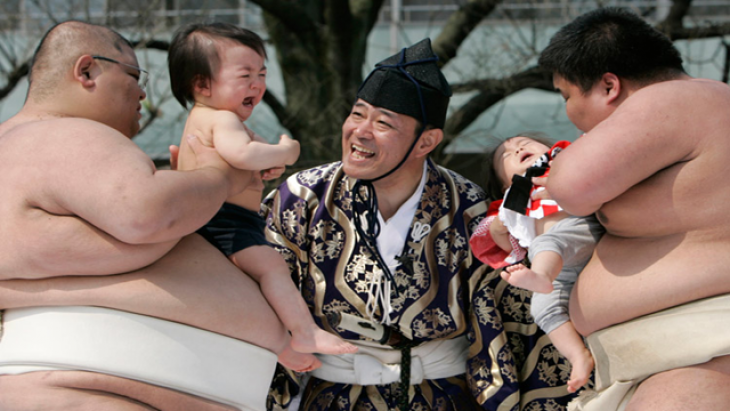 So here we were in Japan, and the Japanese wowed us as always. This festival involves two things: sumo wrestlers and lots and lots of kids. Every April, the wrestlers face each other, holding children in their hands while waiting for a baby to cry. The one with the least number of babies crying in their arms wins.
9. St. Vincent's Festival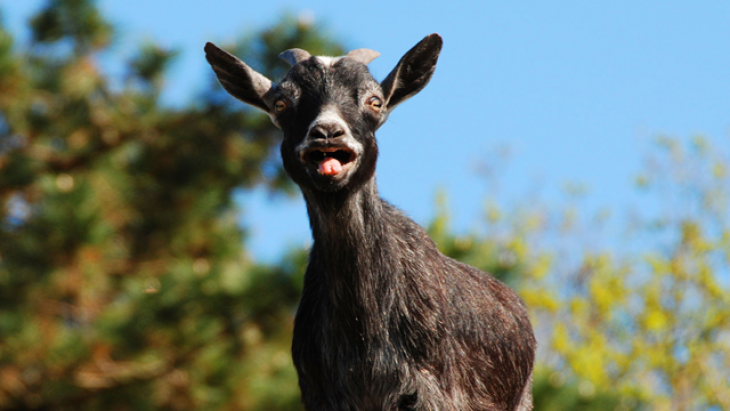 A very strange festival is held in the small Spanish town of Manganeses de la Polvorosa every year on the fourth Sunday of January. Basically, it consists of a young guy finding a goat, tying it up, and then throwing it from the top of the church bell tower. Supposedly it has to be caught by the townsfolk, who have stretched the cloth, on the ground.
10. El Colacho Festival.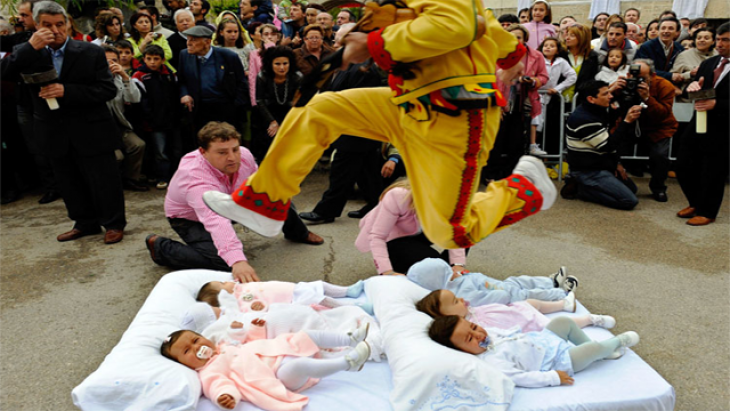 Also known as the Baby Jumping Festival, this unusual festival is held every year in the Spanish town of Castrillo de Murcia. Any baby born in the last 12 months is placed on a mattress outside, and all the adult men dressed in yellow and red costumes and "devil" masks take turns jumping over them. This is how children are protected from spoilage and the evil eye.