All about vacationing in Turkey – what do newcomers need to know?
Turkey is a civilized and nominally secular state, but with its own specific features, mores and traditions. The tourist needs to know about these cultural and everyday nuances, even before he flies to the country. Thus, he will ensure a calm and safe holiday – the best quality and the cheapest. About what tourists can not do in Turkey, we told in detail here.
The main religion of the country is Sunni Islam. But people here are not as religious as in neighboring countries. Mentally Turks are more like Europeans (but not in the whole country);
Turkey is washed by four seas, which are available for swimming 6 months a year;
The bathing season starts in mid-May, and ends in late November;
The most popular resorts are located in the Mediterranean and Aegean Sea. The Marmara Sea and the Black Sea are not popular;
there are three types of climate in different regions of the country: continental, continental mountainous and Mediterranean subtropical;
The average temperature during the tourist season (especially on the Mediterranean coast) is +27C+34C. Sometimes the temperature can reach +40C. Turkey is a hot country. It does not rain much, and snow in winter is rare; there are mountain and balneological resorts, forest and mountain reserves;
The country has hundreds of ruins of ancient cities, as well as countless monuments of past cultures and eras. Almost every city has some kind of antiquity. It will not be boring;
There are tens of thousands of hotels of all classes and price categories. Beginning from cheap hostels at 400 rubles per bed to luxurious 5* resorts. By the way, the rest in them can also be cheap, especially if you buy a last minute tour. Turkey is generally the cheapest country for seaside recreation;
The tourism industry and trade, infrastructure and transport are well developed here. Almost all provinces are connected by cheap flights, railway or bus routes. Turkey has well-developed rental service and cab service.
Medicine in Turkey is of high quality, but expensive. So before a trip get medical insurance. It is not required, but it can be useful.
In general, in Turkey, everything as in any European country, just adjusted for Islam and the specifics of the resort.
Buying a tour – important nuances.
Prices can be viewed on the website of a hypermarket tours Travelata and buy tours online. The cost of the tour includes: airfare, transfers from the airport to the hotel and back, accommodation and meals at the hotel and medical insurance.
It is better to look for tours on the Internet, there is no surcharges and commissions from travel agencies, and there is a huge choice. On the Internet you will not try to foist unnecessary product to you;
ordering a tour in the company – never agree to the first available hotel. First read the reviews about it. In the same way you should do when buying a tour on the Internet.
Where is better to go to Turkey for the first time?
It is best to go to Antalya. No matter how controversial the rumor about this resort, as if it is almost vulgar and russified, but it has a number of important advantages:
The local airport accepts direct flights from Russia. You can get there without connecting to Istanbul;
local hotels are very diverse and cheap, and there are Russian-speaking staff;
Many menus in the cafes, prices in the stores, markets, and other services are translated into Russian. In the end – there are a lot of Russians who will help tourists who do not speak English quickly adapt to the resort;
There is the most developed tourism and shopping infrastructure in the country. There are water parks, aquariums, amusement parks, major shopping malls and markets,
Within a radius of 120 km from Antalya there are plenty of natural and man-made attractions. The city has more than a dozen of ancient cities alone.
When is the best time to go on vacation?
It all depends on your financial possibilities and your health:
if you want to save money or can't stand the heat, it is better to go there at the end of April, in May, June, September, November;
If there is a desire to come off on the full and well sunburned, then the best time from June to August. True the last two months of summer – the resorts are packed to capacity, and the cost of services there increases.
What do you need to take with you?
Not much:
The passport, passport, power of attorney to leave the child (if he goes with one parent), the money on the card in the equivalent of $ 300-500;
Two sets of clothes for the season, a windbreaker or jacket in case of bad weather, light shoes. You can generally go there in one set, and the rest of the clothes to buy on the cheap in Turkish bazaars;
Travel kit and an insurance policy.
What do you need to know about hotels in Turkey?
We recommend renting accommodation on safe websites:
– The world leader in hotel rentals – compare hotel prices in 70 booking agencies
► ► ► After switching to Bucking, to search for Crimea, check ✔
the time of resettlement in most hotels is 12:00;
If you arrive later or earlier, no problem. You can leave your luggage in the hotel luggage room and walk around until they call and find you a room;
check-in is at the discretion of the hotel staff. If you are not happy with the room, you can challenge their decision and try to change it. Sometimes they themselves offer to do it for a small surcharge in their pocket. Whether you agree to such an offer is up to you.
Communication with the locals
Turks are very friendly and courteous, and a little unhurried. Respect this quality and do not be impatient. To communicate with them you can use the translator on your smartphone or the Russian-Turkish phrasebook.
Safe vacation rules
Keep all valuables and large sums of money in the safe deposit box;
Do not walk on the street with large sums of money. It is better to make before the trip several debit currency cards of different banks, and pay with them. Even if you lose one, there will be no damage;
Always take your passport with you;
Going to the beach or bazaar, take a minimum of valuable items;
Do not change currency at street currency dealers;
Buy tours at the offices of tour operators, not people from the street – they are in case of what you are not responsible and can deceive;
Never disrespect the religion of the Turks. Dress and behave modestly in religious places. This will help avoid reprimands and conflicts.
What might surprise you for the first time in the country?
The only thing that may surprise the unfamiliar here is the shouting of muezzins from the mosques, who wake the tourists at an early hour, calling the Turks to the morning prayers. These prayers take place several times a day, and each time accompanied by loud calls or even chants into the loudspeaker.
What is a must try in Turkey?
Turkish dener and kebabs. There are hundreds of varieties;
Turkish pide pizza in boats;
dolma, a dish made of eggplant, tomatoes, peppers and grape leaves;
Güveç – stew of vegetables (particularly with meat) in a pot;
Turkish sweets. There are more than fifty kinds of them, too;
raki (raki) – strong Turkish anise vodka;
mulberry wine;
rose jam.
Exciting tours for vacationers and travelers in 609 cities around the world: Tripster.ru – service of unusual excursions by local residents and guides who can tell you about the most interesting things in their cities.
Successful shopping – how to do bargain shopping?
Find out the time of the oriental bazaar in your town (in small towns they work a couple of times a week, not all the time) and go there for shopping. You can buy anything there, from the cheapest clothes, accessories and shoes, to great souvenirs or any food.
If it doesn't have a price tag, haggle freely and persistently, but do it in moderation. Turks love those who haggle and willingly give them a discount. Bargaining is an art form here.
TIP! If you don't like bazaars and bargaining, then suit any big city shopping mall. There is a wide choice, fixed prices and good service.
What you should know if you come to Turkey for the first time
Turkey attracts tourists with its sunny weather, gentle sea, comfortable all-inclusive and democratic prices for recreation. Going to Turkey for the first time you should know what you may encounter there, so as not to make any mistakes.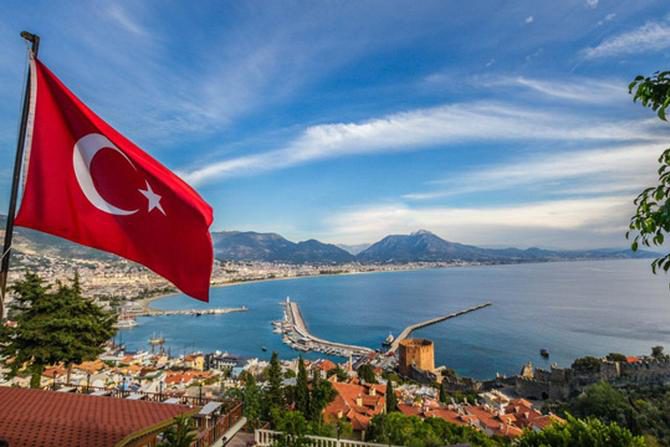 The Turkish coast: a step by step guide
Anticipation of the trip begins after the travel agency has issued the documents:
Vouchers.
The contract with the travel agency. .
Airline tickets.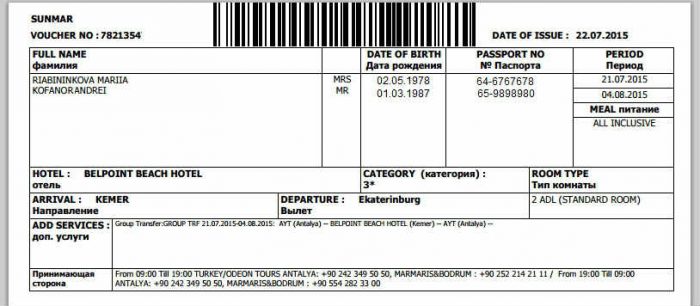 Example of tourist voucher
The traveler independently goes to the airport on the day of departure, arriving two to three hours before it. Here you go to the registration desk, show your ticket, get boarding pass and hand over your suitcases.
At the passport control passengers' documents, pockets and hand luggage are checked. You should not have liquids larger than 200 milliliters and sharp objects (nail scissors, files, etc.).
It's also useful to know what you can't take on the plane.
If the inspection is successful, you can gain access to the duty-free zone. Here, you will be asked to show your boarding pass when buying goods. Use it to find the necessary departure gate (GATE).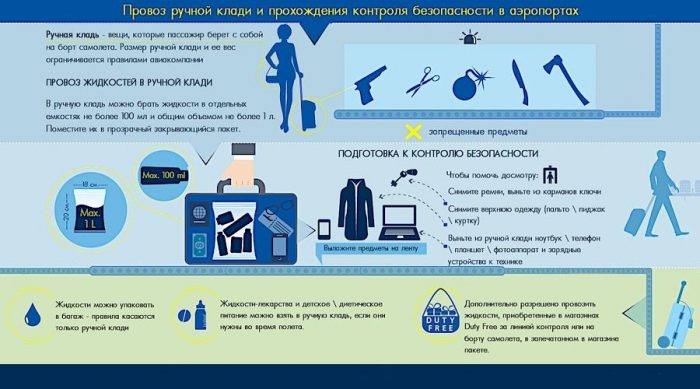 Hand luggage regulations
Tourists in Turkey again encounter passport control. In this case you do not need a visa. After checking your documents you go and get your luggage. And the "green corridor" will lead to the tour operators' representatives that can help you with the voucher to find the bus to the reserved hotel.
At the hotel all you need to stay should be given at the reception: keys to the room, a wristband and towel cards. Here you have to be careful! If you look at reviews, inexperienced tourists often try to give rooms worse, for example, with a view of the trash, in the hope that no one will notice inconsistencies.
If the living conditions were spelled out in the documents, then you can solve the problem quickly, forget about the incident and immerse yourself in the atmosphere of the vacation. Otherwise, you can placate a hotel employee, for example, a $50 bill and get the desired view out the window.
The day after arrival, the traveler should meet with a guide tour operator. As a rule, it takes place near the reception at the hotel.
See video: Travel to Turkey through a travel agent.
The guide should get a voucher, tell about the hotel, the sights of the city and offer a trip on excursions. But they are, by the way, more expensive than the travel agents outside the hotel.
The tourist has no obligations other than rest and proper behavior. The next meeting with a representative of the tour operator is scheduled for the end of vacation.
The day before departure, information about the departure should appear on a special stand. And on the day of departure, the vacationer will be reminded of the need to return home, will pick up from the hotel and will take to the airport.
Turkish Climate
Residents of Russia, accustomed to a temperate climate and can not stand the heat, in the high season in Turkey will be hot. In the summer months the air temperature can rise to 40-50 degrees, and with high humidity you may get a number of health problems. Therefore, you must either stock up on medications, or plan your vacation for September and October.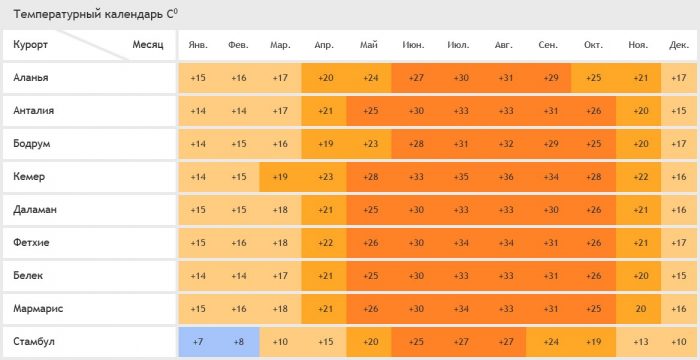 The average air temperature in the resorts of Turkey by month.
The weather in Turkey is comparable with the Crimean weather, so you should follow some simple rules for a good vacation:
Wear cotton clothing.
Do not forget about hats.
Use sunscreen.
Lounge on the beach in the safe hours (before 11 and after 16).
Drink plenty of bottled water.
The climate in different parts of Turkey.
Safety
The first thing to think about is safety before the buffet. And don't forget that Turkish food is full of condiments and sugar, so don't overdo it. The best defense is to eat in moderation.
A good tip against stomach upsets is to drink only bottled water. From the tap flows only technical liquid, which should not be consumed.
Hotels with 4 and 5 stars usually provide purified water, otherwise you have to go to the local supermarket for it. Price of one bottle of 0.33 starts from one lira.
The question of safety in Turkey also arises outside the hotel. If the tourist is under the responsibility of the staff at the perimeter of the hotel, he is left on his own, and no one will intercede for him when he goes out the door. So it is important to be polite and friendly, so as not to run into trouble.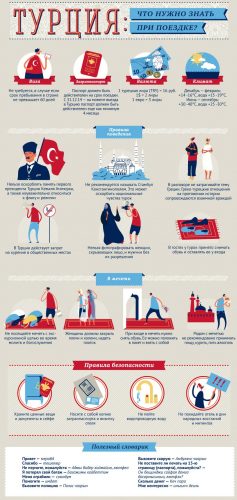 Memo to tourists, holidaying in Turkey.
Women should remember that under no circumstances should not make eye contact with local men and even more so to be the first to reach out for a greeting. In the Mediterranean country such gestures are regarded as a call for familiarity and can be misinterpreted. If you want to thank someone, it is enough to put your hand to your chest.
Men should not pay attention to Turkish women or take photos of them without permission. Do not allow yourself to debate about Turkish manners and politics. It does not hurt to learn a few phrases in Turkish:
Merhaba – hello.
Güle-güle – goodbye.
Resort areas in Turkey are quite safe and customer-oriented, especially people from Russia. Here tourists are usually treated with understanding and try to avoid problems.
Watch video: Security in Turkey.
Money
Going to Turkey for the first time is better not with rubles, and immediately with dollars and euros. Here it is a widely used currency, which are accepted in many outlets. But still the majority of transactions are made in lira.
The local businessmen can make its rate very mobile and take advantage of the relaxed condition of the tourist and to exchange extremely unprofitable.
There were cases that exchanged 200 dollars, and received half as much. You can solve the problem by calling the police.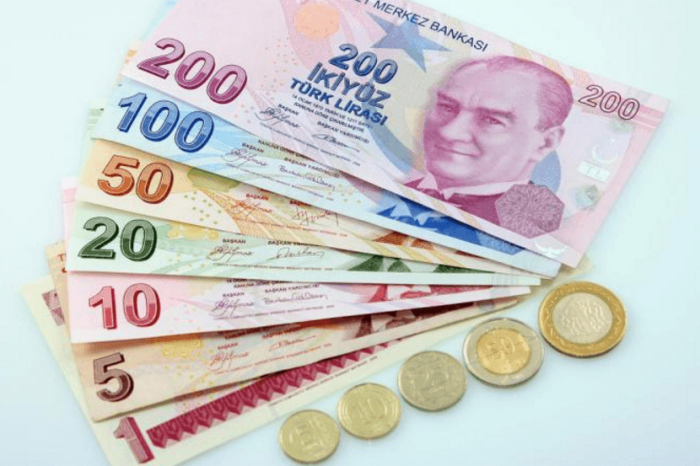 The national currency of Turkey – the Turkish lira
But in order not to spoil your rest it is better to find a reliable exchanger and ask the guests about it.
With money you need to be careful and in a cab. Travel only in proven vehicles with meters and remember that in the country there are no day and night rates, the fare is always and everywhere fixed. It is best to check the price with the driver before the trip.
If a cab is preferred to a rental car, but renters can ask travelers for a solid amount of money after the trip. The argument is always the same: "fines" for violations, which later turn out to be fake.
In this case you just have to ask for proof or call a police squad. The main thing is to be confident and not to give in to provocations.
Cash is best kept in a safe and never take out a large sum in public. Be sure to find someone willing to get rich at your expense.
And on the market there will appear a virtuoso with his hands and pick your pocket unnoticed. By the way, you can save money in the market, haggling. In Turkey they love to do it and they master the art of bargaining to perfection.
Traditions allow for a discount of 10-20%. But before the grocery shop you must know that the price tag indicates the price for 500 grams, not per kilo. If you remember this after the purchase, it will be impossible to take it back.
Watch video: Useful tips for tourists
The use of credit cards should also be considered carefully, because the crooks are not sleeping here either. Hide a pin-code, don't give the card to anyone, and be sure to check the receipt after the purchase, to make sure of the correct amount.
To know how much money is better to fly on vacation, think about what you expect to buy. In Turkey there is good shopping: furs, clothing, small souvenirs, spices … Sometimes $100 will be enough for small expenses, and sometimes, and $ 1000 will not be enough.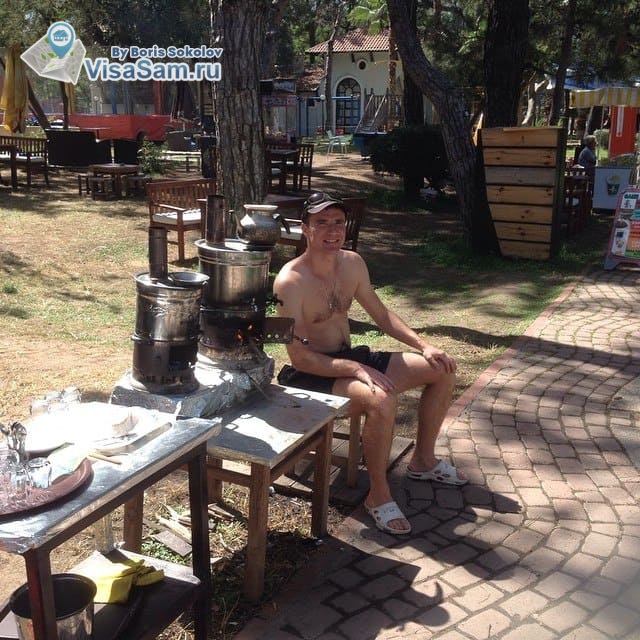 Souvenirs
Tourists who flew to the Mediterranean for the first time usually return with a suitcase full of unusual gifts. Turkey can really surprise the unsophisticated traveler not so much in quality and sophistication, but in price. The country is rich in culture and traditions, a part of which you can bring with you as a souvenir: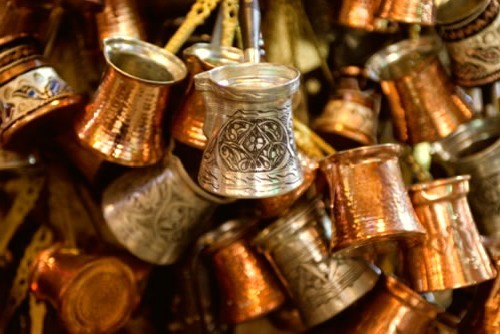 Hookahs large and small (from $12-$15).
Tobacco (two to four dollars). It and hookah are carried exclusively in luggage, not hand luggage.
A jezva, or turka (from $5 for an aluminum one to $30 for a copper one).
Turkish sweets (rahat-lukum, halva, baklava, kadaif).
Gift sets of spices (5-15 dollars).
Honey (floral, citrus, cotton, pine, assorted).
Olives (three to four dollars).
Rose petal jam (two-three dollars).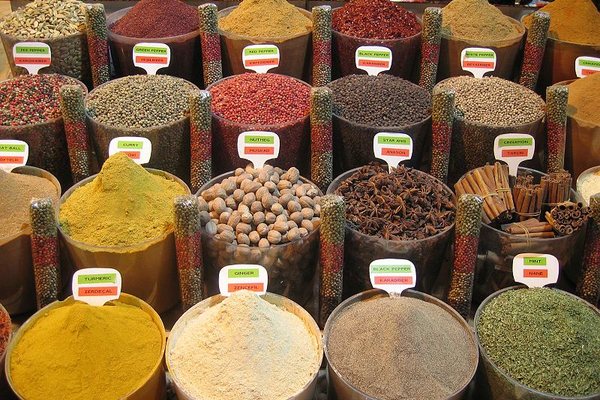 Spicy foods in Turkey is enough, the tourist has a lot to choose from, so it's worth relying on your taste and wallet. There are a lot of cheap goods, as well as more expensive. But you have to be choosy, because even the most expensive products can be overpriced by enterprising dealers.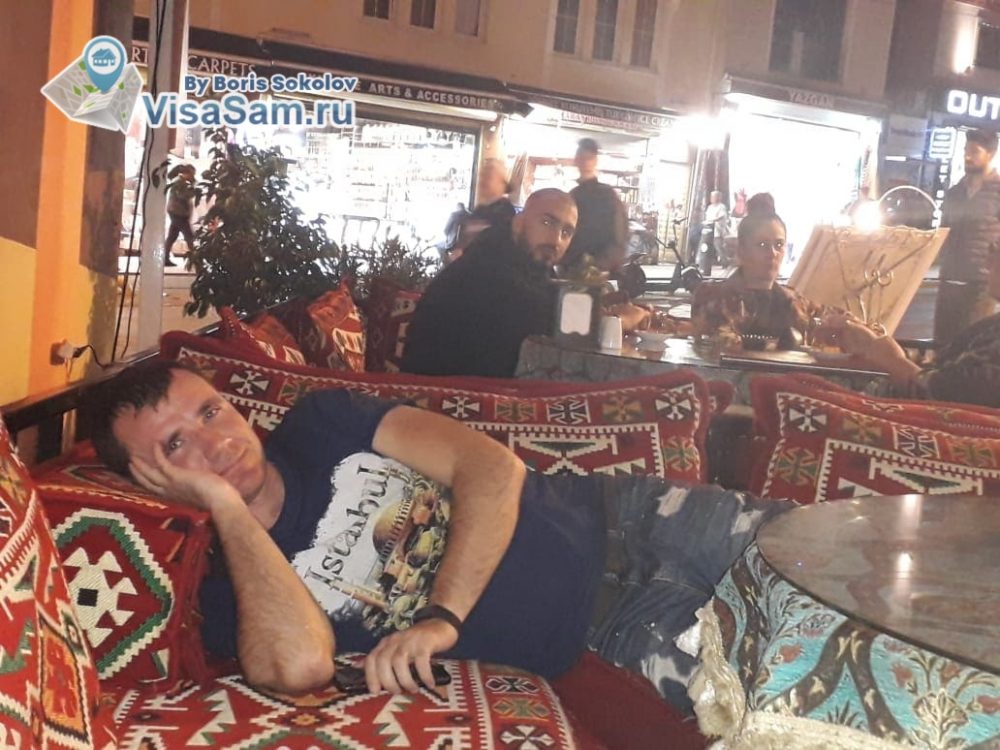 Investing and buying real estate in Dubai. Guaranteed income of 7-10% per annum in foreign currency. All the pitfalls and personal experience of how to earn and not lose 40% due to improper investments. All the details – subscribe to the verified telegram channel https://t.me/homeindubai. How to move to live in Dubai with your family: residency visa, bank accounts, housing choices, school for the child, all from personal experience – https://t.me/homeindubai
Special attention among the souvenirs deserves Turkish textiles, which are famous for their quality and practicality. It is presented on the Russian shelves, but at higher prices. In Turkey, linens and towels, bathrobes and plaids are given almost for free.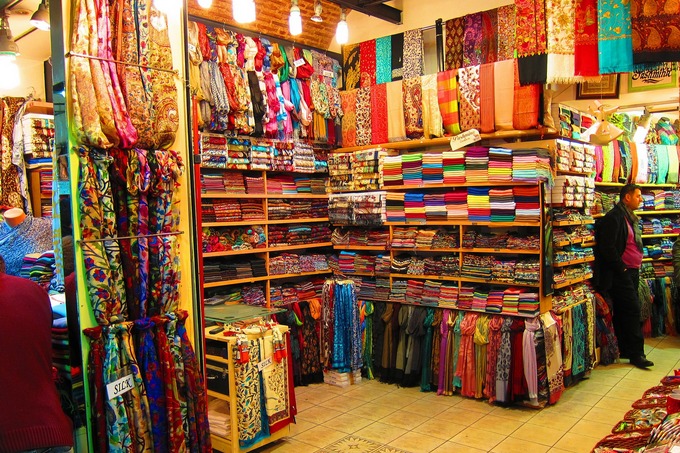 Special attention deserves the Turkish textiles.
The fur and leather industry is well developed in the country. They even offer on tours and offer to buy at producer prices jackets, coats, belts, bags, as well as sable, chinchilla, rabbit and fox fur coats. But for such a shopping it is worth laying down an impressive budget.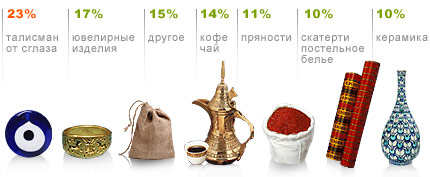 The most popular souvenirs from Turkey
Language barrier
In Turkey, there is no need to fear of being misunderstood. On vacation in the country goes to millions of Russians, and the locals have already mastered the Russian language. You can hear it from sales clerks, drivers, hotel staff.
Those who are somehow associated with the tourism industry and aimed at the Russian consumer, almost all Russian-speaking. If you are flying to Turkey for the first time, and you specifically chose the resort, where there are few compatriots, here you can choose to communicate in English. It is also known in the country at a decent level.