Exotic Journey to Zanzibar, Tanzania
Another island in the Indian Ocean Zanzibar. It is not located somewhere in the middle of the vast blue ocean, but off the east coast of Africa and belongs entirely to Tanzania.
Zanzibar has a wide variety of hotels, picturesquely located in close proximity to the white beach and turquoise waters of the ocean. Zanzibar, like Mauritius, is also a great place for water sports, including kite-surfing and diving.
Climate on the Island
The weather in Zanzibar is very favorable for tourism and the thermometers rarely show values below 20 degrees Celsius. However, be aware that the prevalent climate of Zanzibar has two dry seasons, December to February and July to September, and two rainy seasons, March to June and July to September. Therefore, the best time to vacation is from December to late February, when Zanzibar is a tropical heat.
Because of its location near the equator, the islands are warm all year round. On Zanzibar there is an average of 7-8 hours of sunlight per day.
Climate on the Island
The sights of Zanzibar
The places worth visiting in Zanzibar are:
Prison Island
The Rock Restaurant
Safari and Dolphin
Safari in Tanzania
Sea Turtles
Monkeys in the jungle of Jozani
Prison Island
It takes less than half an hour by motorboat to reach the magnificent historic prison island to the west.
With its fantastic white sandy beaches and picturesque natural forests full of various birds and small animals such as peacocks and giant acorns, the island is famous for its abundance of aquatic life , making it an ideal place for diving and exploration. All of this is still on the island, but most of the structures are decaying.
Prison Island
The Rock Restaurant
A trip to this restaurant on the cliff is no small experience. At low tide the ocean, you can get there with your foot , and at high tide you can get to it by boat. At first glance it looks like a small house on the rock, but when you climb the wooden stairs you discover the grandeur and charm of the place.
The Rock Restaurant
Safari in Tanzania
Meeting wild animals in its natural environment is a great and emotional experience . Safari in Mikumi Park gives a great opportunity to meet elephant, buffalo, rhino, lion and leopard, but these are not all the animals that can be seen along the way . There are also numerous gazelles, hippos, giraffes, zebras, wild pigs, antelopes and many species of birds.
In addition to fauna, you can admire the rich flora, which even in the dry season will surprise you with its lushness. There is an opportunity to see the monumental African baobabs, of which there are many.
Safari in Tanzania
Sea Turtles
Near the charming fishing village of Nungwi there is a small natural pond with turtles and fish. You can feed them by hand.
Visiting such a place is a unique opportunity to observe these beautiful animals. The brave can enter the water and swim with them. You just have to be careful while swimming that the turtles don't bite your fingers. The larger ones can even cut their skin.
Out of curiosity, the turtles come by themselves and are interested in onlookers . You can see that the presence of people doesn't bother them. And it's terrific entertainment for children.
Sea Turtles
Monkeys in the jungle of Jozani
Located between Chwaka Bay and Uzi Bay, Jozani Forest is the only remaining natural forest in Unguja. It is a very important refuge for the fauna of the island. The entire island was once covered by a rich mosaic of swamp forests, evergreens and mangroves. Nowadays, only the Jozani forest remains.
Red Gerezans are the most famous forest dwellers ; a subspecies found only on this island, you may see them leisurely loitering or fooling around among the branches. You might be lucky enough to see digidigas (small deer) and chameleons.
Monkeys in the jungle of Jozani
While in Zanzibar, you can't miss the Stone City Old Town, which is a UNESCO World Heritage Site. It is a feast for lovers of narrow shaded streets, bars and restaurants. However, when visiting it is worth remembering that the island of Zanzibar itself is ethnically dominated by Muslims, which requires restraint in dress. Apart from the beach, you should avoid clothing that strongly exposes the body.
Zanzibar is a cauldron of different cultures, races, religions and nations. This tiny island is a true land of diversity. Exoticism and colors literally fill every corner of the eponymous archipelago.
All about holidays and prices in Zanzibar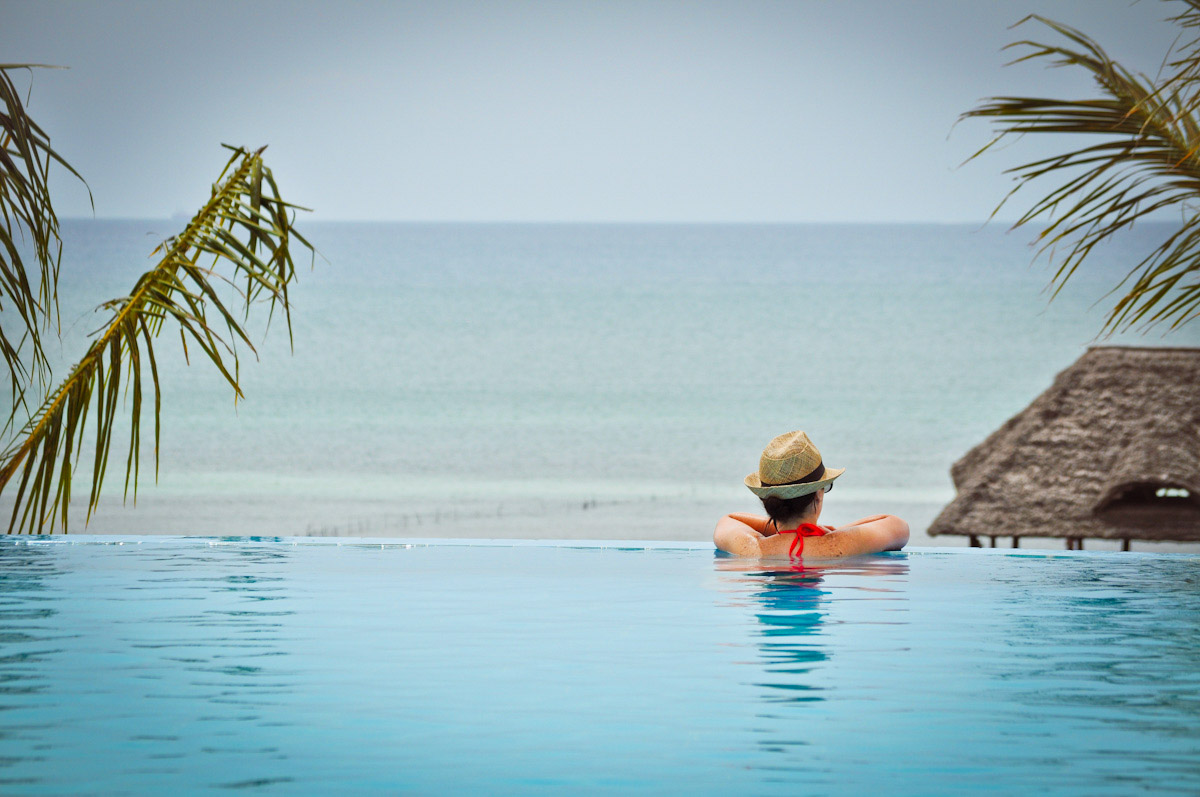 A guide to Zanzibar Island vacations in Tanzania in 2022. Learn about prices, conditions and activities on the island.
Not long ago, few people have heard about Zanzibar, but gradually this island, which belongs to Tanzania, is becoming more and more popular among Russian tourists. Let's see what kind of vacation can offer us the island of Zanzibar!
Look for the last minute tours on the services of Level.Travel and Travellata – they will find the best deals among different tour operators. Want to save your money? Explore our 7 rules for buying tours online.
Content:
When it's best to vacation in Zanzibar
Although summer in Zanzibar lasts all year round, the best time to vacation on the island in Tanzania is during the summer and winter months. By the way, summer is a little cooler because Zanzibar is below the equator line. From June to October and during the winter months, it rains the least and the average temperature is about +28. +29°C, and these are the most comfortable conditions on the island. The water and air temperatures differ literally by a couple of degrees – as a rule, the ocean is no cooler than +26°C throughout the year.
In spring, it rains in Zanzibar, which lowers the prices of holidays and tours. In addition, November, the end of Zanzibar spring, is considered a rainy month.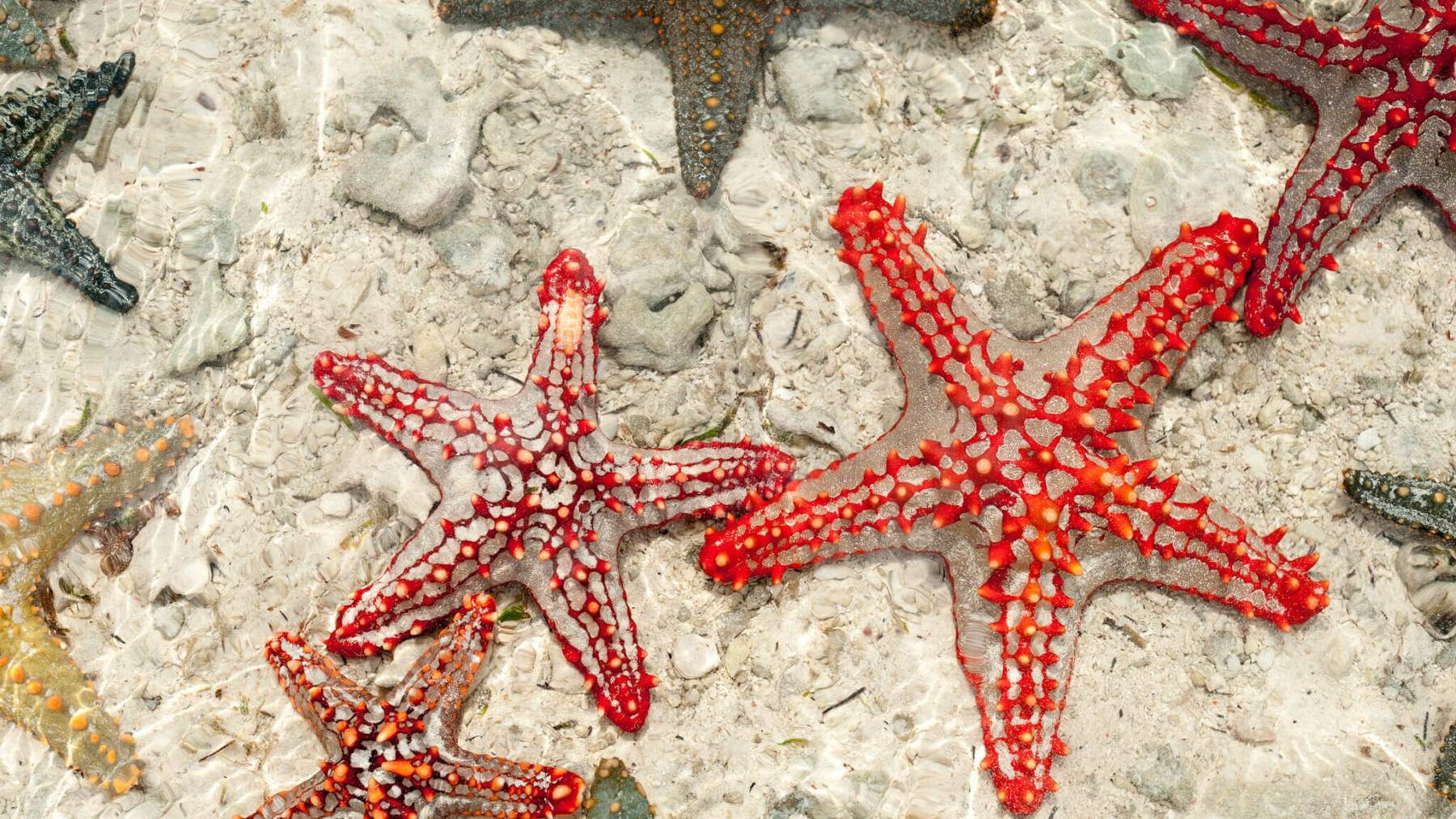 Starfish on Pwani Mchangani beach in Zanzibar. Photo: Sander Solvak / flickr.com / CC BY-NC-ND 2.0 license.
The best resorts and beaches
Many people go to Zanzibar just for the exotic beach vacation. The coastline of the island is very picturesque, along it stretches cozy fishing villages. All beaches on the island are sandy, and visit them for free. The exception is the private areas of the hotels. We tell you which part of the island to choose for a vacation.
Kendwa beach is considered the most luxurious – the most wealthy tourists choose it. Here are the most expensive hotels, and the sand on the beach is always perfectly clean. This place is also great for holidays with children, because the sea inhabitants at the bottom are rare, and the tides are almost not noticeable.
Paget Beach is located on the eastern part of the island. It has long attracted kite surfers from all over the world. You can also enjoy other water sports here, as well as fishing or just watching the local fishermen.
Kizimaki Beach in the south is a place where you can watch dolphins and even swim with them.
Nungwi Beach in the north is considered one of the most picturesque beaches in Zanzibar. There is a huge number of coral reefs and soft sandy bottom. Like Kendwa, it is loved for its minimal tides.
The beaches of Matemwe, Mapenzi, Kivengwa and Oroa are great for diving, which is literally the hallmark of the island.
The beach on Zanzibar. Photo: Humphrey Muleba / unsplash.com.
Zanzibar Tour Prices in 2022
Zanzibar – a relatively new destination for Russian tourists, but the Europeans are flying here for a long time. The prices for tours to Zanzibar in 2022 are quite high. As always, the cheapest flight is from Moscow. There are no direct scheduled flights between Russia and Tanzania yet, but you can get here with connections in Istanbul, Doha and other airports.
A week holiday in Zanzibar in 2022 costs from 110 thousand rubles for two people. For this price you get a 3 * hotel with meals "breakfasts" about 500-600 meters from the sea (sometimes closer). You can get a tour to a 4* hotel for 120 thousand rubles for two people, and to a 5* hotel – from 150 thousand rubles. Five-star hotels are located on the first line and almost always have its own beach.
All inclusive" tours in 4* hotels cost from 150 thousand rubles and in 5* hotels from 190 thousand rubles for two persons.
Prices for holidays in Zanzibar in 2022 for two people with flight from Moscow:
| | | |
| --- | --- | --- |
| Category | Only stay | All Inclusive |
| 2* and below | — | — |
| 3* | 130 000 | — |
| 4* | 160 000 | 180 000 |
| 5* | 180 000 | 210 000 |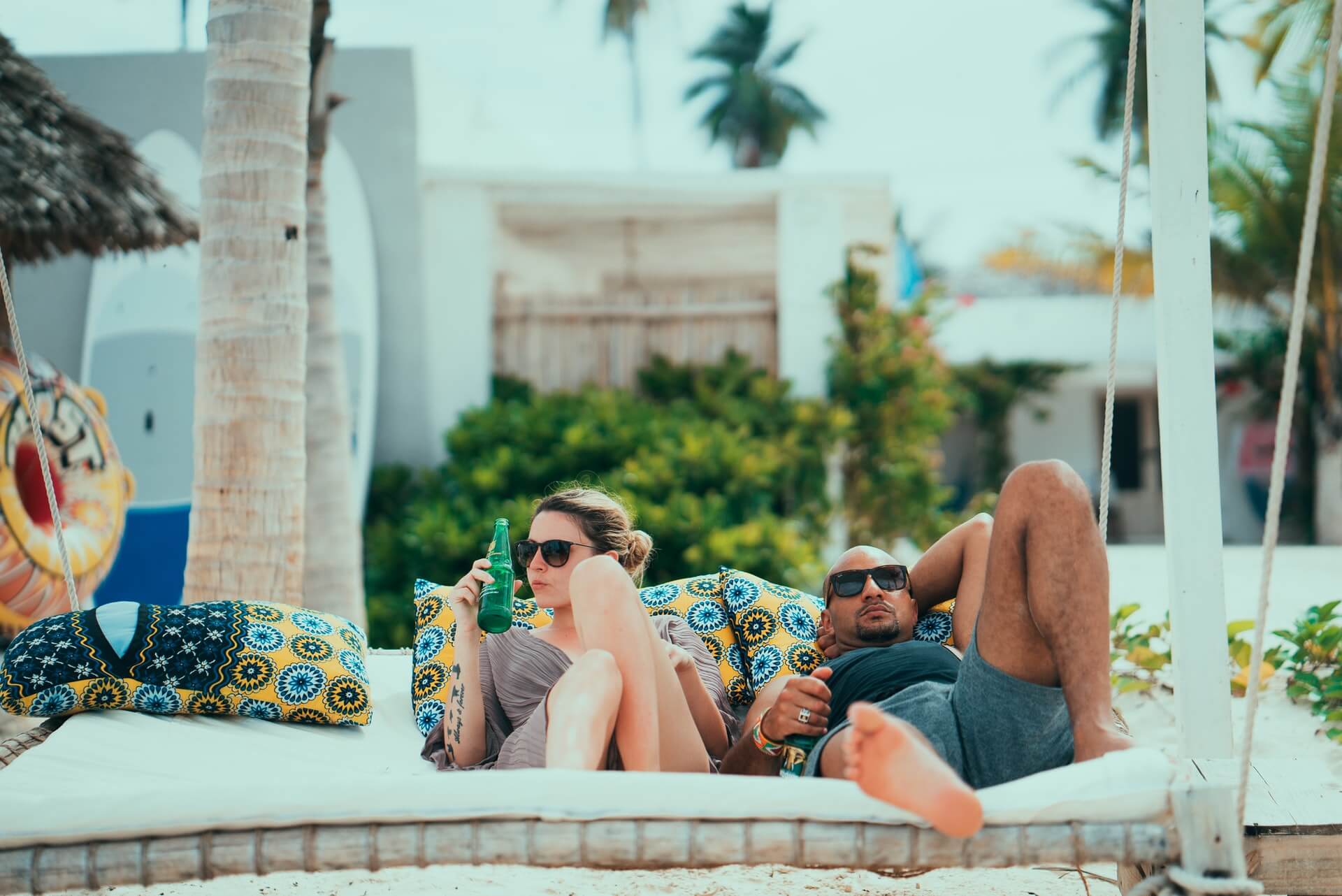 Vacation in Zanzibar. Photo: Antony / unsplash.com.
Ticket prices
Flight prices to Zanzibar start at 30,000 rubles per tourist round trip. There were no direct flights before, there are none now. You must fly with at least one connection (for example, in Dubai or Qatar). In addition, you can fly to Zanzibar from Sochi, Krasnodar, St. Petersburg, Rostov-on-Don and other cities, but then you will have more transfers.
Search for cheap flights to Zanzibar on Aviasales services – it compares prices of all airlines. Learn the secrets of finding cheap airline tickets.
The transfer from the airport to the hotel can be booked online in advance on the service KiwiTaxi. A car will be waiting for you upon arrival.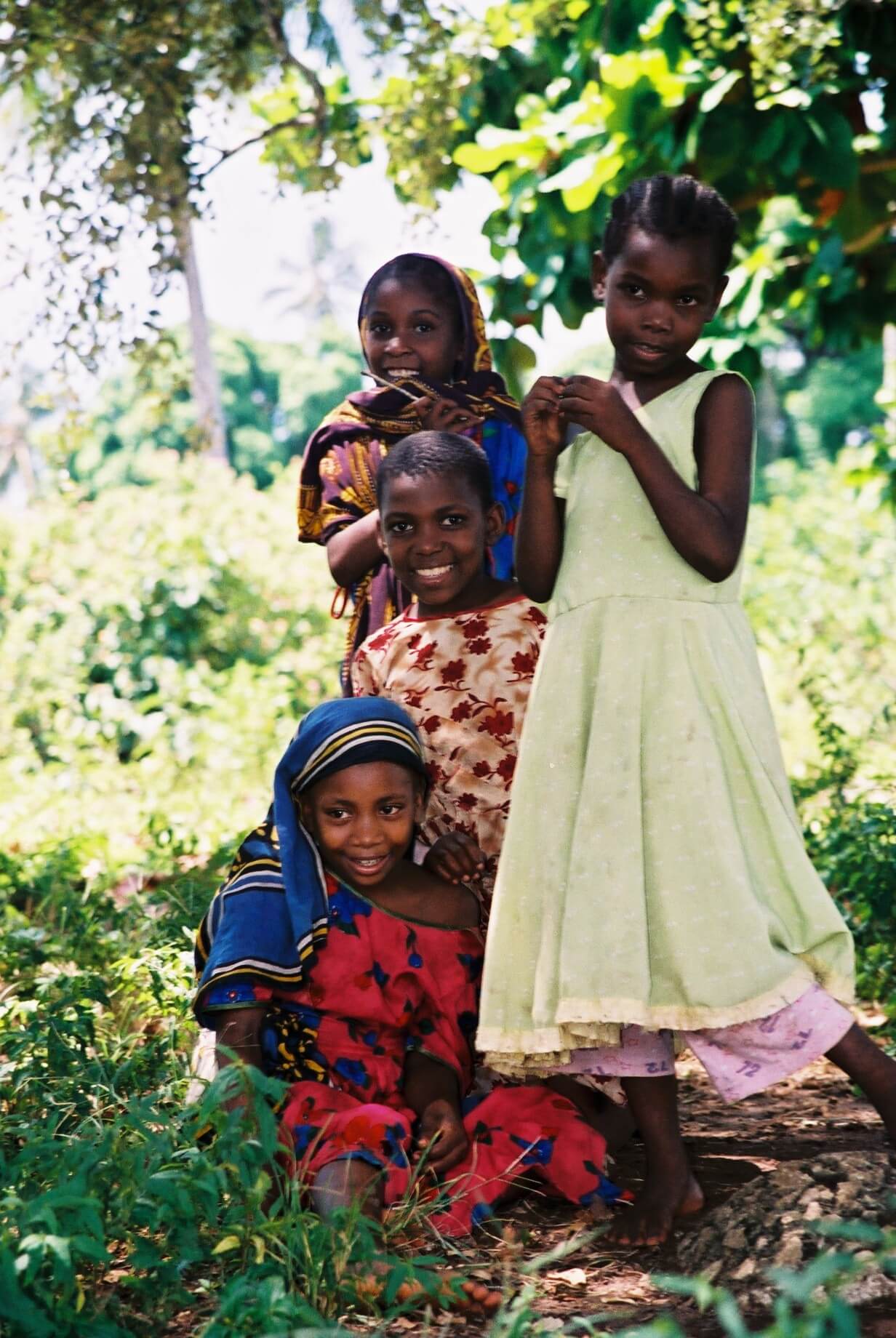 Locals. Photo: jocke. / flickr.com / CC BY-NC-ND 2.0.
Hotel prices
If you like to make your own vacation arrangements, you'll find plenty of interesting options in any price range on Zanzibar. There are even hostels on the island where you can sleep for less than $10 per person. But hardly anyone would fly that far to live in a hostel. Let's take a look at the prices of hotels in Zanzibar.
The simplest guesthouses and hotels offer rooms for two for only $12-20. A good 3* hotel costs $30-$50 for two people per night. In such hotels is usually not the newest furniture. Lodging location of budget hotels is different: small cozy bungalows may be located half a kilometer away, and close to the ocean.
Hotels 4* cost from $50 per night, 5* hotels – from $120, and the steepest resorts and hotels charge $1,500 a night for a room. But the reviews of these hotels are only positive: tourists from all over the world note the perfect service, delicious menu and incredible views from all rooms.
Keep in mind that tourists often complain about poor Wi-Fi signal, but this problem can occur in hotels of any level. In Zanzibar, even all-inclusive does not mean that the Internet will be free and you can use it anywhere except the lobby.
Look for discounted hotels on Hotellook.com, pay attention not only to the star rating of the hotel, but also to its rating according to tourist reviews. Take a look at our hotel search tips, too.
If you prefer to stay in authentic apartments with locals, look for them on Bookings. Prices in Zanzibar are not high – you can rent a room for about 1000 rubles per day. In this accommodation is a necessary minimum for a holiday in Zanzibar: bathroom, bedroom, washing machine, electric stove with one or two burners (stoves in the usual sense that we are accustomed to the island are rare). Most hosts have Wi-Fi, and sometimes there are even inexpensive apartments with a dryer and parking.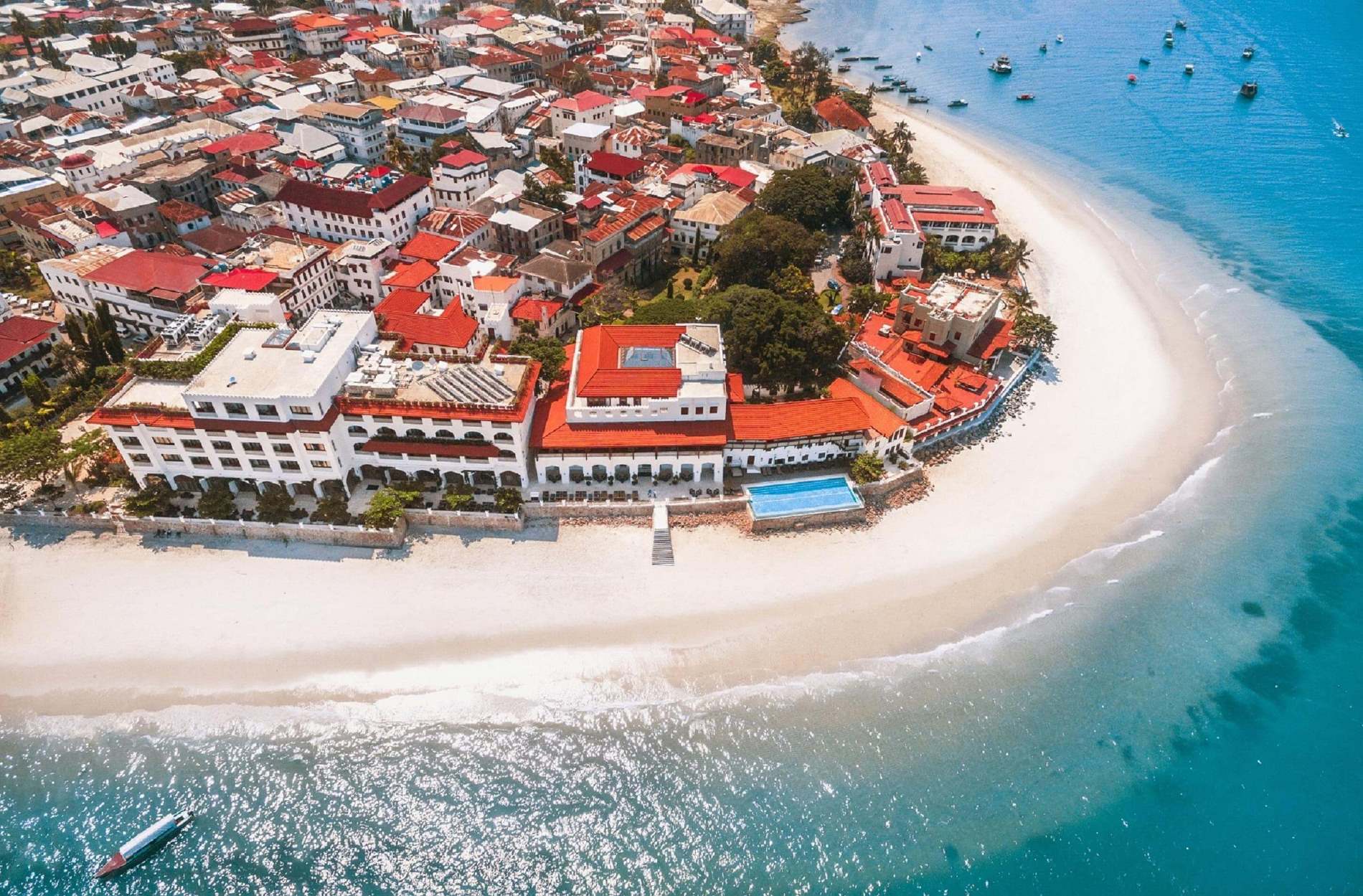 Park Hyatt Zanzibar hotel. Photo: booking.com.
Food prices in cafes and restaurants
There are two currencies in Zanzibar: the American dollar (which is what we will use for payment) and the Tanzanian shilling. The exchange rate is about 1 $ ≈ 2300 Tanzanian Shillings (TZS).
Breakfast is usually included in the price of a tour to Zanzibar. But if not, you can have breakfast at a small café even for $4-$5. For $9 you can order a simple lunch, but lunch and dinner for one person will cost you from $20 and up. By the way, this lunch excluding seafood (and there are a lot of them!) – with seafood delicacies the price will be about $ 30. As a side dish, noodles and rice are very popular and served with spices, vegetables or seafood.
Coffee for about 2$, buy a bottle of water 0,33 L – about 0,33$. Local beer costs about $1.5 and red wine from $6 a bottle.
Grocery Prices.
If your hotel does not provide food or you live in an apartment with a kitchen, you can cook on your own – food prices in Zanzibar are reasonable. The cost of groceries in the stores varies depending on the season.
Here are approximate prices of food in Zanzibar in stores during the high season of 2022:
Potatoes (kg) – 1800 TZS / $0.8.
Milk (1 liter) – about 2,300 TZS / $1.
Cheese (kg) – about 10 thousand TZS / $ 4.5.
Bread – 680 TZS / $0.3.
Apples (kg) – from 2300 TZS / $1.
Tomatoes (kg) – from 2,000 TZS / $0.9 USD.
By the way, fruit is not expensive in Zanzibar, because it is in abundance! There are plenty of fruit markets and fruit shops on the island. Pineapples are about 1100 TZS ($ 0.5), coconut – 750 TZS ($ 0.33), and mango, and at all 450 TZS ($ 0.2), that is about 15 rubles.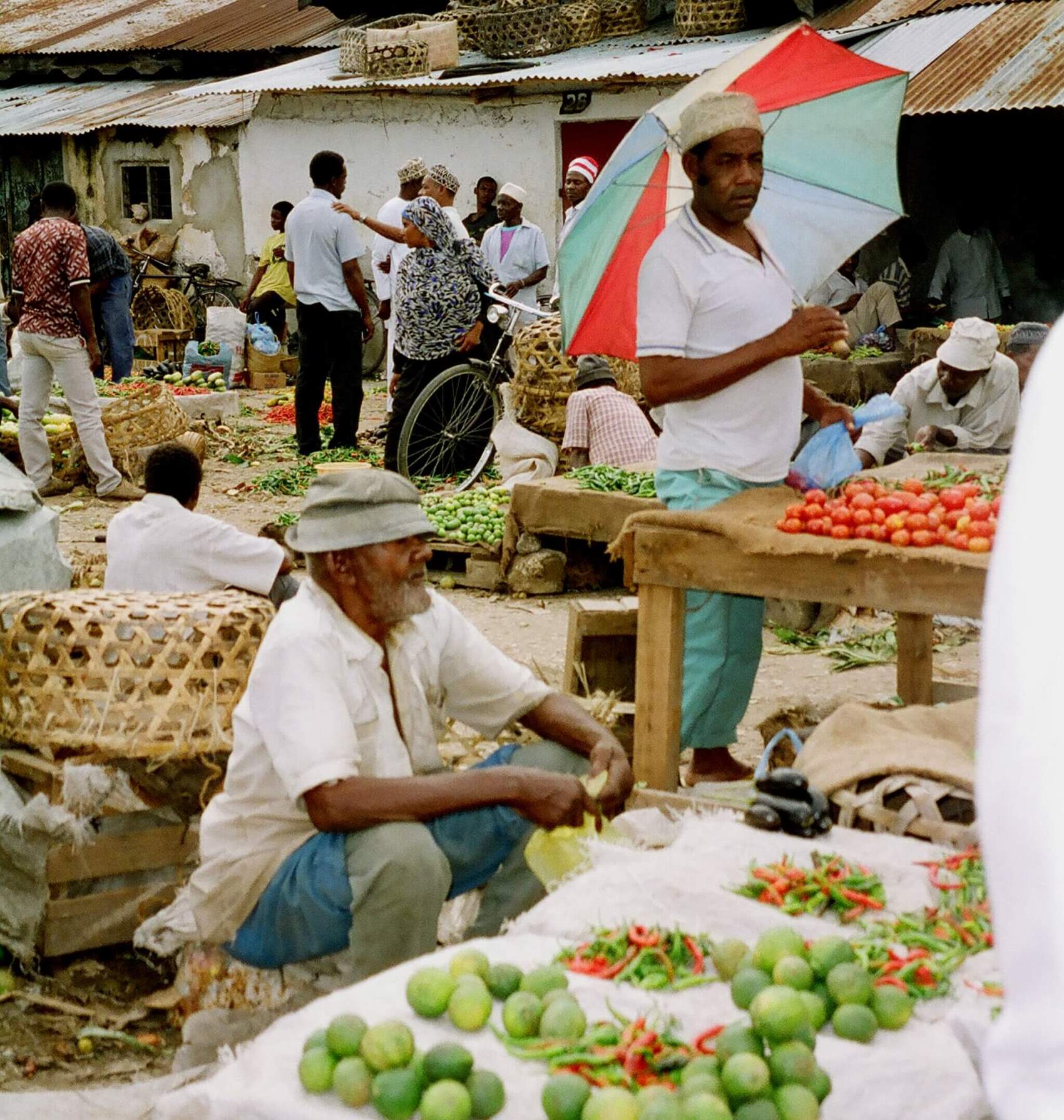 A colorful food market in Zanzibar. Photo: Karen Fasimpaur / wikimedia.org / CC BY-SA 3.0.
Excursion Prices in Zanzibar
There aren't many excursions in Zanzibar right now, especially for Russian tourists, because the destination isn't yet fully explored. The island is small, and a 10-day vacation is quite enough to get acquainted with the culture and sights of this place. Tour prices on Zanzibar in 2022 average $50-70 per person. We tell you what's worth seeing.
Visiting the Old Town.
The Old Town, or Stone Town, a UNESCO heritage site, is a mix of different architecture. Renting a place in the bustling center is not a good idea, but visiting the place with a tour is highly recommended. What's here:
House of Wonders. For several centuries until the 1960s, this building was the sultan's residence. Now it is a tourist attraction and, by the way, the largest building in all of Stone Town.
Slave Trade Square. The name speaks for itself: more than half a million slaves were sold in this square during its existence. There is now a monument commemorating this period. If this topic interests you, visit also the Slave Cave located near Mangapwani Beach which is a scary but impressive sight.
English Fort. Located near the House of Wonders, you do not need to pay to enter, only to be accompanied by a guide.
Spice Markets. Spices are an essential part of cooking for the people of Zanzibar, so the selection is huge. Spices can be brought home as a souvenir for yourself or loved ones. In addition, as a souvenir you can bring figurines of wood, leather goods (bags, purses), beads or bracelets with tanzanite. Also a great gift would be exotic fruits.
The tour costs about $55, the walk takes about three hours, and then tourists tend to go to the spice farm. Visiting just the old town is half the price, but the Russian-speaking guide is harder to find.
In addition to markets, you can visit the spice plantations. Such an excursion costs from $ 55 and includes not only tasting dishes, but also a full lunch, a visit to the Persian baths, a walk through the plantations and a guide. If you get to the plantation on your own, you can visit for only $10.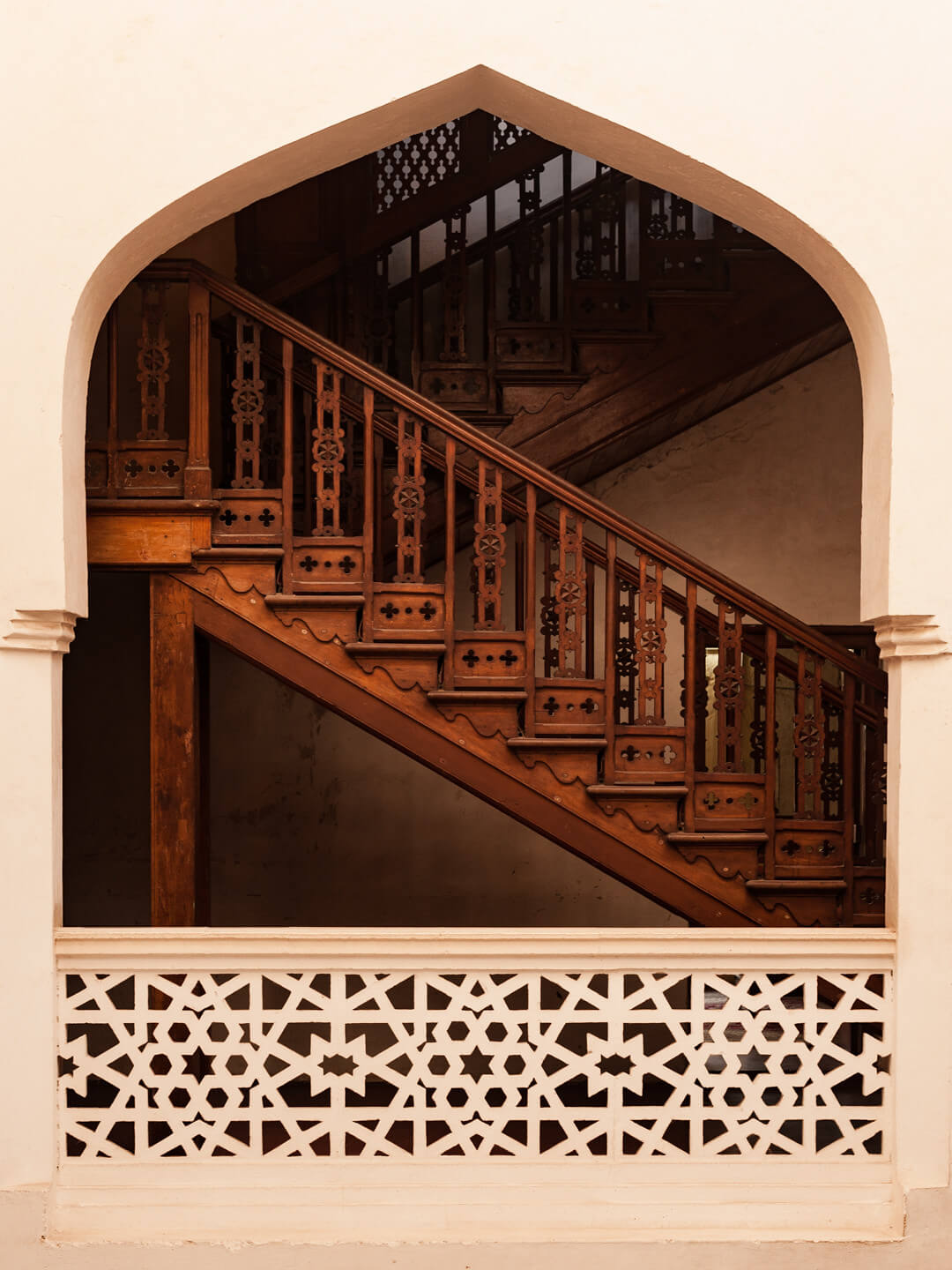 Sultan's Palace in Stone Town. Photo: Sander Solvak / flickr.com / CC BY-NC-ND 2.0 license.
Josani Tropical Forest.
This is a real tropical jungle where you will see not only exotic plants, but also colobus monkeys, leopards and snakes. The excursion lasts about an hour. The forest has national park status, and the tour is conducted in English. The Russian-language tour is sold together with a boat trip to the dolphins (watching dolphins and swimming with them in the ocean).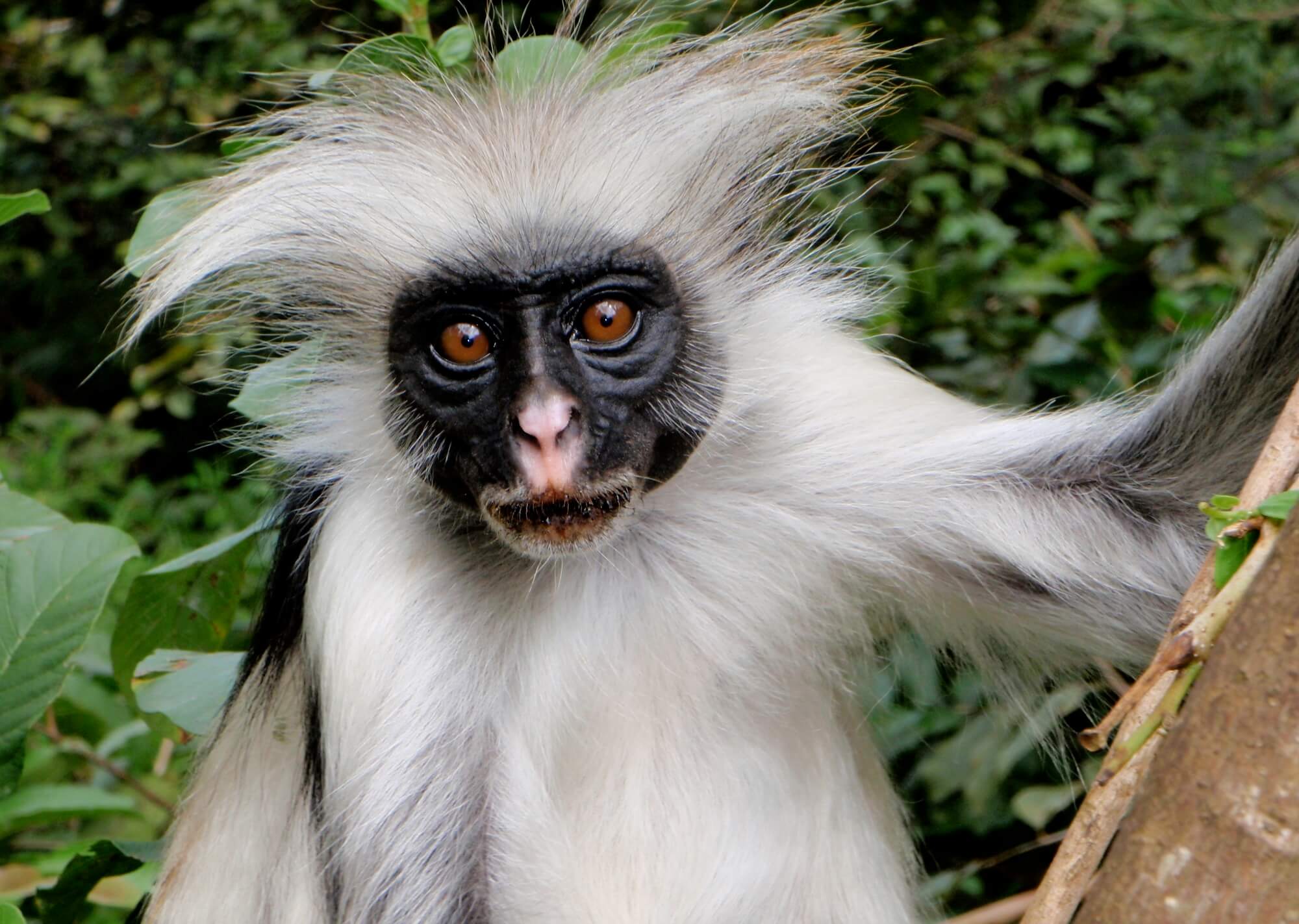 Red colobus in the Jozani forest. Photo: Olivier Lejade / wikimedia.org / CC BY-SA 2.0.
Prison Island
One of the most interesting sights in Zanzibar is Prison Island. The hulls of the prison are still intact, but it's long gone. In addition, there live giant turtles, which are not afraid of people, and the island itself is very scenic. The trip costs about $ 70.
In addition to the above excursions, you can visit one of the fishing villages (there are many on the island), enjoy the coral reefs, go boating at sunset and visit the best restaurants Zanzibar.
Excursions can be purchased from the guide at the hotel or find your own – it is not difficult. Sometimes the tour, bought at a small stall on the street, is cheaper and no worse in quality. Just remember that not every company has Russian-speaking guides yet!
Watch a video about a tourist trip to Turtle Island:
Prices for entertainment
Entertainment on Zanzibar is fairly standard for a resort. There are dozens of diving options alone! The cost of one dive is usually about $60, two is about $110. Jeeping through the local jungle and villages costs from $100.
Transportation prices
There are city buses on the island, the fare is about 450 TZS. From the village to the center you can get there for 2300 TZS. If you prefer a more comfortable ride, a cab within 3 km of the city center will cost 3400-7000 TZS, but you can get to the airport for about 45 thousand TZS.
Tourist Reviews and Tips
Tourists love the Zanzibari beaches, the clean sand, and the clear blue water. The sand here barely gets warm in the sun! But you can't go for a walk without sunglasses – the sand is so white that it blinds your eyes.
The eastern beaches are quieter, and for noisy entertainment is better to go to the northern part of the island.
It is important to remember the tides. Tourists say that sometimes the water goes very noticeably, and the phrase "on the first line" can lose relevance overnight.
Tanning cream is a must! In this case, the degree of protection should be at least 50. But even if you have sunscreen during the day it is better to cover your hands and feet. Read how to properly tan in the sun.
Take slippers for swimming, otherwise you risk stepping into the coral or sea urchin.
Zanzibar is an island of paradise beaches and beautiful sunsets. It has everything for a comfortable holiday – hotels for every taste, fruits and seafood, tours and walks. And let the destination now seems exotic and unexplored, warm reviews of tourists about Zanzibar increasingly suggest that this island is worth seeing. Read more tourist reviews of Zanzibar.
See also:
Interesting videos about Zanzibar
Check out this informative and nicely edited video about vacationing in Zanzibar now, during the pandemic. It's been wildly popular on YouTube – over two million views in one month! You'll learn about getting a visa at the airport, take a walk around the island, see Nungwi Beach and learn about prices on the island:
See also an overview of all the major beaches in Zanzibar and learn about the tides on the island: