Volcano Etna: how to get and see safely, my experience
So what are you – Europe's largest active (!) volcano? How will you greet us – with silence, a light cloud or ash? We climbed the volcano when it was smoking, and everybody was strictly forbidden to climb more than 2700 meters. As an experiment we decided to climb completely on foot without the help of cable cars.
How to get to the volcano and what happened as a result of our ascent is described in the article.
Everything started 2 weeks before the trip – an acquaintance carefully sent us the latest news that Etna volcano woke up. Panicked with possible trip cancellation I rushed to look through the life history of Etna and was relieved to see that volcano is just like a bear in winter in Siberia – it wakes up every couple of months, mutters something under your nose and goes back to sleep.
So, we had a trip to Etna.
How to get to Etna
The closest to the volcano is the city of Catania, from where you can get in several ways.
The commuter bus company AST
The most budget and, imho, convenient option. The bus runs only once a day – at 8:15 leaves from the station at Piazza Papa Giovanni XXIII and goes back at 16:30. The ticket costs 6 euros round trip, buy it a little in advance at the ticket office. In general, to be sure to get on this bus, you should buy tickets at the ticket office nearby if not a day earlier, then at least half an hour before departure. In the season there are a lot of people who want to get to Etna this way. Our bus with 40 seats was completely full.
I was a little afraid that the road will be serpentine, but it turned out that it's not terrible at all, and even I, with a tendency to motion sickness, wasn't scared.
You will be accompanied by a guide in the bus, and at a certain point he will start to tell you about the possibility of climbing the volcano, and, of course, offer his tour for 80 euros, explaining that without him you will not see much, and with him you will not only look at the beautiful craters, but also get a set of safety clothing for climbing. The guide was persuasive, but we also had the internet with us on the bus, which helpfully told us that we should not be hasty to agree – if anything, a similar excursion can be bought locally.
The bus makes one short stop in the village after about an hour of road – you can go to the toilet and treat yourself to a sweet at the nearby cafe (as usual in Italy, it's very tasty). Another hour later, at 10 am, the bus arrives at the end of the route – at an altitude of 1910 meters to the Rifugio Giovanni Sapienza.
It is just over 6 hours for the volcano itself, and I can tell you that is more than enough (even taking into account that we ascended entirely on foot, which is a long time). If you are planning a cable car ride, you still need to think about how to entertain yourself in the remaining time (one option is below).
Special tour bus.
As soon as you show up in the center of Catania, someone's caring hands are sure to slip you a flyer with tourist bus routes. To get to Etna (to the same site at an altitude of 1910 meters) on a red bus with the promised audio guide costs 35 euros for an adult and "only" 25 euros for a child under 7 years.
The route also runs once a day, but not in the morning, but closer to noon – leaving from Piazza Duomo at 11:30, arriving at the site about 2 hours later (at 13:30), and leaving back at 17:30.
As part of a private tour
If you're not too strapped for cash, this is a great option. By going to Etna with a real guide, you will obviously hear and learn a lot more than if you took a guide directly to the volcano. As always, here are a couple of excursions from the Tripster website – one to Etna and two around the area – these reviews can really be trusted.
Rental Car
A big plus of this option is that you can be at the volcano at sunrise, for example, and be literally alone with the volcano. As I wrote above – the road even though it goes all the way up – it's not very difficult and doesn't require much mountain driving skill. I look at the prices of cars on this site .
How to dress for Etna.
Having had experience climbing a volcano in Hawaii and having read reviews about Etna, I took an extra pretty warm sweater and jacket with me. In the end I walked up to about 2400 meters in a T-shirt, and at the very end I put on a jacket. The sweater was not needed at all. It was the middle of June, it was terribly hot down there, and it was very comfortable here. I think if we weren't going up in the summer, an extra sweater would have come in handy.
However, at the first stop and at the top of the cable car there is a rental shop for clothes and equipment. One piece costs 3 euros.
What is important is to have comfortable shoes with thick soles. Serious mountain boots are not required, but it is better to have closed shoes. Be prepared for the fact that after being on the volcano, especially if you walk everywhere with your feet, the shoes will be very, very dusty.
Is it safe to climb Etna?
At this question, the angry general from "Police Academy" immediately comes to mind: "Sergeant, are you out of your mind? You are going on an active volcano! You're not safe!" But luckily, it's just an image. Etna is closely monitored and will forbid any climbing if anything goes wrong. But nevertheless, it is actually an active volcano, you have to keep your ears open and not go where they don't allow it. But overall, it feels very safe.
How to climb Etna
Stage 1 – up to 1900 meters
I'll be honest – at an altitude of 1900 meters, where all the buses reach, there is no particularly mesmerizing beauty. Yes, it is high, but exactly the volcanic scenery here so far is not impressive.
The only thing you can try is to take a ride from there in a special tourist train, which for 10 euros will take you to this altitude.
Stage 2 – Up to 2500 meters
The easiest way to go higher, which is used by almost everyone is a funicular, which for 20 minutes and 30 euros per person takes you to a height of 2500 meters.
It is fast and quite beautiful, but we decided that by riding the cable car we might miss some beauty and went on foot. The guide said that the ascent would take about 1.40-1.50. The kind uncle said optimistically that we would reach it in an hour. In the end the ascent took 1.50, as the guide said.
And you know what? The scenery is really quite beautiful, but it is worth repeating our route only if you have really good physical training. The climb is pretty steep, the slope is made up of small volcanic pebbles. In general, I, being quite sturdy and trained, got tired at the end.
And my companion did not, and even responded to e-mail workers in the process %). So, apparently, for very, very fit people the ascent will only be a joy .
Stage 3 – up to 2700 meters
One way or another, the legs or the cable car will take you to a height of 2,500 meters. And then again the choice: a) you can take a small special jeep-bus for 24 euros per person and drive a little higher, look at the craters. b) you can go to the tour office (all near the funicular), there to clarify about the tours – you will be assigned to a group, and for the same 30 euro you get a rental helmet and shoes and go to conquer the top with a guide. c) can engage their feet and walk to the craters on foot.
I will tell you frankly, in this case, it is worthwhile to walk on your own. You walk on the same trails (they are well-trodden, convenient for walking) that tourists in equipment, and it is, frankly, in these conditions at all useless (well, unless you are not in slippers, of course).
Maybe when the volcano is in deep hibernation and you can climb higher than 2700 meters, and it makes sense to take a tour by jeep bus, but if you are already at 2500, then 200 meters up you will definitely go and walk in the craters.
At Etna.
High. You're so small among the volcanic mountains and almost a demigod at the top at the same time. Here and there flocks of tourists flash by, but they are the size of pigeons and just get lost against the dark sand. You look at the expanse from all sides. A great, wild expanse with only its understandable justice. Many times already this volcano has destroyed entire cities, and from its slopes flowed red-hot lava that instantly turned all life into embers.
Now Etna slumbers restlessly, sometimes noisily snorting and emitting smoke from its depths. Who knows what this volcano with a woman's name dreams about? And what will happen when it finally wakes up?
Enough of this epicenter. We've been on the volcano enough – it's time to go down to the realm of the living, to greenery and blissful ignorance.
…At night I dreamed of pebbles, all pebbles, lots and lots of pebbles. At first they were gray, but the deeper I fell into the dream, the more colorful they became. Bright, shiny, eternal. Probably like Etna itself.
Volcano Etna.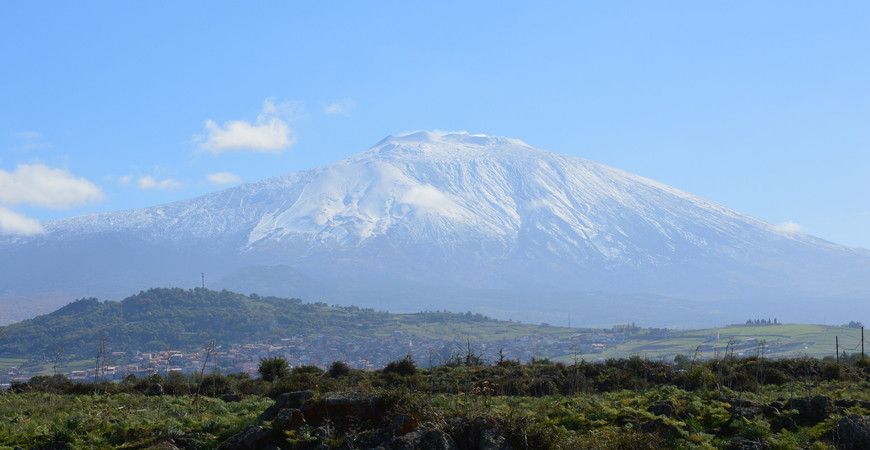 Active volcano Etna is located in the east of the island of Sicily, on the coast, near the cities of Messina and Catania. Etna is the highest active volcano in Europe.
According to the U.S. National Museum of Natural History, Etna is 3,295 meters above sea level in 2018, which means Etna is 2.5 times higher than Italy's Vesuvius and 481 meters lower than Japan's Mount Fujiema. The height of the volcano may change as a result of eruptions: since 1942, Etna has risen by 26 m.
Etna is a stratovolcano, i.e. it consists of numerous layers of hardened lava, volcanic ash and dust. Stratovolcano is characterized by periodic explosive eruptions, and Etna is considered one of the most active volcanoes in the world, ranking 10th by capacity. On average, every 150 years Etna eruption destroys some settlement.
The soil around Etna is very fertile because it is saturated with minerals and trace elements contained in the cooled lava and volcanic ash. Therefore, despite the constant danger of eruption, the inhabitants of the surrounding area actively grow oranges, pomegranates, lemons and walnuts, and in the lowlands there are vineyards that supply berries for the production of the famous Sicilian wine.
In 2013, an international commission included Etna in the UNESCO World Heritage List. And in 1981, the regional authorities of Palermo established a national reserve around Etna volcano.
Etna volcano is located at the junction of two tectonic plates: the African and Eurasian plates. The African plate gradually shifts, sinking beneath the Eurasian plate, and its edges melt into the depths of the Earth's interior. And the Eurasian plate is rising as a result of this movement, thus creating the mountains of Sicily.

Where the plates touch, cracks appear, and molten magma sometimes pours out: thus the volcanoes Etna, Vesuvius, Santorini, and the volcanoes of the Liparian Islands. Scientists estimate that Etna was formed about half a million years ago.
From time to time a huge part of the volcano breaks off. For example, about 6,000 years ago the eastern slope of Etna collapsed into the sea, causing a giant tsunami in various places in the Eastern Mediterranean. And the results of the collapse of the summit of Etna about 2,000 years ago are now faintly visible because lava has poured over the top of the fissure in subsequent eruptions.

Etna eruptions
Until now about 200 eruptions of Etna are known. The first proven eruption was recorded in 1226 BC.
There were times when the eruption was even beneficial: in 396 B.C. Catania and Syracuse were saved from the Carthaginians' attempts to occupy these cities by Etna's activity.
A major eruption in 44 B.C. was accompanied by such an eruption of ash that even the sky over Rome was darkened and the white stone buildings were visibly stained. The sun's rays could barely penetrate through this dust curtain, and the entire Mediterranean region had poor harvests that year. And in 122 Aetna destroyed almost the entire city of Catania.
In modern times, volcanic eruptions have led to the destruction of the elevator, the freeway, also because of the large amount of ash in the air more than once Catania international airport had to be closed.

Dangerous signs
Sicilians know from childhood the signs of approaching danger. The color of smoke over a volcano can tell you when to stay away from it. White smoke is safe; red smoke portends a volcanic eruption in the coming days or weeks. Blue smoke means a real threat of an eruption.
Craters
Side craters are constantly forming and disappearing on the slopes of Etna. On average, their number ranges from 200 to 400. Several times a year lava erupts from some crater. When the lava solidifies, a solid plug forms in the crater, so the next lava burst occurs in a new location.

Excursions
Buy tours in Italy, including a tour to Etna volcano, can be already in place, in local travel agencies, or by ordering in advance using the service "Experts. Tourister.Ru".