WHEEL-COPENHAGEN WILL MAKE ANY BICYCLE A HYBRID
"Transform your regular bike into an electric hybrid and get real-time information on air pollution and road conditions!" – urges a team of specialists at the Massachusetts Institute of Technology. They are convinced that they have developed a revolutionary wheel that will take cycling to a whole new level – Biking 2.0.
The premiere of the novelty took place on December 15 at the UN conference on climate change in Copenhagen (COP15), and it was the capital of Denmark that gave the wheel its name. Copenhagen Wheel is described as smart, responsive and elegant – a new symbol of urban mobility. The most striking difference between the Copenhagen Wheel and its brethren is the red, like a Swiss army knife, "swollen" hub.
Its plastic body hides a module that recuperates energy when braking and gives it back when it is needed, for example, when climbing uphill. All these processes are controlled exclusively by the pedals: spin them backward to charge the system's batteries, spin them forward quickly to get "extra momentum. "Everything is under the control of your feet," say the developers of the Copenhagen Wheel.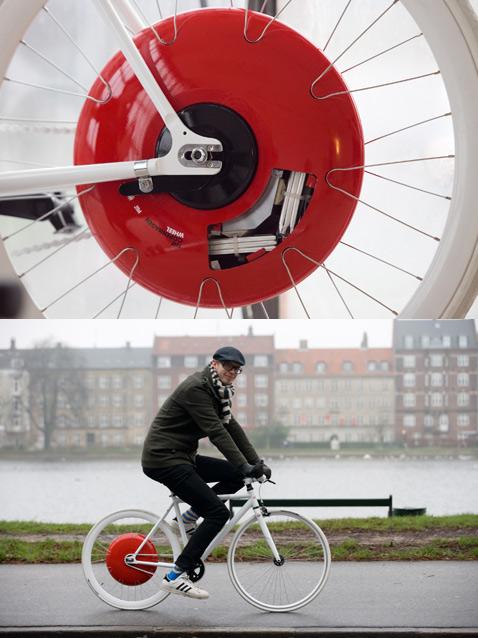 The wheel was designed at Carlo Ratti's MIT SENSEable City Lab. It was its employees who created the robot car navigator and cloud tower, crossed an iPhone with a bus stop, built a pavilion out of water, and mapped the city's cell phones (photo by Max Tomasinelli/MIT SENSEable City Lab).
"The wheel uses technology similar to the KERS kinetic energy recovery system, which has radically changed Formula One racing in the last couple of years," explains project director Carlo Ratti in a MIT press release. – The wheel contains everything you need, so no additional electronics are needed. Any of the existing bikes can be upgraded in the blink of an eye."
The fact is that the Copenhagen Wheel has sensors recording the speed of the bike and mileage, measuring the concentration of carbon monoxide and nitrogen oxides in the atmosphere, air temperature and humidity, as well as the noise level.
There is room in the wheel and for a GPS module, which, among other things, can find and show the cyclist his friends and girlfriends nearby, plus show popular routes and traffic jams. All the data is transmitted via Bluetooth to the rider's iPhone, attached to the handlebar. And that information can be shared if desired, helping to create relevant databases for city planners, environmentalists and so on.
"In the last few years we've seen a kind of 'bicycle renaissance,' which began in Copenhagen and has now spread to many cities, from Paris to Barcelona and Montreal," Ratti says. – We could call it the Biking 2.0 revolution, where cheap electronics can improve bikes and turn them into more flexible systems with lots of extra features, modern design and ease of use.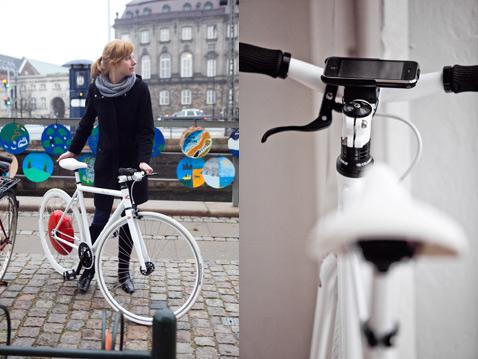 The Copenhagen Wheel was prototyped by Ducati Energia with the support of the Italian Ministry of Environment (Ministero dell Ambiente), and Progical Solutions helped make the bike "friendly" with an iPhone (photo by Max Tomasinelli/MIT SENSEable City Lab).
The creators of Copenhagen Wheel think Copenhagen is the "perfect test bed" for their system, since there are 600,000 bikes per 500,000 people in the Danish capital. And the city, represented by Københavns Kommune, has actively joined the initiative by pre-ordering the innovative wheels.
"Our ambitious goal is for 50% of citizens to ride bikes to work or school every day," said Lord Mayor of Copenhagen Ritt Bjerregaard. – So for us this project is another opportunity to make bicycle use more attractive."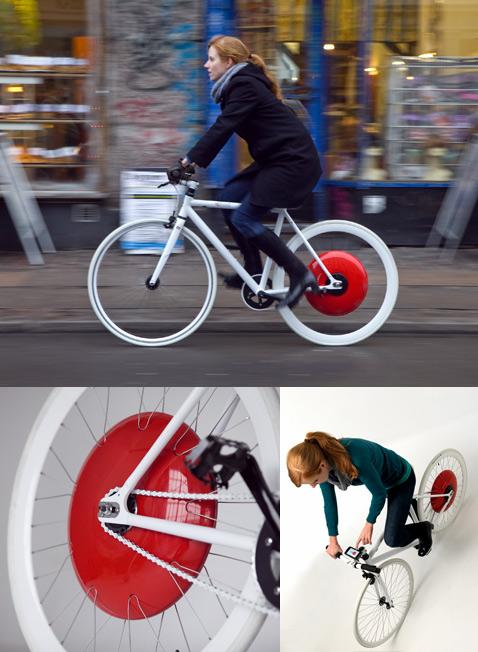 "One of the suggestions we have discussed with the Copenhagen authorities is to incentivize citizens. On Copenhagen Wheel rides, they could collect Green Miles and be rewarded in some way," said project participant Christine Outram. – In the same way, company executives could motivate their employees to behave sustainably" (photo by Max Tomasinelli/MIT SENSEable City Lab).
"We've shown that the bicycle can really solve some of today's problems in cities – traffic, pollution, climate change," Carlo said confidently. – But thanks to the built-in electronics, the Copenhagen Wheel has another advantage: safety. The wheel can be configured so that the bike will only function with a cell phone connected and if the user is within reach. The bike recognizes the presence of the device and unlocks."
"There's another option," Assaf Biderman, Ratti's deputy, continues. – The wheel has a smart lock, and if someone tries to leave, the constant and maximum power output mode is activated, with the system sending an SMS to the owner. That way, in the worst case scenario, the thief will charge the battery before returning the bike to the rightful owner."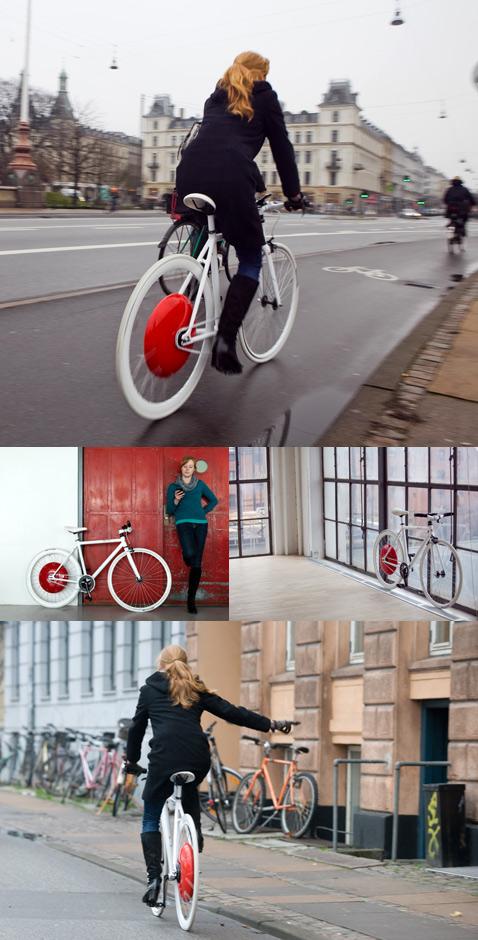 If you think about it, the Copenhagen Wheel project has a curious integration: Americans and Italians made a wheel for Danes (photo by Max Tomasinelli/MIT SENSEable City Lab).
The Copenhagen Wheel is scheduled to go into production by the end of 2010. And although the prototypes cost hundreds of thousands of dollars each, the price tag should somehow be competitive compared to other, initially electric bikes. The first wheels will be replaced by employees of municipal services of Copenhagen, which will help the city become the world's first "carbon-neutral" capital in 2025.
Instructions on cycling the city from the former mayor of Copenhagen
For several years in a row, Copenhagen has been the most bicycle-friendly city in the world; absolutely everyone, including the royal couple, uses this democratic mode of transport. As part of Winter Cycling Congress 2018, Strelka Magazine asked Morten Cabell, Mayor of Copenhagen for Technology from 2014 to 2018, and current Executive Director of Copenhagenize Design Company, about how to adapt even a metropolis as large as Moscow for cyclists.
FROM FOUR WHEELS TO TWO
Copenhagen managed not to lose its cycling tradition even when the whole world switched to cars, and now our city ranks first in the world in terms of adaptability for cyclists. But in the 1960s and 1970s, we, like many major cities in the world, subjected to Americanization: the construction of highways, citizens actively used cars in everyday life. But over time, Copenhageners realized: Enough is enough.
Historic squares turned into parking lots, and parents became afraid to send their children to school alone. In the 1970s, there were large demonstrations in front of the city council building in Copenhagen: more than 150 thousand people demanded the return of Copenhagen, which seemed to belong not to them but to cars.
It was then that we began to gradually return to bicycles, especially a lot of changes have happened in the last 10-15 years – now in Copenhagen this mode of transport is used by the majority. Not only for the resident, but also for the city planner, it's a kind of choice: how to use the space of the city? Fill it with freeways or make it livable? The city should belong to people, not cars.
ENVIRONMENTALLY FRIENDLY TRAFFIC JAMS.
We have a problem with traffic jams on bicycle lanes, so we're going to widen them. The width will increase from 2.25 meters in each direction to 3.5 meters. And on some bridges, the width will reach 5 meters in one direction. Naturally, at the expense of reducing the space for roads.
On some streets, up to 50,000 cyclists a day pass through. On the street where I live there are 46 thousand and by comparison there are only 10-15 thousand cars.
Globally, we want to increase mobility, which is much higher on bicycle lanes than on freeways. A bicycle lane can move five to seven times as many people. I think the issue of mobility is incredibly relevant for big growing cities like Moscow. If you reduce the space for cars and increase the space for bicycles, you can move more people with less traffic. The scale of the city is not a problem at all. It would be a desire to change for the better.
There's also the problem of a shortage of bike parking lots. One solution is to make them double-decker, the other is to reduce the amount of parking for cars. In a place where a car is parked, you can put 12-15 bikes.
MOSCOW'S CHANCES FOR COPENHAGENIZATION
Introducing everyday cycling culture in Moscow is realistic. The main thing is to start, and soon the Russian capital will become the best bicycle city. The only thing is the scale.
There are 2 million people in the Copenhagen agglomeration, so let's make six little Copenhagens in Moscow with a population of 12 million. The only question is how to organize a larger bicycle infrastructure.
You can use electric bicycles for long distances and adapt suburban trains and subways to transport bicycles. Anything is possible, it's just a matter of choice and scale. Of course, it's better when there's a dialogue between city planners and citizens, when you can discuss what the citizens want and how to bring it to fruition. But don't think that Copenhageners are special, we are just as lazy as everyone else. We only use bicycles because it's the easiest and fastest way to get to work. If city planners made the car the most convenient, we would choose it. So the initiative of the authorities plays a crucial role in shaping the daily life of the city, and the authorities may well make it so that the car as a mode of transportation is unprofitable and inconvenient for city dwellers.
HUMAN HIGHWAY
Copenhagen has successfully launched Cycle Superhighways, but we are learning from the Netherlands: the Dutch are the best in terms of bicycle infrastructure on a national scale. The task is to create a quality and convenient highway length of about 30 kilometers with wide enough lanes. The highway itself is kept clean, the snow is regularly cleared in winter, there are also small stations where you can replace or repair tires in case of a puncture. But most importantly, the bicycle lanes are fenced off and secured, so parents can rest assured that their children will get to school safely.
Copenhageners point out that the bicycle is the most human form of transportation. Once, when I was still mayor of Copenhagen, an elderly woman came to me and asked if more paths could be built in her neighborhood. I was very surprised, because the lady was in her 80s. To which she said: "No, no, it's not for me. I just feel safer when I see people's faces instead of metal boxes. And when I see a cyclist, I can look him in the eye and see that he's a human being too."
CYCLING TO WORK
We don't have a lot of data on the effectiveness of superhighways yet, because the network is not yet complete. But what we can observe now is that when the network is built, people start using it more and more every day. A good example is the Bicycle Snake Bridge. When we built it, we expected 3,000 cyclists to use it every day. The result is that there are 24,000 cyclists on the bridge.
Among Copenhageners there are those who easily ride 30 kilometers, I have colleagues who travel 15-18 kilometers in the morning and evening. They have electric bikes, which makes it faster, and they were able to get to work in 30 minutes. 30 minutes is very fast, one of my colleagues even said that if she had taken a car or public transportation, it would have taken longer. It's all about the infrastructure.
And, of course, we have an impossible situation with snow being shoveled onto bicycle lanes! For 12 years now, we've been clearing them before the highways. Why do we do it? Because it's a big signal to cyclists that we care about them, and to motorists that we don't care about them. There's a reason for that: 62% of Copenhageners ride bicycles. And 9% of Copenhageners travel by car.
A SIDE EFFECT OF STATIONARY BICYCLE RENTALS
We don't have stationless bike sharing, Copenhagen doesn't need it. Stationless bikes fill the space, are scattered everywhere, and public places don't look very neat with them. Look at Shanghai – Mobike is littering the streets and squares with thousands of bikes. It looks terrible.
But we have bikeshare with stations – these are private companies, but the government is also involved. And in general most Copenhageners have a bike, sometimes more than one. We also have bike rentals, for example, hotels provide bikes for tourists.
NATIONAL SCALE
Copenhagen is still the best city in Denmark for cycling. But other cities are also interested in changes: Odense is trying to keep up and working on improving the infrastructure. There are also smaller cities, where people actively ride bikes.
To be honest, the further from Copenhagen, the more "motorized" the city is. Unfortunately, even for short distances, people use cars there. We don't have a national program to reduce the number of cars on the roads, the cities decide for themselves.
While very few cities are making attempts to increase the number of bicycles, but even in these cities 10-15% of residents use this mode of transport, which for Russia would be a large figure.
THE MOST TWO-WHEELED CITY IN RUSSIA
I recently visited the city of Almetyevsk in Tatarstan, where the Copenhagenize Design Company has designed a network of bicycle lanes, and I must say that the city is in a very interesting process these years, their mayor is interested in making Almetyevsk the best bicycle city in Russia.
During my visit, I saw wonderful results: separate bicycle lanes, special lighting, sloped garbage cans that are more convenient to use on the go, and much more. And there, by the way, the paths are cleared of snow in the morning. In two years, the number of cyclists has gone from zero to 7%, which is very impressive.
HOW TO MEASURE CYCLING
The Copenhagenize Index ranking measures cycling. Next to the Danish capital in it are Utrecht and Amsterdam, which also do an excellent job and could easily overtake Copenhagen. The index is not designed to compare cities to Copenhagen, it was not always in the first place. We rate many cities and publish the top 20.
Our experts personally verify whether the city has an established cycling network and how it functions. Whether there are different campaigns, how the infrastructure works, how much investment there is, how much initiative and support there is from the authorities. We also conduct in-depth interviews with the citizens, which allow a more objective assessment of the situation in the city and the degree of satisfaction of the people.
Most of the cities in the top are European, but there are two from other parts of the world: Tokyo is in ninth place, and Montreal is 20th. Minneapolis and Buenos Aires have been on the list in different years. And it's not, as I said, about the size of the cities. It's about infrastructure and the interest of politicians and citizens. Tokyo, with a population of 13 million, was on the list. Moscow may end up on the list. What I can say for sure is that if you start developing bicycle infrastructure, you will never regret it.