All the most interesting places in Cappadocia
Learn about the main beauties of Cappadocia! I tell you what is definitely worth seeing and help you make an itinerary for 1, 2 and 3 days.
Content:
Alexei Sinitsyn, creator of . Rarely does a tourist spend more than a couple or three days in Cappadocia. We wandered the dusty roads of this unique land for almost a whole week. I can say with confidence that 5-7 days is the ideal time to get to know the Land of Beautiful Horses. During this time you will see all the main attractions, visit the famous cave cities, which are many stories deep into the ground, walk through the most expressive valleys, which somehow magically unlike one another, although they stand side by side, you will see stone mushrooms and old cave churches with frescoes, walk through the canyons and enjoy the views from observation points, of which there is an abundance. In general, you will have a lot of impressions and delight for eyes. Cappadocia is beautiful and unique, I advise you not to jump on the peaks, and to give yourself a week rest in these parts to fully and at a relaxed pace to discover all the local beauty.
Ten Valleys Around Goreme
The valleys are the most interesting and beautiful things to see in Cappadocia on your own, in my opinion. I counted ten of them, and that's just around Goreme: Red, Pink, White, Honey, Zemi, Sabel, Pigeon, Meskandir, Love Valley and Görkündere (Love Valley-2). It is an indescribable pleasure to walk alone through these beauties, discovering ancient churches with half-faded frescoes hidden in the rocks, walking through dark tunnels, climbing to viewing platforms, admiring bizarre remnants and marveling at the bright colors. Learn more about the valleys of Cappadocia and see photos.
Goreme is convenient to live in because it is easy to walk to any route through the valleys from the village. Pictured here is the valley of Love. These landscapes reminiscent of the Wild West are the Red Valley and Aktepe Hill.
Goreme Open-Air Museum
This is a complex of many cave churches, which is included in the UNESCO list. You can only visit some of them and it is forbidden to take photos and videos – and the entrance costs as much as 100 liras! In fact, you'll see similar things in the Cappadocia valleys for free, but it's still worth seeing the museum too, because the frescoes there are much better preserved and some have been restored.
Chavushin Fortress.
A curious fortress that looks like Maasdam cheese. It's not touristy, so for now you can crawl through it for free. Climb up to admire the views and look for the church of John the Baptist or ask the locals to show it to you. However, they will suggest it to you.
Behind the fortress, about a kilometer away, there is the church of Foka and the most beautiful stone mushrooms. I advise to come before sunset!
We explore the fortress Chavushin. About a kilometer from the fortress there are such nice "mushrooms". They are also called chimneys or fairy fireplaces.
Uchhisar fortress
Another cheese fortress, but paid, equipped and popular. From the top there is a 360 ° view and that's all – in a similar fortress in Chavushin was more interesting. Tourists advise to meet the sunset at the fortress, and I would recommend meeting the sunset with a view of it and the neighboring "fairy chimneys". At this time, everything around is flooded with gold. You'll get colorful photos!
Uchkhisar Fortress and a happy dog who found company in us. At sunset Uchkhisar fortress is especially beautiful. Near Uchkhisar fortress there is a wonderful cozy valley with "fairy chimneys.
Pashabag – the valley of monks
A small toll-free valley with "fairy chimneys", mushrooms, a camel like in Devrent and the church of St. Simeon. It's nice to walk around marveling at a local specialty – multi-headed mushrooms that, like beech mushrooms, grow out of one place.
Pashabag is the valley of monks.
Zelve – abandoned city
Zelve is another open-air museum that I suggest you see on your own in Cappadocia. It is not as advertised as in Goreme, and more ascetic – there are almost no frescoes. But it is a real abandoned city with a mosque, churches, a tunnel and a lot of cave tiered houses. It is located in three gorges at once. Just think, here without any facilities and communications until the 50s of XX century, lived the Turks! Do not be lazy to go, because the city is spectacular and little visited. Our pleasure was unlimited.
Zelve. Zelve. Mosque in Zelva.
Devrent – the valley of imagination.
The valley of imagination is the name of this little patch of land with bizarre figures. They say that among these mushrooms you can see figures of animals, people and God knows what else. Tourists are addicted to this and come in buses. We did not understand the excitement – perhaps it is necessary to walk through the valley to feel it. We took a quick look at the poor, photographed camel and drove on.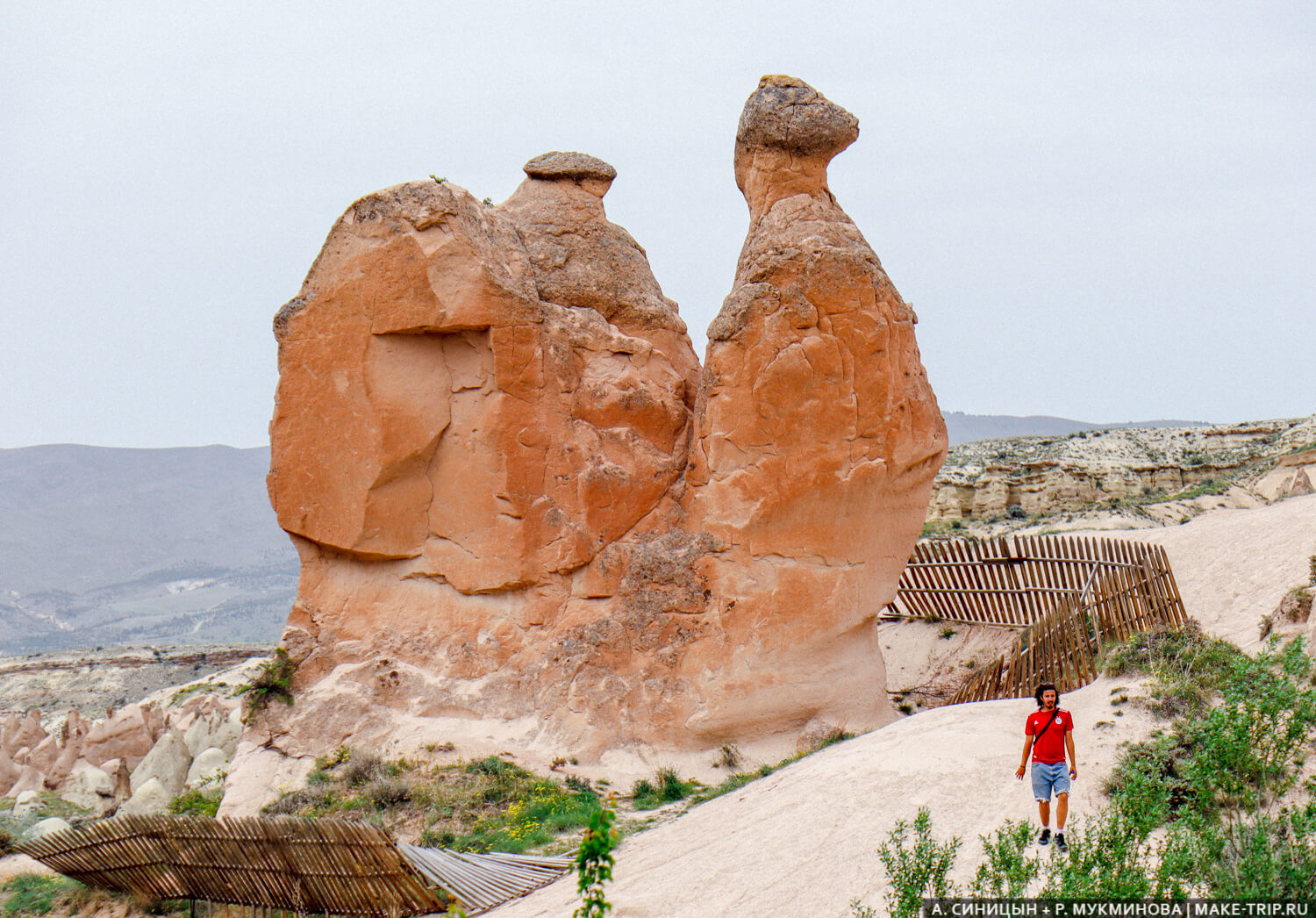 Camel in the valley of fantasy.
Three Beauties – Uch güzeller.
This is another very popular place, a symbol of Urgup and the whole Cappadocia! There are three mushrooms just by the road, and you can look at them from wooden bridges. We have seen exactly the same ones not far from Cavushin, so we were not impressed. We must admit, the beauties are pretty, and you can spend a few minutes with them.
The three beauties are the symbol of Cappadocia and Urgup. The Three Beauties.
Cappadocia Lookouts
It is interesting to walk along the valleys, but it is no less cool to climb the observation platform after a long hike and capture with the tired gaze the panorama of the places you've just passed! However, many viewpoints can also be reached by car. Learn about Cappadocia viewpoints.
The most popular observation point is in Goreme, where you can watch the sunrise and sunset, as well as admire balloons and have a glass of wine.
Ihlara Valley
The farthest valley from Göreme, the deepest and probably the longest! It is a stone canyon, resembling a wound on the Earth's body from above. At the bottom of the valley runs a rivulet, and on its rocks hide churches with stunningly beautiful frescoes and just monks' dwellings. Some people prefer to see this valley on their own, but I think it is better to visit it as part of the Cappadocia Green Tour and see only the most beautiful part.
Ihlara Valley (Ihlara). A fresco in one of the rock churches of the Ikhlar Valley.
Selime cave monastery.
Amazing rock monastery, preserved since the 8th century. There's a cathedral, churches, a caravanserai and various outbuildings. And you can also partially see Star Wars Valley from here, which George Lucas was once impressed with. We didn't expect much from Selime, but we really liked the monastery. It is located next to the Ihlara Valley and is part of the Green Tour.
The so-called Star Wars Valley. The cathedral of Selime monastery. Faded frescoes.
Underground cities.
There are 40 multi-story underground cities in Cappadocia, but the most famous are Derinkuyu and Kaymakli. At least one of them is worth seeing. We went down to the Hittite-founded city of Derinkuyu, and it was really something! An underground anthill with an intricacy of tunnels and caves, which are easy to get lost in without a guide. Just imagine how everything was intricately arranged there: there were elevators and ventilation shafts, cattle lived inside, there was a morgue, churches, a bathhouse, a school, and other necessary facilities for life.
We visited the city with a guide during the Green Tour, but you can see it on your own or replace it with another underground city in Cappadocia, Kaimakli or Mazi. However, such cities are better explored with a guide, otherwise the purpose of many underground rooms will remain unclear.
Let's go down to the underground city of Derinkuyu! In some places there are such narrow staircases and tunnels that two people will not be able to pass each other. On one of the floors of the underground city of Derinkuyu.
Crater Lake Nar.
A picturesque green lake surrounded by the walls of a volcano vent. Not a bad place to take a break and eat with a beautiful view, but I would not go here specifically. Nearby there are hot springs and thermal hotels.
Crater Lake Nar.
Mustafapasha
A lovely village with well-preserved Greek mansions. In addition to the beautiful houses, I suggest seeing the Church of Constantine and Helen, the Church of St. Basil, and a walk through the Monastery Valley. There are several cave churches and the rock monastery of St. Nicholas. There are several other valleys near the village: Gomeda, Yuzedengi, Sakla, so if you want to walk through them, it makes sense to stop for a couple of nights in Mustafapasha.
Mustafapasha is very different from other villages in Cappadocia with Greek mansions. The entrance to the Church of Constantine and Helen.
Gumushler Monastery
This is a unique well monastery! One of the best preserved Byzantine underground monasteries. It also has beautiful frescoes. We didn't have time to go there, but we really wanted to.
Ortahisar
There is also a cave-formed rock fortress, as in Chavushin and Uchhisar. But the town is more interesting with its churches: Balkanskaya, Panjarlik, Hallach.
Keşlık Monastery
Keşlık Manastırı is another rock monastery. We have not been there yet, but we plan to go. It is interesting with well preserved frescoes from the iconoclastic period, unlike other Cappadocian frescoes.
Guzelyurt and the Monastery Valley
A town with pretty Greek mansions and a monastic valley – just like Mustafapasha. The valley is called Cappadocia in miniature. There is also the underground city of Gaziemir, the remains of the Hittite settlement on the hill of Analipsis. Here we have not yet reached.
Soganly Valley.
A nice valley with interesting frescoes, tourists hardly ever visit it. Included in the rare Blue Tour, but the valley can be seen on your own by car and visit other places in Cappadocia on the way: Derinkuyu, Mazi, Mustafapasha. We have not visited it yet.
Avanos – the city of potters.
To somehow dilute the valleys, stone mushrooms, rock monasteries and cave churches, go on your own to the pottery town of Avanos. This is where all the pottery sold in Cappadocia is made. You can buy souvenirs or learn how to make pottery at a master class.
What to see in Cappadocia in 1 day
If you have only 1 day in Cappadocia, be sure to pre-book this hot air balloon tour (it's cheaper and has reviews). If you're afraid to fly, at least watch them at dawn, and after breakfast at the hotel, go to the Open Air Museum. Then walk for a while in one of the valleys (like Love, Pink or Sabel), take a cab to Zelva or Pashabag, and in the evening go up to the observation deck in Göreme and meet the sunset with a glass of wine.
If you don't want to plan your own vacation, take the Red Tour of Cappadocia.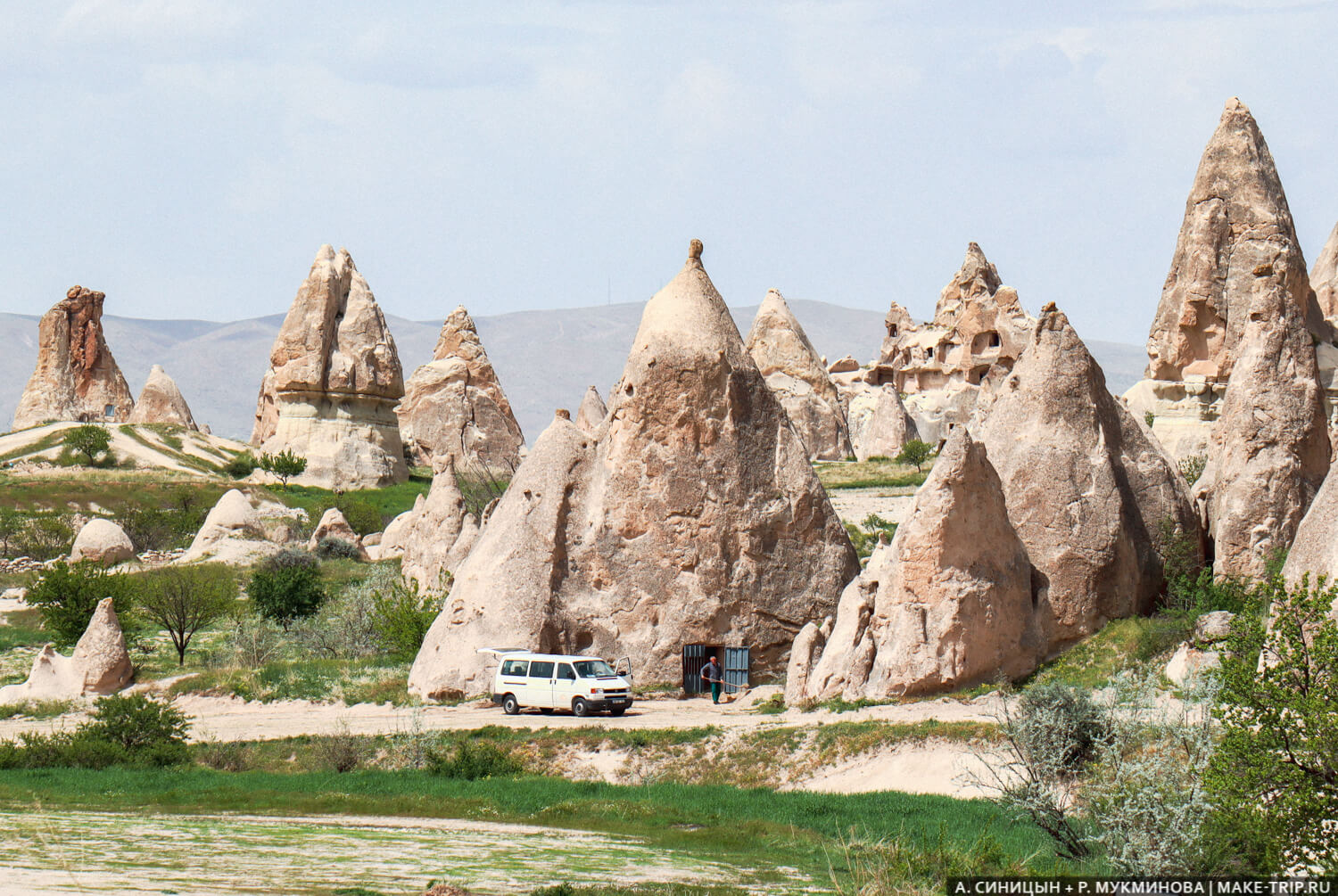 Take a walk to the Sabell Valley from Goreme. It's quite close, and it's easy to get there by walking past the ranches.
What to see in Cappadocia in 2 days
If you have a day for Cappadocia, see the description of the first day above. And for the second day, plan a large self-guided route through the valleys. For example, this: Goreme – Valley of Love – White Valley – Honey Valley – "chimneys of fairies" – Uchhisar fortress – Goreme. You can also pass it in reverse order. I like this route most of all because it is spectacular, simple and fast. A person with normal physical training can pass it.
The valleys are the most beautiful and interesting things in Cappadocia!
What to see in Cappadocia in 3 days
On the third day, I advise you to take the Green Tour, even if you have your own car. We did, because with a guide to drive this route is more profitable in time and money. Without a guide Ahmet, we did not have time to see half of the places in a day!