Where to stay in Lisbon? The best neighborhoods and districts for your vacation in 2022
Lisbon is a wonderful city that boasts unique attractions, a vibrant and lively nightlife, and beautiful neighborhoods, each with its own unique face.
On the map, Lisbon looks like a large city, covering a large area. Luckily, the main tourist areas are fairly compact. Most visitors prefer to stay in the tourist areas, and it makes sense, especially if this is your first time in Lisbon.
In this article, we'll look at the best neighborhoods and areas of the city to look out for when going on vacation to Lisbon. Related articles: Getting to know Lisbon – 3 Days in Lisbon
Best Lisbon neighborhoods to find hotels and lodging
If this is your first time in Lisbon, the top five neighborhoods and areas to stay in are: 1) Baixa 2) Avenida da Liberdade 3) Alfama 4) Bairro Alto/Chiado 5) Cais do Sodré (More information on these areas below) For business travelers, the best area to stay is the Parque das Nações, which is in the northeast of Lisbon.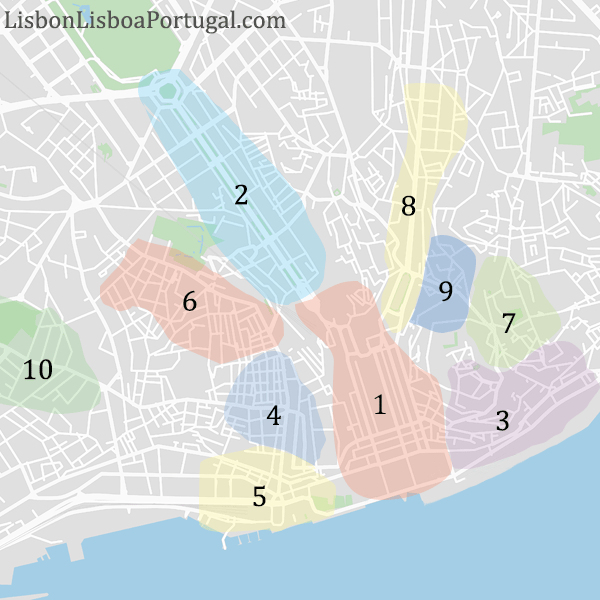 The map below shows the main tourist areas in central Lisbon.
Lisbon's tourist areas: 1) Baixa (Baixa) 2) Avenida da Liberdade (Avenida da Liberdade) 3) Alfama (Alfama) 4) Bairro Alto/Chiado (Bairro Alto/Chiado) 5) Cais do Sodré (Cais do Sodré) 6) Principe Real (Príncipe Real) 7) Grasa (Graça)
Martim Moniz, Intendente and Anjos (Green Line metro stations) 9) Mouraria 10) Estrela The map below shows the location of hotels and rooms for rent in central Lisbon. If you indicate the date of your arrival, you will be able to see the current prices:
The map below also shows other popular tourist areas of the city and accommodations. The area of the first map and the route of the four metro lines (red, blue, green and yellow) are dotted.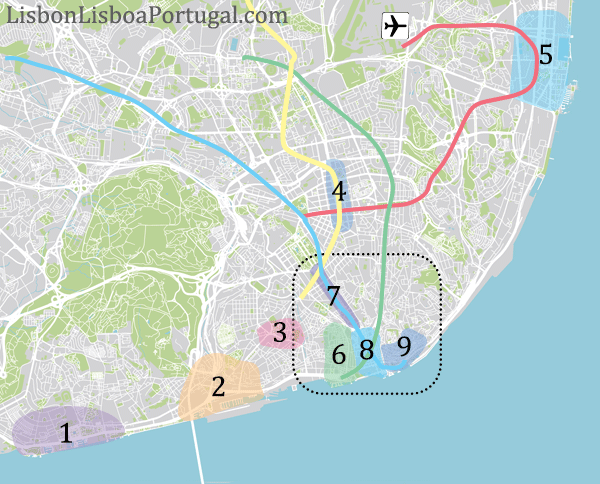 Lisbon's coastal areas: 1) Belem 2) Alcantara 3) Estrela 4) Campo Pequeno 5) Parque das Nações 6) Bairro Alto and Cais do Sodré 7) Prospecto da Libertad
Baixa 9) Alfama
Lisbon's best districts
The most popular districts to stay in – Baixa – the majestic and historic center of Lisbon – Avenida da Libera – an elegant and stylish shopping district with many first-class hotels – Alfama – steep hills, narrow streets and many unique and characteristic features, as well as a wide variety of room and apartment rentals.
For nightlife and loud entertainment – Bairro Alto – a nightlife district where you're unlikely to get any sleep – Cais do Sodré – the former red light district, now a nightlife hub where anything is allowed
Less tourist-infested areas with a more pronounced, authentically Portuguese atmosphere – Graça – bustling and hectic neighborhood – Principe Real – elegant, quiet and the most exclusive neighborhood in Lisbon – Estrela – quiet and prosperous neighborhood
Alternative accommodations – Belém district – popular place to visit during day trips, but far from the city center – Alcantara – creative center center center centered around the LX factory – Campo Pecueno – original business district of Lisbon with good transport connections to the city.
This is my first visit to Lisbon. What is the best neighborhood for me to stay in?
If this is your first time in Lisbon, the best place to stay is in the Baixa neighborhood or near Liberty Avenue.
This neighborhood, which is close to many of Lisbon's main attractions, is full of restaurants, bars, and stores. It is also very close to Bairro Alto and Cais do Sodré, the city's vibrant nightlife, but just far enough away from Baixa to hear the late night hubbub of people partying all night long.
Another popular area for first time visitors to Lisbon is one of the oldest districts of the city, Alfama. Here you can choose apartments to your liking, which are "hidden" in a maze of alleys and alleyways that form this district. The only drawback of the neighborhood are the many steep slopes. Related articles: Alpham Guide – Baixa Guide.
Before looking for lodging, determine which neighborhood you want to stay in!
Before you start looking for accommodations, determine which area of Lisbon you would like to stay in. It may seem obvious, but there is always the possibility that you might be tempted by a great discount or great reviews without realizing whether or not the area is for you. Tip: If you want to settle a little farther away, make sure there is a subway station nearby.
Where can I find a quieter place to stay in Lisbon?
The Baixa/Alfama/Bairro Alto neighborhoods are in the heart of a busy and bustling tourist center, but perhaps you prefer a quieter and calmer place to stay. In that case, you should consider the neighborhoods of Estrela or Principe Real. These are affluent and prosperous neighborhoods with traditional houses, leafy streets, and cafes filled with locals.
Despite their allure of being away from the tourist bustle, these districts are relatively far from the city's main attractions and can be reached on foot.
An alternative is the district of Graça, which is home to Portugal's working class.
For business travelers
If you are here on business you are best served by Parque das Nações, with its many modern business hotels and predominantly business oriented restaurants and bars.
An excellent public transport network connects it to the rest of Lisbon. The airport is just 10 minutes away by metro, and the historic city center can be reached in just 25 minutes. In the center of Parque das Nações is Lisbon's main train station (Oriente Station), with trains to Porto and north, as well as to the Algarve and south.
Party, stag or hen party: where to stay?
If you are coming to Lisbon to experience the nightlife, you should stay in Cais do Sodré. Until recently this neighborhood was considered socially dysfunctional and even dangerous, but with the arrival of Pink Street it has been transformed. Now gritty, glamorous and socially relaxed, it's the only place in Lisbon where they hold their stag and hen parties. If you're planning a stag or hen party in the summer (May to October), Albufeira in the Algarve region is a much better choice.
Which areas of Lisbon are best to avoid?
Lisbon, like all major cities, has both rich and prosperous and poor and deprived neighborhoods. A diverse, culturally rich and unadorned neighborhood can delight some tourists and horrify others. We are expressing our own subjective opinion when talking about areas to avoid.
Some of Lisbon's less suitable central areas stretch along the metro green line. These include Intendente and Anjos. Moureira is a multicultural neighborhood that would be interesting to visit, but some tourists would prefer not to stay there. Take note: The knowledgeable and experienced traveler will enjoy visiting these areas, but the elderly and solo travelers are not recommended.
More remote areas from the center
In general, we would advise against staying north of the Campo Pecueno area or west of the IP7 expressway (GPS: 38.73367, -9.16857). There is nothing of interest in the northwestern part of Lisbon between Graça and Parque das Nações except some unremarkable residential areas.
If this is your first time in Lisbon don't stay south of the Tagus estuary (Almada and Casillas) because these are small unremarkable towns and you'll have a long bus or ferry ride to get from there to central Lisbon. If you don't want to stay in Lisbon you can always stay in the lovely spa town of Cascais.
Accommodation if you have a car
If you plan to stay in Lisbon and take day trips to Sintra and Cascais, there is no need to rent a car. If you do rent a car in Lisbon, however, make sure that the hotel has parking, as it is very difficult to find a place to park in the historic center of the city. Tip: It only makes sense to rent a car if you plan to leave Lisbon.
Neighborhoods of Lisbon – Top 9 best places to live in Lisbon for a tourist
Lisbon is one of the oldest cities in Europe, but differs from other capitals popular with travelers. It is quieter, more peaceful and cozy. It is pleasant to wander the narrow streets and leisurely explore the local attractions. The historic center of Lisbon is filled with them. Many tourists who have decided to visit the capital of Portugal, often have a logical question. Where is the best place to stay so everything you need is nearby? What cafes to have dinner in and how to get around the city more easily? We will try to give a detailed answer in this article.
Lisbon's historic districts are suitable for walking. You don't have to take the subway or wait for the bus to see the sights. New neighborhoods were already designed differently. They built modern buildings, wide roads and avenues – like any modern metropolis.
Lisbon's old city settled along the Tagus River, and over time, new neighborhoods were formed. So in the late 18th and early 19th centuries, the hilly areas began to be settled, and by the 20th century the city had greatly expanded toward the mainland.
Travelers do not need to understand the official zoning system of the capital. It is much easier to see on the map where the attractions of interest to you are and mark the areas of Lisbon, where there are convenient options for accommodation, while taking into account the following:
The city is located in a hilly area, so you will often have to go up and down steep stairs;
Older neighborhoods and hotels do not always have elevators or heating;
Some streets are so narrow that not even a car can pass through;
if you are traveling by car, parking in the center can be a problem.
Otherwise, the choice of accommodation depends on the level of comfort to which you are accustomed. We can't make objective recommendations about price, distance to the center and infrastructure, everyone has their own selection criteria.
Top 9 districts of Lisbon
For ease of orientation in the capital of Portugal, we will briefly tell you about the best neighborhoods where a traveler can stay. We will try to give as much useful information as possible to form an idea of the center of Lisbon, the so-called old town and the more remote areas. We will tell you about the sights nearby, the advantages and disadvantages of each place.
Baixa
In Lisbon, it is best to stay in the center and the Baixa area can perhaps be called the core of the old city. The name itself suggests it is lowland, nestled between two hills. It approaches the Tagus River on one side and ends in Place Rossio on the other.
There are many narrow cobbled streets, hotels in historic buildings and souvenir shops and cafes of all levels. The main drawback of the neighborhood is the abundance of gypsies who sell illegal substances. They probably inhabit these places because the narrow streets are easier to hide from the police.
One of the most famous elevators here is the Santa Justa elevator which connects the two Baixa and Chiado neighborhoods, taking tourists and locals to the Carmelite cathedral and Plaza de la Comércio. In the same area are the Gloria elevator, the Arc de Triomphe, the Money Museum and the Design and Fashion Museum, which recently reopened after renovations, as well as many other popular attractions.
Alfama
This is also the oldest and most "Portuguese" district of the city. It has many steep staircases, cozy cafes and nearby attractions. It is located around the castle and overlooks the river of the same name. Many of the local buildings survived the 1755 earthquake, so you can see the town as it was centuries ago. The neighbourhood is populated by everyday Lisboetas, but there are comfortable hotels for all budgets. Almost any tourist will be comfortable in Alfama as the main Lisbon attractions are within walking distance.
The relative disadvantage of this neighborhood is that the apartments for rent are small in size. If this is not critical, you can safely choose housing to your liking. In addition, not every street of this quarter can pass a car, so you need to be prepared to walk with things to a cab. However, as mentioned, you can walk to almost all of the city's major attractions from here, so you won't need a car much.
Here are the Jewish Museum, Fado, Kazadush Bikush, Flea Market, and the Pantheon. There are two panoramic viewing platforms. If you are traveling by car be sure to check with the hotel management if there is parking nearby, otherwise you will have to walk 10-15 minutes to get there.
Se castelo
A great advantage of this area is that many of the apartments and hotels are on a hill and the rooms have panoramic views over the beautiful city of Lisbon. Small spaces are also often rented here, especially in buildings that have not yet been renovated. On the downside, there is little public transportation; there is a streetcar downstairs, but it is often already busy with vacationers and locals, especially during peak season. It is the same with parking as in Alfama.
Entrance to St. George's Castle
The area itself is picturesque and colorful, with St. George's Castle, St. Anthony's Cathedral and the Roman Theatre. It's almost always crowded and full of holidaymakers.
Graça and Sao Vicente
Graça is located to the east in the hilly part of the city. There are many viewpoints with panoramic views of Lisbon. There aren't many hotels here, but if you find one that suits you, it will most likely also have a panoramic view of the city.
Graça used to be a working class neighborhood with many factories. But today it's a cozy neighborhood with a lot of infrastructure around it. There is no subway nearby, but buses and streetcars are frequent.
Tourist routes are better to run from this area, using public transport or a car. Nearby is the monastery of San Vicente de Fora and the Pantheon, there is a beautiful garden, the Serca da Graça, and sometimes a local flea market is organized in this quarter.
Mouraria – "Mouraria".
The old district of the capital, is divided into an upper and lower part with a very different atmosphere. The upper part of this historic district has the church of San Cristovan and the castle of St. George within walking distance. The lower part is home to many immigrants from former Portuguese colonies. Therefore, many may be unaccustomed to being in this area.
There is a distinct feeling of the east here. Everywhere there is the smell of spices, inscriptions in many different languages and many cafes with international cuisine. Fado is often performed in the local establishments, and famous artists in Portugal perform.
There are a lot of different stores in Mouraria. You can buy in them not only the usual products, but also rare spices, herbs and roots. New hotels are springing up all the time. But if you have a prejudice against people of color or people from India or Central Asia, this is not the place for you.
Avenida da liberdade – "Avenida da Liberdade"
A huge and beautiful avenue, which was conceived as a likeness of the Champs-Elysées, it has century-old plane trees that create a comfortable area to rest in the heat. Originally the street was fenced so that the noble Portuguese could walk along the avenue, hidden from the eyes of the common people. It is pleasant to wander aimlessly around the area, looking at the brightly colored windows of brand-name stores. We personally always try to choose a hotel closer to this street.
On the other hand, it is an expensive neighborhood and although it has a variety of stars, you will pay more on average for it than a similar hotel in a simpler neighborhood. From Avenida da Liberdade you can walk to the historic center, Rossio station and the metro. In the neighboring streets there are cafes where locals have lunch. If you go into the courtyards, you can get away from the hustle and bustle and admire the old houses and everyday lives of the capital's ordinary citizens.
Chiado
Chiado is one of the popular and prestigious districts of the city. There are plenty of sights, viewpoints and squares, parks, stores and cafes. On weekends it is bustling with locals and tourists alike who come to eat in restaurants, shop and walk around the historic center.
New hotels open all the time in Chiado for tourists. You can find accommodations for all budgets, but there can be a problem with hotel parking. The Santa Justa Elevator in Lisbon is a transport for locals and an attraction for tourists, the Carmelite cathedral and archaeological museum, and the temple of St. Roch.
The main disadvantage of the neighborhood is that it is located on a hill. In any case, you will have to constantly climb up and down steep slopes.
Principe real.
A modern neighborhood with lots of boutiques, galleries and various cafes. It is quiet and mostly inhabited by wealthy citizens, with modern nightclubs and bars. Principe Real is located on a hill, so if you decide to settle here, be prepared for a constant climb uphill to get back to the hotel. There is no public transportation, so you must walk the whole distance. The area borders the Chiado, there is a small park and shopping malls.
Belem – "Belem"
Belem is also a historical area, but very far from the center of Lisbon. Until the 20th century it was a separate city. There are many landmarks, so even if you decide to stay somewhere else, be sure to take a day and visit.
In Belém there are: Belem Tower, Jerónimos Monastery, Museum of Architecture, Berardo Museum of Modern Art, Carriage Museum, Maritime Museum, Royal Ajuda Palace, Planetarium, Botanical Gardens and many other interesting places. In this district there is an old patisserie, in existence since 1836, where you can buy the popular dessert passteig de bellem.
The Belem neighborhood is at least half an hour from the center by public transportation and 10 minutes by train, so you can walk along the river, have a picnic, watch the sunset, and get away from the hustle and bustle of the city. However, at the end of summer there are crowds of tourists who want to see the sights of the area.
Where to stay in Portugal's capital
Lisbon has a low crime rate. It is a cozy and hospitable city with a warm climate. That is why the capital of Portugal is considered one of the most attractive holiday destinations. At the end of the last century Lisboetas were eager to move to the suburbs. However, today again there is a growth among the population of the capital. Locals are returning and more and more travelers visit the country every year. Therefore, the question of where the best place to live in Lisbon for a tourist is more relevant than ever.
When choosing an area to stay, you must first of all pay attention to such things as:
The price of rooms in hotels of a suitable class;
the remoteness of the main attractions from the chosen place of accommodation and the infrastructure in the immediate vicinity;
what transport is available in the selected area, whether there is a metro station nearby.
Otherwise, the choice of where to stay when traveling in Lisbon depends on your tastes, preferences and budget. If this is your first time in Lisbon, it is best to choose one of the central districts.
Each area is undoubtedly worth visiting, each one has its own atmosphere and is full of things to see. If you come here once and walk around the quiet, narrow streets, you will surely find places you love and will always remember.