Top 10 countries for all-inclusive holidays in 2022 – prices, reviews

Let's break down the all-inclusive holiday: what is it, how much does it cost and in what countries is it considered the best?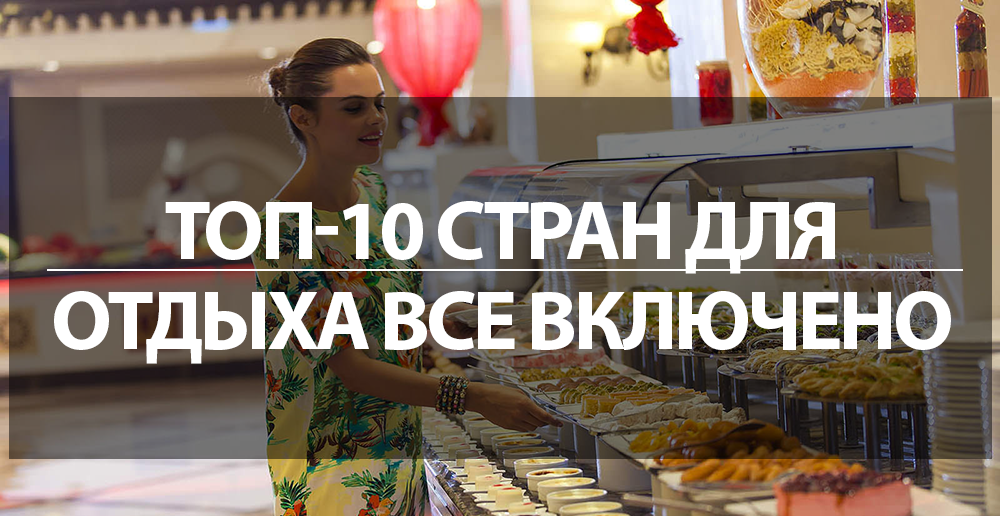 I daresay that you, the reader, are either just going to learn all the delights of all-inclusive holidays, or have already traveled to the Turkish coast once or twice or ten times and are looking for somewhere else to stay. Understanding the global nature of the problem, and therefore having previously tried all inclusive in three countries, I will try to give a general idea and answer the question if you can find Turkey outside of Turkey.
My analysis is not delayed, but for those who can not wait to get the price, I will recommend online services, where you can find bargain tours all inclusive:
Choose the dates you want and don't forget to check the "all" box in the food section – that's what you came here for, right?
Content
What is all inclusive?
All inclusive (referred to as All / Al) is a hotel service system whose price includes room, a 24/7 buffet (breakfast, lunch, dinner and + snacks), local drinks alcoholic and non-alcoholic, etc. In other words, a nice option that provides a truly "vegetable" vacation, when the tourist is fed, and watered, and amused.
By the way, all inclusive is not just about food – entertainment is also "included" – animation, children's clubs, spa and more on the list (but it depends on the hotel). In general, the concept is ideal for a "beach holiday" or "family vacation with children.
Hotels operating on the system are resort hotels and are located by the sea. In theory, this is the only thing that unites them all over the world. In practice, hotels abroad can be:
modest 3s / posh 5s
huge in area, with swimming pools and a private beach / compact with a paddling pool and paid deckchairs
be on a reservation for tens of kilometers from the village / across the street from the beach in the city center
excitement with a variety of menus daily / serve fish on Thursdays, chicken on Saturdays, and instead of lemonade – yupi
The concentration of vacationers who prefer an all-inclusive vacation is in Turkey. Of course, you can argue with this – this product of the hoteliers' mind was first introduced in the Caribbean in the 50s, which has been gathering millions of Americans for vacations ever since. But let's dwell on the Russians' choices.
What are the prices for an all-inclusive beach vacation?
Of course, all is always more expensive than other systems of service. On the other hand, the food and drinks are paid in advance – you can let yourself go and settle the internal accountant.
On average, the price for an all-inclusive holiday is 30% higher than on the same tour, but with breakfast (BB), and 20% more than full board (FB). If we start from Turkey as a "hotbed" of olla, then in the high season a trip for two for 7 days costs:
Breakfasts at the Side Royal Palace Hotel 5 stars – were there during the filming of the new Side Royal Luxury Hotel – the hotels are interconnected
All Inclusive in Turkey
Holidays in Turkey and all-inclusive are inseparable. And both in the heads of Russians and in practice: most of the hotels are ready to feed a tourist to death, so that he could roll all the way to the beach and back to the restaurant.
Turks are good, they put the foreign system on stream, so that you can find an inexpensive holiday all inclusive, and all 18+ (ie without children), and royal service in super-hotels. Mountains of food and rivers of alcohol, a hot country and a visa-free travel.
There is an ultra all inclusive – when there are no restrictions on local and imported drinks.
A typical Turkish hotel – it's green area, swimming pool (a few, and even with slides), free beds, the sea nearby, Russian-speaking staff, active motions, and for children and adults and non-stop holiday tummy.
Perhaps our vacationer is picky, since such a perfect – according to the description – the system is ambiguous opinions. Unhappy, mostly in economy class hotels: poor quality products (yesterday's sausages, diluted alko), lines in the restaurant, the lack of sun beds, shabby rooms. But even if you remove paragraphs 3 and 7 from the paragraph above – it also comes out pretty good, right?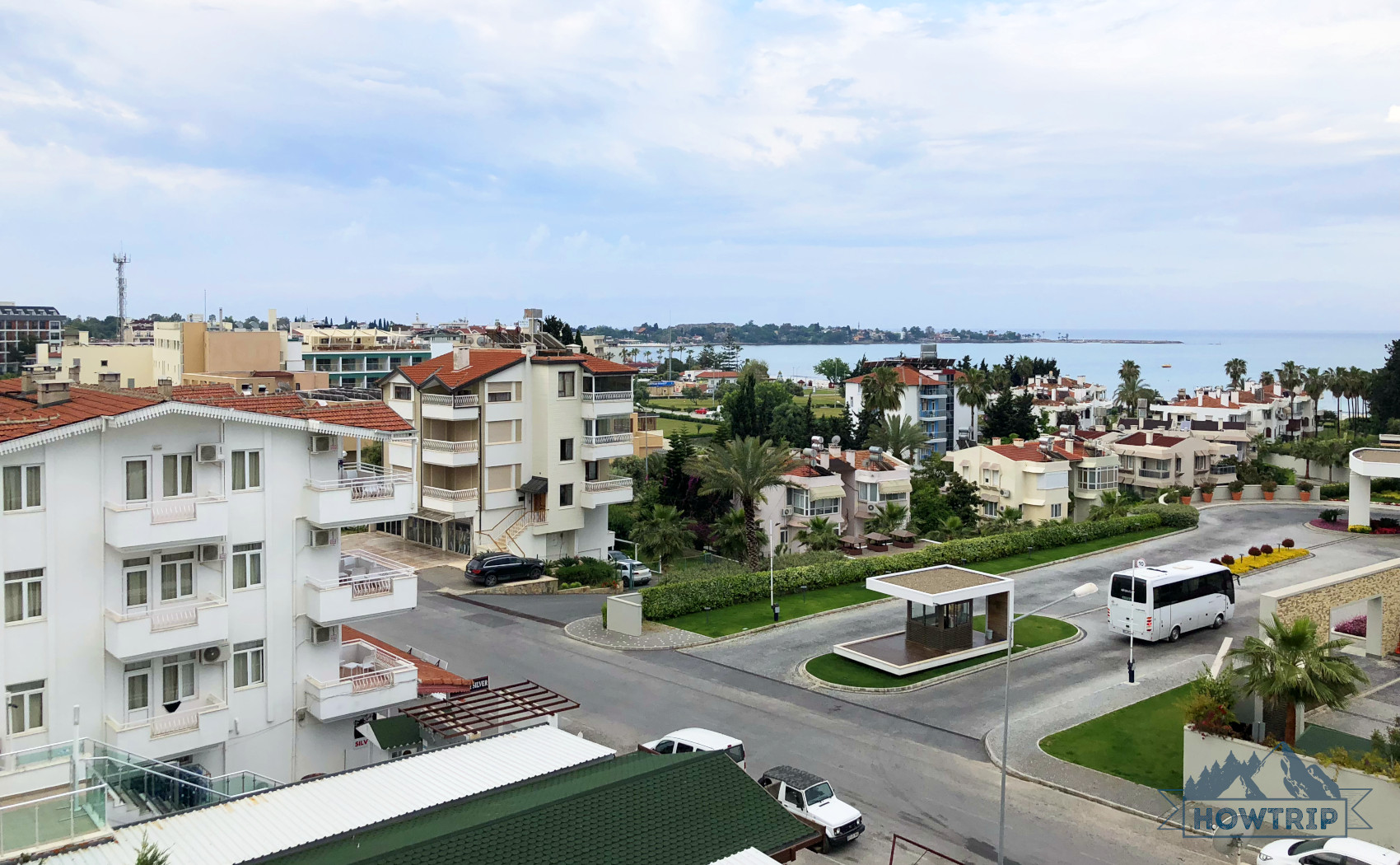 View from Side Town Hotel to the seafront in Side
Shortly about the locations (all are everywhere):
Alanya, Kemer, Antalya – the most budget resorts
Belek – the best hotels (expensive and rich)
Side – great beaches for kids
Fethiye – pine, cedars and turquoise water
Bodrum, Marmaris – cool Aegean Sea, more Europeans and partying.
Prices in Turkey all inclusive in 2022 – from 70 000 rubles for two people for 10 days in a more or less hotel with good reviews. Do you need cheaper? Holiday in Turkey in winter – and it is possible – or make an early booking (in February and March).
And if your tour is not cheap, here's a promo code from Travelat for 2000 rubles! AFT2000howtrip – coupon for tours in Turkey from 100 000
All Inclusive in Tunisia
The country is open, lifted the quarantine.
They say you can not go to Tunisia without all inclusive. I have not checked, but to the reviews – and there are many – I tend to listen. The cuisine is for the lovers, a lot of garbage in the cities, unsanitary, unlikely … So took the fruit in the market, and for the rest – in the hotel.
All-inclusive holiday in Tunisia can be a substitute for Turkey. The system is widespread enough here and is inexpensive, the hotels are large and with palm trees, sun beds for guests on the beach are provided, as well as alcohol (despite the fact that the country is Muslim) and a conveyor of dishes.
What is missing in the Tunisian ollah, it is 1) the variety of food and drinks, 2) animation (it is sluggish in many places), 3) Russian-speaking staff (it is more on Germans-British so far). Well, and always take away from the declared level of the hotel one star – not to be disappointed.
But the beaches and excursions here are by far better than in the all-inclusive capital! About resorts: Djerba – an island for sealers who like a spa, Mahdia – known for its white beaches, Hammamet – for holidays with children, Sousse – for young, perky and economical.
Prices for all included in Tunisia – from 60 000 rubles per week for two people
All inclusive in Egypt
The country is open, there are flights
Egypt is now one of the few vacation options for Russians. Because there are direct flights from Moscow to Cairo, and from there it is not a big hassle to get to the resorts on the Red Sea.
An all-inclusive vacation here is "uncertain." Of every ten luxury hotels five do not work on the system (offer bb – breakfast, or hb – breakfast and dinner), and go to the budget three-three is not recommended – afraid (of the stomach and memories). Finding a good olla and rooms for adequate money takes time.
The hotel base is scarcer than in Turkey, although all its representatives are not small, "beach" and with some activity for the guests. Plus, the Russian guest is the most welcome.
And all in Egypt necessary, since the cafe is not cheap (≈ $ 30 for dinner for two), well, and once again not to wound sociable and intrusive souls of Arabian summoners.
Sharm el Sheikh or Hurghada? Read the link! Well, the airfare to Cairo cost from 25 000 rubles per person round trip, an all-inclusive hotel – from 3500 rubles per night.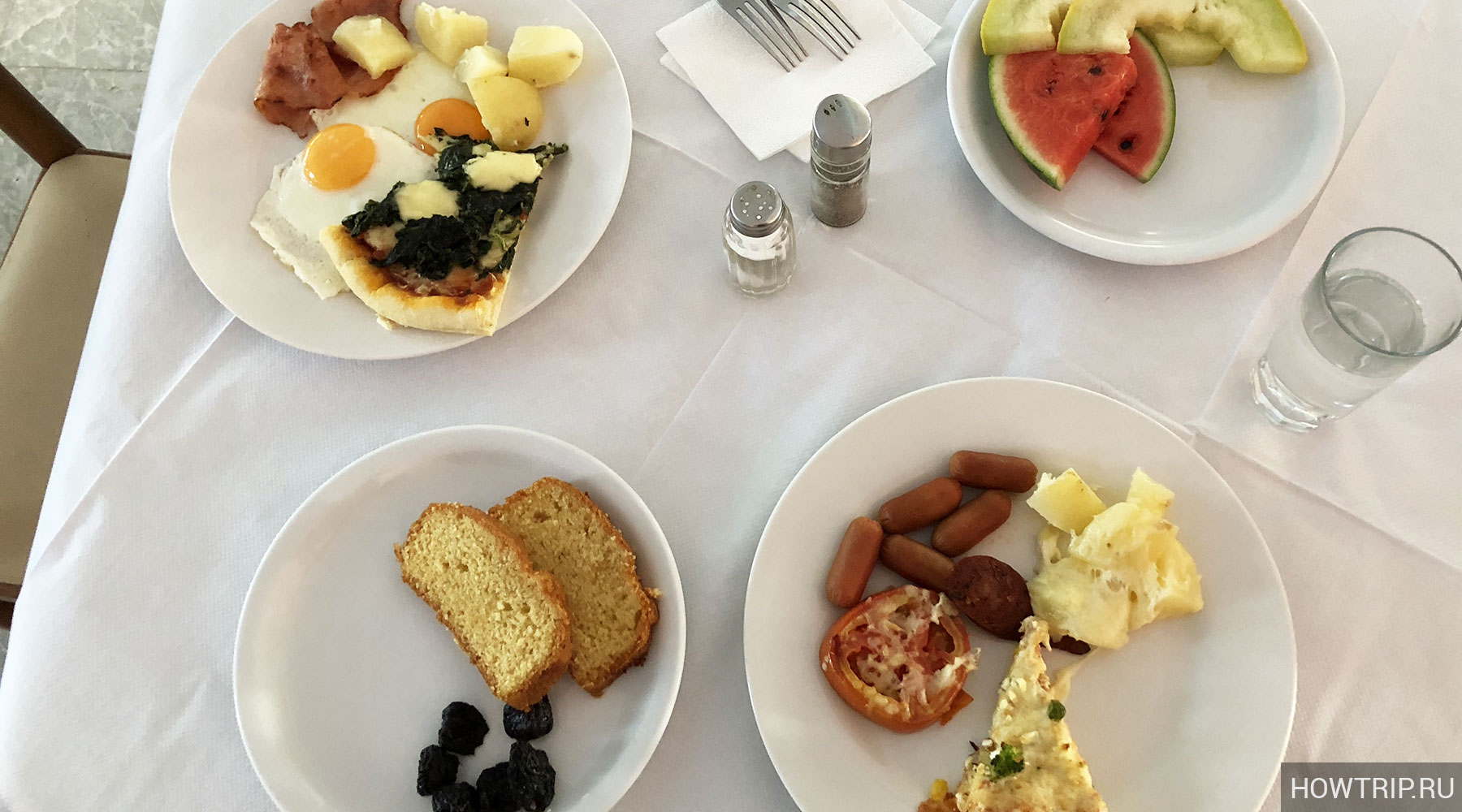 All Inclusive in Cyprus
The country is open, allowed to charter
In the Mediterranean Europe an all inclusive package is not popular, because the priority is given to the level of service. But tourists' wishes have to be taken into consideration as well, that is why the system is being introduced little by little, with some creaking. Cyprus is one of the most reluctant in this respect.
Despite the limited choice of hotels on olla, Cyprus is about quality. If meat is on the menu, it really is meat; and the local brandy is 100 percent strong. But be prepared to pay a higher amount – the price tag is not Turkish at all.
In general, the food is ok (except for tea in bags). Service clearly corresponds to the stars, no more (in the "three" is often required to pay for a safe and fridge), but no less (the room is fine).
The hotels themselves, including 4-5* – compact and uninteresting: animation is rare, there is almost no water slides, and no bars on the beaches. They in Cyprus, by the way, are public, so you have to pay for an umbrella and a beach chair (or sit on the sand). "What a shame!" – would say Turkey, but on the island the hotel is not so important, all the most exciting (and delicious) – behind its gates.
The minimum prices for an all-inclusive holiday in Cyprus in 2022 – from 80,000 rubles per week. Economy resorts – Paphos and Larnaca; beach resorts – Ayia Napa, Limassol and Protaras
All inclusive in Greece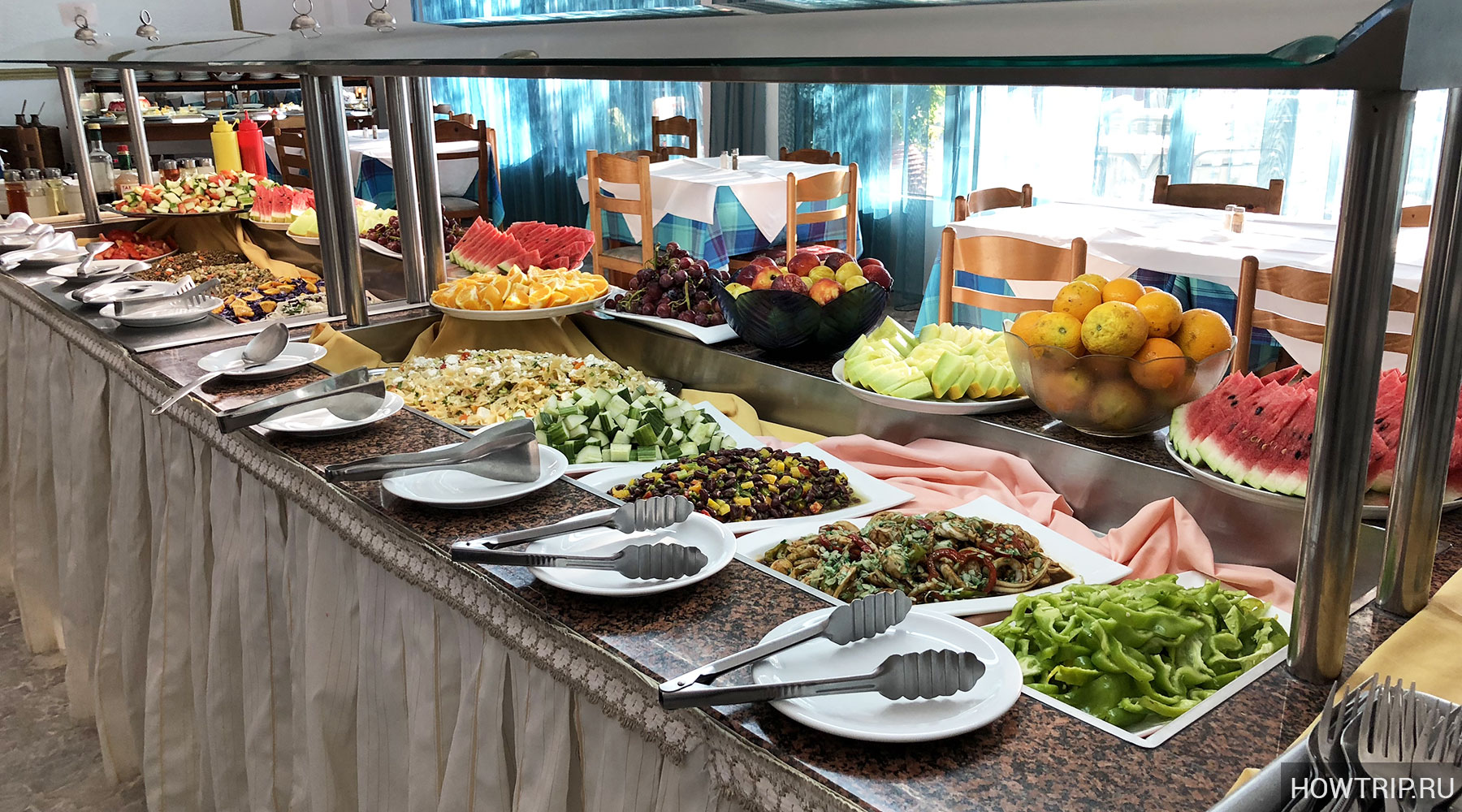 Greece is more open to all-inclusive. To find conditions "to drink, to eat, to drive to the sea, to repeat" is times easier and under any finances.
The most expensive all – on the island of Corfu and mainland Halkidiki. Budget variant is Crete, Rhodes, and Kos. A kind of etalon of Greek all-inclusive is embodied in Grecotel hotel chain.
Actually, even 2* hotels in Greece can provide "full service". True, it will be exactly three meals on a schedule, without snacks and variety (plastic muffins and unleavened cheese), but with real home products – vegetables, olives, meat. Nevertheless it is possible to live, and for economy rest it is a good deal.
In 4* and 5* hotels the board can upset the "switched off" entertainments – paid deckchairs and, probably, wi-fi for a dopkopek (but a buffet table, as you see, does not cause complaints). Although in Greece animation is more developed than in Cyprus, especially in large hotels.
In 2022, the cost of an all-inclusive vacation in Greece starts from 65,000 rubles – 7 days, 2 people
All Inclusive in Bulgaria
The country is open (you need a certificate or test in 72 hours)
"… Bulgaria is not a foreign country" – they used to say in the USSR. Now such loud statements are not frequent, but the periodic "fi" about rest at the sea tourists express.
Bulgarian all-inclusive is typical European: high-quality food, but not "for slaughter"; alcohol is limited to mediocre wine and beer; you have to look for slides, ice-cream cakes and huge green areas.
Remember, if you go for a cheap stay, you will find a hotel with a good degree of sovokovo with renovation from the 80s – a kind of boarding house on the Black Sea with a queue in the dining room and on the beach (a deckchair, of course, for levs). Therefore for positive experience it is better to consider everything above a bar in 65 000 rubles for two.
Free place in the sun, a decent all and a cool environment for children (and perhaps for the Turkey seekers, but no disco) – in Albena; paid place, affordable all and partying – in Sunny Beach; just inexpensive – in Golden Sands.
In 2022, an all-inclusive holiday in Bulgaria costs from 50,000 rubles for two people for a week
All Inclusive Montenegro
The country is open, but there are no direct flights yet
Our trip to Montenegro in August
Montenegro is about walks, trips and local food and therefore it is not optimized for all-inclusive holidays at all.
Firstly, the beaches here are not sandy, but pebbly, which already spoils the picture of a vacation. Secondly, the coastal strip is public and compact, in summer a lot of people fill up (especially on the beach area)!
Hotels in Montenegro can be counted on the fingers of one hand. They are located mainly in Budva and Becici resorts; the cost of tickets is unreasonably overpriced.
Speaking about food, a guest will not be left hungry, but the choice of dishes is rather poor even in the "four" (5* all inclusive). So I do not recommend to be tempted by a visa-free travel – weigh the pros and cons.
Prices for all-inclusive holidays in Montenegro – from 88,000 rubles for 7 days for 2 people
All inclusive in the UAE
Rest by the sea on an all-inclusive system in the Emirates – "biting" in finance: few hotels, ready to serve without interruption, the country itself is expensive, the products imported.
Laying the amount of 100k for a week, you expect the level. Hotels in the UAE, in principle, so it is, but sometimes slip "craps" in the form of average alco, payable wi-fi or the inability to drink a cup of coffee during the break before lunch. It is commendable that there are no complaints about the food.
Several "Turkish" hotels – I mean, spacious, with slides, swimming pools and sun beds on the beach – can be found in Ajman, Ras al-Khaimah, Fujairah. By the way, in the latter, persistently recommend to take all – it will be more profitable than to eat in a cafe.
Is it worth considering an all-inclusive Dubai? Yes, if you put at least 150 thousand rubles in the vacation budget.
The starting prices for an all inclusive holiday in the Emirates start at 90,000 rubles for two people for 7 days.
All inclusive in Spain
Looking for all-inclusive holidays in Spain on the mainland is a dubious venture, but on the islands is another matter, it is easier and the level of the all-inclusive package is higher.
1) About the mainland: an all-inclusive – a chip of resort areas on the Costa Brava and Costa del Maresme (cheaper) and the Costa Dorada (more expensive), in major cities such as Barcelona, the system is not presented.
Something such a system is similar to the Turkish Alanya: in local 3-4 * economy class also come to boohaha to pull off thoroughly, but on a budget. Only contingent – not Russians, but Germans and Englishmen (by whose standards and comes out budget). And as alko and food – it is necessary to admit, they feed perfectly – the most important, nothing outstanding here more and is not present: territories small, numbers shabby, from entertainments – songs under windows.
2) About the island: Tenerife and Mallorca are more pumped up on all inclusive. "Three" on the first line with animation (children's and adults) – please; posh "five" with oysters and champagne for breakfast – also not a problem. The only nuance is that it all costs, in comparison with "1)" many times more.
On a side note, the Alcudia area of Mallorca is a paradise for a lazy vacation with a child.
All inclusive holidays in Spain in 2022 will cost from 80 000 rubles for 2 people for a week
All Inclusive in Russia
Everything is clear abroad with all-inclusive, and what at home – the Black Sea, the Crimea? In general, an all-inclusive vacation in Russia is the least popular of all the above countries, simply because the quality does not keep up with the accelerating price.
Alas, but the lack of service, the sea, which can be called clean only in a few areas (for example, the Nizhne Imeretinskaya Bay), and a huge price tag for a 3-course buffet are clearly losing to the same Turkey with a more affordable all inclusive.
The 10 best all-inclusive hotels in the world
Most of these resorts include lodging, food, drinks, and entertainment. Many are high-end, low-impact eco-hotels with sustainability and conservation at their core. Others delight guests with luxury villas on some of the most beautiful islands in the world.
Whether these resorts are in the Caribbean or Kenya, they all offer personalized service, nice little things, and all-inclusive amenities so you can leave all your worries at home.
1. NIHI Sumba, Indonesia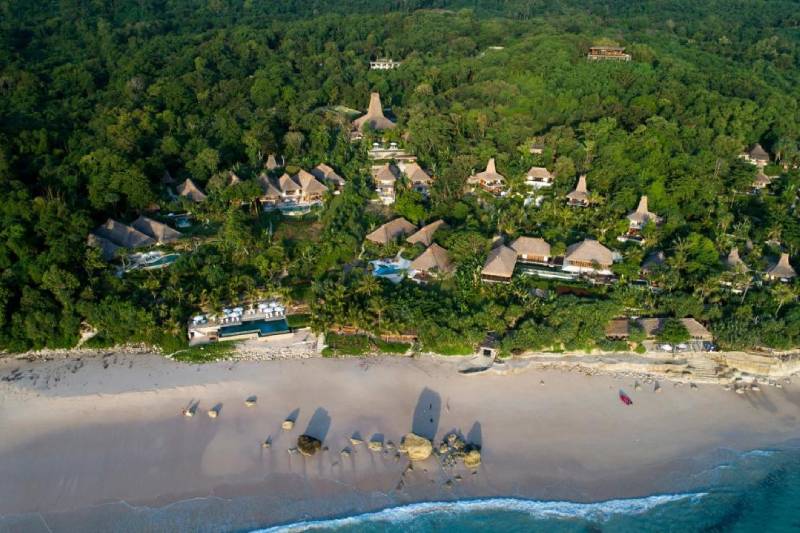 Eco-friendly and extraordinarily beautiful, the former surf resort NIHI Sumba tops lists of the best beach resorts in the world. It overlooks a wild and pristine stretch of palm-fringed coastline on the remote island of Sumba in Indonesia, about an hour's flight from Bali. The resort is located in a nature reserve, and more than 2.5 kilometers of white sand beach beckons vacationers to surf, fish and snorkel. You won't find TVs here, just cool ocean breezes, island adventures, warm and friendly staff and great sea views.
The 33 air-conditioned villas perfectly capture the essence of this tropical paradise with high thatched ceilings that peek out among the palm trees and stunning ocean views. Layouts range from one to five bedrooms, and you'll find large living rooms, private pools, outdoor showers and impeccable butler service. Families can book an unusual three-story tree house. All meals, snacks, and drinks are included, according to the concept and entertainment.
2. the Brando, French Polynesia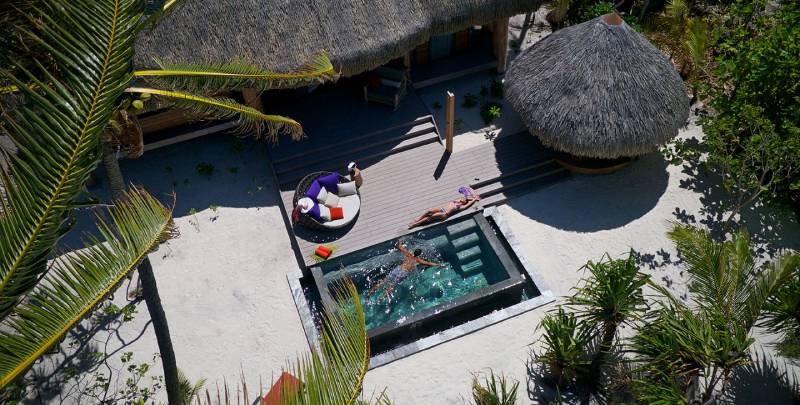 If you dream of a Tahitian tropical paradise with minimal environmental impact, The Brando is perfect for you. Located on a pristine private island surrounded by a three-mile lagoon, this carbon-neutral resort is the epitome of laid-back luxury.
The resort was founded by movie legend Marlon Brando to preserve the island's beauty and biodiversity, and to serve as a model of sustainability – solar power, seawater air conditioning systems and other renewable energy technologies power the entire island.
The villas have private pools, outdoor baths and media rooms with TV and Wi-Fi. The two-bedroom villas have kitchens and dining areas, and the spacious three-bedroom villa is ideal for large family gatherings. All villas have bicycles, so you can explore the island with them.
The food is a combination of French, Polynesian and West-Eastern styles, and is prepared from organic produce from the island's gardens. Local seafood has its own special place, and the lush puff pastry croissants for breakfast are a favorite among guests.
Many activities are water-related, and the resort has everything you need for paddling, snorkeling, diving and kayaking in crystal clear water. If you want to learn more about the ecology and conservation of the island, you can visit the ecological station and talk to researchers. The resort also offers lectures on Polynesian culture and history.
3 LUX* South Ari Atoll, Maldives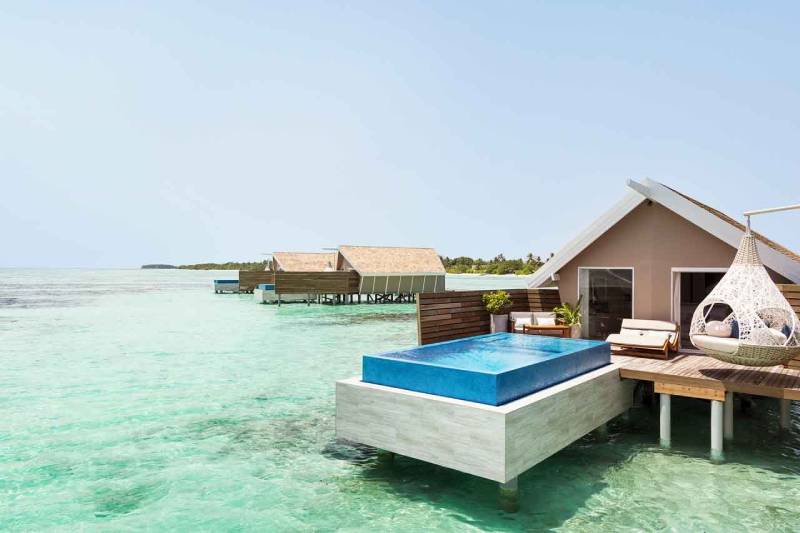 Planning a tropical island honeymoon? Look no further than LUX* South Ari Atoll, Maldives. Imagine the perfect vacation on a pristine island with silky soft white sand beaches and clear turquoise water. Imagine bungalows with thatched roofs overlooking the shimmering sea, with their own small pools – you'll find all this and more at LUX.
Ideally located on the beach and the sea, all 193 villas are decorated in "beach house chic" style, with sun-washed wood and white linens, and all offer the modern luxury you'd expect from a 5-star resort.
Families with little ones are very welcome here. A kids' club will keep them entertained throughout the day, and eight restaurants will satisfy even the pickiest eaters.
When it comes to leisure, the options are endless. Diving with whale sharks or sea turtles? Sure! The luxurious South Ari Atoll occupies a protected marine area with more than 50 diving and snorkeling sites. A movie theater on the beach? Breakfast in your private pool? Spa treatments? Big tennis? You can try all this and more.
The stylish and serene LUX South Ari Atoll is the perfect place for couples looking for romance, or for those who just want to relax on a private island paradise.
4. Jumby Bay Island – an Oetker Collection Hotel, Antigua and Barbuda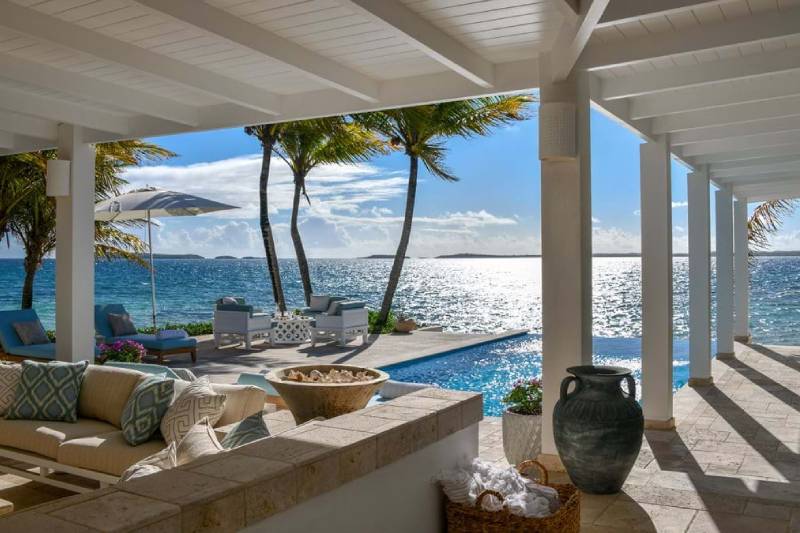 Jumby Bay is located on a palm tree-lined private island in Antigua and is surrounded by gorgeous beaches. One of the best all-inclusive luxury resorts in the Caribbean, Jumby Bay offers all the expected luxuries and modern amenities of a 5-star resort. Car traffic is prohibited throughout the island, but you can explore by bicycle and immerse yourself in the relaxed pace of life.
Jumby Bay is known for its attentive staff, who provide impeccable service with a warm smile. The gourmet restaurant serves world-class cuisine with a tropical twist, but you can also dine by the pool and on the beach.
The 40 luxurious air-conditioned rooms and villas have all the modern amenities, including large flat-screen TVs, Bose sound systems, Nespresso coffeemakers and Wi-Fi. But they also have four-poster beds, Italian linens, unforgettably scented terraces and private outdoor gardens with rain showers.
When you're not basking under rustling palm trees on the beach, you can work out in the gym, swim in the landscape pool, play tennis or golf, or pamper yourself in the spa.
Environmentally conscious guests will also appreciate the recycling program and conservation projects such as the Hawksbill Turtle Conservation Program.
5. Four Seasons Tented Camp Golden Triangle, Thailand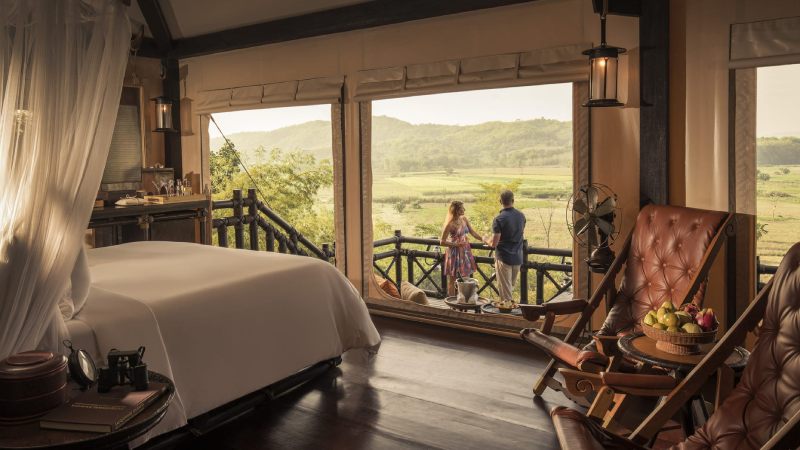 This is the first Four Seasons all-inclusive hotel. Luxurious safari-style tents peek out from hillsides enveloped by lush jungle to create an elegant 19th-century atmosphere with authentic Thai elements. Handmade furniture, footed tubs and luxurious four-poster beds, while outdoor showers and rustic textures such as bamboo and native hardwoods complement the stunning surroundings.
Lunch is an adventure, too. Pick fresh produce from the trees on the grounds as you walk and let the chef conjure up a mouthwatering meal or take a Thai cooking class.
You, too, can take in the culture. Bike tours through the hillside pass through rice paddies and pineapple plantations, and you can also take a day trip to sacred temples or explore neighboring Burma.
Want to treat yourself? Relax during sessions at an outdoor jungle spa nestled in a quiet bamboo forest.
6. Jade Mountain, St. Lucia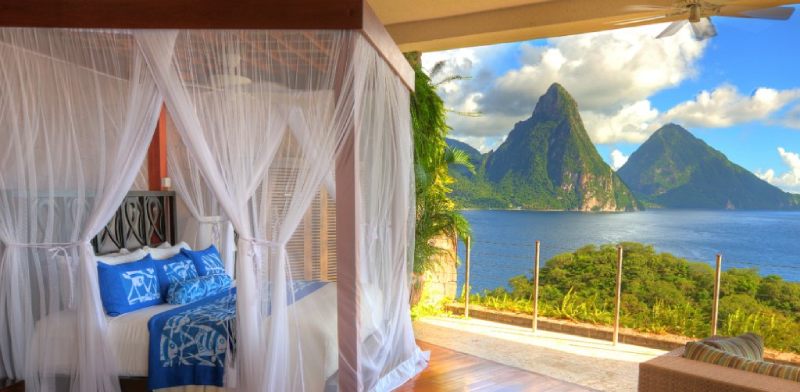 St. Lucia is known for its stunningly beautiful scenery, and Jade Mountain Resort capitalizes on this with breathtaking views of the ocean and St. Lucia's volcanic peaks, the Pitons. It's one of the best all-inclusive, adults-only resorts in the Caribbean.
The 24 guest rooms include private infinity pools, four-poster beds, Frette bathrobes and towels, 24-hour butler service ("Major Domos") and window blinds so the tropical breezes can penetrate freely. SKY suites have hot tubs instead of private pools.
Wi-Fi is available throughout the resort, but you won't find TVs and phones here, just the sounds of nature and sea views.
The cuisine at Jade Mountain reflects fresh island flavors with lots of produce from the resort's organic farm. You can also dine at Anse Mamin or Anse Chastanet, a 600-acre partner resort on the silver sandy beach below.
Free time can be as active or relaxing as you like. Swimming, sailing, kayaking and diving are popular activities on Anse Chastanet Beach.
You can also hike or bike through the resort's 600-acre plantation: birdwatch, practice yoga, swim in the resort's panoramic pool, or tour the botanical garden, volcano and sulfur springs. There's also a fitness center and spa on site.
7. Royal Malewane, South Africa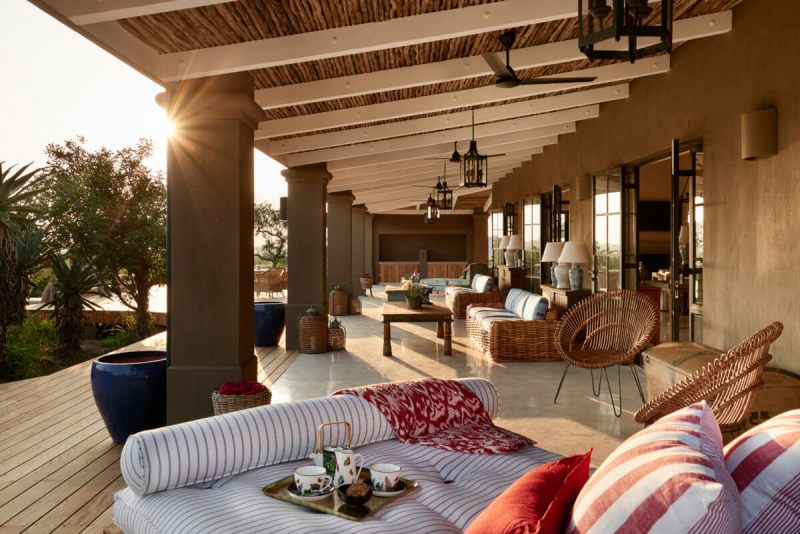 Royal Malewane, one of the best safari lodges in South Africa, is designed for travelers who want to follow in the footsteps of the most discerning and wealthy wildlife enthusiasts. The lodge is located in the Tornibush Reserve, bordering the spectacular Kruger National Park, which offers some of the best wildlife viewing on the planet.
The tone here is set by the colonial elegance of the Old World, and the animals are the center of attention, especially the large number of resident lions.
The eight immaculately decorated, air-conditioned suites are reminiscent of Hemingway's grand old days. Oriental rugs, antiques, thatched roofs and four-poster beds draped with mosquito nets are accent pieces. The outdoor showers and small pools on the expansive decks merge with the wildlife, where elephants and other wildlife are part of the species.
Experienced trailblazers and guides familiarize you with your surroundings daily. You can also relax in the award-winning Bush Spa and work out in the gym at your leisure.
8. Twin Farms, USA.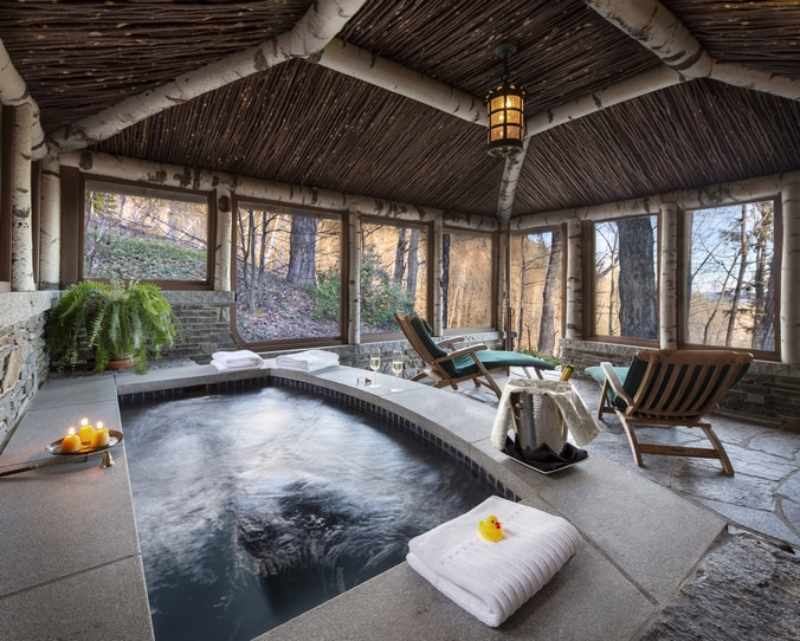 Twin Farms, nestled on 300 near Vermont, about three hours from Boston, is one of the best all-inclusive luxury resorts in the United States. Quirky artwork from a private collection adorns the 1795 main house, where guests are greeted by crackling fireplaces and views as if from a picture book.
Personal service is taken to a whole new level here, while relaxing spa treatments and exquisite culinary creations maintain the resort's high standards.
Created by respected architects and designers, the 20 uniquely decorated rooms range from cozy rooms in log cabins, to multi-level, Scandinavian-style cottages. Fireplaces, antiques, art, and stone whirlpools add to the luxurious atmosphere, and all rooms have beautiful views of the surrounding area.
Entertainment here varies with the season. In the warmer months you can hike and bike through the woods and flower meadows, play tennis, fish, swim, or paddle on the ponds. Vermont's incredible combination of fall colors makes this time of year the best time to visit. In the winter, you can skate, snowshoe, and ski.
9. Likuliku Lagoon Resort, Fiji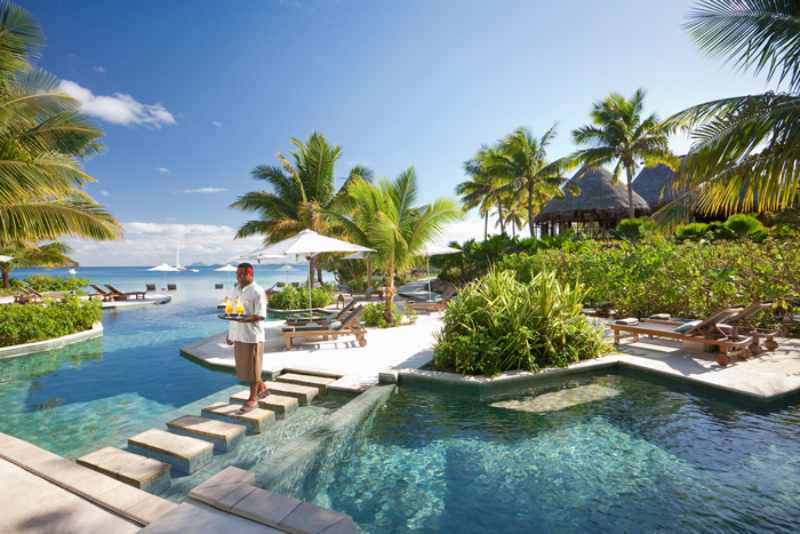 Likuliku's, for adults only, claims to be the only resort in Fiji with bungalows on the water, which might be reason enough to stay here. Located on the idyllic shores of Malolo Island, Likuliku's is also known for its warm and friendly hospitality, authentic Fijian and romantic atmosphere – an ideal retreat for couples.
Natural materials such as thatch, wood and stone dominate the interiors in the bungalows, making the resort feel like one with its lush tropical surroundings. Forget televisions and phones. Instead, guests here tune in to the relaxing rhythm of island life, snorkeling over kaleidoscopic reefs and chatting with the friendly staff.
Honeymooners love the 10 light-filled overwater bungalows with large outdoor terraces, private bathing pavilions, air conditioning and lagoon views from egg-shaped tubs.
Meals here are superb and include fresh seafood as well as juicy tropical fruits and crops from the island's organic hydroponic farm. At your leisure, you can enjoy a couples' package at the spa, learn how to weave palm leaves, or sign up for village visits and island cruises.
10. Cottar's 1920s Safari Camp, Kenya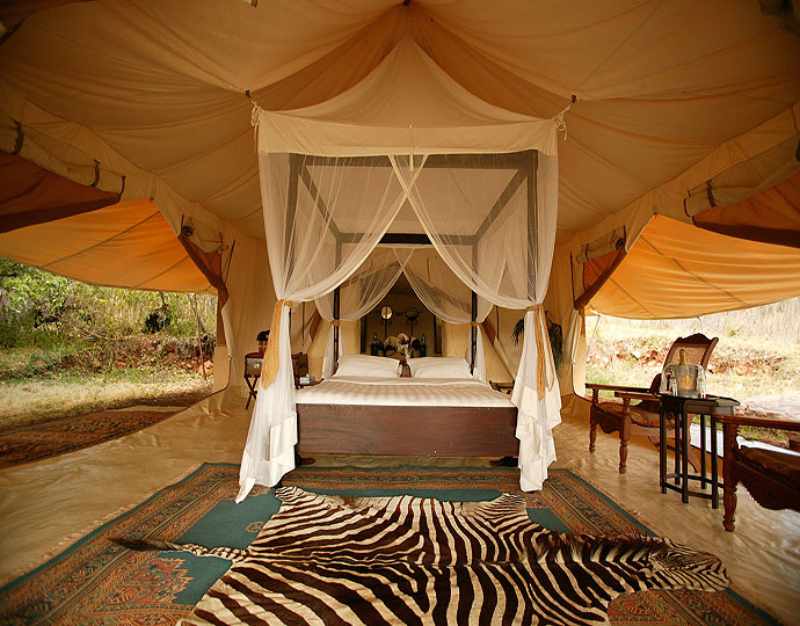 On a 6,000-acre private reserve in Kenya near the border with Tanzania, Cottar's Safari Camp exudes the elegance of Africa. The camp borders the wildlife-rich Serengeti National Park and the Masai Mara National Reserve, two of the best reserves in Africa, but because it's located on private land, you won't be bothered by crowds of tourists.
Luxurious tents are nothing like the ones you usually put up on a camping trip, and attentive staff will make you feel like royalty. Experienced Maasai guides and trackers, some of the best in the business, will introduce you to members of the Big Five: lions, leopards, rhinos, buffalo and elephants. You can also witness the migration of the wildebeest from July to November.
Antique furniture, oriental rugs, candelabras and suitcases from enhance Hemingway's nostalgic atmosphere, and the bathrooms have toilets with hot showers.
The chef creates culinary masterpieces from fresh produce grown right at the camp.
In addition to safaris and walks, you can visit a Maasai village, swim in the pool, or enjoy relaxing spa treatments.