Beaches in Georgia: 7 best and 3 worst.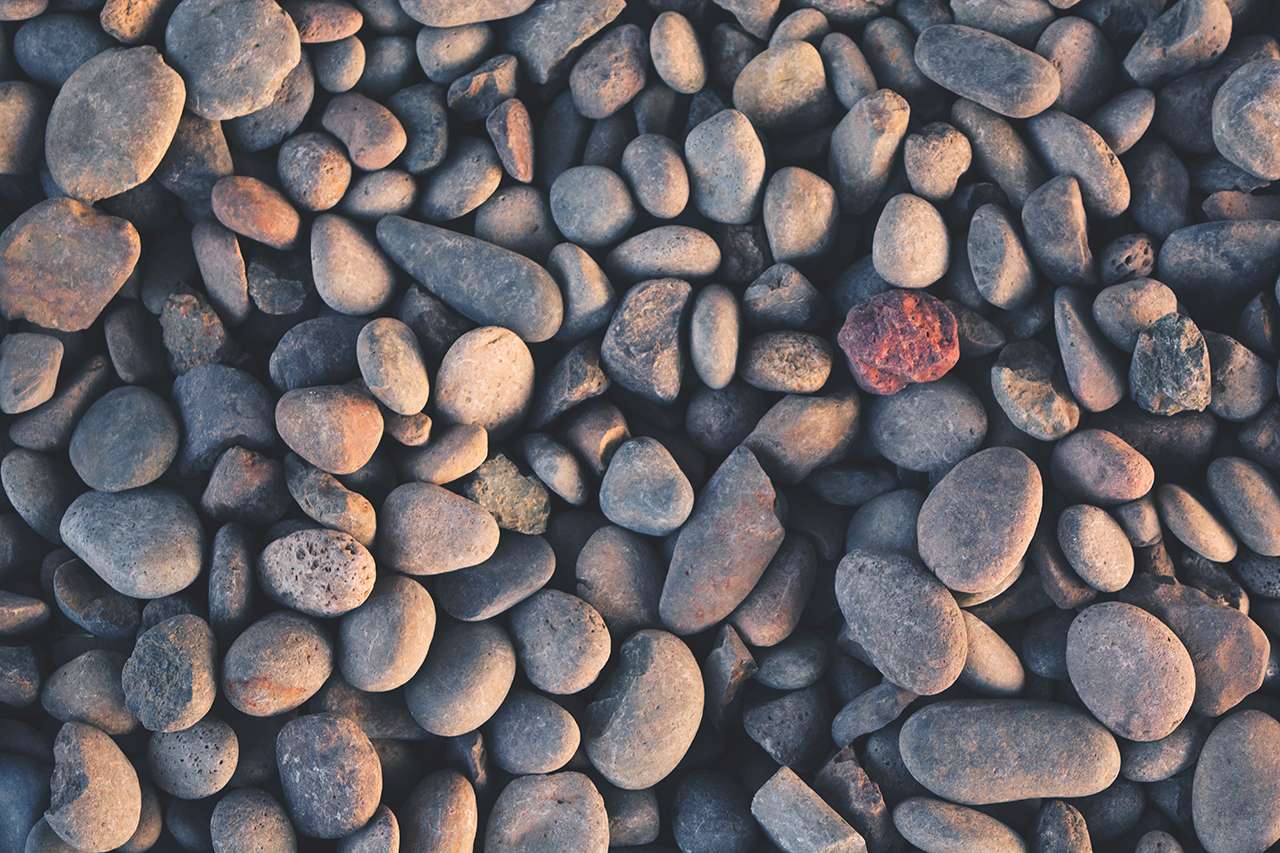 Compiled a review of the best and worst beaches in Georgia according to tourist reviews. Find out where to find sandy and pebbly beaches, clean sea and good infrastructure, where it is comfortable to rest with children.
Georgia owns about 100 km of Black Sea coast – from Abkhazia to Turkey. All Georgian beaches are municipal, that is free. Most beaches are pebbly. There are sandy beaches in Ureki, Anaklia, Shekvetili, near the villages Maltakva and Grigoleti.
We recommend you:
– Bargain tours to Georgia – reliable car rental in Georgia from $15 per day (we use ourselves)
7 best beaches in Georgia
Sarpi
According to tourists, the top of the best beaches in Georgia is headed by the pebble beach in the village of Sarpi, in Adjara. It stretches to the border with Turkey and is famous for its perfectly clear sea and comfortable entrance to the water. Except for a restaurant, cafe and a few hotels, Sarpi has no special infrastructure. The water is warmer than in Batumi and there are far fewer people.
I haven't seen such a wild beach by the warm and gentle clear sea for a couple of decades.
Panorama of the beach in Sarpi
Magnetiti
The famous beach in the resort of Ureki is covered with black magnetic sand. It stretches for 5 km and is considered one of the best sandy beaches in Georgia for holidays with children. The entrance to the sea is gentle, the depth increases gradually. There are no changing rooms and toilets. In the village were built a few dozen hotels and guest houses. Car tourists prefer to stay in the pine forest.
Lenchik777: "You can find a secluded place for a tent. Clean sea, sand, proximity to stores and cafes, there is a wooded area.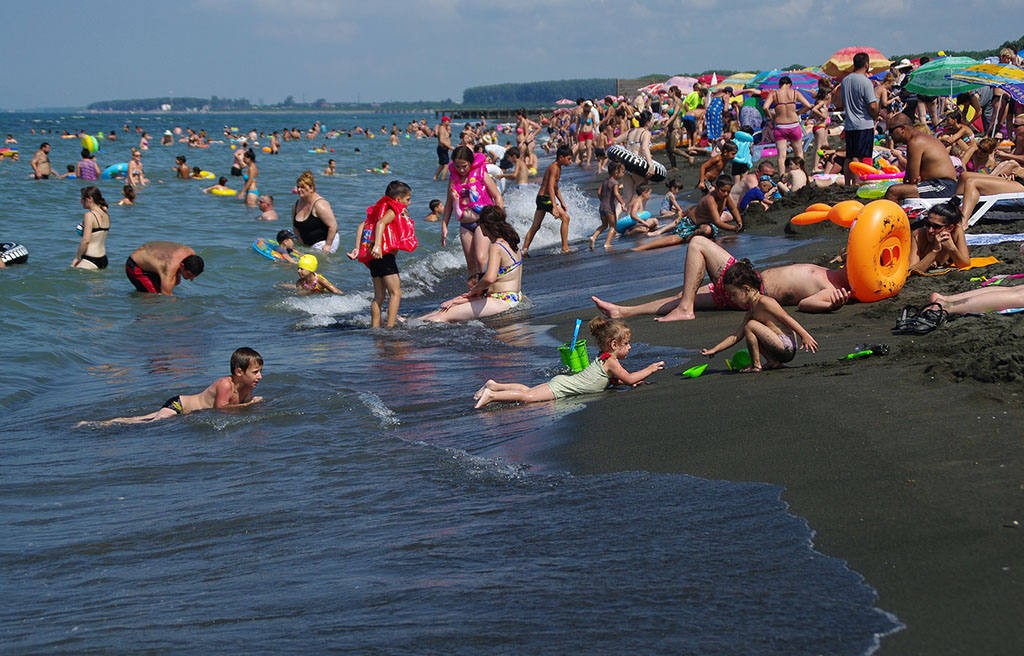 Black sand in the village of Ureki (Photo: torbence / flickr.com)
Batumi
The pebble beaches of Georgia's main Black Sea resort are 7 km long and 50-70 m wide. The central beach is located near the Old Boulevard. Here like to come those who are important beach holidays and good infrastructure. Toilets and changing cabins cost 50 tetri, a chair for the day – 2-7 GEL, a sun umbrella – 3 GEL, and a shower – 1 GEL. Renting a yacht costs 70 GEL per hour and hang gliding costs 100 GEL.
The beach near New Boulevard is less popular. There is everything you need for a comfortable holiday by the sea, but it is less crowded. There is also a wild beach near Batumi airport.
According to reviews, the beaches of Batumi – one of the best in Georgia, because they are a stone's throw away from entertainment and attractions. Along the coast runs a spectacular promenade with palm trees. The disadvantages of Batumi – not too clean sea and the rapidly growing depth. Bathing with children is recommended at the Children's Beach, in the center of the city. Because of the breakwater there are not big waves.
Deniksyushka: "We liked it very much, though the rocks are not quite comfortable for rest.
Popular excursions in Batumi:
Waterfront in Batumi (Photo: jagermesh / flickr.com) Beach in Batumi (Photo: varfolomeev / flickr.com)
Green cape
Nine kilometers north of Batumi is a pebble beach that is loved by divers and surfing fans. There are almost always big waves on Green Cape, not many people, and the depths start pretty quickly. There is a wooden planking to make it easier to reach the sea on the pebbles. We advise to combine the rest on this beach with a walk along the paths of the Botanical Garden of Batumi.
Lenchik777: "The clearest water in the vicinity of Batumi.
Panorama of the beach at Green Cape
Kvariati
The pebble beach in the nearest suburb of Batumi is about 1 km long and is targeted at Russian tourists. The Georgian resort is loved for its quietness, developed infrastructure and affordable prices in restaurants. The coast and sea are clean, there are no traders on the beach. In Kvariati there is a diving center, where you can get training and dive to the wrecks. Learn about holidays in Kvariati.
-TAN-: "You should go here for the peace and the air. There are many times fewer people here than in Batumi, especially near the cliff."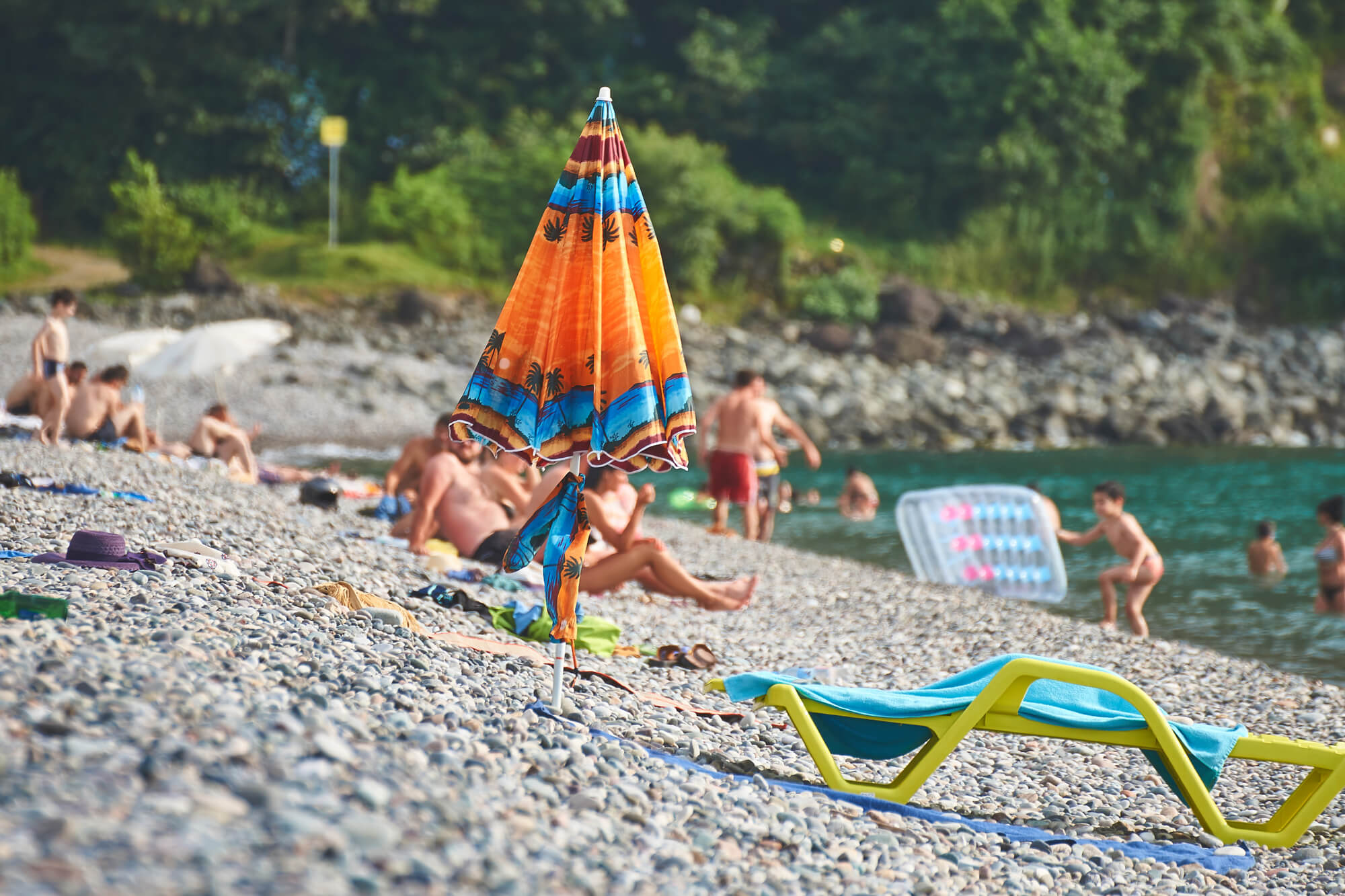 The beach in Kvariati. Photo: vlade-mir / Depositphotos.com.
Gonio
The resort is located 11 km from Batumi. The 2 km long beach is covered with coarse rounded pebbles, and there is a beautiful seaside boulevard running along it. There are sun loungers, cabins for changing clothes, restaurants, cafes and food stalls. Gonio is one of the best beaches in Georgia for holidays with children. The entrance to the sea is shallow, the depth increases gradually, and the shallow water is very warm in the sun. Learn more about vacationing in Gonio.
ArtistBatist: "The beach in Gonio is excellent, there are few people and the sea is transparent, but you won't find much on the stones, you have to wear special shoes".
The beach in Gonio
Kobuleti
The pebble beaches of the city stretch for 9 km. The coast is protected by mountains, so Kobuleti is always warm. On the beaches you can rent sun beds and umbrellas, rent a jet ski, ride a catamaran and "banana". Learn more about resting on the sea in Kobuleti.
342rimmag: "No crowds, clean! It's better to take koralki (shoes) to walk comfortably on the pebbles."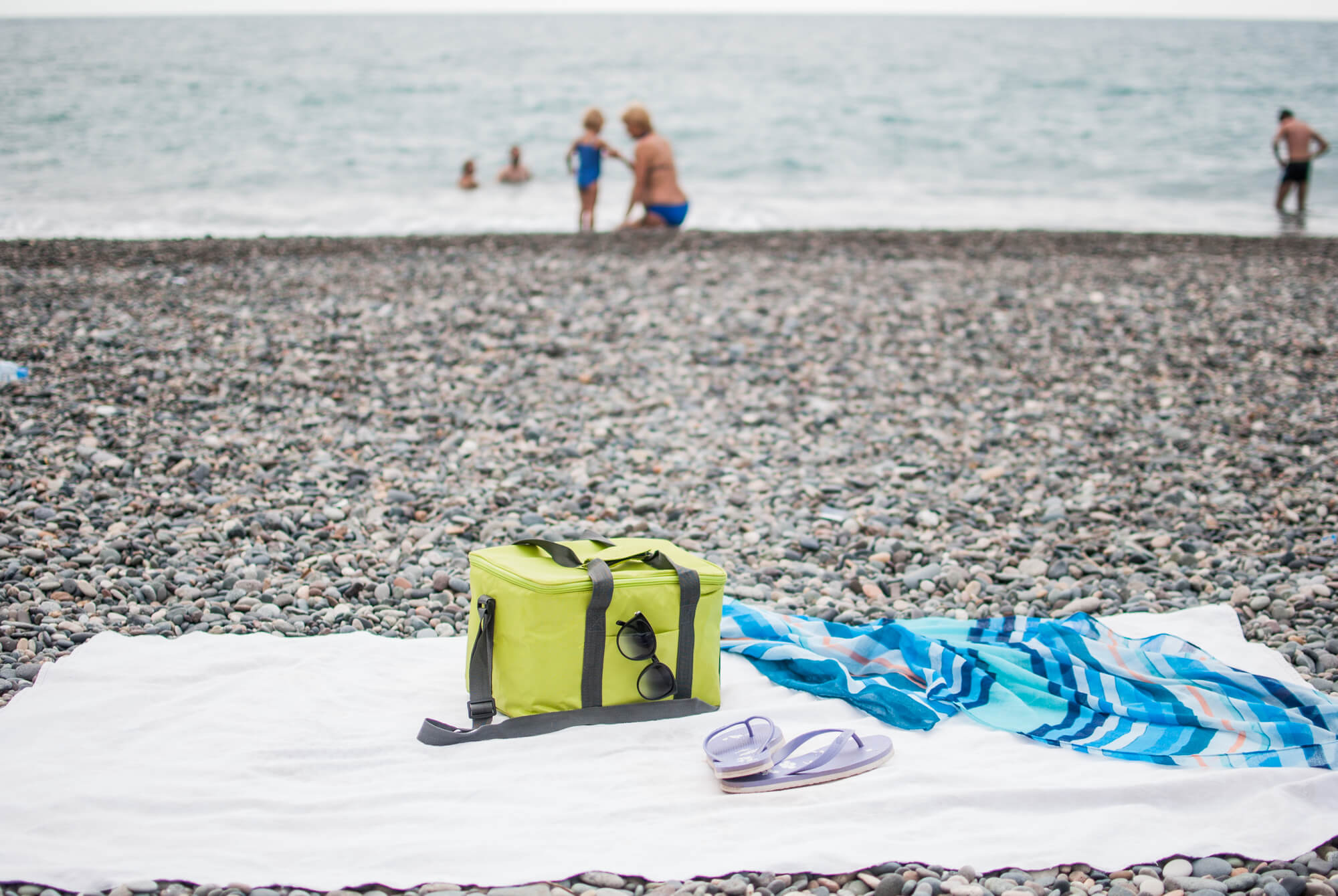 The beach in Kobuleti. Photo: DaVidich / Depositphotos.com.
Important about Georgia:
Georgia's 3 Worst Beaches
Maltakwa .
3 km south of the city of Poti stretches a long wide beach, which is covered with fine gray sand. Because of the port in Poti itself, bathing is bad, so Maltakva beach is visited by locals and tourists. The entrance to the water is gentle, but the wind often raises big waves and a lot of garbage is thrown on the shore.
Alexmakaronin: "There is no infrastructure. Even toilets and changing cabins are not visible."
The panorama of Maltakwa beach
Grigoleti
This small beach in western Georgia is liked only by lovers of wild recreation and connoisseurs of black magnetic sand. Along the shore grow pine trees. However, Grigoleti does not have sunbeds and umbrellas, and there are few stores and catering establishments in the village. Learn about holidays in Grigoleti.
Iris2002: "All kinds of garbage is brought from the sea: mostly plastic bottles, bags, paper. it is disgusting to swim in it.
The beach at Grigoleti. Photo: samurkas / Depositphotos.com.
Chakvi
There's a 6 km long beach in Chakvi village, 17 km from Batumi. The wide shore is covered with a mixture of fine pebbles and sand. Chakvi is unflattering for those who prefer the good beach infrastructure and evening entertainment. The sea is cleaner than in Batumi, but apart from small restaurants serving Georgian cuisine there's almost nothing. There are big waves in Chakvi, and that's why surfers like to come here. Learn about vacationing in Chakvi.
Mila Demenkova: "There is no landscaped promenade to ride a bike or walk on."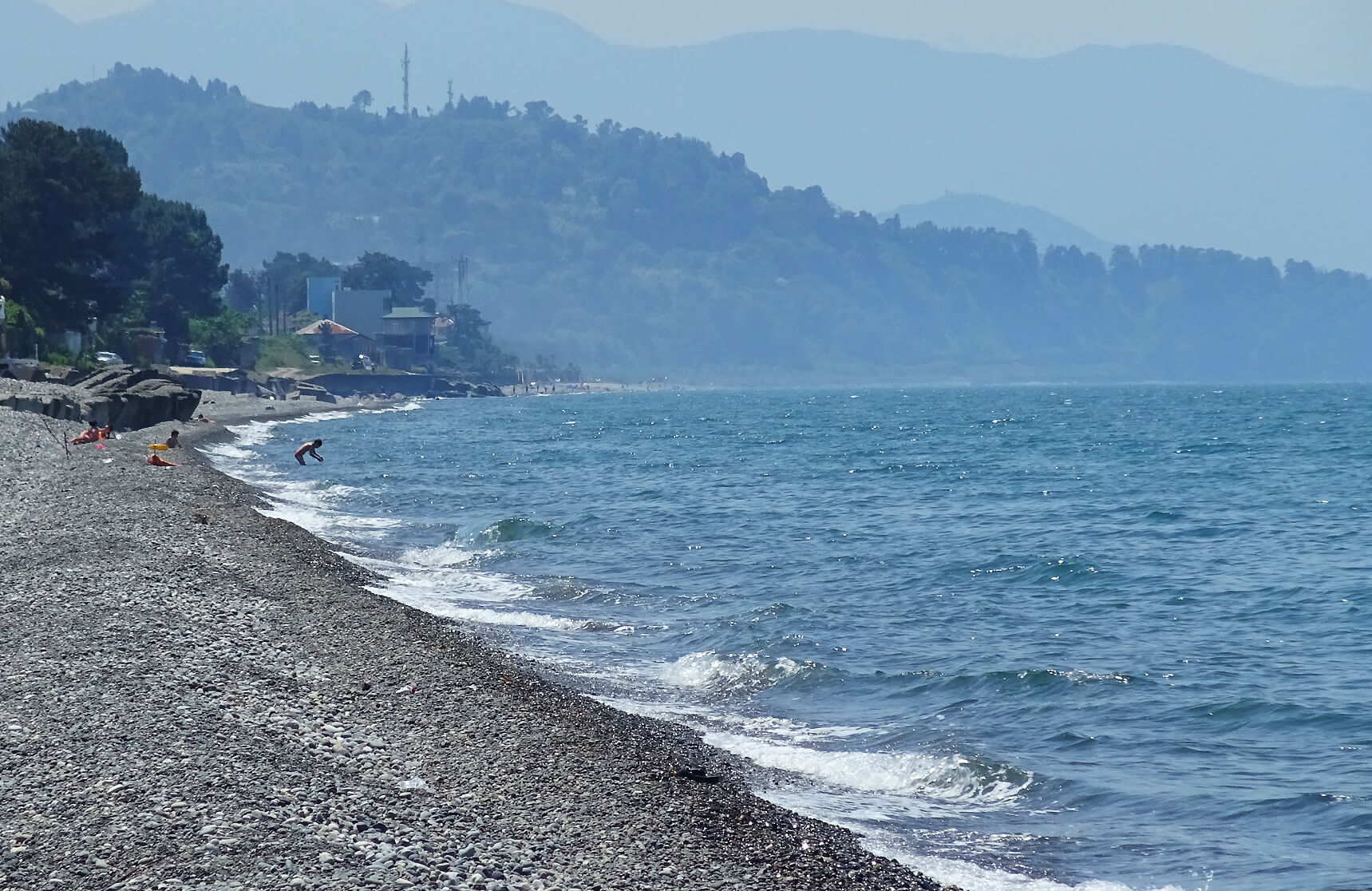 The beach in Chakvi. Photo by the author.
Where to have a rest by the sea in Georgia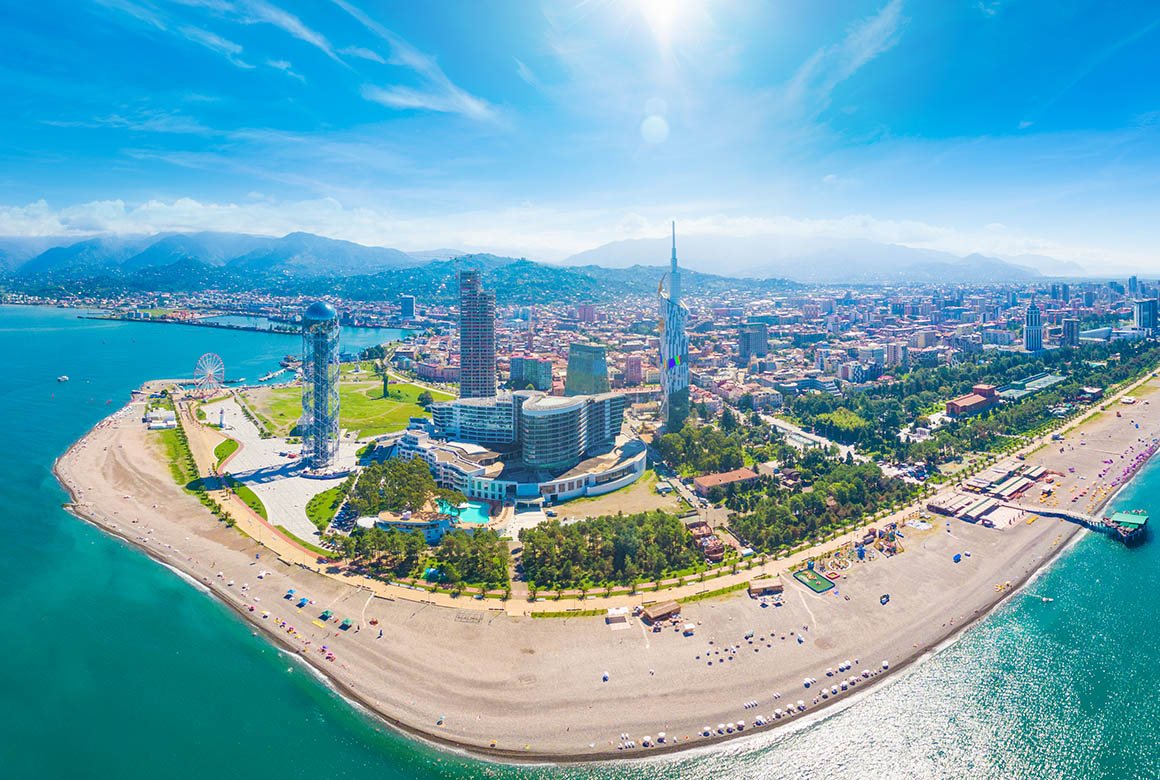 Every guest is from God. So think the residents of Georgia, and therefore try to offer their guests the best of home, town and country. Everyone is welcome here, and stories about Caucasian hospitality and cordiality take on a very real form. We will tell you what the sea is like in Georgia, where to stay and where there are sandy beaches, as well as what you must do in this wonderful country.
The best vacation in Georgia: what to consider before the trip
If you've already seen other Black Sea resorts, it's time to go to Georgia. Yes, it's the same Black Sea, but what a Black Sea! The season here lasts all year round: in summer the sea and the mountains are waiting for guests, at other times – the same mountains, only with snow, as well as attractions, gastronomic and wine tastings, which have not yet disappointed any tourist. What you need to keep in mind before the trip:
1. You will need a passport, which does not have the border crossing marks of Abkhazia. Russians do not need a visa if their stay in the country does not exceed 90 days.
2. The main Georgian currency is lari. One lari costs 24-25 rubles with kopecks. There are exchange offices at every step in large cities. It is worth examining a few and comparing the exchange rates. How much money should I bring with me? It depends on personal preferences. The more you want to see and try, the more you have to spend. A trip for two will cost 50-80 thousand rubles (the figures are average).
3. The tourists here are very friendly and warm. Almost all adults speak Russian fluently. With the younger generation can communicate in English.
4. Communications are represented by several operators, such as Beeline Georgia. The tariffs are standard: there are packages with Internet, the connection is stable.
5. 5. There is a well-developed public transport network in big cities (Tbilisi, Batumi), there are shuttle buses going to popular destinations. The average fare is half lari, about 12 rubles. In the capital there is the subway. You can buy a single electronic travel card for frequent travel. Fast trains with TV and Wi-Fi are convenient to travel between cities.
6. In every major city there are small grocery stores and chain stores, where you can even find Russian products. Testimonials from seasoned tourists tell us that food prices are lower than in Russia.
7. As for lodging, you can stay in a hotel or save money and find an apartment for a day or a house on the beach. All kinds of options are in abundance.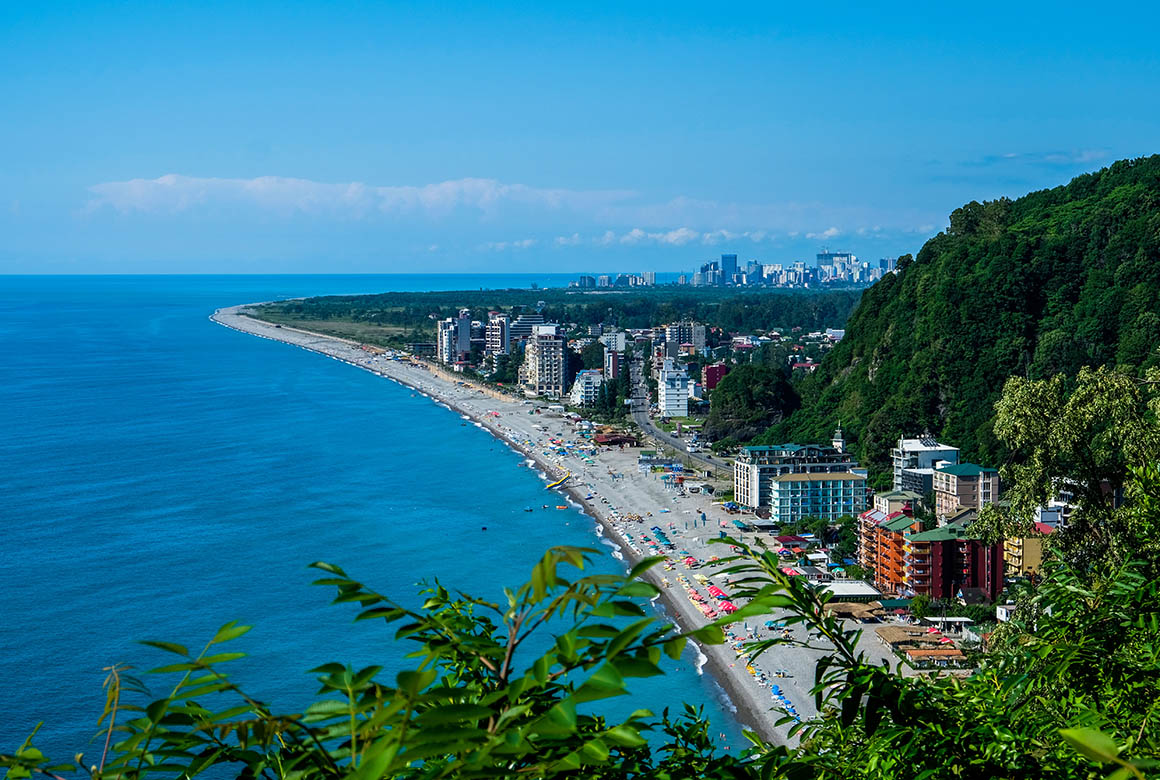 When to go, and which cities in Georgia have the sea
If you prefer lazy idleness by the sea, choose the period from mid-June to early October. The sea warms up to +26 … +27 °C in summer and the air temperature reaches +35 °C. Private sector at the seaside is better to book in advance – prices in resorts soar with the start of the season. In June a room can cost 2 to 3 thousand and in August it is more expensive by a thousand or more.
Beach carefree vacation will succeed here:
1. Ureki township, the outskirts of Batumi. Here the sand with special magnetic particles, which help in the treatment of many children's illnesses, including cerebral palsy. In high season it can be crowded here.
2. Chakvi village, near Batumi. There is enough space for everyone – seven-meter beach strip starts from Botanical Garden of Batumi. Pebbles are shallow and the entrance to the sea is shallow – ideal for relaxing with children. The water is clean and the infrastructure is getting better every year.
3. Gonio, a resort area 15 km south of Batumi. A great option for those who want to combine a beach holiday with the opportunity to see historical sites. The beach is covered with coarse pebbles – it is better to enter the water in special shoes. The depth increases quite quickly, and this may not be quite convenient if you go with small children.
4. Kobuleti village, 20 km north of Batumi. Its main advantages are the relative scarcity of people, clean air and sea. The beach strip stretches along the water for 10 km. Here is one of the best amusement parks in Georgia, which will please families with children. From here you can easily get to the magnificent national parks Machakhela, Mtirala and Kintrishi and many historical sights.
5. Grigoleti village, near Batumi (60 km) . Another quiet family place with well-developed service and a sandy beach. The entrance to the sea is gentle, the water gets warm quickly, and it is comfortable to swim as early as the beginning of June.
6. Batumi, the resort capital. It is a tourist Mecca and the second city in the country for the accumulation of all kinds of entertainment and attractions. Seeing the Botanical Garden and the famous Piazza Square are good reasons to go to Batumi.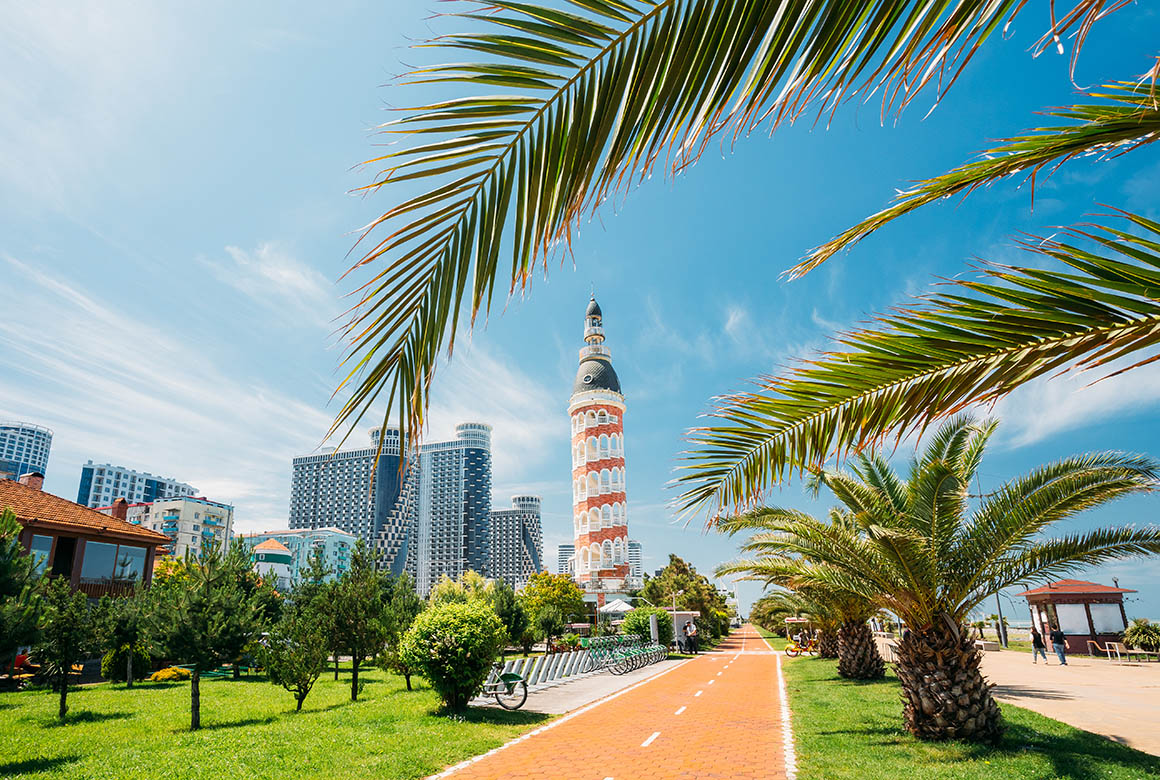 Georgia: Where to go to the sea with children
Where to go with children to the sea, so it was quiet, warm and shallow? A popular option is Crimea, where there are plenty of quiet places. But Georgia also has something to please you. Even if the younger generation can not yet due to age appreciate the charm of national colors, hospitality and cuisine, but loves to splash in the sea. Resorts in Georgia, where you can go with children to the sea – these are the above-mentioned settlements Grigoleti, Kobuleti, Chakvi and Ureti.
Quite decent service and clean beaches offer village Kvariati, 10 km north of Batumi. Here a lot of guest houses are located on the first line – you don't have to spend a lot of time on the road. The beach line is extensive, there is an opportunity to get away from the noise of cafes and to settle down in relative privacy.
The village of Shekvetili, 45 km north of Batumi, is the perfect place if you're looking for peace and privacy. Among the advantages are the magnetic black sand, shallow and gentle entrance to the sea and a wide pine grove on the beach, where you can stroll with the baby carriage in the sun. There are no bars in the village, but there is a supermarket and market with delicious local fruit.
Where to have a rest in Georgia?
Georgia is a unique country. Here everyone can find a vacation to his liking. Tbilisi and its surroundings offer an extensive sightseeing program, which includes a visit to the ancient cave city Uplistsikhe or the ancient capital of Georgia, Mtskheta. No less pleasure will bring a walk through the narrow streets of the old city. By the way, do not be surprised that in all the yards the laundry is dried on ropes. This is also the local color and tradition. Do not miss the sulfur baths and ride the Tbilisi cable car. Do not be confused by a specific smell of sulfur in the baths – this water perfectly relaxes and tones the skin.
In Kutaisi, the second city of the country, there are as many sights, and the city's temples are even listed by UNESCO. It is definitely worth seeing them. In Kakheti is a small town Kvareli, famous for producing the famous wine "Kindzmarauli". There are beautiful lakes and health centers around the city, which offer original spa services on Georgian wine. You will not see or experience this anywhere else for sure.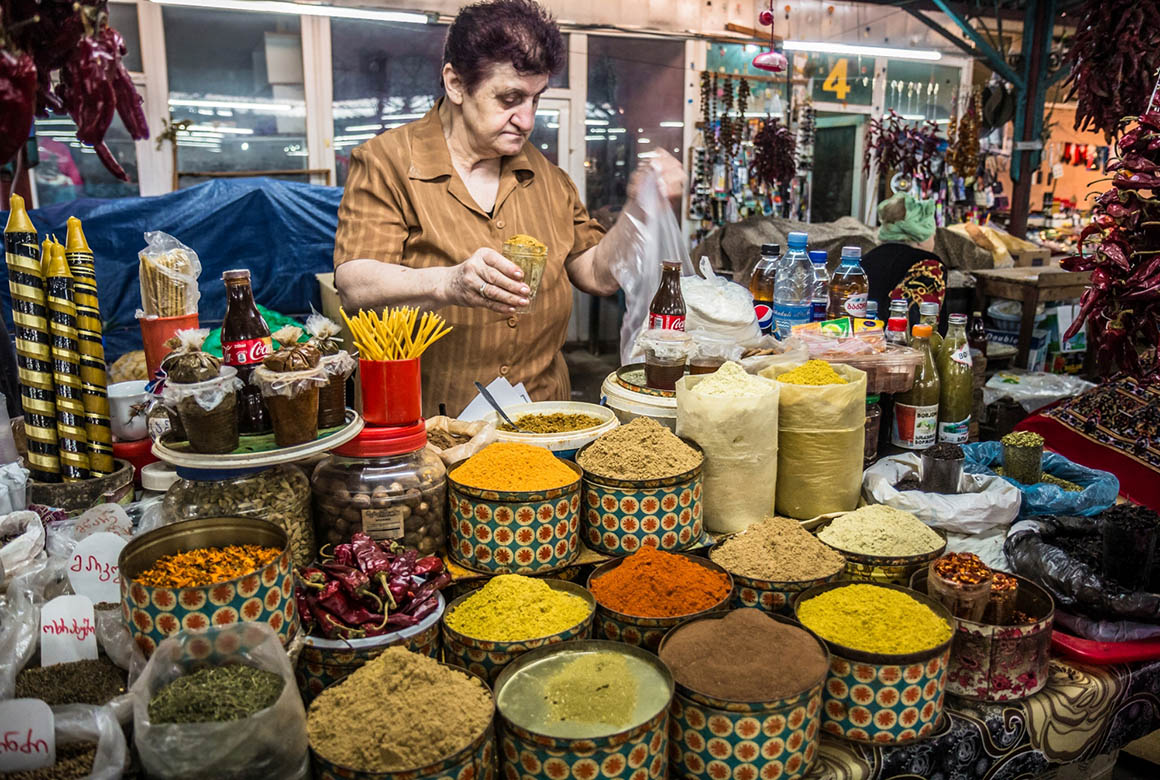 What to try and what to bring from Georgia
Georgian food is a delight of a special kind. The portions are large and the food is hearty but healthy, as it contains a lot of greens and vegetables. What you could not finish, you can ask to take it with you, as everyone is quite calm about it. Try khinkali here without fail but don't eat it with a knife and have a tail. Georgian khinkali is eaten only with hands, holding the tail.
The restaurants and cafes serve excellent homemade lemonade and, of course, excellent Georgian wine. It often differs in taste from what is sold in Russian stores. Tipping is included in the bill, usually not more than 10%. In Georgia no one is in a hurry anywhere, in the most popular establishments the waiting time to order can reach 20-25 minutes. Among the most popular dishes are Georgian bean lobio, shashlik mtsivadi and chilled eggplant rolls.
What to bring from Georgia? Of course, real Georgian spices, they are sold even in stores. There you will also find churcheli, marshmallow and wine (Saperavi, Khvanchkara, Mukuzani). Exotic souvenirs include a natural sheepskin hat and a wine horn. Georgian chacha is the fourth popular souvenir, which has little in common with what is traditionally sold on the Sochi coast.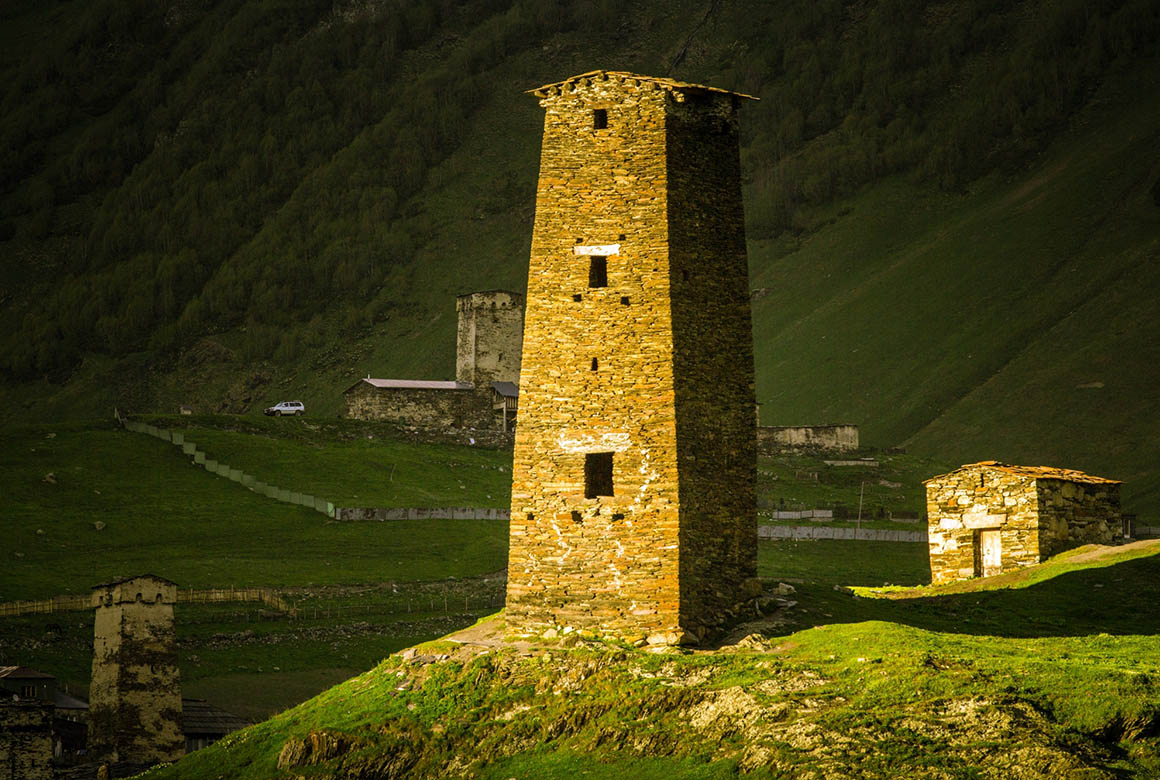 7 things you must do in Georgia
1. See Kazbek. You can go on a tour on your own, but it is much easier to take an organized tour, for example, from Tbilisi. Not only will you be taken to a place with a fantastic view, but you will also enjoy the local legends and stories. Don't forget to take warm clothes – the mountain is cool in any weather. The view from the Gergeti Temple is excellent.
2. Walk along Batumi boulevard. Sculptures, fountains, cafes with national dishes – it is worth allocating a whole day for this walk.
3. To taste real Borjomi in the city of the same name. You can get there from Tbilisi by train. The main attractions are concentrated in the center, which you can easily get around in a couple of hours. The mineral springs are located in the Central Park, the entrance is paid, 2 GEL for the whole day. If you want you can even swim in the mineral water pool, paying 5 GEL.
Try your hand at a traditional Georgian feast. It is not accepted to take off your shoes, to interrupt the elders and the toastmaster, and leave the drink unfinished, especially after the important toasts. Here it is extremely important to soberly assess your strength, but the pleasure and the experience are worth it.
5. Visit the Rizo Gabriadze Theater in Tbilisi, in the Old Town. The theater, which is called the national treasure of the country, is a puppet theater, but these puppets are more than just toys on a fishing line. They are real live marionettes with a soul and character. Plays are staged on a wide variety of subjects, including adult themes, such as "Stalingrad. It is one of the most touching stories you can see on stage.
6. Visit a real Georgian flea market. They are almost in every city, the largest is located in Tbilisi near the Dry Bridge. Do not hesitate to haggle – anyone who buys without prior fierce bargaining, just insults the seller. Here you will find a lot of valuable and useless junk, from old Soviet chandeliers to antiques. You can be sure that you won't leave without a purchase.
7. Visit the Stalin Museum in Gori. Historical museum in the homeland of Stalin in the city of Gori (80 km from Tbilisi) receives thousands of tourists. Here are his personal belongings, documents, rare photos and even a death mask. The shabby house, where Dzhugashvili's family lived, is preserved. There is also a personal carriage of Stalin, in which he traveled around the country. The interior decoration is quite modest, especially by today's standards.