Annecy – what to see in a small alpine Venice
Annecy (France) – the most detailed information about the city with photos. Annecy's main attractions with descriptions, travel guides and maps.
City of Annecy (France)
Annecy is a city in Eastern France in the Rhône-Alpes region. It is the historic capital of Haute-Savoie, located on the shores of the cleanest lake in Europe. Annecy is one of the most beautiful medieval cities in France, the historical center of which is riddled with charming canals. Thanks to them the city is often called the "Venice of the Alps.
Things to do (Annecy):
€130 per excursion
Annecy – the history and legends of the Venice of the Alps
Romance and treasures of a medieval town
Geography and climate
Annecy is located in Eastern France on the shores of the lake with the same name, 40 km from Geneva. The town lies in a picturesque setting at the foot of the northern Alps, and enjoys a strategic position between France, Italy and Switzerland. Annecy has a temperate climate. Summers are warm and sometimes even hot. Winters are cool, with brief subzero temperatures.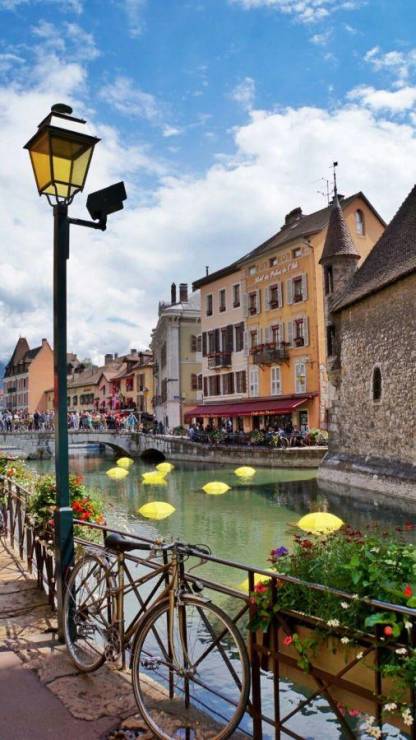 Annecy
Tourist information
Population – more than 120 thousand people.
Area – 66.94 km 2 .
Language: French.
Currency – euros.
Visa – Schengen.
Time – Central European UTC +1, in summer +2.
The nearest international airport is in Geneva. Lyon airport is two hours away.
The city has excellent transport links with Geneva, Lyon and Paris.
Annecy is famous for its Italian gelato and pastries. You can also taste not only French cuisine, but also Italian and Swiss food here.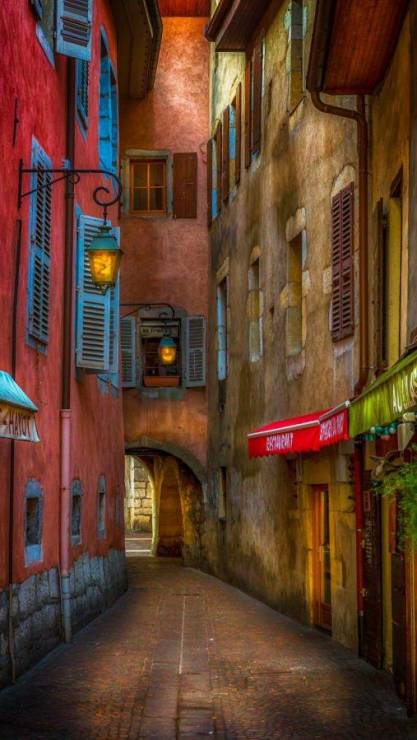 Annecy
History
Historians believe that a settlement on the site of the modern city has existed since Roman times. Annecy came under Geneva in the 10th century and the Savoy dynasty in the early 15th century. With the development of Calvinism the city became the center of the Counter-Reformation. During the Great French Revolution Upper Savoy was conquered by France. In 1815, after the Bourbon restoration, it was returned to the representatives of the Savoy dynasty. Annecy and this historical region finally belonged to France in 1860.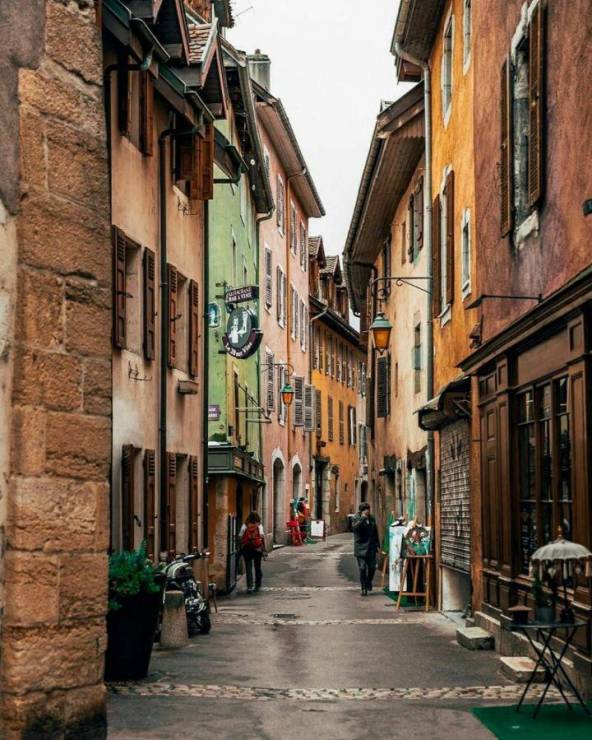 The streets of Annecy
Sightseeing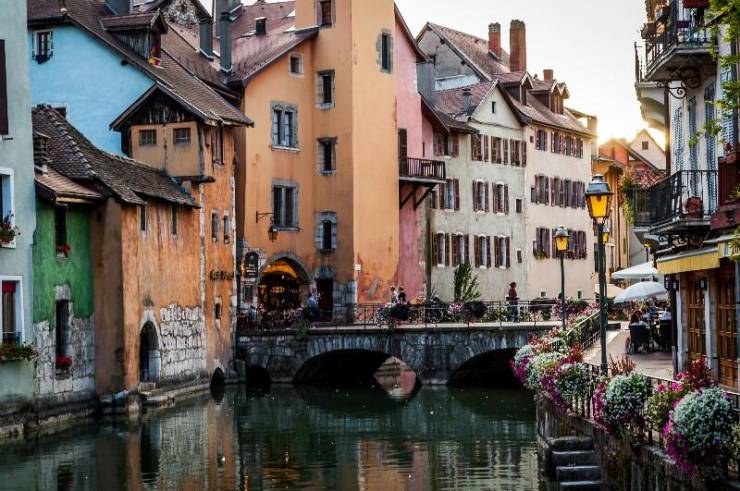 Old Town
Annecy has a charming old town that is considered one of the most beautiful in France. It abounds with charming canals with colorful Piedmont-style houses decorated with flowers, arcaded streets with boutiques and small beautiful bridges.

Lake Annecy
Lake Annecy is one of the most beautiful lakes in Europe and considered the cleanest. This lake with turquoise water is located in a beautiful area of Alpine foothills and is beautiful at any time of year. The lake has two Blue Flag beaches, Plage la Brune and Plage Municipal.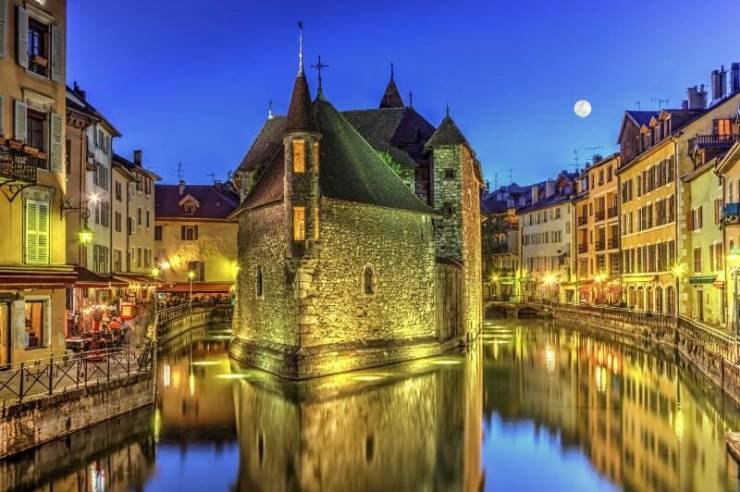 Ille Palace
The Palais d'Ile is one of the most famous sights of Annecy, which forms the most famous image of the city. The structure is located on an island on the Tioux River and was built in the 12th century. This building was a prison for a long time. Now you can see exhibitions on architecture and culture, as well as a tour of the old prison cells.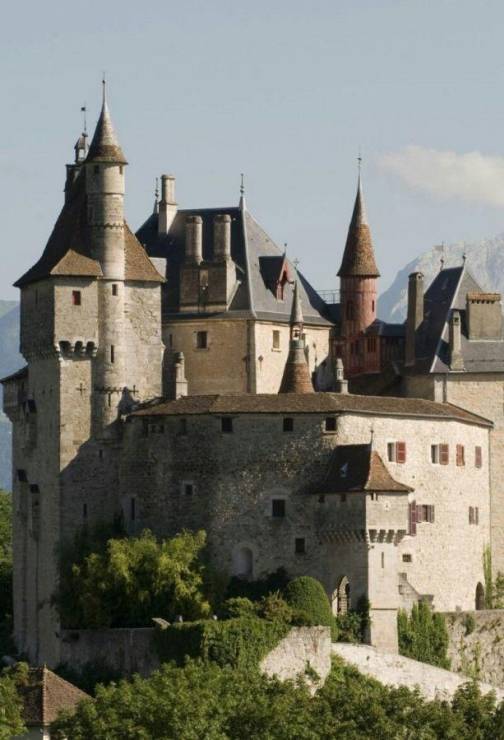 Chateau d'Annecy
Chateau d'Annecy is another famous landmark that rises beautifully above the old town. The castle was built between the 12th and 16th centuries and was the residence of the Counts of Geneva. The oldest part of the castle is the Tower de la Reine, which dates back to the 13th century. From the 17th century until the first half of the 20th century there were soldiers' barracks here. The castle is now a museum with exhibitions on the art and history of the region.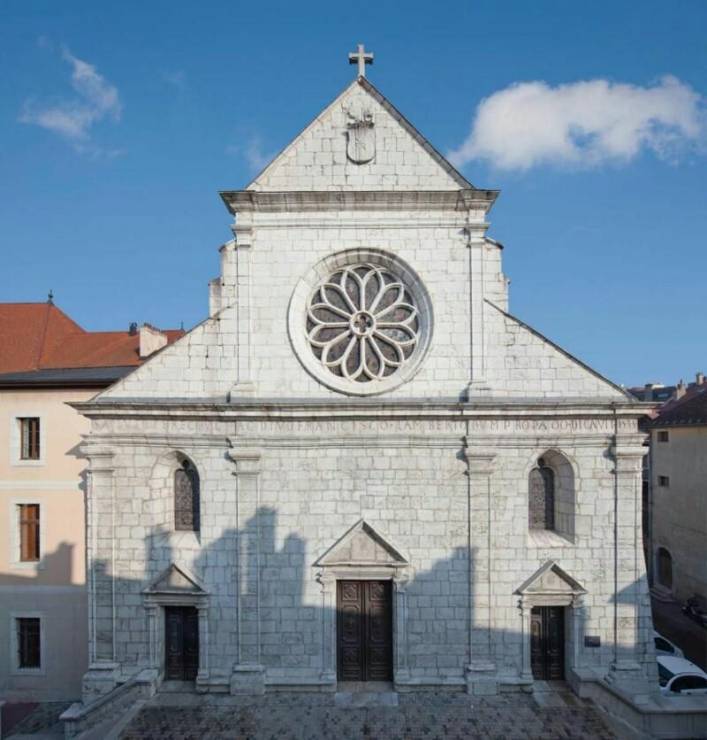 St. Pierre Cathedral
The Cathedral of Saint Pierre is a Renaissance and Gothic cathedral of the 16th century, which was not fully completed until the 19th century. The church contains a number of interesting Baroque works of art and objects. Adjacent to the Cathedral is the 18th-century Archbishop's Palace.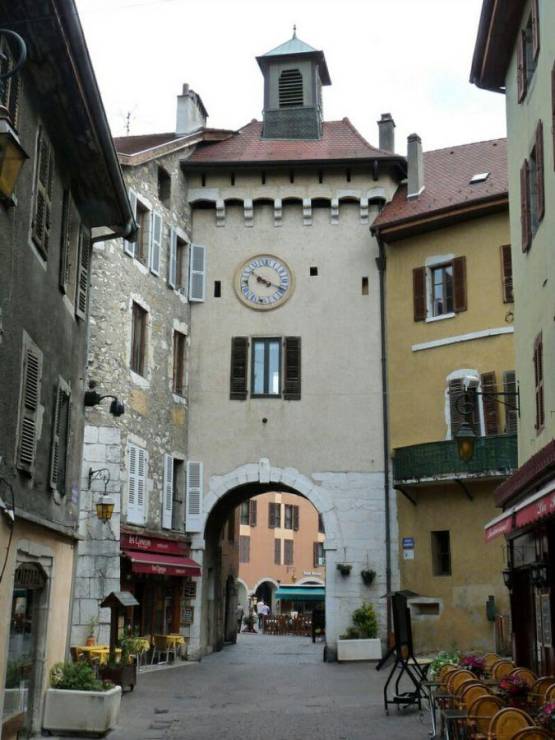 Sainte-Claire Gate
The Sainte-Claire Gate is one of the entrances to the Old City. There is a clock on the facade of the tower.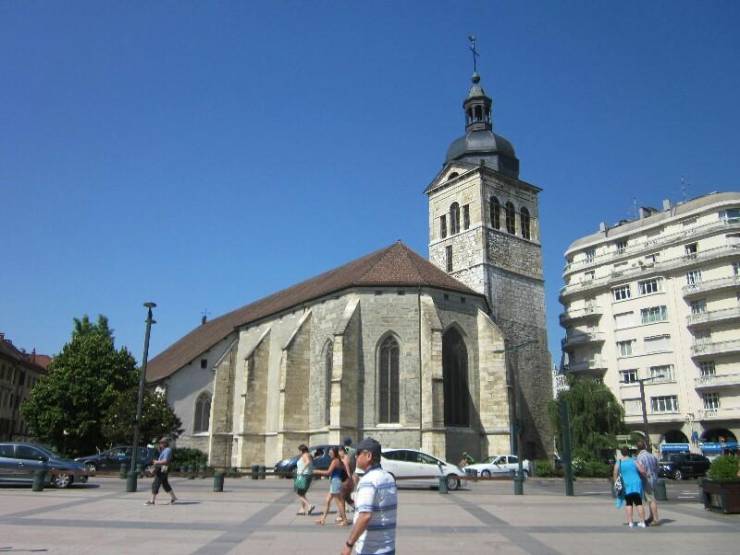 Saint-Maurice
Sainte-Maurice is a Gothic church from the 15th century which contains a number of interesting paintings from the same period.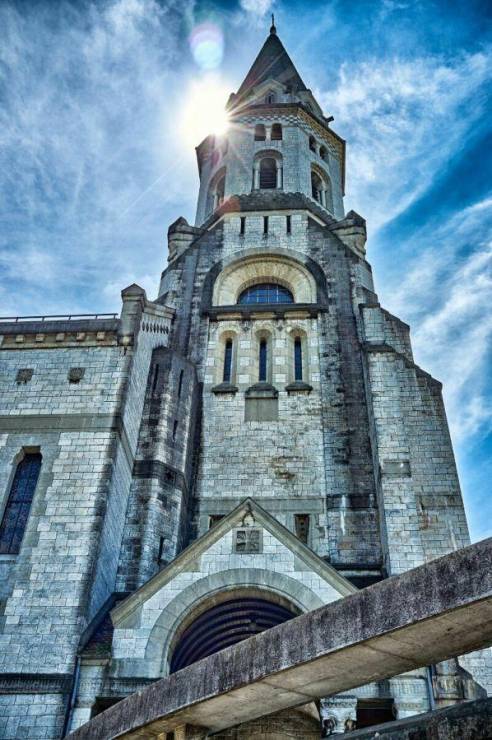 Basilica de la Visitation
Basilica de la Visiting is a neo-Gothic church built in the early 20th century.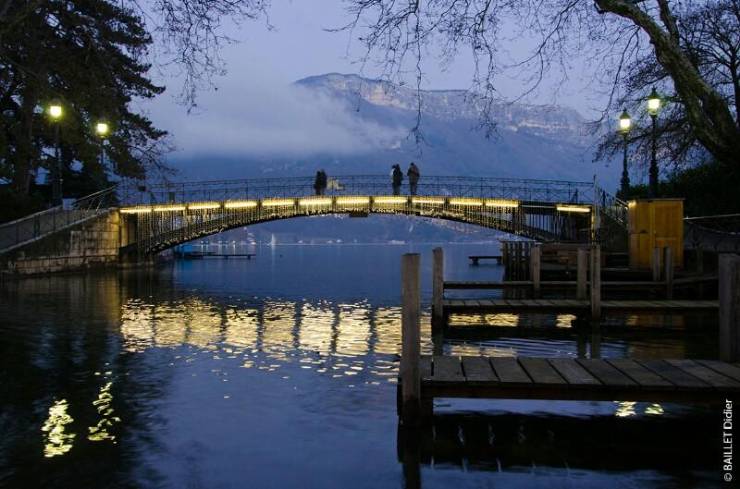 Pont de Amour
The Pont de Amour (Lovers' Bridge) is an early 20th century pedestrian bridge with a beautiful view of the lake. It is believed that if lovers kiss in the middle of the bridge, they will be together for life.
Interesting tours
From €105 for a guided tour
Grand Tour of Montmartre
The Moulin Rouge, Dalida's house, the Villa Léandre, the Chateau des Mistes and other famous Bohemian places
from €130 for a guided tour
The Louvre for children ages 6 and up
An educational but not boring adventure which will be memorable for young travelers
Annecy – what to see in a small alpine Venice
Annecy is a small town on the edge of France, only 30 km from Geneva, and can be considered the pearl of the Rhone-Alpes region. In a picturesque place, with a panoramic view of the mountains, on the shore of a calm blue lake is an incredibly cozy and charismatic old town of Annecy, with its unchanged castle on the top of the mountain and the most striking and memorable sight in the form of a tower right in the middle of the river, squeezed by a wall of old houses. Narrow streets and lots of flowers create a truly fairy-tale atmosphere. And the sweet chord of a walk through the city can be a delicious ice cream from an old store with the most incredible flavors, such as the delicate aroma of lavender honey. Annecy is loved by everyone and always has been among the most beautiful small towns in Europe. So if you find yourself in the area, it would be a crime to miss Annecy!
For a walk around the city you should set aside about half a day.
538km southeast of Paris; 56km southeast of Geneva; 140km east of Lyon
Annecy weather:
Annecy travel guide:
The resort town of Annecy, which is the capital of the region, is the best starting point for travel in Upper Savoie. Once a Gallo-Roman town, the seat of the Counts of Geneva until the 15th century, Annecy offers one of the best views of the lakes and mountains in the French Alps. Since the 1980s, Annecy has evolved into a fast-growing urban center that has managed to preserve its natural environment. The city beautifully combines a rich architectural heritage with magnificent nature.
Tourist office:
Note : schedules and prices below are subject to change over time. Double-check with the official sites for up-to-date information.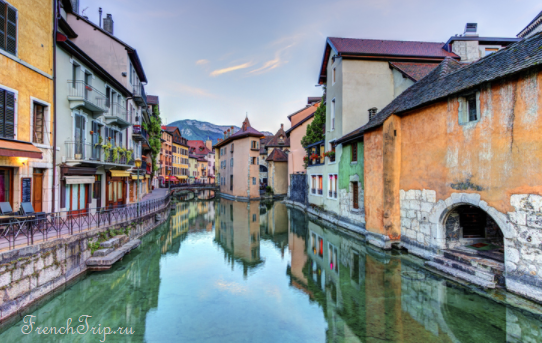 How to get to Annecy:
The most frequent way to get here is from Geneva, where a direct train has finally started running. Annecy is also very well connected by train to Lyon, Chambery and Grenoble.
From Geneva airport to Annecy:
сначала доехать до самой Женевы на поезде ( Geneve Cornavin , 7 минут), затем на поезде в направлении Annemasse до самого Annecy (1,5 ч). Итого ок. 1:45 в пути. Либо вариант Geneve — (S L4) -> Annemasse — (TER)-> Annecy (approx. 1:45 trip, ticket
direct bus from the airport to Annecy, direction Annecy, Gare routière, approx. Annecy direct bus line, direction Annecy, Gare routière, approx. 1:50 trip, departing on weekdays: 6:00, 8:25, 9:10, 10:00, 11:00, 12:00, 13:00, 16:00, 16:40, 17:40, 18:00, 18:20, 19:10, 19:40, 21:00. There are fewer flights on weekends. The trip costs 10.5 euros and the schedule is available on the Transdev website.
From Geneva to Annecy (40 km):
Direct train (see above), or Flixbus (€4.99, 50 minutes, a couple of times a day).
You can take the TER train from Geneva to AIX LES BAINS – LE REVARD (1:07 journey time), then change to the TER to Annecy (40 minutes). The ticket is €23.20.
From Lyon airport to Annecy: much longer and more expensive journey: 2:35 to 4.5 hours with connections in Chambery / Valence / Grenoble, tickets €30 – 57€. A cab ride will take about 1:15. Bus (2 hours) The Satobus network connects the airport with Annecy every two hours from 9:00 to 21:00 in the direct direction and from 6:00 to 17:00 in the opposite direction several times a day.
From Lyon to Annecy: train from Lyon Part Dieu station with change at AIX LES BAINS – LE REVARD (1:52, 28.50 €) or bus: Oui (1:50, 28.50 €) or Flixbus (2 hours, 6.99 €).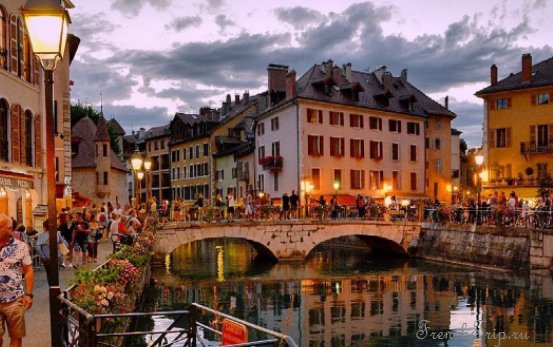 Transport in Annecy: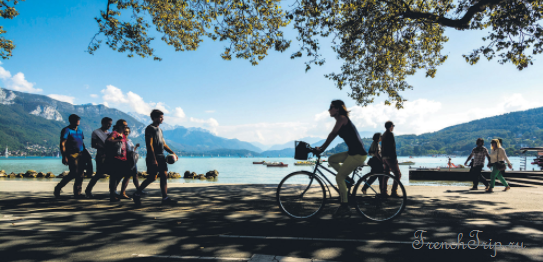 What to see in Annecy:
Annecy, built around the Tioux River, is called the Venice of the Alps because of the canals leading to the old part of town, Vieil Annecy . But Annecy is also a city of art and culture. You can start with its château, classified as a historic monument. This impeccably preserved building, home to the famous Counts of Geneva, now houses a museum and temporary exhibitions. The imposing building combines the defensive style of an impregnable fortress with the sophisticated charm of the Ile de France.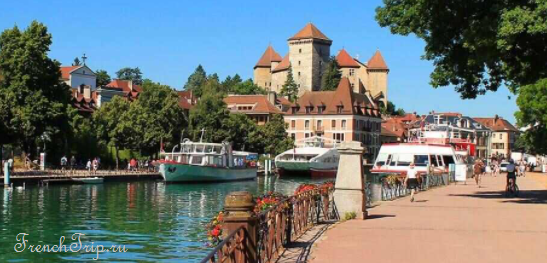 The visit can be continued by the old prison of the Palais de l'Ile . Originally a customs house on the Tioux River, the building quickly became a prison, an asylum or a court, and today it houses the magnificent exhibitions of the Interpretation Center for Architecture and Heritage. In addition to the collections on display, you can visit the cells at the water's edge, the chapel and several rooms in various locations.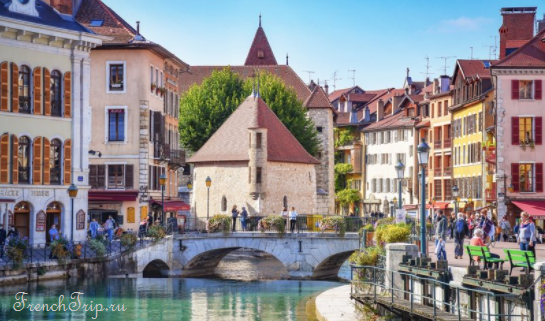 During your walk through Annecy you will discover a number of old houses which have preserved their splendor, such as the 18th century Gallo house with Italian influences or the Hôtel de Sales, residence of the princes of the House of Savoy. Among the religious monuments is the Cathedral of Saint-Pierre, built in the 16th century. The building is Renaissance style on the outside and Gothic style on the inside.
Annecy sights:
Just stroll through the city's picturesque streets along the river along a suggested itinerary (about 3 hours):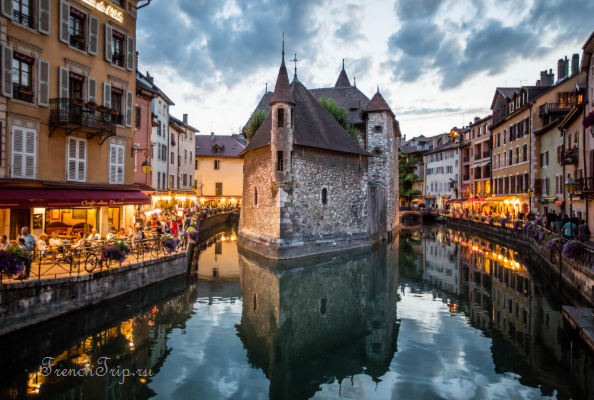 Eat in Annecy:
In the old town, you'll find plenty of pleasant places to eat. In hot weather be sure to try the ice cream at Glacier des Alpes (16 Rue Perrière, 74000 Annecy), an artisanal ice cream with a huge range of flavours, among which the divine lavender ice cream (Miel lavande). No wonder there are often queues in the summer!
When the weather is fine you can choose any restaurant along the canal and just sit back and enjoy the stunning views of the old town… If you want something really special, you can go to a gourmet restaurant:
La Maison des Bois, Marc Veyrat
This attractively priced world-class restaurant, known throughout France for the excellent and unusual cuisine of owner Marc Weir-Durebet, occupies a romantic lakeside version of a Savoyard castle in the village of Verrier-du-Lac, 1.5 km south of town. Guests dine in a chic room with ceiling frescoes. The chef is called l'enfant terrible of upscale alpine cuisine. He offers a unique gourmet experience marked by an almost ritualistic etiquette, and dishes include nonsensical delicacies such as "virtual foie gras," "sweet meadowsweet" and "plate of crazy."
Hours of operation: Sat-Sun: 12-1:30 p.m.; Wed-Sun 7:30-21 p.m. Closed from November to mid-June.
Transportation: From the boulevard on the shores of Lake Annecy, follow signs to Verrier du Lac, Chavoir, and Talloire.
Phone 04-50-60-24-00
Prices: Main course 75-138 euros; fixed price dinner 295-750 euros
Address: 13 vieille rte. des Pensières, Veyrier-du-Lac
Le Belvédère.
This is one of the city's most attractive restaurants at moderate prices. On the belvedere above the town, about 1.5 km west of the center, it has a view of the mountains and lakes for 8 km. The menu includes a Breton lobster salad with freshwater crayfish, langoustine a la plancha with zucchini ravioli, and an unusual combination of foie gras with fig purée and vanilla-flavored bourbon sauce. Dessert can be a choice of tropical-flavored sorbets.
Opening hours Thu – Wed 12: 15-13: 30; Mon and Thu – Sat 7: 30-9: 30. Closed in January.
Transport: From Annecy town center, follow signs uphill to Le Semnoz.
Phone number: 04-50-45-04-90
Prices: Fixed price lunch at 32 € or 78 € to 125 € for dinner
Address: 7 chemin du Belvédère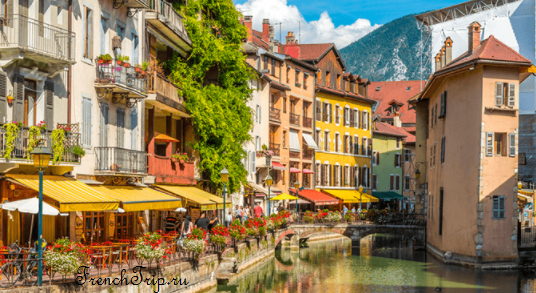 Annecy Cuisine:
Like every region in France, the Haute-Savoie region of Annecy has its own local dishes that are part of the identity of these regions. The typical dishes of Haute-Savoie are tough as mountains, full of melted cheese, and you'll probably need a digestif to digest that much cheese! This is also the reason why there is Genepy : a locally produced strong alcoholic beverage, but that's another story… More often the cheese refers to the local variety, Reblochon .
Keep in mind that despite the popularity of cheese dishes, they are quite heavy and consumed more in the cold season (only tourists would eat fondue or raclette in the 30-degree summer heat). In summer, however, you should switch to lighter dishes, such as those based on local lake fish.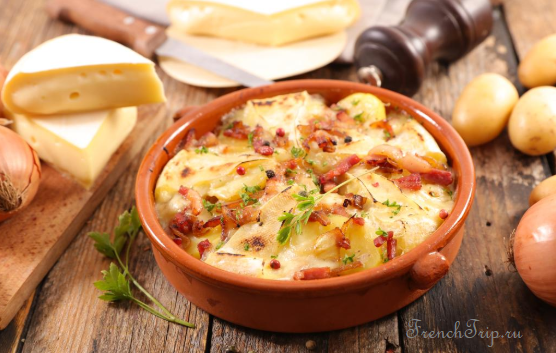 Tartiflette (gratin made of sliced potatoes with onions and bacon in cream sauce baked under reblochon cheese), Raclette is the winter specialty of the region, where boiled potatoes and ham are poured with special raclette melted cheese, Fondue Savoyarde – traditional mountain dish in the form of a pot of melted cheese, where they dip bread on a special fork and wash it all down with white wine. There are many versions of fondue, which differ in types of cheese. In the Annecy region, Comté, Beaufort, Gruyère de Savoie, Abondance… Usually you need at least two people to order a raclette or fondue.
Try also Diots and Crozets . Diots are local pork sausages and Crozets are local small square pasta. In this dish, Diots are cooked in white wine and Crozets are casserole with beaufort cheese.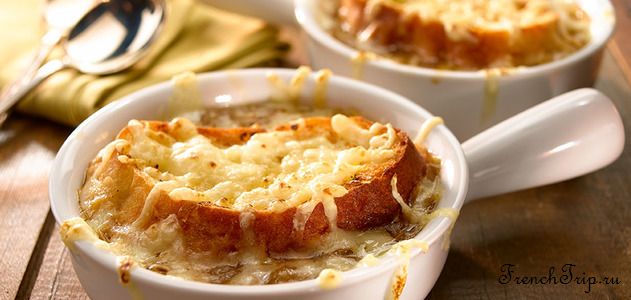 Shopping in Annecy:
As in any small tourist town, souvenir stores rather than the typical boutiques of fashion brands await you here.
On Tuesday, Friday and Sunday mornings, the streets of Annecy are buzzing with life as locals and tourists gather around the fresh produce market from 7:00 am to 1:00 pm. If you are lucky enough to be in town on one of these days, you must visit the Old Town market.
On Tuesdays the market offers mostly fresh produce, and on Fridays and Saturdays it's mostly handicrafts and textiles (all those lovely tablecloths, towels with characteristic chalet-like decorations, ceramic casserole dishes with traditional paintings…) The market is spread over several streets in the old part of town. You will find all sorts of local specialties as well as fruit, vegetables, bread and cheese.
Upper Savoie is famous for its cheeses. You can of course get mass-market products in any supermarket but if you're a gourmand and a fan of specialities then it's well worth buying an artisan cheese – in a market or in a cheese store like Fromagerie Pierre Gay (47 rue Carnot, 8 a.m. to 7 p.m., closed on Sundays). Well known in the area, Pierre Gay received France's most prestigious artisan award in 2011.
You can visit one of the city's bakeries, such as Boulangerie Rouge (3 Rue du Lac, 7:30 – 7:30 pm, closed Mon.), to sample traditional local pastries: Gâteau de Savoie (very light and fluffy biscuits) and Brioche aux Pralines (buns with red pralines and sugar).
Near Annecy:
Gorges du Fier.
After visiting Annecy you can go to the Gorges du Fier (www.gorgesdufier.com), an impressive river gorge 9,5 km west of the city. To get there, take a train or bus from Annecy train station to Poisy. From the station get about 1.5 km, following clearly marked signs. This striking gorge is one of the most interesting sights of the French Alps. The ramp will take you to a ravine 3 to 10 meters wide, cut into the rock by streams of water; you will hear the roar of the river below. As you emerge from this maze, you will be greeted by a huge expanse of boulders.
Hours of operation:

June 15 through September 10 daily from 9:30 a.m. to 7:15 p.m. (last ride at 6:15 p.m.),
March 15 to June 14 and September 11 to October 15 daily from 9:30 a.m. to 6:15 p.m. ( last ride at 5:15 p.m.).
Closed October 16 to March 14.

Lac d'Annecy.

You can also take a cruise on the azure lake for which the city is famous. Tours of Lake Annecy, from February to December, last 1 hour and cost approx. 15 €. An English-speaking guide points out the sights. Tours leave from one to six times a day, depending on the season. Ask at the Tourist Office or at the Compagnie des Bateaux du Lac d'Annecy (www.annecy-croisieres.com).

The closest places to the city are Chambery and Geneva, where you can go even without a car.