Unusual Thailand: a selection for sophisticated tourists
Uncommon Thailand is the part of the popular country that tourists are not used to. It includes sights that are difficult to see, shocking places or simply monuments, which for some reason were passed by the popular tourist routes.
Chinatown in Bangkok.
This section of the Thai capital isn't considered a tourist spot, but it's worth the trip for its colorful, authentic ambiance and souvenir shopping. Buses, cabs, tuk-tuks, and even the subway make it easy to get here. But the most common way to get to the market is by river express from Banglamploo and Saphan Taksin piers.
Here you should definitely buy fruit, oriental spices, gold jewelry and fabrics. The jewelry is considered an exclusive – many of them are handmade.
Here it is recommended to try the authentic Chinese cuisine – Peking duck, shark fins, roasted chestnuts and much more. Expensive restaurants are located on Yaowarat Street, cheaper ones are in the neighboring streets. The Double Dogs Tea Room is considered a good restaurant with high-end tea.
There's a landmark inside the block – the Golden Buddha Temple. Go to the clubs on Phadung Dao Rd and Texas. They celebrate Chinese New Year and the Veggie Festival in late October on a grand scale.
Temple of a Million Bottles
One of the most interesting temples in Thailand is made of empty glass beer bottles. The temple opened in 2008, but the collection of glass bottles began in 1984. According to the monks, it was built from one and a half million bottles. Everything is made of them – the walls, columns and floors. Of additional materials – only cement for bonding. Construction is continuing, and the monks are confident that soon their temple will become a symbol of the struggle for environmental stability of the world.
The temple complex is located in the town of Kun Khan, at a distance of 650 kilometers from Bangkok. The easiest way to get there is by plane to the local airport, Ubon Ratchathani. It is very close to the airport and there are buses and cabs.
Lhau Village in Chiang Rai
In the mountains in northern Thailand live distinctive tribes – Laotians, Burmese, Lhau and others. Their way of life has not changed for hundreds of years – they still build houses of bamboo, practice their religion and speak an ancient language.
Lhau villages can be interesting to visit – their inhabitants are happy to receive tourists and sell their products. You can observe their everyday life and plunge into the real primitive culture.
The easiest way to get to the villages on the road from Pai town – one is in front of Mo Pang Falls, the other in front of Ban Payang.
Long-necked Karen Village
Another interesting village in Mae Hong Son Province is Nai Soi Karen Village. It is the Karens who are known the world over for their women's tradition of lengthening their necks with rings. Entrance costs 200 baht, the village is often taken by tourists.
Another lesser known village is Ban Mai Nay Soi standing by the refugee camp. From there you can get from Nay Soi on foot or by motorcycle.
Temple of Heaven and Hell
The Temple of Heaven and Hell is a popular but unusual place. It is located in Bang Saen, 40 kilometers from Pattaya. In fact, it is a garden at a Buddhist monastery, which displays shocking sculptures depicting the fate of sinners and the righteous after death.
At first, the sculptures depict the life and deeds of the Buddha and the righteous meditating in the Garden of Eden, all looking benevolent. But gradually the exhibit moves on to Hell, the frightening figures of the afterlife's torment. In the center of hell are two huge figures of a man and a woman, emaciated, with huge tongues.
The park is most often visited by Thais, as the sight is sometimes shocking to tourists. But people with strong nerves and an interest in the local culture are definitely worth a visit. Only with small children is better not to go here.
You can get to Bang Saen from Pattaya by shuttle bus. The other way is to get to Sukhumvit and there change to a minibus. From Bangkok there is a shuttle bus from the Victory Monument Metro Station. You can also take a cab. There are signs to the temple in the city itself – it's hard to get lost.
Sinners Park in Thailand
The Park of Sinners in Suphanburi province, 40 kilometers from Bangkok, resembles a temple of Heaven and Hell. There is no heaven, only figures depicting the suffering of sinners. It is also quite surreal and creepy – the atmosphere is complemented by a creepy voice from the speakers. The place is slightly less popular than the first temple, but also very interesting.
It is believed that the park has an educational nature – Thais bring children here to convince them to behave well. But tourists here with children rarely go – such creepy pictures are not close to our culture.
Overstay Bar.
This is a 24-hour bar in Bangkok, famous not for its delicious food or cocktails but for its amazing atmosphere. Not many people know about it, but fans of hippie and punk culture will probably love it here. The bar hosts concerts of live music, including unusual music. Backpackers – people who travel the world for minimal money – frequent the place. Trace-parties are held on Saturdays.
The bar is not easy to get to. You can tell the cab driver that you need to go to Pinkao, on the Jaran Sanit Won Highway, to the fortieth intersection (Soi Si Sip). Look for the intersection numbers on the posts along the highway. It's cheaper to take bus 556 from the airport to Pin Kao (first stop after the bridge), where you change to bus #203 and go one more stop.
Tiger Monastery
The Tiger Monastery used to be a popular attraction – a whole family of tigers lived here peacefully. But recently the monastery was accused of animal exploitation, all the tigers were confiscated, and the monastery itself was closed to the public, so now it is impossible to enter its territory, and there is no reason to.
Panyi Island
This small island with vertical rocks is quite popular with tourists – there are many stores, restaurants and even bungalows for accommodation. The main local attraction – fishing villages with houses on stilts, where Thai Muslims live. The locals are friendly and happy to tell tourists about their lives.
Get here by motor boat from Phuket, but more often people take a hotel tour.
Tunnel Temple of Wat Umong
An old, beautiful and unusual temple. It is called a cave, but it is rather in the tunnels – not in the thickness of the rock, but in the built passages of brick. Tourists note that the place is similar to the Migulinsky cave monastery in the Rostov region.
Wat Umong was built five centuries ago. The tunnels are few and all are explored in five minutes, but it is better to walk slowly. Many of the passages are ruined. There is a stupa on the second tier and there are rarely people there, which will please those who like solitude. There is an art gallery, it is worth going to a pond with roses and benches, and admiring the turtles.
Ayutaya
It is the ancient capital of Siam, divided into two parts – the historical with forts and temples and the new, with restaurants and hotels. The place is not too popular with tourists, but beautiful. All the most interesting things you can see in one day, especially in a tour group. But it is better to stay for a couple of days and walk the streets.
Ayutaya is on the UNESCO list. It is famous for its temples, statues of decapitated Buddhas and the residence of the king with figurines of roosters.
It can be reached from Bangkok in about an hour.
Bangkok Hilton Prison (Bangkwang)
Bangkwang Prison became famous after the Australian TV series "Bangkok Hilton". Prisoners sentenced to long terms of imprisonment or death are held here. Especially sophisticated tourists try to get inside – it is interesting, but not easy.
First you have to get to the prison. By cab it's easy – just tell the cab driver "Bangkwang" or "kuk" – that's Thai for prison. You can take a boat to pier number 30. It's best to be here by 7:50 so you can get there in time for the 9 o'clock visit.
The only way to get here is to try to visit a compatriot. The names of Russian prisoners can be found on various forums dedicated to this prison. You need to find out the name, section number and its schedule. After that, if you are determined to embark on this adventure, you can go on a visit. The prisoners will be only grateful to you – they are always happy to have visitors.
To visit, you need to fill out a lot of paperwork, have a photocopy of your passport, and know the names and sections of the prisoners. Remember that visitors are thoroughly searched – no transfers are allowed, and even a coin left in your pocket sometimes gets rejected by the guards.
Temple of Truth
This temple of Thailand is made entirely of wood and is the tallest structure made of precious species. Under the roof of the temple are collected several Eastern religions in four different halls.
It is located in Pattaya, on Cape Rachvat – it is only 7 kilometers from the city, you can walk or take a bicycle or tuk-tuk. The place is quite unpopular, but beautiful, especially if you like wooden products. A visit costs 500 baht – not cheap, but the monks need money for repairs, the building is wearing out quickly. For that money, they'll give you a full tour.
Sala Keoku.
Buddha Park near the town of Nong Khai. The second park by architect Bunlya Sulialat with sculptures unusual for traditional Buddhism. According to the descriptions it is very surreal, but not crazy. Admission is only 20 baht.
There are many sculptures of Buddhas and other characters of local mythology. It is sometimes difficult for the tourist to understand what the composition means, so it will be useful to book a tour.
Another entertainment is feeding carp and catfish. You can even pet the fish from the shore.
Phra Nang Beach
This beach is no longer considered too unusual place – here often take tourists on excursions. Phra Nang is part of the Raleigh Peninsula in Krabi City. Considered one of the most chic beaches in Thailand – tourists are attracted by the white sand, turquoise water, steep cliffs and a beautiful view of the islands.
Especially crowded on the beach in the morning, but from 11 to 13 tourists are less. You can get there by boat from Ao Nang, Gonsai or Raleigh West.
Beautiful not only nature – on the beach there is a sanctuary in a cave. Developed tourist infrastructure – there are cafes, restaurants and even hotels.
Khao Chi Chan Mountain
Not far from Pattaya is a unique attraction – the image of the Buddha, carved into the rock using laser beams and lined with gold plates. Its height – 130 meters, and width – 70 meters. In the park around the rock you can relax and unwind – there is a gazebo for meditation.
Thailand's best kept secrets
It's no secret that Thailand is one of the most impressive places on the planet. Planning a trip that is filled with vibrant culture, immaculate beaches, thick green jungles and spectacular scenery is difficult enough. But all this can be found in Thailand.
But not many people know that there are so many places to explore and discover that are in the middle of nowhere, far from most of the famous attractions.
But that doesn't mean you shouldn't leave out the well-known tourist spots like Phuket, Chiang Mai, Phangan, etc. It is a must to visit one of the most popular holiday destinations in the world.
However, it is worth trying to really make the most of your time and separate yourself from the noisy crowd to find quiet places in Thailand. Such a pastime will make the trip special and add to the "suitcase" of memories, will provide a theme for stories that can entertain friends and family for a long time.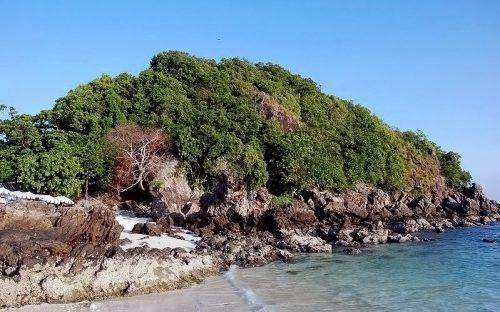 Where to find the treasures of Thailand?
Koh Khai Beach
Not far from the shores of Phuket you can find paradise beach Ko Khai, hidden on the Phangan coast, which can be reached by boat, and the road itself will not take more than 30 minutes.
The beaches with lots of sand and the blue Andaman Sea are a truly uninhabited island. There is nothing to do here except lie on the beach or dare to explore a small patch of jungle. But it's not the kind of place you want to spend a week of your vacation. An entire day spent on this island will leave vacationers feeling shipwrecked.
The Khmer Temple of Prasat Khin
Angkor Wat and its surrounding temples are considered the most famous and impressive sights in Cambodia. But in the heart of Thailand is a rather striking example of Khmer culture.
Prasat Khin Temple
In the small town of Phimai, an hour's drive from Korat in northeastern Thailand, is the Khmer shrine of Prasat Khin Phimai. The construction of this temple spanned the period of the late 10th century and early 11th century, indicating that it is older than Angkor Wat. You can tour the shrine by bicycle, which you can also rent there.
Nan Province.
"Buried" in the depths of northern Thailand, the province of Nan is on the border with Laos. The rural settlements, hills and rice paddies give the province an atmosphere similar to that of Chiang Mai. But it is not a popular place among travelers.
During the hot season, you can see a huge number of long and thin lines on the road, which are dried chili peppers. This is what the province of Nan is famous for, growing this vegetable, which gives local dishes a slightly spicy flavor.
Ko Mak.
A peaceful haven for those who want a break from the bustling Koh Phangan and the touristy island of Samui. Ko Mak is an excellent, well-formed paradise island nestled in the far east of Thailand, close to the border with Cambodia, in Trat province.
This is the perfect place to stop while traveling between Cambodia and Thailand. Here you can spend time on the beach and explore the unspoiled surroundings. Travelers and visitors to the island are welcomed with small beds. And if you want to see neon lights and local fast food when planning your trip, it's best to leave this place out.
Khao Luang Cave
After making a 3-hour journey from Bangkok to the southwest, you can come to Petchaburi province and find Khao Luang Cave.
The cave is one of the mysterious places of Thailand, where temples are very well hidden. A beautiful spiritual sanctuary with a special atmosphere is illuminated from the hole at the top of the cave.
Ko Lao Liang
Ko Lao Liang is a small, unspoiled island with beaches that can be reached by boat from the coast of Koh Petra Marine Park, Trang Province, located in the southwest of Thailand.
The island can not be completely given to tourism (eco-friendly resort with beaches), so many owners direct their environmental activities to preserve the natural and idyllic state of nature, thereby limiting the number of tourists who want to visit the place. They also try to make sure that any construction work is done using natural materials (no concrete). And the construction process itself takes place in an area where there are no trees, or where they have already been cut down. If you want to experience the pleasure of a clean and unspoiled Thailand, then this is definitely the place to visit.