20 recipes for tasty and simple Italian dishes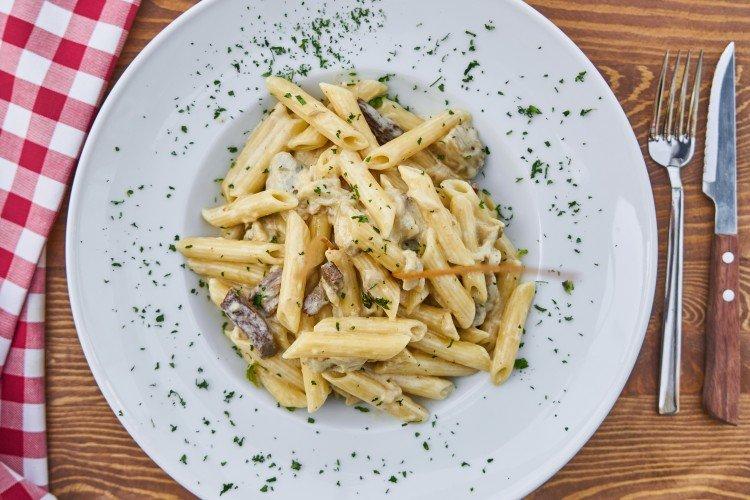 Photo: kakprosto.ru
Italian cuisine is one of the most famous and popular in the world. It is bright, hearty, flavorful and with its centuries-old traditions. At the same time, it is quite simple, so you can easily prepare these 20 delicious Italian dishes yourself!
1. Ravioli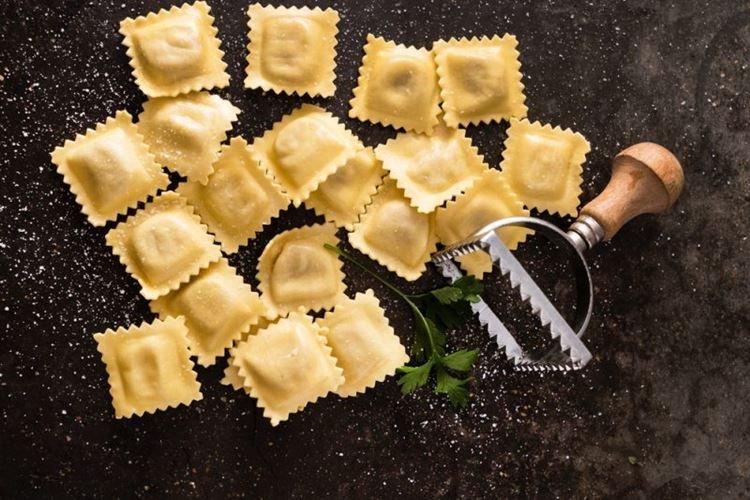 Photo: zonefresh.com.au
Cute little pasta dough dumplings with a variety of fillings. Try them with spinach and ricotta!
You will need: 250 g flour, 5 eggs, 300 g ricotta, 300 g spinach, a pinch of nutmeg, 30 g butter, 2 tsp olive oil.
Preparation: Mix 1 egg, 4 egg yolks and flour in a blender, then knead into an elastic dough with your hands. Put it in the refrigerator for half an hour. Sauté the chopped spinach in a frying pan in a mixture of two oils, season and mix with the ricotta.
Roll out the dough as a very thin layer and cut in half. Place small portions of the filling on one layer, cover with the second layer and cut. Flatten the ravioli on all sides with a fork and boil them in boiling water until they float.
2. Carbonara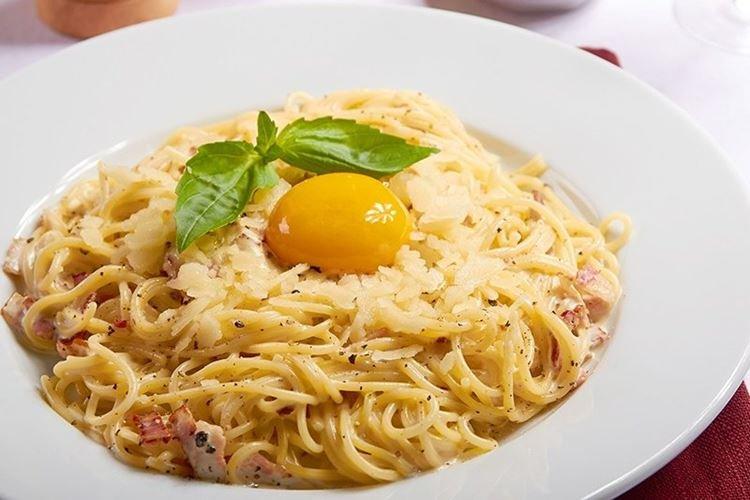 Photo: gotovim-edim.com
A recipe for a classic Italian pasta from the Lazio region.
You will need: 400 g spaghetti, 6 tbsp olive oil, 2 garlic cloves, 300 g ham, 4 egg yolks, 100 g grated parmesan, 200 ml 10% cream, spices.
Preparation: Saute the garlic in olive oil and add the finely chopped bacon. Whisk the egg yolks with the cream and add a little salt. Add the boiled spaghetti to the bacon, stir and pour over the whisked yolks. Sprinkle with grated parmesan and after 3 minutes remove from heat. When serving you can add another egg yolk. 3.
3. bolognese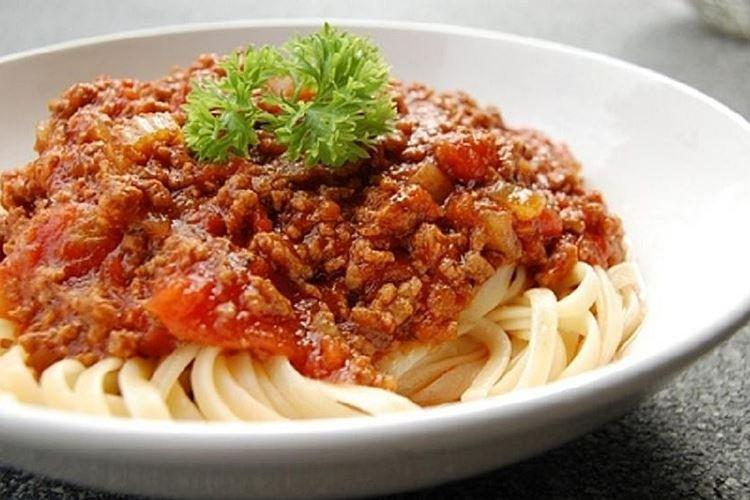 Photo: ayambismi.com
Bolognese is an Italian meat sauce that is most often served with pasta or spaghetti.
You will need: 900 g ground beef, 300 g onions, 1 head of garlic, 50 ml olive oil, 50 g each basil, oregano and parsley, 100 g tomato paste, 100 g cheese, 250 ml broth, 150 g ketchup, 100 g tomatoes, spices.
Preparation: Chop the onion and garlic and fry in olive oil. Add the minced meat to them and fry for about 20 minutes, breaking up lumps. Whisk peeled tomatoes, ketchup and tomato paste with broth in a blender and add to the meat. Simmer for 2-3 minutes, add the herbs and continue cooking for another 15 minutes. Serve with spaghetti and grated cheese.
4. Lasagna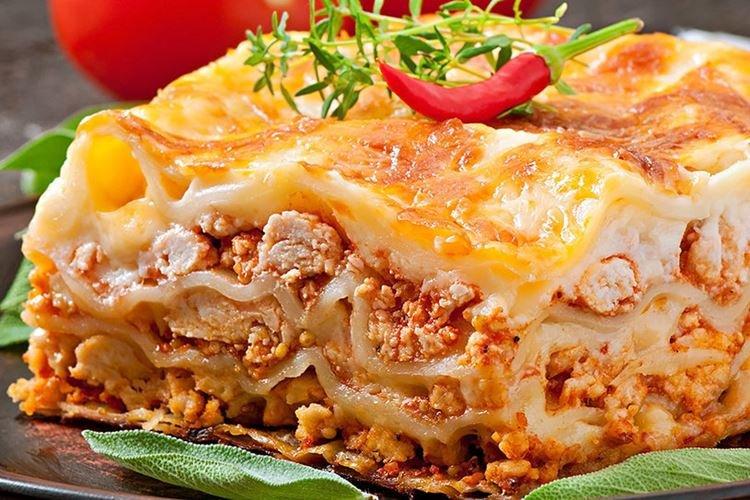 Photo: slovarion.ru
A kind of layered casserole with stuffing, mushrooms and several kinds of cheese.
You will need: 10 sheets of lasagna, 600 g of bolognese sauce, 600 g of stuffing, 60 g of butter, 2.5 tbsp of flour, 2 tbsp of olive oil, 750 ml of milk, 500 g of cheese.
Preparation: Melt the butter, add the flour and stir it to prevent lumps. Slowly pour in the milk and boil the sauce until the consistency of sour cream. Fry the minced meat in the olive oil until half cooked and mix with the bolognese.
Pour some of the white sauce into the mold, arrange the lasagna sheets and cover with the stuffing. Top with cheese, white sauce again, and repeat. The last layer of béchamel generously cover with cheese, leave for 10 minutes and bake for half an hour at 180 degrees.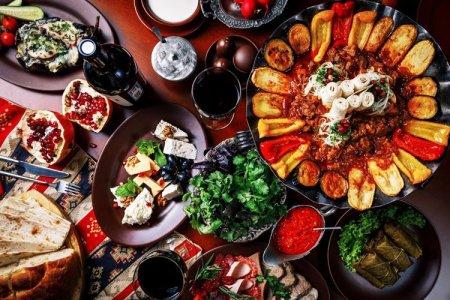 Armenian dishes: 20 the most delicious recipes of Armenian cuisine
5. Porchetta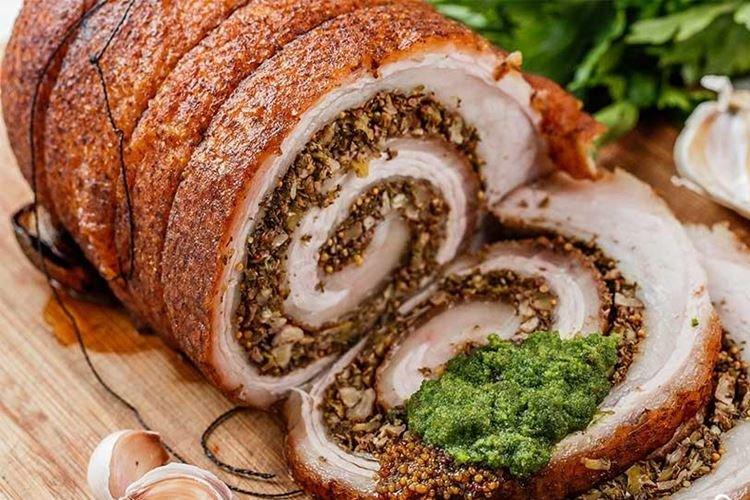 Photo: pukuotukas.com
A baked pork roll with spices that can easily be made in the oven.
You will need: 2 kg bacon with meat layer, 100 g olives, 100 g walnuts, 3 pickled peppers, 6 garlic cloves, 1 packet of oregano, 1 tbsp of mustard seed.
Preparation: Rub the lard with salt and oregano and spread the chopped walnuts and olives on top. Spread garlic cloves and pickled peppers, smear everything with mustard, roll up and tighten with cooking thread. Bake it for 1.5 hours at 190 degrees.
6. Saltimbocca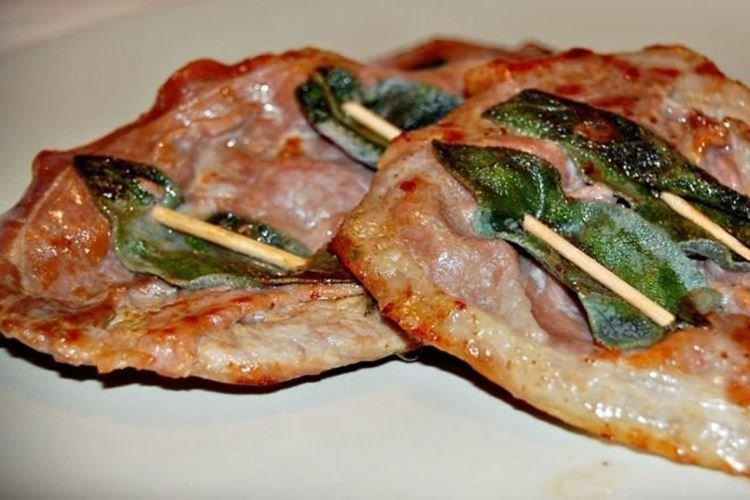 Photo: sovkusom.ru
Tender beef schnitzel wrapped in a slice of prosciutto.
You will need: 700 g tenderloin, 100 g prosciutto, 3 sage stalks, 80 g butter, 250 ml white wine.
Preparation: Cut the pieces of tenderloin to 10 mm thick, arrange the sage leaves on top and wrap in prosciutto. Melt the butter and fry the meat until golden on both sides. Then send it for 5 minutes in the oven at 180 degrees. And in the pan pour the wine and slightly boil the sauce. Pour it over the meat when serving.
7. Caprese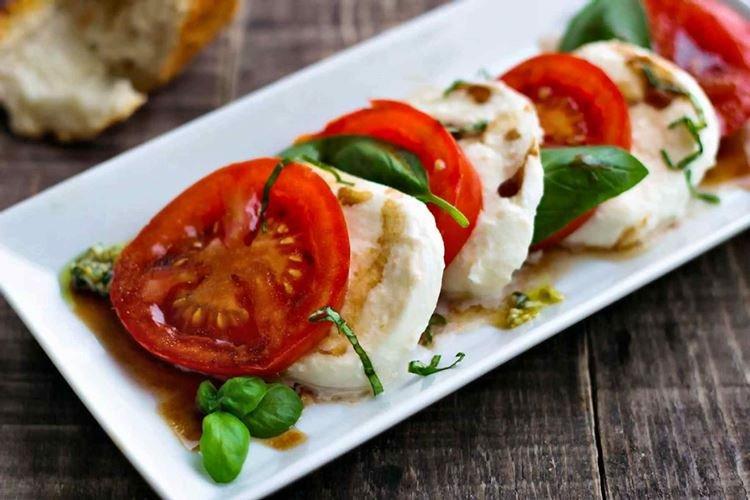 Photo: mircooking.ru
The simplest but most recognizable Italian appetizer of tomatoes, mozzarella and basil.
You will need: 2 balls of mozzarella, 2 tomatoes, 1 bunch of basil, garlic, spices, olive oil, balsamic.
Preparation: Slice tomatoes and mozzarella into circles, overlap and season. Sprinkle with chopped basil and garlic, drizzle with olive oil and balsamic.
8. Frittata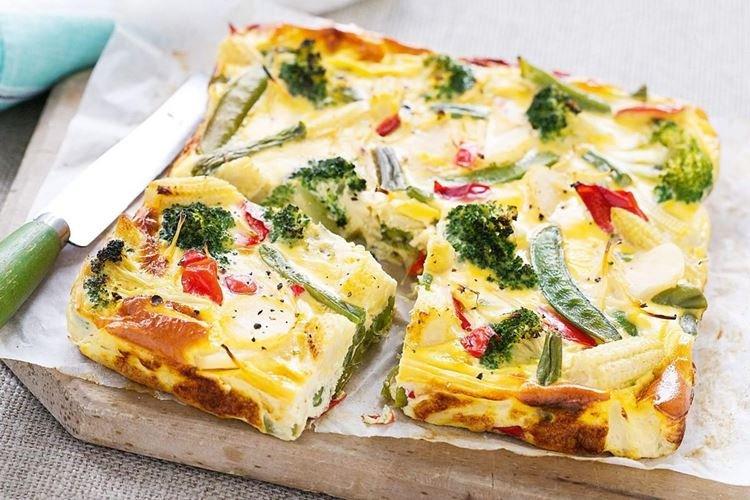 Photo: mykaleidoscope.ru
Even an ordinary omelet in Italy is prepared in its own way!
You will need: 4 eggs, 1 bunch of parsley, spices, 50 g Parmesan, 1 onion, 1 tomato, 1 pepper, 2 tablespoons of vegetable oil, spices, 2 cloves of garlic.
Preparation: Whisk the eggs with the chopped greens and grated Parmesan. Randomly chop all the vegetables and gradually fry until soft. Fill them with the egg mixture and wait for it to set. While the middle is still liquid, send the frittata to the oven for 15 minutes at 180 degrees.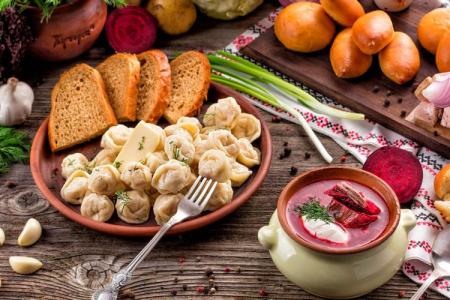 Russian national dishes: 15 of the tastiest Russian recipes
9. Potato gnocchi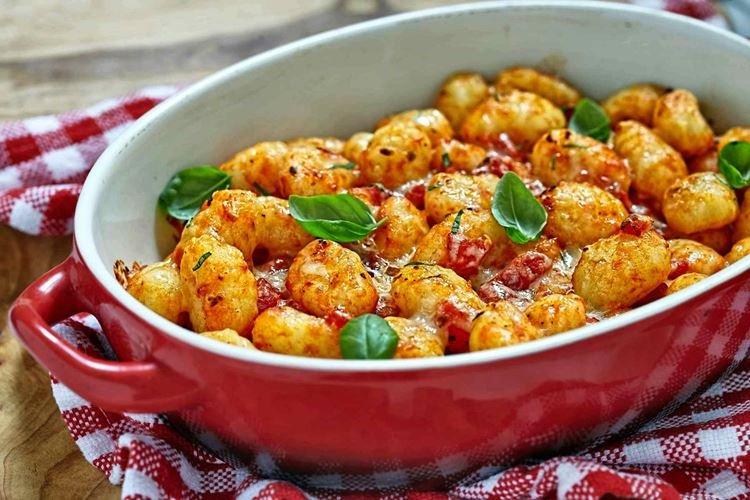 Photo: recipe-catalog.ru
Flavorful gnocchi can be served alone, instead of a side dish or to soups.
You will need: 400 g potatoes, 260 g flour, 1 egg, Parmesan.
Method: Boil the potatoes until soft and mashed potato them. Mix with egg, flour and grated cheese, roll the dough into sausages and cut into pieces. Cook in salted water for 3-5 minutes after the gnocchi have floated.
10. Pizza Margarita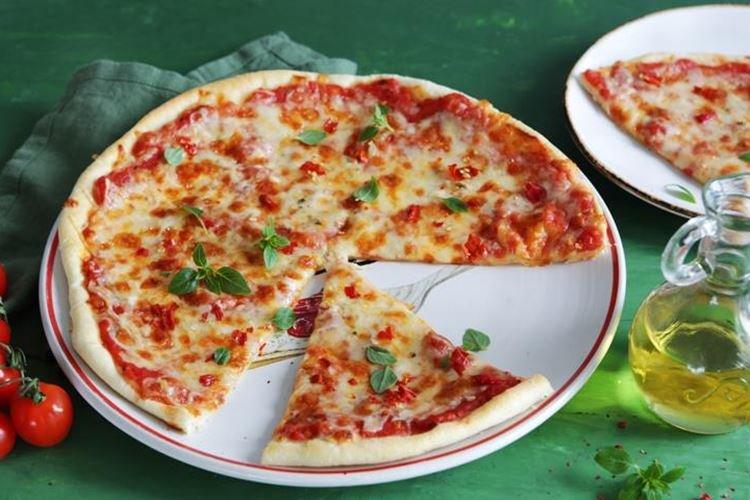 Photo: jam-bakery.ru
Italy's most popular pizza, which at the same time makes a wonderful base for your experiments.
You will need: 1.5 cups of flour, 1 tsp. yeast, 1 tsp. sugar, 0.5 cup water, a pinch of salt, 5 tbsp. olive oil, 3 tbsp. tomato paste, 1 garlic clove, 6 basil leaves, salt, 200g mozzarella, 8 cherry tomatoes.
Preparation: Dissolve sugar and yeast in warm water and leave for 15 minutes. Add 2 tablespoons of oil, stir and knead the dough with the sifted flour. Keep it warm while you make the filling. Saute the garlic in the remaining oil, add the tomato paste and bring to the boil. Season and simmer for a couple of minutes, then stir in the chopped basil.
Take out the garlic and refrigerate the sauce. Cut the mozzarella into slices and the cherry tomatoes into circles. Roll out the pastry into a 3 mm thick layer with sides, brush with sauce, put the mozzarella slices and tomatoes. Bake for 10-15 minutes in an oven at 220 degrees.
11. Panini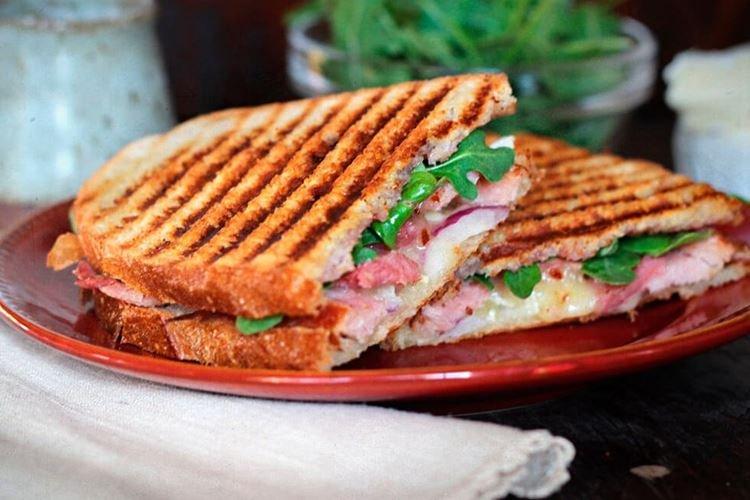 Photo: rusinfo.info
Closed Italian sandwiches are served hot. We offer the easiest recipe!
You will need: 1-2 ciabatta, 2 tomatoes, 150 g ham, 125 g cheese, lettuce, spices, pesto sauce, olive oil.
Prepare: Cut the ciabatta, brush the slice with butter and brush with pesto sauce. Layer the filling to taste, close the sandwich and grill in a pan or on the grill.
12. Chicken Parmignana.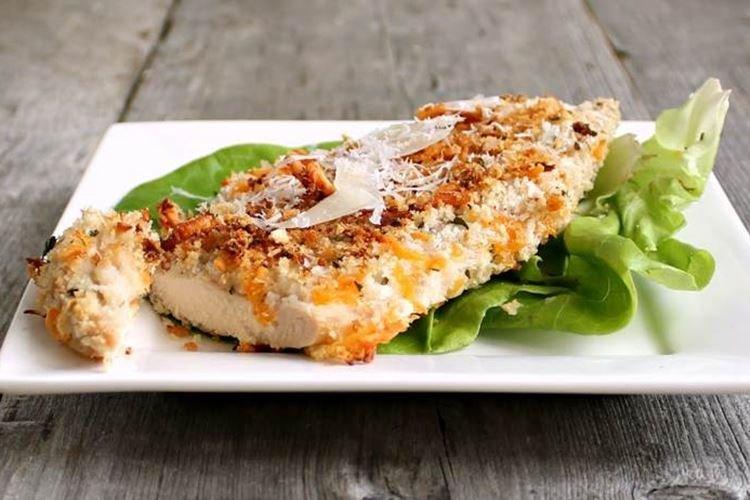 Photo: attuale.co.uk
Tender chicken in tomato sauce under melted parmesan. Another very tasty Italian recipe!
You will need: 600 g chicken fillet, 1 ball of mozzarella, 2/3 cup bread crumbs, 2 eggs, 1 bunch of parsley, 7 tbsp olive oil, 50 g Parmesan, 400 g tomatoes in their own juice, 1/3 cup red wine, 1 onion, 3 cloves of garlic, oregano and basil.
Preparation: Chop the onion and garlic as finely as possible and fry in half the oil until soft. Pour in the wine, evaporate to half and add the chopped tomatoes. Simmer for 10 minutes, add the herbs and spices, and remove from the heat after 2 minutes.
Separate and whisk the egg whites, dip the chopped fillet in them and roll in the crumbs. Pan-fry chicken, place in boiling sauce and simmer for 7 minutes, turning once. Before serving, sprinkle with grated cheese and herbs.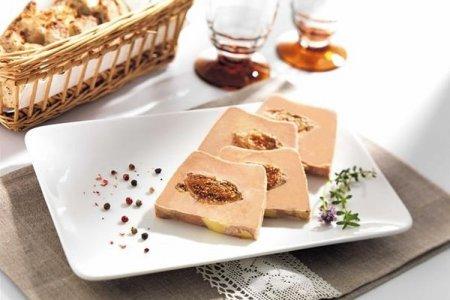 20 French recipes for real gourmets
13. Risotto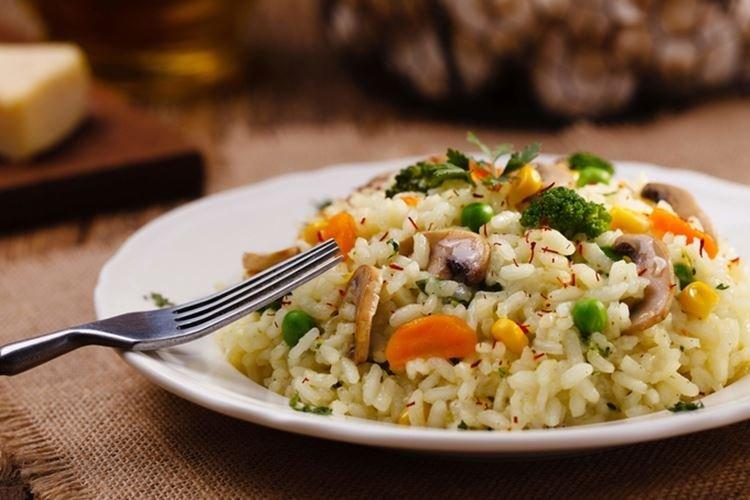 Photo: thumpermassager.com
The second most famous Italian dish after pasta, to change toppings and combinations at least every day.
You will need: 2 cups rice, 3 cups broth, 3 tbsp olive oil, 1 onion, 1/3 cup white wine, 2 tbsp butter, 1/3 cup grated cheese.
Preparation: Fry chopped onion in olive oil, add the rice and fry until transparent. Pour in the wine and steam, stirring. Gradually add stock and continue to cook the rice over low heat for about 20 minutes. At the end, add the butter and cheese.
14. Cacciucco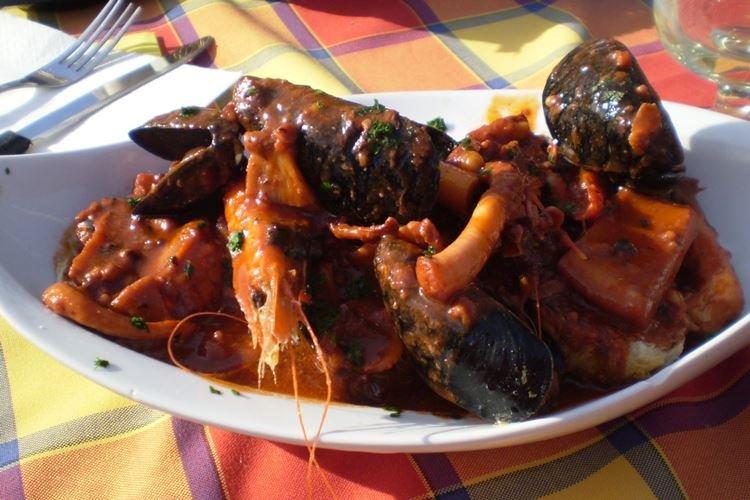 Photo: en.wikipedia.org
A thick and flavorful soup reminiscent of seafood goulash.
You will need: 2 liters of water, 300 g each of different kinds of fish, mussels, squid and shrimp, 140g onions, 80g carrots, 25g garlic, chili, 60g celery, 30ml olive oil, 300g tomato sauce, 150ml red wine, spices and herbs.
Preparation: Clean the fish, pour water on the head and bones and boil the broth for 40 minutes. Strain it and add the boneless meat back in. Shred the vegetables and fry in olive oil. Add seafood and simmer for 7 minutes with tomato sauce and wine. Put the contents of the pan and the fish into the boiling broth, season and simmer for 15 minutes over a low heat.
15. Minestrone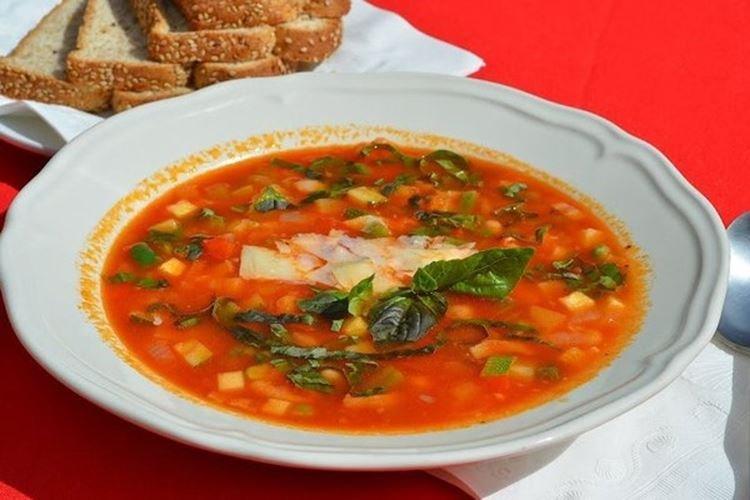 Photo: patee.ru
An Italian vegetable soup whose composition can be changed as you go, according to your wishes and mood.
You will need: 1 carrot, 1 onion, a quarter of a celery root, half a zucchini and eggplant each, 2 stalks of celery, 1 clove of garlic, 2.5 liters of water, 1 tomato, 2 tbsp of lentils, spices.
Cooking: Coarsely chop and fry celery root, half a carrot and half an onion without oil. Put them in a pot, pour water, add spices and simmer the broth for 20 minutes.
Take the onions, carrots and celery out of the broth, add the lentils and the rest of the diced vegetables to the pot. Cook the soup until tender and season as needed.
16. Semifredo
Photo: mirblud.ru
This is something between a classic gelato and a frozen meringue.
You will need: 2 eggs, 250 ml 35% cream, 30 g sugar, 70 g candied fruits, 50 g pistachios, a handful of berries.
Method: Whisk the egg whites until stiff and do the same with the cream. Separately beat the yolks with sugar until light. Combine all three parts, add berries, candied fruits and nuts, and pour into a mold. Put the dessert in the freezer for 5 hours.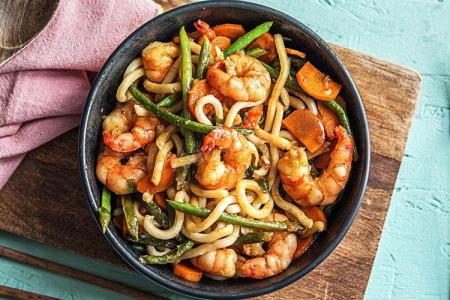 Pasta with shrimp: 8 delicious recipes (step by step)
17. Sabayon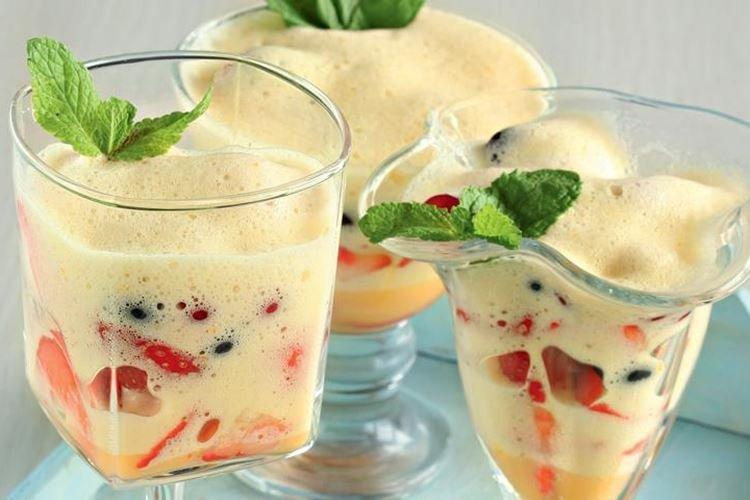 Photo: mykaleidoscope.ru
Original Italian dessert based on wine and egg yolks.
You will need: 100 g sugar, 6 egg yolks, 150 ml of marsala.
Method: Whisk the egg yolks with the sugar until white and place in a water bath. Slowly pour in the wine, and continue to whisk. The ready mass will thicken and triple in volume. Pour the cream into the fruit tins.
18. Panforte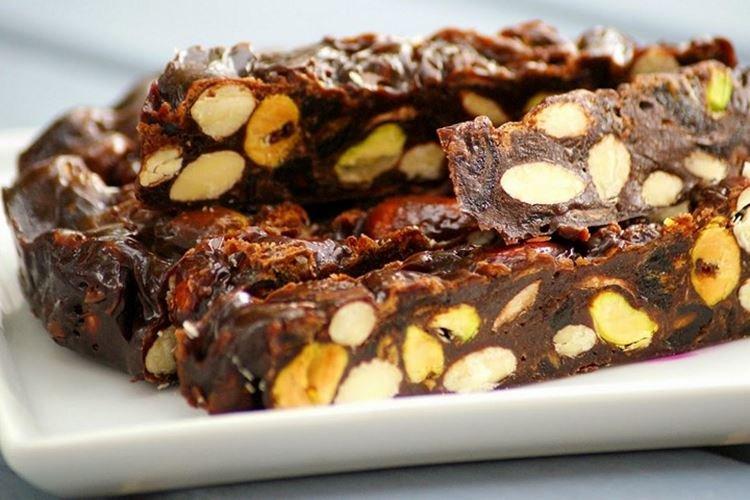 Photo: tvornicazdravehrane.com
A simple and satisfying dessert with honey, nuts, fruit and spices.
You will need: 50 g of dark chocolate, 1 cup each of honey, hazelnuts, almonds, figs, apricots and flour, 0.5 cup of sugar, 1 tbsp water, 1 tsp each of cinnamon, nutmeg, coriander and ginger.
Preparation: Melt the honey, sugar and water until syrupy, add the chocolate pieces and stir. Mix all the nuts and dried fruits with the flour and spices, pour the syrup and mix a thick mixture. Spread it on a baking tray in a thin layer and send it to the oven at 150 degrees for half an hour.
19. Panna cotta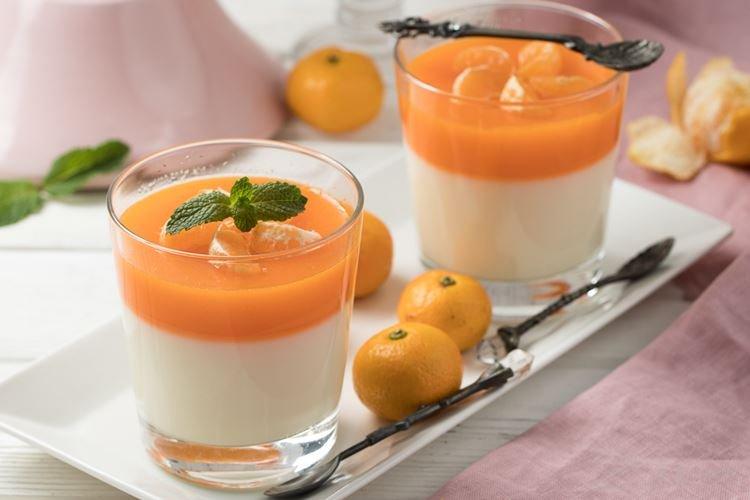 Photo: about-tea.ru
This delicate creamy jelly is served with berry sauce, caramel or chocolate.
You will need: 65 g sugar, 125 ml of heavy milk, 250 ml of 33% cream, 8 g of gelatin.
Preparation: Fill the gelatin with water according to the instructions and let it swell. Combine the cream with the milk and bring to a boil with the sugar, then remove from the heat and allow to cool slightly. Pour the gelatin, stir with a whisk, pour into the molds and put it in the fridge overnight.
20. Tiramisu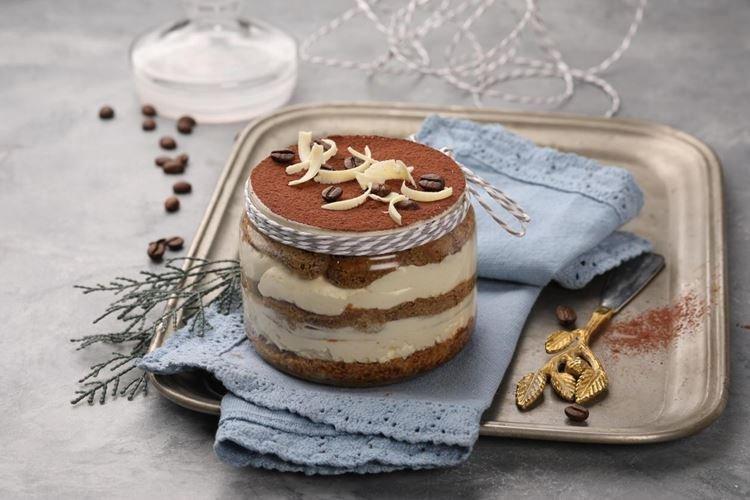 Photo: unileverfoodsolutions.ru
This "king" of Italian desserts is adored around the world. You too can easily make tiramisu at home!
You will need: 6 eggs, 500 g mascarpone, 250 g savoyardi, 150 g sugar, 300 ml espresso, 2 tbsp cocoa, 40 ml cognac.
Preparation: Separate the egg yolks and whisk them with the sugar until nicely foamy, and mix them gently with the mascarpone. Separately whisk the whites until stiff peaks and gently combine the masses with a spatula. Add the cognac to the coffee.
Dip each savoyardi stick in the coffee for a couple of seconds and lay them out in a single layer. Top with a layer of cream, and repeat to the end of the ingredients. Sprinkle the last layer of cream with grated cocoa and send the tiramisu in the fridge overnight.
What to try in Italy
Those who tried the national Italian cuisine in its homeland: Rome, Naples, Bologna and other cities will confirm that it's a very special story.
The peculiarities of Italian cuisine are explained by local climate and the products that are widespread in one or another region. Each region of Italy boasts special recipes. That makes getting to know Italian food twice as fascinating. Take a look at 10 national dishes of Italy that tourists must try.
Minestrone
Contrary to popular belief, the Italian cuisine is not limited to such dishes as pizza or spaghetti. Soups are very popular in Italy: burrida (with seafood), ginestrata (with egg yolks and white wine), minestra di noche (with walnuts and nut puree) and others. But first of all you should try minestrone – traditional vegetable soup that has become the embodiment of the peculiarities of Italian national cuisine.
>>> Rent a car in Italy. Profitable rent secrets, peculiarities and Lifehacks.
Originally in Italy minestrone was prepared from leftovers of second courses or cheap vegetables. And although today there is no such approach to food in the national cuisine, as in many other Italian recipes, it assumes the ability to "mix everything there is" so that it turns out divinely delicious.
The main components of minestrone are meat broth and fresh vegetables, of which depending on the season there can be as many as you like. Therefore, the consistency of the dish varies from liquid to incredibly thick. In some national recipes of Italian cuisine minestrone is supplemented with rice, pasta and pesto sauce. Before eating the soup, grated parmesan and freshly chopped herbs are added to the plates.
Carpaccio
The list of things to try in Italy from food is impossible to imagine without Carpaccio – thinly sliced meat or fish slices seasoned with a sauce with mayonnaise, olive oil, vinegar, lemon juice.
Although the recipe for this dish appeared in Italy relatively recently, today it is included on the menu of all restaurants of the national cuisine. For its preparation they usually take the raw beef loin, previously placed in the freezer. In Italy you can try and variations of the dish, in which beef is replaced by venison, tuna, salmon, seabass, octopus or smoked duck.
According to Italian cuisine traditions carpaccio is sprinkled with thin shavings of cheese and garnished with fresh herbs before being served. It is interesting to try carpaccio with Italian wine. For example, sommeliers recommend rich red wines for venison and rose wine from the south of Italy for tuna.
Tortellini.
The list of Italian national dishes continues with tortellini – a kind of pasta, which is similar in appearance to such a familiar food as dumplings.
In Italy tortellini are made of unleavened dough and served as a separate dish (with aromatic mushroom, cream or bolognese sauce) or added to broths, soups and salads. Meat, ham or cheese are used most often as toppings for tortellini. The result is a very filling and delicious meal.
Do not miss the opportunity to try other varieties of this traditional Italian dish. For example, torteletti (they are much smaller) and tortelli (these are bigger). Sometimes spinach or tomatoes are added to the dough to give it an original color: in the first case the tortellini will be green, while in the second case they will be red.
Gnocchi
Gnocchi is a quite simple Italian dish, which is nevertheless considered one of the most worthy examples of the national local cuisine. This dish is a kind of dumplings, made by cooks by taking flour, eggs, semolina or corn grits and potatoes.
They shape the small pieces of dough into oval-shaped pieces and then put them into boiling salted water and boil with seasonings. They are served as a side dish, but it is better to try gnocchi as a separate dish, with a thick, flavorful sauce. Gnocchi with fish and seafood (shrimp, salmon, crab, seabass, vongole) is a real masterpiece of taste!
There are also many original variations of this national Italian dish. For example, in restaurants in Rome and other Italian cities you can try gnocchi with lemon ricotta or gorgonzola, pumpkin gnocchi with bacon and Savoy cabbage in cream, and even gnocchi with chestnuts – such Italian traditional cuisine is sure to impress you.
Risotto
If you want to try the best Italian dishes, don't ignore risotto, a food that has become one of the culinary symbols of the country. It is based on a special type of round rice, which is first fried and then stewed. When the dish is almost ready, they add seafood, minced meat, vegetables, or mushrooms – depending on what the chef wants to get in the end.
Many Italian restaurants and cafes offer menus with various, sometimes very unexpected, kinds of risotto: with eggplant, shrimp, bacon and apple, berries and onions, white truffles, cheese and green asparagus, and even cuttlefish ink. In short, this is the national dish, which must be tasted during a trip to Italy.
Pizza
You can not imagine the traditional dishes of Italy without pizza. This food is simply adored here, and therefore literally at every step you can see a sign of a particular pizzeria. There are Italian eateries, where the menu consists entirely of different types of pizza. And in some places you can even see with your own eyes the process of cooking in the kitchen.
According to tradition, the pizza dough to "mature" for almost a day (about 18 hours). For toppings choose only the freshest products. The pizza is cooked in a wood-fired oven, due to which the flavor and aroma of all ingredients are preserved, while the dish itself is divine – you can try and see it for yourself!
Lasagne
Lasagne is one of the most popular and famous Italian dishes that tourists around the world wish to try. It is a multilayered casserole dish in which sheets of dough are interspersed with stuffing from minced meat, mushrooms or vegetables and generously flavored and rich sauce. Ricotta, parmesan, gorgonzola or mozzarella cheese is an indispensable ingredient of the dish.
In no other cuisine in the world is lasagne so imaginatively and fantastically prepared. Besides the classic meat version, you can order vegetarian lasagne in many places – it tastes just as good as its meat counterpart.
Trippa
Those who want to try the best and most popular dishes of Italian cuisine will have to take a risk and order a meal with a very specific name. Which one? Trippa, of course!
Trippa is cooked from tripe, or beef tripe, which is simply put, the front part of the cow's stomach, which is previously soaked, washed and cut into pieces. Then it is boiled, roasted and stewed with wine, vegetable or meat sauce, seasoned with salt and pepper. Serve with grated cheese, sometimes adding mint.
Originally in Italy, this meal was the dish of the poor. This state of affairs persisted until almost the middle of the 20th century. Today, trippa is considered a delicacy and is on the menu of many restaurants in the national Italian cuisine.
It is said that trippa belongs to those traditional Italian dishes that are not very suitable for the "unaccustomed" stomach of the tourist. However, thanks to the long heat treatment the food is quite tender, light and extremely tasty.
Gelato
Gelato is national Italian delicacy, made from milk, cream and sugar. Nuts, fresh fruits and berries, fruit sauce, coffee, cocoa and chocolate, candied fruits, honey, caramel, liqueur are added to it. All over the world, such food is considered a kind of ice cream, but differs from it with less dairy fat content and production technology.
For real gelato, only natural ingredients are used. The dessert may contain emulsifiers and stabilizers, but in minimal quantities. In general, jelato is made in special pastry shops – gelaterias, where each dessert is created by hand and served immediately after cooking.
The best Italian gelaterias offer to try their exclusive versions of this national delicacy. For example, San Crispino in Rome uses for its desserts whiskey Rhum Clement and chocolate, rum Clement and cocoa. And this example is just one of the many subtleties that make jelato the pinnacle of the national Italian art of creating delicious desserts.
Tiramisù
Tiramisù hardly needs an introduction. Not many ingredients are needed to make this traditional Italian dessert: cookies (savoyardi), mascarpone cheese, freshly boiled coffee, eggs and sugar and cocoa or chocolate chips for sprinkles.
Over the many years of the recipe's existence, various variations of it have appeared in the national Italian food piggy bank. You can try tiramisu with strawberries and other berries, liqueur or cognac. Unchanged remains the most delicate, exquisite taste of this dessert, which will captivate you once and for all.
What else to eat in Italy
Italy will take you on a real gastronomic adventure. Cooking in this country even more than art – it is a way of life, a national outlook.
How to have time to try everything? Below you will find a little hint of what else to eat in Italy: