France. Montsegur and other castles of the Cathars
A long time ago, in the XI-XIV centuries in the south of France in the Languedoc land lived people who called themselves Cathars, which in Greek ("katharos") meant "pure". They believed that there was no single god, but two: the gods of good and evil, contesting dominion over the world. The immortal spirit of humanity is drawn to the god of good, but its mortal shell is drawn to the dark god. The Cathars adhered to asceticism in life. Taking meat food, even cheese and milk, was considered a mortal sin. The Cathars rejected icons and the need for temples, and worship consisted solely of reading the Gospel. They wore pointed caps on their heads and actively spread their teachings among the gullible populace. Eventually their teachings spread to other parts of Europe, posing a real threat to the Catholic Church.
Not surprisingly, the Catholic bishops recognized the Cathars as heretics and organized the Albigoy Crusade with the leitmotif: "The Cathars are vile heretics! We must scorch them with fire, so that there is no seed left". When one of the soldiers asked how to distinguish a Cathar from a decent Catholic, the answer was, "Kill them all: God will know his own!" A holy war ensued in which Cathars were slaughtered in whole towns. By 1243, the last stronghold of the Cathars was the castle of Moncegur on a high mountain. It was besieged for 11 months, with hundreds of Cathars held back by ten thousand crusaders. In February 1244, Montsegur was taken and the Cathars, who had refused to renounce their faith, were burned by the Holy Inquisition. Legend has it that, despite the siege, the Cathars managed to remove and hide their treasures and, a few days before the fall of Montsegur, four brave men managed to rappel down steep cliffs and carry something of value with them. Some speculate that these were Cathar archives and religious objects, among which may have been the Holy Grail, the cup in which the blood of Christ had been collected.
After learning about this history, I wanted to visit these legendary places and see everything with my own eyes, so from the beginning the castle of Monsegur was on the itinerary of our European road trip.
We drove to Montsegur Castle from Carcassonne on a very scenic road. There are green hills and fields around the edges, and the snow-capped peaks of the Pyrenees ahead.
The castle becomes visible from afar, and the first thought that arises at its sight is: how did they build it so high up? Aren't they tired of lugging rocks, water, food, etc. up there?
At the foot of the mountain is a spacious parking lot from which a trail leads to the castle. Somewhere in the middle of the trail there is a booth where you have to pay to visit the castle (something like 5 euros). By the way, the booth is open till 5 p.m., and after that time there is no one to pay, and the path upstairs does not disappear, so, lovers of freebies, make conclusions
The ascent takes about half an hour – even a child can do it.
The entrance to the castle of Monsegur.
Inside the castle turned out to be quite small – it must have been very cramped here for the besiegers.
Somewhere behind the fresher, restored masonry you can see the original.
But, unfortunately, even these ruins have nothing to do with the events of the XIII century, because after the capture of the fortress by order of the Pope, it was destroyed to the ground, and the current structures were restored and modernized much later by royal architects.
The stairs to the top are blocked by a chain with a forbidding sign. Naive! How can that stop a man with a camera?
This is what the fortress looks like from above. It is shaped like a pentagon, which was considered a symbol of the "pure". The Cathars deified the pentagon, considering it a symbol of the dissipation of matter, a symbol of dissipation and of the human body.
Below you can see the village, which most likely was founded by the builders of the current castle around 1580.
There is another staircase in the castle, which is not fenced with anything, but for some reason, there is no desire to climb it. =)
One of the towers is well preserved.
. which can not be said about the spiral staircase.
The views around are excellent, even despite the cloudy weather. The piercing wind just blew it down.
The mountain next door to Montsegur was engulfed in clouds and a parking lot on the road.
Needless to say, by the law of meanness, when we went down, the clouds dispersed, the wind disappeared, and the warm evening sun came out.
It was already about 6 pm, and we had no clear plan where to go next and where to sleep, so we decided to go in the direction of a small town Foix, looking for a place to stay overnight. The navigator for some reason told me to leave the main road, and took us to the village Soula, where we found a great guesthouse Infocus-Du-Sud. A sign by the door proudly informed us that it had a BOOKING score of 8.7. As it turned out, the price on the same Bookings – €85, which was a lot for our budget, but the owners gave us a discount for direct payment with them, and we decided to stay here.
The hosts Dirk and Lin turned out to be a very nice elderly couple who came here from Belgium. They fed us a delicious breakfast, lit a fireplace especially for us in a separate living room, which by and large did not belong to our room, and Leo really liked to go into the garden and count the chickens running there.
The room was clean and comfortable, and the views from the window on the Pyrenees were just amazing. We liked it so much that instead of one night, we stayed for three. It is worth noting that this was only possible because it was in late March, and the season had not yet started. As the hosts said, for the summer, most places had already been booked in advance. All in all, the guest house lives up to its high rating.
The next day we went to a nearby town to wash clothes and buy groceries.
On the way back near the village Rockfixad noticed another castle on the mountain, and decided to walk there too.
In the village we were pleased with one hotel with lots of homemade decorations. Just look at the old sneaker vases!
And the "wind music" of old spoons and forks?
A path leads from the village to the castle with a signpost harmonizing with Leo's hat.
A view of the village of Rockfixad from above.
The castle of Roquefixade was, like Montsegur, the refuge of the Cathars during the Albigoy Crusade. As with Montsegur, these ruins have nothing to do with the time of the Cathars, as the original castle was destroyed by order of Louis XIII, and these buildings are from a later period.
Nevertheless, the castle ruins and the views from the mountain are worth spending an hour climbing. Once again, Leo delighted us by going all the way up without any problems.
It turned out that the castle is not on the very top, and from there you can go even higher up the neighboring mountain.
From here the castle ruins look even more romantic.
And another castle we visited is in Foix. This French city is known as the capital of the Cathar movement, and the castle was the residence of the counts who became resistance leaders during the Albigoy Crusade.
This castle, unlike the previous two, the Crusaders did not manage to seize it, and it was seized only once, in 1486, during a conflict between the two branches of the de Foix family, and that because of the betrayal.
Here the historical tour of the Cathars ends, and we go even higher in the mountains, in the heart of the Pyrenees – a small, but very proud state of Andorra.
14 Castles of the Cathars worth visiting in Occitania, France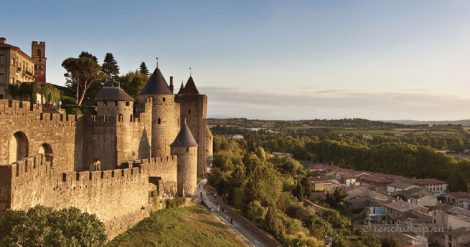 Occitanie is a new region that combines the former Languedoc-Roussillon and the South – Pyrenees (or Midi-Pyrenees, whichever is more convenient). It is a historical region with a Catalan-Bakish population (oh, historians will come to correct me…). Quite an independent area, with its own character, with a history of long confrontation in one form or another (the Cathars from here were the first heretical movement, and so powerful and persistent that the poor people had to be burned so that this version of the faith went with them), and in the end the violence divided between the two countries – Spain and France.
So those who are looking for authentic castles in France, such real ones, not polished by fashion and the gloss of the royal court, then you're here. Authenticity is plentiful here. The castles are beautiful, even though many are in ruins. But even ruins are beautiful here!
In general, this area, accustomed to defense, is full of forts (and with them castles) and bastide towns (this is the local version of fortress cities, built on a clear plan with perpendicular streets). You can see a selection of the best bastide towns, and the water among castles and fortresses leads, indisputably, Carcassonne – one of the most beautiful and impressive cities in France! Other most famous castles I also tried to add to the site:
Castles of France Occitania:
Conditionally divided by the old regions and their departments:
Languedoc-Roussillon:
Chateau de Carcassonne , Carcassone (UNESCO) – medieval fortress city
Chateau de Peyrepertuse , Duilhac-sous-Peyrepertuse – castle ruins
Chateau de Queribus , Cucugnan – castle ruins
Chateaux de Lastours , Lastours , Salses-le-Chateau
South Pyrenees:
Ariège
Castelet du Castet in Aleu
Château d'Alliat in Alliat
Château d'Artix in Artix
Château d'Arvigna in Arvigna (Cathar's Castle).
Château d'Aucazein in Aucazein.
Chateau de Montréal-de-Sos in Auzat.
Château d'Aynat in Bédeilhac-et-Aynat (ruins).
Château de Castelbon in Betchat.
Chateau des Salenques in Les Bordes-sur-Arize.
Château de Marveille in Les Bordes-sur-Arize.
Château de Ligny in Les Bordes-sur-Arize.
Château de Foix in Foix (fortress).
Château de Lagarde
Château de Léran in Léran
Château de Lordat in Lordat
Château de Miglos in Miglos
Château de Montaillou in Montaillou
Château de Montségur in Montségur (ruins).
Château de Prat in Prat-Bonrepaux.
Château de Quérigut in Quérigut (ruins).
Château de Roquefixade in Roquefixade (ruins).
Château de Rouze in Rouze (ruins).
Château d'Usson in Rouze (ruins).
Aveyron
Château de Balsac in Balsac
Château de Bertholène in Bertholène (ruins).
Château du Bosc in Naucelle.
Château de Bournazel
Châteaude Brousse in Brousse-le-Château.
Château de Brusque in Brusque
Château de Calmont d'Olt, in Espalion (ruins).
Château de Coupiac in Coupiac, a fortress
Castle of Estaing в Estaing
Castle of Fayet в Fayet
Castle of Floyrac в Onet-le-Château
Castle of Fontanges в Onet-le-Château
Castle of Gissac в Gissac
Castle of Graves
Castle of Guizard в Villecomtal
Château de Kermaria, 19-й век, в Morlhon-le-Haut
Castle of Lacaze (Peyrusse) в Peyrusse-le-Roc
Castle of Latour-sur-Sorgues в Marnhagues-et-Latour
Castle of Masse в Espalion
Castle of Montaigut в Gissac
Castle of Montalègre в Versols-et-Lapeyre
Castle of Najac в Najac
Castle of Onet-le-Château в Onet-le-Château
Castle of Vabre в Onet-le-Château (ренессансный замок)
Domaine de Vialatelle в Onet-le-Château
Castle of Pagax in Flagnac (руины)
Castle of Peyrelade в Rivière-sur-Tarn
Castle of Peyrusse-le-Roc, в Peyrusse-le-Roc (ruined)
Castle of Planèze в Luc-la-Primaube
Castle of Puech в Villecomtal
Castle of Pomayrols
Castle of Pruines в Pruines
Castle of Saint-Izaire в Saint-Izaire
Castle of Selves, 15 – 18 вв, в La Vinzelle коммуна Grand-Vabre
Castle of Servayrie в Mouret
Castle of Sévérac в Sévérac-le-Château (крепость)
Castle of Sorgue в Sorgue
Castle of Taurines в Centrès
Castle of Valon в Lacroix-Barrez
Castle of Versols в Versols-et-Lapeyre
Castle of Vézins в Vézins-de-Lévézou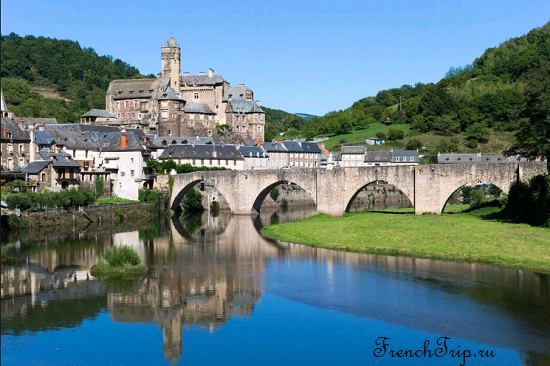 Castle of Estaing
Castle of Ampelle в Pergain-Taillac
Castle of Avezan в Avezan
Bassoues Castle в Bassoues
Castle of Busca-Maniban в Mansencôme
Castle of Castelmore в Lupiac
Caumont Castle в Cazaux-Savès
Castle of Fieux в Miradoux
Fourcès Castle в Fourcès
Herrebouc Castle в Saint-Jean-Poutge
Lacassagne Castle в Saint-Avit-Frandat в Larressingle
Loubersan Castle в Loubersan
Lasserre Castle в Béraut
Lavardens Castle в Lavardens
Maignaut Castle в Maignaut-Tauzia
Castle of Manlèche в Pergain-Taillac
Mansencôme Castle в Mansencôme
Masseube Castle в Masseube
Mirande Castle в Mirande
Montaut-les-Créneaux Castle в Montaut-les-Créneaux
Plieux Castle в Plieux
Rouillac Castle в Gimbrède
Castle of Sainte-Mère, в Sainte-Mère
Castle of Simorre, в Simorre
Castle of Tauzia, в Maignaut-Tauzia
Tower of Termes d'Armagnac, в Termes-d'Armagnac
Castle of Labarrère, в Labarrère
Castle of Cassaigne, в Cassaigne
Castle of Castelnau d'Auzan, в Castelnau-d'Auzan
Haute-Garonne
Castle of Aigrefeuille в Aigrefeuille
Palace of the Bishops of Comminges в Alan
Castle of Aurignac, в Aurignac
Castle of Azas, в Azas
Castle Lafont в Bagnères-de-Luchon
Castle of Bonrepos в Bonrepos-Riquet
Castle of Boussan, в Boussan
Castle of Brax, в Brax
Castle of Calmont, в Calmont
Castle of Cambiac, в Cambiac
Castle of Castagnac, в Castagnac
Castle of Cabirol в Colomiers
Castle of Raspaud в Colomiers
Castle of Ramassiers в Colomiers
Castle of Cornebarrieu в Cornebarrieu
Castle of Pontié в Cornebarrieu
Castle of Laran в Cornebarrieu
Castle of Alliez (Cedar Clinic) в Cornebarrieu
Castle of Hautpoul в Cugnaux
Castle of Maurens в Cugnaux
Castle of Cassagnère в Cugnaux
The Pavilion Louis XVI и парк в Cugnaux
Castle of Fonbeauzard в Fonbeauzard
Castle of Fourquevaux, в Fourquevaux
Gagnac Castle в Gagnac-sur-Garonne
Castle of Novital в Gagnac-sur-Garonne
Castle of Galié, в Galié
Castle of Gensac-sur-Garonne в Gensac-sur-Garonne
Castle of Gourdan-Polignan в Gourdan-Polignan
Castle of Renery в Gratentour
Castle of Coustela в Gratentour
Castle of Izaut-de-l'Hôtel в Izaut-de-l'Hôtel
Castle of Juzes, в Juzes
Castle of Labastide-Paumès, в Labastide-Paumès
Castle of Laréole, в Laréole
Château de Lacroix in Lacroix-Falgarde
Château de Lafitte-Vigordane in Lafitte-Vigordane
The Château des sœurs : in Lagardelle-sur-Lèze, from the 16th century
The Château de Redon: in Lagardelle-sur-Lèze, 18th century
The Château du Vignaou : in Lagardelle-sur-Lèze
Château de Larroque: in Larroque
Château de Latoue, in Latoue
Château de Launac, in Launac
Château de Launaguet in Launaguet.
Château de Loubens-Lauragais, in Loubens-Lauragais, an historic monument.
Château de Merville, in Merville
Château de Montespan, in Montespan
Château de Pibrac, in Pibrac
Château Catala in Saint-Orens-de-Gameville.
Château de Pinsaguel, in Pinsaguel
Château de Rudelle, in Muret
Château de Saint-Élix-le-Château, in Saint-Élix-le-Château.
Château de Saint-Élix-Séglan Château, in Saint-Élix-Séglan
Château Sainte-Marie, at Longages
Château de Saint-Félix-Lauragais, in Saint-Félix-Lauragais.
Château de Saint-Jory, at Saint-Jory
Château de Saint-Paul-d'Oueil, in Saint-Paul-d'Oueil
Château de la Salvetat-Saint-Gilles, in La Salvetat-Saint-Gilles
Château de Sarremezan, in Sarremezan
Chateau de Rochemontès in Seilh.
Château de Percin in Seilh.
Château de Tournefeuille in Tournefeuille.
Château de Vallègue, in Vallègue
Château de Jean, in Villariès.
Château de Valmirande, in Montréjeau.
Château de Vieillevigne, in Vieillevigne
Château de Villefranche, in Villeneuve-lès-Bouloc
Hautes-Pyrénées
Château d' Adé in Adé (ruins), in Lourdes
Château de Luz-Saint-Sauveur, in Luz-Saint-Sauveur
Château de Mauvezin, in Mauvezin.
Château d'Assier, in Assier – a Renaissance castle.
Château de Barasc, in Béduer
Château de la Blainie, in Albas
Chateau de Caïx, in Luzech, in Prudhomat
Chateau de Chambert, in Floressas
Chateau de Charry, in Montcuq
Chateau des Doyens, in Carennac
Château de Fontauda, in Montcuq
Château Lagrézette or Château de La Grézette, in Caillac
Château de Lantis, in Dégagnac
Château de Larroque-Toirac, in Larroque-Toirac.
Château de Mercuès, in Mercuès
Château de Montal in Saint-Jean-Lespinasse.
Château de Montcuq, in Montcuq
Château de La Pannonie, in Couzou
Château de Pechrigal, in Saint-Clair.
Château de Pleysse, in Montcuq
Château de Rocamadour, in Rocamadour
Château de Ventalays, in Montcuq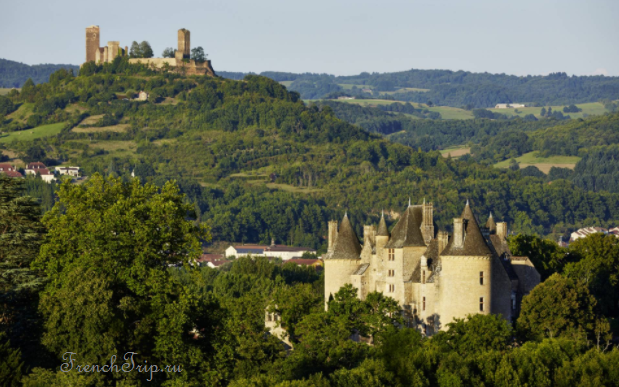 Château de Montal and Château de Castelnau-Bretenoux