10 things to do in Dublin in a day
Dublin, the capital of Ireland, is a unique blend of forward thinking cosmopolitanism and an affinity for traditional national values. In this city, extravagant nightclubs peacefully coexist with cozy tea houses and centuries-old stone buildings neighbor modern glass high-rises. Gorgeous Dublin is the quintessential destination for music, theater and experimental art.
Unfortunately, visitors to the Emerald Isle, in their desire to enjoy the beauty of the picturesque countryside, miss out on the merits of the capital. Undoubtedly, the hills, cliffs and ancient, dilapidated castles deserve hundreds of dithyrambs. But Dublin has a lot to offer to the traveler. Not forgetting the world famous Guinness Storehouse and the amazing Book of Kells – a medieval gospel packed with miniatures.
Not surprisingly, Dublin has been recognized as a "City of Literature" by UNESCO. It is home to William Yates, George Bernard Shaw, Samuel Beckett, Oscar Wilde and Bram Stoker. I'd like to expand your knowledge of Ireland's capital city and suggest 10 things you should definitely do in Dublin.
1. The National Leprechaun Museum
You don't have to laugh right away, because the Irish are revered and in awe of Celtic mythology. Fairies, dwarves, and elves have made significant contributions to the nation's culture. For thousands of years, supernatural creatures have lived side by side with humans, some bringing good and others promising bitter misfortune. A tour of the National Leprechaun Museum will appeal to all members of the family, young and old. At certain hours, the staff puts on costume shows for adults. The production "These Dark Lands" is especially popular.
2. rent a bicycle
The Irish landscape is characterized by lowlands and plateaus, and the climate is considered moderately humid. Perfectly flat paths and perfect weather begs to be explored on a bike ride, because walking around the dozens of Victorian parks and long Tudor-era residential neighborhoods is simply not realistic. To compare old and new parts of town, visit fashionable neighborhoods like Portobello and Ranelagh. You'll find private stores selling eco-friendly two-wheelers around the corner. Pay cash or card and off you go for a thrilling ride.
3. See ancient bog mummies
Dublin is located in a swampy area. In dark pre-Christian times, the Celts made sacrifices to their gods, driving innocent people into the swamp. A little later, the swamps were used to execute criminals and destroy witches. Thanks to the oxygen-free environment, the bodies, clothing, and jewelry were perfectly preserved. The National Archaeology Museum has on display mummies whose ages date back to the beginning of the Iron Age. The oldest exhibit (Cashel Man) is over 4,000 years old. If you wish, you can also check out less intimidating glimpses of the country's history, namely jewelry, manuscripts and a collection of tournament weapons.
4. pay tribute to Irish literature
James Joyce is perhaps one of Dublin's most celebrated residents. He is considered the father of modernist movements in literature. The main events of the talented writer's novels and stories unfold in the cramped streets and broad avenues of his beloved city. Be sure to take a photo with Joyce's dapper bronze statue on North Earl Street, then follow the route of his most popular work, the novel Ulysses. The pubs, cafes, and eateries mentioned in the genius work are marked with special signs. At the end you'll find a bookstore that hasn't changed much since Joyce's time. Twice a week fans flock there and read passages from Ulysses.
5. Haggle over at the Temple Bar's flea market.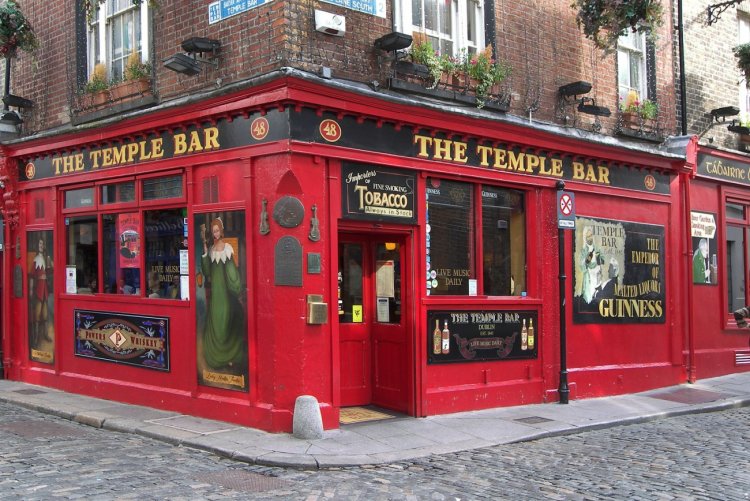 If you want to drink a beer in an authentic bar accompanied by traditional Irish music, Temple Bar is not the best choice. The establishment is heavily advertised in tourist guides, so its prices are unreasonably high. On the weekends, however, there is an incomparable flea market in the Temple Bar neighborhood. People bring out cute old jewelry, used books, and even clothes. Lovers of vintage pieces argue with vendors in an attempt to bring down the price to an acceptable level. The bustling crowd is fun to watch, but it's even more fun to participate in the haggling yourself.
6. Have a cup of tea at the historic Grapheon Street Café
In the heart of Dublin there's a cozy little place set in the style of the Joyce novels. Here you can while away the hours with a cup of tea or coffee in the peculiar atmosphere of the turn of the 19th and 20th centuries. After lunch, stroll along Graffon Street and check out the street musicians and strolling artists. Be sure to buy a bunch of flowers from a greeter and give it to the girl or boy you like.
7. Experience Irish theater
Dublin's stages are comparable to London's. Ireland is the cradle of the greatest actors and playwrights of the last century. At all times of the year, street troupes in the city's parks present plays based on the works of Beckett and Freel. But the Abbey Theatre, designed by William Yates himself, is even more remarkable. Tickets are not easy to buy, you need to book a seat several months in advance, but the agony of a theatergoer more than pays off after the third call.
8. Listen to live music
Ireland wouldn't be Ireland without energetic music. Every self-respecting pub invites folk bands and puts on crazy dance nights. Even your grandmother wouldn't be able to sit still when she heard the call of the national musical instruments.
9. Take a tour of Glasnevin Cemetery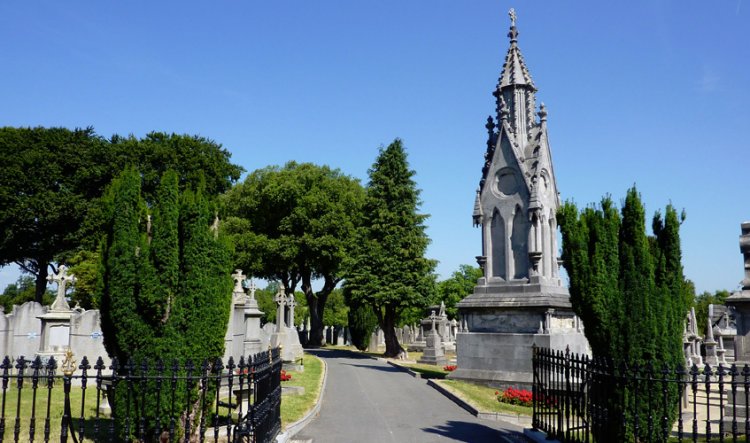 Are you interested in the not-so-normal side of history? Then you will be amazed by the majestic crypts of the Glasnevin Cemetery, where prominent cultural and political figures found their last resting place. The management offers tourists a variety of thematic tours. Visitors can also wander the maze of Celtic crosses and ornate marble obelisks on their own. Behind the fence of the cemetery is a well-known pub "Gravediggers" (Gravediggers), where you can have a pint with representatives of such a noble profession.
10. Enjoy a game of hurling.
Definitely, the Irish invented one of the fastest and most dangerous field games. Hurling is very similar to field hockey, but it has more wrestling elements (hooks, grabs, throws). It is a very exciting sport, which was first mentioned about 3,000 years ago. You can watch the match broadcast in any pub or buy a ticket to Croke Park Stadium and cheer on your favorite team live.
Contrasting Dublin gives you a lot of impressions. To fully appreciate the beauty of the capital of the Green Island one day is not enough. Come to Dublin for a few weeks and you'll experience all the charms of a multifaceted city.
Top 10 things to do on a rainy day in Dublin
If you're planning a visit to Dublin, chances are you'll encounter at least one rainy day. Of course, that's to be expected here on the Emerald Isle – there's a reason it's so green. However, it definitely shouldn't spoil the fun with plenty of options for great indoor activities, including these.
Duck to Ireland's oldest pub
Duck into Ireland's oldest pub (hotels nearby)
One of the most obvious things to do on a rainy day in Dublin is to hang out at one of the city's pubs. The Copperhead claims to be the oldest in Ireland, with roots dating back to the late 12th century. Not only can you enjoy a perfectly poured pint, but also a hot Guinness stew and live music every night of the week. The place has quite a past, with notable alumni such as Daniel O'Connell, Wolfe Tone and Robert Emmett, who planned the ascent of Dublin in 1803 under its low logs. Emmett even lived here for a time, and some say he still visits from time to time, even though he was executed more than two centuries ago. The walls are decorated with old photographs, papers, and advertisements from other eras, making it an interesting historical site.
Browse the National Museum of Ireland: archaeology
National Museum of Ireland
Explore National Museum of Ireland: Archaeology (Hotels near you)
National Museum of Ireland: Archaeology is worth a visit whether the sun is out or not. Here you'll be transported back in time, gazing in wonder at the objects in the Era, the finest collection of prehistoric gold artifacts in all of Europe. The treasury features stunning examples of Celtic and medieval art, such as the famous Ard bowl and Tara brooch. It displays extraordinarily intricate sacred and secular metalwork that dates from the Iron Age to the Middle Ages, along with exhibits that range from prehistoric times to Viking times in Ireland, along with ancient Egyptian artifacts. Swamp bodies, bodies that were mummified and preserved in peat bogs, are remarkable, some of them thousands of years old, naturally mummified because of acidic conditions — you can still see details like eyelashes, fingerprints and nails.
Explore Dublin Castle
Dublin Castle, Dublin, Ireland
Explore Dublin Castle (nearby hotels)
Dublin's main attraction, Dublin Castle and has played a key role in the country's history for centuries. It was used by Vikings to build a fortress in the 10th century, and while parts have been built and destroyed over the centuries, the oldest surviving structure, the Tower of Record, dates back to the 13th century. It was a stronghold against foreign invaders, and the area was also used as a prison, a sea of parliament, a royal court, and a military residence for other purposes-all until the mid-19th century. The grounds were also the site of the 1916 Easter Rising and the site of the signing of the Irish Treaty of Independence. A guided tour will provide you with many interesting details about its history.
Guinness Store Sample Beer
Guinness Storehouse Sample Beer (Nearby Hotels)
The Guinness Storehouse is another of Dublin's top attractions, perfect for a rainy day. Take a self-guided tour of the factory, and you'll get a free mug of beer at the end. Information about ingredients, the brewing process and more is provided, but the real highlight is the Gravity Bar, located in the brewery and providing a 360-degree view of the city.
Visit the Jameson Distillery
Old Jameson Distillery
Visit Jameson Distillery (nearby hotels)
Old Jameson Distillery is a must for whiskey lovers and those interested in Irish history. Located at the original John Jameson distillery on Bow Street in the north end of town, founded in 1780, it was Ireland's most famous distillery for nearly two centuries before closing in 1971 when distillation was transferred to the Middleton Distillery. Get a glimpse of what life was like at the end of the 18th century and appreciate Jameson's history, which begins with its heritage. You'll be taken through the production process before the tour ends with a taste test.
Browse the GPO Witness History Visitor Center
Browse the GPO Witness History Visitor Center (nearby hotels)
The General Post Office, or GPO, allows visitors to experience a defining moment in the country's modern history. One of the most iconic buildings in Dublin, it was the headquarters of the rebels during the Easter Rising, and you can still trace the bullet holes that riddle its facade. It is also home to the GPO Witness History Visitor Center, a fascinating and engaging exhibition that tells the story of life through the events of both sides of the conflict, as well as witnesses caught in the crossfire.
Malahide Castle Tour
Malahide Castle Tour (nearby hotels)
Malahide is a short drive north of Dublin and easily accessible by public transportation. A perfect excursion for a rainy day. Here is the impressive Malahide Castle, built as a private residence and fortress that has been inhabited for nearly 800 years. The tour will introduce you to its fascinating historical past, which includes many fascinating stories. At least five ghosts are said to roam here, including Lady Maud Plunkett, who was buried in the castle cemetery, and a 16th-century caretaker named Puck.
Go shopping.
Go shopping (nearby hotels).
Take an umbrella with you to get in and out of the stores in Dublin, as it is one of the most popular cities for shopping in Europe. Most of the time you will be out of the rain with so many fantastic deals. In fact, you can take an empty bag with you to take these finds home. Grafton Street, running south from College Green, is the trendiest shopping area, while Temple Bar is home to some unusual boutiques. The freeways west of O'Connell Street, such as Mary Street and Henry Street, are ideal for bargain hunters. In Powerscourt Townhouse behind Grafton, you'll find stores by leading Irish and international designers.
See St. Patrick's Cathedral
St. Patrick's Cathedral
St. Patrick's Cathedral (nearby hotels)
St. Patrick's Cathedral is definitely worth a glimpse into the history of Ireland for over 800 years. It was built in honor of the country's patron saint between 1220 and 1260 and offers a particularly compelling cultural experience as one of the few buildings left from Dublin's medieval days.
Visit Kilmainham Gaol
Kilmainham Gaol, Dublin, Ireland
Visit Kilmainham Gaol (Nearby Hotels)
While a visit to a prison may not sound like fun, this one offers a very interesting glimpse into Irish history. It once housed some of Ireland's most famous political and military leaders such as Eamon de Valera, Robert Emmet, Charles Stewart Parnell and the leaders of the 1916 Rebellion. You will learn what it was like to be imprisoned in this bastion of punishment and correction that was open for nearly 130 years from 1796 to 1924. It tells a harrowing part of Irish history through exhibitions and guided tours.