Weekend in Cervia
Nine kilometers of sandy beaches, over 185 beaches with first-class facilities, entertainment and sports: this is Cervia, a town immersed in pine groves and surrounded by 827 hectares of salt lakes with countless birds.
The warmth and hospitality of Romagna's inhabitants and their love of good food is reflected in the large number of hotels and restaurants. Local bars and discos are visited every year by thousands of tourists.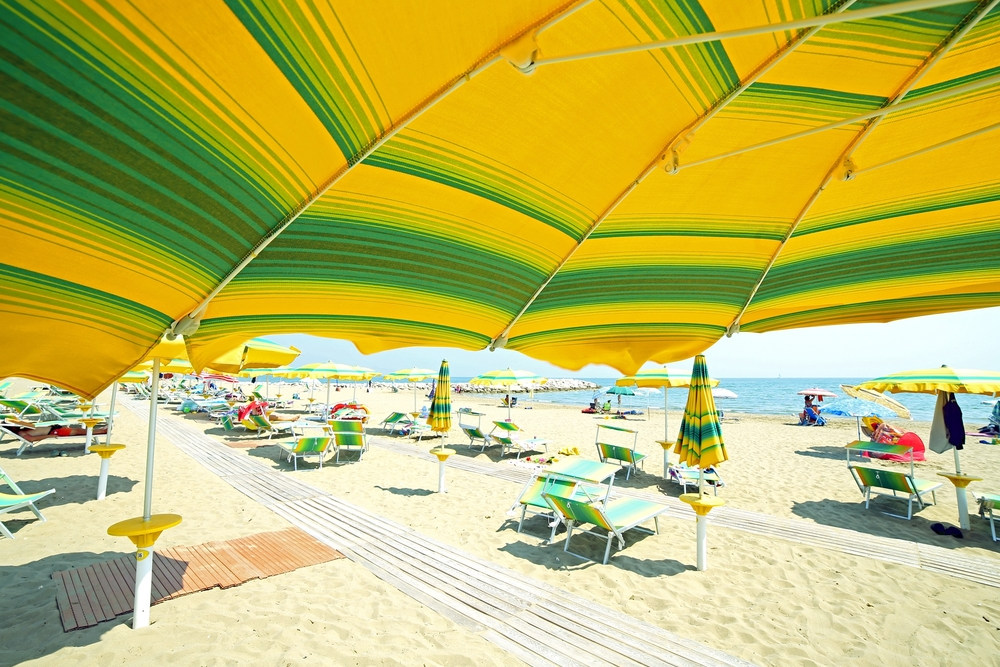 Beach in Cervia © Shutterstock.com
What to see?
A visit to the "city of salt" will appeal to lovers of antiquity, as it recreates the atmosphere of the late seventeenth century. The former salt warehouses are now the location of the Salt Museum, where exhibitions and various cultural events are held. In the area you can visit the Tower of San Michele and the Cathedral, symbols of Cervia.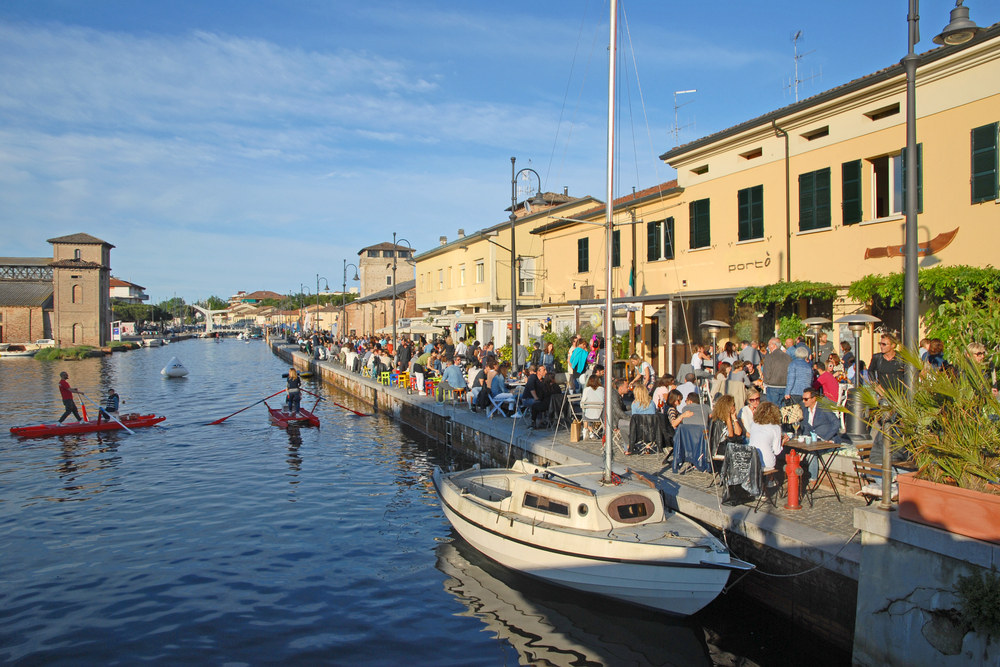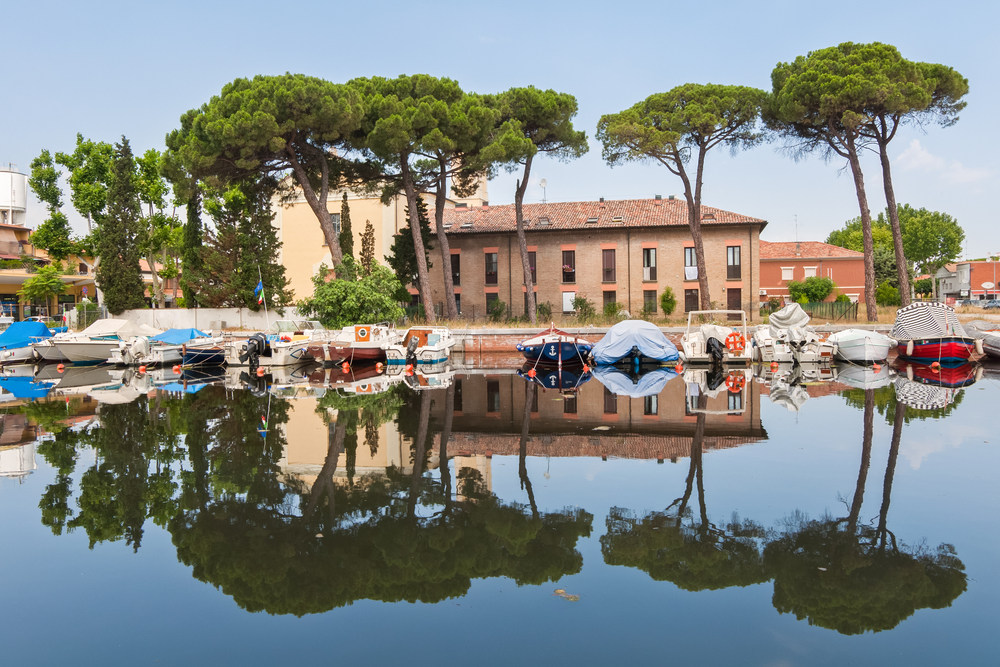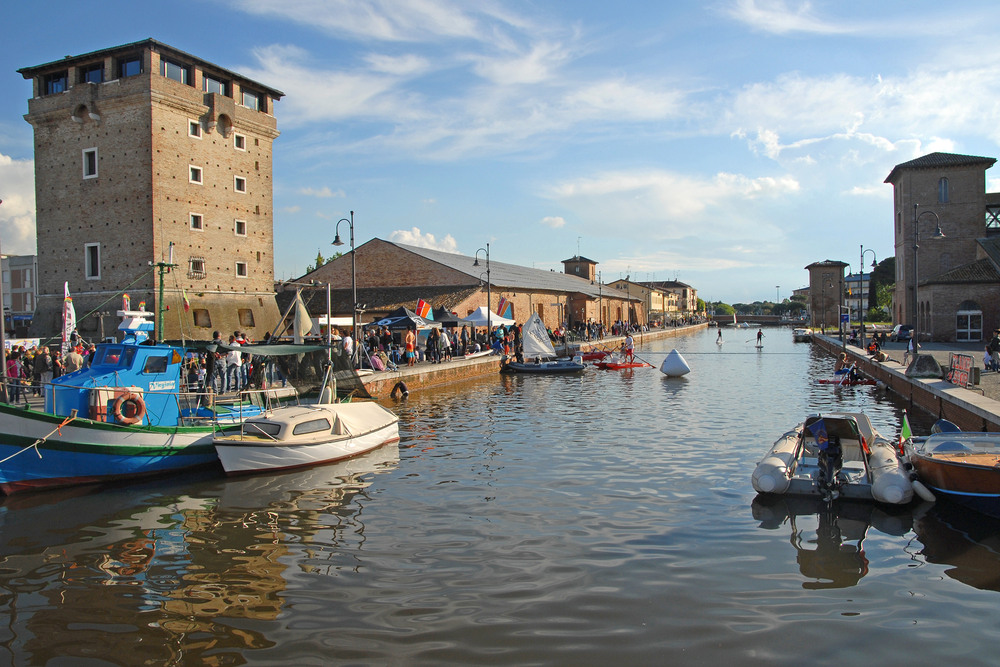 Piazza Garibaldi is the heart of Cervia. There are concerts, events, and themed bazaars. Very beautiful are the Teatro Comunale, the church Suffraggio with the organ by Callido and a XIV century wooden crucifix in Gothic style, the church of Sant'Antonio and the miniature Pisacane square, where there is an ancient fish market ("Antica Pescheria").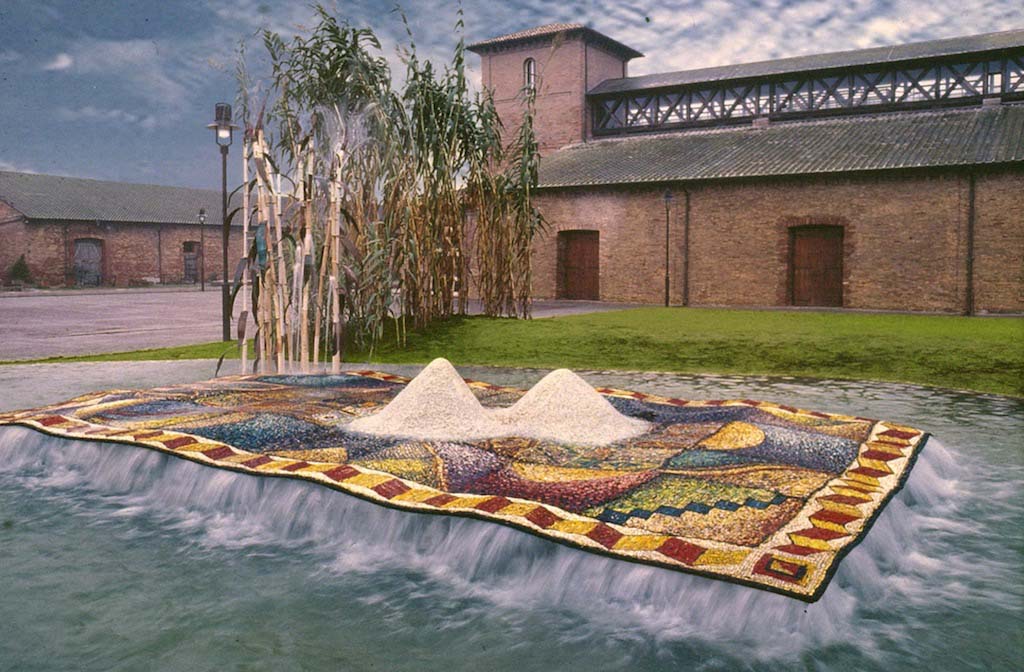 "The Soaring Carpet", a fountain in Cervia, inspired by the work of Tonino Guerra
The "Soaring Carpet" fountain created by Tonino Guerra is very picturesque, as well as the open-air flowerbeds exhibition, open from May to September, where gardeners from all over Europe showcase their creations as part of the "Cervia – Garden City" festival.
The thermae of Cervia are located in a centuries-old pine grove, and there you will be offered many medical and cosmetic procedures. The local salt marshes and estuaries extract therapeutic mud, which has a powerful healing effect.
Summer in Cervia is the season for family and youth recreation. At the disposal of tourists are bars, boutiques, discos, gourmet restaurants and stalls with local lepeshka "piadina", minigolf fields, carting.
In spring and fall, fans of sports, nature, good food and medical tourism come here. But even in winter, Cervia does not lose its seaside resort atmosphere. The best shopping is in nearby Milano Marittima, where the stores are open on weekends even in winter. It is wonderful to celebrate the New Year with a dip in the sea or on Valentine's Day in one of the romantic candlelit restaurants.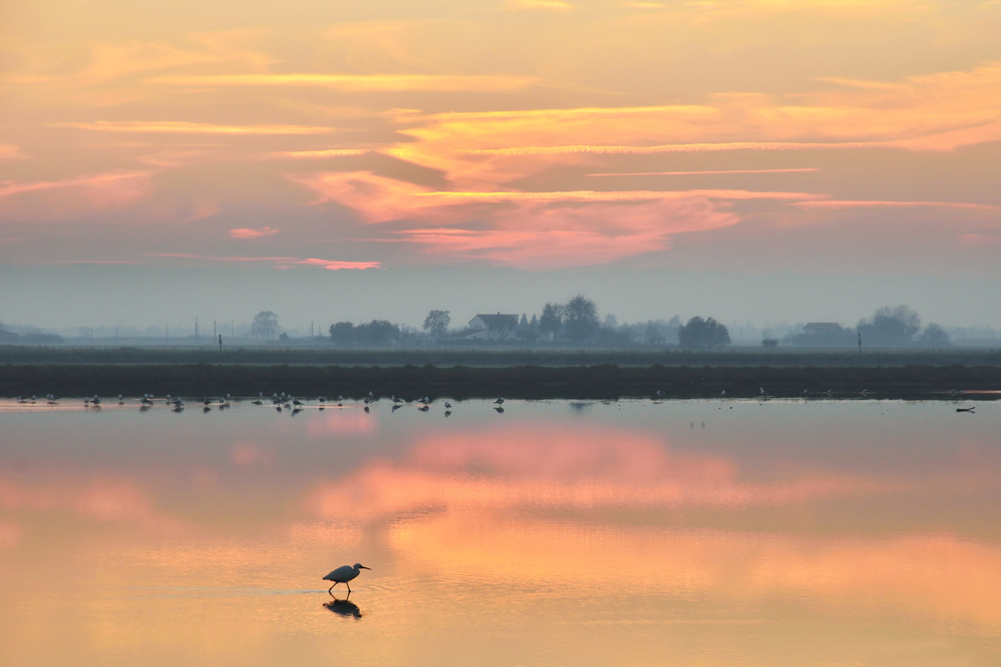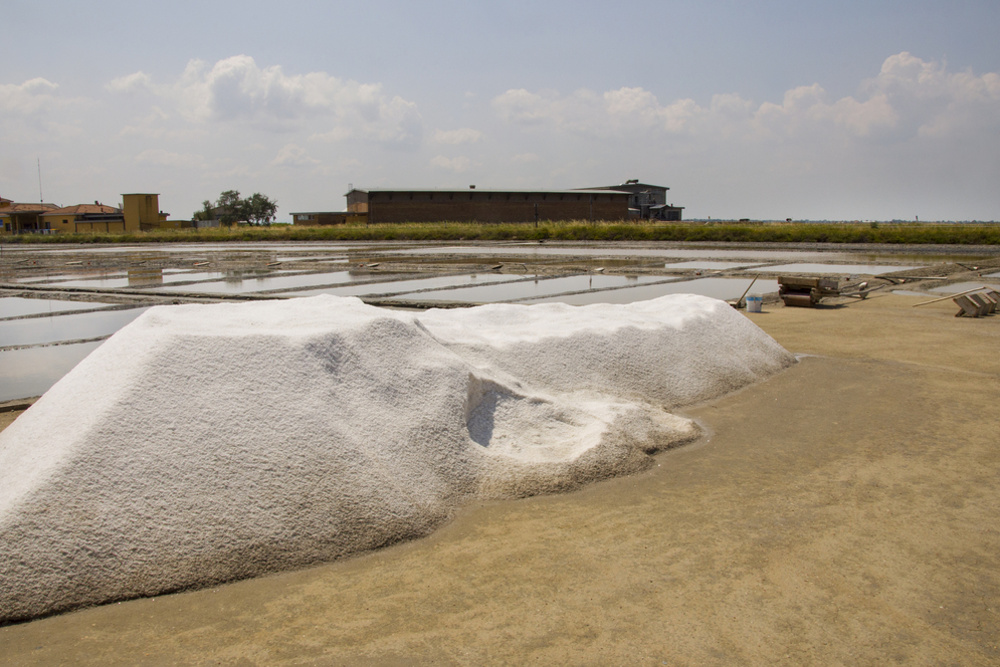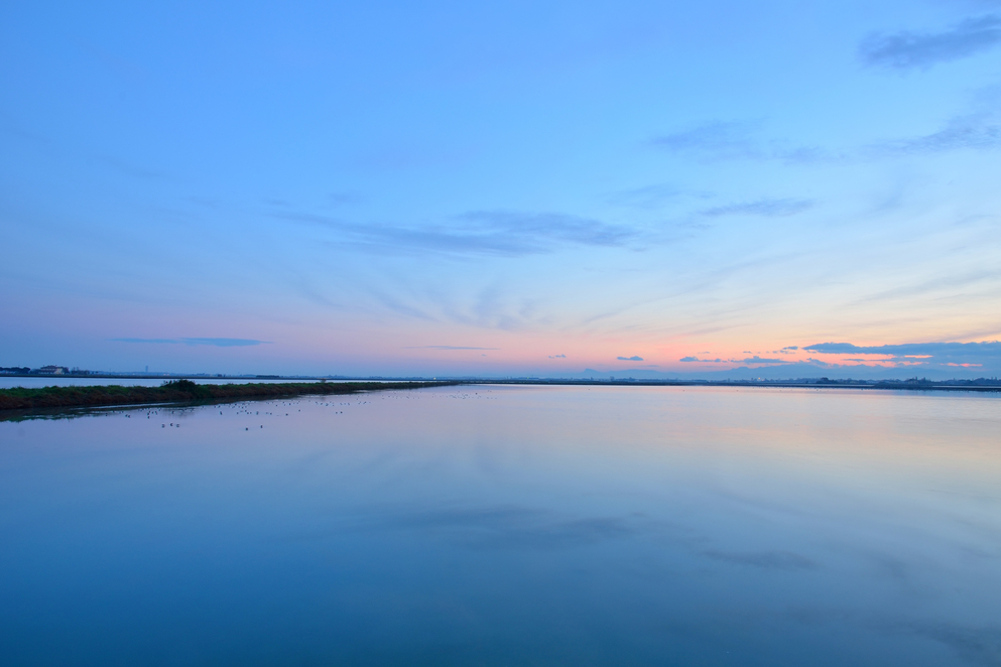 To learn all about the local salt lakes, it's worth signing up for a tour at the visitor center. You'll see flamingos, cranes, and a greenhouse with exotic butterflies. In the early morning, a fish market opens in town. As a souvenir, you should buy a sack of local sweetish salt from the only surviving local salt works.
Among other things, Cervia is an excellent starting point for a variety of excursions. Artistic and historical itineraries begin right on its doorstep in Pisignano, only 6 km away. There is the parish church of Pieve di San Stefano from 977, famous for its frescoes. Ravenna, the "capital of mosaics" is just 20 km from Cervia and Faenza, famous for its ceramics is 50 km away. There are many gastronomic, historical, nature, wine and religious routes through the beautiful hills of Romagna. Of the small towns, which the Italians themselves call "Borgis", it is worth a look in Montebello with its castle (42 km), where, according to legend, since the XIV century, the ghost of a girl named Adzurina wanders. Bertinoro has a medieval fortress (32 km) and Sarsina (50 km) is the birthplace of Plautus. The large amusement park Mirabilandia, about which you can read here, is only 13 km from Cervia!
Cuisine
"Sweet" salt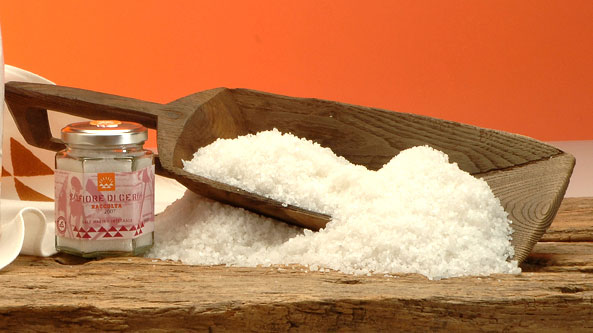 Sweet salt from Cervia is included in the list of authentic products of the Slow Food Association. By the way, according to local tradition, it is the one used to make salted chocolate.
Piadina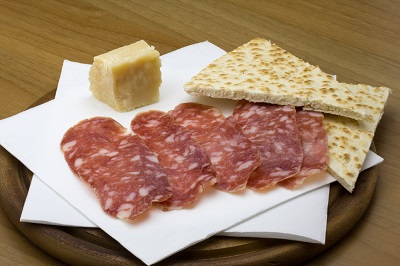 A piadina filled with fresh squaccarone cheese and arugula with a glass of good sangiovese is worth a try. White wine is a perfect accompaniment to grilled sardines. For dessert, they serve a bagel chambella with albana wine.
Of Romagna's traditional restaurants we recommend Circolo dei pescatori, Casa delle Aie, Borgo Marina and the colorful street stalls selling piadina.
How to get there
By plane The most convenient airports are those of Parma, Bologna and Rimini, where planes fly in from major Italian cities and Europe. They also serve charter flights.
By train The railroads link the city with northern, central and southern Italy. High-speed trains (AV) connect Bologna and Reggio Emilia with Milan, Ancona, Florence, Rome and Naples. From Europe, trains come through the passes of Tarvisio, Brennero, St. Gotthard, and Sempione. Local trains owned by Italo (to Reggio Emilia, Bologna and Rimini) and Ferrovia Emilia-Romagna on other routes run through the region.
By car, the A1 freeway Milan-Naples connects the region to the most important freeway junctions: from the A15 in Parma towards La Spezia, from the A22 in Modena towards Brennero, from the A13 in Bologna towards Padua-Venice and from the A14 that goes to Naples, in the same Bologna. The freeway S.S. 309 leads to Venice and the E45 to Rome or Ravenna.
Contact
Information Center Via Evangelisti, 4 48015 Cervia (RA) Tel. +39 0544-974400 [email protected]