Where to go on vacation in 2022: Top 10 Best Destinations
From Sochi to Kaliningrad: You can plan your vacation in 2022 now
During the pandemic, traveling abroad is not easy, so the domestic tourism is actively developing. In our country there are many places for active recreation and beach holidays. We tell you where to go in Russia in 2022.
1. Sochi .
The most expensive and developed Russian resort receives travelers all year round. There are always a lot of tourists – from January to November 2021 in Sochi visited more than 5.7 million vacationers. They come here to relax on the Black Sea, go skiing and see the natural attractions of the Caucasian State Nature Biosphere Reserve.
There are always many vacationers in Sochi. Photo: Viktor KLYUSHKIN
It is always possible to add splendid hotels, entertainment centers and many excursions to the advantages of the resort town. The disadvantages are high number of tourists, overcrowded in the high season beaches and high prices.
2. The Crimea
Sunny Peninsula is one of the most popular holiday destinations. It attracts with its beautiful landscapes, excellent climate, ancient palaces and luxurious parks. In January the temperature is around +6°C and in summer it's usually hot +30 … +33°C.
The Crimea attracts tourists with its beautiful landscapes. Photo: Julia ALEKHINA
As for advantages – a wide choice of places for rest: from luxurious resorts of South Coast to secluded bays in the Western Crimea. On the downside, the infrastructure of Crimean towns and villages is inferior to that in Sochi. There is still a problem with drinking water on the peninsula, but local authorities do their best not to let it affect Russian tourists' recreation in any way.
Dombay or Elbrus: where is better to go?
Both Russian resorts claim to be the most popular and compete for the attention of tourists. And often it is quite difficult to make a choice between them. We hope, that our analysis of infrastructure and services in Dombaj and Arkhyz for the season 2022-2023 will help you. We've gathered recommendations of experienced travelers and instructors, which will hopefully come in handy for you.
3. Anapa
If you like wide sandy beaches – pay attention to Anapa and the surrounding resort villages. It is not as humid as Sochi, there are mineral springs and curative mud. Anapa part of the Black Sea coast is considered one of the best balneological resorts in Russia, so vacation in Anapa 2022 is good for families with children and anyone who wants to improve their health.
Anapa – a great place to relax with children. Photo: Vitaly KARNAUKH
The advantages of Anapa are its beautiful gentle beaches, excellent hotels, a lot of entertainment for children and adults. At the resort you can relax on an "all-inclusive" and at affordable prices. The main disadvantages of the seaside town – the eternal crowd and not too clean sea. Tourists who like secluded rest, choose the suburbs of Anapa – Dzhemete, Vityazevo, Blagoveshchenskaya or Sukko.
4. Kazan
The capital of Tatarstan is a good place not only for a weekend trip from Moscow and St. Petersburg, but also for a full vacation. Kazan has a real winter – up to -25 ° C in January and a warm summer – up to +27 … +30 ° C in July. The ancient city delights with beautiful embankments, well restored Kremlin, ancient temples and mosques. Kazan has excellent hotels and interesting museums.
Kazan is one of the most attractive cities for tourists. Photo: pixabay.com
On the plus side, one should refer to the convenient layout of the city, impressive architectural monuments, pleasant places to walk, delicious national cuisine and the opportunity to have a great time in all weathers. The downsides, mentioned in the reviews of tourists, are the abundance of kitsch, remodeling and toilets.
What will surprise "Benderiada" and the knights' tournament in Mari El?
As if a magnet attracts tourists to Mari El amazing festivals. Here the knight tournaments are held: they put on armor and take up medieval weapons. For 25 years already every year humor lovers and admirers of the talent of the Great Combinator come to the republic. And if you are a car fan, you will definitely want to visit the exhibition of retro cars. Some exhibits are already over a hundred years old and they are still in operation.
5. Kaliningrad region
Western enclave of Russia before WWII was located on the territory of East Prussia and was called Konigsberg. In Kaliningrad it is interesting to walk around the old forts, visit Kant's grave and buy original souvenirs, especially amber. For beach recreation tourists go to the quiet suburbs of the city – on the Curonian Spit, in Yantarny, Svetlogorsk, Zelenogradsk, Pionersky and the Baltic Spit.
Kaliningrad's forts are considered one of the city's main attractions. Photo: commons.wikimedia.org
The pluses of vacationing on the Baltic are a comfortable climate, many architectural monuments and comfortable European-standard hotels. Minuses – cool summers, high humidity, changeable weather and a large number of overcast days. The Baltic Sea is warm only in July and August.
6. Veliky Ustyug.
The small provincial town in the Vologda region has become famous as the birthplace of Santa Claus, and here is his main residence. Most tourists, especially parents with children, come to Veliky Ustyug for the winter vacations, but it is interesting to rest here at any time of year. The ancient city, the same age as Moscow, is famous for its ancient monasteries, temples, authentic folk crafts and museums.
In Veliky Ustyug, there are many ancient monasteries and temples. Photo: Vladimir VELENGURIN
It's easy to get to Veliky Ustyug. The disadvantages of the trip – there is no public transport in the city. At New Year and Christmas there are always long lines and it's difficult to find a cheap hotel room.
How to get to Veliky Ustyug
Every child dreams of visiting the main residence of Santa Claus. And parents who have decided to arrange a winter holiday for their children, ask themselves the question: how best to get to Veliky Ustyug? There are different options – by train, plane, bus. Or is it better to travel by car? We found out how to get to the Grandfather Frost Estate, so it would be more convenient for you to make your choice.
7. Baikal
The Baikal is the dream of all those who like active tourism. In summer, the largest lake of the planet is visited for fishing, picking mushrooms, berries and pine nuts, climbing peaks and driving along the Circum-Baikal railroad. Winter is a great time for mountain skiing, walks on the Baikal ice and snowmobile trips. At any time of the year, vacationers enjoy stunning views, historical monuments and wonderful Buryat cuisine.
In winter, tourists tend to walk on the ice of Lake Baikal. Photo: Viktor Guseinov
The main advantage of a trip to Baikal is a wonderful vacation in nature. From disadvantages it is possible to note rather high prices and weak infrastructure.
How We Caught Tigers in a National Park
KP journalists from Siberia traveled 12,000 kilometers to set up a photo trap in a national park in Primorye. Their efforts were not in vain! Watch unique photos and videos of wild cats, which were shot with our help.
8. Karelia
Another region that nature vacationers appreciate is located in northwest European Russia. Karelia is a land of wonderful lakes, rivers, monuments of wooden architecture, ancient petroglyphs and interesting historical sites. Because of the Gulf Stream passing nearby, the climate in Karelia is mild. In winter the air temperature drops to -20 ° C and below, and in summer the thermometer rises to +25 ° C.
In Karelia there are many historical and natural attractions. Photo: Mikhail Frolov
The advantages of this region include a good environment, interesting cities, beautiful forests, waterfalls, an abundance of mushrooms, berries, excellent fishing. In Karelia are excellent conditions for skiing. Unfortunately for tourists are mosquitoes and underdeveloped road network. It is difficult to get to the remote corners of the republic in bad weather and in winter.
9. Adygeya .
If you want to be in the mountains, come to the small picturesque republic, which is surrounded by the Krasnodar Territory. Adygea is easy to get to from the major cities of the country. The republic has a mild climate, excellent opportunities for hiking, horseback riding tours, rafting on mountain rivers, jeeping, ski trips and recreation at hot springs.
Adygea is great for outdoor activities. Photo: commons.wikimedia.org
Pros of Adygea – beautiful landscapes, many monuments of nature and relatively low prices for recreation. Minuses – the infrastructure for tourists is only developing, so you should not count on great comfort and huge entertainment centers, as in Sochi.
10. Altai .
Increasingly popular is a remote destination for recreation – the Altai Mountains. Siberia is a real treasure trove of nature, and the Altai Mountains have a special place in it. You can touch the pristine nature and swim in the clearest rivers and lakes
Altai Mountains is a fabulous place with fascinating views. Photo: Christina Bezborodova
The pluses of a trip to Altai – there are comfortable places to rest and vast areas to travel through with a tent. Most of the Altai attractions tourists visit for free. The disadvantages of the region are the short summer season. Most travelers come to Altai from mid-June to the end of August. You have to get to remote areas by off-road vehicle.
10 places in Russia, which are great for vacation in 2022
Rarely in any country in the world can you find such a variety of climatic zones as in Russia – from the harsh northern beauty of the White Sea to the subtropical forests of the Krasnodar region. There is a vacation for every taste – from hiking through the wild mountains of the Caucasus to a comfortable stay in a well-appointed sanatorium.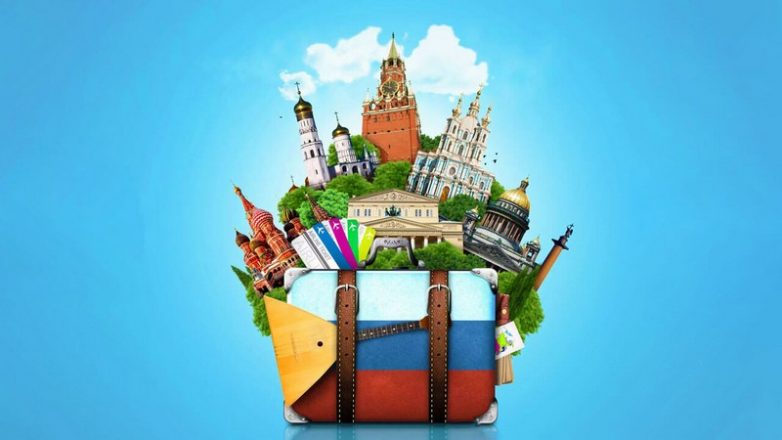 Here are the top 10 places in Russia, where you can go or fly to rest in the summer of 2022 – for the benefit of body, soul and wallet.
10. Solovetsky Islands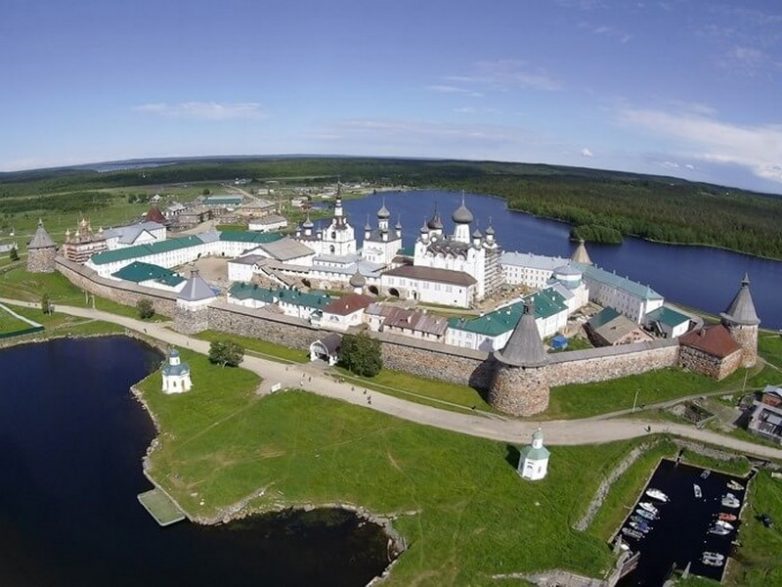 One of the most popular tourist destinations for those who like to combine leisure with learning new things. Severe and beautiful northern nature, where everything breathes with the peace and wisdom of centuries, the tragic history of these places, the ancient architecture of Solovetsky monastery – everything puts you in a contemplative and thoughtful mood.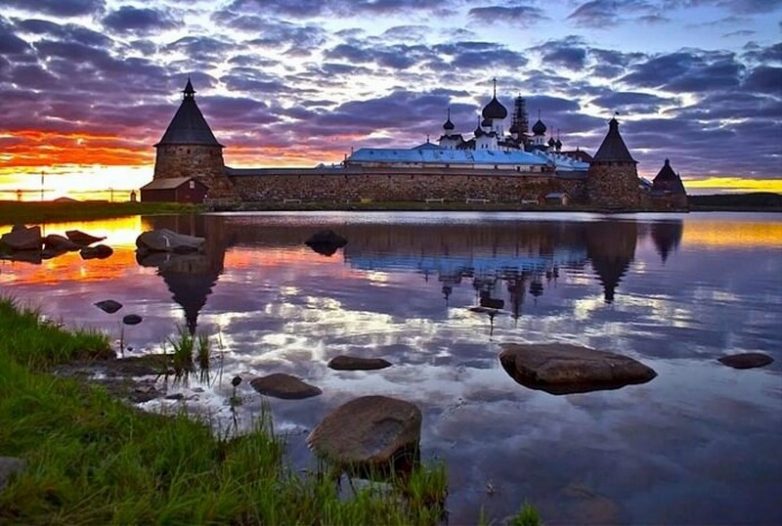 The white nights – from June till early August the sun almost never sets – add particular beauty and mystery to the ancient monastery. You can admire the northern fauna – there live seals, hares and foxes. But along with the seals and the gloomy beauty of northern nature, tourists are welcomed by less pleasant locals – hordes of hungry and man-eating mosquitoes. So be sure to take with you repellents, both on your body and clothes, and for overnight stays in the rooms.
9. Seliger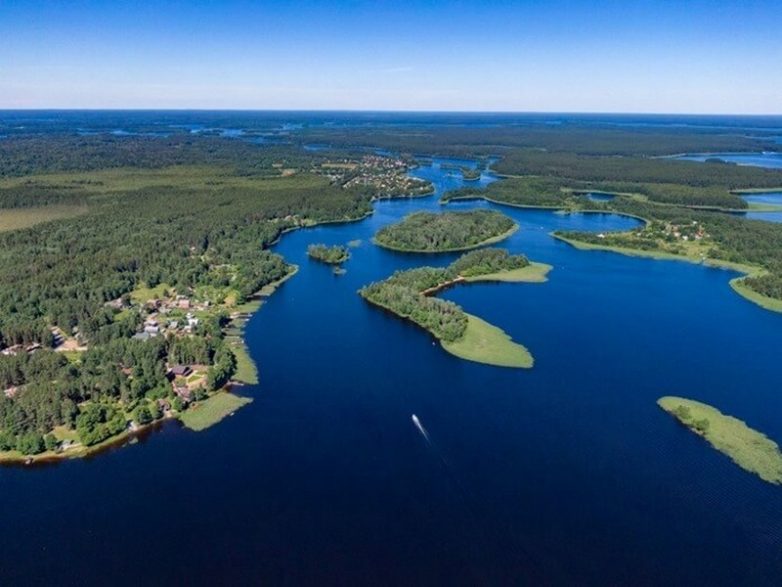 Seliger", in a nutshell, hides a whole network of lakes, rivers, creeks and their connecting streams. Not only that, several large islands of the central lake have their own bodies of water! This place is just perfect for water lovers – fishing, rafting, catamaran rides, windsurfing and even diving.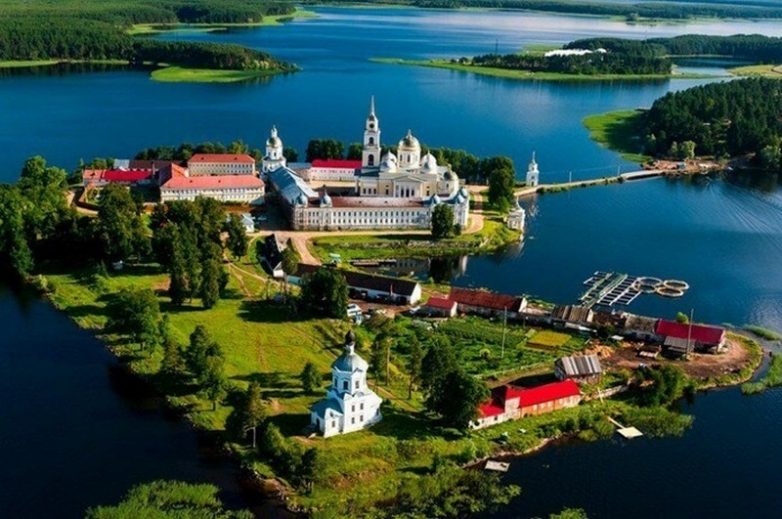 Ever since Soviet times the forest groves with quiet rivers or a giant mirror of water "Ostashkov Sea" attracted tourists from all over Russia – to taste camping romance, sing songs by the fire, get steamed in a forest banya… And if you do not want to sleep in a tent, the banks of water bodies of the Seliger densely studded with tourist bases, ladders cottages and holiday homes.
8. St. Petersburg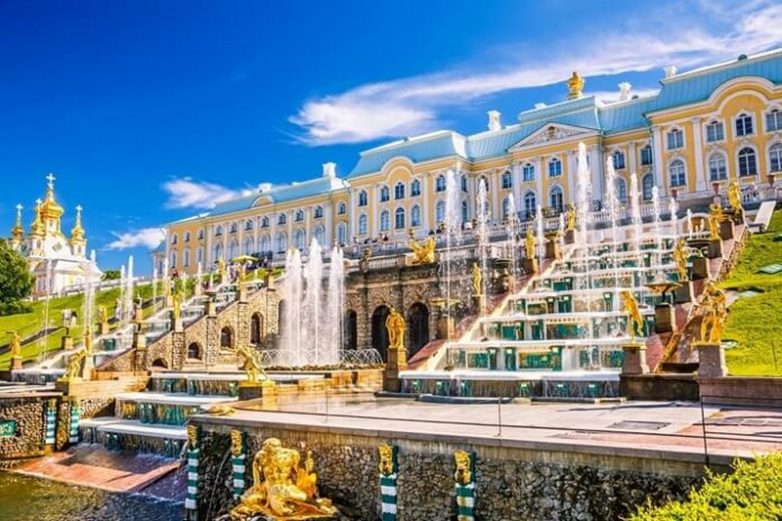 It is a natural phenomenon that is typical for the northern regions of Russia, when the sun doesn't set and the nights are transparent light twilight instead of the blackness to which we are accustomed.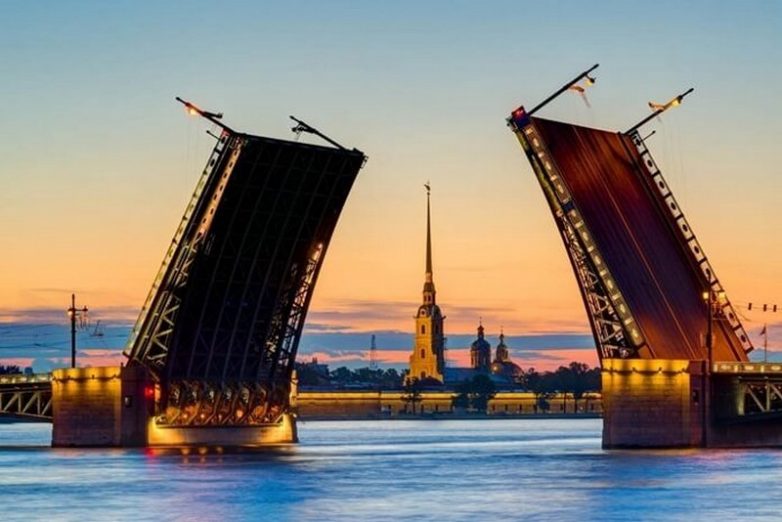 Summer cultural program and without that the most cultural city in Russia is saturated to the maximum – both during daylight hours and at night. Festivals, music festivals, concerts indoors and outdoors, guided tours through ancient parks, visits to museums and memorial sites and, of course, the famous drawbridges, which every evening gently rise to the sky and let the important parade on the water surface of the court. On May 27 the city celebrates its birthday, the festival "Scarlet Sails" is dedicated to school leavers, and from 9 to 12 July there will be a festival of the Mariinsky Theater "The Stars of the White Nights.
7. The Black Sea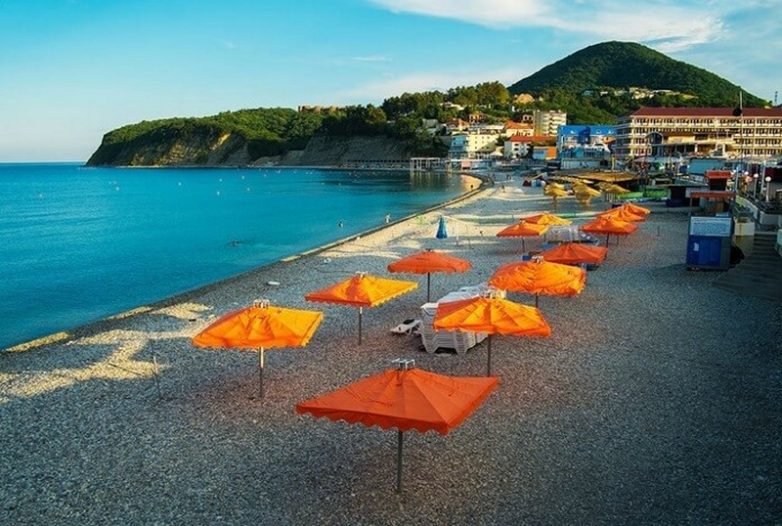 The southern coast of the Black Sea is a favorite destination for tourists from all over Russia. In summer the water there is a pleasant warmth for a body suffering from the winter; in some areas of the Black Sea its temperature reaches 28°.
The beach season in Krasnodar Krai begins in early June (although some hardened northerners dare to take a dip as early as May). According to unofficial information 20 million people come here every year! Of course, the tourist infrastructure is five stars here: there are luxurious resorts for the owners of chubby wallets, and there are more budget places. Adler is good for children – the sea here is shallow and warm.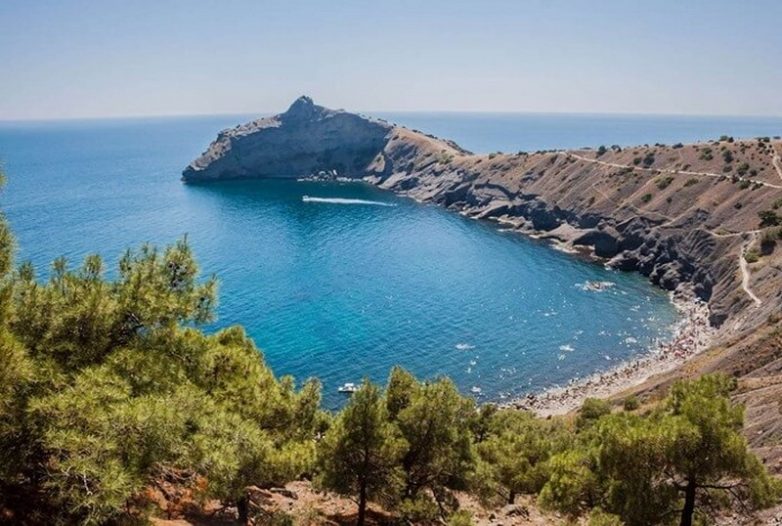 For lovers of wildlife I recommend Gelendzhik, with its wooded mountains and sparkling in the sun waterfalls.
And those who are going to go in summer to rest with children, Evpatoria with a lot of entertainment (dolphinarium, museum of pirates of the Black Sea, water park, etc.) or Sudak with its sandy and pebble beaches is suitable.
6. Caspian Sea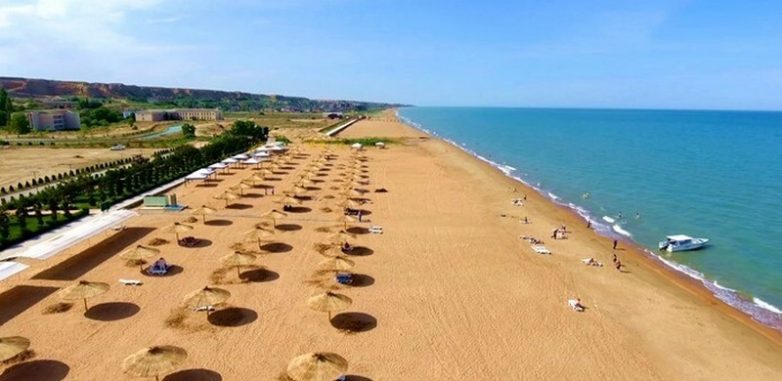 Caspian Sea in the summer is warm – the water temperature can reach 28 ° C. And the rest on its coast is even cheaper than the Azov. True, the infrastructure is lagging and the beaches leave much to be desired – the level of Feodosia, with the smallest white sand, there is hardly meet.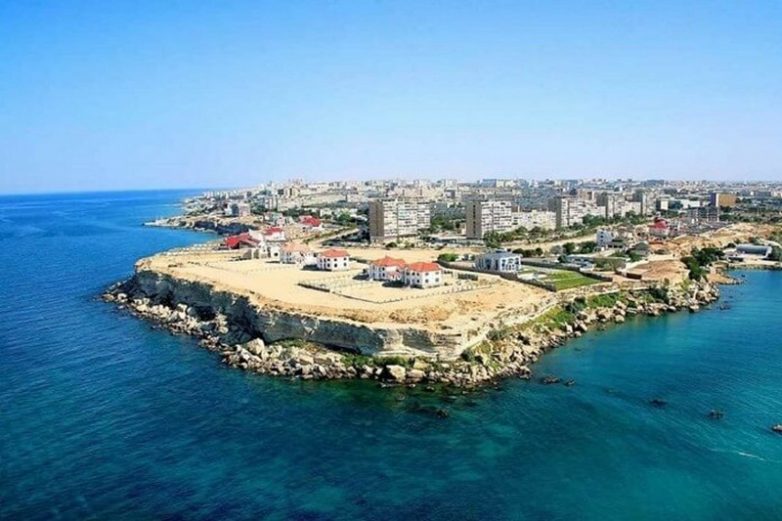 But it is more than compensated by the sea, exotic rest (it is possible to boast before friends and colleagues), the wild and fine nature and magnificent fishing. It is impossible to catch Caspian sturgeon – there is a moratorium on it – but the abundance of other fish will more than compensate for this loss. Laganj is especially popular among fishermen, and those who prefer beach rest should pay attention to Derbent and Makhachkala.
5. Karelia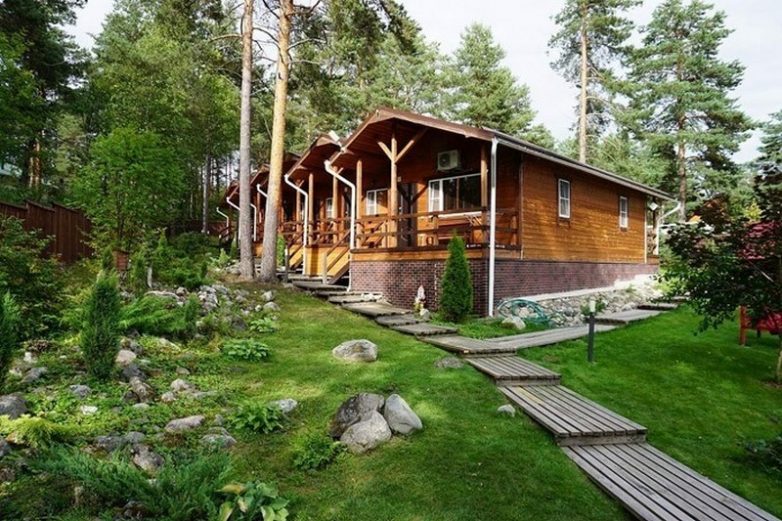 Karelia is one of the most beautiful regions of Russia and a popular vacation destination. The majestic northern nature, clear lakes, white chalk cliffs, contrasting beautifully with the dark green pine forests, and many monuments of the past, leading up to the settlement of these places by primitive people.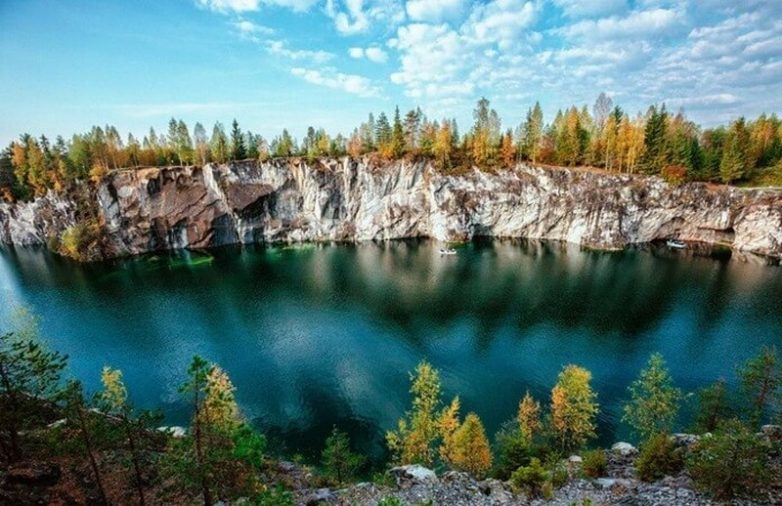 Here is the island of Kizhi, where monuments of wooden art are collected from all over Russia and carefully recreated. The Kivach waterfall is one of the most beautiful and second largest waterfalls in Europe. There is also the ancient island of Valaam, which is surrounded by a web of islands (more than fifty of them!). Onega Lake is popular with the fans of yachting, plenty of forest tourist centers and sanatoriums for connoisseurs of fresh forest air and three meals a day, and you can improve your health on Marcial Waters – the first Russian resort, opened by Peter I.
4. Caucasian mineral waters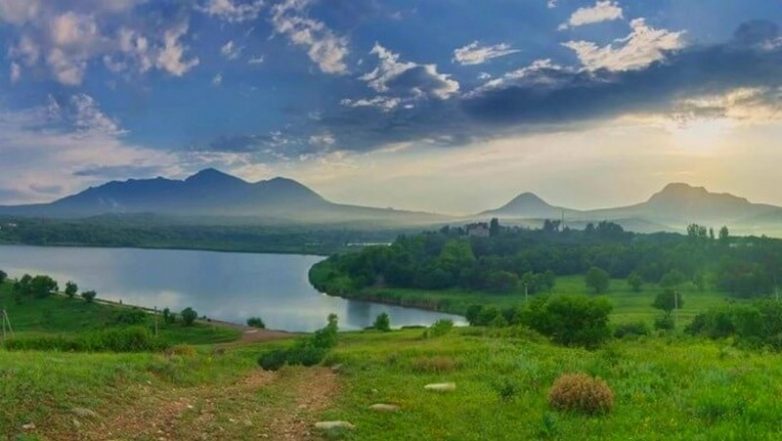 Do you want to have a rest and recover bodily? I suggest to go to the sanatoriums of Caucasian mineral waters – there are four of them. Essentuki is known all over Russia for its healing mineral water, Kislovodsk loved to go even by the royal family, and in Pyatigorsk and Zheleznovodsk can find a resort for every taste.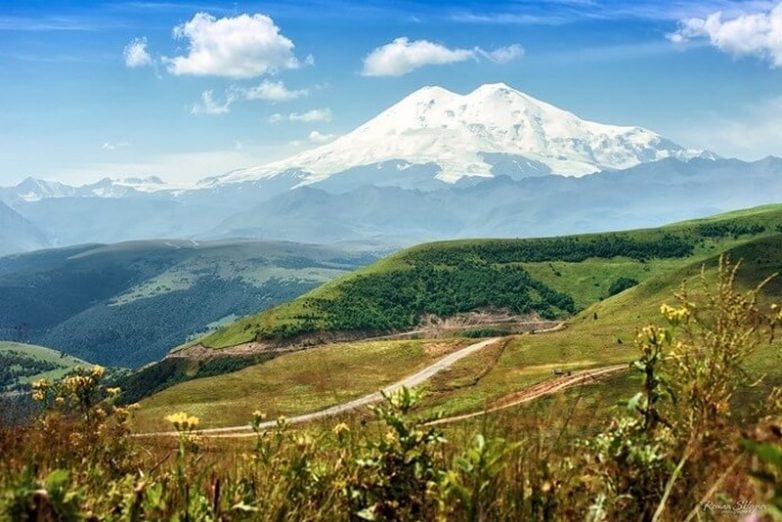 And then there relic oak-lime forests, climate, reminiscent of the resorts of the Swiss Alps, the ancient architecture at every step, unique calcium mineral water, which is not anywhere else in the world, and much, much more.
3. Kabardino-Balkaria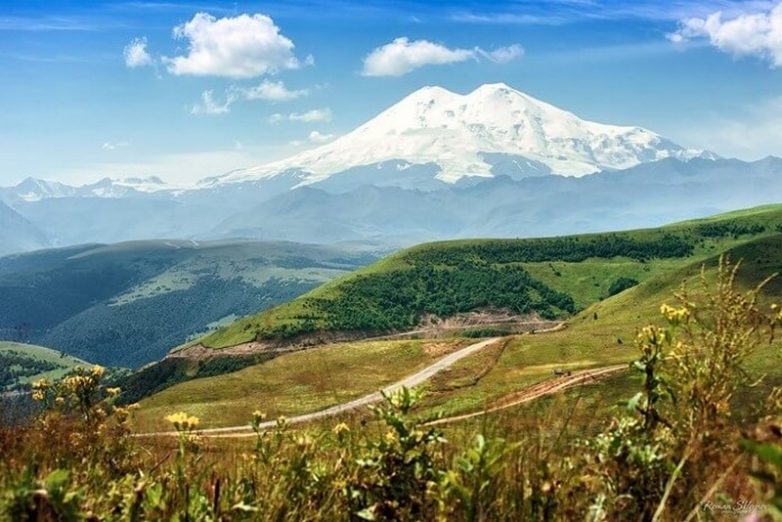 Rest in the North Caucasus will suit the taste of those who like a measured and predictable mode of the day, with sunbathing and drinking drinks on the terrace in the evening, and those who like adventure. Just on the border with Karachay-Cherkessia rises Mount Elbrus, the highest mountain in Europe. I don't suggest climbing it at once, it's suitable for experienced climbers, but trekking routes of Dombaj and Arkhiz are available even for beginners.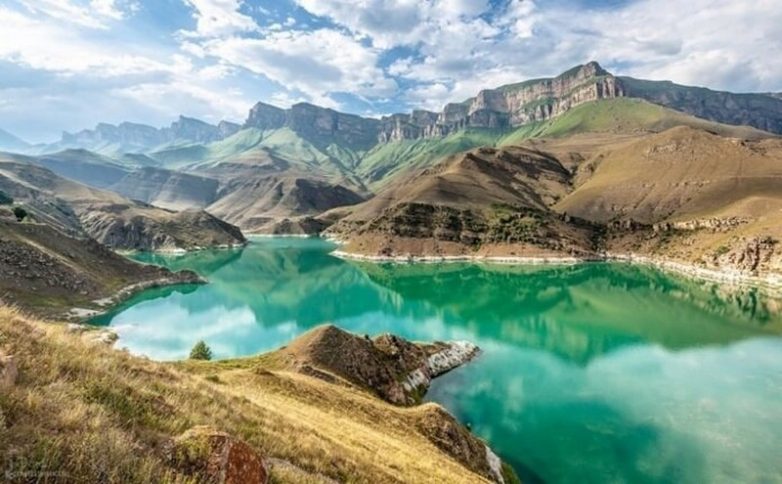 These places are marvelous with dense subtropical forests, mountain meadow-grass, clear cut streams and lakes. More than one generation of Soviet-Russian rafters descended the Belaya River. There are also regular gastronomic tours, where Northerners are introduced to the cuisine of the North Caucasus.
2. Altai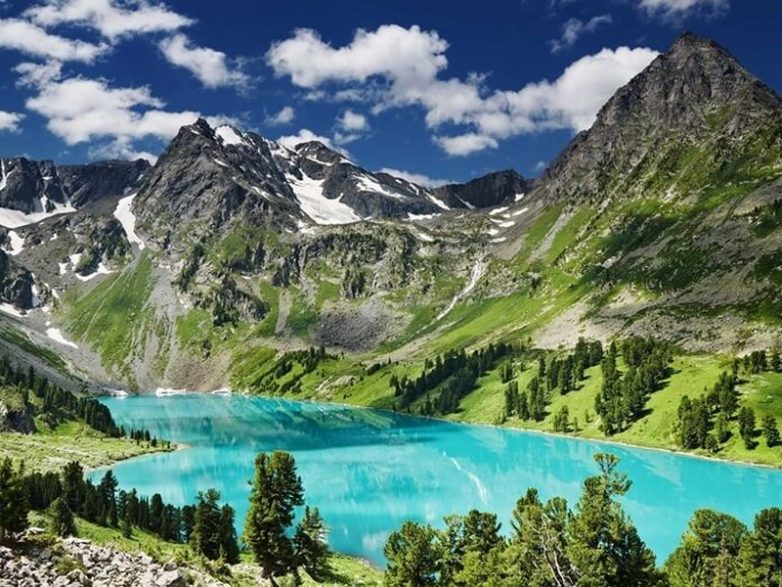 Altai is often compared to Switzerland: lakes with crystal clear water, thick forests, fresh air filled with aromas of herbs and flowers.
Mount Belukha is a favorite pilgrimage place for esotericists, where they search for the entrance to Shambhala, as well as for material mountain climbers.
Yarovoe Lake is not inferior to the Dead Sea by its mineral composition.
Belokurikha sanatoriums revitalize not only soul, but also body (there are medicinal mud, mineral waters, and even baths with extract from maral horns).
And for the lovers of countryside tourism there is an offer of organic products directly from garden bed.
There is also an entertainment for those who like to spend their time actively – walking and horseback riding trails and rafting on rivers.
1. the Azov sea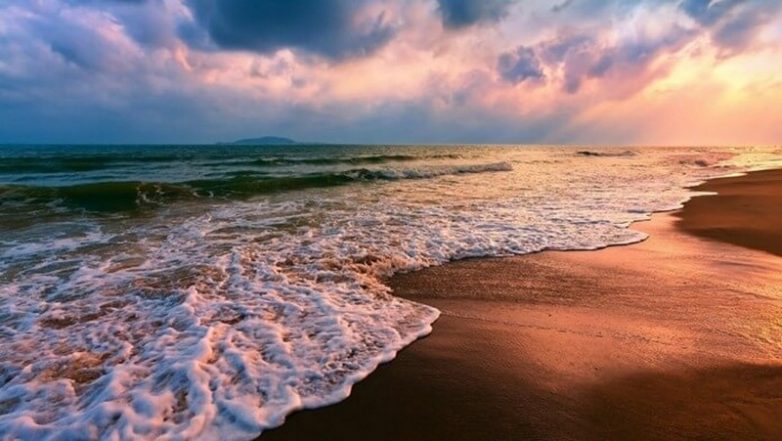 Compared to the Black Sea Azov Sea – a budget option. The sea itself is smaller, instead of subtropical forests and mountains you will find wide steppe expanses.
But there is a peculiarity that will be appreciated by tourists with children – the depth. Azov Sea is shallow (its average depth is only 7 meters), and the descent is flat, long and only one and a half meters. Combined with the warm water, sand, the absence of noisy entertainment, it's a great option for families who want a quiet and peaceful holiday with small children. The wide steppe expanses, strong winds and smooth water surface directly attract windsurfers, yachtsmen and kiting enthusiasts.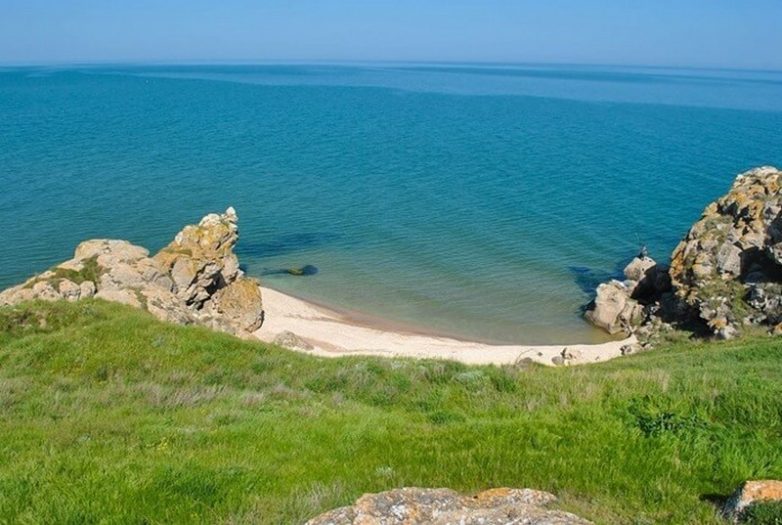 The most popular variant is Yeisk. Good and Kerch – here, in addition to beach holidays you can look at the monuments of architecture and history, as well as go on a gastronomic journey to the local Crimean Tatar cuisine.