Where to eat in Corfu?


Maroona
Greek restaurants are famous for their luxury and their friendliness. You can find restaurants all around the island and you will be spoilt for choice! Many restaurants offer great views of the sea and lush gardens. It's difficult to define an average price in institutions of the island, it all depends on the level of the cafe, its remoteness from the center and the additional bonuses, such as evening shows, as well as the surrounding scenery (by the sea, perhaps, a little more expensive, but not always). But in general, be prepared to part with 20-50 € per person if you go to lunch at a local restaurant. As for the rules of conduct in restaurants, namely, the tip – if you are tight of money and can not leave every time a gift to waiters, do not leave. It is not a prerequisite for service. But to express your pleasure from lunch or dinner to the cook is very welcome!
More about the restaurants themselves, and let's start with The most expensive restaurants in Corfu . There are not many of them, so, just list them, so you will not be surprised when you get the bill. "To Mike (10 Giotopoulou, Kerkyra, international cuisine restaurant), Etrusco (Faiakes, Greek cuisine), Fantasea Bar Restaurant (near the temple of St. Stephen and the old port in Kerkyra, seafood restaurant and Greek cuisine). By the way, although these restaurants are expensive, you can still choose the cheapest dishes and even have lunch or dinner there at a reasonable price.
And here are restaurants that are very popular among tourists, and which are famous for their luxurious cuisine and quality service. The prices in these restaurants are not the lowest, but, in principle, bearable.
"Nereids" (Paleokastritsa).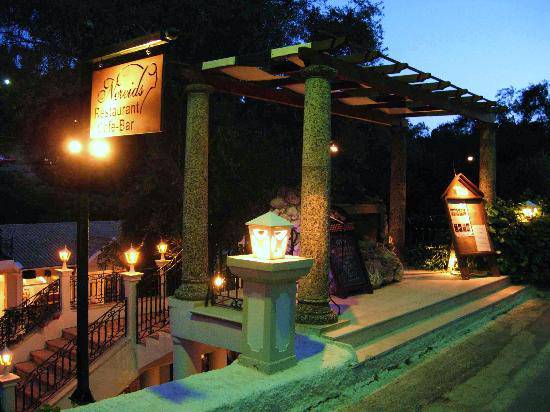 The restaurant is located in a lush flowering garden. The staff is very friendly, the wine list is large. The cuisine is Greek, the dishes are prepared with olive oil, fresh seafood, aromatic herbs. Tasty and healthy! As an appetizer, be sure to take the toasted bread with sun-dried tomatoes and olives or the bell bell pepper stuffed with feta. Hot dishes just melt in your mouth – try the lamb and potatoes. The place is perfect for quiet dates, or conversely, fun evenings, when there are national Greek dance shows and fire shows.
Bill per person.15-40 euros.
Working hours: Mon-Fri 8:30-24:00 p.m.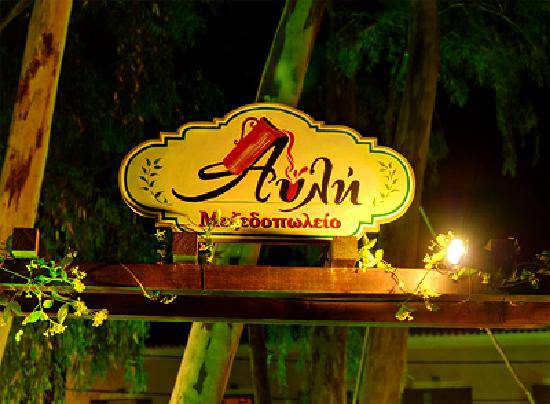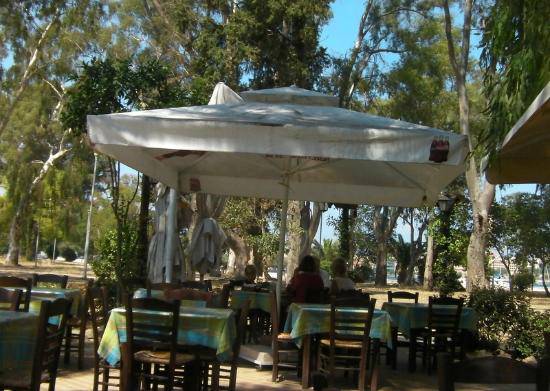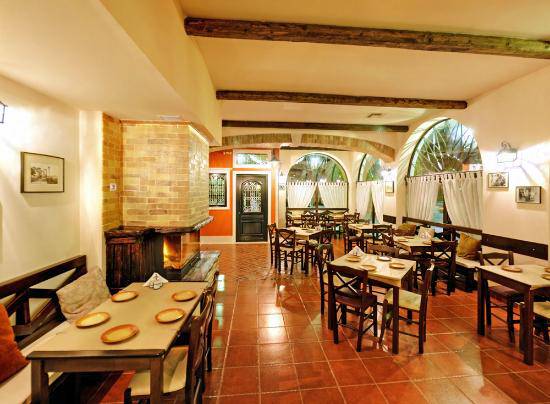 Another restaurant of Greek cuisine, surrounded by a lush garden, with a beautiful view of the bay and the old castle. Dishes here are prepared according to ancient recipes, which is even more interesting! Try the baked eggplants with tomatoes and cheese, the grilled halloumi cheese and the small rashers of filled filo pastry as an appetizer or as an assortment of mezes. Don't miss the pork or seafood. Check out the wine list for Tsipoura, a delicious grape liquor. You can make yourself comfortable in a cozy room with nice wooden tables and big chairs and interesting black-and-white paintings on the walls or on the terrace in the open air.
The bill per person: From 15 euros
Working hoursFri, Wed, Sat 8:30-24:00
Address: Alkiviadou Dari 9 Garitsa, Kerkyra
Stamatis Tavern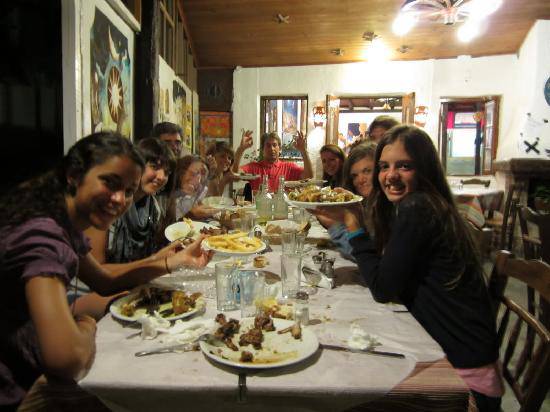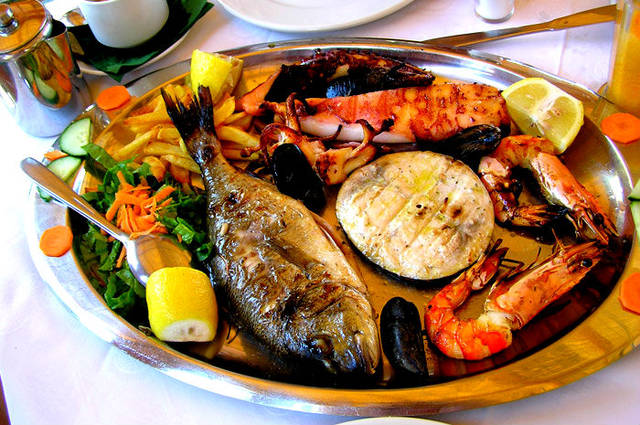 This cozy Greek restaurant has been open for almost 50 years! Here you can taste a variety of traditional dishes, such as sofrito – beef in garlic sauce, or pastitsado – beef in tomato sauce with pasta. The meat is cooked in the oven or over charcoal, which makes the taste extremely unusual. You can also try there small pies with greens, chicken, cheese or vegetables, as well as mushroom dishes. By the way, this tavern makes homemade wine – do not deny yourself the pleasure of drinking a wonderful drink. And also, the tavern is built next to a gorgeous forest, where you can "work up" an appetite.
Bill per person.15 -35 euros
Address: Viros district, near Kerkyra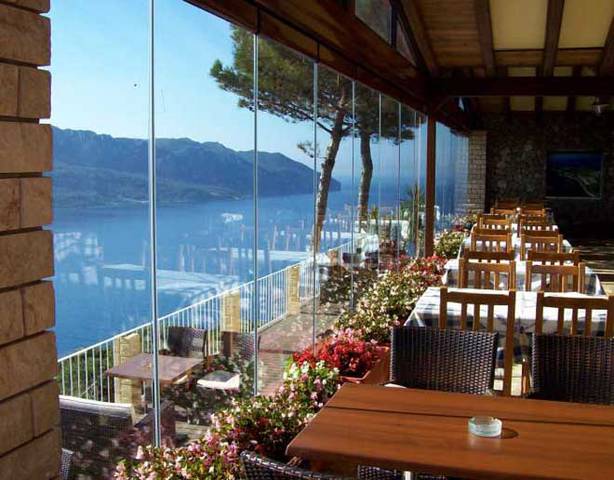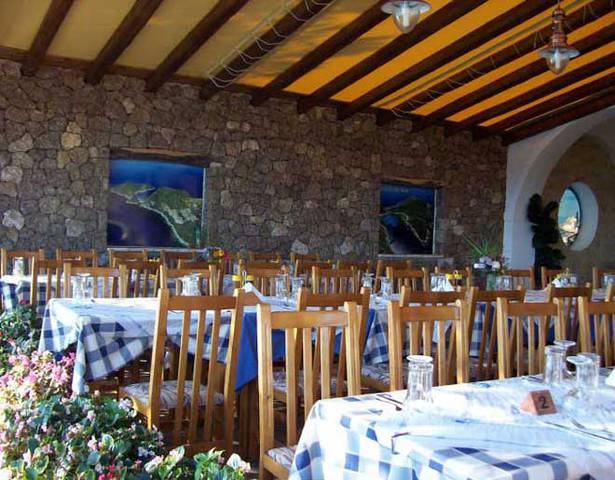 Everything you knew about Greek cuisine and more can be tasted at this lovely restaurant. Moussaka, feta, steaks, seafood – everything is fresh and delicious. Be sure to try the desserts from the restaurant owners' family recipes, particularly the banana cake. The restaurant has a stunning view of the sea, and the restaurant itself is buried in the greenery of trees, in the shade of which you can hide on a hot day. What a wonderful place!
Address: Barbati Road Corfu
The bill per person: 15 -35 euros
Working hours: Mon-Fri 8:30-24:00 p.m.
"Stevens on the Hill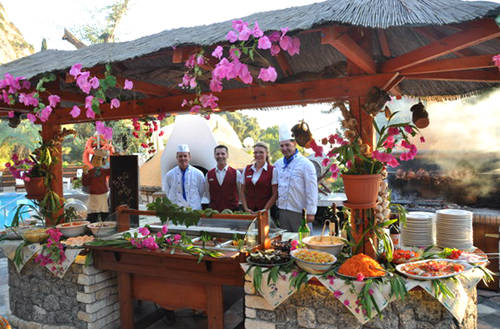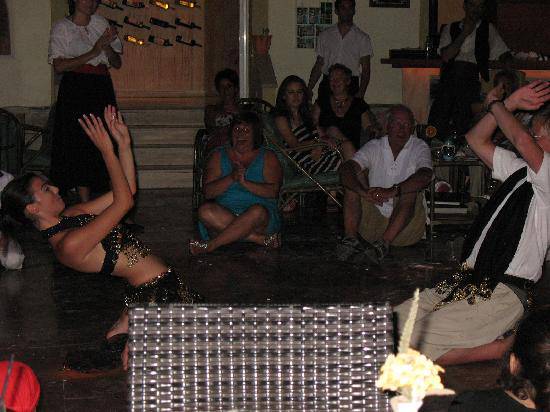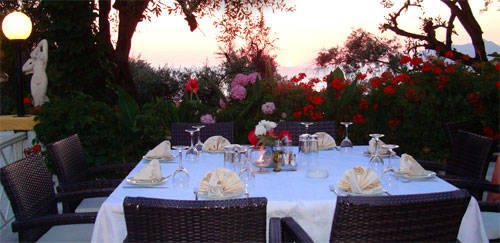 A Greek restaurant with a wonderful terrace where you can enjoy the views of the sea and nature. You must try the mussels and the pizza for the children. Every Thursday there are themed gastronomic nights, accompanied by musicians and dancers. Gastronomic nights are nights dedicated to a particular dish that will be presented in a special variety. That is, there are pizza nights, steak nights and barbecue nights. This restaurant is perfect for a date night because it's so romantic! The kids will have fun too, since the restaurant and the nearby area have great playgrounds. For a big company the cafe is also perfect, especially during the evenings with live music.
The bill per person: 15-40 euros
Working hours: Mon, Wed-Sun 8:30-24:00
Address: Agios Gordios.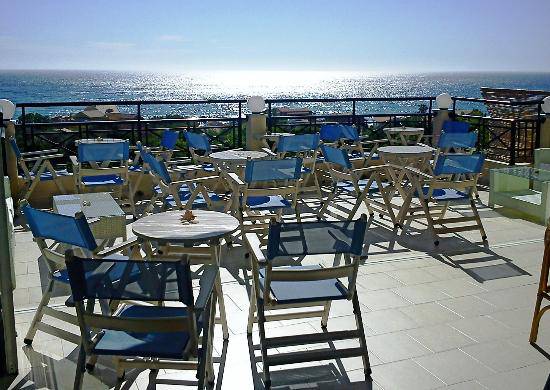 A wonderful and multifunctional place by the sea. It's a nice place to have breakfast, run out for a pizza with the kids or make a date in the evening. Large selection of drinks, snacks, hot dishes and desserts. And, of course, it's great to just come in and have a glass of local wine at sunset.
Bill per person.Up to 20 euros.
Working hoursFri, Wed, Sat 8:30-24:00
Address: Arillas area, on the coast.
Now a little bit about Restaurants and cafes where you can have a fairly cheap lunch.
"Jeni's Mediterranean Moments Cafe (Sidari main street)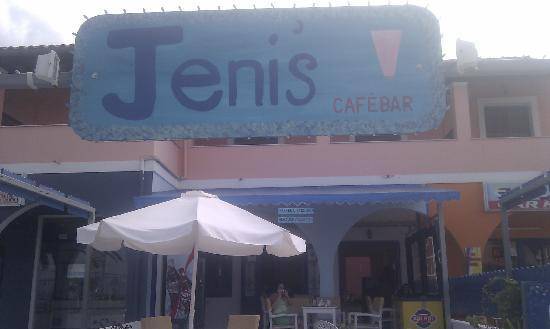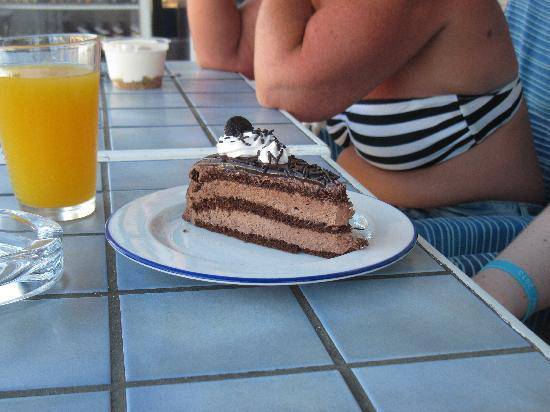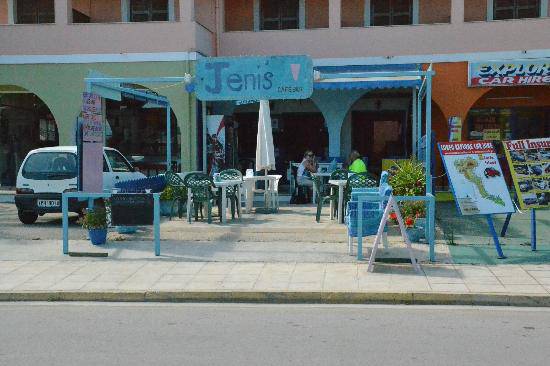 Here you can eat sandwiches and paninis for only 2-5 euros. Very friendly hostess, fast service. If you have time, get desserts here, especially ice cream, puddings and chocolate cake. And a bottle of wine here costs only 3.5 euros!
"Ammus Restaurant Cafe (Peritheia, Agios Spyridonas)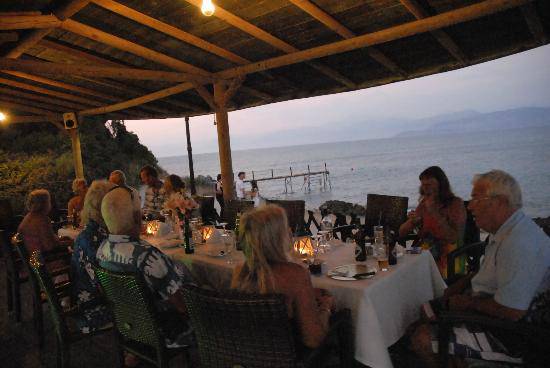 A small Greek restaurant where you can eat for 4-10 euros. The delicious hot chocolate is only 2 euros! And from the restaurant there is a beautiful view and also near the restaurant there is a pool with sunbeds which you can also use. The service is also good, so the restaurant can be recommended. The staff is so trusting of customers that you can even arrange to pay the day after dinner! Plus there's free Wi-Fi.
"Seamonkeys Beach Bar ( Sidari).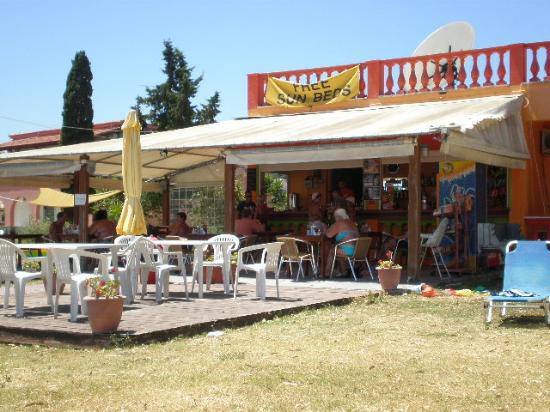 A mixed cuisine restaurant where you can try English, Greek and British dishes for only 4-8 euros. A simple restaurant with a great view. Perfect for a cold drink and a quick bite to eat.

Aleksandr
Where in Corfu can a tourist eat tasty and cheap?
To eat in Corfu means to give a holiday to your body and soul. The prevailing aromas and flavors will open your innermost chakras, immerse you in a state of bliss and make you linger in a restaurant or a cafe for a long time. When you dine at any of the local establishments, every meal in a Greek restaurant, be it even a single cup of coffee, has a therapeutic effect and brings strength back into even the most work-weary body. You don't have to bother looking for the right place to eat in Corfu, any local culinary master can accomplish the feat in the form of sofrito, and for those who are fans of fish dishes, a juicy burdeto will be prepared and accompanied by lemon, paprika and pepper…
Etrusco Restaurant
This place is one of a hundred of the best restaurants on the planet. Here you are assured of perfect service and perfect serving, in addition the la carte menu provides customers with a wonderful mood and positive mood for a long time.
If a client wishes to reserve a table in advance, the waiter will offer to make an individual menu, and it will be prepared just before your arrival.
In case you just came to this restaurant, the chef will certainly suggest you to try salmon baked with peach terrine or pappardelle and fish medallions.
The delicacies can be eaten on the restaurant's outdoor or rooftop terrace, offering a wonderful view over the island and the sea.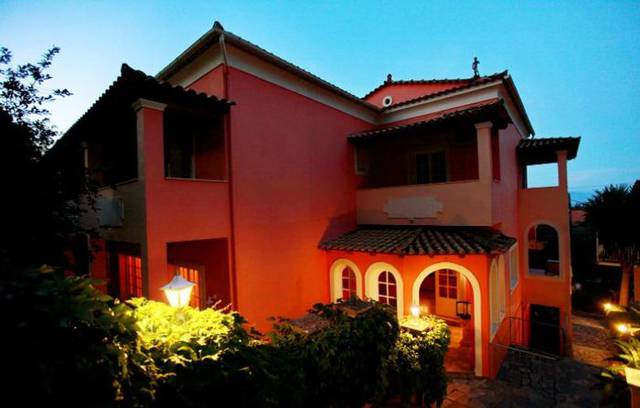 Restaurant Rex
This restaurant was founded in 1932. Since then it has been very popular with locals and visitors alike. Here you will be offered only the best dishes of the national cuisine. The restaurant became famous thanks to the fish and meat delicacies. You absolutely cannot remain indifferent, having caught a taste of rabbit in herb sauce, meat loin with mushrooms or lobster in cream sauce.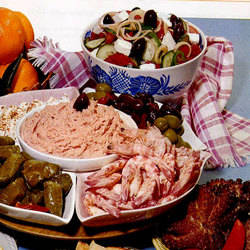 Stablus restaurant
This place is a living part of the history of modern Corfu. It was built in 1725 as a horse stable for the Venetian officials. Stablus is an entertainment complex with a huge garden, a cafeteria, and a music gallery. You can taste coffee and snacks, candy and juices, all kinds of hot dishes as well as cocktails and pastas… Music performances and art exhibitions are held there at weekends.
Corfu cuisine
Greek cuisine has always been revered by foodies, with plenty of vegetables, olive oil, cheese, meat (especially lamb) and seafood. Almost all products used in Corfu are of local origin and grown under organic conditions. Today you will learn which Corfu dishes are a must try for every tourist.
Top 10 Corfu dishes
Meat dishes
Fish dishes
Salads
Desserts
Drinks
Top 10 Corfu dishes
If you are in Corfu for the first time, you will be pleasantly surprised by Greek cuisine. When visiting restaurants, foreigners usually have no problem understanding the menu. In every cafe the menu is translated at least in English, and in large tourist centers – in other languages, including Russian. Speaking of prices, the average bill for a dinner for two will be 20-30 euros without alcoholic beverages and 30-50 euros with alcohol and seafood.
Corfu meat dishes
Meat dishes are called κρέας (kreas) in Greek. Below we have listed the meat dishes that are a must-try when vacationing in Corfu.
Kleftiko
Kleftiko is a lamb dish that is marinated in a mixture of herbs and cooked in the oven. The meat is served with potatoes and sauce and just melts in your mouth. The average price is 12-15 euros per serving.
Pastitsio
Pastitsio is a dish inspired by Italian cuisine. Like moussaka, Pastitsio is a type of casserole, but instead of potatoes and eggplant, it consists of thick spaghetti pasta with minced meat. To taste, it is topped with béchamel sauce. The dish is delicious and very nutritious and economical – an average serving costs 8-12 euros.
Moussaka
Moussaka is the most famous Greek dish that you simply must try in Corfu. It is a type of casserole consisting of potatoes, meat and eggplant covered in a thick layer of béchamel sauce. It tastes much better than it looks in the picture. Once you try moussaka, you will always associate Greek cuisine with this healthy and hearty dish. A moussaka lunch will cost 6.5-10 euros when ordered at a cafe.
Souvlaki
Souvlaki literally means kebab and is a very popular dish available in every Greek tavern. Souvlaki is served with French fries and vegetables. Sometimes tzatziki or mustard sauce and Greek pita appear on the plate. Such deliciousness will cost 10-13 euros per plate.
Pashtitsada
This gourmet dish includes spaghetti with beef or rooster meat seasoned with wine sauce. Pashtitsada is a frequent guest on the holiday table in Greece. If you choose this dish from the menu in a cafe or restaurant, put a budget of 18-25 euros.
Arnaki atsem nilafi
Fresh lamb meat stewed in a sauce with tomatoes and onions. It has a very delicate texture and just melts in the mouth, making you order it all the time. Especially since the price is quite democratic for a meat dish – 13-18 euros.
Moxari me apaca
Veal stewed in white wine, served with peas or rice. The second version may look like pilaf, but with less spices. A tasty and energy-rich dish for every day at the cafe, it can be ordered for 8-13 euros/portion.
Domatez iemistes me kima
Local tomatoes stuffed with stuffing, rice, onions, nutmeg and local kefalograviera cheese. This tasty and flavorful dish will especially appeal to cheese lovers. The average price is about 6.5-8 euros.
Pita gyros.
This typical Greek fast food is the counterpart of our pita bread. In Corfu you will not find the popular American fast food outside the specialized establishments of Burger King and McDonald's, but pita gyros can be bought in any kiosk for about 2-3 euros. It includes pork or chicken meat, peppers, tomatoes, onions, lettuce, fries, sauce and all in a Greek pita. The dish is very hearty, but a little greasy.
Corfu seafood dishes
Seafood is also popular in the Ionian Islands. The Mediterranean Sea is famous for its seafood, so all seafood in Corfu is exceptionally fresh and relatively inexpensive.
Grilled seafood
If you want it all at once, you'll want the seafood mix on the grill. You can safely order the portion for two people, because the size of the portion will pleasantly surprise you. The dish consists of shrimps, octopus, squid, mussels, cod, swordfish, bream and sprat. It is also served with fries and vegetables. Depending on the composition and portion size, the mix will cost 18-30 euros.
Burdeto – delicious fish in a spicy sauce
Burdeto is a fish dish made according to an original recipe from the island of Corfu. Fresh fish, cooked in a heatproof dish, served in a spicy tomato-grass sauce with the addition of potatoes, spaghetti or rice. You will definitely appreciate the tenderness of the fish and the spiciness of the sauce. The price is around 14-20 euros but you can eat a portion for two.
Bianco
This fish dish is made from different types of sea fish. The fish is stewed in its own juice with the addition of garlic-lemon sauce. Served with potatoes. Bianco is popular among Russian tourists because of the similar products, nutritional value and inexpensive price of 13-15 euros for a large portion.
Calamaracia psitta.
Fresh calamari sliced and fried in rings, served seasoned with lemon juice and french fries or without. The dish pairs perfectly with white wine. Perfect for a light dinner for 11-15 euros.
Xiphias souvlaki
Tender kebab made of swordfish. Served on skewers right off the coals. Tasty and unusual. The average price in the cafe is about 15-18 euros.
Mapinata faria.
This is a fish that is stewed in a sauce of olive oil, wine and vinegar. It is seasoned with pepper and rosemary. It has a mild spicy flavor. It's tasty and inexpensive at about 13 euros.
Htapodi stefado.
This is fresh octopus cooked by braising it in local red wine. Once cooked, the octopus meat tastes great and just melts in your mouth. Just a paradise for octopus lovers for only 13-15 euros per serving.
Salads in Corfu
All salads in Corfu are made with fresh vegetables. On the salad menu, you will find many salad options, from vegetable salads to seafood salads.
Classic Greek Salad
The salad is prepared according to a classic recipe. Tomatoes, onions, olives and whole feta cheese, drizzled with olive oil and seasoned with aromatic oregano, this salad will not leave you indifferent. It is served everywhere in Corfu and costs only 4-6 euros.
Horiatiki salad
A vegetable salad similar to the classic Greek salad. The salad has slightly different seasonings and ingredients. The feta cheese is not served in one piece, but in pieces. The base of the salad is olive oil. For a variety and comparison with the Greek salad is worth a try, especially it is also inexpensive – up to 5-6 euros.
Desserts in Corfu
In Corfu, bakeries and pastry shops (zaporoplastio) are present in abundance. Even in a small village in the early morning you will always find fresh pastries for you and your loved ones. Private pastry shops offer cakes, fruit and nut desserts, puffs, croissants and much more. Below we have listed a list of local desserts that you must try in Corfu.
Galataboureko
A cake made of puff pastry with a syrup of lemon zest and vanilla sugar. The cake looks similar to Turkish baklava and costs about 4 euros.
Portocali gluco.
Fresh orange jam. Served with pastries and as a separate dessert. In a similar variant, there is a jam made of cherries – Kerasi gluco. In the store you can buy for 3-5 euros per jar. Many tourists buy this sweet as a souvenir gift.
Diples Greek horseradish
Crunchy ponytails made with the original recipe with nuts, cinnamon and local honey are sure to please both adults and children. You can try them for 1 euro/few pieces.
Lukumades – Greek doughnuts
This is a Greek version of donuts made with cinnamon and honey syrup. It's a delicious and hearty dessert. It goes with any kind of drink, from tea to milk, and is quite democratic in price – a couple of euros for a decent portion of goodies.
Melomacarano
A Greek cookie containing walnuts and floral honey. A great treat for sweet lovers. It's better to buy in pastry shops and specialty stores by the weight, because the taste of cookies in boxes purchased in stores is very different. For only 3 euros you can buy a portion, which will suffice for the whole family.
Baklava
The Greek version of the puff pastry with nuts, cinnamon, vanilla sugar syrup will appeal to lovers of oriental sweets. A small piece can be a good snack. In a cafe it costs from 3-4 to 6-8 euros per slice.
Kumquat
Famous in Corfu, it is a dried fruit with a lot of useful properties and is sold in different variations, from candied state to jam and dried kumquat chips.
Drinks in Corfu
Corfu is happy to offer you a variety of drinks, from classic Frappe coffee to local wines of different varieties. Especially interesting are the wines of private wineries, which you can buy directly at the place of production.
In addition, Greek cuisine is also feta cheese and olives. Both products have a completely different flavor than those available in our supermarkets. The feta cheese has a distinct flavor, and the olives are usually sold in bags in an herbal marinade, they are seedless and not as oval as in our jars.
In this article we have tried to describe only the main dishes of Corfu, served in restaurants and cafes. In private small places you can find a lot of rarer and homemade dishes that are prepared by locals.
Portal Procorfu.ru, recommends you try at least some of the above dishes of Corfu.